Horror Movies With Lots of Nudity
Browse this list of horror films with lots of nudity to find films that almost blend genres— is it a horror film or a porn film? Might be both.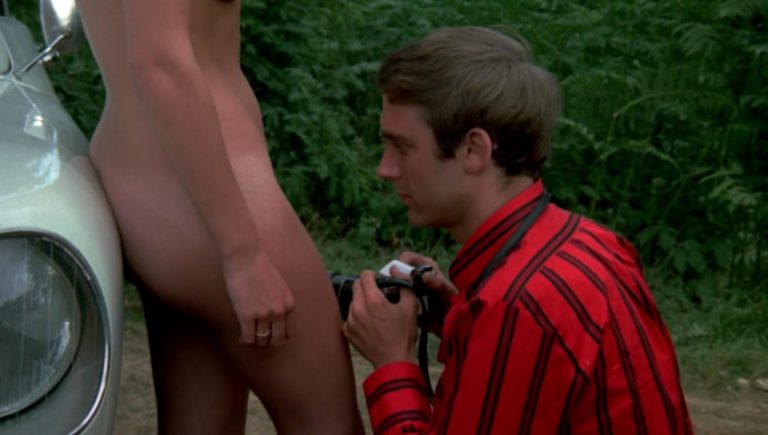 Horror fans tend to associate horror movies with gratuitous nudity, but a study by Mr. Skin, a website that analyzes nudity in movies, found the horror movies typically have less nudity than other genres such as action, comedy, crime, and drama.
The same study found that of all horror franchises, the Friday the 13th series had the most nude scenes—39 spanning 12 movies. After that, it was Hellraiser (24 scenes over 10 movies) and Wrong Turn (17 scenes, seven movies). But the point of this list is to describe horror flicks that had a lot of nudity—almost to the point where genres blend and you're not really sure whether it's a horror film, a short film for sex, or a porn film.
This British horror sexploitation film stars real-life sisters Ann and Vicki Michelle as two runaway sisters who flee rural England into London with the hope of becoming models, only to find themselves deflowered and turned into witches by the male leader of a coven. Vicki Michelle is shown fully nude from the front as she emerges from a bath. The film ends with an orgy scene. The actresses later dismissed the female, saying the movie was just an excuse for the director to get them naked and for the male gaze.
After a series of violent sexual murders involving women being strangled with scarves rocks the summer program at the University of Perugia, art students and their associates all fall under suspicion. There's a marijuana orgy, skinny-dipping, nude sunbathing, pubic hair, multiple topless women, and the whole shebang starts off with a threesome sex scene. Oregon Live says that the plot, what there is of it, "is mainly predicated on opportunities to show breasts and blood."
After a married couple loses their young daughter, they travel to Venice, where an old psychic woman warns them that trouble is coming. This psychological thriller starring Donald Sutherland caused a huge stir upon its release because it was a major Hollywood release that featured a nearly five-minute sex scene. Male and female buttocks are shown as well as female breasts.
Released in the UK as Graveyard Tramps, the movie's plot concerns a mad scientist who has engineered an army of female zom-bees who kill men by exhausting them through energetic sex. After the women are transformed into living-dead queen bees, their eyes become entirely black. The film contains about five full minutes of nudity total involving about ten women.
The paganistic lifestyle of the residents on a remote island where a Christian man finds himself shipwrecked involves constant nudity and a freewheeling attitude toward sexuality. Schoolchildren dance around a maypole that they openly describe as a phallic symbol. Horror-film regular Ingrid Pitt is shown in a bath topless. Seventies sexpot Britt Ekland is shown naked in one scene rubbing her body all over the furniture in a bedroom.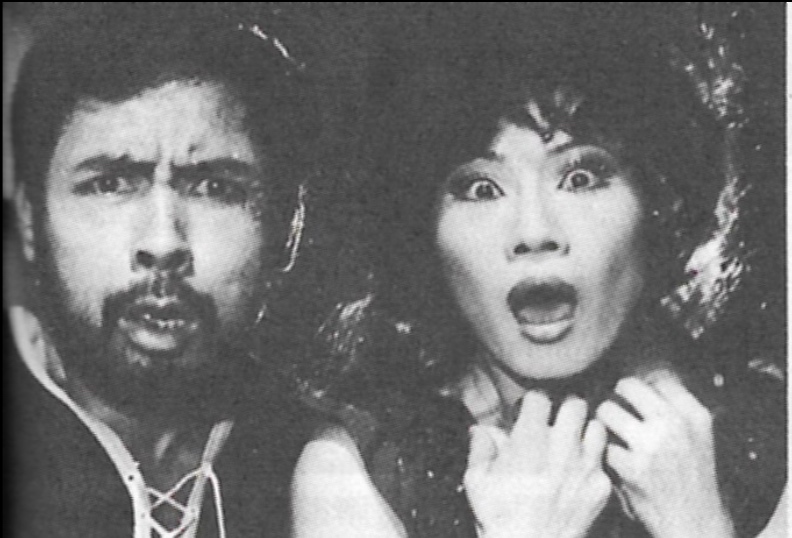 The plot is very similar to 1971's Willard in that it involves a lonely, awkward, and bullied male who eventually snaps and wreaks holy vengeance against society using a trained army of killer pets. But whereas Willard used rats, a shy Asian male named Zhihong uses snakes. In one graphic scene, he rapes a woman using a snake. There's also a bondage scene where a naked woman is tied up and tortured with snakes.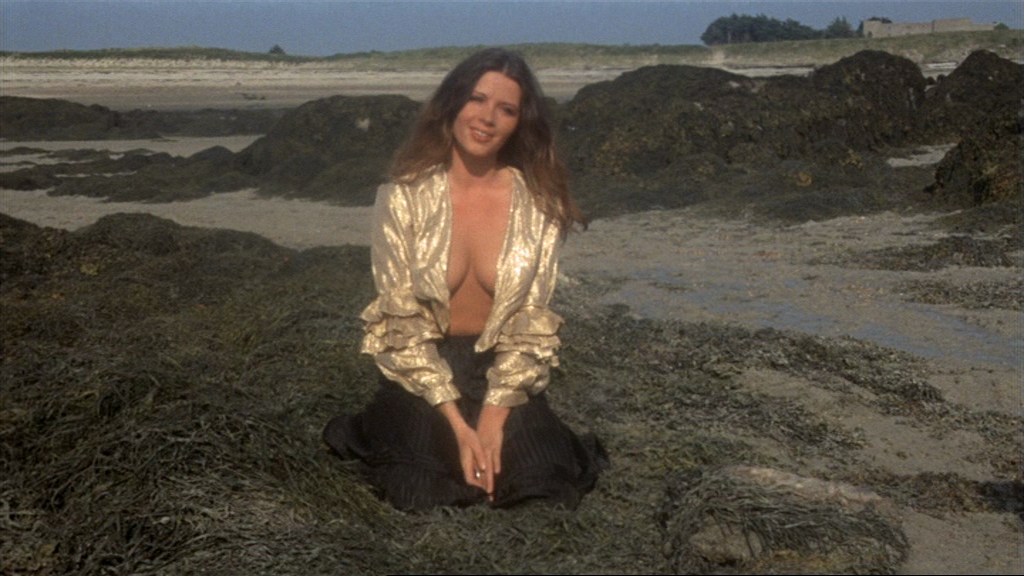 This schlocky tale of women abandoned on an island who wind up fending off the sexual advances of horny shipwrecked pirates opens with two topless women kissing. One scene takes place in a brothel and features multiple topless women. There are flashes of pubic hair and a scene where a bound woman is raped and strangled on a beach. The most graphic scene depicts Joëlle Coeur masturbating.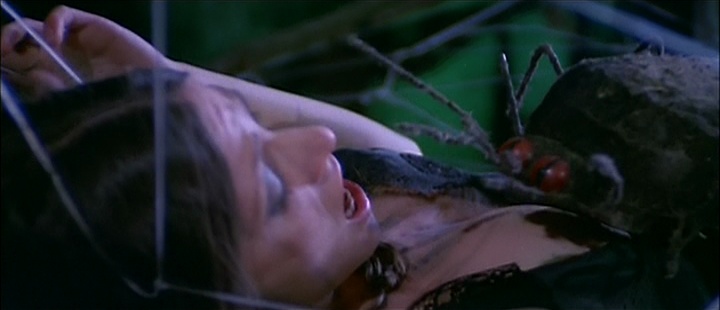 If you're looking for an early 1970s horror-exploitation film with satanic themes where a woman gets raped by a giant spider, this is the movie for you. There is lots of nudity—it's been estimated that a full quarter of the film consists of nude scenes—including male and female genitals. The film ends with an orgy between three women and two men. Alas, the men wear underwear, which is strange for an orgy.
Legendary Asian action star Sonny Chiba stars in the title role as a crime-solving survivor from a lost tribe of werewolves. A murder one night in Tokyo draws him deep into a web of seduction and deceit. Almost like clockwork, women fall in love with Wolf Guy, strip naked, and soon find themselves dead. There are also multiple scenes in gangster-run strip bars with plenty of nudity.
Filmed on the abandoned set of 1960s Nazi concentration camp sitcom—yes, such things existed in the 1960s—Hogan's Heroes, this is the first in a series of "Ilse" movies that were very loosely based on the real-life story of Ilse Koch, AKA "The Bitch of Buchenwald," the wife of an SS commandant who was legendary for her cruel treatment of prisoners. Koch killed herself in 1967 while serving a life sentence in prison. In the film, Ilse plows over several men in her quest to find the rare gent who is able to sexually satisfy her. If they fail—which is typical—she castrates them. Tons of full frontal nudity, both male and female, as well as a scene where Ilse urinates on a prisoner.
A couple who are experiencing relationship problems tries to work things out by taking a vacation on a remote Greek island, unaware that it's inhabited by a pair of murderous sexual sadists. A man has sex with a goat; a couple copulates on the grass before they are murdered; a mentally challenged shepherd rapes a man and a woman; a gay man simulates fellatio on a gun barrel. Plenty of female nudity, including pubic hair.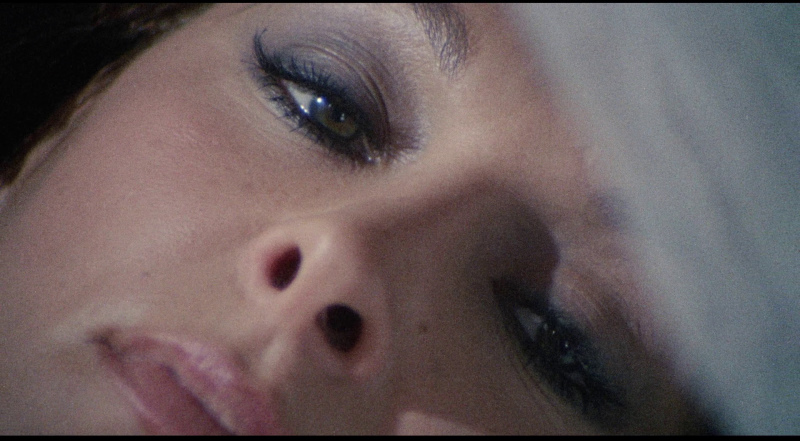 In yet another iteration of the horror-movie tropes where "researchers" wander into a jungle and wish they never had, Emanuelle and the Last Cannibals follows photojournalist Emanuelle, two female missionaries, and a hunter's party into the Amazon in search of a cannibal tribe that is presumed to be extinct. What could possibly go wrong? There are several explicit sex scenes: an asylum worker masturbates a mental patient she's strapped to a bed; a woman masturbates while watching a couple have sex; two naked women have sex with their pubic hair fully exposed; as well as endless breasts and buttocks. Apparently things get kinky upriver in the Amazon.
Released in Spain under its original title El Retorno del Hombre Lobo (The Return of the Wolfman), this is the ninth in a series of films featuring a werewolf named Count Waldemar Daninsky. The Count finds himself sentenced to death along with Elizabeth Bathory and several other witches. The film features nudity, breasts, and female pubic hair.
Very similar in theme to Emanuelle and the Last Cannibals right down to being set in the Amazon jungle, except in this case many of the horny "researchers" wind up being cannibalized. Much of the film involves fully nude characters. There are not only several sex scenes, there are also scenes where naked people are raped, beaten, and killed. Cannibal Holocaust is also intensely gory, which, combined with the nudity, led to it being banned in several countries.
This sloppy Italian-language remake of 1972's The Last House on the Left spotlights a pair of hardened criminals who crash a high-scale party in a remote village and wreak violence upon the terrified attendees. In a scene where a woman is raped and strangled to death, she is shown fully nude. A sex scene between a couple in a car involves extensive shots of nudity. So does a sex scene between a couple in the shower.
A transit vehicle driving violent male convicts between facilities crashes near a women's prison where the inmates are held under the thrall of a sadistic warden. The male convicts invade the prison, take it over, and being raping and mutilating killing the female convicts. Several scenes of fully naked female inmates, often with pubic hair. Also scenes of straight and girl-on-girl sex. Also a graphic scene involving Russian roulette.
This space-vampire movie by Tobe Hooper (The Texas Chain Saw Massacre) stars the stunning Mathilda May as a teenage vampire who seeks to save the imperiled members of her space ship by sucking the life out of other people. Ms. May is fully naked for the vast majority of the movie. Horror Land enthused, "Overall, Lifeforce is an amazing film, filled with fantastic special effects, a great cast and just about one of the most beautiful women to ever grace a film camera, and you get to see her nude!"
The filmmakers pulled quite the marketing trick here by mentioning the original Night of the Living Dead within the film as a plot device, which enabled people to think that it was a sequel by George Romero rather than either a homage or a ripoff, depending on your viewpoint. The plot involves a deadly gas leak at a medical warehouse that causes the dead to rise again. Scream queen Linnea Quigley strips and dances naked in a graveyard. A male zombie is shown fully nude. There are also a few breast shots and scenes involving naked pinups in the background.
A gruesome, grisly, sex-packed, and nearly unwatchable horror-sex-necrophilia offering from Germany. One sex scene involving a threesome between two living people and a corpse lasts for three full minutes. A man's penis is shown ejaculating both sperm and blood. A woman is shown using a corpse's head to pleasure herself. Banned in several countries for understandable reasons.
In the 1300s as the Black Death ravaged Europe, Lucifer made a deal with a monk—he'd offer him and everyone in his monastery eternal life if they pledged their souls to him. Flash forward to modern New York City, where evil huddles within a monastery where monks seek live victims to sacrifice to Satan. A woman is seen naked on a sacrificial altar. Three women are shown topless at a Satanic ceremony. A man and a woman are shown having sex from the waist up.
During her childhood, Cathy witnessed her mother murdering her father and nearly murdering her. As an adult when she returns to the home where the murders occurred, she undergoes a transformation into a "lurker"—a ghost who seeks vengeance against those who wronged them. There are a few sex scenes and moderate nudity.
Based extremely loosely on an Edgar Allan Poe short story called "Morella," the film involves a blind recluse whose wife was crucified and had her eyes gouged out seventeen years earlier for the crime of witchcraft. He is now concerned that his daughter is showing signs of being possessed by her dead mother. Cinesploitation says The Haunting of Morella has "copious amounts of nudity" and "LOTS of heaving cleavage and naked boobies," adding that "It has everything you would want from a Hammer Film-esque gothic film; foggy cemeteries, old stone manors, candelabras, stormy nights and supernatural elements."
Model turned actress and director Natasha Henstridge stars as a beautiful alien who has sex with a string of men who all wind up dying brutal deaths. Several scenes involve casual full-frontal nudity footage. Lots of breasts and hot tubs and showering. And then there are weird things like naked aliens giving birth and tentacles that shoot out of alien women's nipples to strangle humans.
Alyssa Milano attempted to shed her squeaky-clean teen-idol image with this story of a virgin who experiences a sexual awakening after being charmed by a charismatic vampire. Several scenes involve topless women. In one graphic dream sequence, Milano's character is tied naked to a bed and enjoys sexual advances from her boyfriend, a lesbian, and the vampire. A depiction of many types of sex.
This grisly horror masterpiece based on the Bret Easton Elis novel centers around Patrick Bateman, an intensely narcissistic New York investment banker who is also a psychotic serial killer who dismembers his victims with a chainsaw. One scene involves a threesome between a man and two women. Many scenes involve extremely graphic violence performed against naked women. It is the combination of extreme sex with extreme violence that made this film so hard to watch for many. In many ways this a monster movie, because the main character is such a sexual monster.
Set in the California desert, this sex-laden horror story involves two main characters who do not speak each other's native language but communicate by having sex with one another as they seek out locations for natural photography. The film's end is very reminiscent of the end of Psycho. There is graphic sexual language as well as a graphic sex scene in a pool that leaves absolutely nothing to the imagination. There are several other sex scenes as well as one scene of a man masturbating from beneath a towel.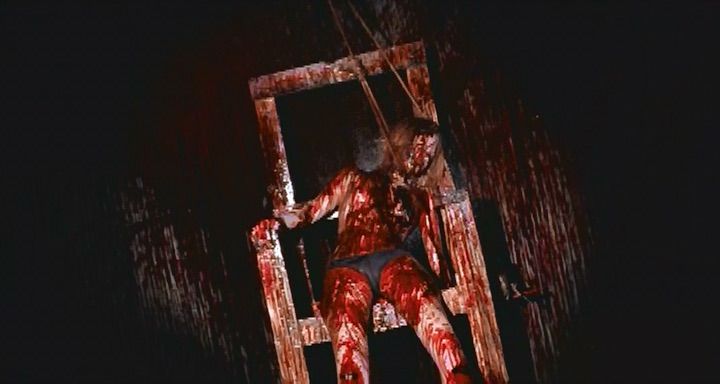 Apparently based on the 1960 British horror classic Peeping Tom, the plot involves a wealthy immigrant fashion and softcore-porn photographer with a deeply troubled childhood who stalk's and kills prostitutes. Sex and violence meld uncomfortably as several scenes involve graphic rape and murder scenes with completely naked female victims.
Based on the real-life story of Alaskan serial killer Robert Hansen, who kidnapped prostitutes, flew them to remote wooded locations, and then set them running as he chased them with his rifle, Naked Fear tells the story of a woman who arrives in a new town and is forced to take a job as a stripper. She is then kidnapped and set loose in the forest, where she is made to run through the snow for her life. Many scenes take place in a strip club and feature full frontal female nudity. One scene shows the female heroine set loose in the woods completely naked for fifteen straight minutes.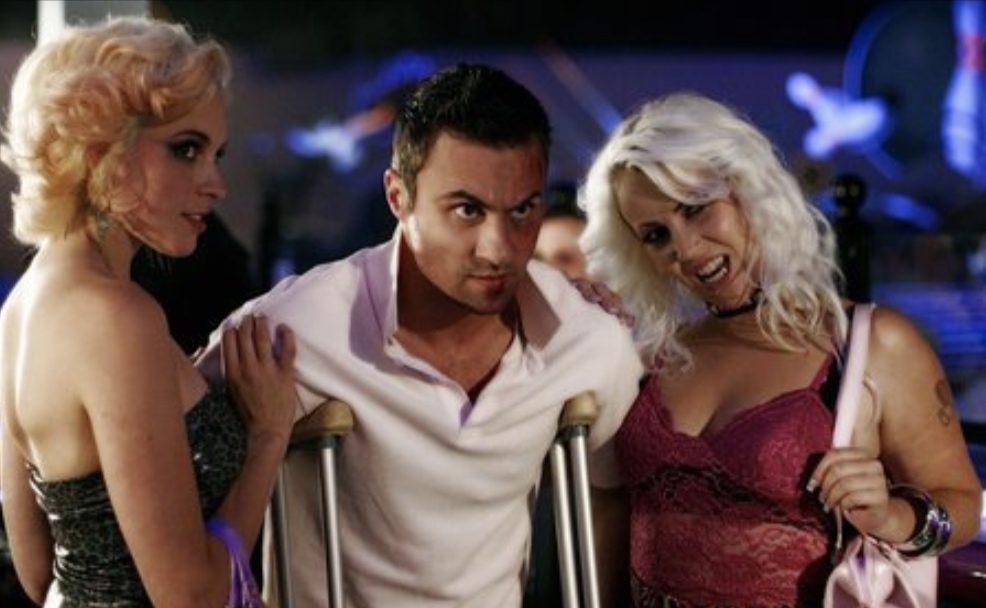 Bowling night turns into bowling nightmare as a serial killer systematically picks off members of competing bowling teams. The film uses the F-word over 500 times, which may be a cinematic record. One eight-minute scene involves a woman being raped with a bowling pin. A man and a woman are shown having anal sex. A man gets sodomized with a bowling pin. A transwoman's genitals get sliced in half.
A mourning couple seeks solace at a cabin in the woods, only to wish they'd stayed at home in this epic horror film by Lars Von Trier. Antichrist was controversial in that although it did not depict real murders, it depicted actors really having sex right before the murder scenes. There is an extended shot of closeup genital penetration, visible ejaculation, and a scene where a woman holds a pair of scissors to her clitoris and vulva.
Over the course of the five movies in the Piranha series, there were a total of 16 nude scenes. This film was chosen because it was not a "3D" film in the sense of being three-dimensional; instead, the "D" in the title refers to a woman's cup size. There is almost no plot, and the killer fish seem only incidental to the endless scenes of large-breasted women cavorting naked underwater at an island paradise. There are also several sex scenes as well as one gruesome scene where severed male genitals are seen floating in the water.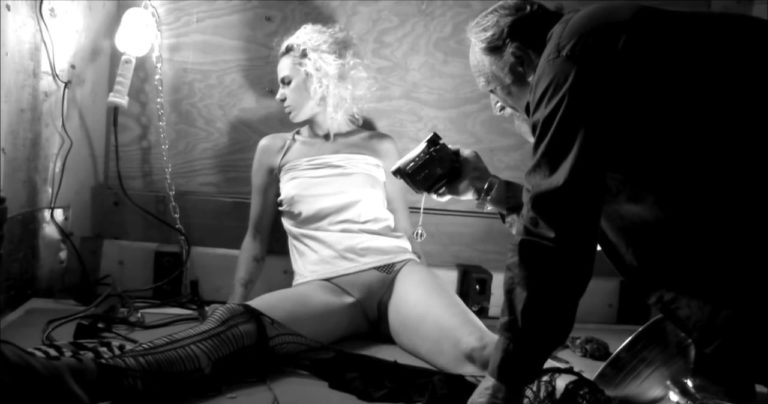 A prostitute hitches a ride with a trucker—and wishes she hadn't. The Bunny Game is based on the real-life experiences of lead actress Rodleen Getsic, who appears nude through the majority of the film. There is plenty of alcohol and drugs, as well as a very graphic fellatio scene. Some of the sex is rough and involves knife play and branding.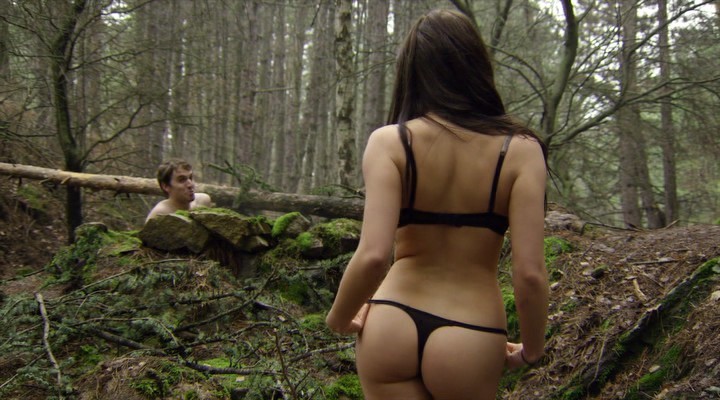 A young man claims his inheritance at an old abandoned resort in West Virginia, then finds himself fending off a tribe of bloodthirsty cannibals. Several scenes of fully naked males and females cavorting amid Appalachian hot springs. One scene shows a couple having sex underwater. In the end, the cannibals continue their bloodline by committing a gang rape.
The plot is threadbare but fun, involving a group of vampires who move to Beverly Hills and want to continue their swinging lifestyle while keeping their identity as vampires under wraps. There are several hot, steamy sex scenes of both straight and of lesbian sex. This was rated NC-17 for "Continuous Full Nudity, strong continuous sexual content and Violence." This is a film that manages to succeed by not taking itself seriously at all. While it's not Bram Stoker's Dracula, or a typical Halloween scary movie, or an interesting documentary, it is a movie that was actually made and you can actually watch.