50+ Lesbian Vampire Movies
This is comprehensive list of all the lesbian vampire movies.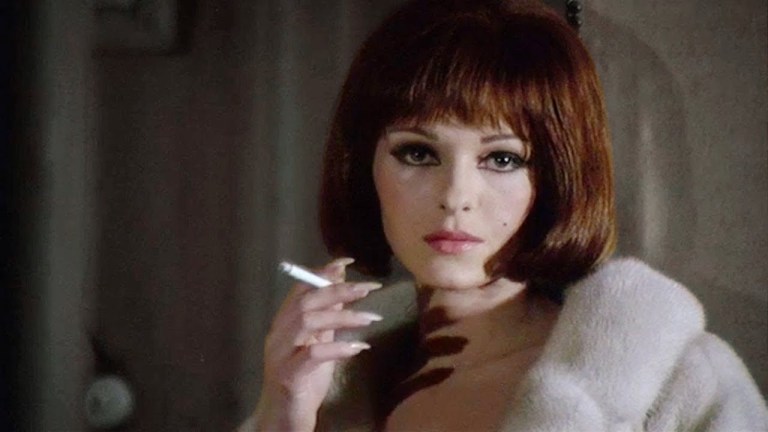 Lesbianism and vampirism have been connected since 1872 when the novella Carmilla was published by Sheridan Le Fanu. This story had the prototypical lesbian vampire and influenced the whole vampire genre.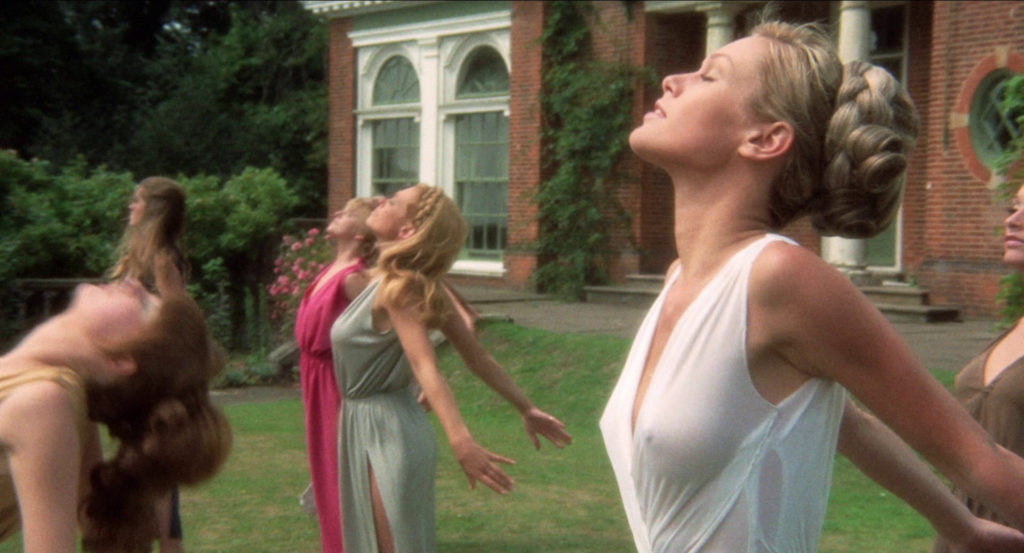 This list arranges all the lesbian vampire movies in chronological order and has a closing essay exploring more how the genre evolved over time.
Top Lesbian Vampire Movies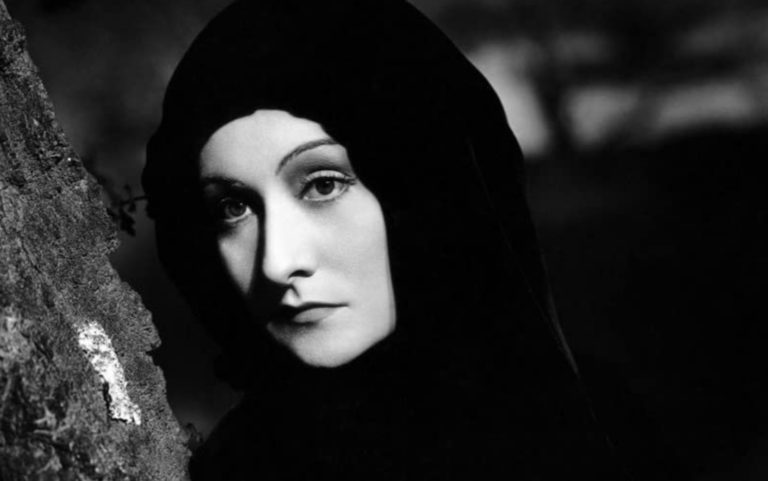 A mere five years after Bela Lugosi immortalized Dracula on film came this black-and-white classic starring Gloria Holden as Countess Marya Zeleska, who seeks to avenge her father's death at the hands of Van Helsing, who destroyed Count Dracula and is now facing trial for murder. Although there is no overt lesbianism in the film, Horror Homeroom says Dracula's Daughter is filled with "Coded Queerness": "Marya slowly seduces her female victims. The camera lingers on Marya as she gazes upon Lili's exposed body. The film underscores the attraction Marya feels toward her female victims when it appears she is more interested in kissing Janet than killing her in one of the film's penultimate scenes."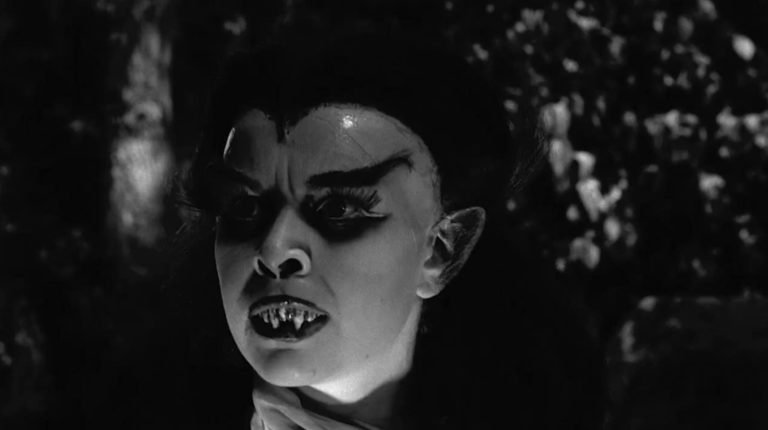 Sandra Harrison stars as an unhappy teenager who finds herself manipulated by a dominant teacher and hypnotist named Louise Lewis at an all-girls' school. Sexual tension emerges when Louise chooses Sandra over a former protege, leading to intense romantic jealousy. Sandra doesn't realize she's been hypnotized until long after she's committed a series of vampiric murders.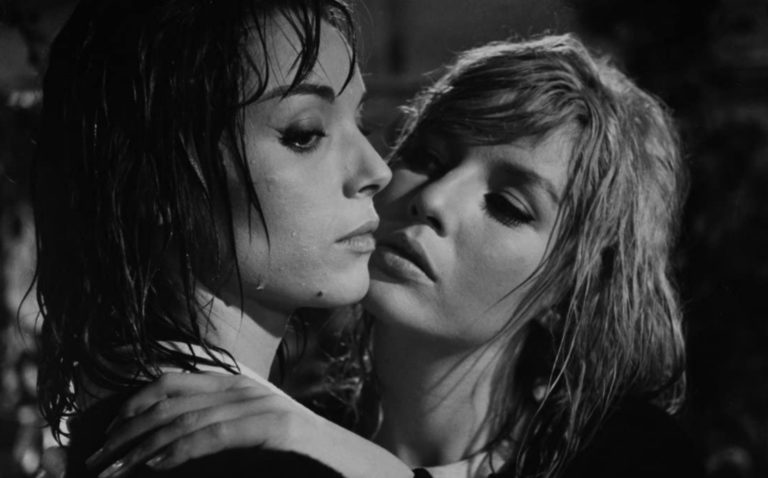 Released in France as Et mourir de plaisir (And die of pleasure), this film marks French director Roger Vadim's cinematic swapping out of his former lover Brigitte Bardot with a gorgeous blonde Danish woman named Annette Stroyberg who was already Annette Vadim at the time of the filming. Annette stars as an isolated and unhappy heiress who becomes obsessed with legends about an ancestor who had been a vampire. Elsa Martinelli provides some sexual tension between her and Vadim, but critic David Cairns says that "One might quibble that [the film] heterosexualizes J. Sheridan LeFanu's tale of vampiric/lesbian lust."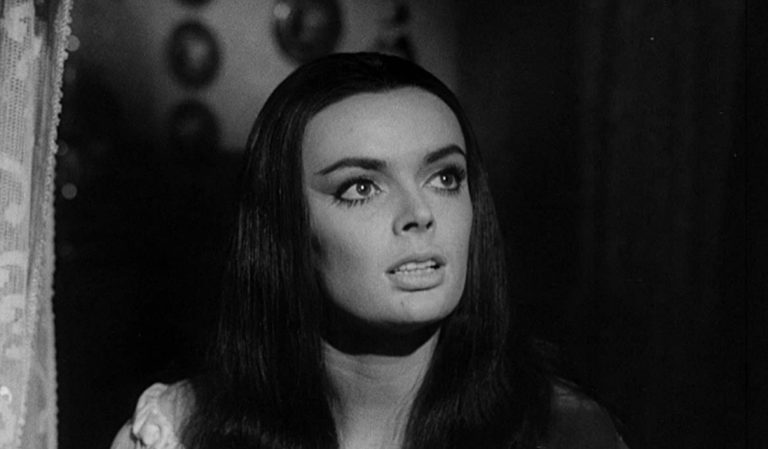 In response to the success of B-movie maven Roger Corman's string of early 1960s movies based on Edgar Allan Poe's short stories, the twist here is to cast Poe himself as a character—he meets down-and-out journalist Alan Foster at a pub and bets him that he can't spend All Soul's Eve at his haunted castle, because everyone else who has tried never saw the light of day. In the process of trying to spend the night at the castle, Foster gets caught between two lesbian vampires, one of whom infuriates the other after having sex with him.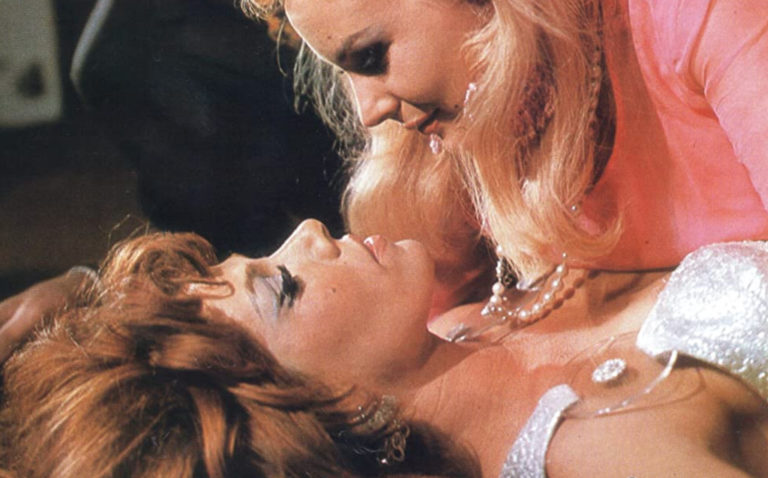 This is director Jess Franco's first of many stabs at the vampire-lesbian genre. It stars Janine Reynaud as a stripper who, according to an IMDb reviewer, "free-floats through a spectral 60's landscape littered with dream-figures, dancing midgets and bizarre S&M games." Dismissing the film as "unnecessarily dense and gloomily unromantic," Film Freak Central explains that Reynaud's character "has lesbian tendencies and represses and controls them by assuming the role of a male slasher who dominates his victims with phallic objects."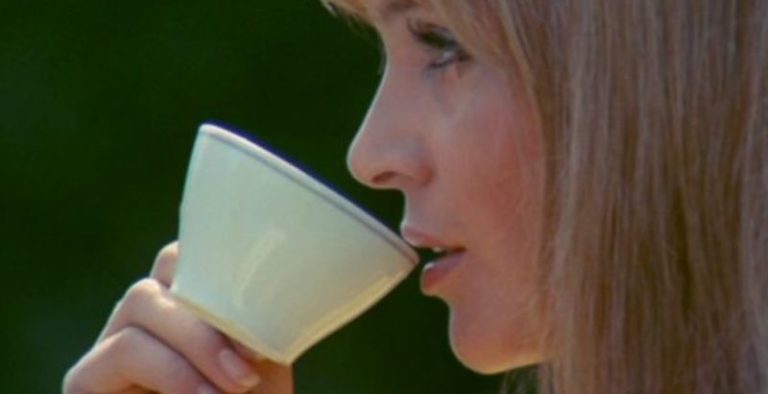 Director Jess Franco returns to Istanbul, his favorite place to shoot, for this tale of a jazz musician who digs up his trumpet from the wet sand but has forgotten why he buried it in the first place. Then he notices that the corpse of a beautiful blonde woman (Maria Rohm) has also washed up on the beach. It turns out that the woman is a lesbian vampire who has returned to wreak vengeance against her enemies. Venus in Furs was also released as Black Angel and Paroxysmos.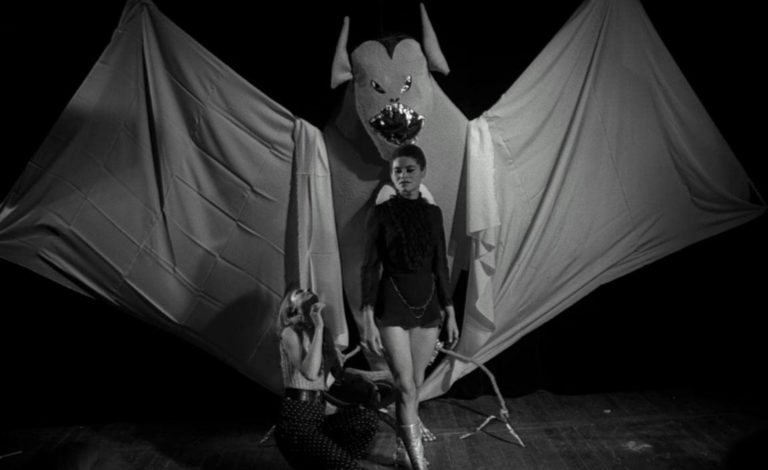 This is the first of several lesbian-vampire films made by French director Jean Rollin. It was originally made as a half-hour short film that Rollin turned into "Part One" when he decided to make a feature-length movie. In the first part, a psychoanalyst struggles to convince four sisters that they are not 200-year-old vampires. In Part Two, an alpha known as Queen of the Vampires resurrects the four dead sisters so she can perform medical experiments on them. Mondo Digital calls Rape of the Vampire "Strange, campy, and often inexplicable….It's the sort of film best watched very late at night when your mind isn't operated with all thrusters; you can just sit back and go along with its late-'60s oddness with as little resistance as possible."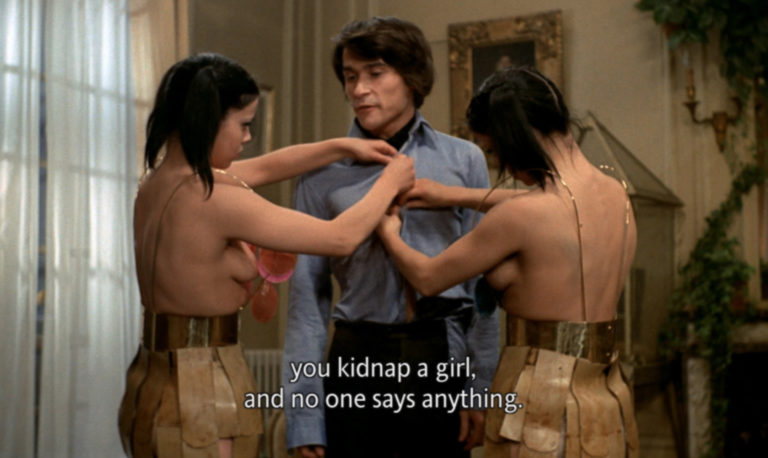 Jean Rollin returns with another lesbian-vampire film, this one focused on a wealthy hedonist/industrialist who runs a suicide cult and seeks to ensure his own immortality by infusing himself with the bodily fluids of a young female mute vampire who is being tracked by masked figures at night. HD Best complains that despite the film's title, "there's not a lot of nudity here at all. Instead of erotic lesbian vampires with no clothes on, we've got a cumbersome plot about a man who wants to unlock the secret to immortality, a young woman whose affliction might hold the key, and a suicide cult who don't get to do much."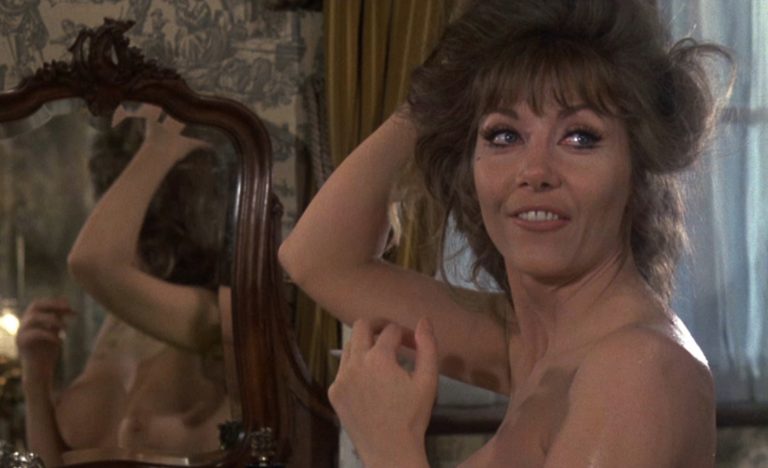 Based on the 1872 novel Carmilla, this film from Hammer Horror is the first of their lesbian-vampire trilogy. It stars Ingrid Pitt as the seductive Carmilla Karnstein, member of a family of vampires who seek out beautiful and rich people as prey in Germany during the late 1700s. The blog Morbidly Beautiful notes that in subsequent interviews, neither Pitt nor her beautiful costar Madeline Smith said they noticed any lesbian undertones in the film: "Carmilla professes her love for Emma on more than one occasion, though of course poor innocent, straight Emma insists that it's 'not the same thing' as being in love with a man. Carmilla kisses Emma on her mouth, her neck, and her breasts….I'm not sure how much gayer she can get."
A newlywed couple on their honeymoon cross paths with a beautiful countess and her female assistant. In her book Sexual Personae, Camille Paglia cited Daughters of Darkness as part of a "classy genre of vampire film" that "follows a style I call psychological high Gothic." Film critic Geoffrey O'Brien says, "Daughters of Darkness leans flamboyantly toward the artistic end of the spectrum, with Delphine Seyrig sporting Marienbad-like costumes and the Belgian director conjuring up images of luxurious decadence replete with feathers, mirrors, and long, winding hotel corridors….If Fassbinder had made a vampire movie, it might have looked something like this."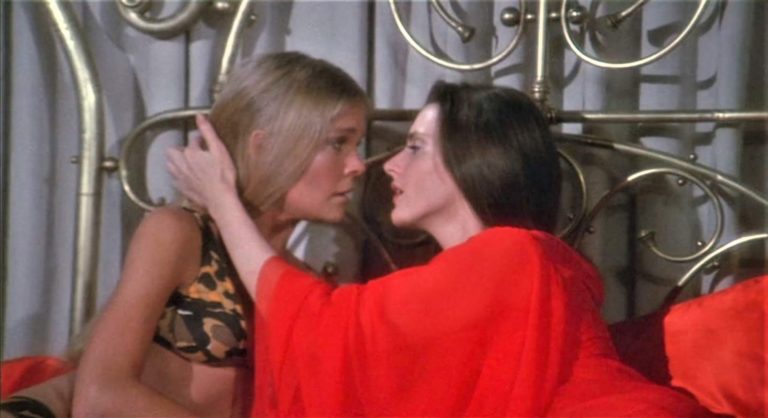 In this rare lesbian-vampire film directed by a woman (Susan Rothman), an attractive young hippie couple named Lee and Susan accepts an offer from the beautiful Diane LeFanu (Celeste Yarnall) to visit her at her remote desert estate. Diane attempts to seduce both members of the couple, and they only realize she's a vampire when it's too late. At one point, Diane tells Susan why people fear and envy lesbians—she says they are jealous of "the pleasure we have, that only we can have….They hate us for it because they can never know what it's like." Morbidly Beautiful says that The Velvet Vampire "combines transgressive exploitation cinema with feminist subtext."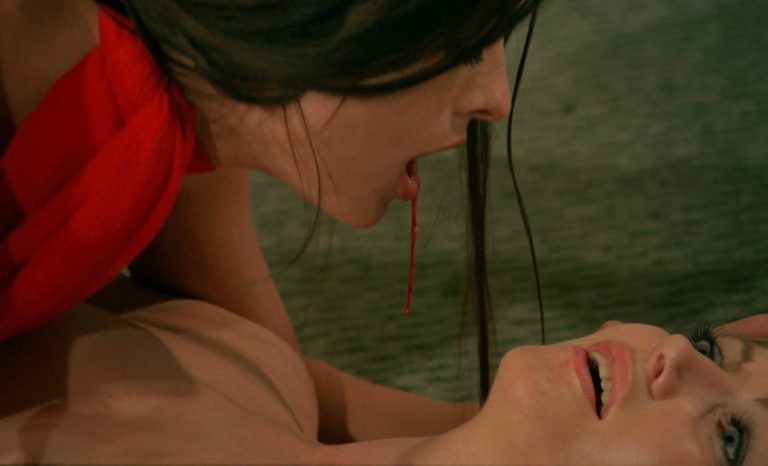 Directed and cowritten by Jess Franco, this West German-Spanish collaboration was released in Spanish as Las Vampiras. It was shot in Turkey in 1970 and featured a notable soundtrack that was released in the 1990s as Vampyros Lesbos: Sexadelic Dance Party, which became a hit on the British alternative charts. Soledad Miranda stars as Countess Nadine Caroday, who uses her erotic nightclub act to lure and then kill nubile young women.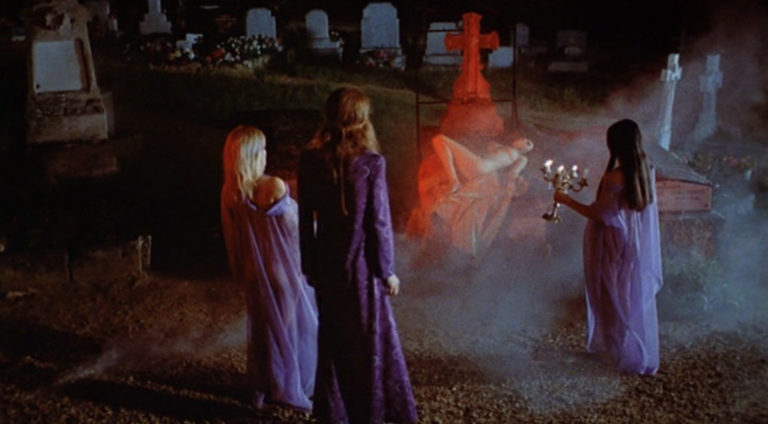 Released in France as Le frisson des vampires, this outing by director Jean Rollin focuses on a young couple on their honeymoon who stop at an ancient castle one night—always a mistake in horror movies. They had no idea that the castle is now home to several former vampire hunters who are now vampires themselves. The film's main theme is the fragility of commitment amid a sex-crazed environment. One notorious scene involves a female character stabbing another woman to death with her breasts. The film was also released as Sex and Vampires and Strange Things Happen at Night.
This is the second film in Hammer Horror's lesbian-vampire trilogy after The Vampire Lovers and preceding Twins of Evil. Set in 1830, the film shows the heirs to the Karnstein fortune conspiring to resurrect the beautiful and seductive Mircalla—AKA, Carmilla with some letters moved around. Since the British Board of Film Classification came down hard on Hammer for The Vampire Lovers, this and Twins of Evil feature far less overt homosexuality than the first film in the trilogy. The part of the male vampire was played by Ralph Bates, who has referred to the movie as "one of the worst films ever made."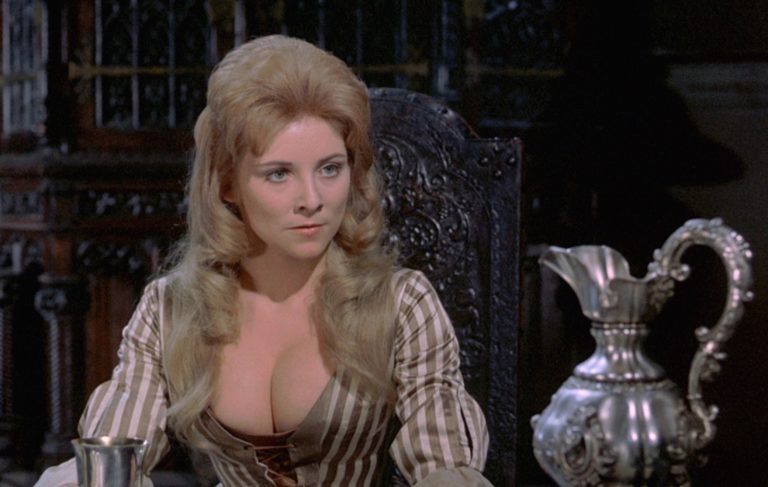 In the conclusion of Hammer's "Karnstein trilogy," a fanatical religious sect led by a man named Gustav Weil is on a mission to hunt down and kill all women suspected of practicing witchcraft. Twin girls named Frieda and Maria, nieces of Weil's, visit the town of Karnstein. Frieda skips out of their bedroom late one night, only to be vampirized by Count Karnstein. Not Coming says that although the film trots out "a seemingly interminable lineage of blood-thirsty, polyamorous nymphs," the movie can only be considered a lesbian-vampire film based on the tension created between the twins: "So now we have an interesting conflict: a pair of twins, whose emotional identification with the other imbues them with a stalwart trust no other character in the film enjoys, diverged by the corruption of one….It is this aspect that makes Twins of Evil eligible as a lesbian vampire film, only one that's less suggestive than its forebears and more conceptually innovative."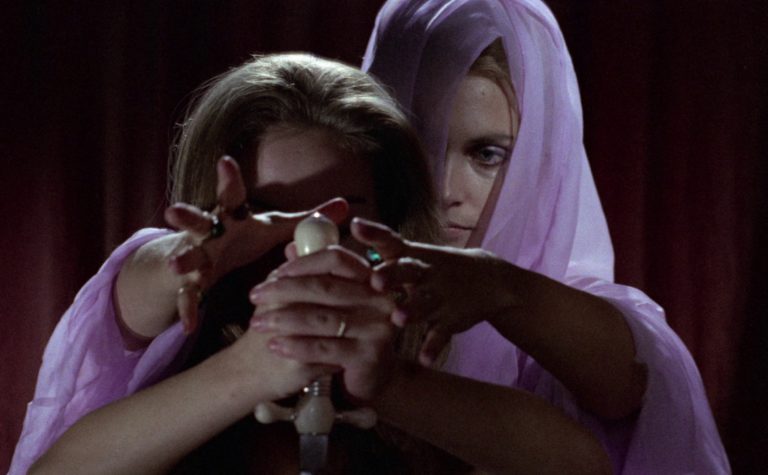 In yet another film that is loosely based on the novel Carmilla, a newlywed woman named Susan is haunted by apparitions of Mircalla Karnstein, who had murdered her husband on her wedding night. These visions are aggravated by the fact that Susan's new husband treats her like a sex toy only to be used at his leisure. In her dreams, Carmilla tells Susan to murder her husband. Morbidly Beautiful says that The Blood Spattered Bride is "widely regarded as an allegorical rejection of fascism under the Francian dictatorship in Spain" and notes that "this film is probably the only one of its kind to actually use the word 'lesbian,' even if the men using that word obviously don't know shit about lesbians either."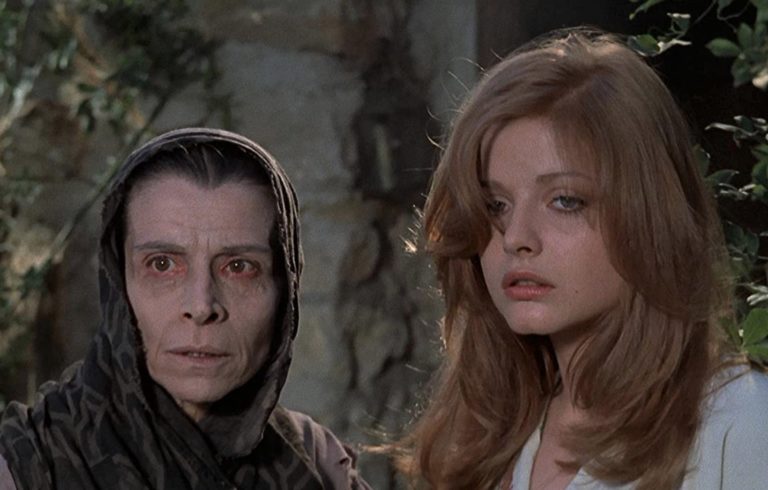 An aging noblewoman named Erzebet Bathory (Lucia Bose) is panicked that she's losing her looks with age, so she takes advice from her personal nurse about how to reverse the aging process—she should kill young virgins and bathe in their blood just as Elizabeth Bathory did in the 1500s. Erzebet initially refuses the advice—until a drop of a young girl's blood falls on her hand and she notices that the skin underneath immediately acquired a youthful glow. Scream Horror Mag says that "The main theme running through the film is clearly that everything that lives and thrives does so at the expense of something else." Originally released in Spanish as Ceremonia Sangrienta.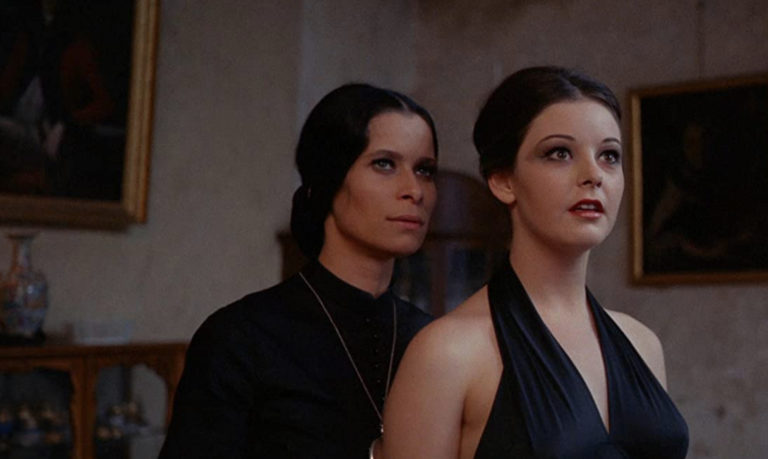 In this Swedish/Swiss/German collaboration by director Joe Sarno that was released in German as Der Fluch der schwarzen Schwestern (The curse of the black sisters), a castle hostess named Wanda lures young women to participate in satanic lesbian rites that seek to resurrect a lesbian vampire named Varga, who had been burned alive hundreds of years ago by a mob of villagers. Varga's soul lives on in the person of Wanda, who seeks to eliminate, one by one, the descendants of Varga's tormenters.
Set in the Southern USA during the Prohibition era, the film's plot involves a young girl who returns to her hometown to visit her dying father, only to be drawn into a web of vampirism and lesbianism. The 13-year-old girl, Lila Lee, is attacked by a mob of vampires while she's riding alone on a bus through the country. A strange woman named Lemora suddenly appears and rescues her, but her support comes at a price. Also released as Lemora: A Child's Tale of the Supernatural, The Legendary Curse of Lemora, and Lemora, Lady Dracula.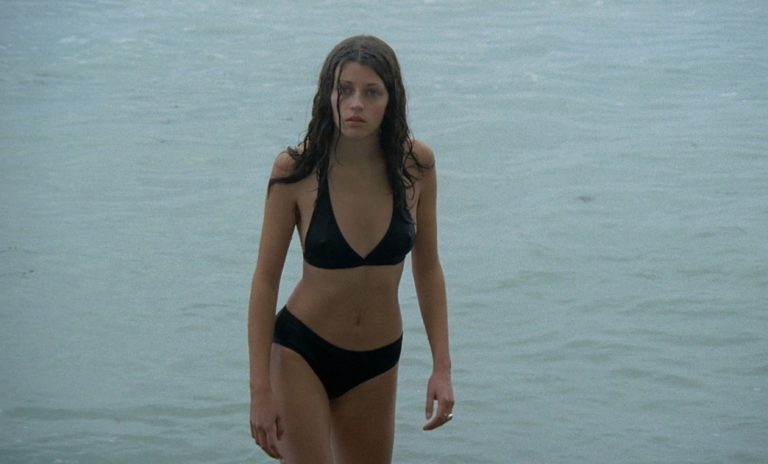 Released in France as Contes immoraux, this anthology film is separated into four stories that cover taboo themes such as incest, Christian suppression of sexuality, and the licentious illegitimate daughter of a pope. The lesbian-vampire-themed segment stars Paloma Picasso as Elizabeth Bathory, who maintains her youth by killing virgins and bathing in their blood.
This British horror film stars Anulka Dziubinska and Marianne Morris as Fran and Miriam, two lesbian lovers who get shot to death while in bed at a rural English estate, only to resurrect as vampires who draw unsuspecting travelers to the crumbling mansion in order to feed on their blood. Critics slammed the film for its graphic depictions of sex and violence, which despite it being the 70s was still considered shocking for the time.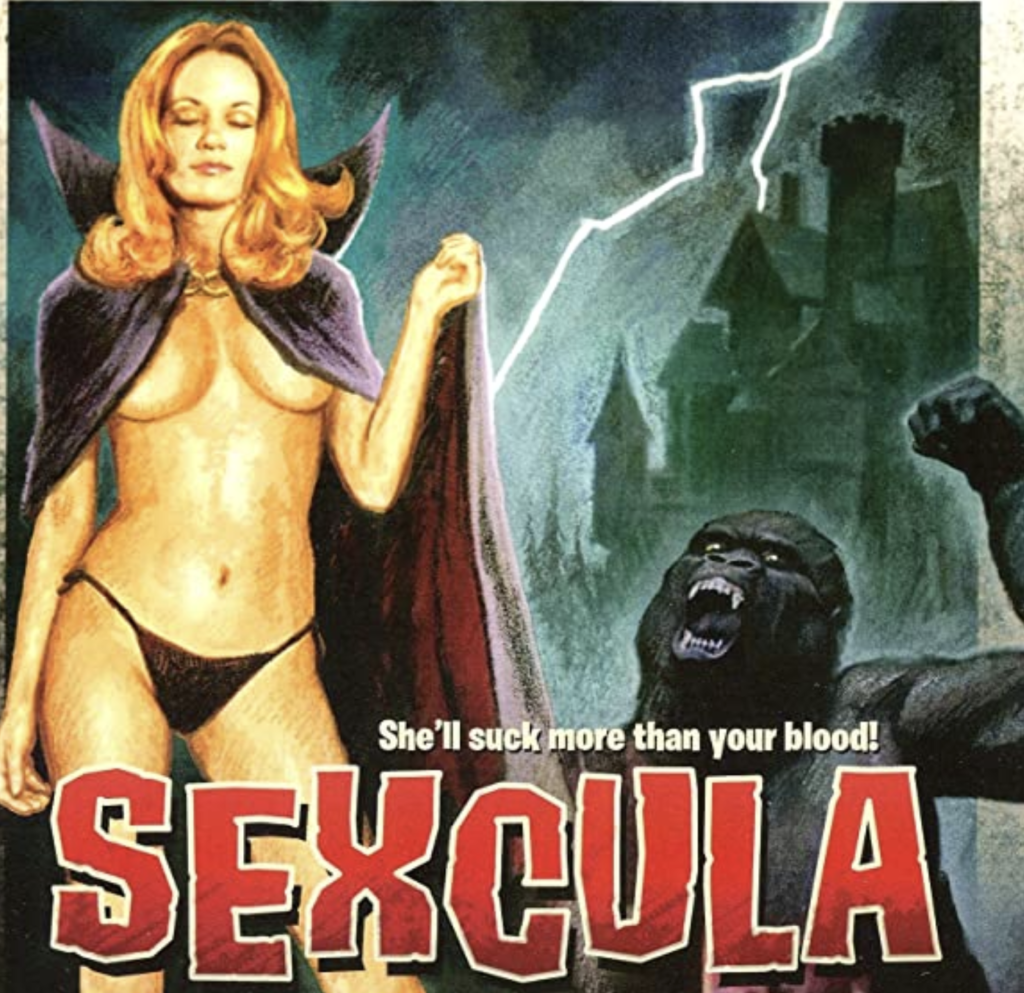 Once thought to be a lost film, this awkwardly titled movie was recovered and released on DVD. The plot involves a woman who inherits a mansion and finds an ancient diary by a female physician, who has created a monster known as Fellatingstein, the only man on earth capable of keeping pace with her sex drive. Unfortunately, even Fellatingstein lags behind, so the heiress invites Countess Sexula to provide her with satisfaction. Horror News called Sexcula a "turdblossom of a movie," noting that "since this was made during the swinging seventies when grooming really wasn't too much of a deal breaker when you were feeling randy, everyone is especially hirsute in their nether regions."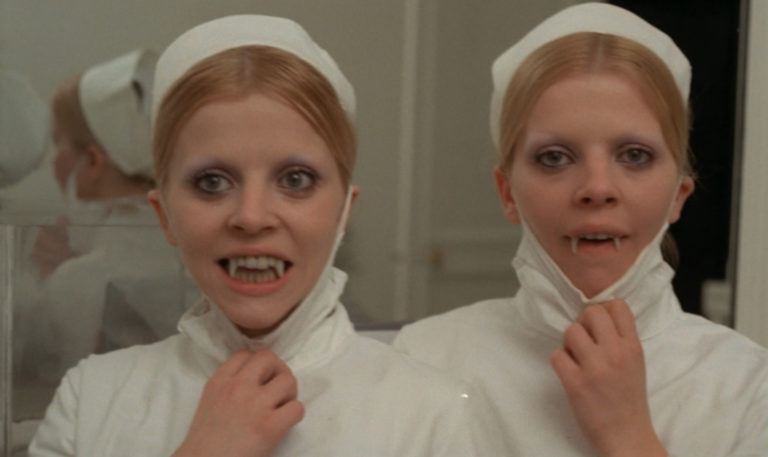 This French film by Jean Rollin that was originally released with the title Lèvres de Sang was also released in a hardcore pornographic version called Suce Moi Vampire (Suck Me, Vampire). A man named Frédéric, who after seeing a photo of a dilapidated castle by the ocean, experiences a sense of deja vu and visits the castle to find the gorgeous woman who lives there. The woman's name is Jennifer, and she keeps appearing to him in a white gown, then leads him to a cemetery and persuades him to open up a series of coffins that contain rabid lesbian vampires.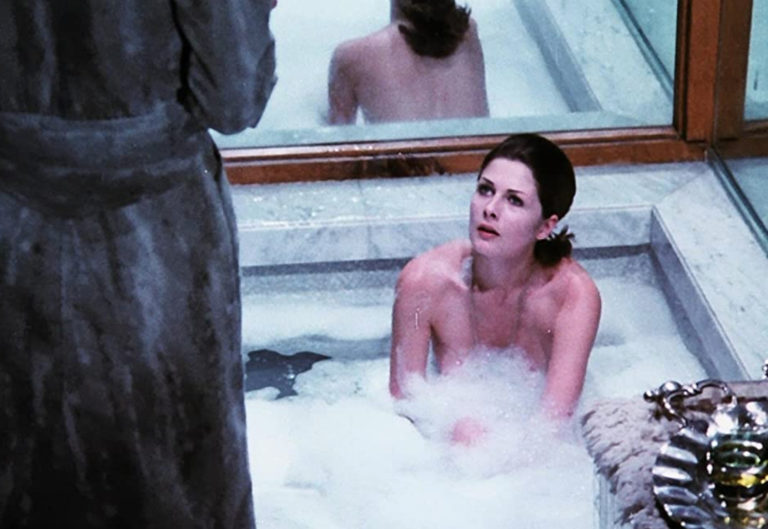 A bisexual American artist named Mary Gilmore gets stuck in a rural Mexican thunderstorm after her van breaks down. At an apparently vacant house nearby, she finds Ben, a vagrant squatter. He repairs the van and they spend a day at the beach together. But when Ben goes to buy fish for their next meal, Mary spikes a local fisherman's coffee, then stabs him and drinks his blood—her first murder of many in this tiny Mexican village.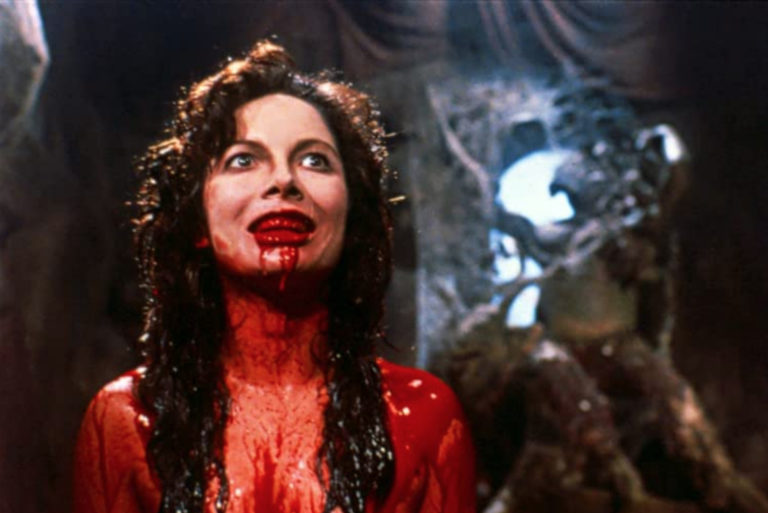 Yet another film that is "loosely based" on 1872's Carmilla, this English-language Mexican production deals with the themes of tradition v. modernity and science v. religion. It follows the story of a young girl named Justine who joins a convent after the death of her parents. She is accompanied by a friend she calls Alucarda. A day after arriving at the Catholic convent, both Justine and Alucarda strip naked and perform a blood ritual in honor of Satan. Also released as Innocents from Hell and Sisters of Satan.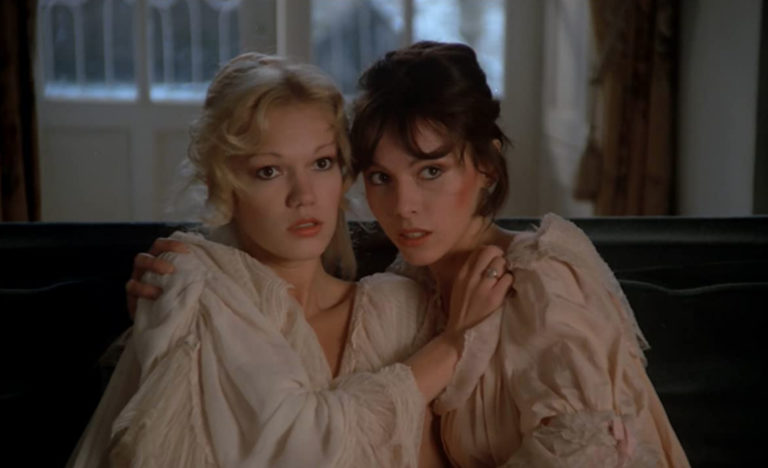 In 1905, a runaway criminal named Marc breaks into a spooky chateau in the French countryside and takes two female servants hostage. But rather than being terrified, the two female servants, who appear to have a relationship that is "more than friends" with each other, find Marc attractive. Later that night, a group of rich Parisian women arrive and begin drinking ox blood as a way to cure anemia. When it becomes clear that the women intend to vampirize Marc and the two maids at midnight, Marc and one of the girls escape. The other girl finds them and, in a fit of jealousy, shoots them to death. The final scene shows this girl walking toward the sunrise with the chateau's Marchioness. Directed by Jean Rollin.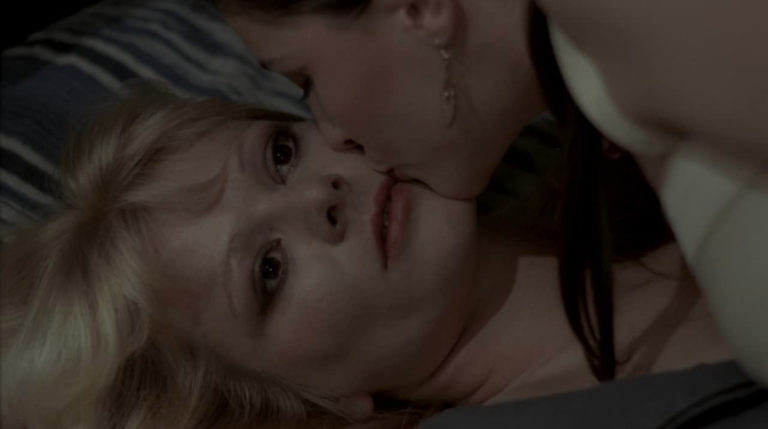 Released in France as La Morte Vivante, this film starts out with two men who break into an ancient crypt with the intent of dumping some toxic waste and robbing some graves. But in the process, they revive a beautiful dead heiress named Catherine Valmont, who savagely murders the grave-robbers and drinks their blood. Her childhood friend Hélène arrives at the scene. After being shocked at the sight of dead bodies, Hélène sees Catherine, naked and playing a piano. Traumatized by all the violence, Catherine attempts suicide, only to be rescued by Hélène, who offers herself to save Catherine, who promptly eats her alive.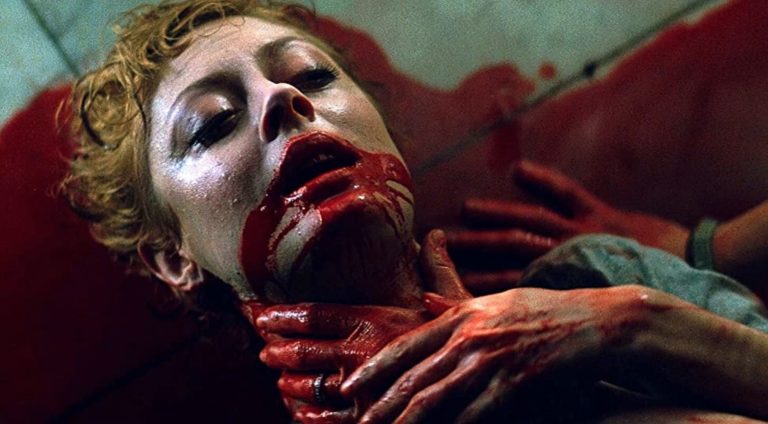 In probably what is the most commercially successful lesbian-vampire film of all time, rock star David Bowie and actresses Susan Sarandon and Catherine Deneuve team together in a strangely morbid menage-a-trois. In an interview with Vulture.com, Sarandon describes her lesbian scene with Deneuve: "For The Hunger, the whole point of that scene between Catherine and me is that she transfuses her, in order to get her addicted to blood. It's not just a love scene. And so the love scene itself was never really made explicit….So we came up with the little thing of me spilling the wine, or the sherry, because what I thought was sexy was the first moment that people touch."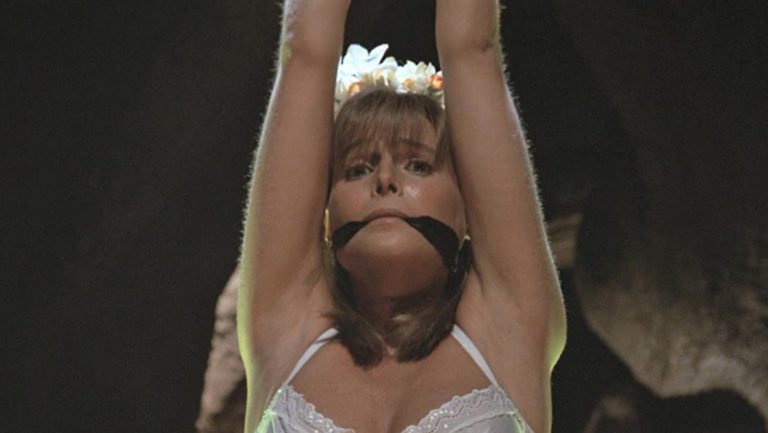 British director Ken Russell specialized in excess, and in this filmic version of Bram Stoker's obscure 1911 story The Lambton Worm, he pulls out all the stops. After an archeologist finds an odd skull in a foreign country, local residents begin disappearing. Amanda Donohoe stars as Lady Sylvia Marsh, a lesbian innkeeper who houses two female kidnapping victims played by Catherine Oxenburg and Sammi Davis. Nostalgia Central says, "Nude nuns, lesbian catfights and snake-cult rituals; what else could this be but a Ken Russell fantasy sextravaganza?"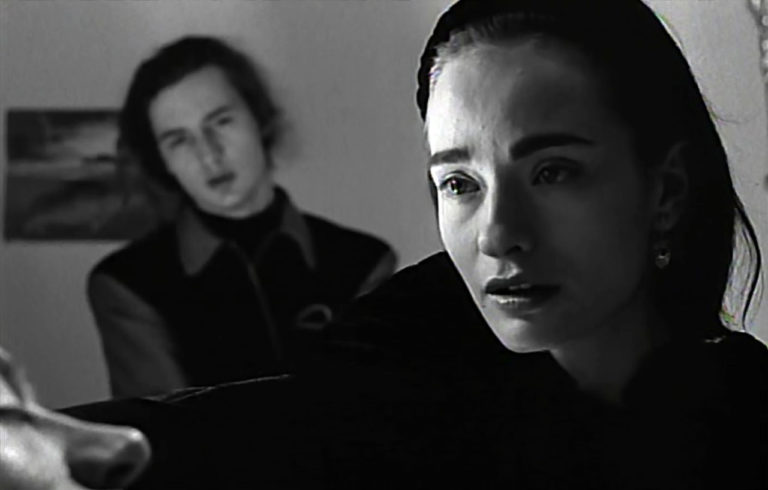 Set in New York City, Nadja deals with a family of dysfunctional vampires trying to make sense of each other and the modern world around them. Johnny Alucarda says that Nadja steals the plot "almost intact" from 1936's Dracula's Daughter, with the main switch being that the female protagonist actually falls for the heroine instead of the male hero: "Otherwise, this is character-for-character and beat-for-beat a remake of the earlier movie."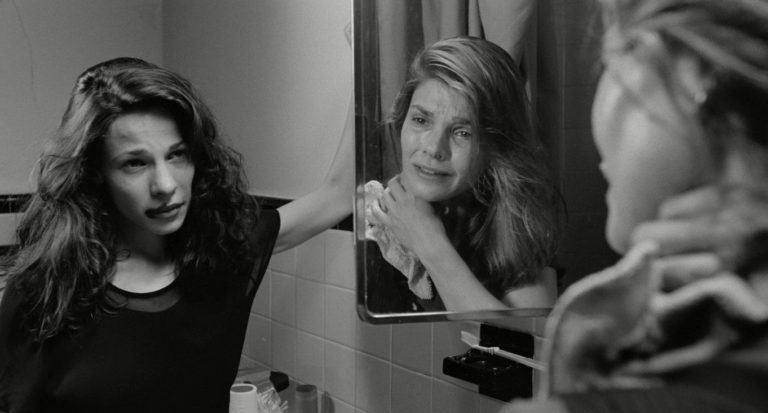 This black-and-white, shadowy film directed by Abel Ferrara and set in New York City was described by Film Critic Australia as a "genuinely philosophical horror movie" and a "return to such stylish, minimal, black and white horror movies of the early '60s as Carnival of Souls (1962)." It contains elements of French cinema fantastique such as the fact that no one thinks it's weird that vampires are roaming all over New York City. Annabella Sciorra stars as a graduate student in philosophy who becomes a vampire after being bitten by one, only to set her erotic sights on another woman who is played by Lili Taylor.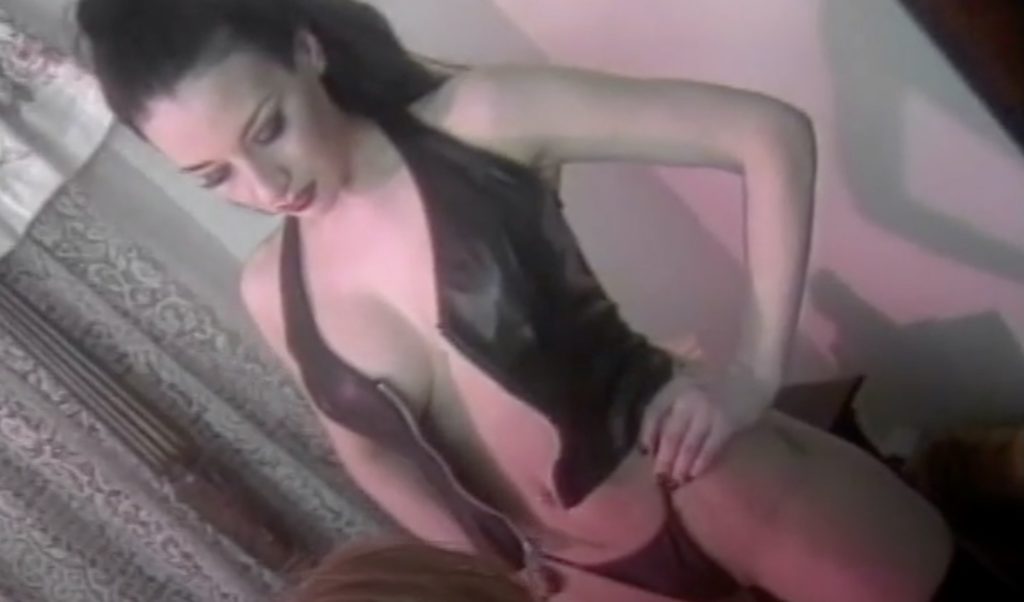 An extremely low-budget film from New Jersey—it all appears to have been filmed on a primitive handheld videocamera—Caress involves a lesbian vampire who lands on Earth seeking a new lover and some fresh blood. She sets her sights on a woman who lives next door to her in Glenwood, NJ. Calling the film a "disaster piece," Final Girl says, "Caress of the Vampire is a complete failure in every single way—it's not so much a movie you watch as it is a movie that happens to you. If you're thinking there's at least some decent softcore action here—a natural assumption given the whole strippers as lesbian vampires angle, then you're thinking wrong, friendo."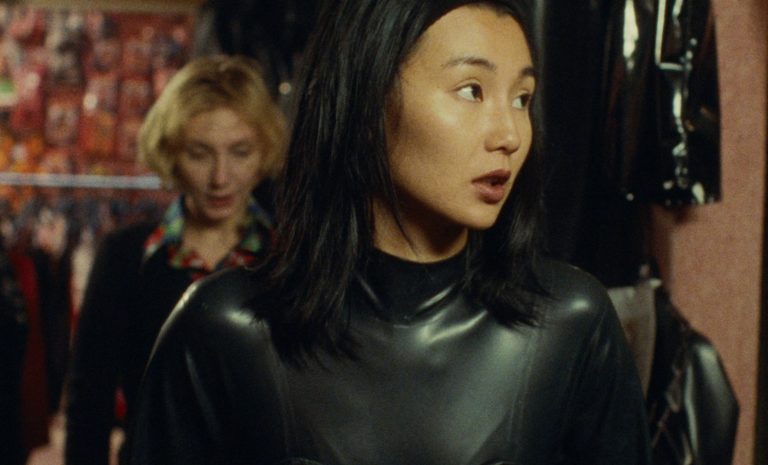 Maggie Cheung stars as a Chinese actress who travels to France to star in a remake of the 1915 silent classic Les Vampires, only to fall for the charms of the film's costume designer Zoe (Nathalie Richard), a queer heroin dealer who is immediately infatuated with Irma. Critic Emmanuel Levy calls Irma Vep a "self-reflexive, playful satire" that was deeply inspired by Francois Truffaut's 1974 Oscar winner Day for Night.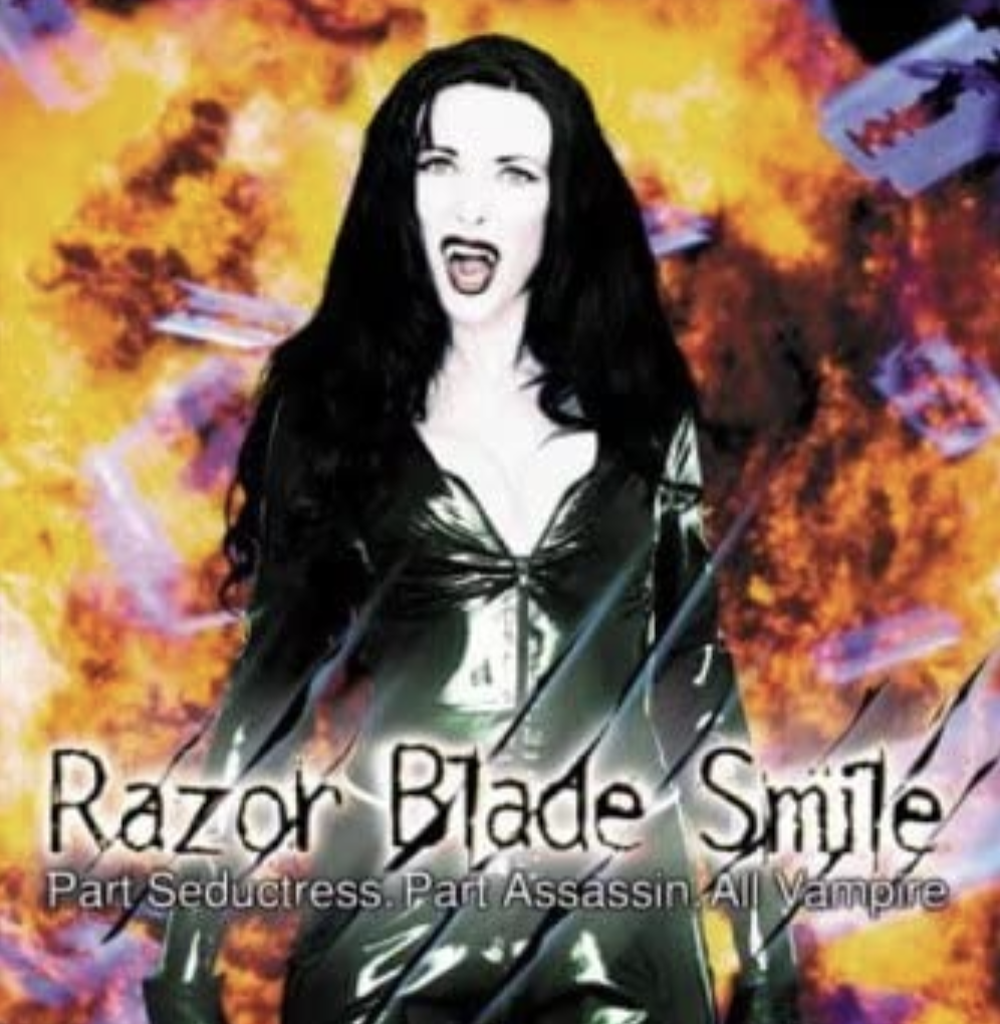 A woman named Lilith, born in the 1800s but still alive after being bitten by a vampire, secures a gig as a contract killer in the modern world. But when her victims are members of the elite Masonic "Illuminati," she is targeted by a Scotland Yard detective. Coincidentally—or not, remember, this is a movie—the head of the Illuminati, Sir Sethane, was the original vampire who bit Lilith and made her a member of the undead.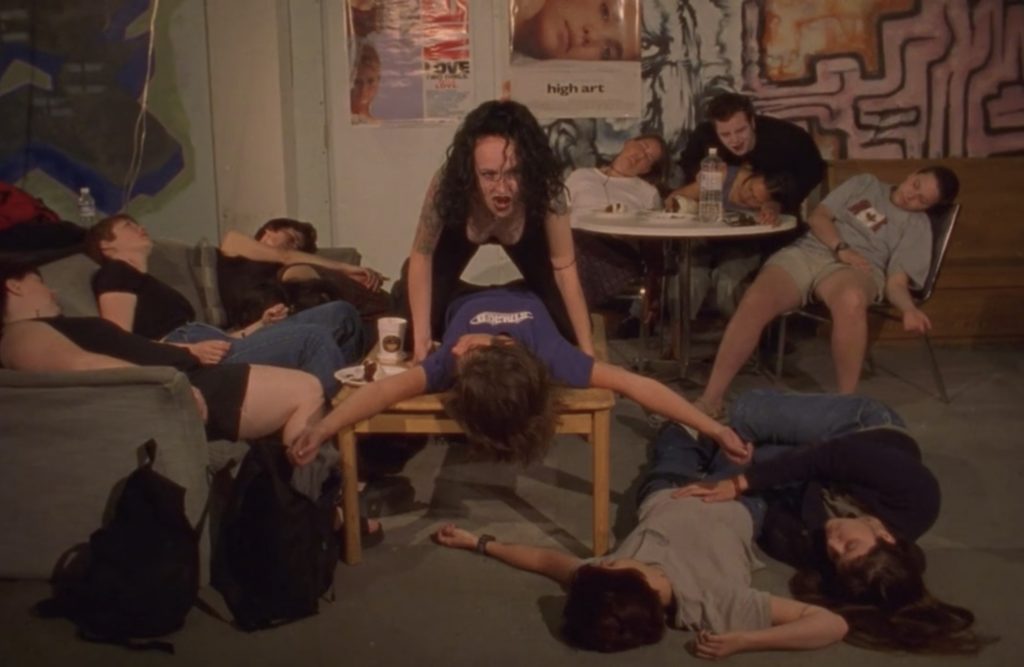 In this Canadian martial-arts horror comedy musical about the second coming of Christ, a Catholic priest realizes that Jesus is the only entity who can save Ottawa's lesbians against attacks from vampires. Two priests track down Jesus, who is chilling at a lakeside beach, but they are killed by three lesbian vampires. Jesus uses the lake as holy water to subdue the vampires. He goes to Ottawa, gets a haircut, and wins a street fight against thirty atheists. But he loses a rooftop fight alongside the Virgin Mary, who becomes a vampire after she is bitten.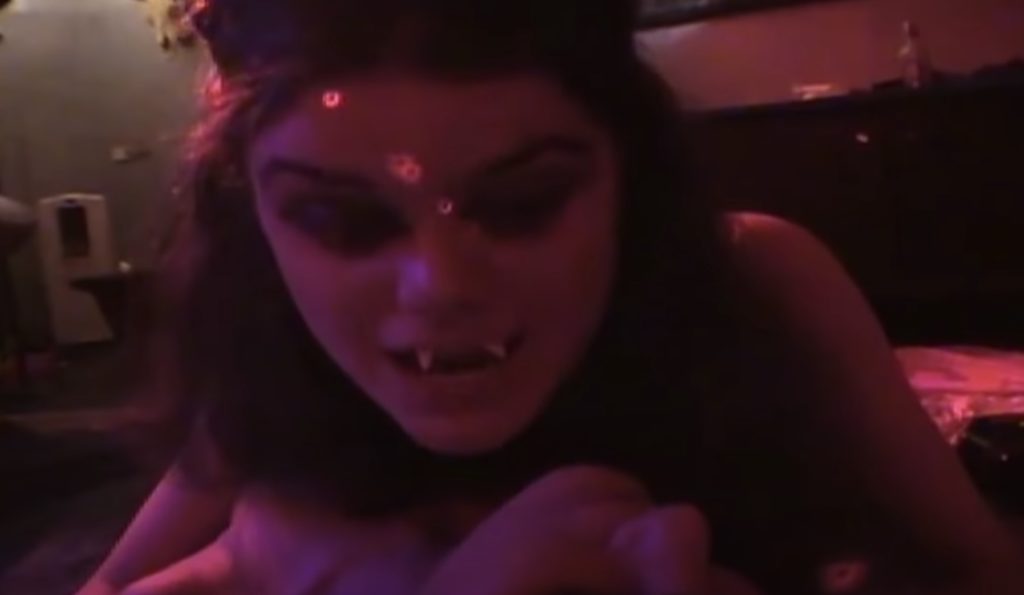 In this super-low-budget film that was also released as Lesbian Vampires: The Curse of Ed Wood, a girl named Lilith has a relationship-ending fight with her girlfriend, only to run into Carmilla, Queen of the Lesbian Vampires, shortly thereafter. When Lilith's ex-girlfriend feels remorse and seeks to repair the relationship, she is appalled to discover that her ex is now consorting with a vampire. To ensure success and safety in winning Lilith back, she hires a vampire hunter known as Muffy the Vampire Slayer.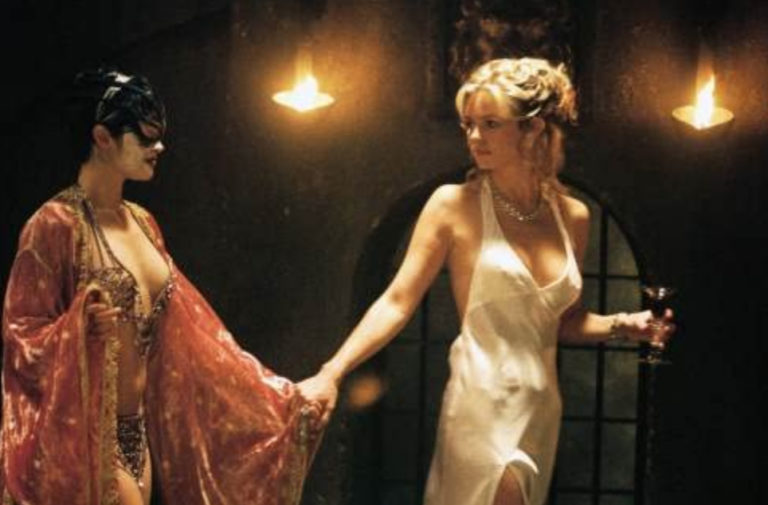 Montreal detective Raymond Pope is searching for his missing wife. His search leads to the mansion of a wealthy woman named Elizabeth Kane and her maid Irina. Unbeknownst to Raymond, Elizabeth is actually Countess Elizabeth Bathory "repeating her crimes in modern-day Montreal." What this means is that she meets women in chatrooms and promises them sex, only to deliver the blade. Reel Views complained that the film was insufficiently sexy: "It has the cheesy music. It has the wooden acting by thespians whose names are not destined to top many A-movie marquees. It has the requisite soft focus camera work and hardcore bloodletting. What it's missing is the nudity."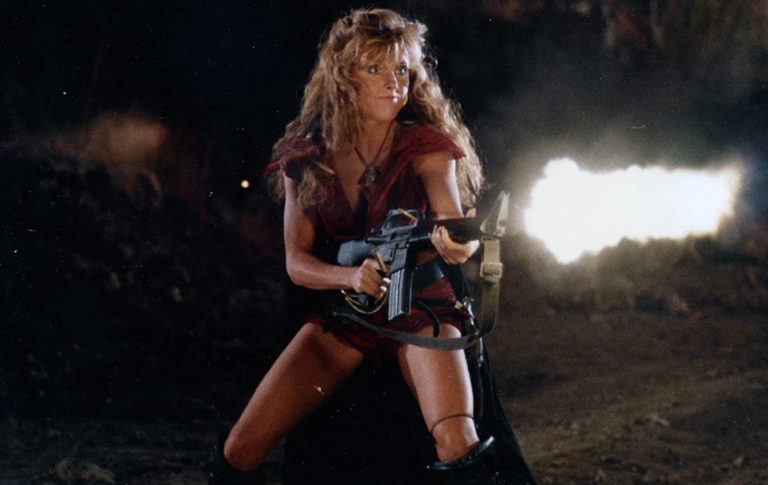 In this teen horror movie, two girls named Christine and Reagan are paired together in the same college dorm. Christine is a dour sort who recently lost her parents in a car accident and focuses on getting good grades. Reagan just wants to have fun. Christine then accepts an invitation from Devin, the beautiful president of a college sorority, and thus begins a decadent and exciting life away from Reagan and feels suddenly liberated with all her newfound magical powers. Final Girl writes, "apparently Devin is immortal and has been corrupting innocents for 400 years, while the ancestors of both the teacher and the student have battled her throughout the centuries."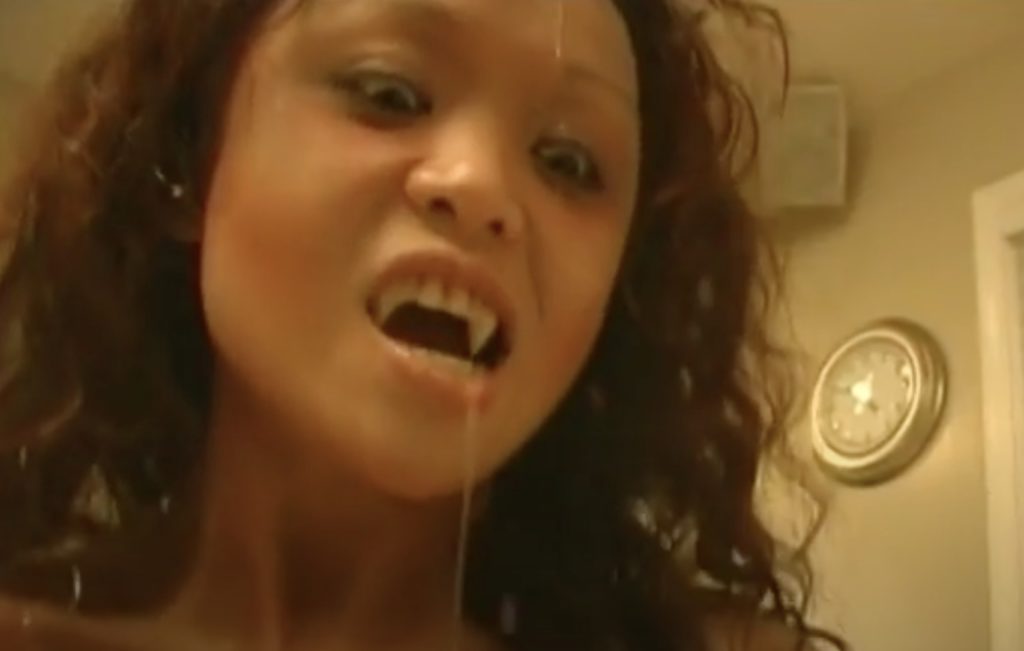 After much searching, two art teachers who are terrified that their looks are fading finally get their hands on Elizabeth Bathory's diary and start practicing bloody rituals that lead to several dead bodies, including a young virgin girl named Amy who was one of the teachers' art students. Calling the film a "pseudo-theatrical enema," Something Awful synopsized the plot: "A pair of would-be vampires uncover the secret of immortality, unleashing a stream of vampiric death on unsuspecting college students."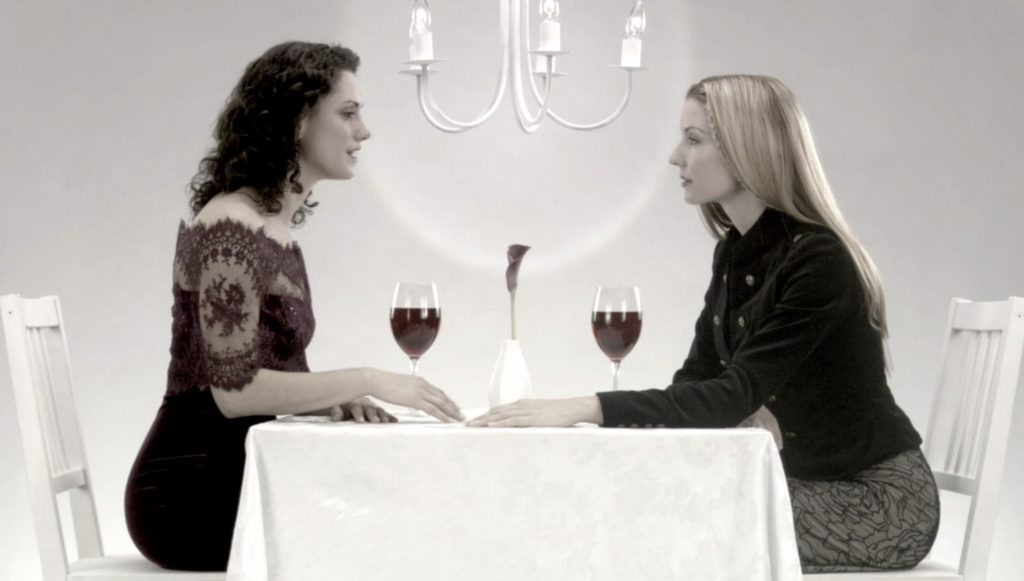 David Carradine stars as a vampire hunter named Van Helsing who tracks a pair of women (Natalie Brown and Deborah Odell) who belong to an ancient sect of vampires—the last on Earth. The last sect has set up an internet dating site where people pay top dollar to watch female vampires biting a man who's strapped down to a table. Viewers of the site also pay for extras and are required to provide their name, address, and blood type.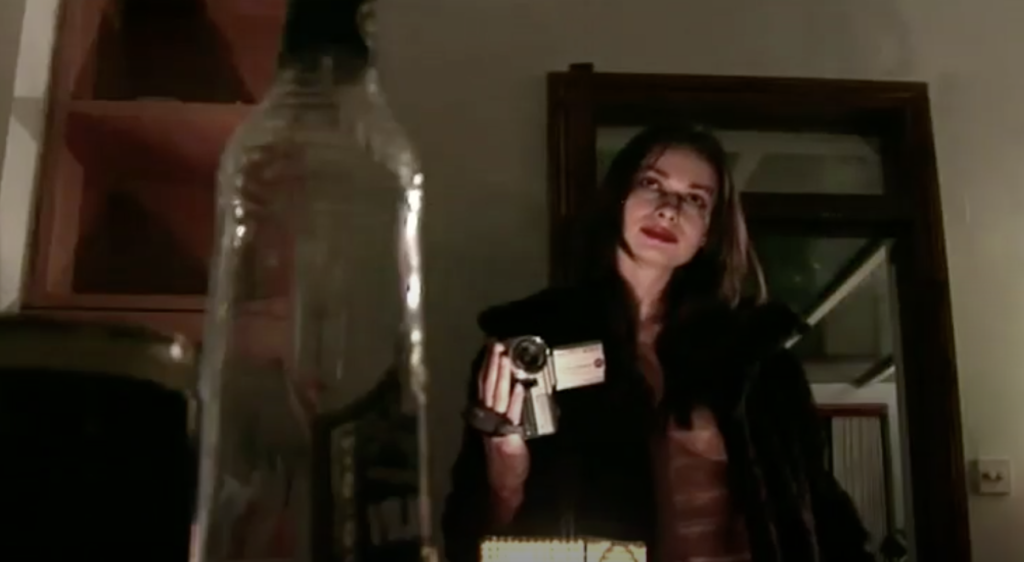 Holly (Morven Macbeth) is an aspiring documentarian who tracks a group of London Goths who play-act at being vampires—except they've been infiltrated by an actual vampire, a beautiful woman named Vicki (Anna Walton). Holly and Anna fall into a tempestuous and passionate relationship, but when Holly realizes that Anna is an actual vampire who's pregnant with a "vampire baby," things quickly go bad. Variety says that "Vampire Diary is in its way a serious (if slightly preposterous) relationship drama, with a touch of The Hunger."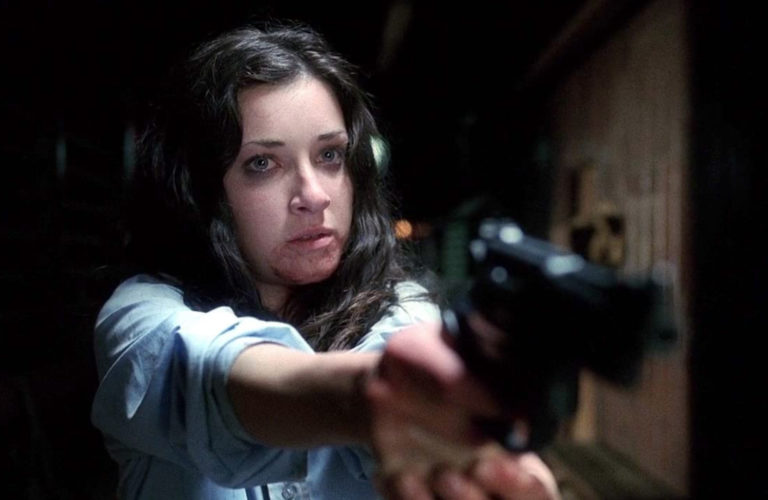 Immediately after publishing an article about a secretive Goth party scene, reporter Sadie Blake (Lucy Liu) wakes up in a morgue and realizes that she is now a member of the undead. She vows revenge against the sect who made her this way and teams up with a troubled police detective (Michael Chiklis), whose daughter was vampirized by the same group and is on a similar revenge mission.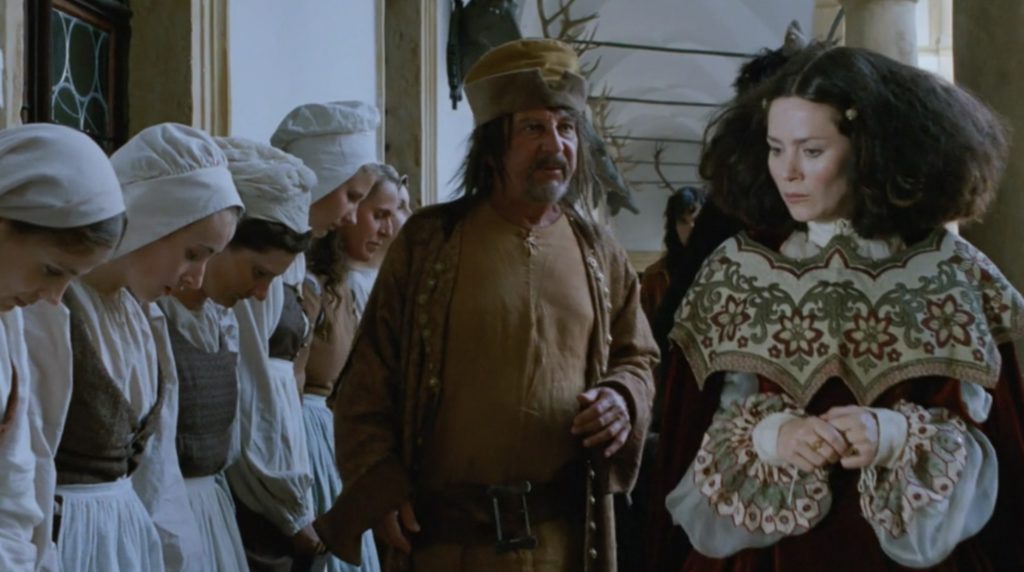 Countess Elizabeth Bathory returns in this tale, using her young cousin Nora to fetch gorgeous young girls who are offered up as so many lambs for slaughter. When Nora decides to start recruiting and slaughtering peasant women for herself, the Countess does not respond well. A reviewer for IMDb called the film "too boring to be shocking, and too ugly to titillate….Basic, mean-spirited erotic shocker dealing with Bathory should have worked perfectly, but 'Blood Countess' is utter failure, not even worth the price of renting."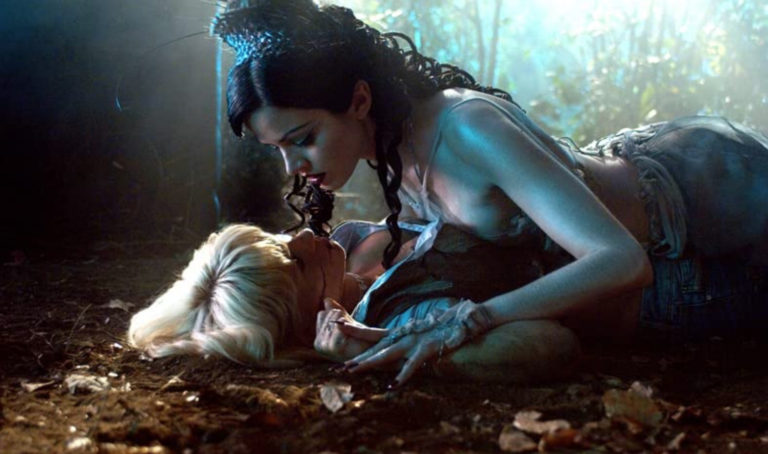 Friends of screenwriters Stewart Williams and Paul Hupfield challenged them to come up with a film title that was both extremely dumb and commercially viable. They decided on Lesbian Vampire Killers and got to work. Their story takes place in rural England, where the local women have all been enslaved by lesbian vampires, so the men send out two young males (played by James Cordon and Matthew Horne) to the super-creepy and foggy moors as a blood sacrifice. Classifying the film as a comedy, The Horror Club says, "It's basically a ripoff of Shaun of the Dead, but with slutty vampires." Cordon has gone on to label being part of the film as "quite embarrassing" and has even gone so far as to call it "a pile of shit."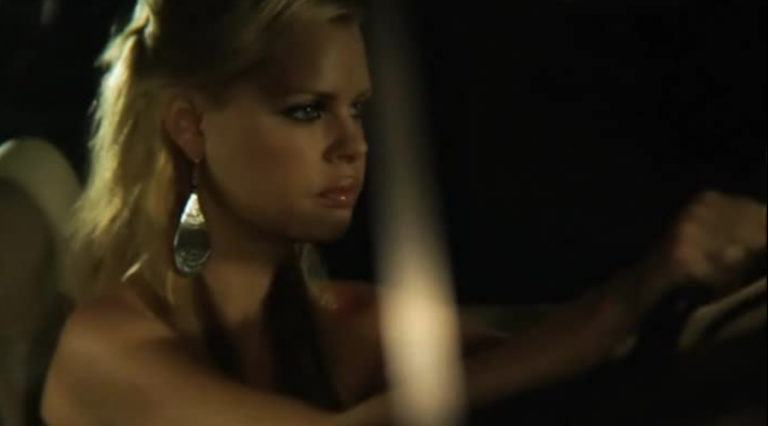 On New Year's Eve 1968, partners Rhea and Brooke are driving along the Pearlblossom Highway after Brooke killed a rapist at a party. On the road, they encounter The Creator of the Universe, who kills them and revives them 40 years later, telling them that their only path to eternal life is to devour evil wherever they find it in order to find a greater purpose to life. The film takes place predominantly in the first 24 hours after their revival, and the subsequent chaos that follows.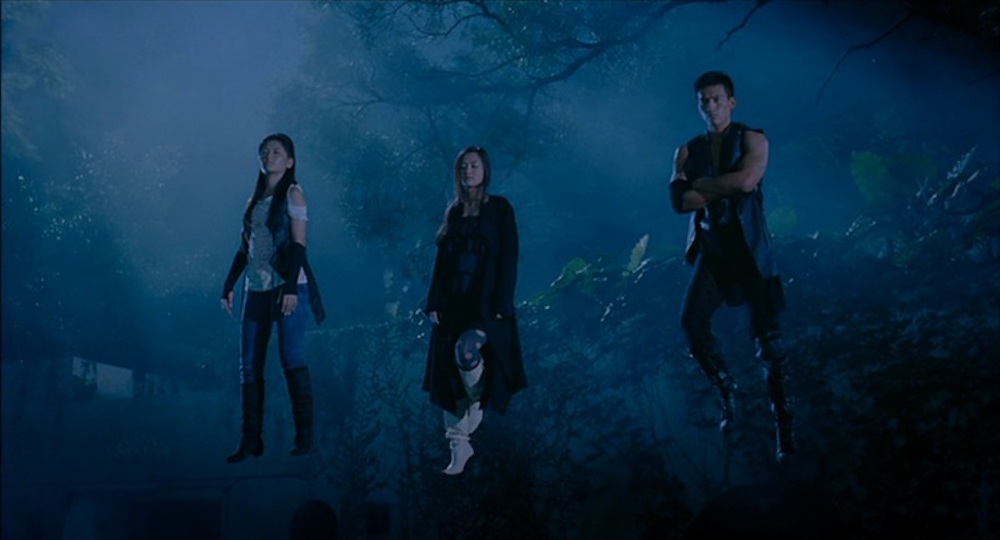 Looking for a lesbian vampire movie from Hong Kong? Look no further and watch Jiang shi xin zhan shi. But sadly as one reviewer notes there is not enough lesbianism: The film left a lot to be desired, there was no real lesbian storyline.The only connection is the title ,oh! and a sentence in the film where the main character states that she has never or never wants a boyfriend it was so bad I have tried to erase it from my memory." So yeah.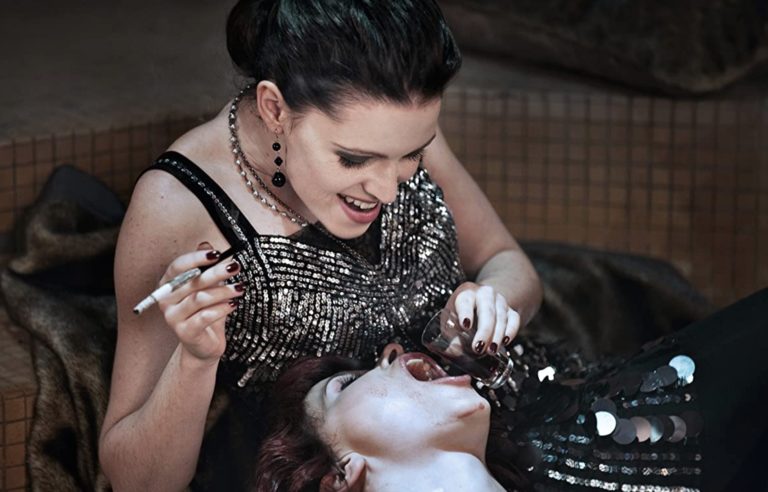 Released in Germany as Wir sind die Nacht, the film's plot deals with a Berlin cop who is tracking a trio of female lesbian vampires who have just adopted a fourth member named Lena. According to Wikipedia, "The film explores themes of depression, self-harm, the consequences of immortality, suicide, and explores Valerie Solanas's idea of an all-female society."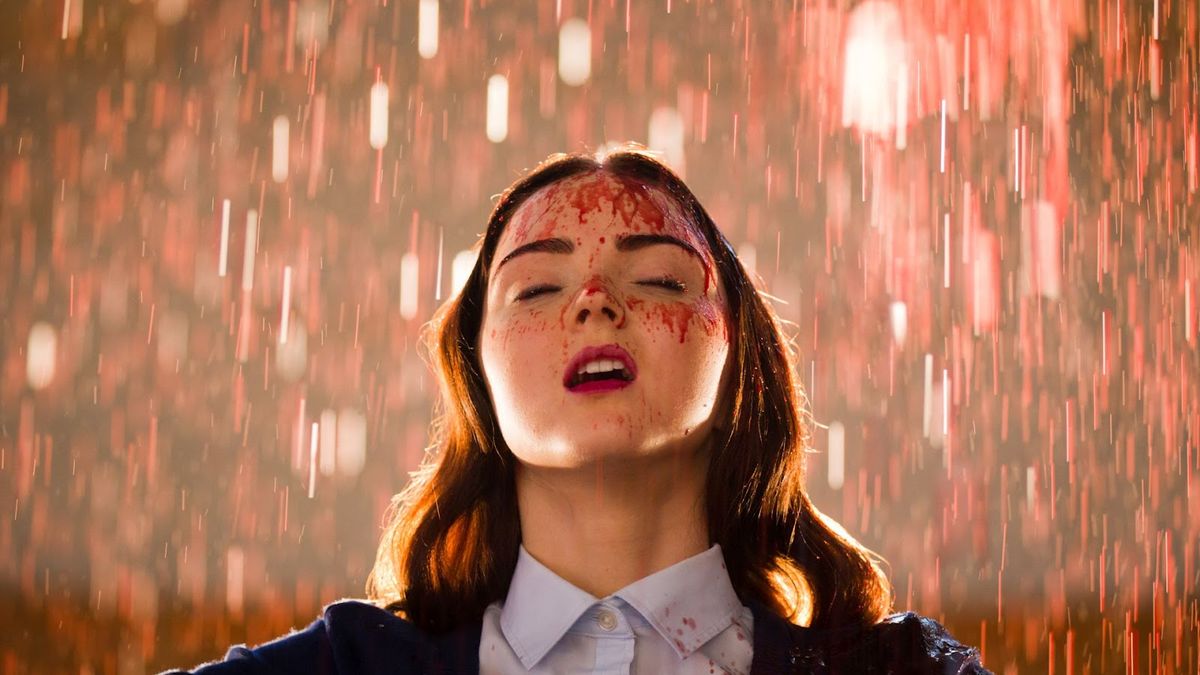 Based on the debut novel by Rachel Klein, The Moth Diaries follows teenager Rebecca, whose father had recently committed suicide by slitting his wrists, grows suspicious that Ernessa, the new student at an all-girl boarding school, is a vampire. When Ernessa bonds with Rebecca's best friend Lucy, Rebecca tries to warn Lucy about her suspicions, which Lucy dismisses as pure jealousy. The story tackles the classic sapphic tropes of obsession, lust, anxiety, and questioning one's reality.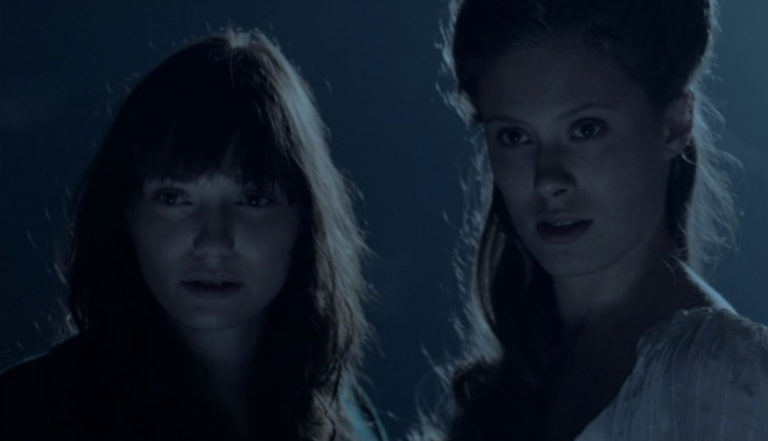 Set during the communist era in Hungary, The Curse of Styria involves Lara (Eleanor Tomlinson), who reunites with her father, Dr. Hill (Stephen Rea). Together they travel into the town of Styria to a crumbling castle. Lara witnesses a car crash in the nearby forest and rescues a beautiful woman named Carmilla (Julia Pietrucha), who is the crash's only survivor, and takes her back to the castle. As their relationship deepens and turns sexual, the town's women all go insane. When a string of local girls commit suicide, Lara begins to wonder if Carmilla is more than a simple humanoid car-crash survivor.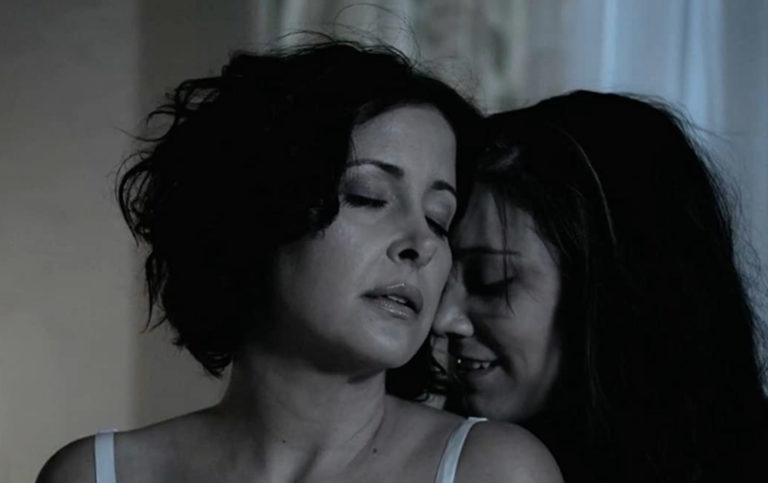 A Southern Gothic spin on Le Fanu's novella Carmilla, The Unwanted depicts a nubile drifter named Carmilla (Christen Orr) who visits a rural town seeking the mother who abandoned her at birth. She embarks on a sexual relationship with a troubled waitress named Karen (Hannah Fierman). After being beaten by a local male for engaging in "blood fetishism," Carmilla and Karen form a strong, emotional and borderline spiritual bond that mirrors the relationship they discover their mothers shared.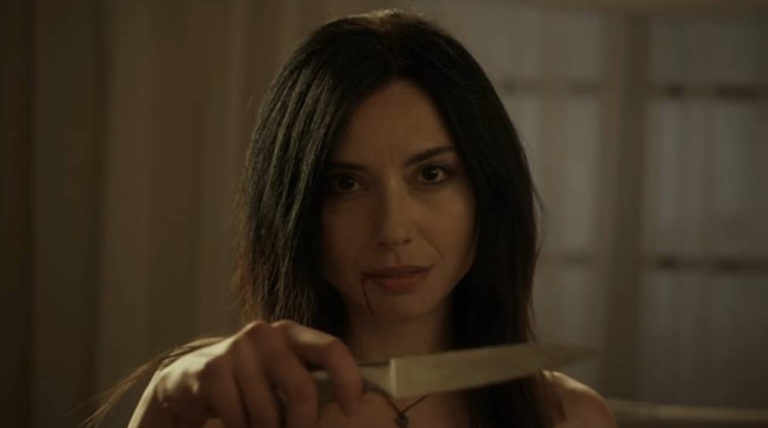 Vampyres is an English-language remake of the 1974 British film of the same name. Nestled deep in the English heath, two wraiths named Fran and Miriam prey upon those foolish enough to trespass upon their stately manor. According to Horror News, "Vampyres is an English-language remake pulsating with raw eroticism, wicked sado-masochism and bloody, creative gore….Vampyres is absolutely full of nudity and blood and sex and sometimes (actually, quite often) all of them at the same time."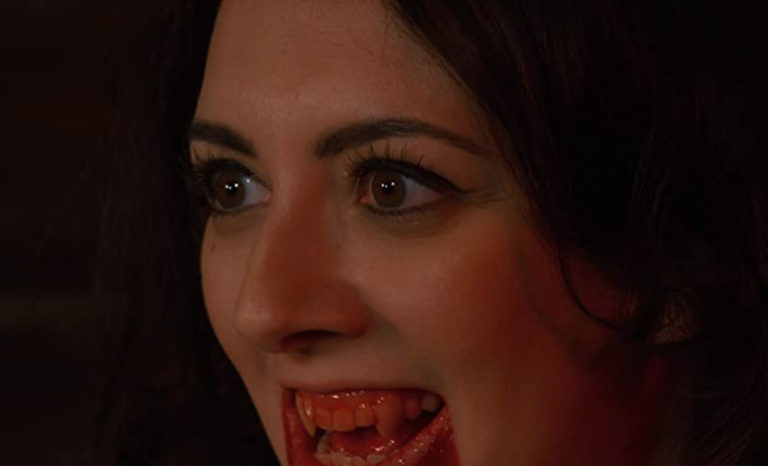 Two millennia after a vampire named Bathor founded the village of Bathory, the men and women of the village are locked in a violent conflict for supremacy. When all of the men come down with a strange illness they shift the blame on all of the women. But the ladies of Bathory will not take this slander lying down. Horror Society writes, "It's not only the type of movie you don't see being made much anymore, but it's a female-led story with sociopolitical subtext that you can't help but want to dig out."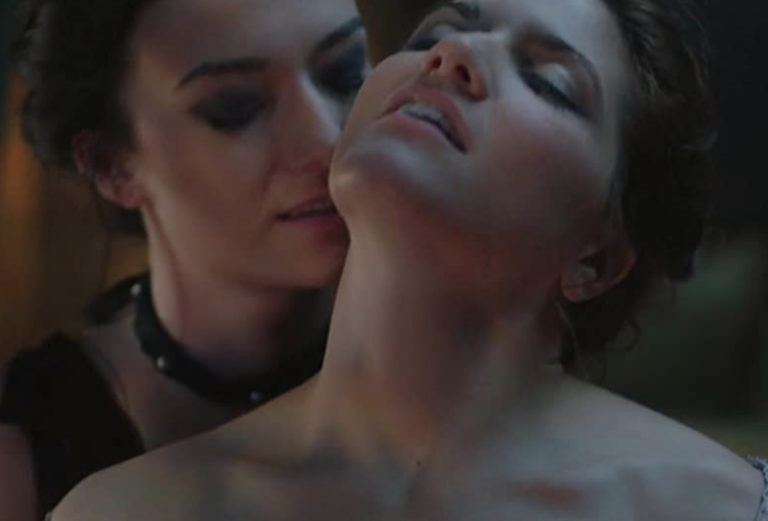 Five years after sapphic vampiric lovers Laura and Carmilla survived the apocalypse intact, Carmilla emerges as a full-blooded mortal human being. The duo have moved to a chic Toronto apartment while Laura works as a journalist. But suddenly, Carmilla shows signs of "re-vamping"—she accidentally bites people and has developed a taste for blood—while Laura is afflicted with horrifying nightmares. Fun call back: Many of the lines that Carmilla speaks to Laura in her dreams were directly taken from the 1872 novella that started it all, Carmilla.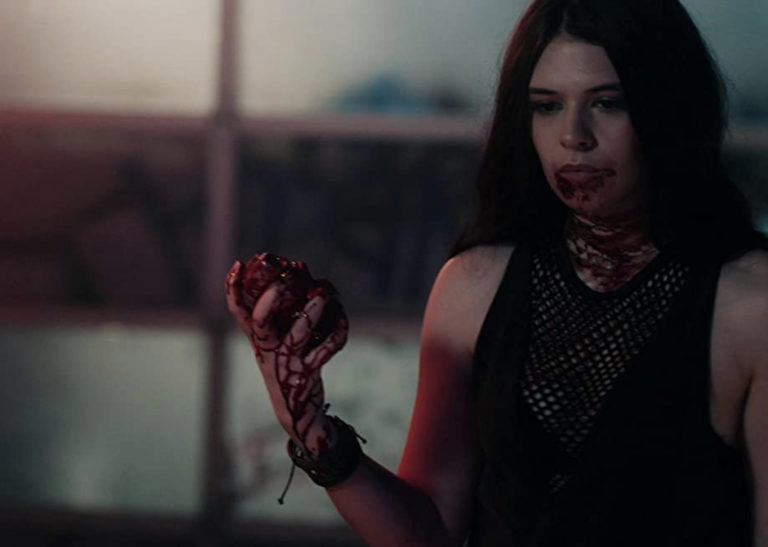 A transgender teen female named Laura, enjoying summer vacation in LA, finds herself friends with a quartet of lesbian feminist vampires who are on a mission to purge Los Angeles of all male predators. The Daily Dead writes, "The coolness of the women group of vamps oozes off the screen and right from the bat, you know that the lesbian feminist crew means business, their confidence instantly appealing to Laurel, who is very much still trying to find her voice, so to speak."
History of Lesbian Vampires in Film
In 1872, an Irishman named Sheridan Le Fanu published a novella called Carmilla. Not only was it about a lesbian vampire who preyed on young women, it predated Bram Stoker's Dracula by a quarter-century. (Stoker was also Irish, which makes one wonder what's up with Ireland and vampires.)
In numerous ways both overt and implied, all of the following films draw from Carmilla as inspiration in the same way that films about male vampires owe a debt to Dracula. Those that don't draw from Carmilla reach further back into history for the real-life story of Countess Elizabeth Bathory, who was said to have killed around 600 young virgins and bathed in their blood. Many of the female protagonists in the films below have names similar to "Carmilla" or "Elizabeth Bathory."
Throughout most of the 1900s, lesbianism was depicted as either merely unnatural or a monstrous crime against nature. So for most of the 1900s, any films depicting lesbian vampires approached the subject with the conceptual framework that lesbianism was just as appalling as vampirism.
It is no accident, then, that the "golden age" of lesbian-vampire films was in the early 1970s, right after nudity became legal in movies and when one ancient sexual taboo after the next was being gleefully demolished. Directors such as Jess Franco and Jean Rollin both made numerous lesbian-vampire films in the 1970s. England's Hammer Film Productions released a trilogy of lesbian-vampire films in 1970 and 1971—The Vampire Lovers, Lust for a Vampire, and Twins of Evil.
Such films continue to be made, with the main difference between the newer movies and those of the early 1970s being that lesbianism is depicted as something that empowers women rather than turning them into monsters.
Not all of these movies involve explicit sex scenes—in many cases (which is typical for sapphic films) a sexual element is only implied. In others, the female vampire is licentious and has sex with both genders. And unlike films about male vampires, it's not always clear that the female bloodsucker is a villain rather than a hero.