40+ Best Witch Movies
Horror fans know the witch genre is a rich archetype in filmmaking. Browse this expansive list to find some of the best witch movies ever made.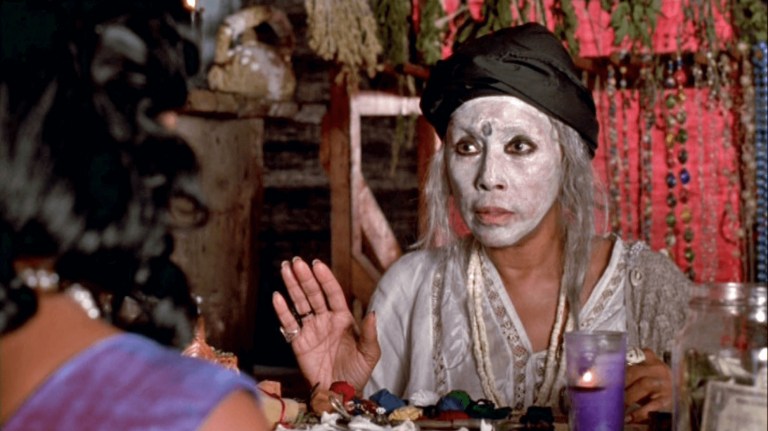 Horror fans know the witch genre is a rich archetype in filmmaking. Witch movies have taken many shapes and forms throughout cinematic history. Witch films can be scary stories filled with jump scares and the occult, or they can be laugh-out-loud comedies (think Sabrina, the Teenage Witch or Hocus Pocus), powerful feminist manifestos, erotic thrillers, or even escapist films of magical lands such as the Harry Potter series.
So let's jump into this pop-culture phenomenon of the witch and scope out all the movies in this fascinating genre.
Old Witch Movies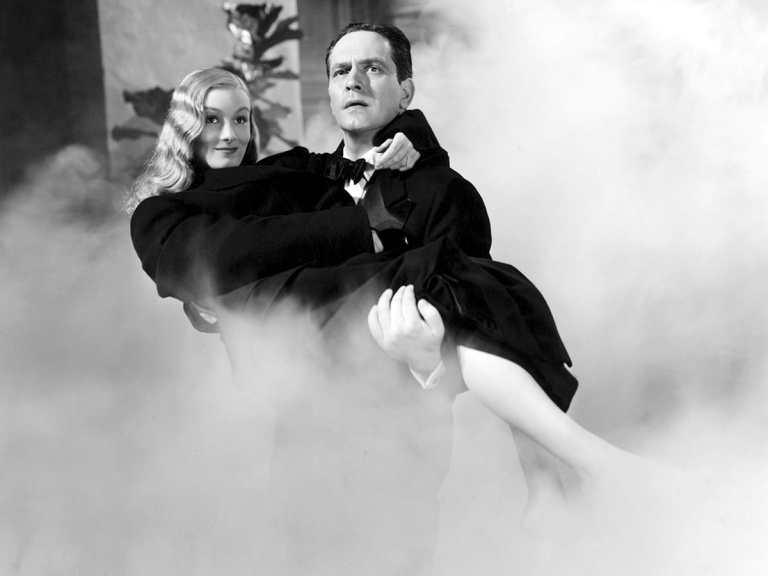 This screwball witch comedy from France is a classic. The movie is based on the book The Passionate Witch by Thorne Smith, and the plot is about a witch trying to take revenge against the descendant of a Salem Puritan bloodline that once wrecked her witch heritage. Instead of taking revenge, though, she starts to fall in love, and hilarity ensures. In many ways, this movie inspired many witch films as well as the Bewitched TV series from the 60s.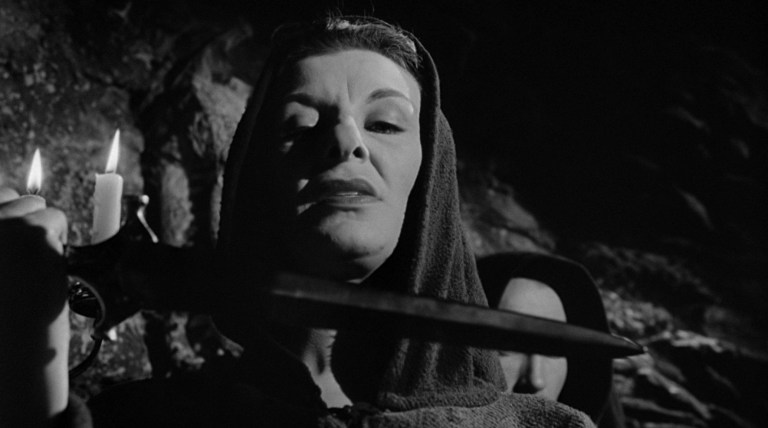 A witch's curse condemns a small town in Massachusetts to perpetual torment in City of the Dead. Christopher Lee is featured as a college professor who suggests to his student Nan Barlow (Venetia Stevenson) that she visit his hometown of Whitewood so she can research the town's history of witchcraft. Years prior, a witch named Elizabeth Selwyn (Patricia Jessel) was burned at the stake in Whitewood, but Nan quickly discovers that the past may not be completely dead. City of the Dead is a fun mystery thriller.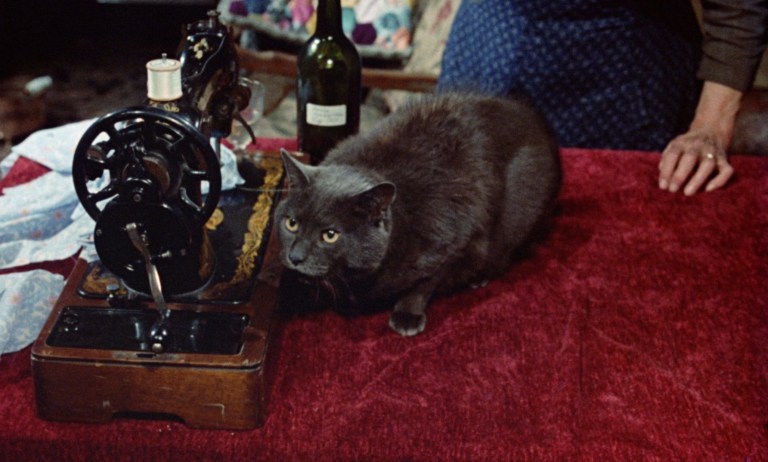 A schoolteacher named Gwen (legendary actress Joan Fontaine in her last film role) loses her mind in Africa after witch doctors mentally harass her. After a stint in a mental hospital, she moves to a small rural English town but to her horror realizes that witchcraft reigns supreme there, too. A British production, the film was released in America under the title The Devil's Own.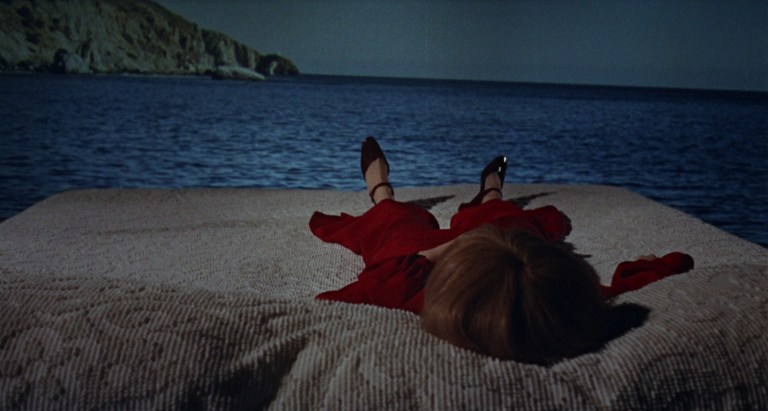 Written and directed by notorious long-time American expat Roman Polanski, Rosemary's Baby is based on a 1967 novel of the same name by Ira Levin. Rosemary (Mia Farrow) is a young, married woman who moves with her husband into a large Gothic apartment building shortly after an elderly woman died in the apartment. When a friend warns them that the apartment building has been linked to black magic in the past, they dismiss him as crazy. While pregnant, Mary starts losing weight and experiencing painful stomach cramps. When she starts piecing the clues together, she begins to fear that a Satanic coven in the building has sinister plans for her baby. She also suspects that Satan is the baby's father. Rosemary's Baby can rightly be called Hollywood's first big movie about the Devil, and it inspired a wave of Satanic blockbusters in the 1970s such as The Exorcist and The Omen.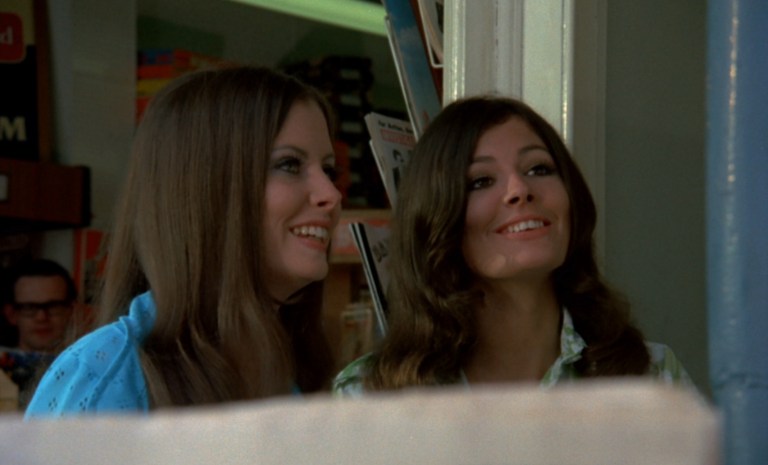 Director Ray Austin made one of the main exploitation films of British cinema in the 1970s with Virgin Witch. The storyline involves two young girls (played by real-life sisters Ann and Vicki Michelle) that head to a castle in the country thinking they're going to a model casting. Needless to say, it's not a model casting; the castle is run by a lesbian witch, or more specifically, a Wiccan/Thelemic high priestess. The movie is pretty terrible and is only included in this list as one of those movies that is so bad, it's almost good. The movie was also released under the title Lesbian Twins.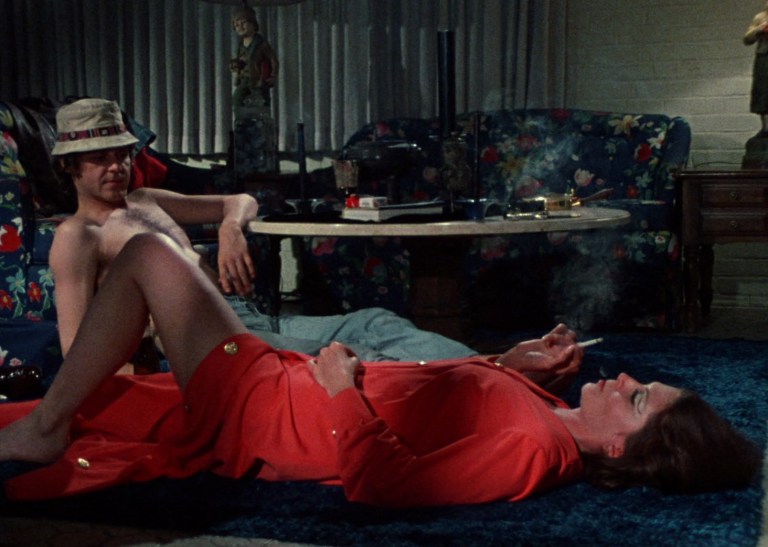 A strange movie with a strange history. Originally titled Hungry Wives, this film — like so many horror films in the 70s — edges on a certain kind of misogyny. Yet, in essence, it's also a quite feminist film about, as one reviewer put it, "the plight of women who had sacrificed their lives, careers, and youth for brute husbands, who had found themselves powerless and without value once the kids were grown and who are losing youthful beauty in middle age." These women find a solution through witchcraft and other dark spells.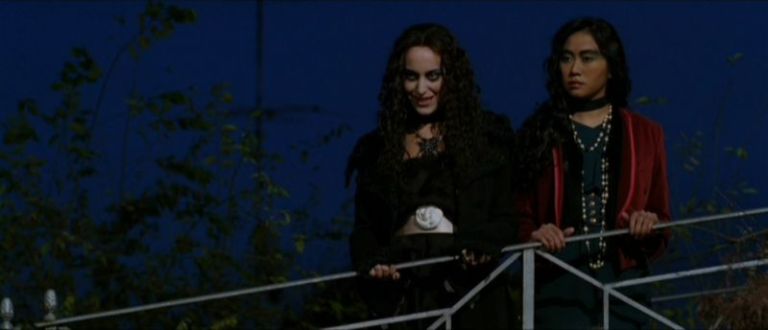 This trilogy from Italian film director Dario Argento tells the story of a lineage of witches starting in the 11th century. The trilogy consists of three movies: Suspiria (1977), Inferno (1980), and The Mother of Tears (2007). The explanation and origin is explained as:
The idea of 'Three Mothers' comes from 'Levana and Our Ladies of Sorrow,' a section of Thomas de Quincey's Suspiria de Profundis. The piece asserts that just as there are three Fates and Graces, there are also three Sorrows. They include Mater Lachrymarum (Our Lady of Tears), Mater Suspiriorum (Our Lady of Sighs), and Mater Tenebrarum (Our Lady of Darkness). The attribute of each woman (tears, sighs, shadows/darkness) is a direct translation of her name from Latin ('mater' being the Latin word for 'mother').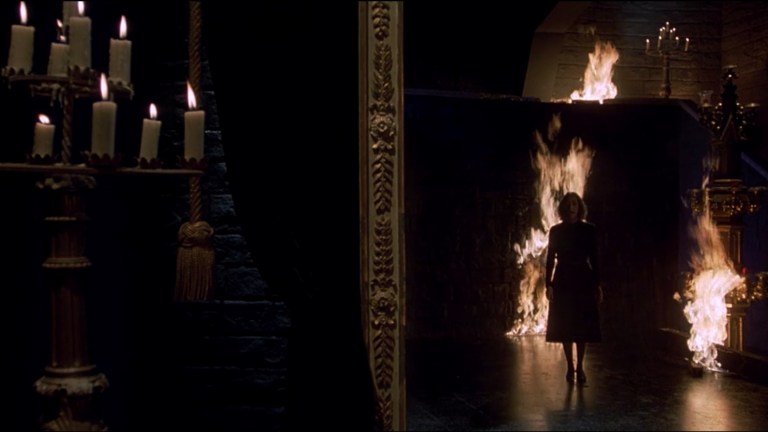 Critically, as mentioned many times on this website, Suspiria is a cult classic and the follow-up Inferno is considered quite good, while The Mothers of Tears was not reviewed too favorably and is much more obscure. In 2020 and beyond, there was talk of a prequel being made.
This is a classic "women take revenge on men" witch movie from filmmaker Ulli Lommel. This review captures everything you need to know about the film: Don't go into this film expecting lots of jump scares, monsters, and sorcery. "This is effectively a story of three progressive women who go to a small rural town and whose ideas clash with the more conservative residents. The witch angle to the story is different and puts this definitely into the horror category. However, that can easily be removed without harming the real focus of the film which is small town conservatism conflicting with more progressive ideas of urban city dwellers."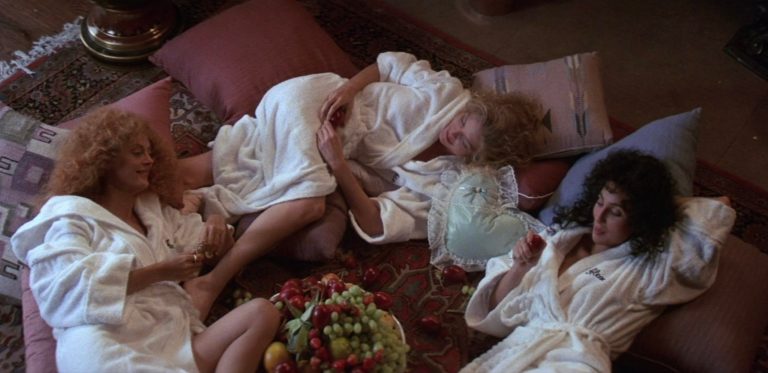 Before there were the Sanderson Sisters of Hocus Pocus, there was another gang of three New England women causing terror, and it featured an all-star cast. Cher, Susan Sarandon, and Michelle Pfeiffer play three widows who haphazardly form a coven without realizing they are witches. Then a mysterious man shows up, played by Jack Nicholson. One reviewer on Rotten Tomatoes describes the film well: "The satirical elements are half-baked but the movie does succeed at being extremely weird which sort of negates the failed commentary. Nicholson obviously was born to play the devil and all three women are perfectly cast."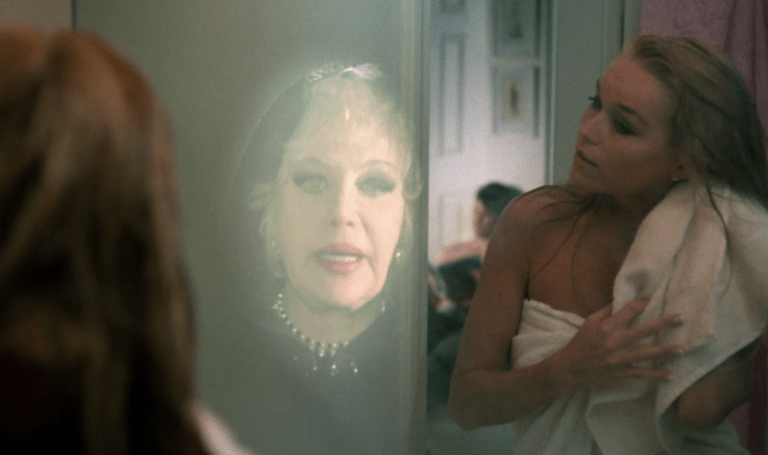 An Italian horror film in which a mother and her newborn child move into a creepy old mansion owned by her mother-in-law. But one room in the mansion has a mirror. The young woman is able to see people from the colonial era moving around inside the mirror—specifically images of a man and a woman being burned at the stake. She's also able to see the future in the mirror. As of 2016, the film spawned a staggering 16 sequels.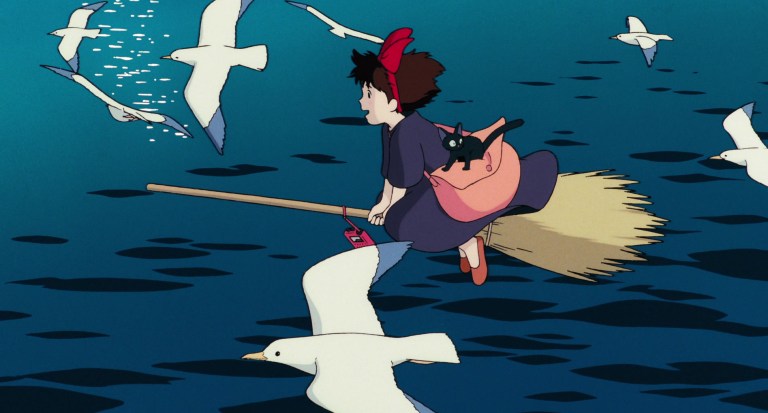 Kiki's Delivery Service is an enchanting coming-of-age anime film from Studio Ghibli about a young witch who leaves home to become independent. It is based on the children's book of the same title by author Eiko Kadono.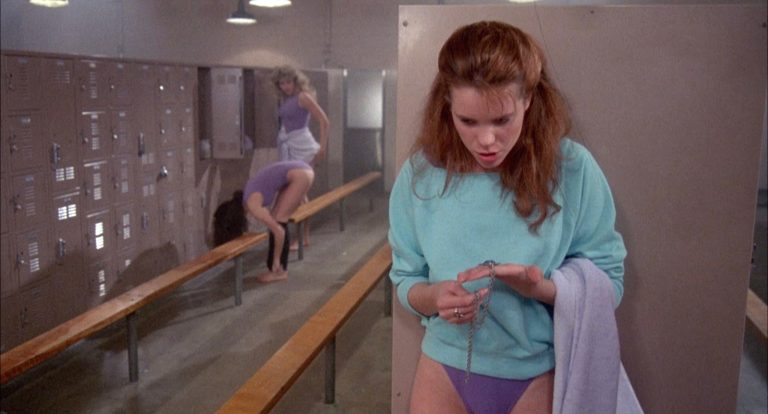 While this high-school fantasy drama bombed in the box office in the late 80s, it became a staple for young people in the 90s when it aired on HBO and Cinemax. Then in 2007 it became even more of a staple because ABC Family started airing it during their beloved 13 Nights of Halloween series. Like Teen Wolf (1985), Teen Witch gives adolescence a magical spin, where a young woman discovers a new power in sorcery and makes all her dreams come true.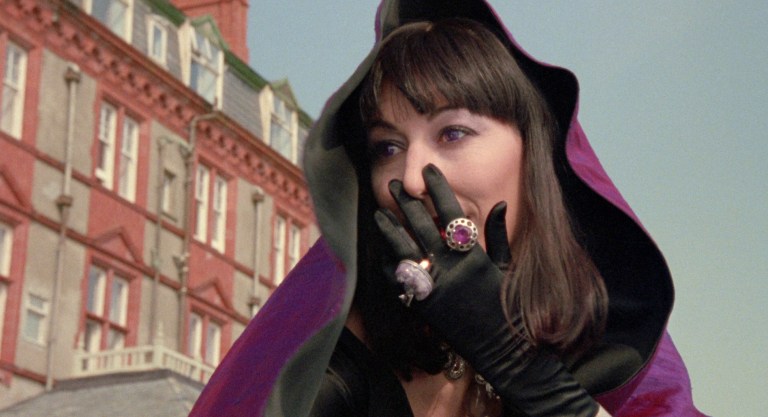 Jim Henson of Sesame Street fame and author Roald Dahl of Willy Wonka fame helped make this magical family fun witch film possible. The grandmother of an eight-year-old boy named Luke warns him about witches during his vacation in Norway—she says you can tell them by the fact that they have claws instead of fingernails, are bald underneath the wigs, have no toes, and have blue saliva that can be used as ink. Back home in America, Luke finds himself at a witch convention, where a magic spell turns him into a mouse. Roger Ebert called The Witches "an intriguing movie, ambitious and inventive, and almost worth seeing just for Anjelica Huston's obvious delight in playing a completely uncompromised villainess."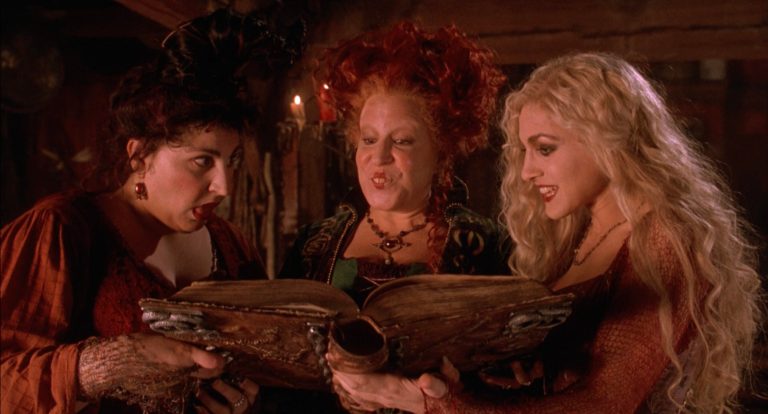 Well, what is there to say about Hocus Pocus that hasn't already been said about this cult classic that has defined fun witchcraft and Halloween seasons for so many millennials? Starring Bette Midler, Sarah Jessica Parker, and Kathy Najimy as the Sanderson Sisters. This is one of the more fun, family-friendly, and quotable witch movies out there. Taking place in Salem, Massachusetts, a young group of school kids accidentally awakens three 17th-century witches, the infamous Sanderson Sisters. Slapstick humor, teenage romance, pranks, singing, sorcery, chaos, and resolution ensue.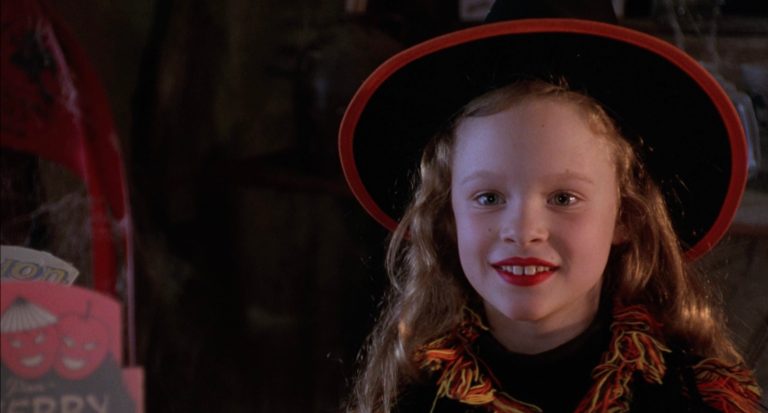 While Hocus Pocus flopped when it first came out in theaters, the movie has an evergreen run, not just because it's entertaining but also as with so many witch movies, there's an undertone of feminist commentary throughout the film. Writer Amanda FitzSimons in her retrospective about the Hocus Pocus 25th Anniversary explains:
Hocus Pocus is, at its most basic, the story of three women, forced onto the fringes of society—eventually put to death, even—who return three centuries later, only to find their lot hasn't improved much. In fact, that could be the subtext for eighty percent of its punchlines: that modern society is so dismissive of women—as sex objects, as spinster cat ladies—that people wouldn't even take the time to notice if said women had literally, you know, time-traveled from another era.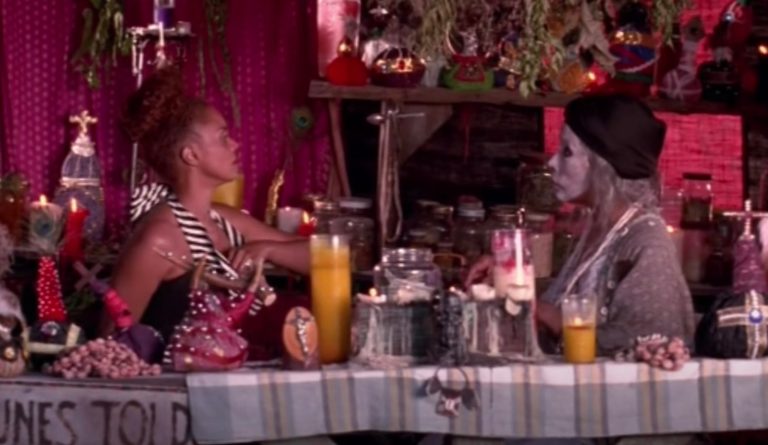 A southern Gothic drama directed by Kasi Lemmons that takes place in Louisiana and adds a witchy spin to a family rift between a daughter and her unfaithful father. The way the daughter aims to handle the issue? Through voodoo witchcraft, the occult, mysticism, and a surreal dive into psychological evolution. As Seongyong Cho notes, the opening lines of this movie are haunting and beautiful all at once, just like the film: "Memory is the selection of images, some elusive, others printed indelibly on the brain. The summer I killed my father, I was 10 years old."
Misfits unite! This film has been described as "a coming of age story about abuse of power and teenage isolation" and that watching it is a "rite of passage" for young women. Sarah (Robbin Tunney) is the new girl at a Catholic prep school. She has the psychic ability to move pencils with her mind. She befriends three other girls who eventually adopt her as a member of their coven. And in a witches' version of Heathers, they get revenge against all the mean girls at school.
You might call this romantic comedy/fantasy film "the Nicole Kidman and Sandra Bullock witch movie." In this romantic witch movie, these bewitched sisters use their magic to help them discover love. One Amazon reviewer describes the film this way: "To me, this is a classic. Great acting, music, and all-around fun movie. Finally, witches are portrayed in a good/honest light instead of the propaganda that is prevalent in our society. After all, witches are just everyday people with a little spice added."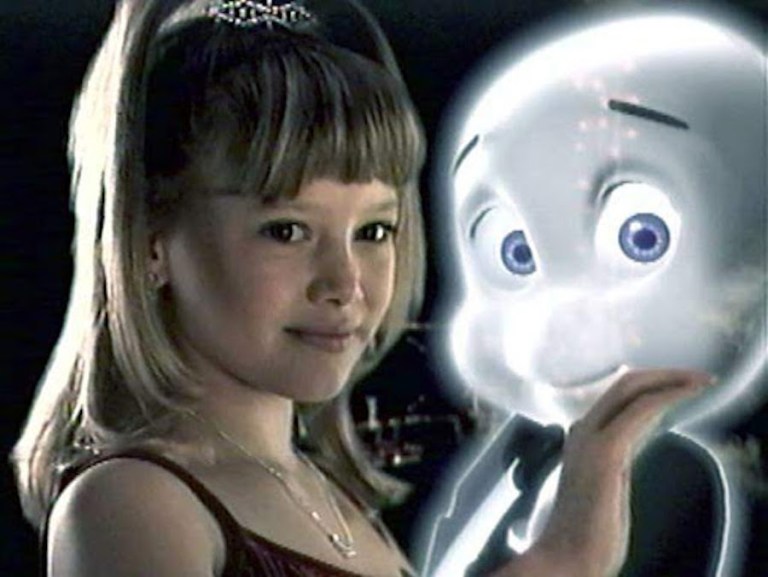 It would be hard to call this a masterpiece of witch cinema, but it's a darn amusing and nostalgic movie for millennials. The direct-to-DVD family comedy stars Hillary Duff in her first movie role. She plays a witch named Wendy who teams up with famous ghost Casper in an attempt to fight off an evil warlock. But since ghosts and witches have trouble getting along, things quickly get complicated.
New Witch Movies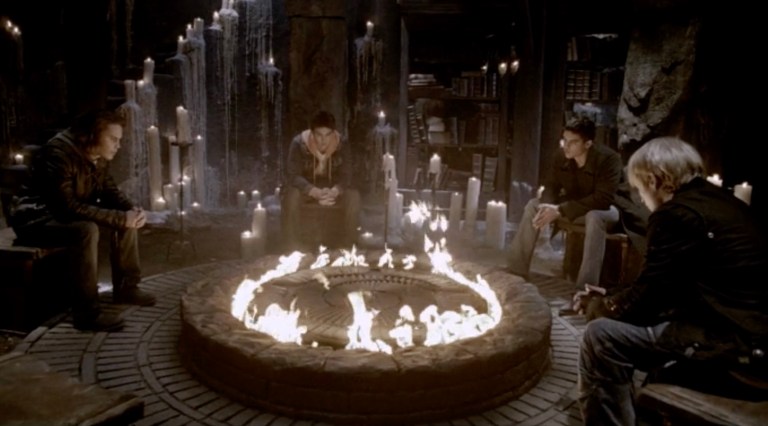 This is more of a warlock movie than a witch movie; however, a warlock is simply a male witch, so as our warlock pick in this list we're selecting The Covenant. It's also a seriously terrible movie but in a way that we think it will become a cult classic after the 2020s are over. One Amazon reviewer who absolutely despised the movie described it as "like watching Twilight on massive doses of anti-depressants, and I don't mean that as a compliment." They noted: "All the boy band butts and Bucky Barnes in the world couldn't save this movie. I felt like the movie didn't know what time period it wanted to be in: the clothing, hair, and tattoos looked like the 90s but it was clearly set in 2006." But as another reviewer notes:
Yes, it's a cheesy teen horror flick. If you're looking for Oscar worthy storytelling, this isn't the movie for you. If you're looking for some cool CGI, a load of hot guys, a little teen romance with a passable plot, you've come to the right place. This movie is my guilty pleasure.
Sounds like a classic to us!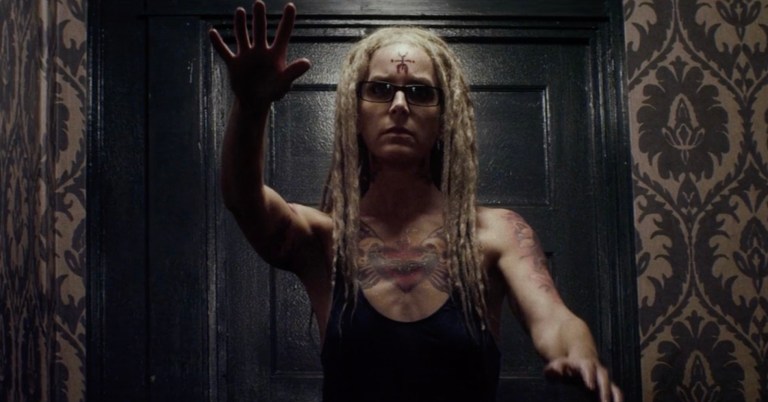 Musician Rob Zombie wrote, directed, and produced this supernatural film that tells the story of a witch's curse dating back to the Salem witch trials and coming back to haunt the modern world. Heidi (Sherri Moon Zombie) is a radio DJ who receives a box containing a record that is titled Gift from the Lords. When she plays the record over the radio, several women go into a trance. Heidi herself begins experiencing headaches and flashbacks to the 1600s. Dead Awake Films said that The Lords of Salem "catches the essence the 70s vibe the film was aiming for, its rather sheer genius if you're a fan of the 'B MOVIE' genre."
The Conjuring (2013) is presented like a traditional haunted-house movie for the most part, but one defining feature is that the haunting is caused by the spirit of a witch. When Ed and Lorraine Warren (Patrick Wilson and Vera Farmiga) are asked to investigate paranormal activity in a Rhode-Island home, they discover a malevolent witch named Bathsheba is haunting the Perron family. From beyond the grave, Bathsheba terrorizes the family and possesses the matriarch, Carolyn (Lili Taylor), in an attempt to have the mother kill her own children.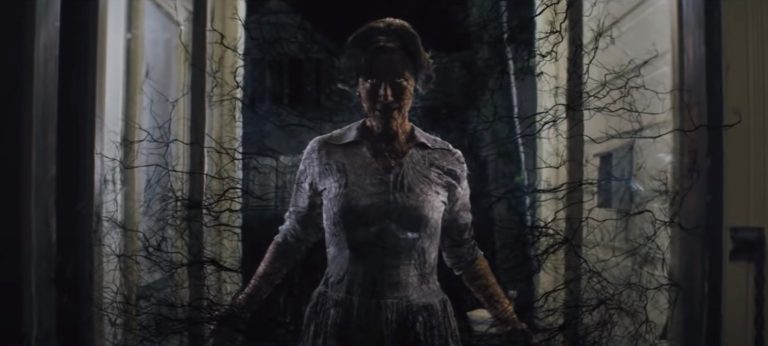 In a sleepy Southern town, there are dark secrets not only about one family, but about the town itself. Soon a woman enters town from an ancient line of witches known as "Casters." Upon reaching their 16th birthday, all Casters are assigned a role—they will either depict lightness or darkness, good or evil, for the rest of their lives. Film critic Richard Roeper says: "With Beautiful Creatures, we continue the seemingly inevitable march toward a cinematic America with a population 50 percent human, 50 percent 'other,' including but not limited to superheroes, mutants, vampires, zombies, werewolves, mummies, fairies, angels, witches, ghosts, demons and the undefined undead."
From A24, The Witch tells the story of a cursed family. A family in New England during the year 1630 is shunned by villagers becomes the target of an evil witch in the forest. A member of the Satanic Temple named Jex Blackmore praised the film, calling it "an impressive presentation of Satanic insight that will inform contemporary discussion of religious experience."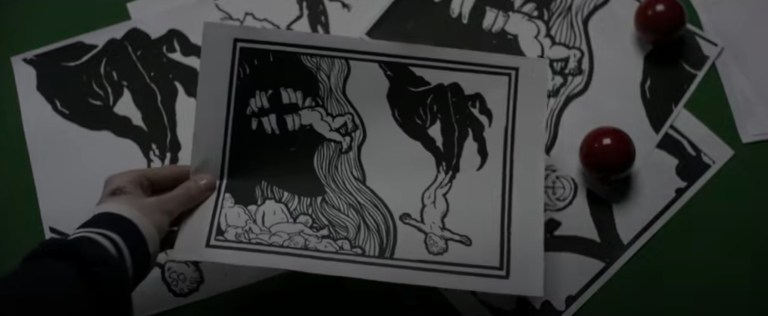 This British supernatural horror movie follows Jess, a young woman who is attempting to rebuild her relationship with her estranged daughter, Chloe. Upon moving into a new home, they inadvertently summon Baba Yaga, a demonic witch from Slavic folklore, by knocking twice on her door. In 2017, studio Wales Interactive adapted the movie into a first-person survival video game giving viewers the opportunity to ultimately change the ending of the original film.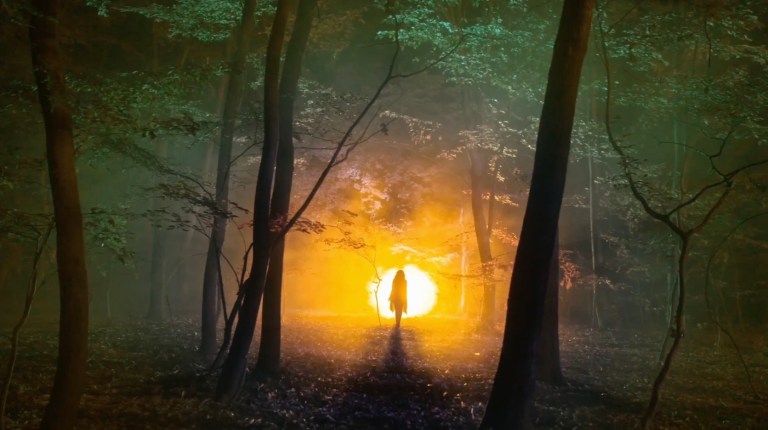 Set in a small, remote town in Moldova, They're Watching follows a documentary film crew who become targets of not only the residents of said town, but a witch on a mission. Told through found footage from the crew's filming, this dark comedy is a slow burn that leads to a climax filled with horrific mayhem. Variety credited its "entertaining performances" for keeping a non-traditional horror movie "watchable" until the terror truly starts.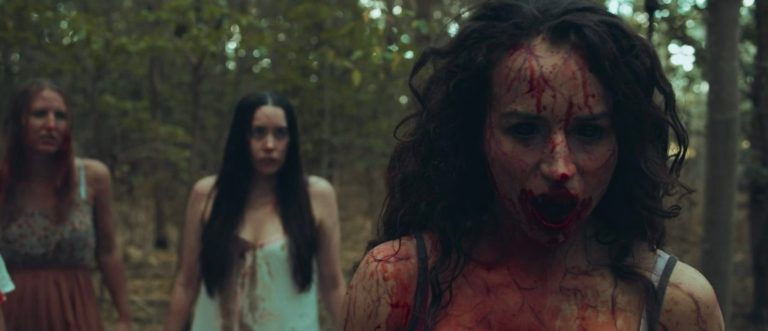 A cheating husband named Mark is thrown out of his house by his wife, so he reconnects with a friend from his youth named Ian who owns a place called Dumpling Farm, where they all used to party as teens. Unbeknownst to Mark, all the beautiful and sex-crazed women at the farm are witches who are hell-bent on eating their souls. Spoiler Free Movies called Wicked Witches "a terrific mix of good effects and great nightmares you might want to explore."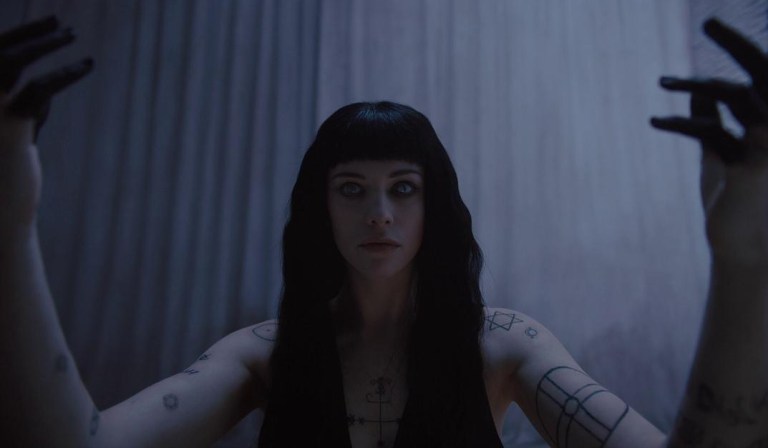 This visually mesmerizing version of the familiar folktale Hansel and Gretel is a coming-of-age story focusing on a young woman, Gretel (Sophia Lillis), finding her place in the world. Gretel and her younger brother Hansel (Sam Leaky) leave their mother's home to find a new place to live and end up being taken in by an old woman (Alice Krige). The longer Gretel and Hansel stay at the woman's house, the more they realize the woman is a witch. The story is familiar, and the new spin on the material is a welcome change.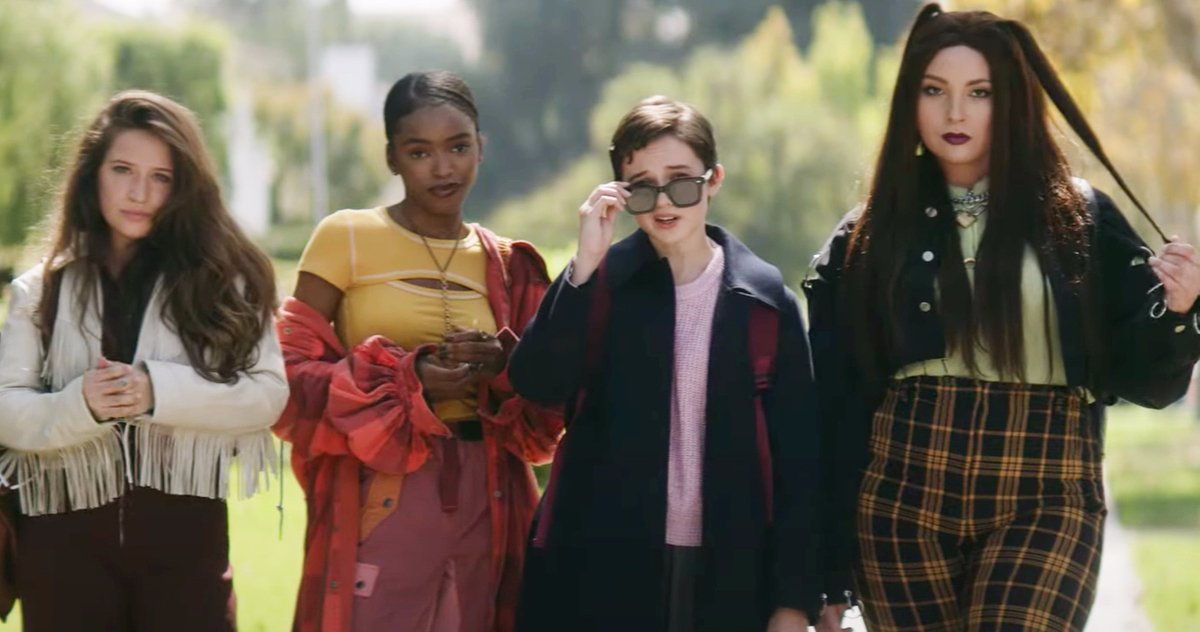 A sequel to the 1996 film, The Craft: Legacy picks up 25 years after the original with a new group of three high school students who are looking for a "fourth" to form a coven with. They find their fourth in the form of new girl Lily who has just moved to town with her mother. The coven becomes powerful and soon the girls regret the way they have used magic and renounce their powers. The film's ending reveals that Lily's "real" mother is Nancy Downs, played by Fairuza Balk.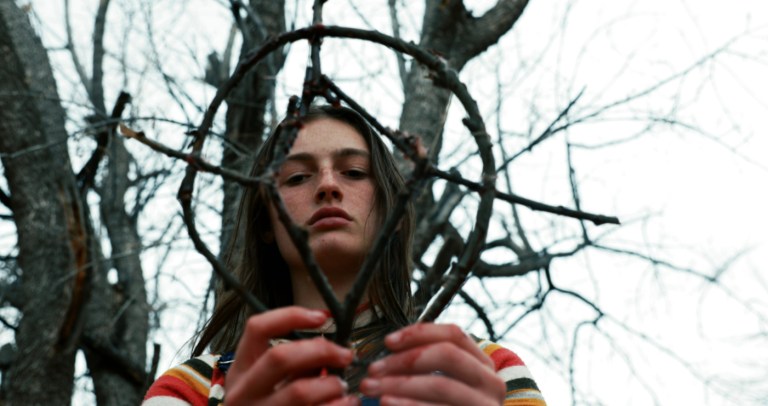 Hellbender is a coming-of-age movie with witchcraft. Izzy (Zelda Adams) is a young woman who lives with her mother in a house isolated from the outside world. The mother (Toby Poser), who is left unnamed in the movie, is highly protective of her daughter, and she begins acting strangely when Izzy naturally wants to meet people her own age. Images of witchcraft come early and often in Hellbender, and as the plot unfolds, we learn more about Izzy's connections to her family's dark history.
You Won't Be Alone is a witch movie that examines human nature through the eyes of someone who has little understanding of human interactions. As a newborn baby, Nevena's life is promised to a witch's possession. Nevena's mother tries to hide her by raising the child alone in a cave, but when Nevena turns 16, the witch claims the girl. Now, Nevena, with the shapeshifting power of the witch, wanders the countryside while taking the form of various people and living life in their place. Though You Won't Be Alone is often described as a horror movie, it is really more of an arthouse drama with a supernatural twist.
A Note on the Harry Potter Movies
J.K. Rowling's Harry Potter series of novels and films focus around witchcraft, but we have not included them in this list. That said, Harry himself is a wizard (male form of a witch) at the Hogwarts School of Witchcraft and Wizardry, where his friends, both female and male, also attend. Thus all of these films can be considered as witch movies, but because of how popular Harry Potter is we consider it a sub-genre onto itself.
More Witch Movies