Here's All The Drama Surrounding Cyberpunk 2077
Read this article for a detailed timeline of epic fails and downfalls that encompass the drama surrounding the Cyberpunk 2077 video game.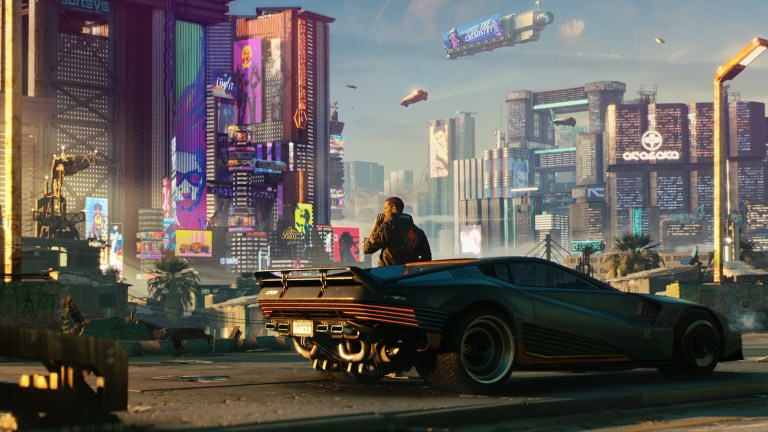 On December 10th, 2020, CD Projekt Red released what is/was one of arguably the most anticipated video games in recent memory, Cyberpunk 2077. Based on the Cyberpunk universe created in the tabletop RPG game developed in the late 80s, Cyberpunk 2077 is a massive open-world, first-person, action roleplaying game set in notorious Night City. Players are able to fully customize their mercenary character V, pick through different skillsets and classes the character can assume, improve their attributes on their skill tree, and set off on various paths to complete the story through a series of main and side quests.
Upon its formal debut, Cyberpunk 2077 was met with mass criticism citing low frame-rates, crashes, numerous bugs, glitches, and performance concerns related to playability specifically on the PlayStation 4 and Xbox One systems. IGN declared it "simply not in an acceptable state" and OpenCritic placed an official disclaimer citing their belief that the studio released the game fully aware that it was not functional on last-gen consoles and sought to hide that fact from consumers on its review page for the game. On December 14th, 2020, after a tidal wave of complaints CD Projekt Red issued a formal apology and offered full refunds to dissatisfied customers, an unheard-of (if not first) resolution/PR move in the gaming industry history.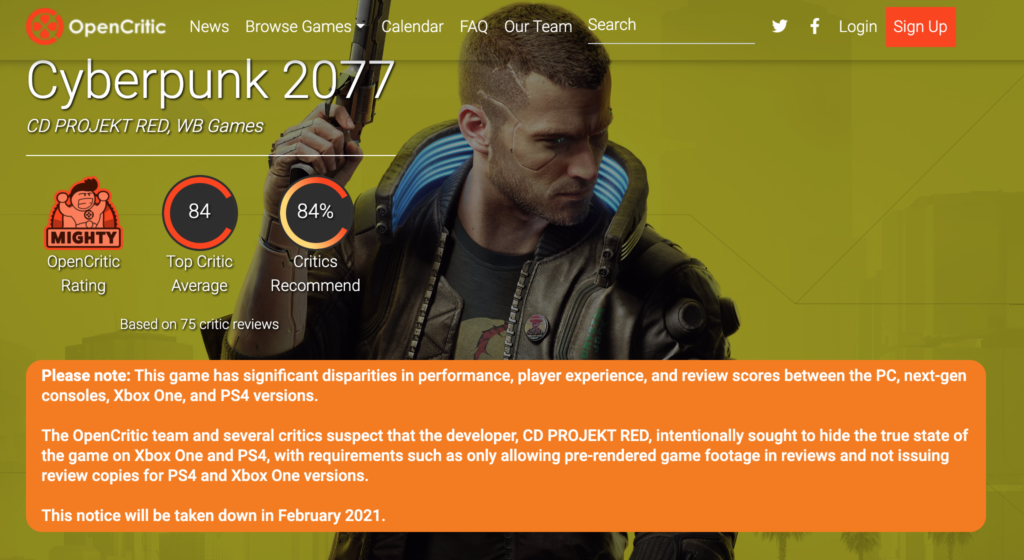 The following is a chronological timeline of Cyberpunk 2077 from the initial beginnings, to the whirlwind of controversy it found itself in, and the mess that surrounded the first few days of its life outside of development and into the public hands.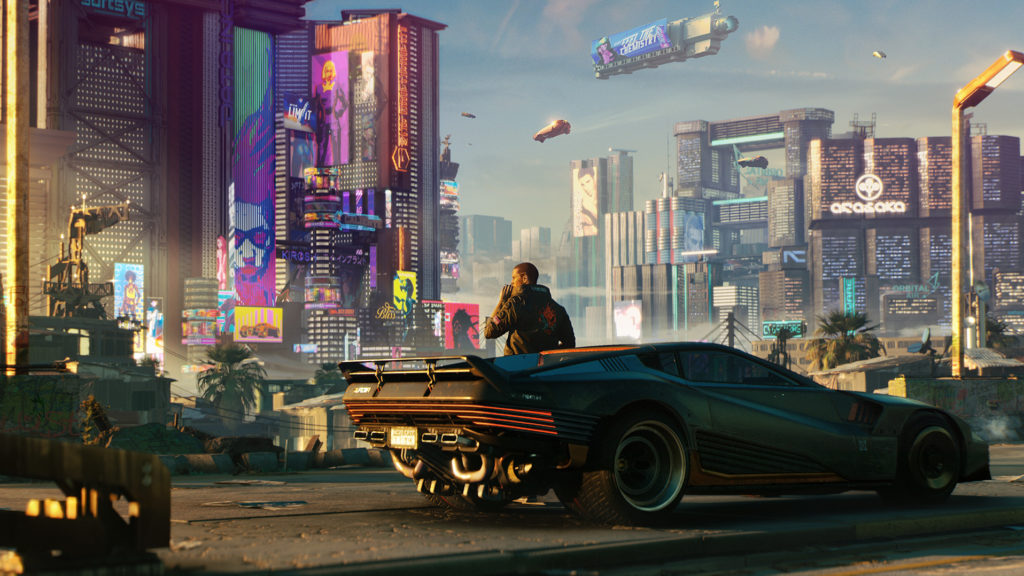 Initial development of Cyberpunk 2077 likely began sometime around 2011/2012 and was first revealed to be in production October of 2012. The first teaser trailer of the game featuring a woman with the iconic cybernetic enhancements was released in January of 2013.
Mike Pondsmith, the creator of the Cyberpunk universe, officially began consulting on the project in 2012. He would remain on as a consultant throughout the project, and even recorded for multiple roles in the game stating:
I actually recorded for one role, but they came up with a different one for me, but I can't tell you much more than that. And I'm telling you that because there are a lot of fans who are going, 'He better be in the game somewhere.'
Post-release of the 2013 teaser, early game noise surrounding Cyberpunk 2077 and its subsequent development went largely dark. This was, in part, due to the development of The Witcher 3: Wild Hunt, and also in part to being deep in the pressure of game creation.
In December of 2016, CD Projekt Red received upwards of $7 million from the Polish government to help fund their newest project. In order to receive the funds, the studio had to submit four proposals detailing how the money would be spent. According to the proposals and through confirmation with visible job postings, funds would be delegated to City Creation, Seamless Multiplayer, Cinematic Feel, and Animation Excellence.

2017 job listings (which are still viewable—examples here, here, and here) indicated a timeline ending in June of 2019, leading gamers to speculate that they could expect a release of the game in the summer of that year or near the end of 2019.

In March of 2018, it was announced that CDPR had acquired the indie studio Strange New Things, renamed it CD Projekt Red Wrocław, and set its goals to specifically support the development of Cyberpunk 2077. The studio acquisition further solidified one of the biggest teams devoted to a project in the Polish company's history.



Over the course of the game's production, partnerships with developer CD Projekt Red on Cyberpunk 2077 included Vancouver-based studio Digital Scapes "to create various technologies for use in the game's development", Nvidia in order to achieve real-time ray tracing, QLOC for "support on the development and testing", and Jali Research's lip-syncing and facial animation technology for character's facial animation in all 10 of the dubbed languages.

At Microsoft E3 in June 2018, an in-engine/gameplay trailer and formal introduction to Night City was revealed, alongside a media exclusive, pre-alpha gameplay demonstration which would be made public the following August.
During the Microsoft E3 2018 press conference, it was confirmed Cyberpunk 2077 would be released for PlayStation 4, Xbox Series One, and PC.

Following the trailer release, and that year's Microsoft E3, Cyberpunk 2077 received over 100 E3 2018 Prerelease awards including Best Game, Best Xbox One Game, Best PC Game, Best RPG, IGN's People's Choice, and Best of E3 at PC Gamer.

Conceptually, the game draws inspiration from Blade Runner, Ghost in the Shell, and Deus Ex. Themes explored throughout include transhumanism, megacorporations, augmentation, AI, and humanity. Speaking to Polygon, game director Adam Badowski dove into the themes of the game, and the overall importance to the genre of cyberpunk:
Where is sacrum and where is profanum in a world when you can simply modify yourself to such limits that it makes you a different kind of person? It's one of the most important themes in cyberpunk, as a genre.
By August 2018 the story for the game had been fully realized and playability from start to finish was possible. Full play-through testing, assets, and bug fixes had not occurred, but a complete story had been accomplished.

That same month, the official Twitter account for Cyberpunk 2077 sent out a tweet in response to a fan's quote tweet asking to see more. Many critics accused the game's response of being dismissive, framing gender as something silly and unnecessary, transphobic, and ultimately tired. Additionally, the company's response (although swift) was viewed by many as a classic "non-apology" rather than a genuine one that addressed the underlying issues of the original response tweet.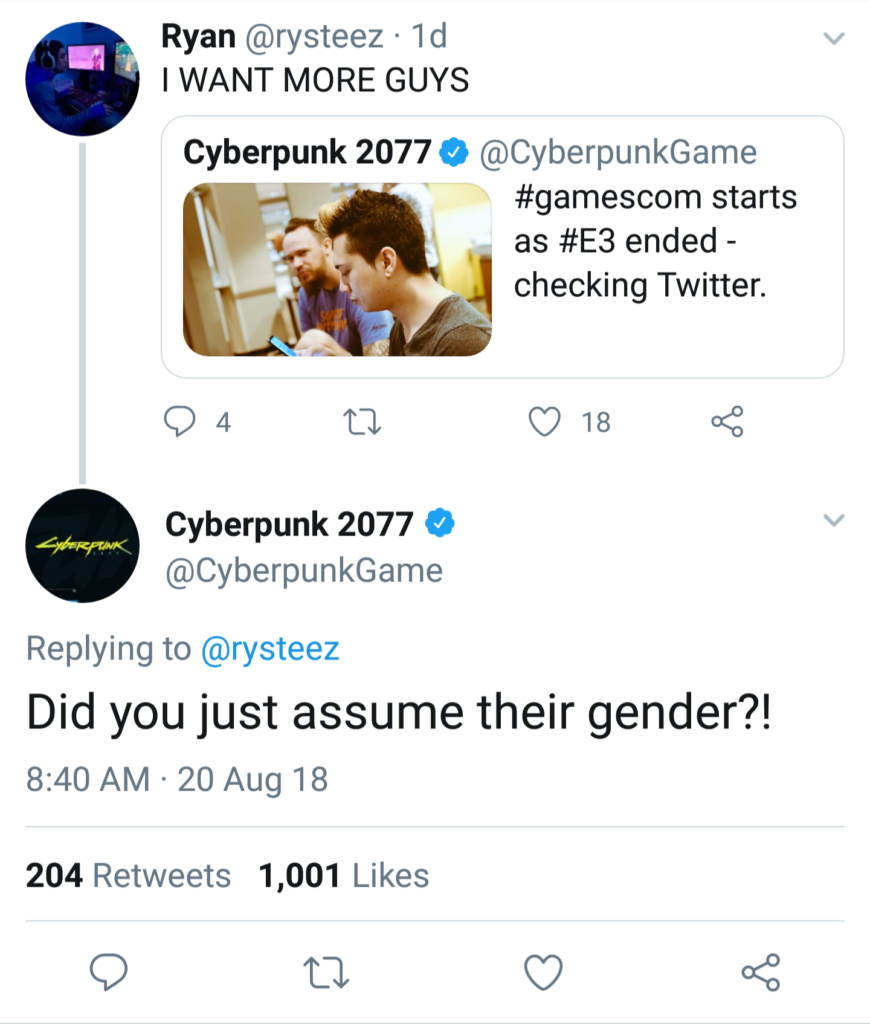 Two months later, GOG.com—an online storefront for PC games which happens to be owned and operated by CD Projekt—included (trending at the time) #WontBeErased as a pun from its official account. #WontBeErased was a hashtag campaign circulating social media in response to the Trump administration's memo threatening rollbacks of federal recognization and protection to trans individuals by proposing a strict definition of gender based on a person's genitalia at birth. Gog.com removed the tweet and issued a response the following day.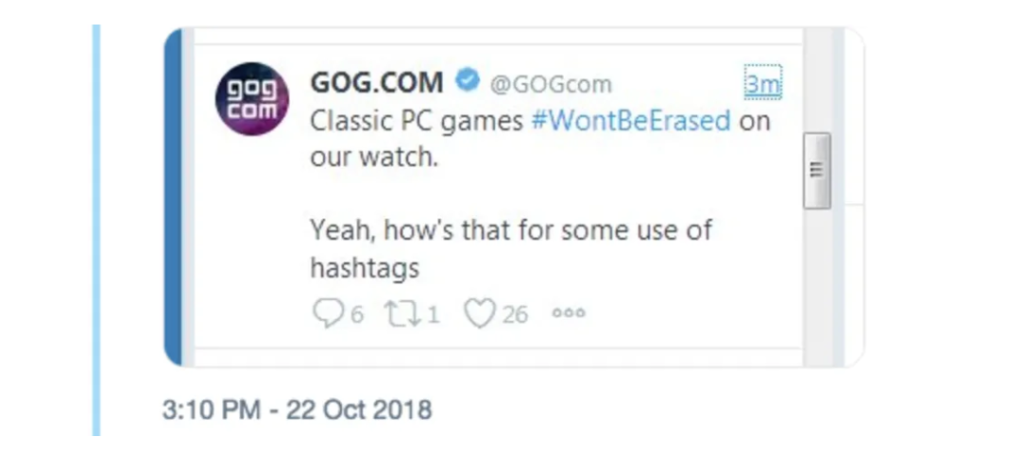 While both of these tweets were quickly removed and addressed, speculation about the repeated behavior drew noted criticism and concern from reviewers and fans alike. As Riley MacLeod wrote for Kotaku:
These instances follow the same pattern: clumsy jokes that are not quite aggressive or blatant enough to be seen as outright hateful, which are then quickly swept under the rug with an appeal to 'intentions.' Maybe these posts are misunderstandings of hashtags or internet trends by a social media team that has a wide range of fans to reach. Maybe they're intentionally hateful moves made by a person or people on the team.
Cyberpunk 2077 returned to E3 in 2019 with a full trailer ultimately revealing Keanu Reeves as Johnny Silverhand. Additionally, this trailer announced an official release date of April 16th, 2020.
Following the trailer release CDPR began releasing gameplay to the public which previously only media had been seeing "behind closed doors."

In June of 2019, a poster was spotted during one of the gameplays that many believed was an extreme case of the game perpetuating transphobia and contributing to trans stereotypes. A poster is seen for the soda "ChroManticore" with "16 flavours you'd love to mix" with the catchphrase encouraging you to "Mix it Up"—seemingly in reference to the trans-model depicted in the photo. Many called out the image for being another instance of reducing trans people to their genitals, as well as continuously hypersexualizing them. Additionally, the notion of "Mix it Up" was said to imply that being trans was optional—something to simply "try on." Finally, the name of the soda having the name "ChroManticore" was accused of not only hinting at "chromosome" but also including the latter half "manticore" which is a mythical beast comprised of many different parts ie: once again reducing trans individuals down to their "parts."
You can forgive one tone-deaf incident, but when it happens several times — and each one of them is transphobic — you start to question whether CD Projekt RED is more motivated by articulating societal issues, or just by giving its game some extra 'edge' in order to better appeal to a crowd that's all too content to mock the trans community in the first place.
In response to the backlash, Kasia Redesiuk the art director who created the advertisement stated:
Personally, for me, this person is sexy. I like how this person looks. However, this model is used — their beautiful body is used — for corporate reasons. They are displayed there just as a thing, and that's the terrible part of it.

Cyberpunk 2077 is a dystopian future where megacorporations dictate everything. They try to, and successfully, influence people's lives. They shove products down their throats. They create those very aggressive advertisements that use, and abuse, a lot of people's needs and instincts. So, hypersexualization is apparent everywhere, and in our ads there are many examples of hypersexualized women, hypersexualized men, and hypersexualized people in between.

This is all to show that [much like in our modern world], hypersexualization in advertisements is just terrible. It was a conscious choice on our end to show that in this world — a world where you are a cyberpunk, a person fighting against corporations. That [advertisement] is what you're fighting against.

I think that sexy bodies are sexy. Full disclosure: I love female bodies. I love male bodies. I love bodies in between. This is who I am. However, I hate it when it's used commercially. And that's exactly what we want to show by doing this exactly, by showing how big corporations use people's bodies against them.
Following the "ChroManticore" controversy, a second poster was spotted in the game that once again, appeared to be designed to deeply fetishize and sexualize trans bodies. CD Projekt RED has not commented on this additional poster and the intent or rational behind it.

In mid-2019, lead quest designer Paweł Sasko spoke with metro.co.uk and implied the content was essentially complete, and the rest of the 10 remaining months of development were to work on perfecting and polishing stating:
There's still almost a year of work but that time will mostly be spent on iterating, polishing it, playing it, making sure it looks and feels the way
we want.
On January 16th, 2020 the first delay of the release date occurred and was pushed to September 17th, 2020, citing a desire to perfect the game.
In March of 2020, due to the COVID-19 pandemic, CD Projekt Red switched to fully remote work. While the entire 600 person team was working from home, the developers remained confident that they could still launch in September citing only delays in potential recordings with actors due to studio closures.

On June 18th, 2020 the release was further delayed to November 19th, citing that the game would be "ready when it's done."
On September 18th, 2020, Cyberpunk 2077's Twitter account released their minimum and recommended PC specifications for running and operating the game. Highly recommended was SSD storage to run the 70 GB game, and on the GPU side, the minimum requirement was/is an NVIDIA GTX 780 or AMD Radeon RX 470 and the recommended was/is NVIDIA's GTX 1060 or AMD's Radeon R9 Fury.
In October of 2020, the finalists for a cosplay contest put on by CD Projekt Red were announced. One of the contestants, a cis woman named Yugoro, was announced as a finalist on the official Twitter account for her cosplay of the controversial Chromanticore model. Yugoro's costume included glowing blue genitals, which was pointed out as another instance in which non-trans and cis people were objectifying and dehumanizing trans people. Additionally, Yugoro and CDPR were criticized for continuing to hypersexualize trans bodies, and for allowing cisgender people to profit off of trans images and experiences.

On October 27th, 2020, Cyberpunk 2077 was once again delayed, this time until December 10th of the same year.
On December 10th, 2020 Cyberpunk 2077 was officially released for released for Microsoft Windows, PlayStation 4, Stadia, and Xbox One.

Suspcions began to arise surrounding the overly restrictive review embargo CDPR placed on Cyberpunk 2077. Reviewers who wished to publish prior to the release of the game were not allowed to use their own recorded footage and instead, would be expected to use b-roll footage provided to them. Further adding to the distrust was the fact that no console review codes were provided to outlets.
As the first reviews began coming in for Cyberpunk 2077, the reports of bugs were not only prevalent but certifiably overwhelming. Kallie Plagge for Gamespot called it, "phenomenally buggy" and cited an extensive list of technical problems such as crashes, non-interactable items exploding, characters interrupting themselves during cutscenes with throwaway dialogue, saves not loading correctly, and more. Furthermore, in a game like Cyberpunk 2077 where AI glitches are supposed to be a part of the character's cyberware, the numerous bugs and problems made deciphering what was intentional and what was a problem confusing, frustrating, and borderline impossible to follow for players.

To make matters worse, last-gen consoles were reporting far more issues than the PC version of the video game. Console versions were reportedly "nearly unplayable" as the systems seemed to be completely unable to support the game. The dialogue was met with constant loading screens, the graphics were criticized for not being up to expectations, the low frame rate affected the gameplay, and much like the PC version, the game was said to be constantly crahsing.

Players attempting to run the game on the oldest base PS4 model rather than a PS4 Pro or newer model swiftly made the issues into a meme via social media.
Upon the worst news for Cyberpunk 2077 came after Liana Ruppert, a journalist for Game Informer who lives with photosensitive epilepsy experienced a grand mal seizure while playing the game. Ruppert's seizure was triggered by the "braindance" sequence of the game. In the sequence, the player character V puts on a headset in an attempt to interact with memories and is met with a series of red and white blinking lights nearly identical to those real-life doctors use to trigger a seizure for diagnostic purposes. On December 11th, after the Game Informer review and pressure from epilepsy advocacy groups that the warnings and accessibility options were insufficient, CDPR released a patch to reduce the magnitude of the flashes in the braindance sequence.

Despite initially promising to have more "humane" practices at CD Projekt Red regarding crunch time and stating they would never be "mandatory", it was revealed after release that starting in January of 2020 crunch would become "necessary for some employees." A leaked email acquired by Bloomberg exposed mandated six-day work weeks and the fact that crunch had become an actual requirement. According to anonymous employees, there were multiple developers who had been working nights and weekends in crunch time "for more than a year."

On December 13, 2020, CD Projekt Red released an official statement apologizing for not allowing consumers to make an informed decision regarding console versions of the game, as well as failing to pay attention to the playability on the PS4 and Xbox One. Promises were made to release major patches between January and February, however CDPR stated the graphics would not be comparable to a PC or next-gen console version. Finally, they issued an offer to anyone who was unwilling or uninterested in waiting for patches a full refund.

Despite the offer for a refund, multiple sources have reported that actually obtaining said refund is easier said than done. Additionally, CDPR has stated they do not have a special Cyberpunk 2077 refund deal in place with either Microsoft or Sony dedicated to facilitating this for consumers.

Previously, developers at CDPR navigated a bonus system based on tokens distributed by leaders of the company to employees they thought deserved honor and/or special recognition. Those tokens were transferrable to a bonus if the game met certain criteria, say being highly reviewed or being released in a timely fashion. In an email obtained by Bloomberg, Adam Badowski, studio head and creative director, assured developers they would receive their full bonuses regardless of reviews and game reception. From Badowski:
We initially had a bonus system that was focused on the game's ratings and the release date, but after consideration, we believe that measure is simply not fair under the circumstances. We underestimated the lengths and complexity involved to make this a reality, and still you did everything you could to deliver an ambitious, special game.
In a meeting with studio executives and investors on December 15, 2020, CD Projekt Red admitted they "ignored signals about the need for additional time" prior to the release of Cyberpunk 2077. CDPR board member Michał Nowakowski stated he did not blame Microsoft or Sony for approving the console versions for release as, "I can only assume that they trusted that we're going to fix things upon release, and that obviously did not come together exactly as we had planned."

Executives also cited the COVID-19 pandemic as a reason for a lack of console testing of the game. According to CEO Adam Kiciński "External testers working for external companies were not able to test the game from homes—they have test centers and if they're not there, they're not able to work."

Despite large improvements that are in plan, players should not expect console versions to run and appear like the Windows PC version. From Nowakowski:
That definitely isn't going to happen.
CDPR did not address the mandatory crunch period or the ongoing accusations of transphobia.

On December 17th, 2020, Sony made the unprecedented move to remove Cyberpunk 2077 from the Playstation Store "until further notice." Sony confirmed it will offer PS4 (and PS5 via backward compatibility) players a full refund for the purchase of the game. In a statement from CDPR directly:
All copies of the game previously purchased digitally on PlayStation Store remain available for use by their respective buyers. Gamers can still buy physical versions of the game in retail and mail-order stores.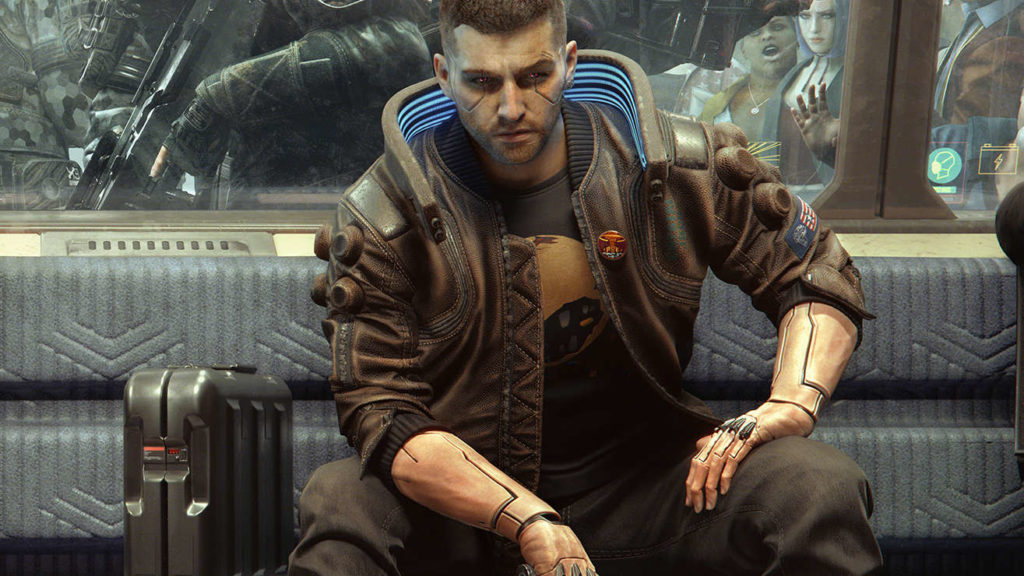 Despite the controversies, delays, and plethora of issues, reviews on MetaCritic currently sit at 89/100 from critics on PC, a 9/10 on PC from Game Informer, a 9/10 on PC from IGN and more. Cyberpunk 2077 was a best-seller on Steam in China, and within 12 hours of its release the game had more than 1 million concurrent players on the platform. CD Projekt Red stated that the digital preorders alone recouped the production costs and covered the 2020 marketing costs for the game.

In 2021, Cyberpunk 2077 plans to release on next-gen consoles PS5, Xbox Series X, as well as releasing a standalone multiplayer version in 2022.

On January 13th, 2021, Marcin Iwiński, co-founder of Cyberpunk developer CD Projekt, issued a formal apology online following the game's buggy release.

Within his apology/statement, Iwiński stated that the planned releases for DLCs would be delayed to focus entirely on fixing the already released game.

On February 24th, 2021, CDPR announced via Twitter that Patch 1.2 would be delayed due to a cyber attack on the studio's infrastructure. They stated that they aimed to release the patch instead sometime in "mid-March."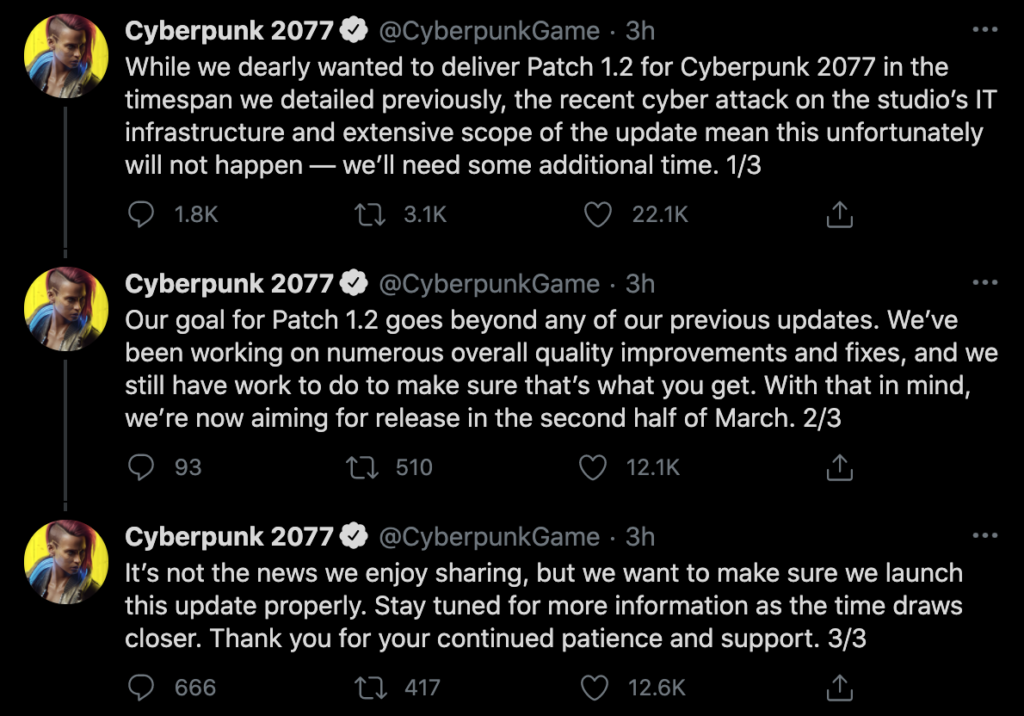 Despite Patch 1.2's delay, modders have been unofficially updating the game on their own.