'Intruder' (1989): The Sam Raimi and Bruce Campbell Slasher Movie Everyone Forgot About
If you're set on watching every Sam Raimi and Bruce Campbell movie, you can't forget about Intruder (1989).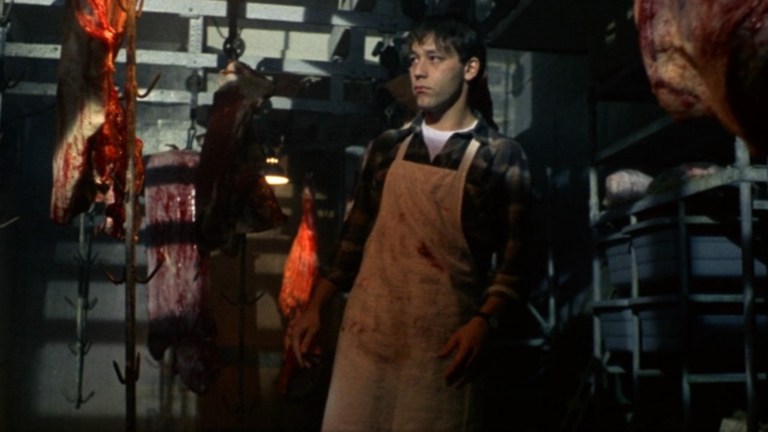 For horror fans, Sam Raimi is a staple. Without the Evil Dead trilogy, Drag Me to Hell, or superhero movies like the Tobey Maguire Spider-Man trilogy, the entertainment industry would be unrecognizable. He's what so many new filmmakers strive to be, and for good reason. The man's a legend. And yet, there's a movie out there that he and his oft-cast buddy Bruce Campbell have acting roles in that everyone has conveniently forgotten about. We're talking about the 1989 slasher horror movie set in a grocery store: Intruder.
A Typical Slasher Plot With a Twist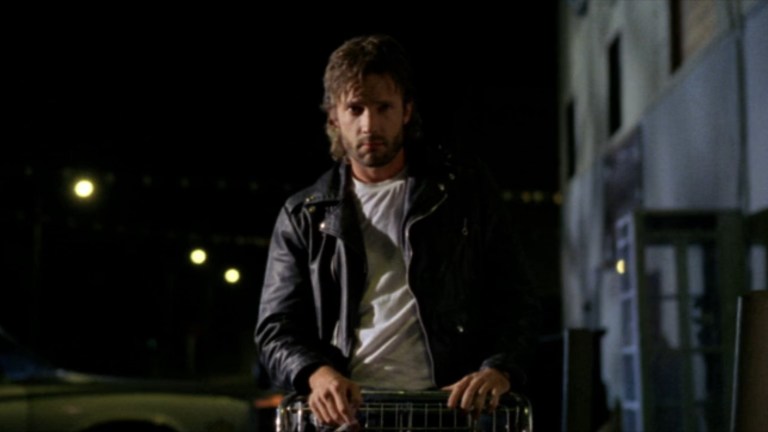 It's closing time and the staff working Walnut Lake Market just want to clean up the grocery store and be on their way. Unfortunately, the last customer of the night has other ideas. Leather-clad Craig used to date grocery cashier Jennifer. Even though their time together is long-since over, he's now dead set on getting her back, even if it requires force.
Craig attacks Jennifer and when the rest of the staff comes to her aid, he fights them as well. Though they eventually muscle him out of the store, he seems hellbent on re-entering to settle the score.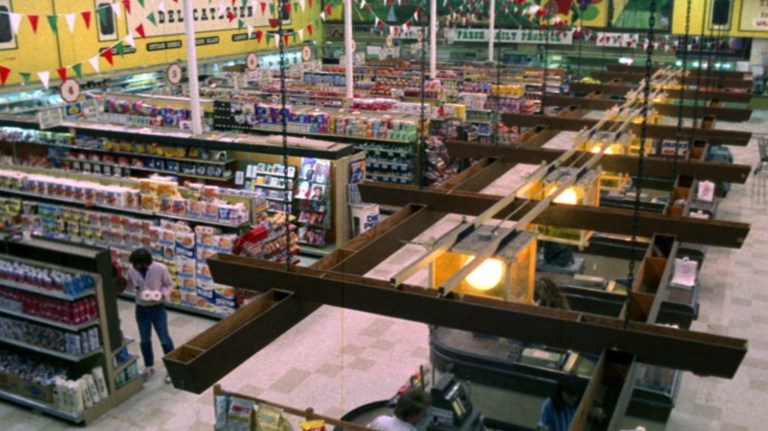 Meanwhile, the boss holds a store meeting with the staff. He has unfortunate news: The store's not making enough money anymore and soon the Walnut Lake Market will be closing for good. As the staff breaks up to clean the store and complain about the inevitable doom of their employment, there's one more wrinkle in this extra long night: Someone's come to finish off the staff one by one.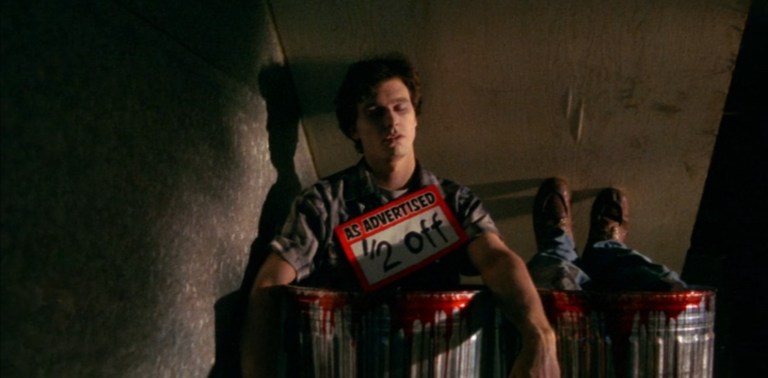 That's right; in true slasher fashion, there's a killer ending the lives of one grocery store clerk after another. As was typical in the '80s, these kills are creatively gory and elaborate. In the end, will anyone survive the night?
The Scott Spiegel / Sam Raimi Connection
While Sam Raimi and Bruce Campbell get top billing in many of the promo posters and VHS tape boxes for Intruder, they don't have the roles they usually do in horror films. Raimi didn't write or direct the slasher; that honor goes to Scott Spiegel in his feature-length directorial debut. But there's a very good reason that these three men worked on Intruder: They all went to high school together.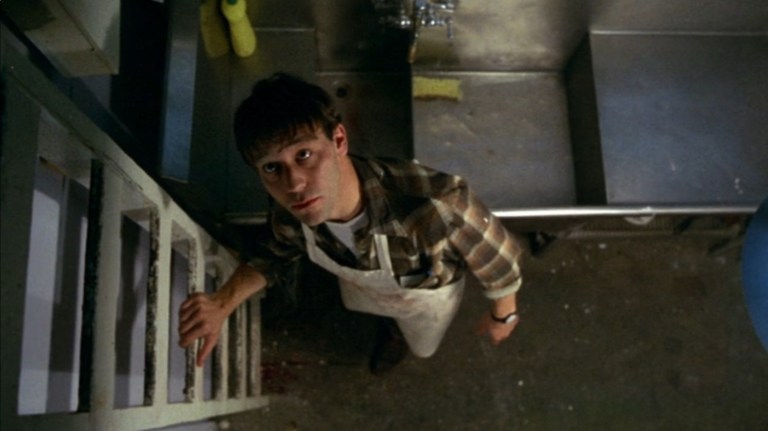 The three became friends while attending Groves High School in Birmingham, Michigan. Right from the beginning of the trio's Hollywood careers, they would put each other in their movies. Sam Raimi wrote and directed The Evil Dead (1981), a horror classic, and cast Bruce Campbell as his star. But what people may not know is that he also hired Scott Spiegel as Fake Shemp in the film. In fact, Scott Spiegel has had small roles in most of Raimi's movies, including Spider-Man (2002). It only makes sense that Spiegel would do the same for him when it came time for Intruder. Sam Raimi and Bruce Campbell aren't the only ones that have ties to The Evil Dead, though. The cast is full of horror regulars.
Intruder's Memorable Cast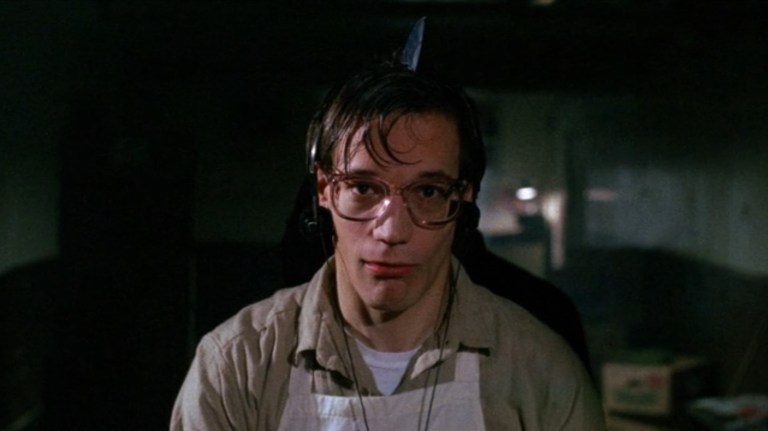 Horror fans will recognize a bunch of faces in the cast of Intruder, many of which have also been in Sam Raimi's movies. For instance, Raimi would often put his brother Ted in his films. Ted Raimi played Possessed Henrietta in Evil Dead II (1987) as she taunts Ash from the basement hatch. "I'll swallow your soul!" You might also recognize him as Joxer from Xena: Warrior Princess (1996-2001), for which Sam was an executive producer.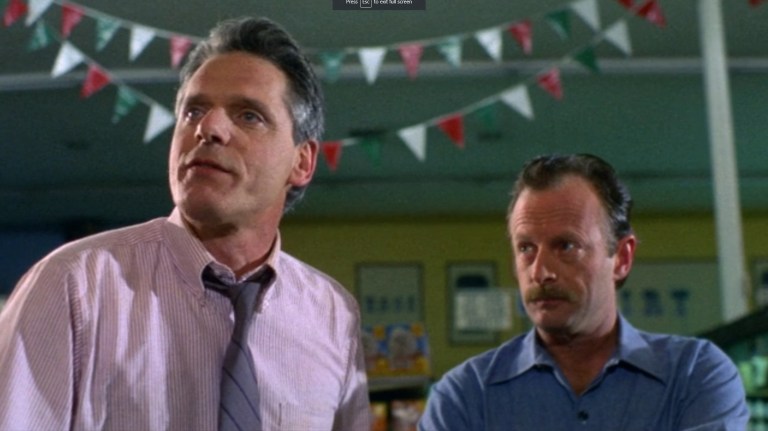 Dan Hicks plays store manager Bill Roberts in Intruder. That mustache might have you remembering his large role in Evil Dead II as Jake, boyfriend of Bobby Joe. Like others in the cast, he's gotten roles in other Sam Raimi pics, including a passenger on the train in Spider-Man 2 (2004).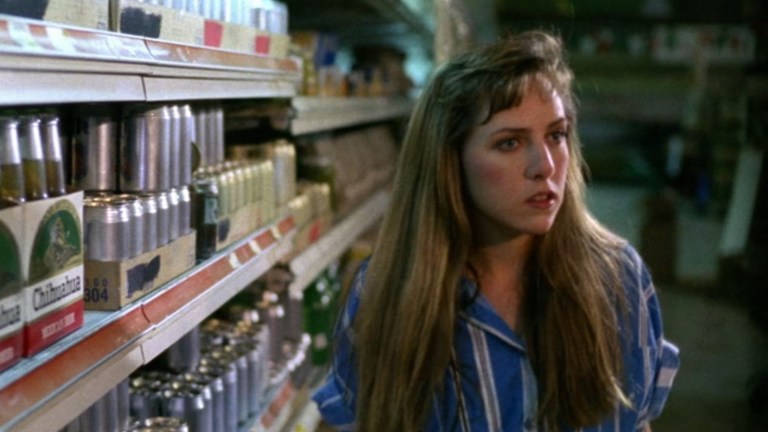 Though she doesn't have the Sam Raimi connections that the other cast does, Renee Estevez still had her moments in '80s horror. She played the final girl, Molly, in Sleepaway Camp II: Unhappy Campers (1988). And as the last name suggests, she's also from a famous Hollywood family with father Martin Sheen and brothers Charlie Sheen and Emilio Estevez. Like Sam Raimi and Bruce Campbell, Estevez had top-billing for Intruder despite not being a main character. The advertising made it seem like she was the final girl, but that honor went to Elizabeth Cox as Jennifer.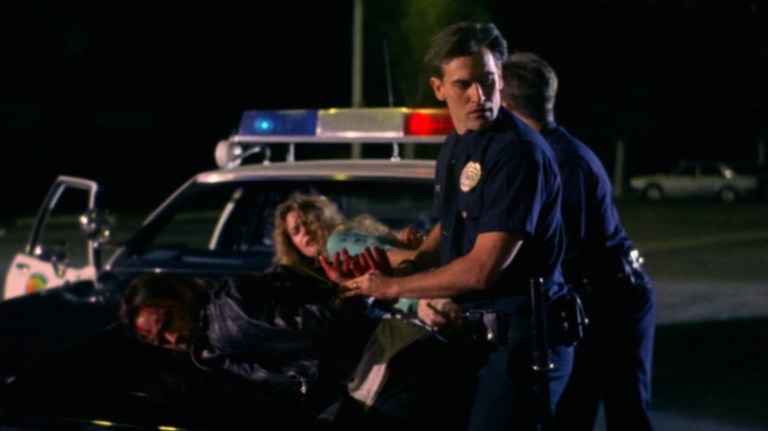 Then there's Bruce Campbell. Like other friends of Sam Raimi, he's found his way into roles large and small in the director's catalog. Though best know for The Evil Dead, he most recently received a small role in Raimi's Doctor Strange in the Multiverse of Madness (2022). With the top billing for Intruder, you'd assume he had a big role. In fact, his role as a police officer was just a cameo at the very end of the film. If you're watching this for the strong-jawed star, you'll have to wait for the last few minutes of the movie.
Where to Watch Intruder
Despite this slasher horror not being super well-known, there are plenty places online where you can stream Intruder. Rent it straight from Amazon Prime Video. You can also check it out on Shudder, Vudu, and Tubi.