25+ Saddest Movies of All Time
Whether through heartbreaking loss or giving you tear-filled hope, these saddest movies will leave you feeling emotionally wrung-out.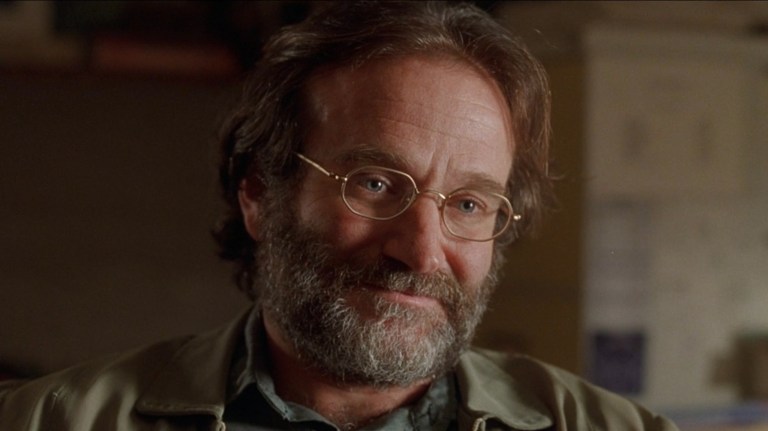 Terminal illness. Love entangled in catastrophe. Generational trauma. Spirits refusing to relinquish their grip on the mortal world. There are many types of sad movies — from the socially relevant and politically driven to the melodramatic tearjerkers with one goal in mind: to leave you wrecked beyond repair.
This list will highlight the most heart-wrenching movies of all time, spanning genres to give an encompassing account of the layers of sadness that define humankind's most somber tribulations.
The Saddest Movies Ever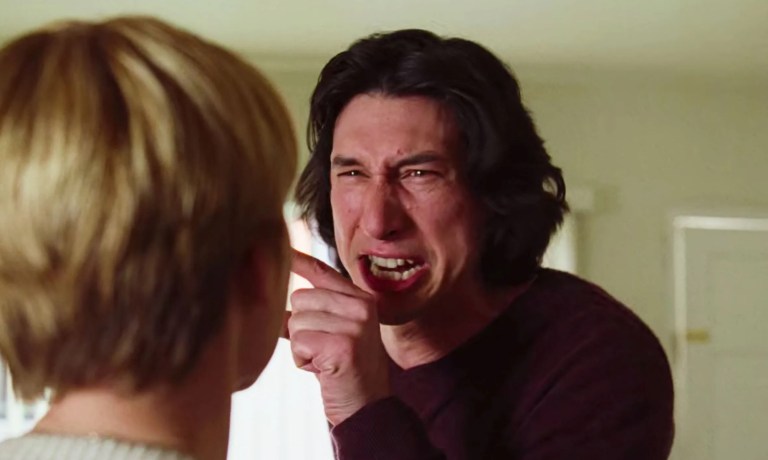 Release Date: November 15, 2019
Official Description: Academy Award-nominated filmmaker Noah Baumbach directs this incisive and compassionate look at a marriage coming apart and a family staying together.
Why So Sad: Marriage Story gives equal attention to both sides of a bitter divorce. Aggravation festers until reaching an irreversible breaking point: the spewing of vitriol so unforgivable that all love seems lost. Yet, Noah Baumbach's direction is so taut, his dialogue so specific, that hate never triumphs as the core emotion. Rather, it remains evident that love found and love lost is this narrative's crux. This film proves that the oft-quoted aphorism is true: "the opposite of love isn't hate; it's apathy."
Boasting career-defining performances from Adam Driver and Scarlett Johansson, Marriage Story beckons viewers to feel empathy for both parties — to yearn for the pair to rediscover what no longer exists — in an inevitable journey to separation. Not to mention, there's an innocent child caught in the crosshairs between two parents with conflicting motivations and desires. There is no right or wrong. There is no good or bad. There are simply two sides vying to "win" when they both have already irrevocably "lost." The pain from this one lingers long after the credits roll. We do not advise you watch this with your partner, for you may find yourself wondering what thoughts they keep sequestered.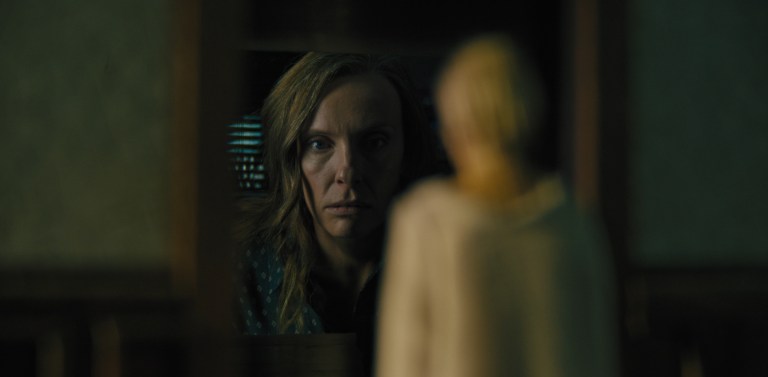 Release Date: June 8, 2018
Official Description: When Ellen passes away, her daughter's family begins to unravel cryptic and increasingly terrifying secrets about their ancestry. The more they discover, the more they find themselves trying to outrun the sinister fate they seem to have inherited.
Why So Sad: A spouse who loses their partner is widowed. A child who loses their parents is orphaned. Yet, there remains no word for a parent who loses their child, for this is an act against nature. This is not how it's supposed to be. And, being that Hereditary is a horror movie, the child's death is incomparably traumatizing.
In the film, Toni Collette's loses one child through the traumatizing consequences of the other's. Viewers do not see Collette upon her discovery. All we hear is her wail. Her agonizing scream pierces your ears and reverberates off the cinema walls. It's a gut punch. It's a jaw-dropping, unimaginable agony that Collette delivers with poignant authenticity. Throughout the film, she wavers exceptionally from detachment to deranged–from broken and empty to deafening bereavement.
At large, the story follows the loss of Collette's mother, and her death brings both grief and relief, resulting in an unshakeable cognitive dissonance relatable to all those who boast less-than-ideal relationships with their parents. The two deaths juxtapose one another and serve to highlight generational differences. It may be a terrifying movie that takes a turn to the cultic, but remove the jump scares and mysterious messages, and what remains is a harrowing tale of grief and the trials of motherhood.
Release Date: September 2, 2016
Official Description: A look at three defining chapters in the life of Chiron, a young black man growing up in Miami. His epic journey to manhood is guided by the kindness, support, and love of the community that helps raise him.
Why So Sad: Moonlight is a story about empathy. It's a story about unconditional love and the intrinsic human urge to give it (whether deserved or otherwise) — to triumph over society's ever-increasing brutality.
Moonlight boasts a central protagonist who represents those too often stereotyped in supporting character roles. The love felt and expressed between black men is a palpable thru-line across the decades–for a journey to manhood need not always be defined by heteronormative bonding rituals that urge boys to "toughen up."
In a political climate that continues to foster white supremacy, senseless violence, and homophobia, Moonlight feels all too relevant, making its beauty at once tangible and tragic. And though this film is about a black homosexual man–one who cries, who loves, who fights–it's a story about yearning to be seen. It's a tale about a battle for freedom of expression and sincerity. And that battle is not reserved for any one person or group. If this story of love persevering in the face of pain and trauma is not enough to summon the tears, we don't know what will.
Release Date: September 4, 2015
Official Description: Brie Larson won the 2015 Best Actress Oscar for her portrayal of a young woman freed with her young son held in captivity.
Why So Sad: Where all hope should be lost, it persists. When determination seems futile, it grows. And just when escape begins to feel like an utter pipedream, it becomes reality. But, most of all, where hate and agony would be expected to fester, love blossoms between a mother and her son held in captivity by an abusive kidnapper and rapist (who is the son's father).
The buildup to their escape is tense and inspiring. And once in the open world, the lead character's son–unable to process the world's immensity–longs for the room where they were held captive. He longs for the controlled space where his mother kept him safe–where she painted a reality antithetical to their impoverished circumstance and established a routine he grew to expect. And this young boy's innocence, his concurrent wonder and heartwrenching fear, make Room not only a tearjerking tale of unconditional love between a mother and her child but a harrowing dive into the psyche of a fractured childhood.
Release Date: June 6, 2014
Official Description: A dying teenage girl unexpectedly falls for a fellow cancer survivor in this moving adaptation of the bestselling novel.
Why So Sad: The Fault in Our Stars ranks among the best of the John Green/Nicholas Sparks assortment of adolescent-targeted tearjerkers. It's a love story that places cancer-stricken teenagers at the center. Though many stories about illness fall into one of two categories–emotional sincerity or melodramatic sentimentality–The Fault in Our Stars seems to walk a tightrope between the two.
Jumping between moments of hopefulness and despair, the film is as much a love story as a soul-searching narrative: A tale about the need to discover one's purpose before time runs out. And, for these youths on the verge of death, they're on a shorter timeline. Life lost too soon is sad alone. Turn approaching death into a dark cloud hovering over a blossoming young romance, and you've got a weep-fest.
There's an honest depth to the story, despite the moments of overt cheesiness designed to pull at the heartstrings of the blissfully naïve–those young enough to retain their hopelessly ideal (sometimes fantastical) notions of romance. Not to mention, Shailene Woodley gives an honest performance–a forlorn expression often rests behind her eyes–elevating moments that could otherwise slide to the soapy in weaker hands.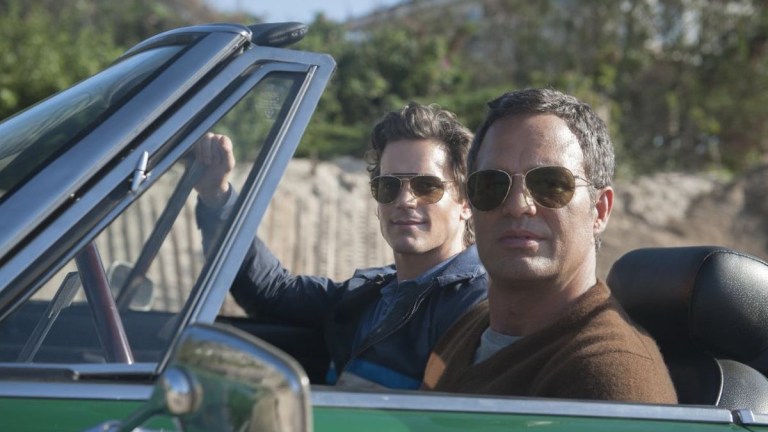 Release Date: May 25, 2014
Official Description: The early days of the HIV-AIDS crisis in 1980s New York City is the focus of this searing drama.
Why So Sad: Fighting for survival. Fighting for the medical industry to take a stand. Fighting for a community longing to hold onto a semblance of normality as a destabilizing crisis comes to wash away hard-earned progress.
It's a heartbreaking portrayal of an epidemic now often minimized to statistics. Art is said to mimic life, and life too takes notes from art, but there are rare occasions in which art recenters the lives that history has forgotten: When art does not mimic life but rather memorializes it.
And though filled with fights for social justice, political inequity, and historical records, at the center of A Normal Heart is a love story between Ned Weeks and Felix Turner, portrayed by Mark Ruffalo and Matt Bomer, respectively. The love story watches Weeks care for Turner following his AIDS diagnosis–as he transforms from a vibrant and energetic young man to one on the brink of death. Bomer's transformation is as agonizing as Ruffalo's ceaseless dedication is inspiring. The Normal Heart brings the AIDS crisis into a home where love persists in the face of societal ignorance and neglect.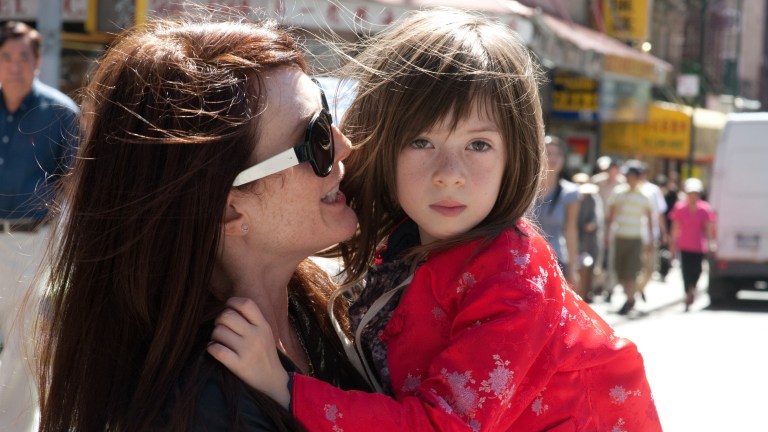 Release Date: May 3, 2013
Official Description: A child endures neglect and emotional abuse as her bitter, self-absorbed parents use her as a pawn against each other after their split.
Why So Sad: Based on the novel of the same name by Henry James, the 2012 film What Maisie Knew poignantly transfers the disturbing and often bleak nature of divorce to the screen while centering an unshakeable child who blooms in the wreckage.
Caught between her parents' incessant fighting and shifting romantic partners, Maisie looks at the chaos with innocence (and sometimes even wonder). She keeps her heart open to new people–whether or not such acceptance is warranted.
The adults are unbearably unlikable yet painfully relatable with each morally gray decision. And Maisie remains strong. She sees. She listens. She knows. But, she does not break. The incredibly selfish parents–played by Julianne Moore and Steve Coogan–deliver authentic performances, but it is young Onata Aprile's Maisie who will leave you shattered. Somehow, she remains a spark in the dark.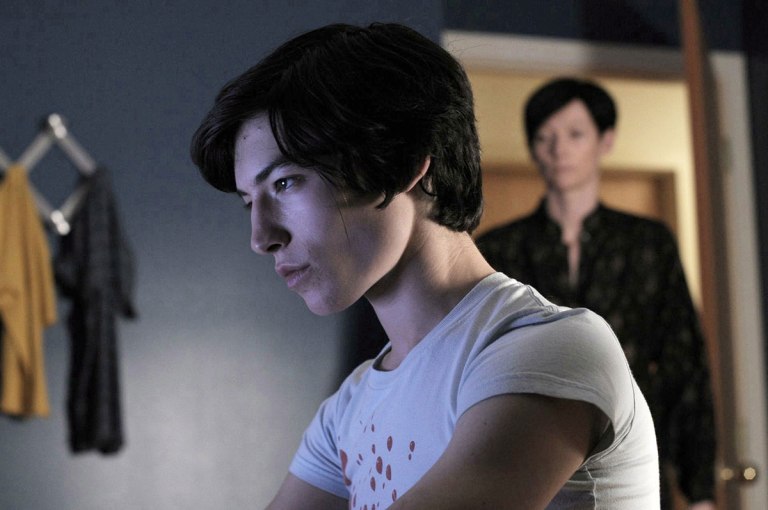 Release Date: December 9, 2011
Official Description: In this suspenseful and gripping psychological thriller, a mother contends for years with the increasing malevolence of her firstborn child, Kevin.
Why So Sad: We Need to Talk About Kevin does not take a direct route to sadness. It does not boast the typical elements seen in a tearjerker. Rather, under this film's twisted surface, behind the eyebrow-raising nature of each malevolent act, rests a pervasive melancholy. From the moment Kevin is born, he is a nuisance to his mother–no more than a wailing baby turned antagonistic child, and eventual murderous adolescent.
The relationship between this mother and her son is toxic. Something is evidently wrong with Kevin. He has a vendetta against his mother from the get-go and is fully aware of how much she despises him. Many believe it's impossible for a mother to detest her children, yet this film proves otherwise.
Though haunting and spellbinding–a suspenseful mystery from start to finish–the emotional core of this film rests on a maladaptive parent-child dynamic. We Need To Talk About Kevin reveals how evil festers when left unchecked. Watching this family fall apart at the hands of a sick child and a mother on the brink is no easy feat. You may not cry into your pillow, but you will remain dejected long after the credits roll.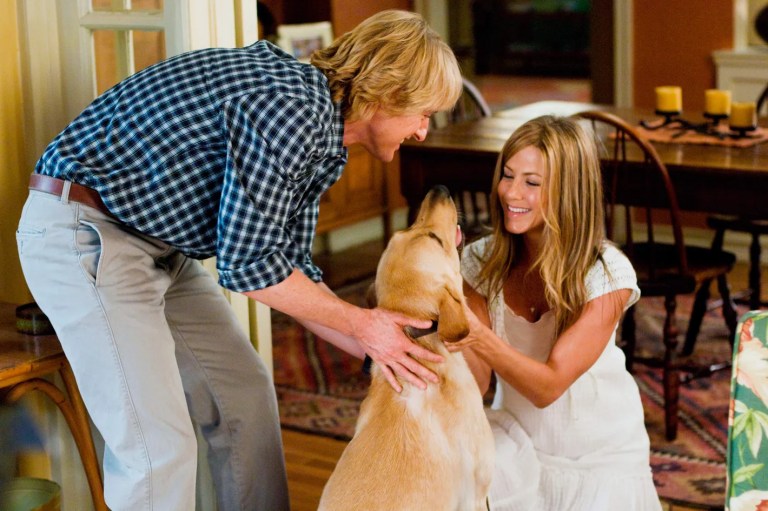 Release Date: December 25, 2008
Official Description: Jennifer Aniston and Owen Wilson unleash huge laughs as John and Jenny Grogan, a young couple contemplating the decision to have a baby. Then came Marley…an adorable Labrador pup who flunks obedience school and quickly turns his new home into a disaster area. But over the years, the Grogans come to realize that "the world's worst dog" truly brings out the best in them.
Why So Sad: Most of this movie is heartwarming, endearing, and downright funny. Keyword: most. Spoiler warning: This ends in the way you'd expect when dogs are involved. Marley is the "world's worst dog," according to Owen Wilson. Yet, over the years, viewers can't help but fall in love with the chaos-causing furry family member.
The underwear-eating, food-spilling, Christmas-tree-wrecking pup is a bit of a hassle, but it's all his shenanigans that make this film's final act all the more painful. Let's just say there's a reason a site dedicated to spoiling animal fates–DoesTheDogDie–was founded in 2010.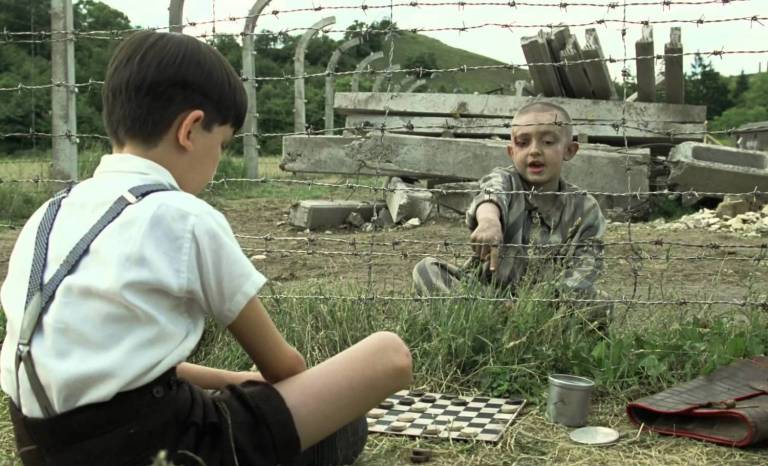 Release Date: November 7, 2008
Official Description: From the acclaimed novel, comes a unique perspective on how prejudice, hatred, and violence affect innocent people, particularly children, during wartime. A forbidden friendship forms between Bruno, the son of a Nazi commandant, and Schmuel, a Jewish boy held captive in a concentration camp. Though separated physically by a barbed wire fence, their lives become inescapably intertwined.
Why So Sad: Children–before their parents, teachers, and peers can indoctrinate them–remain untainted by society's racism, bigotry, antisemitism, and unfounded hatred. They see fellow kids, and simply yearn to connect and play. So when a young boy (largely shielded from the harsh realities of World War II) makes friends with a fellow boy behind a barbed-wire fence, he doesn't understand the implications. He doesn't understand their vastly different predicaments.
The consequences of war come to light through Bruno's (Asa Butterfield) and Schmuel's (Jack Scanlon) perspectives. Though The Boy in the Striped Pajamas isn't without fault, it attempts to take a magnifying glass to a massive moment in history. The film zooms in on a family unit and a budding friendship to deliver a movie that, up to its final curtain, underscores the inhumane absurdity of the Holocaust.
It is a heartwrenching take on the brutality of the Holocaust that centers the unequivocally innocent, and it all culminates in a final twist that is shocking, yet inevitable. A final twist that will leave you weeping for the children who merely yearn to connect.
Release Date: December 15, 2006
Official Description: Chris Gardner is a bright and talented, but marginally employed salesman. Struggling to make ends meet, Gardner finds himself and his five-year-old son evicted from their San Francisco apartment with nowhere to go. When Gardner lands an internship at a prestigious stock brokerage firm, he and his son endure many hardships, including living in shelters, in pursuit of his dream of a better life for the two of them
Why So Sad: Though released between Thanksgiving and Christmas, The Pursuit of Happyness is no Hallmark-adjacent holiday movie. Given that Will and Jaden Smith play father and son on-screen, it goes without saying that their chemistry in the film elevates the narrative above typical melodrama.
The Pursuit of Happyness reveals the soul-shattering effects of poverty while highlighting a father's endless commitment to his son–and his steadfast determination to create a life better than the one they are living. While money doesn't buy happiness, it buys stability. It buys opportunity. It buys comfort. And that is what a child needs. Jaden's innocence and unbridled trust in his father coupled with Will's unshakeable faith make this film an inspiring tearjerker.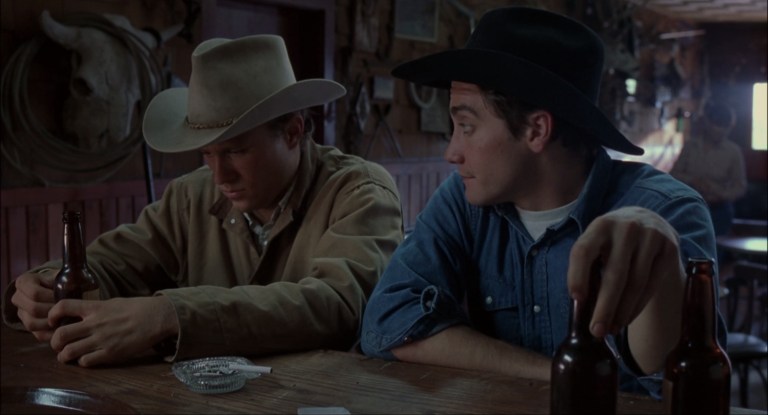 Release Date: December 9, 2005
Official Description: The story of a forbidden and secret relationship between two cowboys and their challenging separate lives over the years. Winner of three Academy Awards, including Best Director (Ang Lee).
Why So Sad: It's a tragic love story. You can't help but root for love to win: for the two cowboys to ride off into the sunset in a picture-perfect queer denouement. Unfortunately, they're living in 1960s rural Wyoming. They're trapped in a homophobic society that would never endorse their love.
Forced to separate, they remain locked emotionally, but distant physically — leading separate lives with wives and children as their love burns unexplored. One wants to start a life together. The other is too afraid.
This film is not trying to politicize its message about love. It is not here to be pedantic. It simply exists to tell an authentic and universal story about doomed love. And, in doing so, Gyllenhaal and Ledger's on-screen longing transfers seamlessly to the audience, leaving a wistful ping in your chest for days.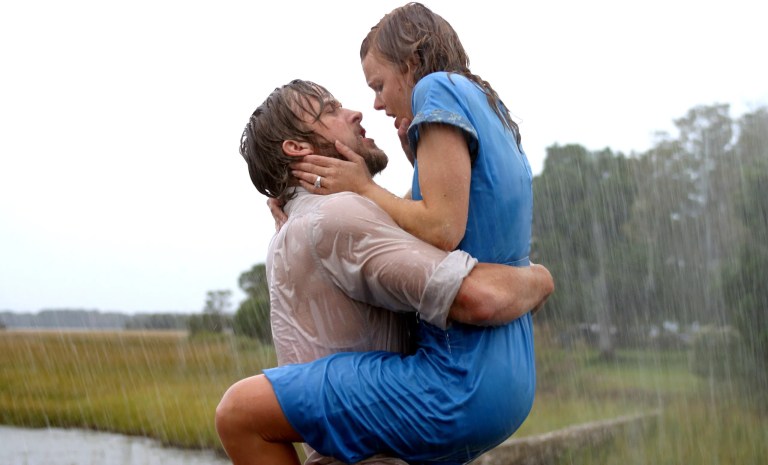 Release Date: December 15, 2004
Official Description: Behind every great love is a great story. Two teenagers from opposite sides of the tracks fall in love during one summer together but are tragically forced apart.
Why So Sad: Yet another romance story. Yet another pair of star-crossed lovers who can't stand to be apart (or together). The Notebook is one of (if not the) most sentimental Nicholas Sparks adaptations, yet, despite the overt aims at getting the tears flowing, there is a gravity to this story.
It is Noah's (Ryan Reynolds) endless devotion to Allie (Rachel McAdams) that breaks the heart; he will do anything for her. He will sacrifice all he has if it means she is happy. And, the film delivers one final twist–one last bow that is just as tragic as it is beautiful.
"If You're a Bird, I'm a Bird," Noah famously tells Allie, for he is and will forever be–until the grim reaper comes to take him away–exactly who she needs.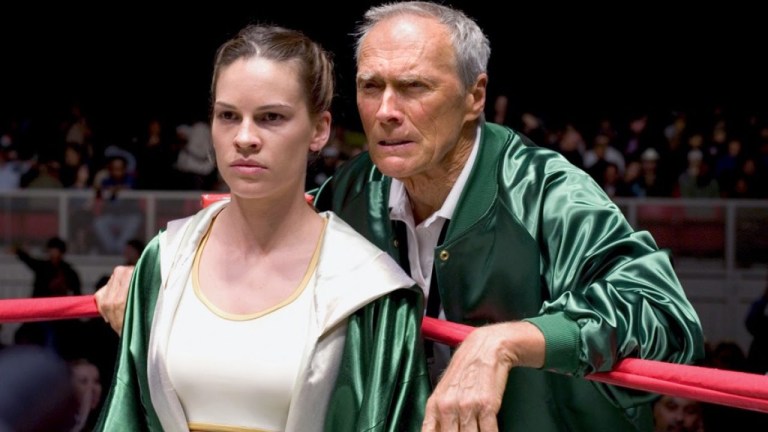 Release Date: December 15, 2004
Official Description: "I DON'T TRAIN GIRLS", trainer Frankie Dunn growls. But something's different about the spirited boxing hopeful who shows up daily at Dunn's gym. All she wants is a fighting chance.
Why So Sad: Taking home four Oscars in 2005, including Best Motion Picture, Million Dollar Baby is a tour de force with knockout performances from Hillary Swank, Morgan Freeman, and Director Clint Eastwood.
It's a story of found family–when the one you're given will bleed you dry with no remorse. It is Eastwood's refusal to train Swank, followed by his undying care and protective nature over her, that makes this film so moving. He is not only her trainer. He is her real father. Eastwood slowly let his guard down, slowly opens his heart–only for it to be irrevocably shattered with undeserved guilt.
Despite the ending's agonizing nature, it's a poignant take on human nature, and the heart's refusal to follow the brain. The movie slowly builds to a necessary (albeit delayed) narrative change of direction and strays from the likes of quintessential fighting movies in its final act. Thus, Million Dollar Baby becomes a much more somber journey–one that, in between moments of melodrama–finds its authentic center as a tale about love (not romantic, but familial).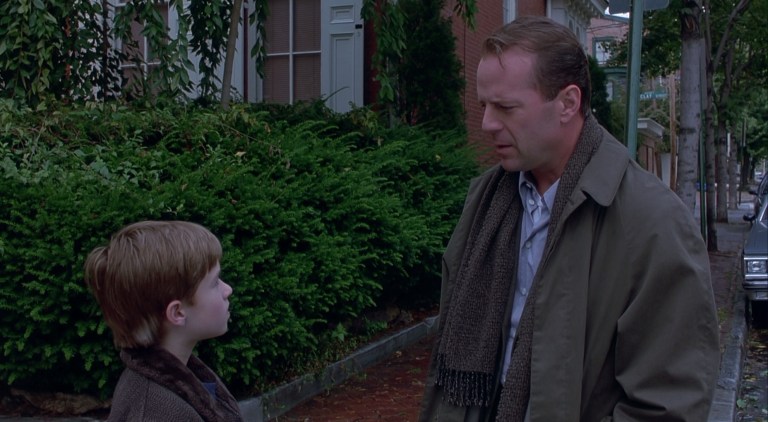 Release Date: August 6, 1999
Official Description: A child psychologist discovers a patient's incredible sixth sense.
Why So Sad: "I see dead people," has become one of the most-quoted movie lines in history. Though such a line is associated with a supernatural thriller, The Sixth Sense retains a harrowing bleakness and a shocking twist that underscores its entire narrative, leaving a somber essence in its wake.
The ghosts in this movie are not meant to be solely scary, but dejected. For, what are spirits but souls refusing to relinquish their grip on their mortal lives? What are ghosts but fleeting shadows of men and women with unfinished business?
And then there's Bruce Willis in one of his most emotionally compelling performances to date. He plays a caretaker, a wise elder, and a father figure to a young Haley Joel Osment. Willis is soft-spoken and calm. Determined yet suspiciously despondent. And as the final curtain rises, the nature of his performance–the reason he seemed forlorn and depressed in prior frames–comes into eye-opening focus.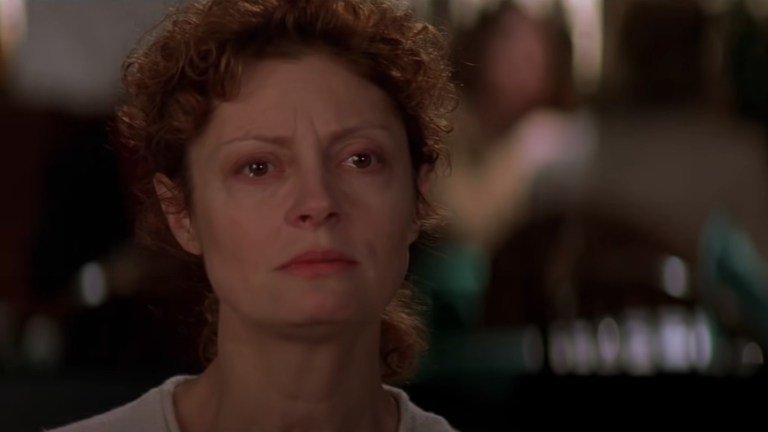 Release Date: December 25, 1998
Official Description: When a young woman becomes romantically involved with an older divorced man, she must learn how to become the stepmother to his children from his ex-wife–who is terminally ill with cancer.
Why So Sad: "I have their past, and you can have their future," a terminally ill Susan Sarandon tearfully utters to Julia Roberts, who will soon be the sole mother to her children. Need we say more?
Stepmom follows two mothers: a biological mom who lays down the law, yet also eases all her children's worries (Sarandon) and a hip stepmom Isabel (Roberts) with fresh ideas and a playful disposition. Two sides to a coin. Neither right nor wrong. Just polar opposites. Sarandon's Jackie longs to retain her status as "the favorite," catalyzing a bitter rivalry with Isabel. Yet, when Jackie is diagnosed with cancer, she comes to understand that her time is limited and that Isabel will take the reins.
The mothers must come to exist as equals; they must put the children first to prepare for Jackie's inevitable death. And though this film is a bit manipulative–providing the children with gut-punching dialogue a bit too mature to maintain realism–it works. You cry. You laugh. Then you cry and cry and cry again.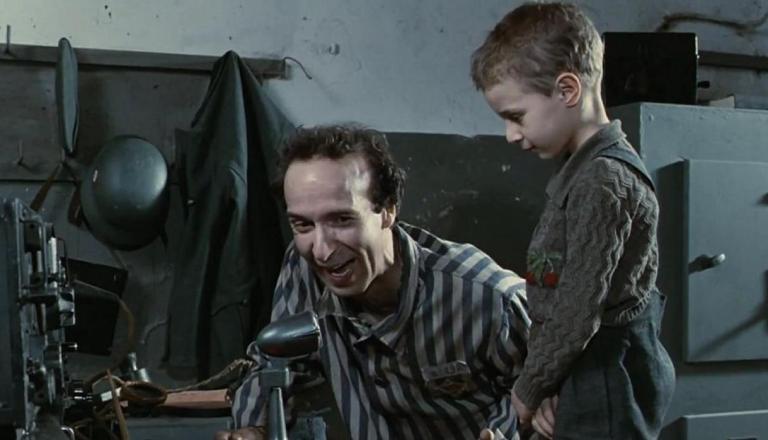 Release Date: October 23, 1998
Official Description: With a game, an Italian Jew (Roberto Benigni) shields his son (Giorgio Cantarini) from Nazi horrors in a concentration camp during World War II.
Why So Sad: A father on the brink of death–starved and tortured–retains his playful disposition. He wears a smile to hide the fear and anger bubbling beneath his façade. He keeps his son's innocence alive. His son's rosy view of the world–untainted by the agonies of the Holocaust–remains intact, for this father refuses to let his innocent boy face the psychological trauma that would come with accepting their reality.
The film's writer, director, and actor Roberto Benigni's contagious energy transfers seamlessly from screen to spectator. He is a charmer and a clown. His humorous proclivities manage to conjure bittersweet smirks from viewers at home–who know the inevitable yet fall willingly under his loveable, truth-distorting spell. In his darkest moments, he retains a light and levity achievable only by a devoted parent yearning to protect their child. Benigni's will is awe-inspiring. His emotional fortitude is unparalleled. And where all hope is lost, a child's bliss is found.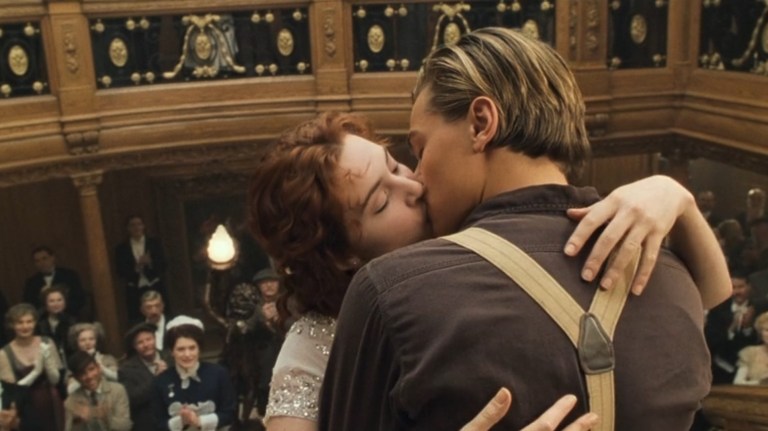 Release Date: December 19, 1997
Official Description: Two young lovers find one another on the maiden voyage of the "unsinkable" R.M.S. Titanic. But when the luxury liner collides with an iceberg in the frigid North Atlantic, their love affair becomes a thrilling race for survival.
Why So Sad: THEY BOTH COULD'VE FIT ON THE DOOR! If you haven't seen Titanic (and you've lived under a rock for the past few decades), this reference may escape you. However, Titanic is a beautiful love story enmeshed in catastrophe. The movie grapples with love and loss, while also forcing you to face the grave truth that the film is based on real events–and many innocent lives were lost in the wreckage.
A little bit of melodrama, fairytale-fitting infatuation, and dazzling visuals make this one of James Cameron's many triumphs. Straddling multiple genres–romance, adventure, epic drama, and more–the film contemplates the joys and woes of "industry," while taking a microscope to class differences–and their inequitable consequences.
The love story alone is enough to make you weep, yet the social parables at play up the ante, leaving your remorse tainted with bitter reflection. It's over-the-top and grand, coming in at 3 hours and 14 minutes, but the slow-boiling exposition is needed for the film's final punch to land with power…and that it does.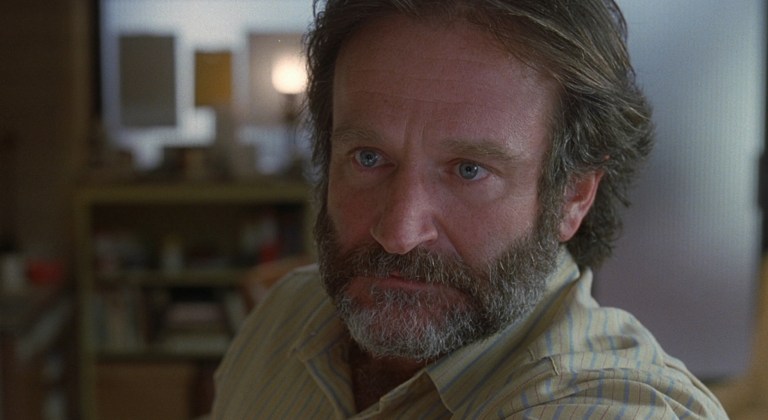 Release Date: December 5, 1997
Official Description: A therapist, a mathematician and working-class roughs vie for the soul of a janitor with a genius IQ.
Why So Sad: Good Will Hunting falls into the inspirational category of sadness. Sometimes, in reaching for your potential, you must leave behind the comforts you have come to know–the people who want nothing more to see you rise but will miss the days they knocked on your front door.
Will's journey to greatness is met with many woes, as situations must worsen before they improve–as is the case with any Tinseltown take on human glory. For, what is success without suffering? Robin Williams plays a wise and gentle therapist to a broken Will (Matt Damon), who has a bit of a criminal past and must dig deep to discover the source of his actions. Good Will Hunting remains a top-tier collaboration between Matt Damon and Ben Affleck, and the film remains just as relevant today as it ever was–leading to laughs, tears, and solemn reflection upon each viewing.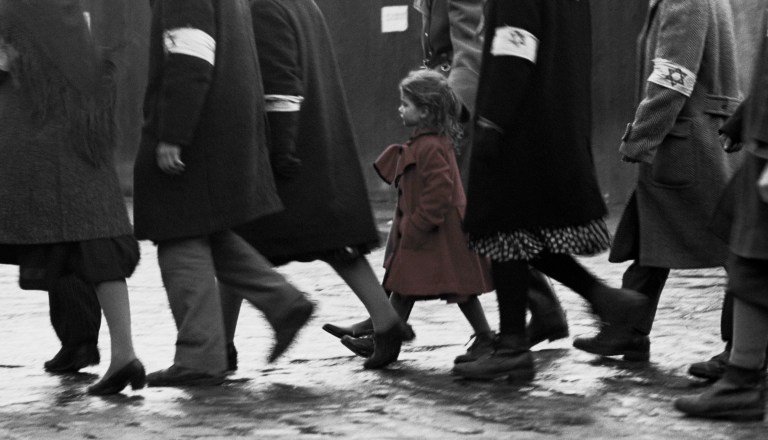 Release Date: February 4, 1994
Official Description: Steven Spielberg addresses the Holocaust in a profound Oscar-winner.
Why So Sad: Schinder's List rightfully remains one of Steve Speilberg's most acclaimed works, if not his magnum opus. The film retains the director's penchant for finding humanity in the bleakest of circumstances, yet Spielberg does not minimize the abject horror of the holocaust or glamorize it to gain points for melodrama. Schindler's List is a deeply sincere character study with unparalleled performances from Liam Neeson, Ralph Fiennes, and Ben Kingsley.
The epic historical drama often feels like a documentary, bringing to light the inhumane and abhorrent facts of genocide and "ethnic cleansing," The black-and-white approach brings viewers immediately into the past (making the mid-20th century feel like yesterday) while emphasizing "good" and "evil" as matters of light and darkness. The sensationally sad film centers on a man who will do all in his power to fight, yet at the end of the day still feel he "could have saved one more."
The brutality may be hard to watch–the visuals too stomach-churning to shake–but this was reality. And in depicting reality with such precision and artistry, Spielberg delivers one of the most profound accounts of the Holocaust–one of the most chilling interpretations of pure evil.
"Whoever saves one life saves the world entire."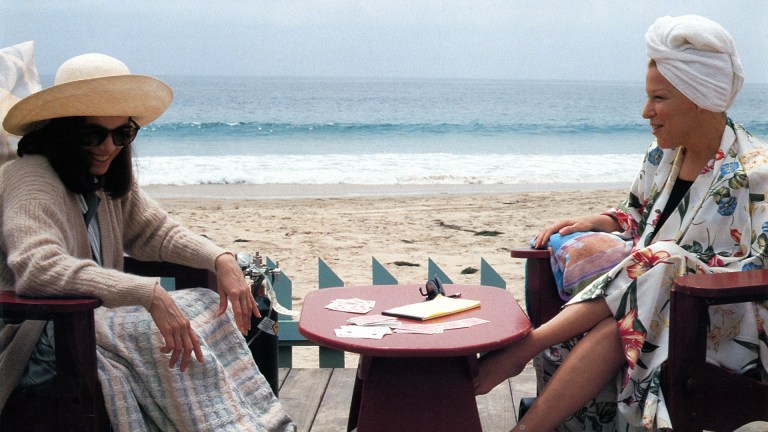 Release Date: December 21, 1988
Official Description: Bette Midler and Barbara Hershey are complete opposites whose lifelong bond carries them down a rocky–and often comical–road.
Why So Sad: "I could fly higher than an eagle, for you are the wind beneath my wings." The song featured in the film with the Divine Miss M on vocals has since become more famous than the movie. It's a number that mothers and sons and fathers and daughters dance to at weddings.
The song and the film spotlight the love between two polar soulmates, who just so happen to be best friends. Not all endless love is romantic. The ones who stick by your side through pain and suffering–through triumph and failure–are often your best friends. You may fight. You may hurl insults you can never take back, but when the road is long and the journey arduous, your friend will be there to take your hand.
When Barbara Hershey's character falls ill with cancer, the goofy and spotlight-stealing showgirl that is C.C. (Midler) reveals just how capable she is of standing in the shadows. She becomes the shoulder her friend needs. Beneath the dazzling wardrobe and diva shtick is a woman who knows what it means to love unconditionally.
There are just as many laughs as there are tears, yet the undying friendship amidst approaching mortality keeps this movie scrumptiously schmaltzy. It knows it's aiming for your heartstrings, with lines like "You're not dead yet, so stop living as if you are!" that leave your jaw on the floor, your heart on your sleeve, and the tears welling in your eyes.
Release Date: June 2, 1988
Official Description: In the aftermath of a World War II bombing, two orphaned children struggle to survive in the Japanese countryside. To Seita and his four-year-old sister, the helplessness and indifference of their countrymen is even more painful than the enemy raids.
Why So Sad: What could be more grave than an anti-war drama with innocent children at the center? Grave of the Fireflies violates all expectations tied to animated films, creating an adult-themed epic that centers on a 14-year-old and a 4-year-old determined to survive–and find brief moments of joy in a post-war society bubbling with jaded indifference.
James Berardinelli said it best in his 1988 review of the Studio Ghibli film: "Grave of the Fireflies is…a reminder that the greatest victims of any war are often the ones whose stories are never told." The fact that Grave of the Fireflies plays as a flashback, with the spirit of its dead protagonist returning to tell the tale, does not weaken the blow of the inevitable. Viewers know from the get-go that these innocent siblings–despite their best efforts–will wind up dead as a direct result of World War II.
In all wars, there are innocent victims. In all wars, there are innocents left without access to a warm home and nutrition. And when those innocents are children, the ping is all the more painful, for there's a certain naivete to their circumstance that keeps hope alive in the face of despair.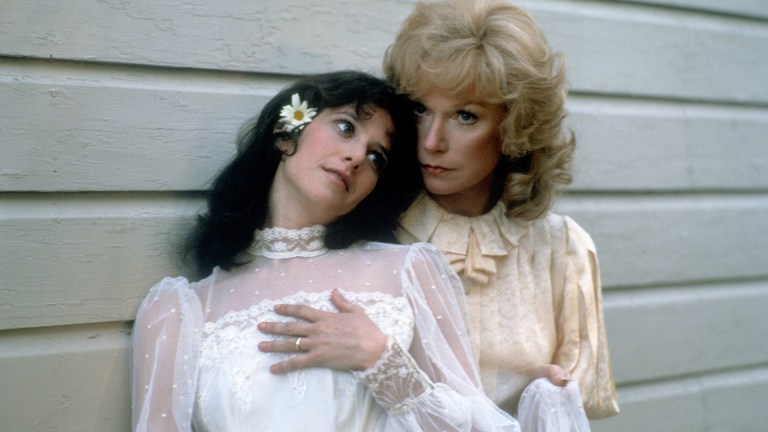 Release Date: November 23, 1983
Official Description: The unforgettable 1983 Best Picture Oscar-winner that follows a turbulent mother-daughter relationship over the years.
Why So Sad: "Give my daughter the shot!" a mother screams with hopeless fury, forcing a nurse to give her dying daughter her pain medication exactly on schedule.
Aurora (Shirley MacLaine)does not have control of much, but this, with a little force and agony, she can control. Shirley MacLaine and Debra Winger steal the show as a mother-daughter duo with a fraught relationship. When Emma (Debra Winger) tells her mother she is pregnant, Aurora looks into her eyes detested before yelling "why should I be happy about being a grandmother!?"
Emma has a difficult marriage, two children, and a mother whose strongest form of support is ridicule. Yet, when Emma gets diagnosed with cancer, it becomes clear that Aurora's love–though far from soft and saccharine–is undying and relentless. It is not passive, but active. And Emma's children, struggling to come to terms with their mother's illness (and consequential financial hardship) respond in two ways: the elder with anger and the younger with fear.
This family breaks, bonds, fights, laughs, and breaks again in a whirlwind emotional journey…with an endearing Jack Nicholson as MacLaine's love interest for comic relief. It is both a funny and devastating film–a well-scripted take on life with performances that make you feel one with this family, with all their joys and all their tribulations.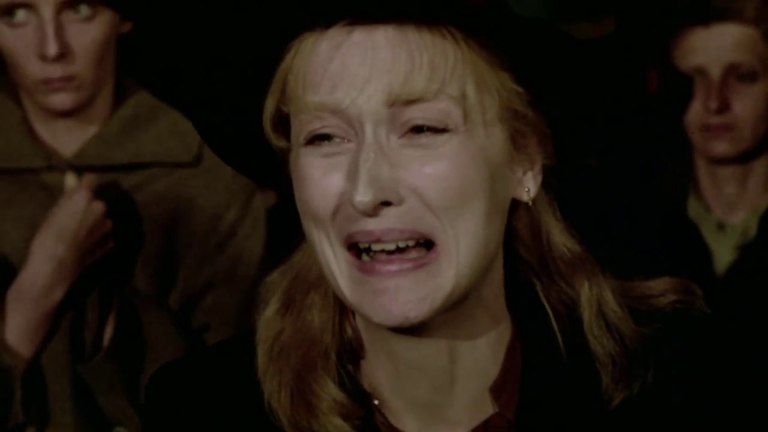 Release Date: December 8, 1982
Official Description: An Oscar-winning performance by Meryl Streep (Silkwood) as a lovely immigrant of many moods lights up this powerful 1982 drama.
Why So Sad: Sophie (Meryl Streep) is a holocaust survivor who lived in prosperity before the war, yet Auschwitz took everything from her. Though she now lives in Brooklyn with her lover Nathan (Kevin Kline), there are certain hardships–certain memories that no amount of time will erase.
Sophie seems happy–often dancing around and joking with her lover and their new friend, Stingo–but there's a somberness beneath the surface. There's a tinge of something holding her back from bliss. She is a mystery. She hides a deep secret, and when it is unveiled, it will leave you broken, for she was once forced to make a choice that no person should ever have to make. She lies to bury her pain, to conceal the past, for once it drips into the present, it will destabilize all she has since accomplished. It will obliterate all the time she has placed between her morbid past and rosy present.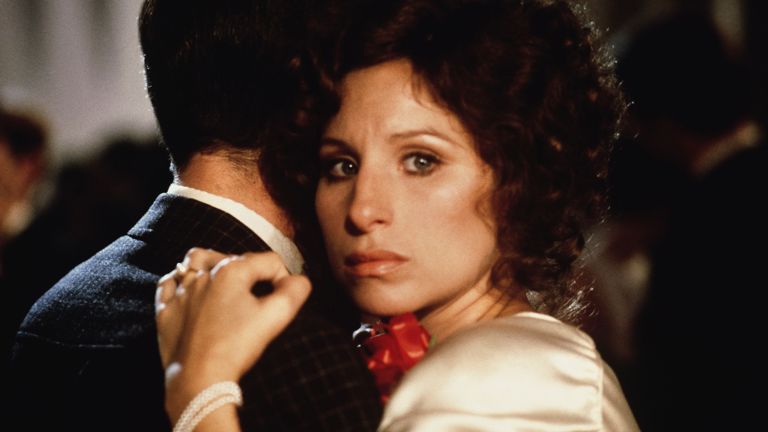 Release Date: October 16, 1973
Official Description: Set during the politically charged time of pre-WWII McCarthyism, a young couple with diametrically opposing views of politics, friendships and careers find it difficult to balance their private love and desires with their very public lives.
Why So Sad: Streisand and Redford are sociopolitical opposites who fall in love–yet their drastically disparate viewpoints (and inability to agree to disagree) are arguably catastrophic. They wed, despite the fact that one is a liberal crusader and the other a conservative golden boy. The tragic denouement makes itself clear from the onset, yet the film carries on, providing brief glimmers of hope to a viewer never ready for the inevitable.
Once they move to Hollywood and the political upheaval surrounding the 1950s blacklist commences, the two are irreparably doomed. It's a slow-moving love story that pulls you into its trenches, for, no matter much chaos ensues outside their four walls, you remain fixed to this pair–fixed to their ups and downs. It's often melodramatic and a little implausible, but strong performances from the leads make this movie a swoon-worthy and then somber story. In the end, it proves the very opposite of what most romantic films aim to suggest: love isn't always enough to conquer all.
And with that, we leave you with memories of the saddest pieces of cinema "to light the corners of your eyes" and though some may be "too painful to remember," we refuse to let you forget.
More Sad & Heartbreaking Movies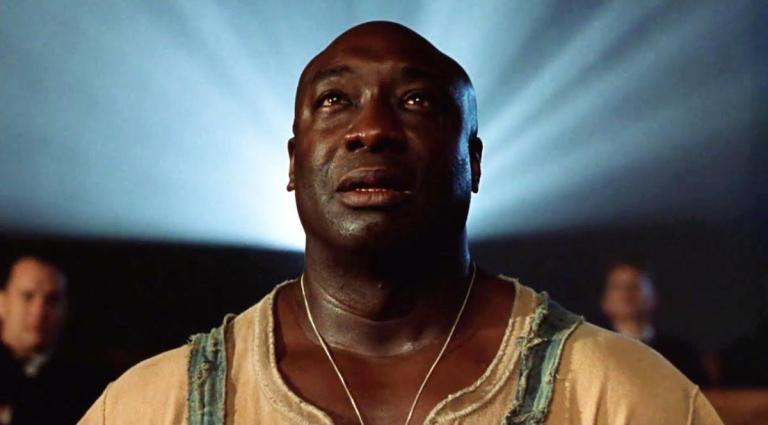 Vox Lux (2008) is incredibly sad and also incredibly disturbing tale of a musician trapped in a toxic culture.
Me Earl and The Dying Girl (2015), a socially awkward high school student, his best friend, and their terminally ill classmate form a powerful bond in this heartwarming and hilarious tale of true friendship.
Remember Me (2010), two people scarred by grief find happiness in each other. Robert Pattinson (the Twilight films) and Emilie de Ravin star in this deeply romantic story with a stunning ending.
Precious (2009), viciously abused by her mother and pregnant by her father, Harlem teen Precious Jones has an unexpected chance at a different life when she enrolls in an alternative school.
Atonement (2007), nominated for 7 Academy Awards, including Best Picture, this stunning epic love story stars Keira Knightley and James McAvoy and is hailed by critics as "a ravishing romance."
The Guardian (2006), action-packed drama that takes you inside the never-before-seen world of the elite Coast Guard Rescue Swimmers. Reeling with grief from a mission gone tragically wrong, a legendary swimmer is given a mission he doesn't want–training raw recruits.
Requiem for a Dream (2000) this early Darren Aronofsky film dives deep into the repercussions of drug addiction.
The Green Mile (1999), death row head guard Paul Edgecomb has walked many inmates down the stretch of green linoleum that leads to Louisiana's electric chair, but never has he encountered anyone like John Coffey.
The Bodyguard (1992), a former Secret Service agent takes on the job of bodyguard to a pop singer, whose lifestyle is most unlike a President's.
The Last of the Mohicans (1992), an epic adventure and passionate romance unfold in a frontier wilderness ravaged by war. Hawkeye is a rugged frontiersman and adopted son of the Mohicans. Cora is an aristocratic daughter of a proud British Colonel. Their love blazes amidst a brutal conflict between the British, French, and Native American allies that engulfs the majestic mountains and cathedral-like forests of Colonial America.
The Color Purple (1985), Academy Award winner Whoopi Goldberg, Danny Glover, and Oprah Winfrey star in director Steven Spielberg's adaptation of Alice Walker's Pulitzer Prize-winning novel.
Ordinary People (1980) director Robert Redford's Oscar-winning examination of an upper-middle-class family torn apart by tension and tragedy. Starring Donald Sutherland, Mary Tyler Moore, Timothy Hutton, and Judd Hirsch.
The Rose (1979), Bette Midler stars as an emotionally fragile rock star on the brink of self-destruction in this blistering portrait of the music industry.
Tokyo Story (1953), an old couple visits their children and grandchildren in the city, but the children have little time for them.
Steel Magnolias (1989), based on the play about six Southern women who become close friends despite their eccentricities and complicated lives.