33+ Airplane Horror Movies — Death From Above
Airplane horror movies make for great thrillers, comedies and isolation horror films.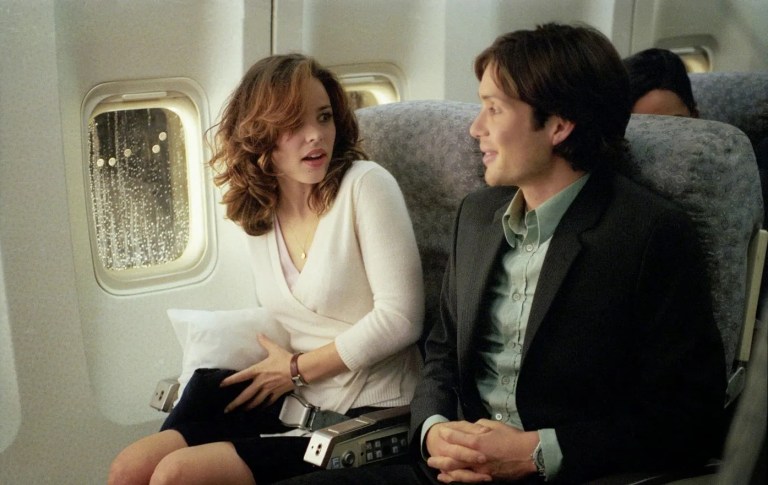 Aviation and horror movies were birthed only five years apart from one another—the short fantasy films of Georges Méliès first appeared in 1898, and the Wright Brothers flew their historic plane at Kitty Hawk, NC in 1903.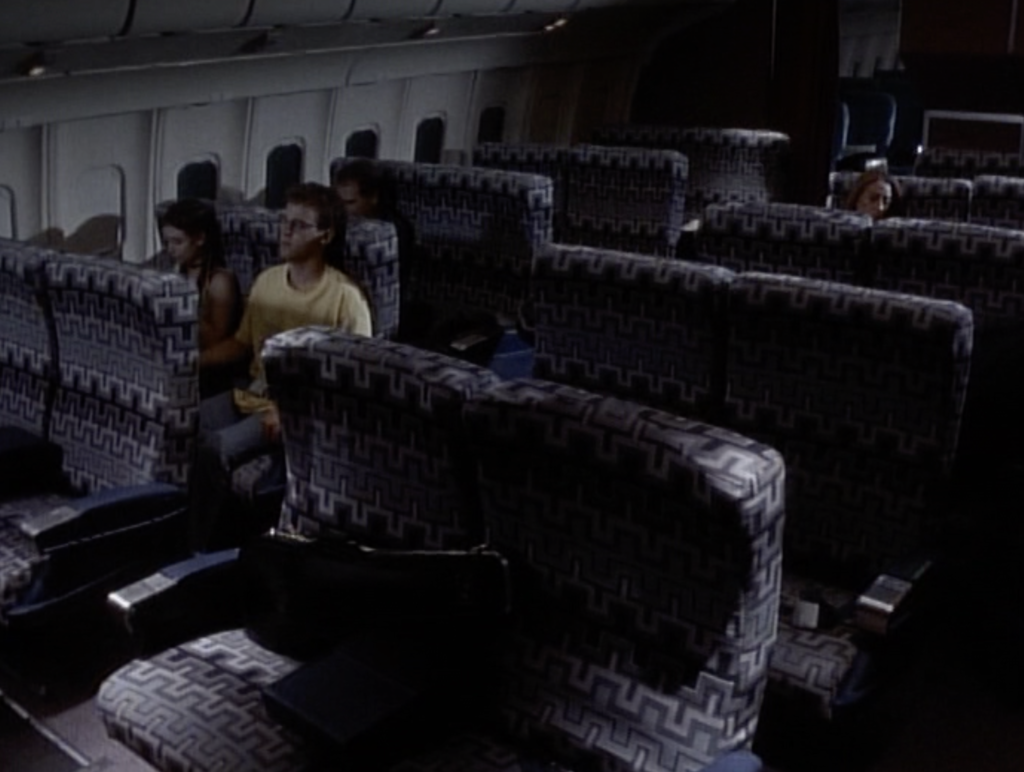 But large-scale commercial airline flights of the type depicted in the films below didn't start until much later, which is why this list begins with a film made in 1958.
There's a certain claustrophobic vulnerability to flying 30,000 feet above the ground—or, especially, the sea—that makes airplanes a natural setting for horror movies. It's terrifying enough being that high up in the air; the possibility that something can go wrong only compounds the terror. Therefore, airplanes and horror are a natural match.
Airplanes are one of the staples of "disaster movies," a genre that not only involves some kind of impending catastrophe, but usually a plot line that involves passengers who are incompatible and constantly quarreling with one another.
What follows is a list of some of the best airplane horror movies ever made.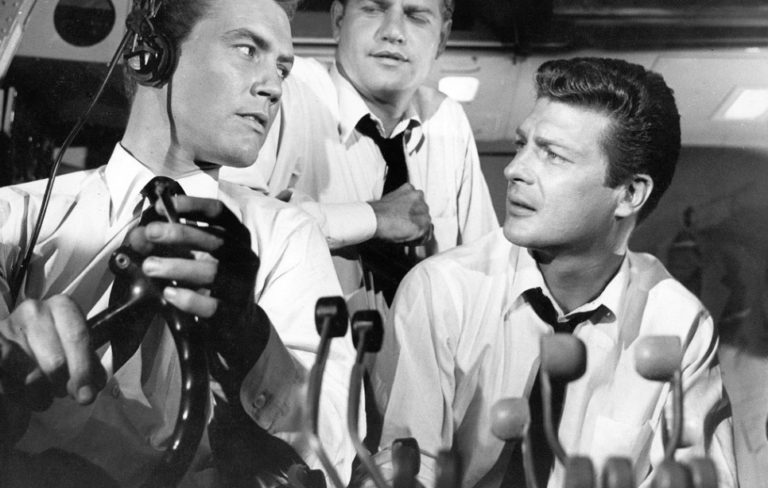 In what would be the final film of "quickie" exploitation director Fred F. Sears—who died of a heart attack before the movie's release—two engines fail on a transatlantic flight from New York City to Lisbon, Portugal. The crew and passengers, in prototypical "disaster" movie style, work out their personal squabbles as they attempt to avoid falling into the ocean before reaching their destination. The film was based on the real-life disaster of Pan Am Flight 6 in October of 1956, which left 24 passengers dead. Crash Landing was also released as Rescue at Sea and marked the final film of actress Nancy Davis, who would go on to be better known as First Lady Nancy Reagan.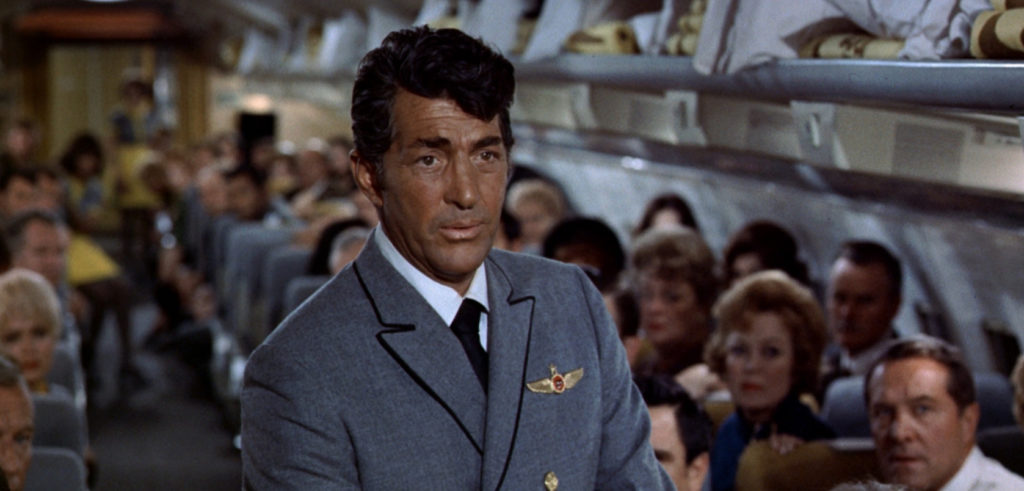 In what is probably the most lucrative and Oscar-nominated disaster film of all time—it was nominated for 10 Academy Awards, including Best Picture—Airport ushered in the 1970s craze of "disaster" films. It also spawned three sequels in the 1970s, none of which were as successful or as lauded as the original. Airport is based on a 1968 novel of the same name by Arthur Halley and stars Dean Martin and Burt Lancaster as, respectively, an airplane pilot dealing with a bomb threat and an air-traffic controller at a Chicago airport who's trying to keep his facility open in the midst of a brutal snowstorm. Burt Lancaster famously called the film a "piece of junk" despite it being the most commercially successful film of his career.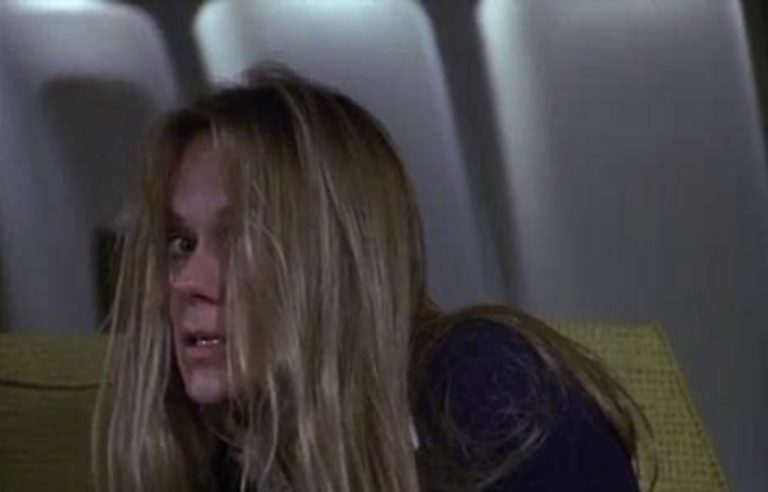 Except for the airplane-horror angle, the only similarity this film bears to the infamous Twilight Zone episode "Nightmare at 20,000 Feet" is that they both star William Shatner, who has publicly called this the worst film he has ever made. The basic plot involves an invisible demon who lurks in the plane's cargo hold and haunts the passengers; the reason the demon is there in the first place is because a wealthy couple onboard the plane are transporting a church abbey that was removed from sacred druid ground for the purposes of decorating their mansion back in the USA. The movie also stars TV stalwarts such as Buddy Ebsen (The Beverly Hillbillies), and Chuck Connors (The Rifleman), but Shatner gets major screen time as an alcoholic ex-priest who's struggling with his faith.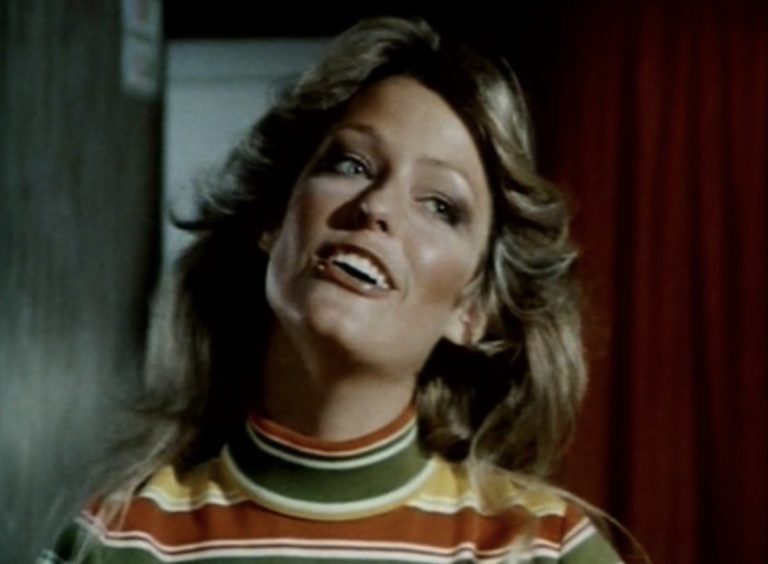 This TV movie features an all-star cast of TV stars such as Farrah Fawcett, Robert Stack, Sonny Bono, and Danny Bonaduce. Many of the film's sequences were lifted word-for-word but twisted for comedic purposes in the 1980 comedy Airplane! The plot involves a note that is found in an airport lounge after the plane takes off, threatening that passengers onboard will be murdered one by one—which is exactly what happens. Monster Hunter Movie Reviews wrote, "Like any air disaster, Murder on Flight 502 begins in unassuming fashion, routinely assembling its diverse group of passengers, each with their own secret….Then without warning, it freaking explodes all over you, its 1970s debris of orange upholstery, hideous striped stewardess blouses and Sonny Bono raining down on you like bad movie manna from heaven!"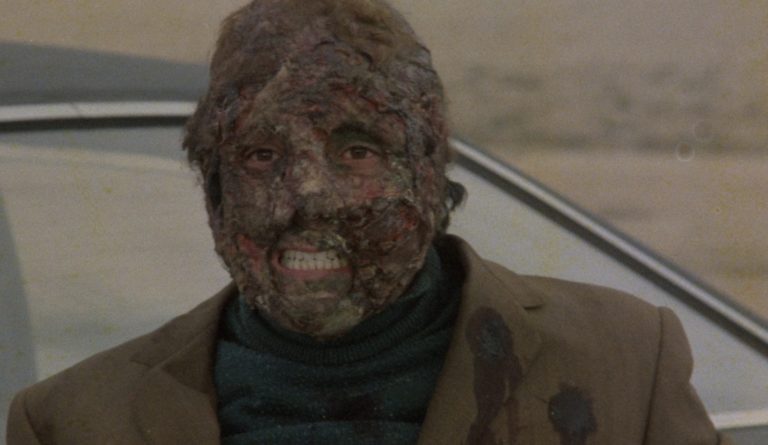 Directed by Umberto Lenzi and released in Italy as Incubo sulla città contaminata (Nighmare About the Contaminated City), an airplane that has been exposed to radiation lands, and those onboard who'd been contaminated go on a murderous killing spree throughout Italy. Buzz McClain at AllMovie wrote, "Fans of psychotronic gorefests will rejoice when the doors of the cargo plane swing back and the marauding horde of hideously mutated zombies, armed with hand tools, plunges into a deliciously target-rich tarmac of helpless soldiers brandishing useless automatic weapons."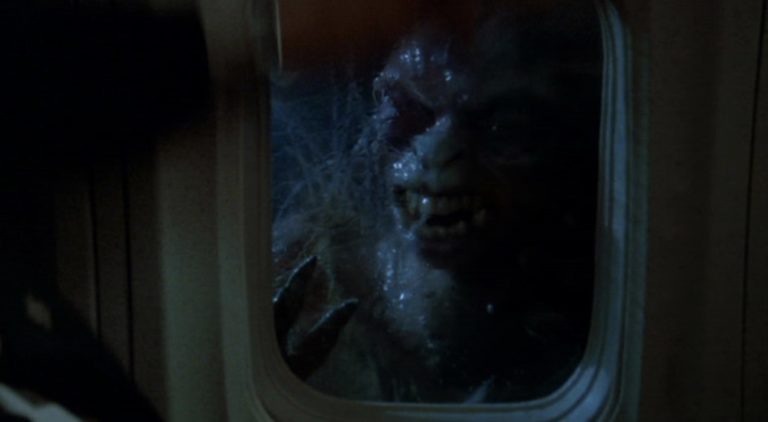 This film is composed of four segments, each directed by a famous director and each a remake of a famous story from the Twilight Zone TV series of the 1960s. The first segment, directed by John Landis, is infamous due to the fact that actor Vic Morrow and two children were killed during the filming. The other two segments were directed by Steven Spielberg and Joe Dante. The final segment, "Nightmare at 20,000 Ft.," was directed by George Miller and stars John Lithgow in a recreation of the role originally played by William Shatner about a man who sees a little green man outside his window lurking on the plane's wing and tries to convince everyone else of what he sees. Basement Rejects wrote, "The fear of Lithgow seems very genuine and the gremlin is much creepier than the big stuffed bear looking gremlin of the original series."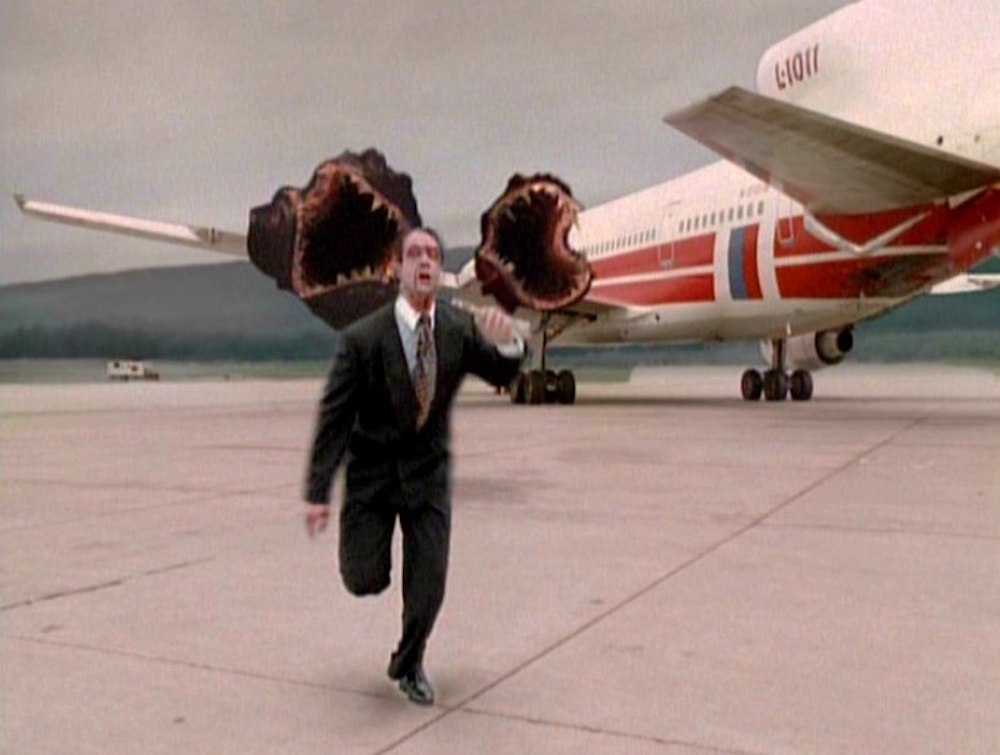 What would a list of airplane horror movies be without a movie from Stephen King? This film involves a red-eye flight from Los Angeles to Boston that is detoured to Bangor International because everyone on the flight that was not asleep disappeared. Some freaky stuff occurs and while the movie feels very dated, the plot and mystery of the movie makes it still a compelling watch for future generations. Note this was not technically a Hollywood film, but a miniseries that aired May 14–15, 1995 on the ABC network.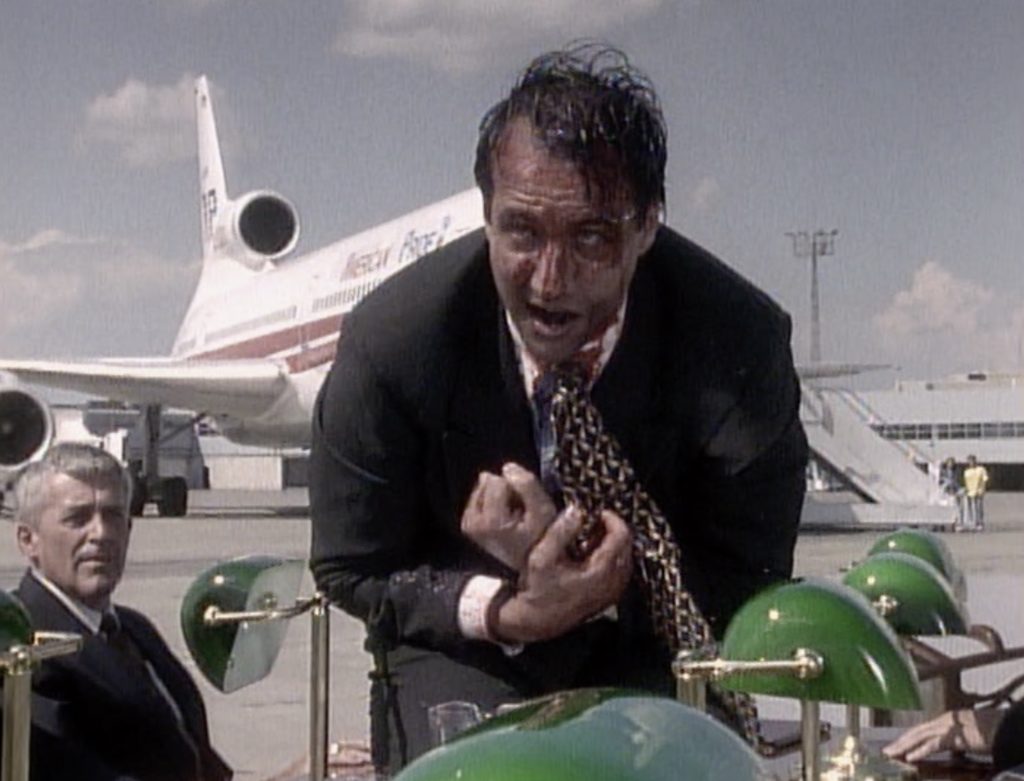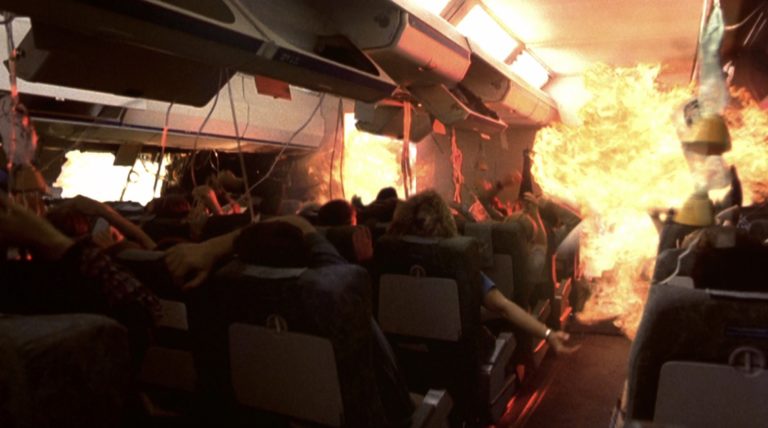 The plot revolves around a high-schooler who is prepared to accompany other students in a trip to Europe but has a vision while on the plane that it will crash. He starts screaming but is tossed off the plane before it takes flight. But Final Destination received widespread scorn not only for mimicking many elements in the real-life 1996 crash of TWA flight 800—it actually uses footage from that crash. It also features a soundtrack exclusively by John Denver, who died in a plane mishap in 1997. Roger Ebert wrote, "'Final Destination' observes the time-honored formula of the Dead Teenager Movie: It begins with a lot of living teenagers and dooms them….It's a funny thing about Hollywood: It can't seem to get enough of dead teens. Talk about biting the hand that feeds you."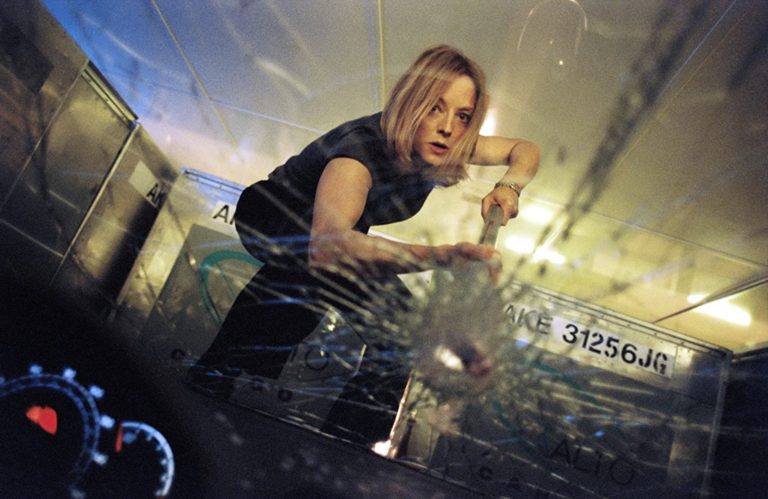 Oscar-winning actress Jodie Foster (Silence of the Lambs) stars as a mourning woman who, along with her daughter, is flying back from Berlin with her husband's coffin in the cargo hold. But when the plane reaches its maximum altitude, Foster suddenly starts panicking and wondering what happened to her daughter. Flight attendants can't find the girl's backpack or boarding pass, authorities in Germany said the girl had never boarded the plane, and it turns out that the girl had died along with her father. Roger Ebert wrote, "How can a little girl simply disappear from an airplane at 37,000 feet? By asking this question and not cheating on the answer, 'Flightplan' delivers a frightening thriller with an airtight plot."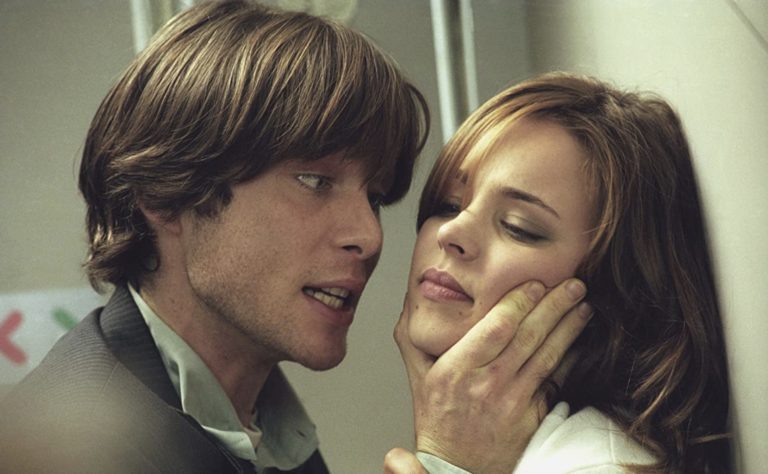 Directed by Wes Craven, this 30,000-foot-high thriller stars Rachel McAdams as a woman who gets kidnapped by a handsome terrorist (Cillian Murphy) on a regular flight and is then drawn into a Byzantine plot to assassinate a political figure. Psycho Drive-In writes, "What should have been an otherwise forgettable summer thriller instead becomes a slow-burning but taut story that repeatedly surprises. And makes you wish that Craven had spent as much time with this kind of real-life terror as he did with his more fanciful tales."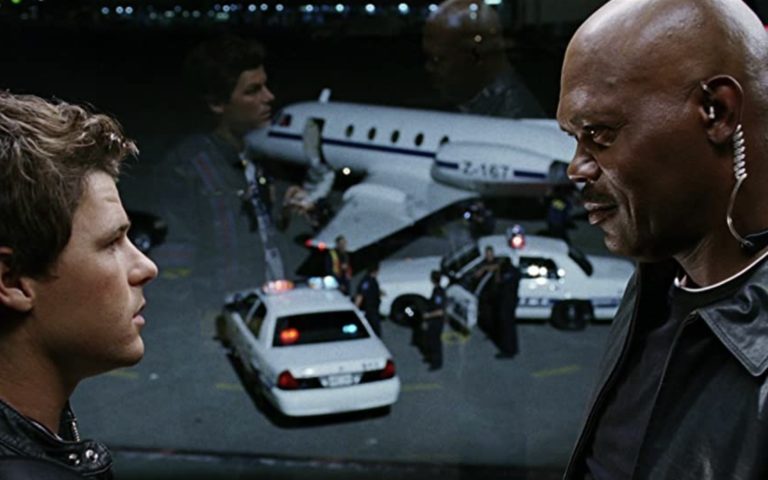 Neville Flynn (Samuel L. Jackson) is an FBI agent tasked with taking a murder witness from Hawaii to LA to testify against a powerful and sadistic mob boss—one so sadistic, he's placed a crate onboard the plane loaded with mostly venomous snakes who will be unleashed once a timer goes off and the plane is over the Pacific Ocean. What's more, all of the passengers' floral leis have been laced with snake-attracting pheromones. Jackson's most famous line—"I've had it with these motherfucking snakes on this motherfucking plane"—was improvised. The Austin Chronicle writes, "A solid little B-movie arriving cloaked in the dodgy garb of a fanboy phenomenon, Snakes on a Plane really ought to garner some sort of award for truth in advertising: It's exactly what it says it is and very little else."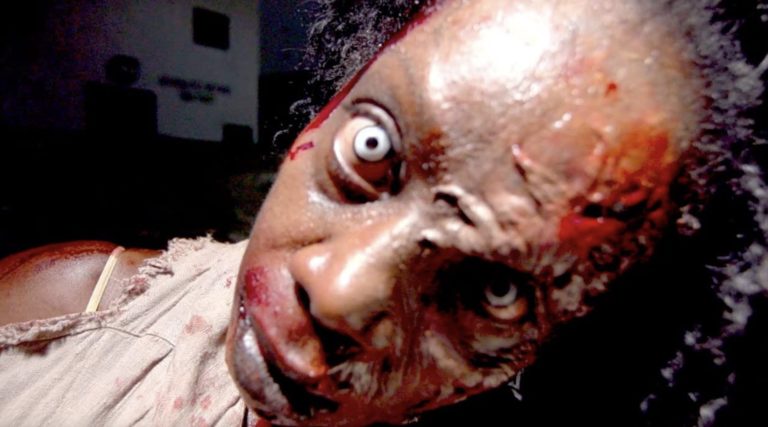 Perhaps it's the claustrophobic element that makes airplane horror movies seem to have more pandemic-related themes than most other horror genres, but here's another one—an evil scientist places a dead woman in the cargo hold of a plane headed to Paris. After the plane encounters turbulence, the freezer malfunctions and the woman wakes up, turns into a zombie, and infects everyone on the plane. Film Critics United wrote, "Formerly titled 'Plane Dead' which I actually kind of dig, but I guess doesn't immediately let us know that Zombies are on the plane, this is a fairly simple film about a flight crew and a few passengers who have to deal with zombies that somehow make their way on the plane."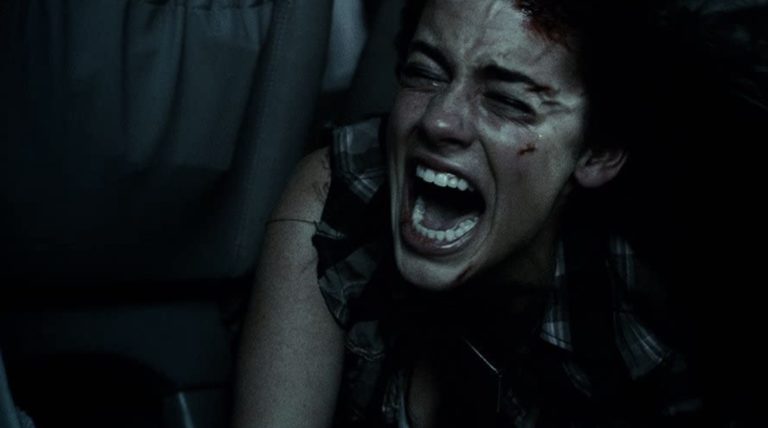 A girl named Sarah (Jessica Lowndes) lost her mother, who was a pilot, while she was a child. Undeterred, Sarah decided to get her pilot's license and challenge the skies herself. She groups together with four friends, all in their teens, and flies a small plane up into what turn into dark storm clouds. Not only that—the plane is running low on gas. And what's worse, there seems to be an evil spirit taking control of their fate. Is it the ghost of Sarah's mother? The Movie Scene wrote, "Hitchcock's 'Lifeboat' but on a plane with a supernatural angle, that is what I think 'Altitude' is aiming for. But it makes one fatal mistake which makes it an impossible movie to enjoy….The fatal mistake which is made in 'Altitude' is a failure to give us just one sympathetic character."
Two young males and two young females win a competition on a social network called All2gethr.com that results in them taking an all-expenses-paid vacation on a jet headed for New York City. Once they embark on the plane, they are required to surrender their mobile phones and engage in a new kind of game—one in which, to their horror, all of their social-media secrets are revealed for everyone to see. Love Horror wrote, "Panic Button is an enjoyable watch and one that I would advocate watching more than once. Its horror is piecemeal but if you can look past senseless violence and substitute it with an awesome story, then you are in for one hell of a thriller….Fun from start to finish and you take a a very interesting moral overall: be careful what you reveal on the internet."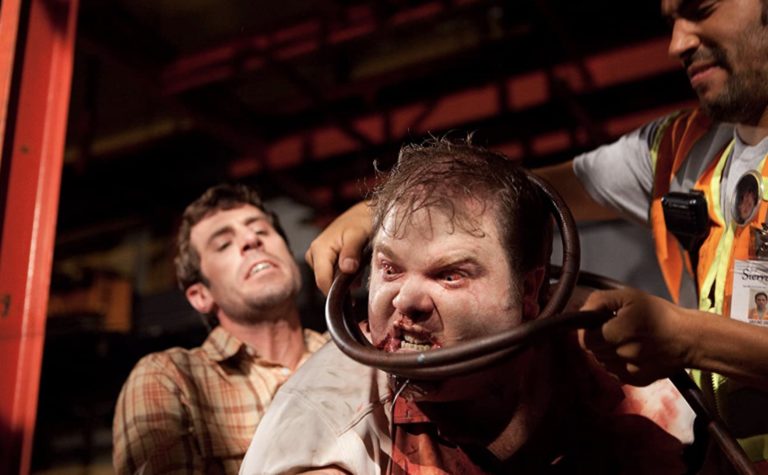 The plot of the first Quarantine centered around a mystery virus that ran rampant through an apartment building and made everyone infected completely insane. Now, in the sequel, this virus has found its way on a plane in Kansas City that was bound for NYC but is forced to stay on the ground at the terminal once the virus was discovered. This round of crazy and incompatible characters includes a kindergarten teacher who has brought his pet hamsters onboard, an obese man who goes feral once he's bitten by one of the hamsters, and a wisecracking teenager who winds up figuring out the root of the problem. The Horror Hotel wrote, "While the film is really nothing special, its an interesting and fun little zombie movie."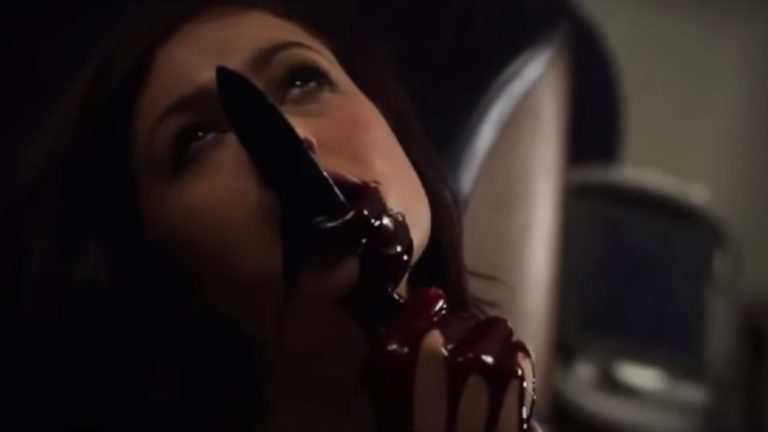 Only a dozen passengers are placed on a plane that enters stormy skies in England and is bound for a transatlantic flight—but one of those characters is an ancient and evil Chinese spirit that inhabits the bodies of the living. 28 Days Later wrote, "There is no escape for the characters once the aircraft leaves the ground. The mystery that is built early, with disappearing passengers, might have been enough. Yet, the addition of a plot point involving a cursed vase is very hard to digest."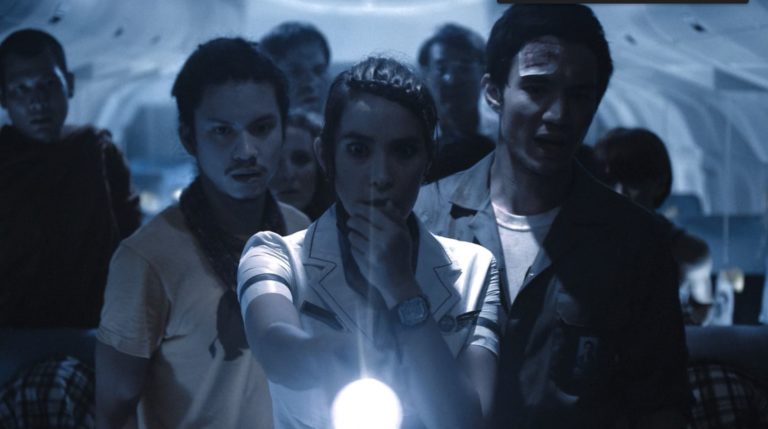 In this Thai production, a flight attendant finds herself on a plane where an evil force is picking off the passengers one by one. Dark Flight was highly successful upon its release in Thailand, coming in second to only The Hunger Games during the first weekend of its release. Thai Film Journal lists this plane's strange brew of incompatible and quarreling characters: "There's the effeminate male flight attendant (singer X Thiti), a dreadlocked backpacker Thai dude (Namo Tongkumnerd), a scantily dressed, culturally clueless young Hong Kong woman (Sisangian Siharat), an old lady who's scared of flying, a pot-bellied foreigner sex tourist, a foreign couple and a well-to-do Thai family – a bossy, complaining wife (Anchalee Hassadivichit) and her henpecked husband (Poramet Noi-um)."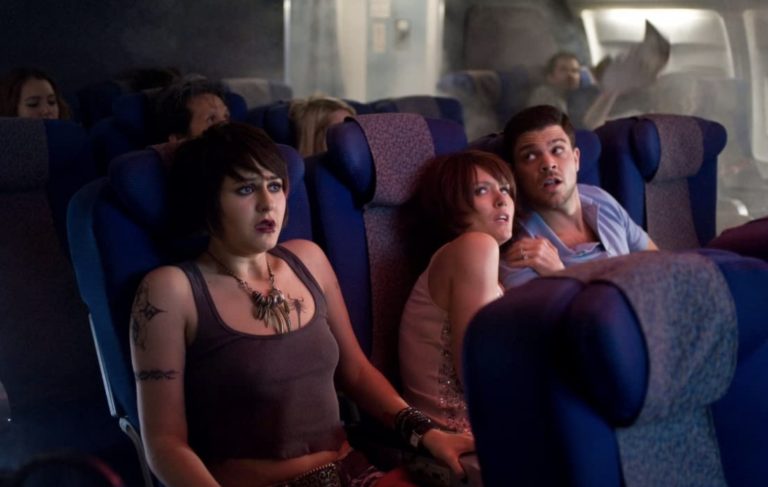 On an overnight flight from LAX to Tokyo, wide out over the middle of the Pacific Ocean, the passengers suddenly realize to their horror that a supernatural force is taking hold of the plane. Directed by Takashi Shimizu of Ju-On fame. Dread Central wrote, "When you make a movie that is 90% setup and 10% payoff, you had better make sure to knock it out of the park with the payoff and not fall back on a twist that's been done to death in countless other movies and television shows both better and worse. But being unoriginal in the end is one thing; being uninteresting from start to finish is worse."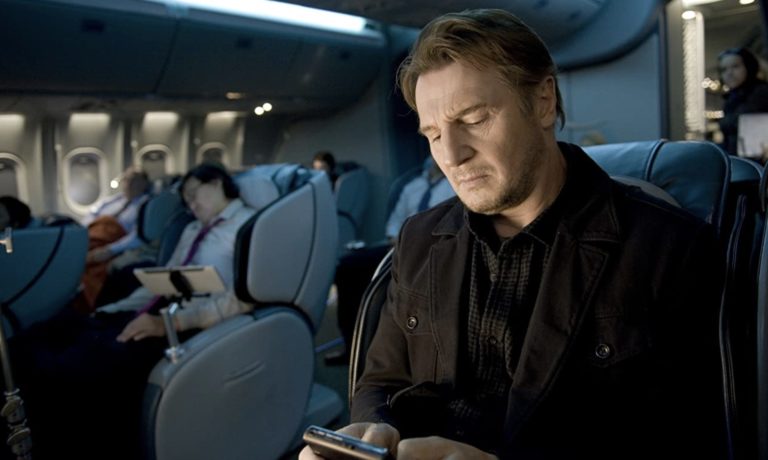 Bill Marks (Liam Neeson) is an alcoholic and dissolute air marshal on a transatlantic flight who suddenly receives text messages demanding a $150 ransom to be sent to an offshore account, or someone on the plane will die every twenty minutes until the ransom is received. Reel Reviews wrote, "Non-Stop plays like what might happen if Michael Bay directed a screenplay developed for Alfred Hitchcock….Non-Stop is forgettable, disposable entertainment. It's cinematic junk food. It tastes good during consumption but offers nothing of lasting value."
A black man crash-lands in the almost entirely white wilds of rural Kentucky and wakes up in the attic of a practitioner of "hoodoo," which is a form of voodoo practiced mostly in the Caribbean and Southern US. He suddenly finds himself in the throes of the woman's dark magic and struggles to save himself and his family from a ritual the woman intends to perform at the rise of the blood moon. The Austin Chronicle wrote, "Understatement is not in Spell's nature, as shown by one great, ghoulish visual gag of Marquis removing a nail that deliberately swoops over the line from grisly to gross to wonderfully absurd. This is OTT cinema, and fun because of it."
Other Airplane Horror Movies