23 Reasons Why 'Battlefield Earth' (2000) Is a Gloriously Awful Sci-FI Movie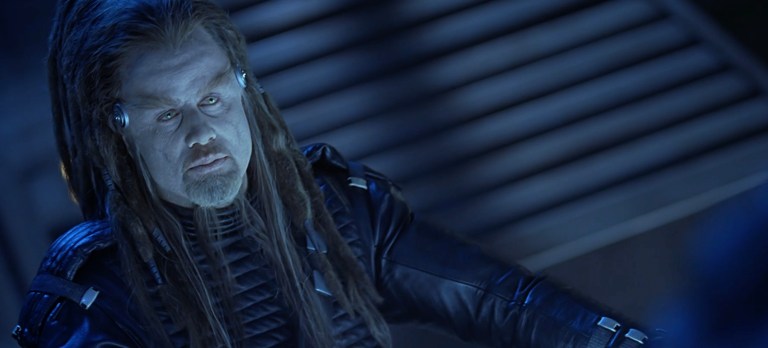 The 2000 space thriller—perhaps it's better to call it an attempted space thriller—Battlefield Earth is a legendarily awful film that was the pet project of Hollywood superstar John Travolta, a dedicated Scientologist who for years had been pushing to film the first half of Scientology founder L. Ron Hubbard's 1982 science-fiction novel of the same name.
The film proved to be such a notoriously tremendous failure—seriously, the Citizen Kane of bad movies—that a sequel was never made, and we are left with a titanic mess of a film based on only the first half of Hubbard's book.
Here are 23 reasons why Battlefield Earth may be the worst and thus amusingly weird sci-fi movies ever made.
1. As of 2022, Battlefield Earth has a "rotten" score of 3% on Rotten Tomatoes, with the critical consensus being: "Ugly, campy and poorly acted, Battlefield Earth is a stunningly misguided, aggressively bad sci-fi folly."
2. Film critic Richard Roeper ranked Battlefield Earth #5 on his list of "40 movies that linger in the back chambers of my memory vault like a plate of cheese left behind a radiator in a fleabag hotel."
3. Scottish journalist Duncan Campbell denied rumors that there were subliminal voices in the film spreading Scientology propaganda: "The only subliminal voice I could detect came about 10 minutes into this 121-minute film and it seemed to be saying Leeeaaave thisssss cinemmmaaa nooow."
4. Writing for the Chicago Sun-Times, Roger Ebert called watching the film "like taking a bus trip with someone who has needed a bath for a long time. It's not merely bad; it's unpleasant in a hostile way. I watched it in mounting gloom, realizing I was witnessing something historic, a film that for decades to come will be the punch line of jokes about bad movies."
5. On The Daily Show, comedian Jon Stewart described Battlefield Earth as "a cross between Star Wars and the smell of ass."
6. Battlefield Earth was also "honored" with the Worst Picture of 2000 Award at the Dallas-Fort Worth Film Critics Association Awards.
7. The film review site WatchMojo.com ranked it as the worst film ever made.
8. An unnamed producer told the Los Angeles Daily News that "Battlefield Earth has the stench of death. It should never have been made. It's an $80 million vanity project for Travolta."
9. Travolta promised viewers that "I'm going to be the wickedest nine-foot alien you've ever seen in your life….I wear a tall head apparatus with strange hair. I have amber eyes and talons for hands. It's quite remarkable…I'm on four-foot stilts."
10. At screenings in LA, DC, and Baltimore, critics responded either with gales of laughter or by walking out of the theater.
11. Film critic Rita Kempley wrote in The Washington Post: "A million monkeys with a million crayons would be hard-pressed in a million years to create anything as cretinous as Battlefield Earth. This film version of L. Ron Hubbard's futuristic novel is so breathtakingly awful in concept and execution, it wouldn't tax the smarts of a troglodyte."
12. Elvis Mitchell wrote in The New York Times: "It may be a bit early to make such judgments, but Battlefield Earth may well turn out to be the worst movie of this century."
13. A reviewer in the Providence Journal wrote: "Battlefield Earth's primary colors are blue and gray, adding to the misery. Whenever we glimpse sunlight, the screen goes all stale yellow, as though someone had urinated on the print. This, by the way, is not such a bad idea."
14. At the 2000 Golden Raspberry Awards, Battlefield Earth won seven "Razzies"— Worst Picture, Worst Actor (Travolta), Worst Supporting Actor (Pepper), Worst Supporting Actress (Preston), Worst Director (Christian), Worst Screenplay (Mandell and Shapiro), and Worst Screen Couple (Travolta and "anyone sharing the screen with him"). It would then win an eighth Razzie for "Worst Drama of Our First 25 Years" and a ninth for "Worst Picture of the Decade" in 2010.
15. Battlefield Earth also took home a staggering eight out of the nine categories in which it was nominated at the 2000 Stinkers Bad Movie Awards: Worst Picture and Worst Director (Roger Christian); Worst Actor (Travolta); Worst On-Screen Couple (Travolta and anyone else); Worst On-Screen Group (the Psychlos and Man-Animals), Most Unintentionally Funny Movie, Worst On-Screen Hairstyle (Travolta), and Least "Special" Special Effects. The only category in which it was nominated and lost was for Worst Supporting Actor (Barry Pepper, who was edged out in awfulness by Tom Green for Road Trip). It later snagged the Stinkers award for Worst Film of the Century.
16. Actor Forest Whitaker has publicly stated his regret for starring in the film—years after its release, he went so far as to issue a public apology for it.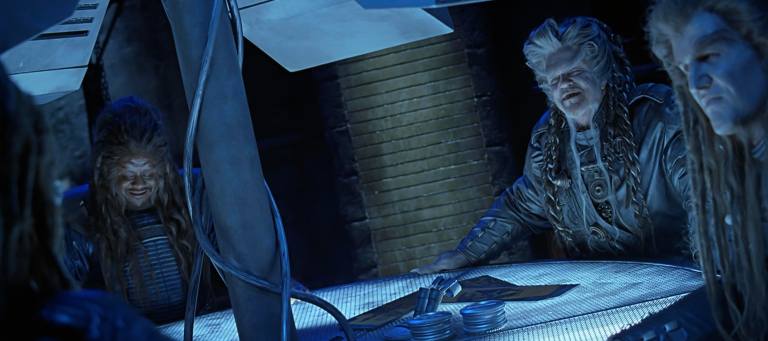 17. Director Roger Christian wanted the film to look like a comic book, which is why he says that every shot in the movie except one was filmed at what cinematographers call a "Dutch angle," an approach which left viewers dizzy and irritated.
18. Screenwriter J.D. Shapiro says he originally became involved with the film because he'd heard that LA's Scientology Celebrity Center was "a great place to pick up women."
19. Shapiro says he realized early during production that the script was being entirely rewritten without his consent so that it more closely resembled L. Ron Hubbard's novel: "My script was very, VERY different than what ended up on the screen. My screenplay was darker, grittier and had a very compelling story with rich characters. What my screenplay didn't have was slow motion at every turn, Dutch tilts, campy dialogue, aliens in KISS boots, and everyone wearing Bob Marley wigs.…Then I got another batch of notes. I thought it was a joke… I refused to incorporate the notes into the script and was fired.…Now, looking back at the movie with fresh eyes, I can't help but be strangely proud of it. Because out of all the sucky movies, mine is the suckiest."
20. In March, 2010, Shapiro personally appeared at the 30th Golden Raspberry Awards—aka the "Razzies"—to pick up the Worst Picture of the Decade Award for Battlefield Earth. He thanked Corey Mandell for "rewriting my script in a way I never, ever, ever — could have imagined or conceived of myself."
21. During promotional junkets, John Travolta tried selling Battlefield Earth as "like Star Wars but better" and "the Schindler's List of science-fiction films" and "like Pulp Fiction for the year 3000."
22. At several public appearances, Travolta declined to discuss the film at all but instead signed copies of L. Ron Hubbard's novel Battlefield Earth, which was seen as a way to promote Scientology despite Travolta's insistence that the film had nothing to do with Scientology.
23. Producer Elie Samaha marketed the film as "Planet of the Apes starring John Travolta" and said that "everyone thought I was crazy or mentally retarded" for stepping in to rescue the project after it stalled with major studios. Samaha was ultimately forced into bankruptcy over fraud charges involving his financing of Battlefield Earth.