29 Fun Facts About the Cult Black Comedy Murder Mystery 'Clue' (1985)
The first movie ever to be based on a board game flopped at the box office, but became a cult classic because of its black humor and adult themes — despite the PG rating.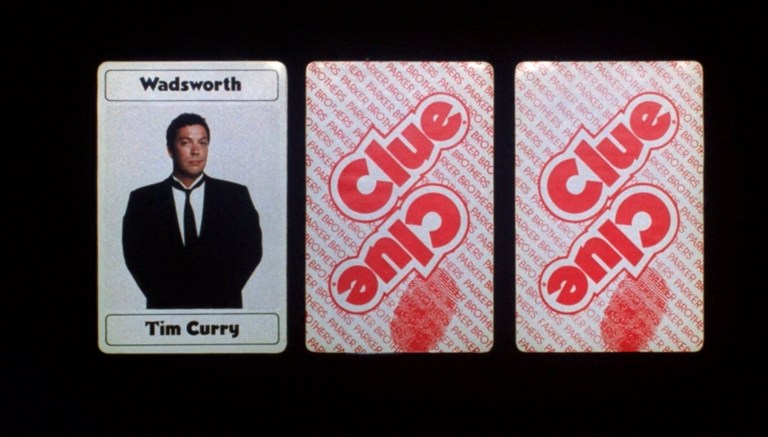 Clue is a 1985 murder mystery and black comedy that was inspired by the "Clue" board game. While it performed poorly at the box office, making only $14.6 million on a $15-million budget, fans loved the movie, and it is considered a cult classic today. For horror fans, the film is especially remembered for being an early role of actor Tim Curry, who went on to play Pennywise the Dancing Clown in the 1990 miniseries adaptation of Stephen King's It.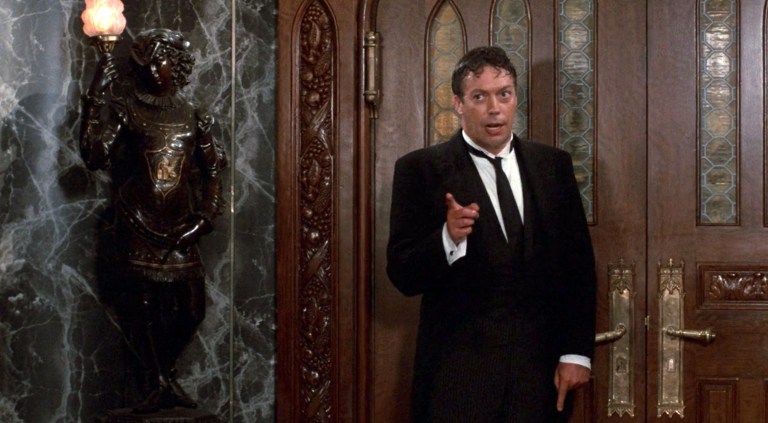 The film's plot is set in 1954 where six strangers are invited to a mansion on a dark and stormy night. The six guests are addressed by pseudonyms: Colonel Mustard (Martin Mull), Mrs. White (Madeline Kahn), Mrs. Peacock (Eileen Brennan), Mr. Green (Michael McKean), Professor Plum (Christopher Lloyd), and Miss Scarlet (Lesley Ann Warren). Also in the mansion is the butler, Wadsworth (Tim Curry) and maid, Yvette (Colleen Camp). After they arrive, a seventh guest, Mr. Boddy, is murdered and the rest of the film follows the guests as they attempt to unravel blackmail plots and motives and figure out who the murderer among them is.
Here are some fun trivia facts about Clue:
Clue is the first movie to ever be based on a board game. The Clue board game was invented by an English musician and factory worker named Anthony E. Pratt when he was bored during the Blitz in World War II. He was inspired by Agatha Christie novels and by detective games his parents used to play. The game was first called Cluedo, an amalgam of "Clue" and "Ludo" which means "I play" in Latin.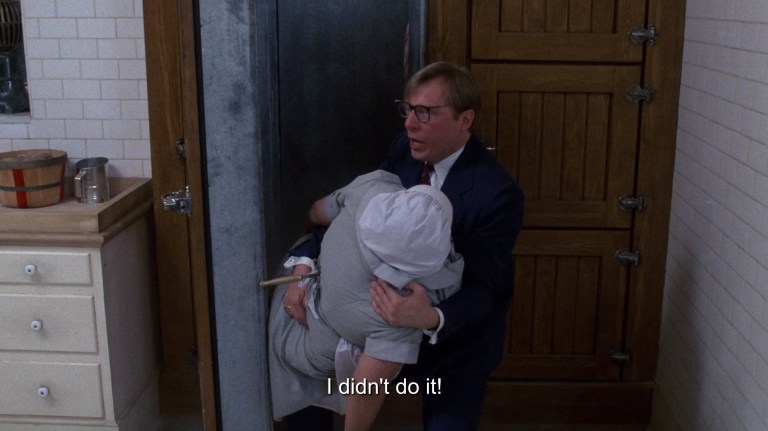 2. Clue was produced by Halloween (1978) cowriter and producer Debra Hill.
3. The whodunit has several possible endings. During the initial theatrical run, different endings were sent to different theaters at random. When the movie came out on VHS, you could watch all three endings back to back.
4. John Landis helped writer and director Jonathan Lynn with creating the story for Clue. At the time Landis was known for directing National Lampoon's Animal House (1978), The Blues Brothers (1980), An American Werewolf in London (1981), and Trading Places (1983). Most recently he gained acclaim as the director of Michael Jackson's Thriller music video.
5. John Landis says at one point he invited writer Tom Stoppard as well as mystery buffs Stephen Sondheim and Anthony Perkins to help him write the script.
6. Tom Stoppard was actually hired, but after he spent a year not being able to work out what he felt would be a blockbuster whodunit, he quit and returned his entire check. It seems he has since blocked the whole ordeal from his memory, as he says he doesn't remember working on Clue at all.
He was careening around the office, jumping up and down on the furniture, standing on the table, shouting, screaming….It was a tremendous pitch. I've never seen anything like it in my life.

Jonathan Lynn, on how John Landis pitched the basic plot for 'Clue'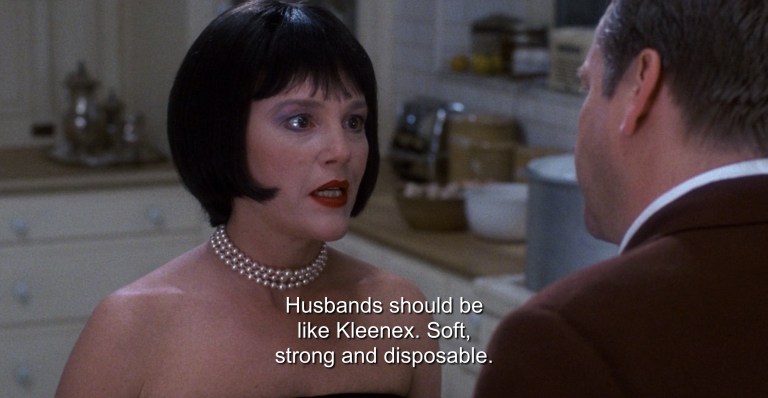 7. There was originally a fourth ending where Wadsworth was the murderer but director Jonathan Lynch removed it because he felt it wasn't very good.
8. The character's pseudonyms are each reinforced by the color car they arrive in:
Colonel Mustard drives a yellow Cadillac
Mrs. White drives a black and white MG TD convertible
Mrs. Peacock drives a blue Packard club sedan
Mr. Green drives a green Plymouth Cranbrook
Ms. Scarlet drives a red Lincoln Continental
Professor Plum drives a purple Pontiac Streamliner Station Wagon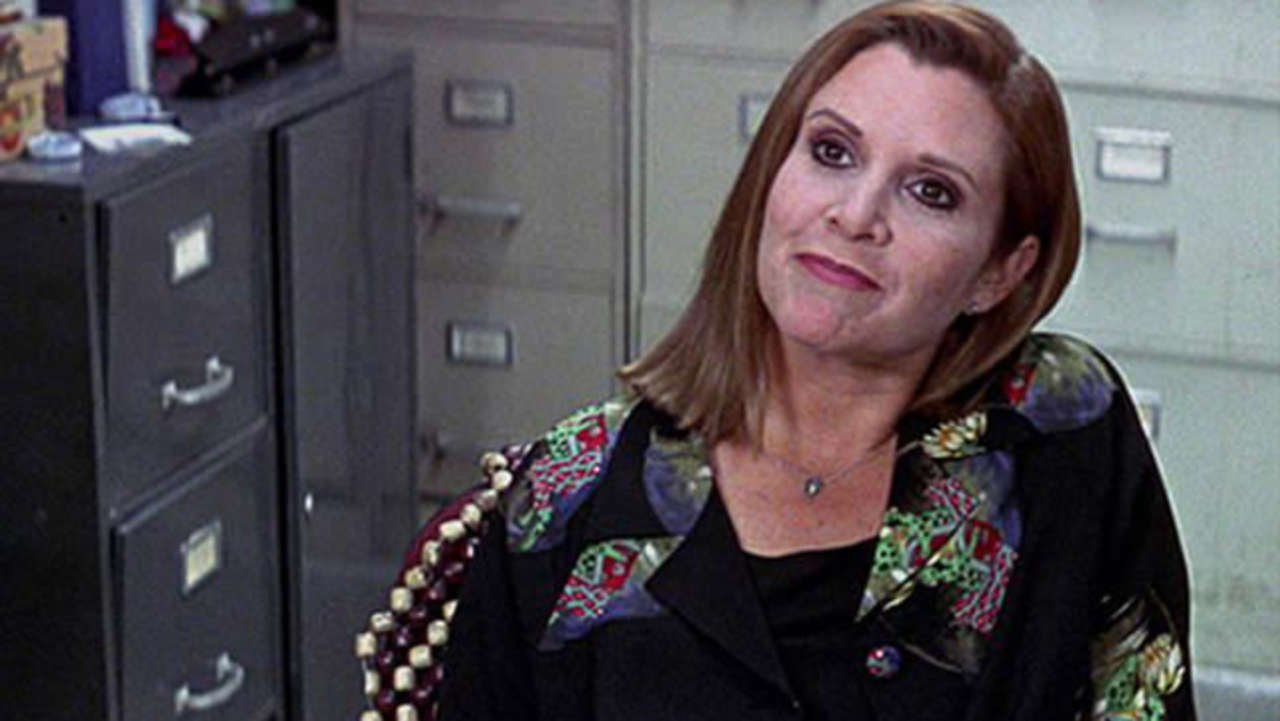 9. Carrie Fisher was cast as Mrs. Scarlet, the Washington, D.C. madam, but had to later withdraw to seek treatment for her drug and alcohol use. Fisher was extremely popular at the time as Return of the Jedi (1983) had just come out and the scene with her as Jabba the Hutt's slave in a gold bikini was a pop culture touchstone of the era and turned Fisher into a sex symbol. She wrote a semi-autobiographical novel, Postcards from the Edge, about the experience which was made into a movie in 1990.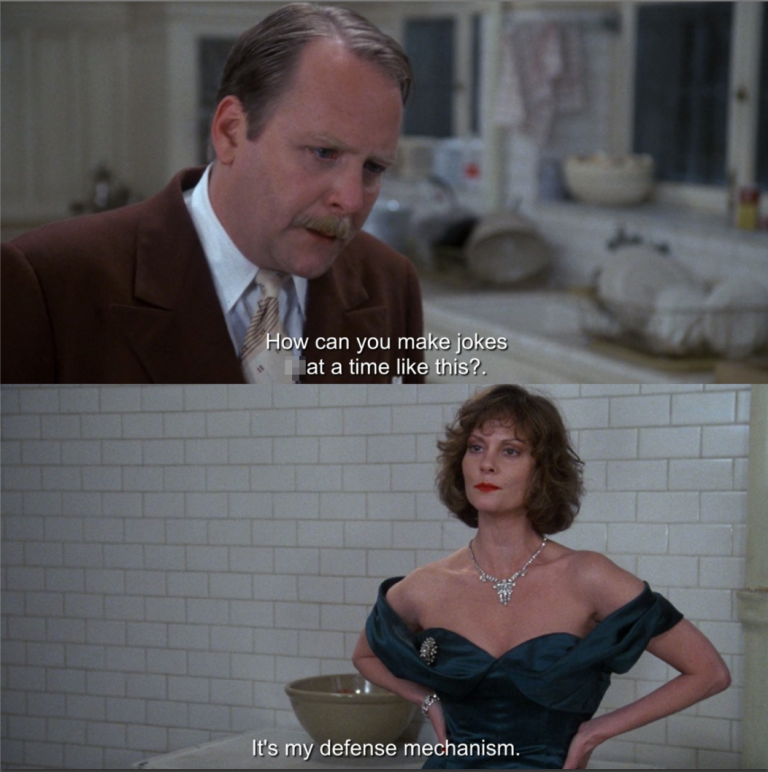 I went to the point when the butler said, 'I'm going to explain what happened,' like in the classic Charlie Chan/Hercule Poirot/Agatha Christie kind of way. And I couldn't figure it out. I set up a crime I couldn't solve. So I thought, Well, I gotta get a real writer.

John Landis, on working out the plot for 'Clue'
10. Most of the film was shot on soundstages at Paramount Pictures. Some of the furnishings were rented from the estate of former President Teddy Roosevelt.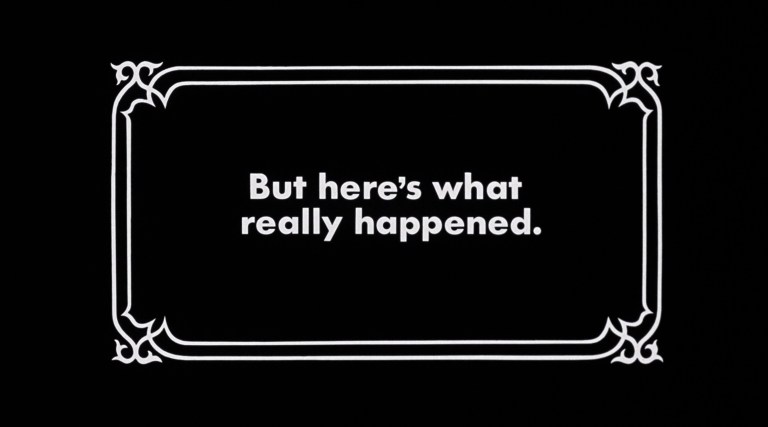 11. All of the secret passages in the movie lead to the same rooms they do in the board game.
12. After Clue wrapped, the set was sold to the production of Dynasty, which used it as the Carlton Hotel.
13. The actual South Pasadena home used for exterior shots and the ballroom scenes was the Max Busch mansion. It was built in 1929 by Paul Revere Williams, the first black architect admitted to the American Institute of Architects. The famous home appeared in the TV shows Murder, She Wrote, Alias, and Dynasty and in the films Just Married (2003), Rocky V (1990), and Mobsters (1991). Unfortunately, the home was destroyed by a fire in 2005 and is still a vacant lot.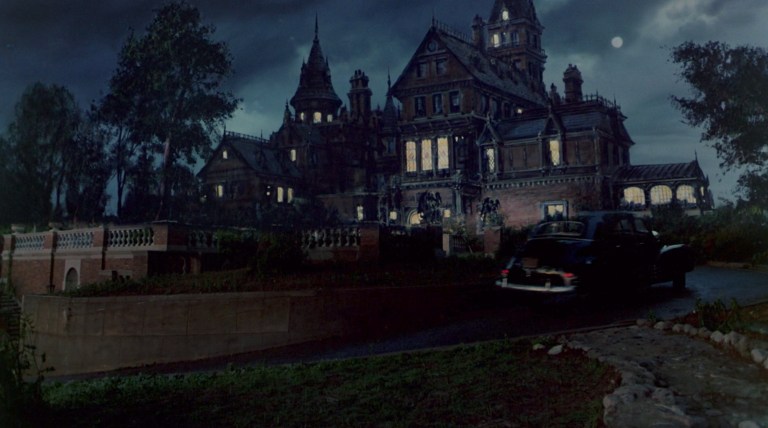 14. Madeline Kahn ad-libbed one of the most memorable scenes in Clue, when she is describing "flames on the side of my head." After the well-respected actress expressed interest in playing Mrs. White, more lines were added to her character in the script. This was also one of the only times ad-libbing was allowed, as director Lynn didn't like it but made an exception for the esteemed Kahn.
15. The singing telegram lady was actually a guitarist for The Go-Go's.
I didn't have an ambition to direct something like Clue, but when somebody offers you a movie to direct, by and large, you say yes. If it's the first time you've had such an offer, it may be the last time.

Jonathan Lynn, The Crazy Story Of How "Clue" Went From Forgotten Flop To Cult Triumph
16. Although director Jonathan Lynn and Tim Curry went to boarding school together at Kingswood School, Curry was at least Lynn's third choice for the role of Wadsworth. Leonard Rossiter and Rowan Atkinson were considered first.
17. Tim Curry says Clue is one of his favorite films in which he's starred.
18. Colleen Camp says the role of the French maid Yvette was sought after, with Jennifer Jason Leigh, Madonna, and Demi Moore all going after it.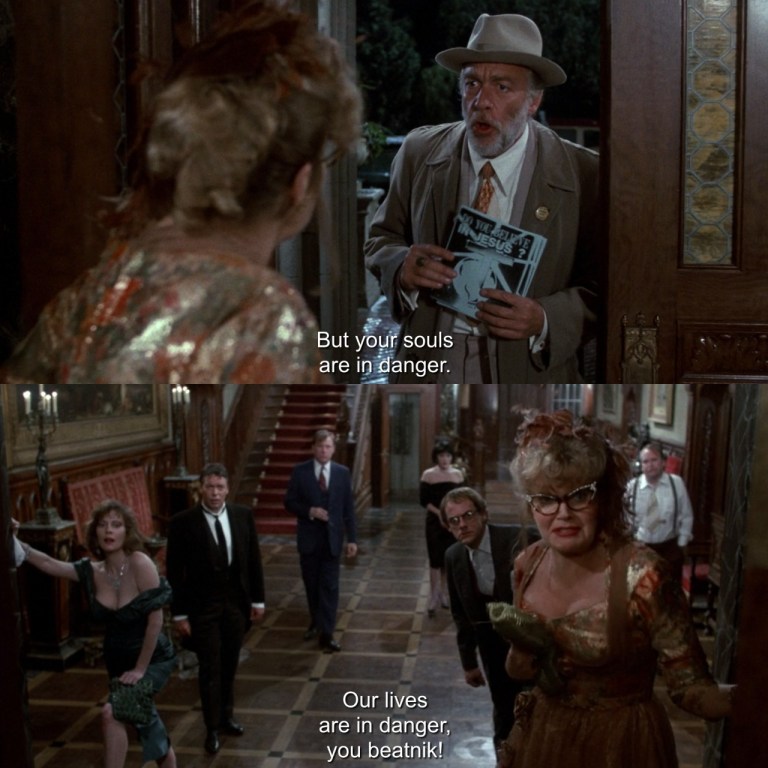 19. Jonathan Lynn screened His Girl Friday (1940) for the cast and told them to copy the quick delivery in their Clue roles.
I actually had a sort of incident of high blood pressure towards the end, when all of the conclusions were happening, because I was running around like a mad person. They took me to the doctor and I had to take pills for a week, my blood pressure was so high. Which was very tiresome.

Tim Curry, on how he kept up with all his character's lines in the third act
20. The cast got along very well. They hung out around the pool table in the set for the billiards room.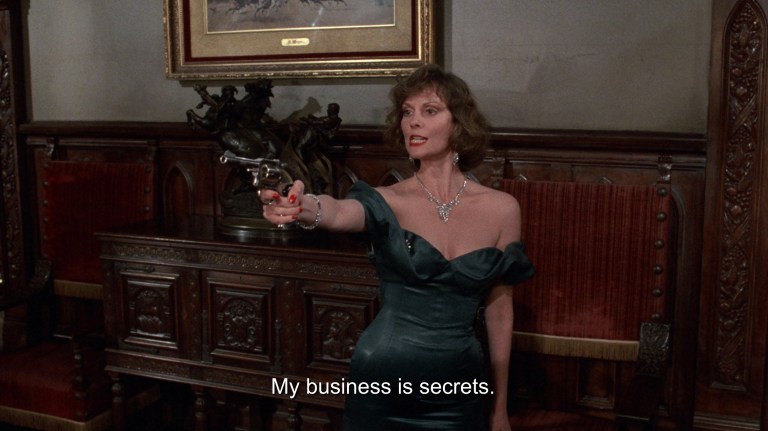 We were laughing so much, one thing that has stayed indelible in my mind is before every take of every scene, Michael McKean would say to everyone in the cast, 'Something terrible has happened here' to try to bring us back to the reality of where we were. It got to be quite a funny little catchphrase.

Martin Mull, on the cast dynamic behind the scenes of 'Clue'
21. Costume designer Michael Kaplan made everyone wear undergarments from the 50s to be true to the wardrobe they were wearing. This meant that Lesley Ann Warren was so uncomfortable during filming that they had to build a "diagonal board" for her to lie against and rest as she was unable to even sit down between takes.
22. Colleen Camp says her biggest regret is not taking one of Yvette's French maid costumes home with her.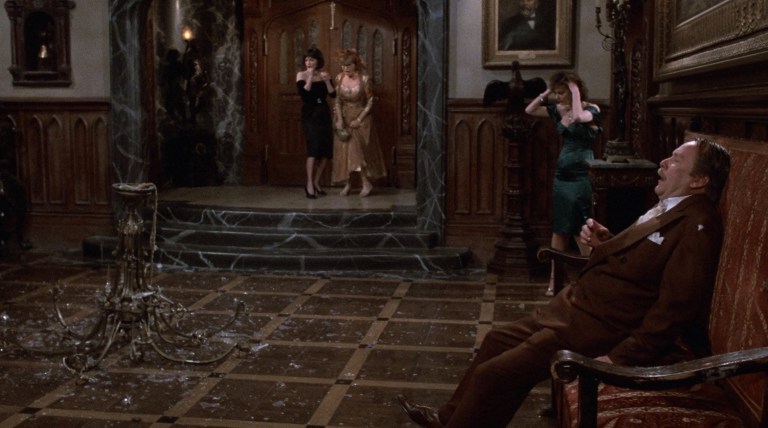 23. Because executive producer John Landis was in legal trouble at the time for a stunt gone wrong during the filming of Twilight Zone: The Movie (1983) during which three people died, Jonathan Lynn feels he was too cautious and messed up the scene where the chandelier falls. If you watch the scene, the chandelier is supposed to hit closer to the characters.
24. In retrospect, Jonathan Lynn says it was a mistake to release the film with three endings because audiences weren't able to see each ending in theaters and the real fun is seeing them all together. Lynn was "taken off" (that's Hollywood speak for politely fired) his next project when Clue came out and people hated the concept of different endings in different theaters and didn't "get" the movie at first.
25. Now that it is a cult classic, Lynn sometimes shows up to midnight screenings of Clue and has done impromptu Q&As.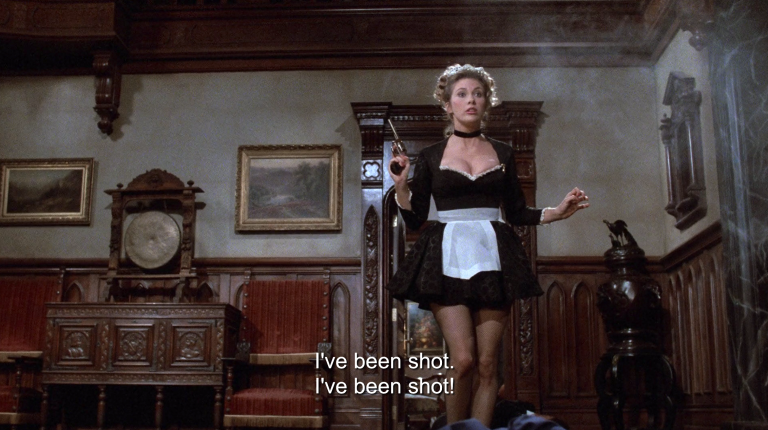 It's a movie that is about adult stuff, but you don't need a lot of hands-on experience to know what they're talking about. It's about murder and sex and blackmail, but you don't really get your hands dirty because it's so silly. It's almost like the characters in it were based on characters in a game. Oh, wait a minute!

Michael McKean's personal theory on how 'Clue' became a cult classic
26. Lynn offered to do a director's commentary when Clue came out on Blu-ray, but Paramount said "thanks but no thanks" and released it with zero special features.
27. The Psych episode "100 Clues" satirizes the film with help from Clue stars Martin Mull, Christopher Lloyd, and Lesley Ann Warren. The episode was dedicated to Madeline Kahn, who died in 1999.
28. CSI: NY also pays homage to Clue in an episode, "Clue: SI," in which the team is forced to participate in a real-life game of Clue to solve a series of murders.
29. There is also a Clue miniseries, a musical, a video game, and several book series. As of early 2022, Ryan Reynolds was rumored to be starring in a remake.