There Was Almost a Found Footage 'Dumb and Dumber' Horror Movie
Jim Carrey approached Kwan and partner Daniel Scheinert about making a found footage horror movie set behind the scenes of 'Dumb and Dumber To'.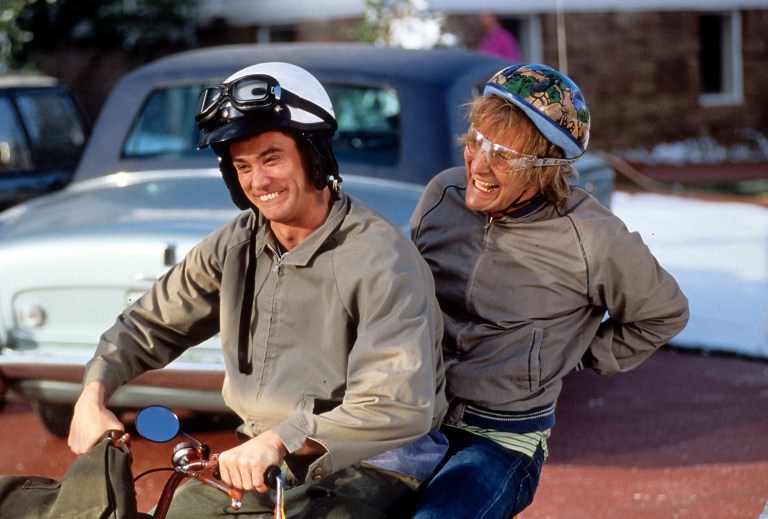 Dumb and Dumber (1994) is an iconic comedy movie starring Jim Carrey and Jeff Daniels as two stupid but wholesome best friends who get embroiled in a kidnapping plot. Much of the film takes place in Aspen, Colorado, though those scenes were filmed in Breckenridge, Colorado and Park City, Utah. The Stanley Hotel in Estes Park, Colorado stood in for the fancy "Danbury Hotel" featured in the film.
If that name sounds familiar, horror fans might be aware of the hotel's haunted history. Famously, the Stanley Hotel was where Stephen King was staying when he was inspired to write The Shining. Room 217, where King stayed, has been rumored to be haunted since a 1911 gas explosion seriously injured a maid. Hotel employees say that after the maid died, her spirit returned to the hotel where she sometimes unpacks guests' luggage and is reportedly unkind to unmarried couples who stay in the room. Paranormal investigations done by Ghost Hunters and Ghost Adventures have considered Room 217 to be one of the hotel's major hotspots.
While staying in Room 217 at the Stanley during the filming of Dumb and Dumber, Jim Carrey had his own ghostly encounter. According to people who worked there at the time, Carrey abruptly checked out in the middle of the night and left the hotel, refusing to return for anything other than filming. He has refused to answer questions about what he encountered in Room 217 ever since.
On a recent episode of The Hollywood Reporter's "Writer's Roundtable", filmmaker Daniel Kwan shared that prior to the filming of Dumb and Dumber To (2014), Jim Carrey approached Kwan and partner Daniel Scheinert about making a found footage horror movie set behind the scenes of Dumb and Dumber To. The proposed film would capitalize on the Stanley Hotel's haunted history and creepy on-set experiences the cast and crew had on the Dumb and Dumber (1994) set:
Very early in our careers, Jim Carrey reached out. He had just seen Paranormal Activity and was like, "Guys, it's found footage and it's horror — have you seen it?" And we were like, "Uh-huh, we've heard of it. Where is this going?" And he was like, "I haven't seen anyone do that — but with comedy. And I have this great idea." Basically, the set of Dumb and Dumber was famously a haunted set — it was in the same hotel that The Shining was inspired by — and he's like, "The whole time we were shooting, things were breaking, people were getting hurt, doors were swinging, and it felt haunted. We're going to shoot Dumb and Dumber To, and I want you guys to do a found-footage horror comedy on the set. While we're filming, you guys are going to make a feature-length, behind-the-scenes video that slowly becomes a horror film."
Daniel Kwan and Daniel Scheinert (known professionally as The Daniels) were game to explore Carrey's idea. They wrote an outline but were turned down by the studio, who didn't want to make a film while trying to make a film. The film lives on in legend only, and we still don't know what happened to Jim Carrey in Room 217.