31 Trivia Facts About 'Buffy the Vampire Slayer' (1992)
Luke Perry said he took the role of Pike because every page of the script made him laugh.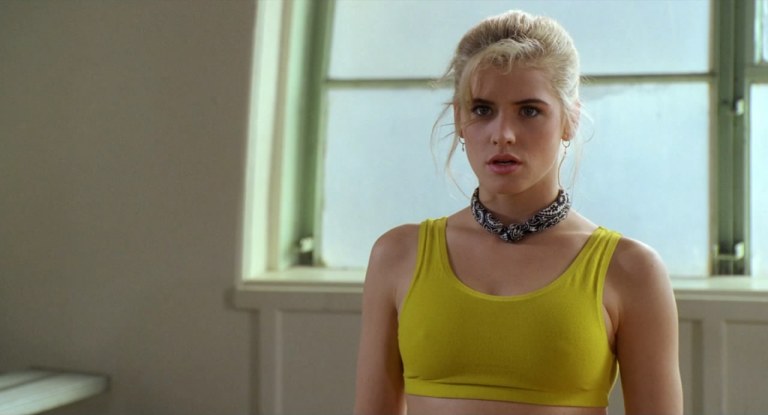 Today, most people think about Sarah Michelle Gellar when the character of Buffy the Vampire Slayer comes up. Writer Joss Whedon's concept actually originated half a decade before the cult WB television show. Its first iteration was a theatrical black comedy horror movie with the familiar story of a Valley Girl cheerleader who learns she is the Chosen One. Kristy Swanson played Buffy. The movie was light on horror and heavy on comedy, and it didn't win any critics over.
Unsatisfied with the creative direction, Whedon went on to create his iconic Buffy the Vampire Slayer series in 1997. This article focuses on trivia, lore, and fun facts about the 1992 theatrical film with Kristy Swanson, Luke Perry, Donald Sutherland, Paul Reubens, Rutger Hauer, and Hillary Swank.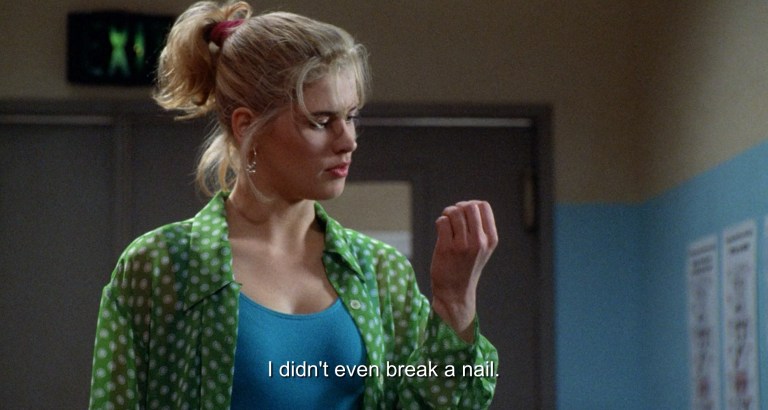 1. Joss Whedon is a third-generation TV writer. His father wrote for The Golden Girls in the 80s, and his grandfather wrote for The Donna Reed Show and The Dick Van Dyke Show. His mother was also a writer and worked as a teacher. Growing up, his parents acted in local plays together.
2. Two years after graduating from Wesleyan University, Whedon got his first TV writing jobs working on Roseanne and Parenthood. He also provided uncredited edits on movie scripts such as Speed, Waterworld, and Twister.
3. While working on other people's scripts, Whedon began writing his own movie. The idea he had that would become Buffy was first called Rhonda, the Immortal Waitress.
4. Whedon saw Buffy as the opposite of a typical horror movie character. He wanted her to stand in stark contrast to "the little blonde girl who goes into a dark alley and gets killed in every horror movie."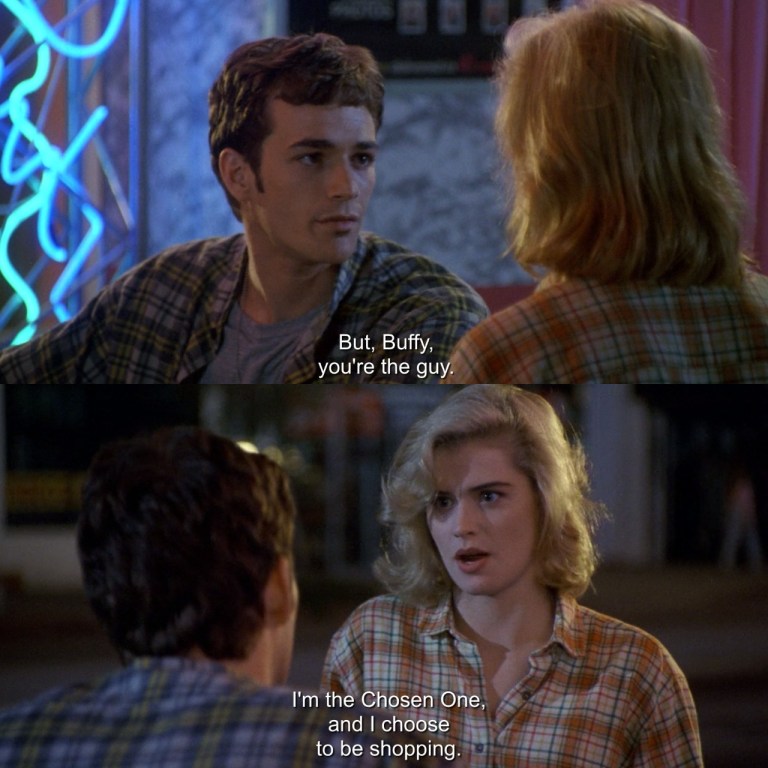 5. The Buffy the Vampire Slayer script was bought by Dolly Parton's production company in 1991.
6. Studios actually hated the name "Buffy" for the movie, but Whedon chose it to juxtapose a "silly" name with a powerful female hero. He thought the title was a throwback to horror B-movies and audiences would love seeing a more modern female character and fresh dialogue mixed that reimagined old horror tropes:
"I had a very painful adolescence, because it was all very strange to me. It wasn't like I got beat up, but the humiliation and isolation, and the existential 'God, I exist, and nobody cares' of being a teenager were extremely pronounced for me. I don't have horror stories. I mean, I have a few horror stories about attempting to court a girl, which would make people laugh, but it's not like I think I had it worse than other people. But that's sort of the point of Buffy, that I'm talking about the stuff everybody goes through. Nobody gets out of here without some trauma."

—Joss Whedon, AV Club
7. Unfortunately, real life is more complicated than a writer who wants to see women as powerful being a "good guy." In July 2020, Justice League actor Ray Fisher broke the silence about how Joss Whedon treated the cast and crew he worked with. Jason Momoa confirmed that "serious stuff went down" during filming. A subsequent investigation by HBO parent company WarnerMedia resulted in the company ending their relationship with Joss Whedon.
8. Buffy the Vampire Slayer and Angel actress Charisma Carpenter then spoke out in February 2021, saying Whedon abused his power on set and his cruelty made him a "vampire." Recalling her years of experience working with the writer and producer, Carpenter says the writer amused himself by calling her fat while the 5'7″ actress was pregnant and weighed just 126 pounds at the time. Buffy costars Amber Benson and Michelle Trachtenberg confirmed Carpenter's allegations, with Trachtenberg revealing that because Whedon's behavior toward her (a teenager at the time) was so inappropriate, a rule was created where he was not allowed to be alone with her on set.
9. Sarah Michelle Gellar also expressed that while she loves the role that made her famous, she cannot stand behind Joss Whedon.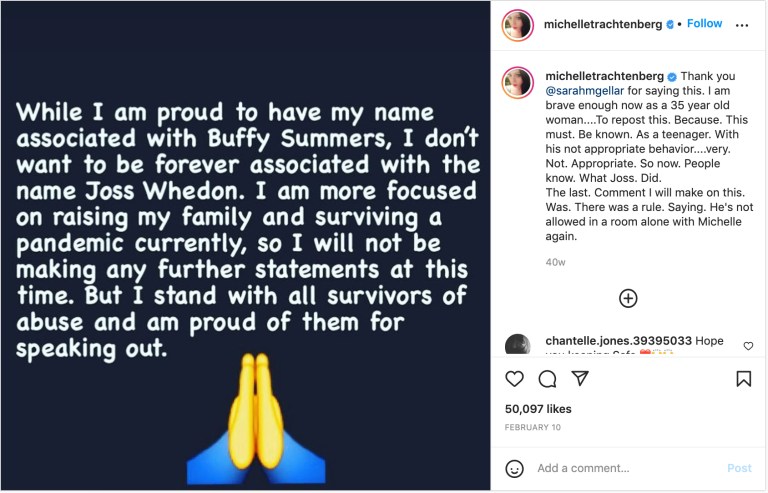 10. In 2001, Whedon had characterized his on-set behavior to AV Club semi-seriously as "I'm a very gentle man, not unlike Gandhi. I don't ever threaten them. There is, sort of hanging over their head, the thing that I could kill them at any moment. But that's really just if they annoy me."
11. Whedon wanted Alyssa Milano to play the role of Buffy, but the role went to Kristy Swanson instead.
12. On the set of Buffy the Vampire Slayer in 1992, Whedon was only a young writer with few credits to his name and was overruled on creative decisions by director Fran Rubel Kuzui. In fact, Whedon's biggest personal challenge during filming was working with male actor Donald Sutherland:
"He would rewrite all his dialogue, and the director would let him. He can't write—he's not a writer—so the dialogue would not make sense. And he had a very bad attitude. He was incredibly rude to the director, he was rude to everyone around him, he was just a real pain. And to see him destroying my stuff….Some people didn't notice. Some people liked him in the movie. Because he's Donald Sutherland. He's a great actor. He can read the phone book, and I'm interested. But the thing is, he acts well enough that you didn't notice, with his little rewrites, and his little ideas about what his character should do, that he was actually destroying the movie more than Rutger was. So I got out of there. I had to run away."

—Joss Whedon on working with Donald Sutherland during an AV Club interview
13. Elements of Whedon's original script that never made it to film include Merrick's suicide and Buffy burning down the school gym. We also don't learn until the TV series that Buffy's last name is Summers. Eventually, the original script was released to the public as a comic book, The Origin.
14. In the film, Buffy was a senior in high school; the TV series made her a sophomore.
15. Movie Buffy experiences pain that she compares to menstrual cramps when she is near a vampire. This is never mentioned in the television series.
16. Kristy Swanson's first speaking film role was in the John Hughes movie Ferris Bueller's Day Off (1986). She plays a student giving the teacher an explanation for Ferris's absence during the iconic "Bueller?" scene. Swanson also had a non-speaking role in the Hughes film Pretty in Pink, which was released the same year. In 2018 she starred in a pro-Trump play with Dean Cain called FBI Lovebirds: Undercovers.
17. Luke Perry said he took the role of Pike because every page of the script made him laugh.
18. Seth Green has a very small cameo in the film. He is visible for only three seconds. Green later played the role of Daniel "Oz" Osbourne in the television series.
19. Ben Affleck briefly appears as a member of the opposing basketball team.
20. Ricki Lake has a small role as a waitress.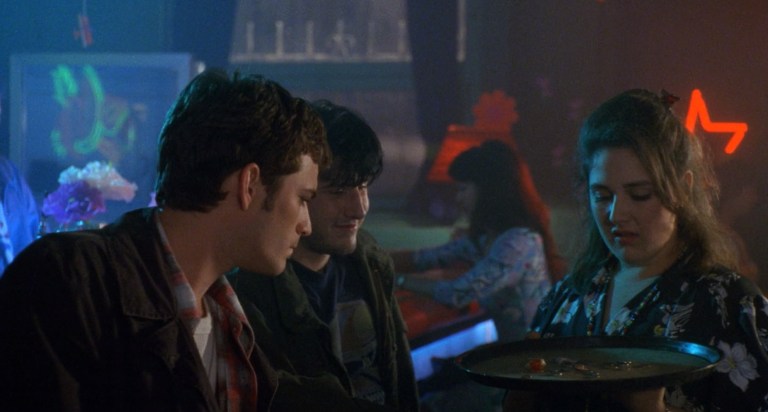 21. Buffy was the film debut of Hillary Swank. She was Buffy's friend Kimberly.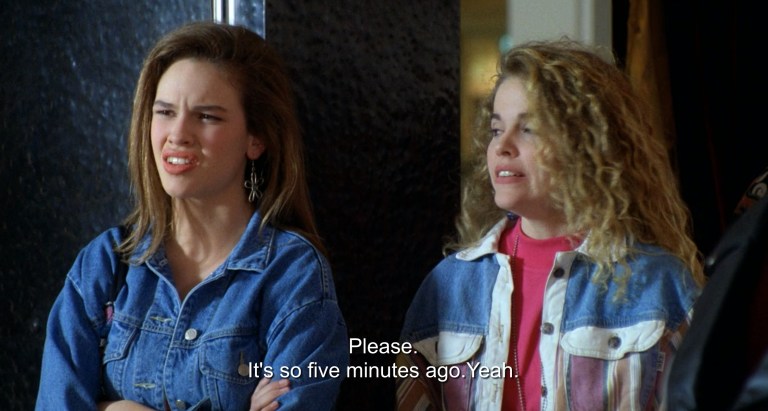 22. Luke Perry's Buffy BFF David Arquette later had a small role on Perry's mega-hit show Beverly Hills, 90210:
"I had a good time with it. Paul Reubens (a.k.a. Pee-wee Herman, who was cast way against type as a vampire thug named Amilyn) and I are still great friends. You meet people along the way and he's one of them. Kristy and I are still friendly. That's cool. What I remember was just shooting all the nights. It's a vampire movie, so most of it takes place at night, which means we're shooting nights all the time. It was 30-some nights in a row, and I was shooting 90210 during the daytime. I was pretty exhausted by the end of it. I remember that, shooting nights on one thing and days on the other. It was just sleeping standing up."

—Luke Perry, interview with the Calgary Herald
23. Originally Buffy was going to say all she wanted to do was graduate high school, go to Europe, marry Charlie Sheen, and die. Her celebrity crush was (thankfully) changed to Christian Slater.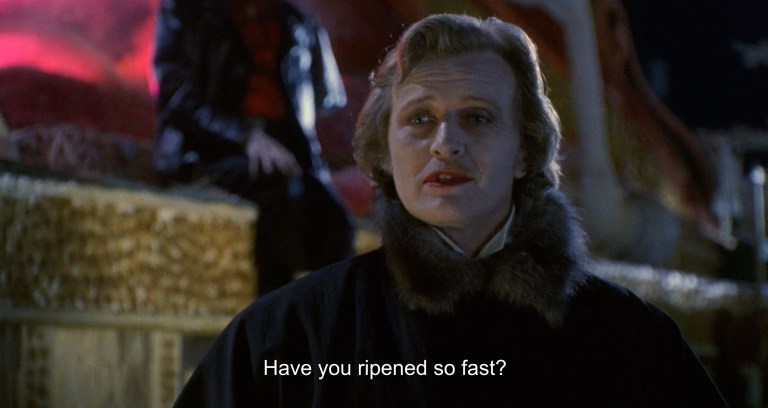 24. Even though Merrick has been helping The Chosen One fight vampires for centuries, he gives Buffy a useless crucifix which Lothos simply turns into flames.
25. Paul Reubens's death scene was not in the script and was ad-libbed by the actor.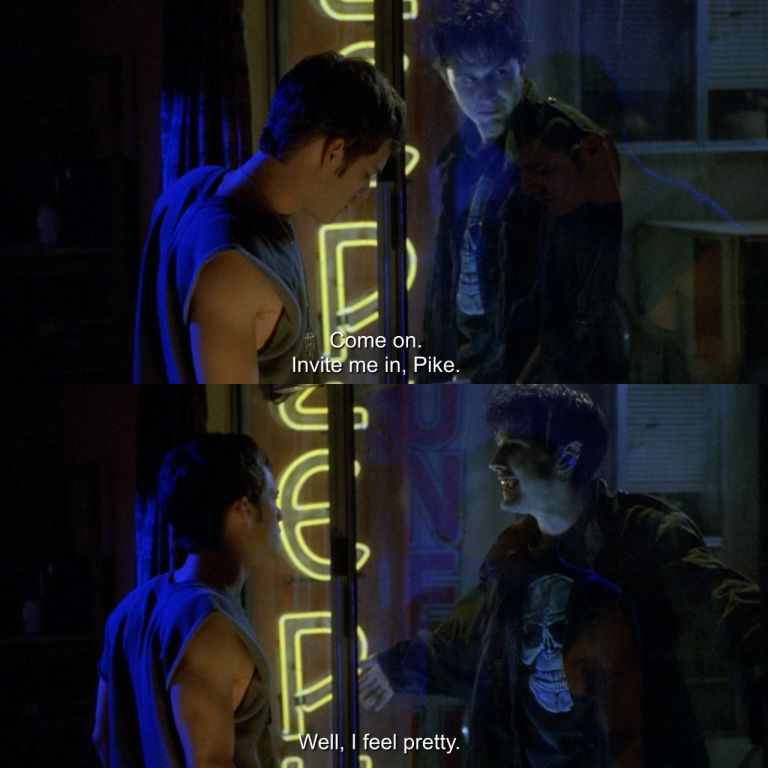 26. Like common vampire mythology, the vampires in Buffy must be invited into your home to enter. Unlike vampire mythology, Benny's reflection is visible when he is floating outside Pike's window.
27. Even though Merrick and Buffy don't get along at first, it is hinted that he views her as an exceptional slayer, as he has never before gotten in a fight with a vampire.
28. In real life, both Pike and Benny would be electrocuted in Benny's death scene.
29. Luke Perry and Rutger Hauer died four months apart in 2019.
"It didn't turn out to be the movie that I had written. They never do, but that was my first lesson in that. Not that the movie is without merit, but I just watched a lot of stupid wannabe-star behavior and a director with a different vision than mine—which was her right, it was her movie—but it was still frustrating."

—Joss Whedon, AV Club
30. After seeing the finished product, Joss Whedon felt that the film didn't quite "get" Buffy. Inspired by his dissatisfaction, Whedon wrote the pilot for what would become the Buffy television series.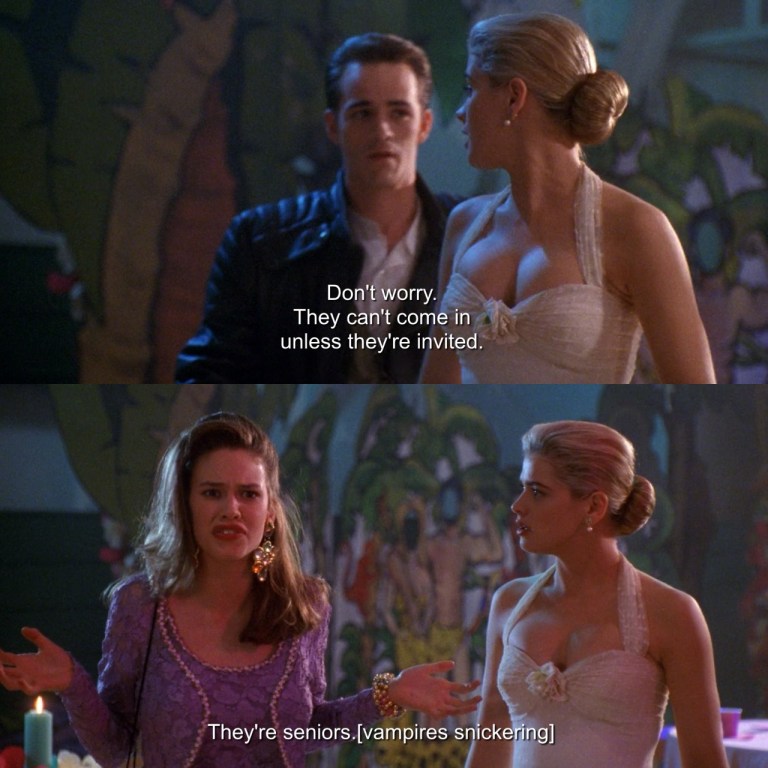 31. In 2009, a "reimagining" of Buffy's story was considered. The film would be created without Joss Whedon. Sarah Michelle Gellar said, "I think it's a horrible idea. To try to do a Buffy without Joss Whedon…to be incredibly non-eloquent: that's the dumbest idea I've ever heard." In 2018, Whedon said he was working on a reboot of the Buffy series. Neither project ever went into production.