28 Strange Facts About Kevin Smith's Disturbing Horror Comedy 'Tusk' (2014)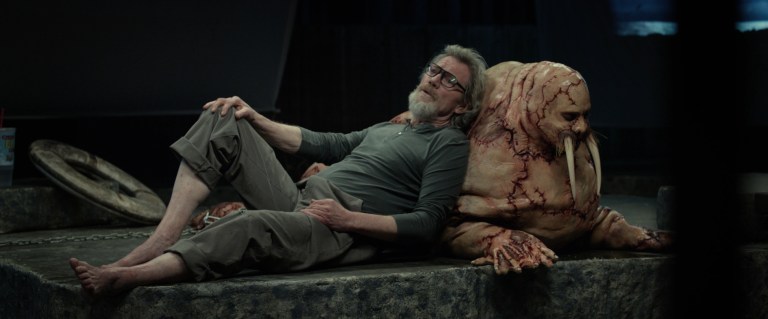 Tusk is a 2014 body horror comedy written and directed by Kevin Smith. The plot involves two podcasters whose shtick is to mock viral videos. One of the podcasters, Wallace (Justin Long), flies to Canada to interview "The Kill Bill Kid," who became famous online for slicing off one of his legs with a sword. But The Kill Bill Kid had already committed suicide by the time Wallace arrives. Wallace then chances upon an advertisement where someone offers him a room in his home in exchange for doing household chores with the promise to regale his visitor with fascinating stories.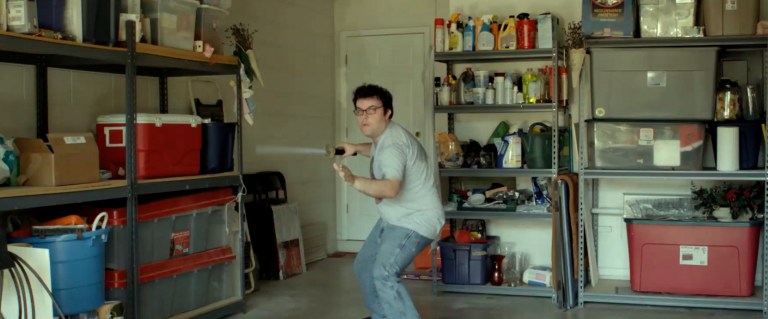 Thinking that this might be a good story for his podcast, Wallace visits the house and meets Howard Howe (Michael Parks), a retired sailor. One of Howard's first stories is how a walrus named "Mr. Tusk" saved his life after his ship sank during World War II. While Wallace is listening to the story, he falls unconscious thanks to Howard drugging Wallace's tea. When he wakes, Wallace's left leg is amputated and he is strapped to a wheelchair. He tells Wallace that he will transform him into a simulacrum of his savior by sewing him into a walrus costume. Using the tibia bones from Wallace's amputated leg, he will also shove "tusks" into his mouth for an extra-realistic effect.
Realizing that Wallace has been kidnapped, his girlfriend Ally and podcast cohost Teddy fly to Canada in search of him. They are put in contact with a former police inspector named Guy Lapointe (Johnny Depp) who has been hunting the psychopathic, serial-killing Howard for ten years.
After Wallace kills Howard by impaling him on his tusks, Ally and Teddy finally find Wallace. They are glad that he is alive, but terrified and heartbroken about what he has become.
Here are some little-known facts about this intensely strange film.
The Movie's Origin Story
1. The concept for Tusk originated when Kevin Smith saw a post on Gumtree, a British site similar to Craigslist, where a homeowner advertised free lodging in his house if they agreed to dress in a "realistic walrus suit" for an hour or two every day. The man said he had befriended a walrus years ago and still misses it. The post was a prank by Chris Parkinson, a fan of Smith's whom Smith eventually hired as a producer on the film. In keeping with Smith's tendency to reel off endless in-jokes, there's a scene where the characters discuss the murder of a hockey player named "Gregory Gumtree."
2. Smith was so intrigued by the post that he talked about it on his long-running podcast titled SModcast. On episode 259 of SModcast, Smith and his longtime friend and filmmaking collaborator Scott Mosier came up with an idea for a movie based on the ad. Many of the ideas they joked about ended up in the final movie.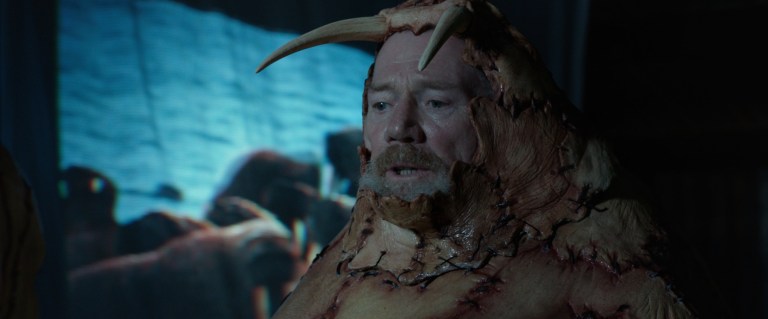 3. Kevin Smith fell in love with the idea he and Scott Mosier came up with, so to test whether fans would like to see a movie with such an odd premise, Smith asked his Twitter followers to tweet either #WalrusYes or #WalrusNo. Responses were overwhelmingly in favor of #WalrusYes, so Smith starting writing the script.
4. Kevin Smith says he was so fascinated by the movie's premise, he wanted to make it and didn't care if it was successful or not. He claimed the entire exercise was "masturbatory." The film actually lost money at the box office.
5. Smith described Tusk as "a cuddly version of The Human Centipede."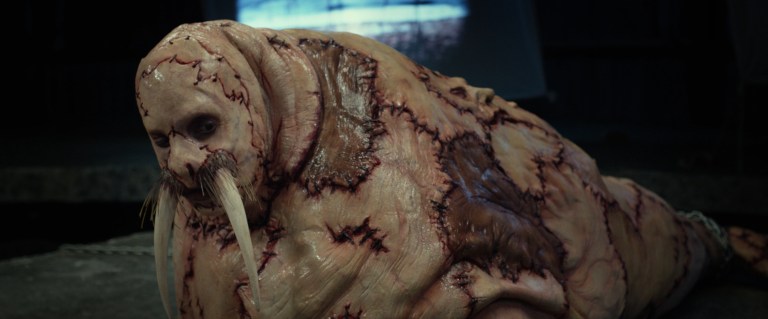 6. Tusk would become the first in a trilogy of films that Kevin Smith would base in Canada. Next came 2016's Yoga Hosers, and as of 2022, he is planning a film called Moose Jaws.
7. Smith decided to name the character who was transformed into a walrus "Wallace" because it sounded like "walrus."
The Making of Tusk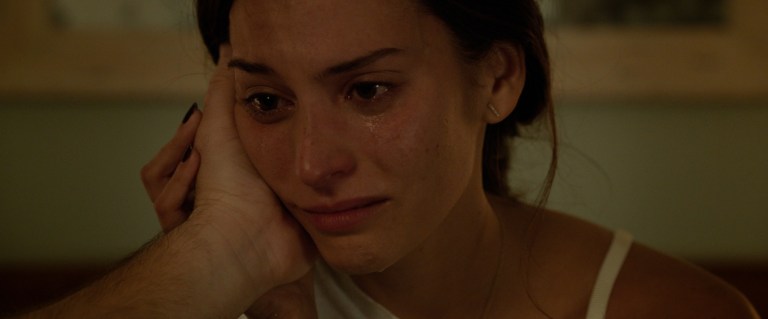 8. The entire film was shot in 15 days.
9. Smith says that the most expensive part of the film's budget was used to pay for the rights to use the Fleetwood Mac song "Tusk."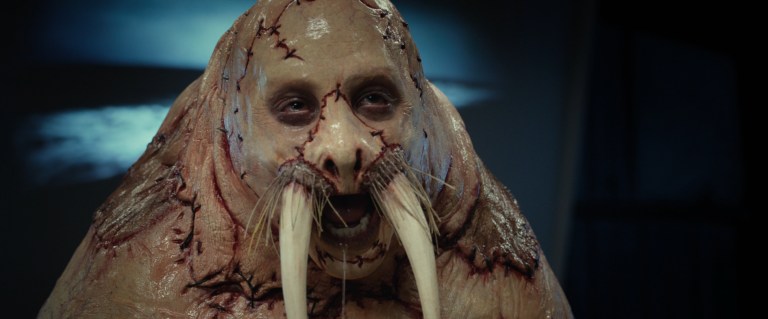 10. Actor Justin Long, who played Wallace/the walrus, is seen visibly drooling after his "transformation" into a walrus not only because of the heavy prosthetic makeup, but because he had to hold his tongue back to maintain continuity with the plot element that Howard had cut out his tongue.
11. The walrus suit, which was fashioned to look like human flesh, was actually crafted from foam and polyester.
Johnny Depp and Quentin Tarantino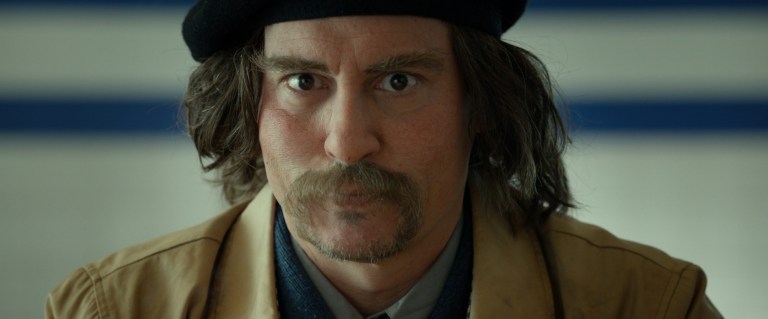 12. Quentin Tarantino turned down the role of Guy Lapointe, although he said he liked the script. Kevin Smith later said that Tarantino had mistakenly thought he was being offered the role of the walrus.
13. Johnny Depp got the role of Guy Lapointe instead. Kevin Smith said that several of the character's traits, including the odd accent and a nose that resembled a penis, were Depp's idea.
14. During production, Depp would call up Smith late at night and have extended conversations with him in Guy Lapointe's accent.
15. Smith says that Johnny Depp failed to originally learn his opening monologue because of a misprint in the script that gave him the impression it would be read off-camera. When he found out that it was going to be filmed, he took five minutes to memorize the passage word-for-word and did it in one take.
16. Kevin Smith was always very vocal about how unpleasant he found it was to work with Bruce Willis during the 2010 film Cop Out. After working with Johnny Depp on Tusk, he described the experience as the "spiritual antithesis" of working with Willis.
Pop-Culture References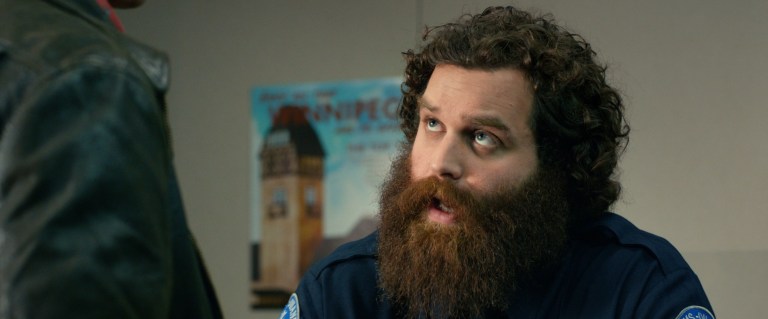 17. Tusk mentions a character who's known as the "Kill Bill Kid." Actor Michael Parks, who played Howard Howe in the film, was in both of Quentin Tarantino's Kill Bill films.
18. The character "Kill Bill Kid" is based on the viral video clip of the "Star Wars Kid," who clumsily spun around with a pretend lightsaber in 2006.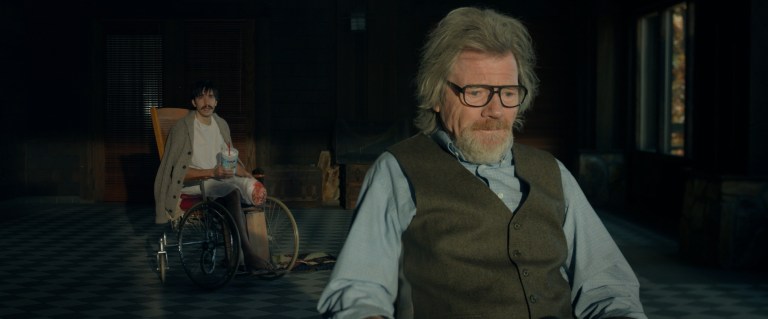 19. In the scene where Howard is discussing a great white shark while eating dinner, he says, "Twenty-five feet…got three tons on him." That's exactly what Quint (Robert Shaw) said of the shark in Jaws.
20. In a flashback scene before he transformed into a walrus, Wallace asks the clerks in a store how "Degrassi" is going. Kevin Smith is not only a devoted fan of Degrassi, he starred in two episodes of the TV show as well as a Degrassi TV movie.
In-Jokes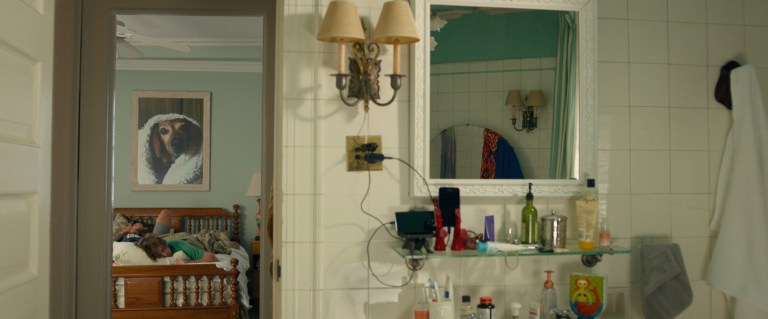 21. The scene where Justin Long goes to the bathroom and turns the doll away while peeing is based on a story Kevin Smith told on his podcast about his childhood.
22. Harley Quinn Smith and Lily-Rose Depp are, respectively, Kevin Smith and Johnny Depp's daughters. In Tusk, they play a pair of disinterested convenience-store clerks. This is a nod to Kevin Smith's breakthrough 1994 film Clerks.
23. Teddy's "Not See Party" podcast is based on a joke by Kevin Smith's friend Walt Flanagan.
24. When Guy Lapointe smashes his hamburger patty into a paper-thin shape, this refers to Dic Ann's Hamburgers in Montreal, where thin hamburgers are served on popsicle sticks.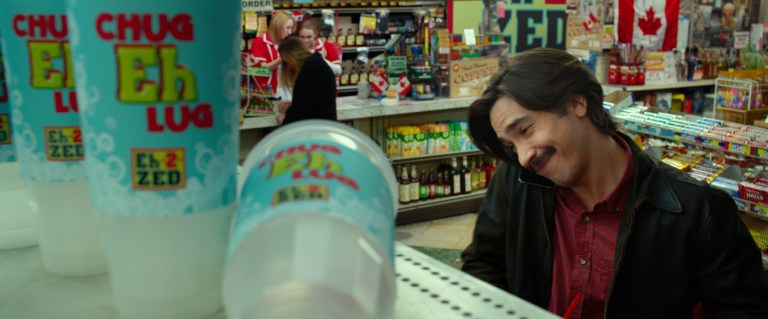 25. All the Canadians in the film pronounce the word "about" as "aboot," which was popularized in the 1999 film South Park: Bigger, Longer & Uncut.
26. In the film, actor Ralph Garman's character is named Frank Garmin. This is a sly wink to a listener's email that was read on the "Hollywood Babble-On" podcast where a listener mistakenly referred to Ralph as "Frank Garmin."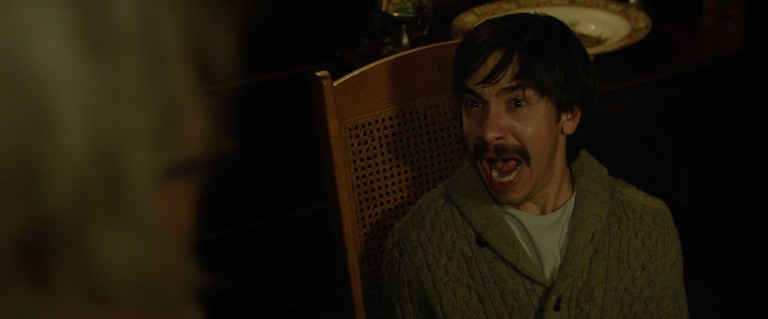 27. In Tusk, Wallace's ringtone is actually a fan-made song from Kevin Smith and Ralph Garman's podcast based around Garman's Al Pacino impression.
28. As the final credits are rolling, one can hear a snippet from Kevin Smith's SModcast where he talks about the movie's third act.