The 'Boy Meets World' Halloween Episode Was Almost "Too Scary" to Air
Boy Meets World's iconic Halloween episode "And Then There Was Shawn" aired in 1998 and was a scary murder mystery special that was both funny and scary.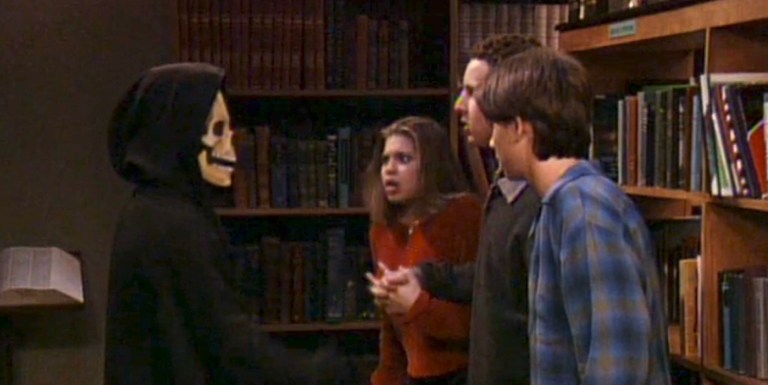 In the hey day of teen slasher horror (1998) squeaky clean teen sitcom Boy Meets World was at the height of its popularity. In the long tradition of Halloween episodes the show created a high-concept spoof on teen slashers for the seventeenth episode of Boy Meets World's fifth season with guest star Jennifer Love Hewitt. Not only was it a great episode of the show, it is a funny and compelling time capsule of horror culture in the late 90s.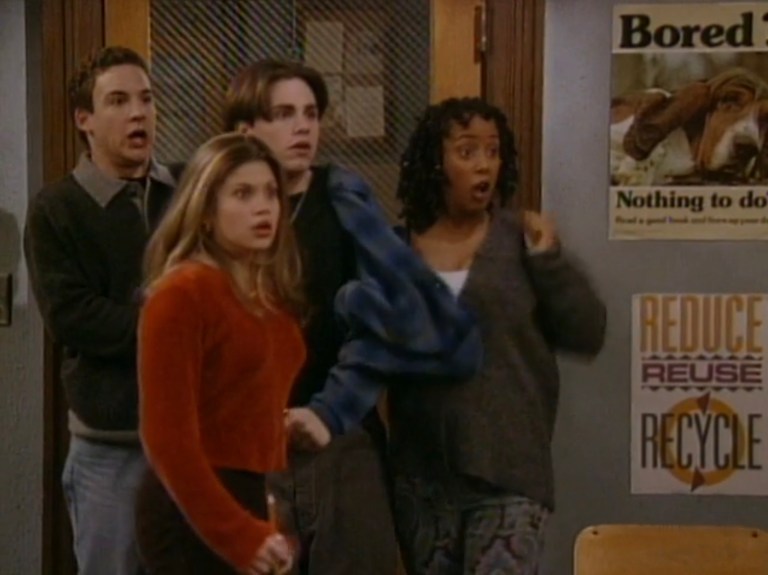 Titled "And Then There Was Shawn", the episode follows the gang as their after school detention gets spooky. Cory and Topanga have recently broken up (due to Cory flirting with "mountain girl" Lauren) and are fighting. Cory, Topanga, Shawn, Angela are in detention with a random student named Kenny (who pretty much exists for the "they killed Kenny" jokes). When Mr. Feeny leaves the room, the pull-down map rolls up revealing that someone has written "No One Gets Out Alive" on his chalkboard in blood. When the lights go out, Kenny is murdered with a pencil.
I swear from the minute I first picked up the script, I knew it was going to be a classic. It mixes genres, it mixes tension, and it mixes comedy so beautifully. Once we saw a finished cut with the music, we all went, "This is going to be great." With other fan favorite episodes, fans tend to talk about specific scenes. This was one where they couldn't stop raving about the whole thing. It's grounded in something very heartfelt, and I think that's why the network finally went, "OK." I'm glad they were looking out for their audience, but at the same time, we were all fathers and mothers on that show, so we weren't going to make something that was going to disturb them.

Jeff McCracken, Inside 'And Then There Was Shawn,' the Scary-Funny 'Boy Meets World' Halloween Episode
As all the school exits are chained shut, the students discover they are trapped inside with the killer. A creepy song plays over the school's PA and a Ghostface-like masked villain appears to stalk our protagonists. When they find the janitor dead, they realize the killer has to be a member of their own group.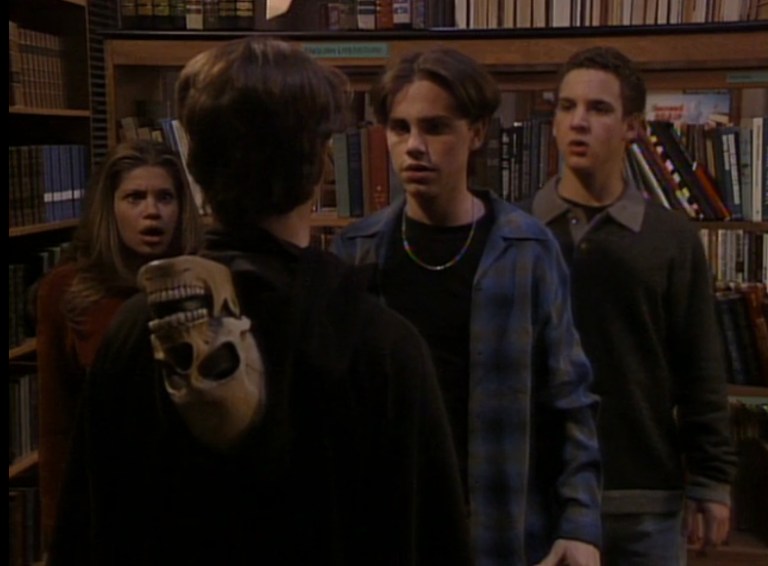 Meanwhile, Eric runs into guest star Jennifer Love Hewitt in the hallway and the two immediately make out. The final showdown takes place in the library. Hewitt's character is crushed by falling books, as is Eric. Jack and Angela are pushed out of the window while mourning Eric (and his ability to pay half the rent). Cory, Shawn and Topanga are left and the killer is revealed as Shawn's doppelgänger. Shawn then wakes up in detention and realizes that the episode has been a nightmare symbolizing his wish for Cory and Topanga to get back together and guilt for his role in their breakup.
I love the moment where the mask comes off and we see Shawn staring at himself. He's staring at his jealousy, at his worst self. That was a surprise for everybody when we got to that scene in the script, because they didn't know who the killer was. It was a great reveal, I thought. It put everybody at ease to say that this is Shawn's troubled doppelganger — it's his inner feelings manifested.

Jeff McCracken, Inside 'And Then There Was Shawn,' the Scary-Funny 'Boy Meets World' Halloween Episode
At the time, the network worried that the episode was "too scary" for viewers but director Jeff McCracken assured the higher-ups that there would be plenty of jokes to tune down the scares. The episode ended up being a fan favorite. Today it is the highest rated episode of Boy Meets World on IMDB.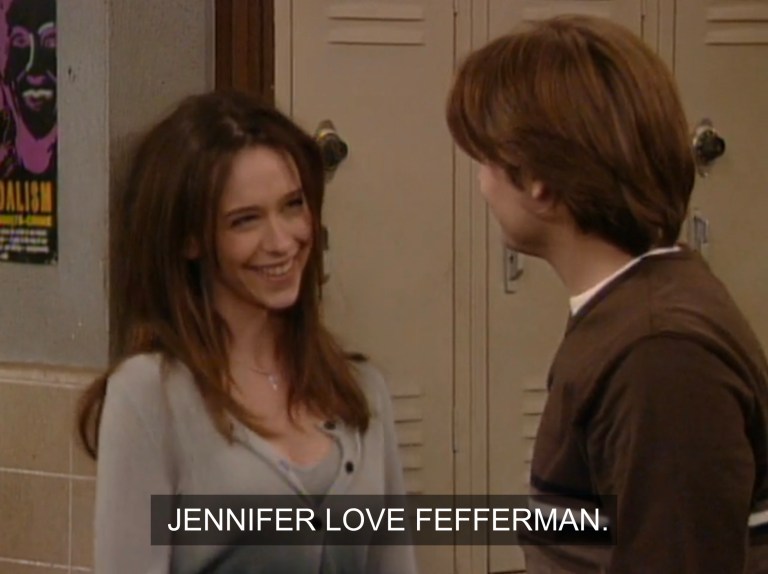 They told us, "You really departed from format, and it could be too scary for our audience." They were really concerned that we killed Feeny, and that all these other characters were dying left and right. So we had to tell them, "Look, it's going to be tongue-in-cheek. It's not going to be gruesome — it's going to all be done with a wink." That was the challenge I had as the director.

Jeff McCracken, Inside 'And Then There Was Shawn,' the Scary-Funny 'Boy Meets World' Halloween Episode
"And Then There Was Shawn" is remembered as not only an emotionally moving episode of the show, but a funny parody of the horror genre at the time. The Boy Meets World characters are knowledgable about the rules of horror. For instance, they all know that Kenny will be the first to die as he is not a member of the main cast. The idea that virgins can't be killed in a slasher movie is also mentioned with Shawn saying he'll get "as sick as you can get without actually dying". Other genre references in the episode include: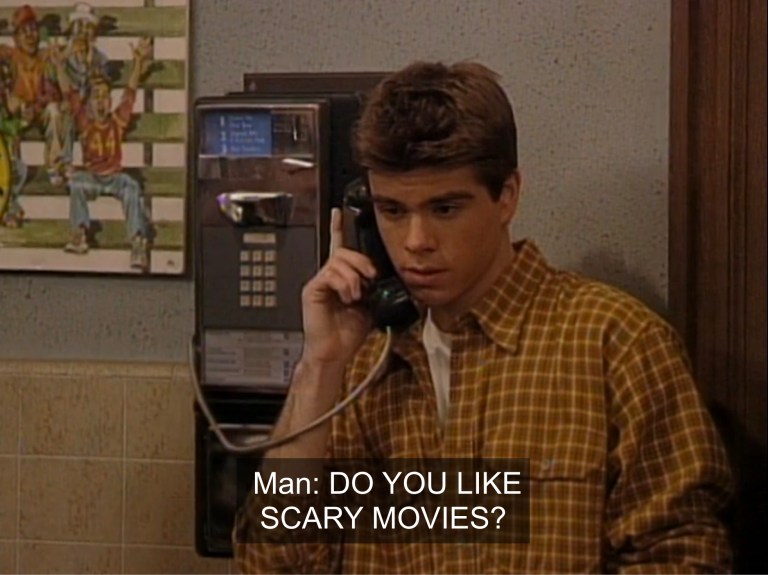 Jennifer Love Hewitt's role as guest-star includes many subtle references to I Know What You Did Last Summer (1997), including her iconic horror movie scream (which Angela is competitive over). At the time, Hewitt was dating Will Friedle (who plays Eric), so her guest role was a natural inclusion. Rider Strong and Ben Savage had also both previously had guest roles on Party of Five.
The episode's title, "And Then There Was Shawn" is a reference to the Agatha Christie murder mystery novel And Then There Were None, which was also an inspiration for the 2003 neo-noir slasher Identity. Christie's novel is the sixth best selling book of all time.
The character of Kenny is a reference to the running joke on South Park where the character of Kenny is killed and then someone says "Oh my god, they killed Kenny".
Jack receives a creepy call on the school's payphone where the killer asks him "Do you like scary movies; what's your favorite?" à la Scream (1996). He answers "The one with the hottie-hot-hot from Party of Five" to which Jennifer Love Hewitt asks "Neve Campbell?"
The look of the killer is also inspired by Scream.
Eric and Jack bounce a basketball outside of Mr. Feeny's classroom and the students hear a thumping like in Edgar Allen Poe's The Tell-Tale Heart.
The tracking shots from the killer's POV were inspired by Halloween (1978).
There was a rumor that the creepy janitor was played by Overlook bartender Joe Turkel from The Shining (1980), but it was an unnamed actor who simply resembles Turkel.
The Janitor's uniform reveals his name is "Freddie" likely an allusion to Freddy Krueger from the Nightmare on Elm Street franchise.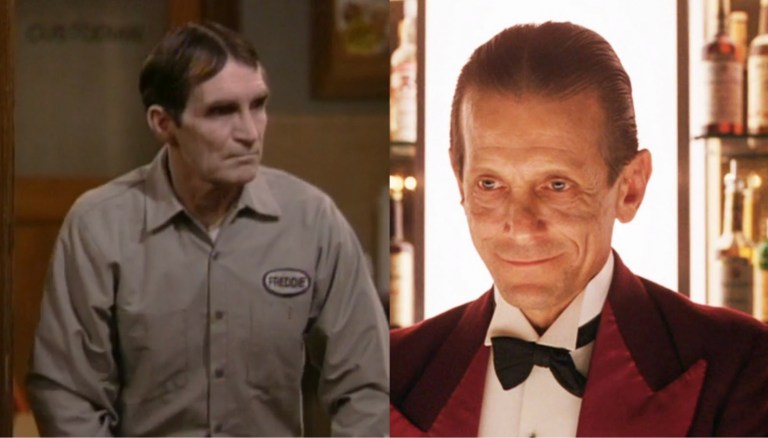 This famous "Halloween episode" has the distinction of not airing anywhere near Halloween. "And Then There Was Shawn" originally aired on February 27, 1998. Director Jeff McCracken couldn't recall what delays made the episode not drop until February when it was originally conceived as a Halloween episode, but fans didn't care that it wasn't seasonally appropriate and embraced the goofy concept of the episode anyway. The lesson here is that a well done toe-dip into the horror pond can work for any genre of television show (and we should get halloween episodes of everything).