27+ Smothering Buried Alive Movies
Buried alive movies tap into one of humanity's biggest fears — going to the grave while you're still breathing.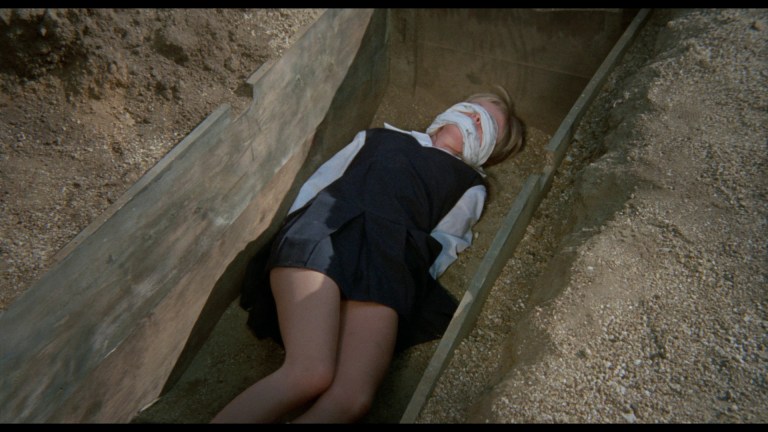 The technical term for being buried alive is "vivisepulture," and the fear of being buried alive is listed as among one our most common phobias. After all, if you're going to be buried in the cold, wet ground amid dirt and rocks and worms and all the other corpses of everything else that has ever lived, it would at least lessen the physical and emotional pain to first be dead.
Being buried alive can be either accidental or intentional. Accidental cases are often linked to "catalepsy," which is a neurological condition where the muscles stiffen and one appears to be dead. There are several historical and fictional cases of this occurring, and this is reflected in many of the films below.
But intentionally burying someone alive seems to be one of the cruelest acts imaginable, which is why it has traditionally been used in wartime and by organized-crime organizations.
When scanning the history of buried-alive films, though, with few exceptions they seem to derive from three primary sources—two of them fictional, one of them historical:
Shakespeare's play Romeo and Juliet, in which Juliet swallows a potion that makes her appear to be dead but is only used as a ruse so that Romeo can rescue her from her domineering family.
Edgar Allan Poe's short story The Fall of the House of Usher—widely considered his finest work—in which attempts to revive a cataleptic woman result in the destruction of a family dynasty.
The real-life 1968 case of Atlanta woman Barbara Mackie, who was kidnapped by Gary Steven Krist and buried alive for 83 hours in a capsule that contained an air tube leading to above ground in a ransom plot that was initially successful until Krist was captured by authorities and imprisoned.
Take a deep breath as you peruse this anthology of buried-alive movies from the 1930s to the present.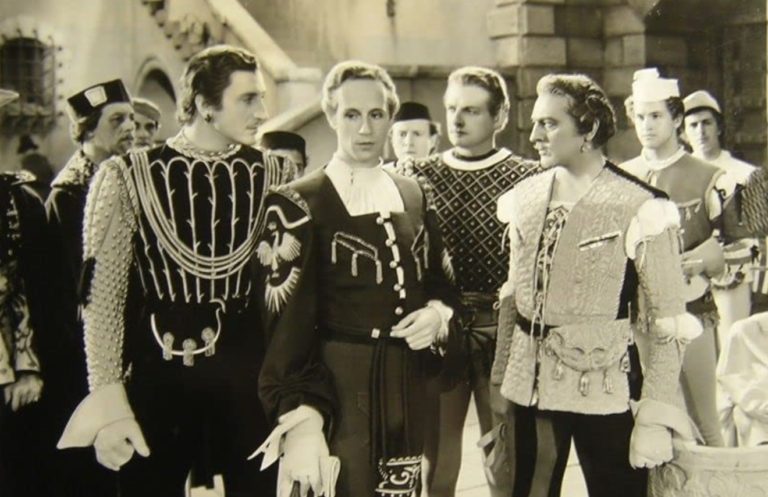 This production by MGM wunderkind Irving Thalberg was released less than a month before his sudden death from pneumonia at age 37. Leslie Howard (43 years old at the time) and Norma Shearer (34) were paired as Shakespeare's "star-crossed" teenage lovers whose romance is quashed by a generations-old family feud. The buried-alive angle includes a plot wherein a friar gives Juliet a potion that will emulate catalepsy; after it is administered, he places her body in an underground vault. Romeo arrives, busts into the vault, and, assuming that Juliet is dead, drinks some fatal poison. When Juliet awakes and realizes her lover is truly dead, she stabs herself to death with Romeo's knife.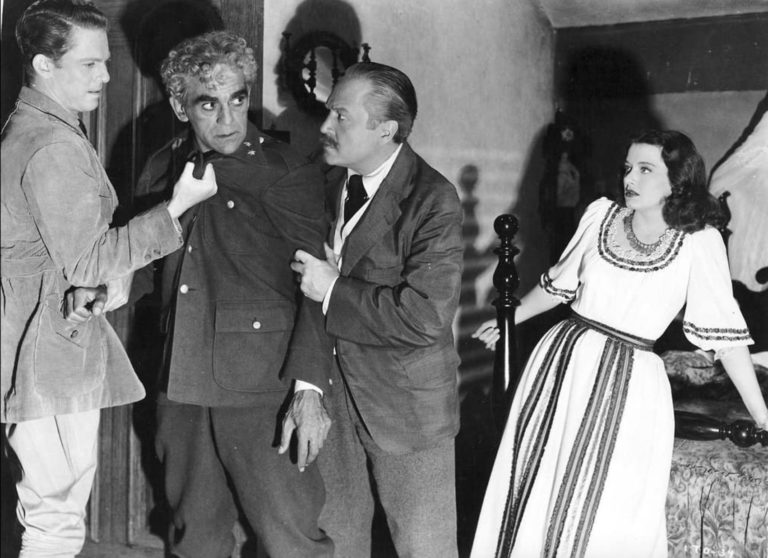 Based on a painting of the same name by Arnold Bocklin, Isle of the Dead is set on a Greek island during 1912's Balkan Wars. When General Pherides (Boris Karloff) visits the island to pay respect to the war dead, he visits the tomb of an associate's wife, only to discover it is empty. A cataleptic woman, presumed to be dead from the plague, had been sealed into the now-empty coffin. She woke up screaming inside the coffin, managed to escape, killed two people, and then leapt to her death from a nearby cliff. Along the way, she was mistaken by superstitious locals as a vorvolaka, a zombie-like folk demon.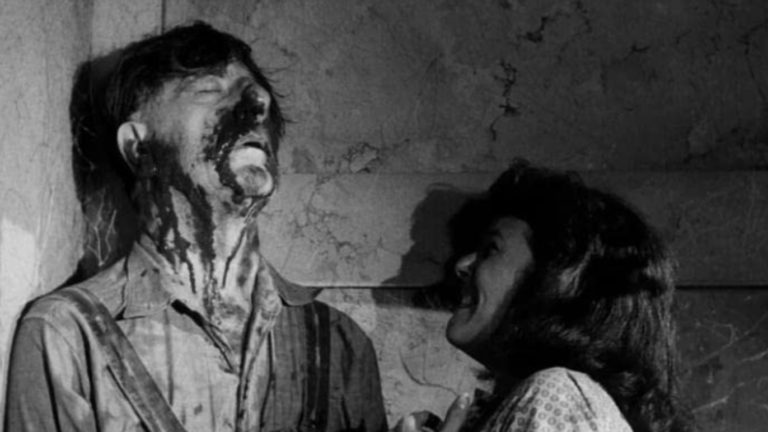 This low-budget offering from director William Castle—famous for his gimmicky film promotions, which in the case of Macabre involved the promise of a $1,000 life-insurance policy for any moviegoer who died of a heart attack while watching the film—involves a doctor whose daughter is kidnapped and buried alive for ransom. The doctor is given a mere five hours to cough up the ransom or find his daughter and save her himself. Along the way, the doctor gets distracted by a child "corpse" that turns out to be a mannequin.
House of Usher would be the first of eight films that recreated Edgar Allan Poe stories and the first of two that Corman would base on Poe's 1839 The Fall of the House of Usher within a span of only three years. While arguing with her brother, Madeleine Usher (Myrna Fahey) falls into a cataleptic state. Although her brother is fully aware Madeleine is alive, he declares her dead and has her entombed in a crypt beneath the house. But Madeleine awakes while entombed, claws her way out, and kills her brother. But amidst all the chaos, no one realizes that the family mansion is burning to the ground, along with the family legacy.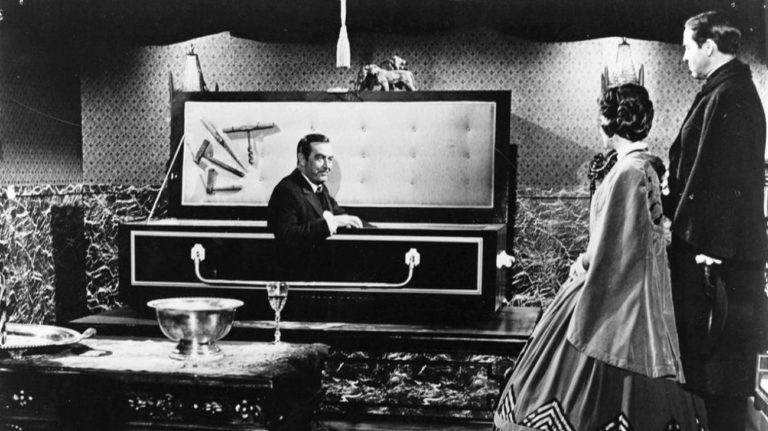 In this black-comedic take on cataleptic burials, Karloff also stars as a kindly doctor. He intervenes in a family squabble that resulted in an aging millionaire being buried alive at the behest of his greedy and beautiful daughter, who wants to take the old man out so she can bask in his fortunes. Karloff rescues the aging millionaire and then installs a bell in the man's casket so he can alert anyone if his conniving daughter ever has him buried alive again.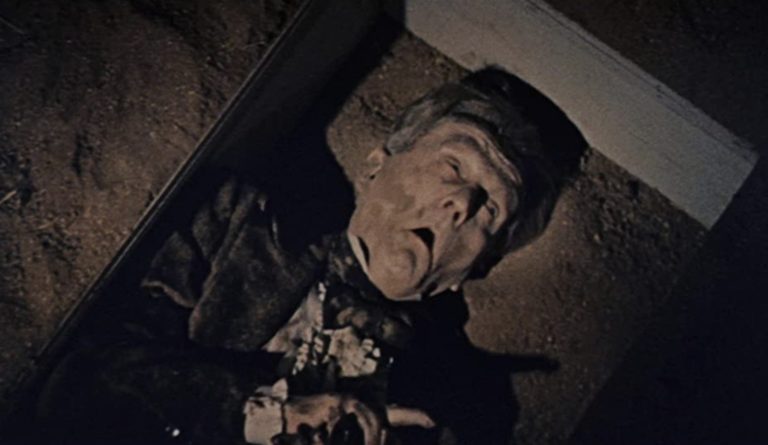 In his second recreation of The Fall of the House of Usher within only three years (the first being 1960's House of Usher), shlock impresario Roger Common returns with a twist on the classic Poe story. Ray Milland, who won a Best Actor Oscar for playing an alcoholic in 1945's The Lost Weekend, stars as an artist who grows estranged from his wife due to his conviction that his cataleptic father died as a result of mistakenly being buried alive. To avoid suffering a similar demise, Milland's character devises a tomb that has an escape route. Being that this is a horror movie, his escape route fails to provide an easy escape.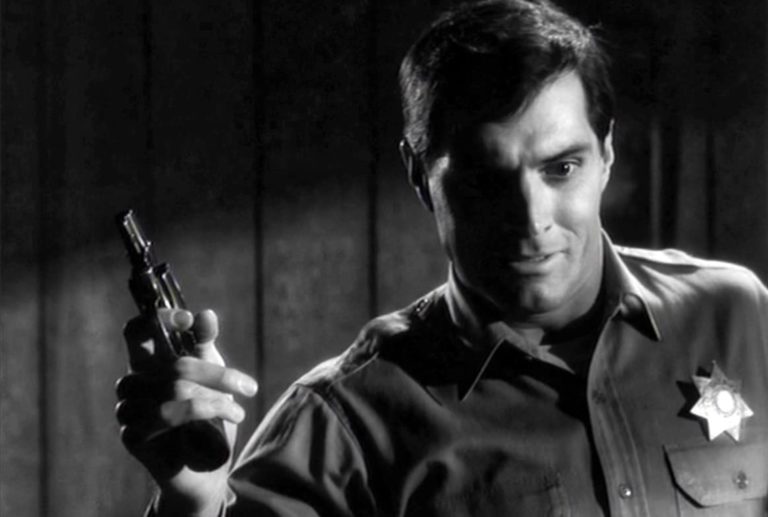 Honored worldwide as one of the greatest film directors of all time, Alfred Hitchcock rarely gets credit for his early-1960s TV show that was easily as innovative as The Twilight Zone or The Outer Limits. In this hourlong installment of his show, Edd "Kookie" Byrnes—mostly known for playing a goofy greaser who couldn't stop combing his hair on the sitcom 77 Sunset Strip—stars as convict who devises an ingenious escape route. His plot is to switch places with a dead man's corpse and lie in wait for another convict to dig him up. However, the other convict runs into some trouble inside prison which renders him incapable of rescuing Byrnes, who turns in a fine dramatic performance as a man who has to dig himself out of his own casket.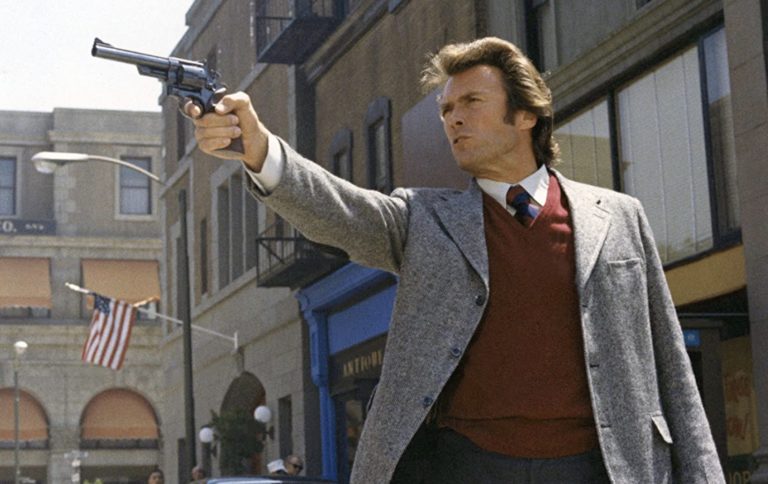 Clint Eastwood's celebrated portrayal as tough San Francisco detective Harry Callahan is partially based on the unsolved case of the real-life California serial murder known as the Zodiac Killer, who in the movie is called the "Scorpio Killer." But not only was it based on the Zodiac Killer—elements from the real-life 1968 kidnapping and live burial of Barbara Mackie by Gary Stephen Krist are used in a subplot involving Scorpio kidnapping a woman and burying her alive in exchange for ransom money.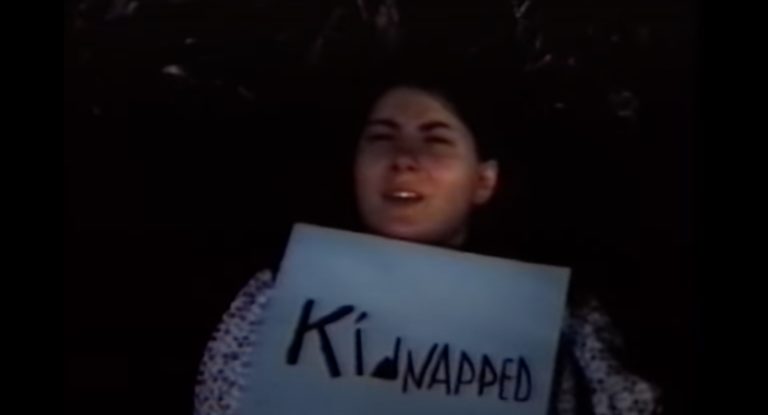 After Dirty Harry, this is the second film based on the 1968 kidnapping and live burial of Barbara Mackie in Atlanta, GA. In this TV movie, Sallie Shockley stars as Mackie and delivers a dignified and muted performance for someone condemned to spend 83 hours underground in a coffin that only had tubes for air and water to keep her alive. Quentin Tarantino would later admit he "shamelessly" plagiarized this film in both Kill Bill, Vol. 2 and an episode of CSI that he wrote, the latter of which was directed by Alec Smight, son of Jack Smight, who directed The Longest Night.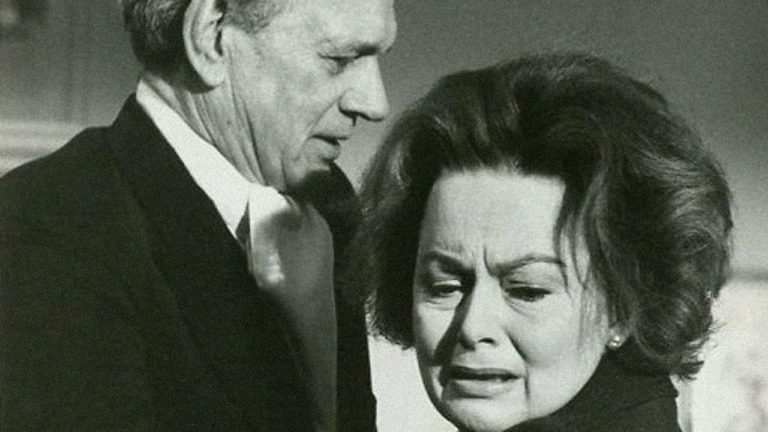 In this made-for-TV horror film, famed Hollywood actress Olivia De Havilland stars as Laura Wynant, a wealthy former mental patient who decides to repair to her country estate in order to recover. While roaming the grounds, she hears a woman's faint screams and concludes that someone has been buried alive on the premises. But when she tells her relatives about her concerns, they fear it's only a sign that her mental health is deteriorating. Wynant's arthritis prevents her from digging the body up herself, so she goes door-to-door seeking to find someone to help her. She winds up knocking on the door of the man who buried his own wife alive on Wynant's estate. He had buried his wife after knocking her unconscious with a shovel. He seeks vengeance against Wynant, but just as her passion to resolve the case allows her to overcome her arthritis and start digging the woman out, he creeps up behind her to smash her head in with a shovel—but is stopped by the hand of his wife, who is still fully alive and has just emerged from the grave.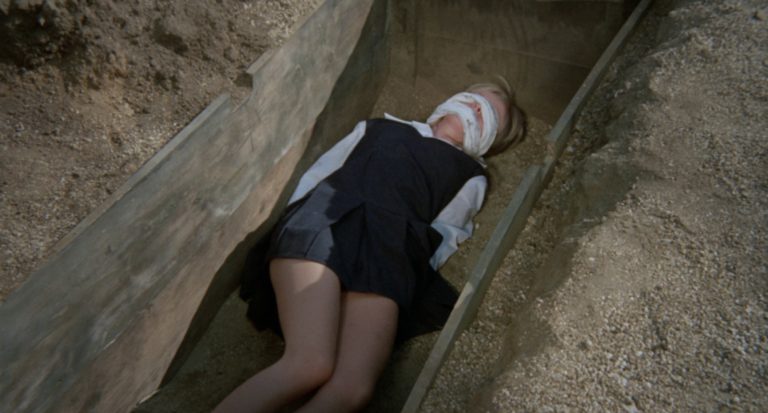 In this violent and sexually themed exploitation film, Jessie Bolling stars as the female ringleader of a trio of young criminals. They kidnap a Catholic schoolgirl named Sandy and bury her alive with a metal tube as her only air source, demanding ransom from her father—yet another twist on the 1968 case of Barbara Mackie. When the girl's father refuses to pay the ransom, they dig the girl up, rape her, and then bury her alive again. It isn't until a mute autistic boy—played by the director's son—finds Candy buried in his own backyard that Candy finally lives to see the light of day again.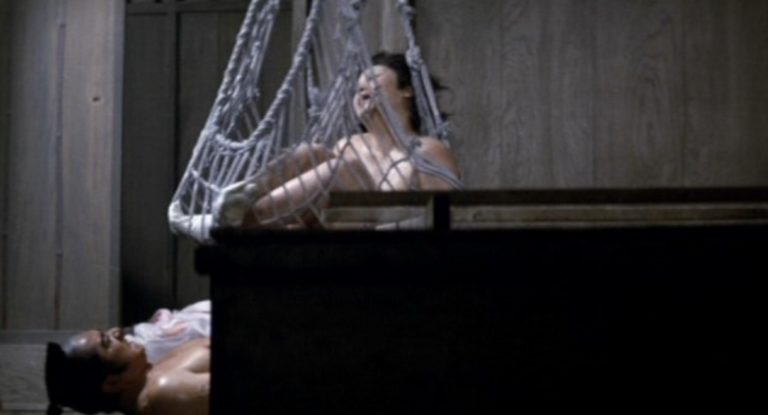 This is the second in a series of Japanese films staring Shinatro Katsu as a Samurai cop who rebels against all authority in his Robin Hood-like campaign against his nation's feudal elites. In The Snare, Hanzo is researching a case involving a temple priestess who is essentially a pimp for her numerous female acolytes when he winds up being buried alive inside a monastery where only women are allowed. But being a samurai, he is able to dig himself out and sneak into the monastery seeking vengeance. Movie Feast says that Hanzo "shows himself to be the biggest bad-ass in feudal Japan."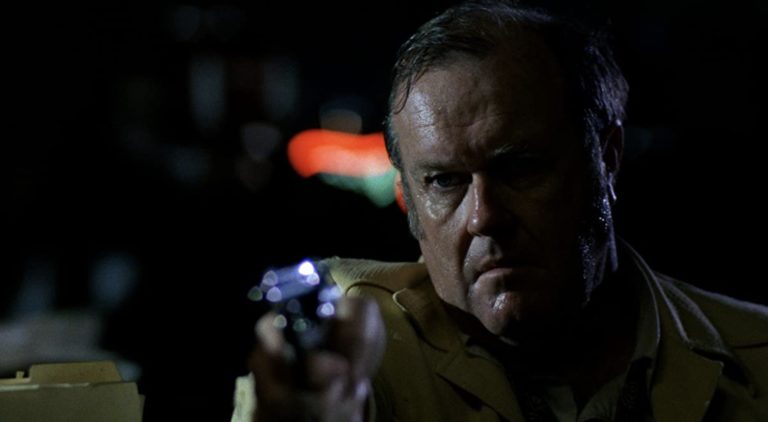 In this—the first film written, directed, and produced by brothers Joel and Ethan Coen—a Texas man who is presumed dead comes back to life, so he gets buried alive in a plowed field. According to Roger Ebert, "The movie's a blood-soaked nightmare in which greed and lust trap the characters in escalating horror. The plot twists in upon itself. Characters are found in situations of diabolical complexity….When it uses cliches like the Corpse That Will Not Die, they raise it to a whole new level of usefulness."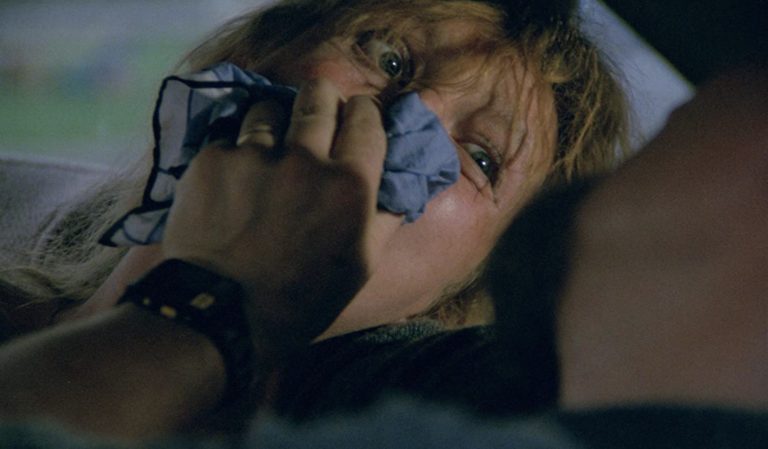 This French/Dutch coproduction is based on a Tim Krabbe novella called The Golden Egg. A young couple on vacation stops at a busy gas station, where the female of the couple, Saskia, is kidnapped, buried alive for three years, and then emerges with no memory of what happened. Her lover, Rex, spends three years trying to reconnect with her. The film was directed by George Sluzier, who five years later would direct an American remake staring Jeff Bridges, Kiefer Sutherland, and Sandra Bullock as Saskia.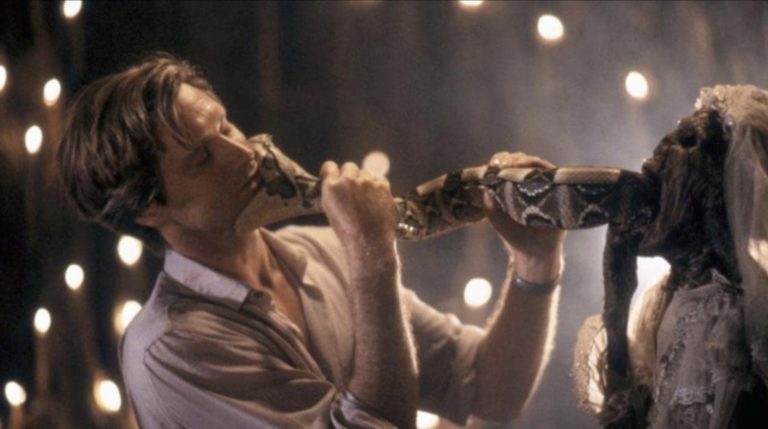 Haitian voodoo culture is rumored to employ drugs on selected victims that lower their metabolic rate to the point that it results in "zombification"—they appear to be dead, are buried, and then revived when it is deemed appropriate. This film, based on a book by Wade Davis, follows a Harvard researcher (Bill Pullman) who travels to Haiti to investigate these drugs. According to Roger Ebert, Pullman portrays " a tall, good-looking, sensitive intellectual who is called upon to wrestle leopards, battle corpses, confront an evil voodoo leader and eventually be buried alive along with a deadly spider that makes itself cozy on his paralyzed eyeball."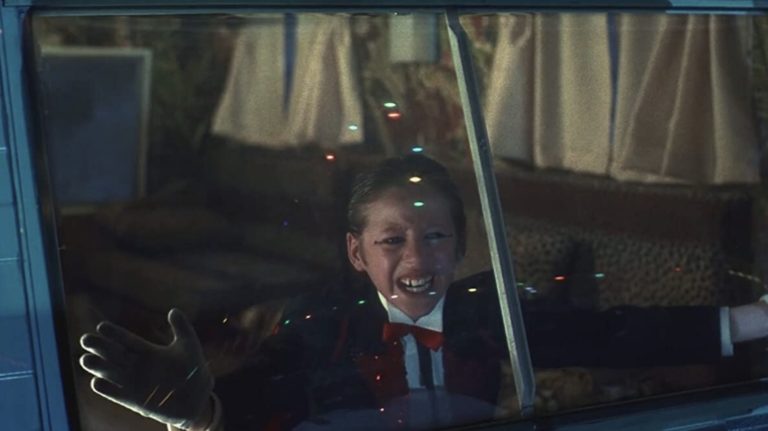 Alexander Jodorowsky has made some of the most bizarre and disturbing movies ever filmed, among them the cult classics El Topo and Holy Mountain. In Santa Sangre (Spanish for "Holy Blood"), the buried-alive angle is briefly covered in one scene where a dozen nude women clad only in bridal veils emerge from their graves together at night. According to one reviewer at IMDb, "Santa Sangre" is very bloody, disturbing and surreal, but at the same time beautiful and dreamlike. It contains bizarre images such as an elephant funeral, chickens falling from the sky, and mentally handicapped kids tricked into snorting cocaine."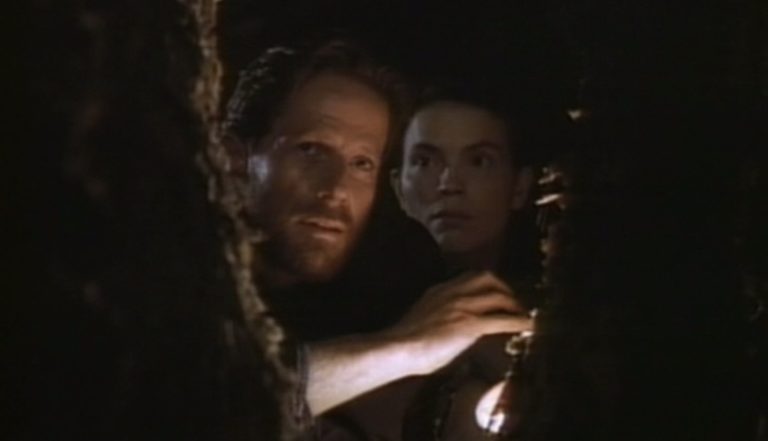 Of all the films based directly or indirectly on the 1968 kidnapping and live burial of Atlanta woman Barbara Mackie by Gary Stephen Krist, this is the only film officially "authorized" by Mackie. It is based on her 1971 autobiography involving her ordeal of being buried alive for 83 hours inside a capsule made of wood and fiberglass. What's little known is that Krist only served ten years for his crime and then went on to become a doctor and write his own autobiography. Krist was arrested multiple times after his release for the Mackie kidnapping, including a conviction for human trafficking and cocaine smuggling.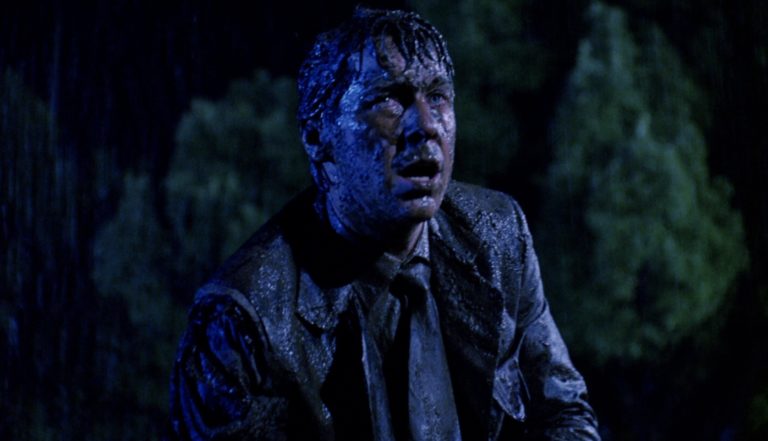 This TV movie made for the USA network stars Tim Matheson of Animal House fame as a henpecked husband in a loveless marriage with his unfaithful wife, played by Jennifer Jason Leigh. She and her boyfriend (William Atherton) inject Matheson with a lethal poison from a puffer fish and bury him under the mistaken impression that he's dead. But like so many others in this cinematic dilemma, Matheson manages to dig himself out of the grave and goes on a campaign of vengeance. Matheson directed the 1997 sequel, Buried Alive II. Tales of Terror wrote, "Buried Alive is the purest form of psychological thriller, with a pinch of horror….Buried Alive was made for TV, but it doesn't look like it. It's a neat, perfectly-paced, and well-written thriller."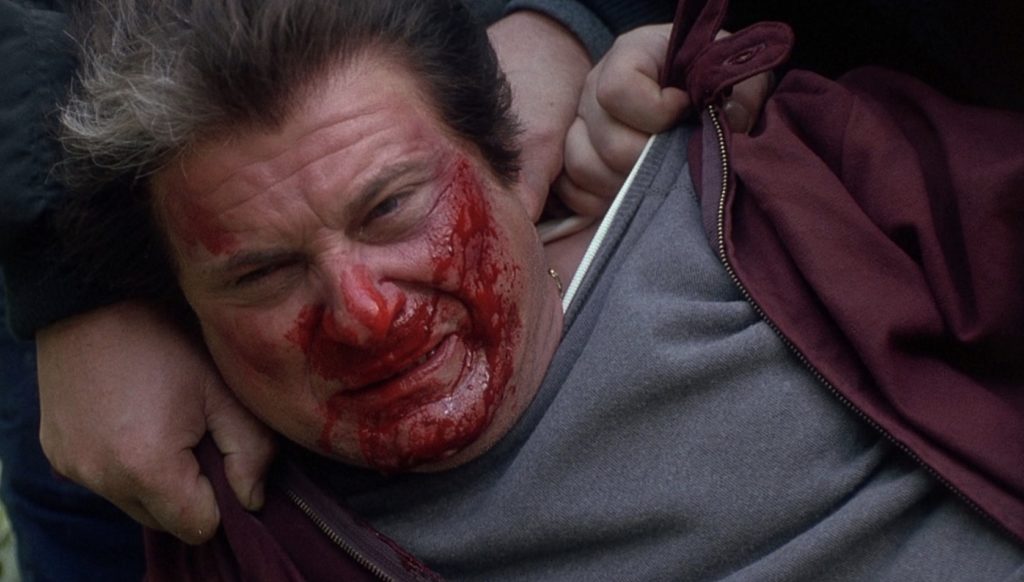 Although it's not exactly central to the plot, this Vegas-based and mob-themed film by Martin Scorsese involves a crumbling Mafia empire that is wilting under FBI pressure. Mob bosses track down two presumed traitors named Nicky and Dominick, agree to meet them in an Indiana cornfield, then beat them with baseball bats, pour quicklime over them, and bury them alive in a shallow grave. This may be the only Hollywood movie that acknowledges that live burial is a common torture method for La Cosa Nostra.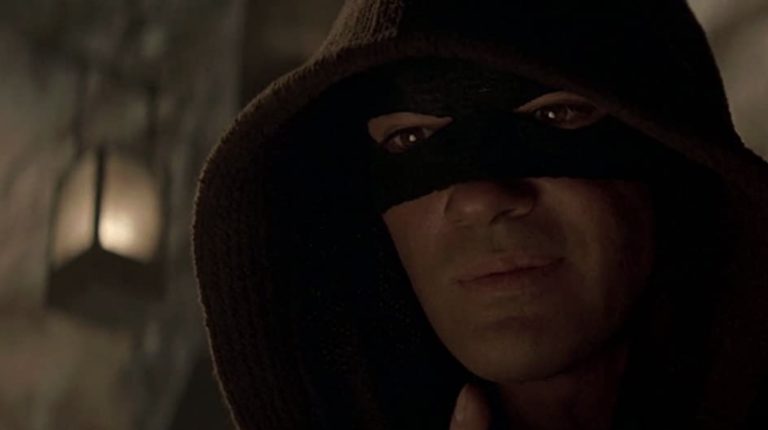 In this interesting twist on the Zorro legend, the title character is split into two characters—Zorro himself, who is played by Anthony Hopkins as an aging swashbuckler who is far past his prime, and his young protege and selected successor, who is played by Antonio Banderas. In one part of the film, Hopkins's character murders a prison guard, steals his knife, plays dead, and is buried in an open grave and covered with dirt before we see a dagger-clutching hand emerge from the dirt. According to the AV Club, "Too old by the time he finally escapes, Hopkins recruits an eager protégé, the ideally cast Antonio Banderas, to set things right. Both Zorros are obviously having a good time, with Hopkins enunciating beautifully (he makes a meal out of 'Esperanza')."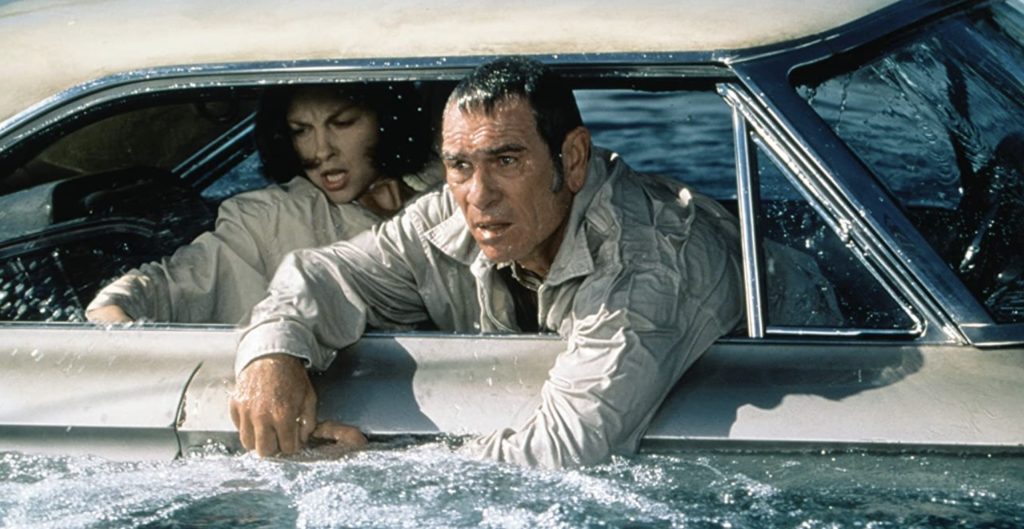 In a classic case of casting against type, the normally wholesome and demure Ashley Judd is cast as Libby, a woman who is framed for the murder of her husband, who is actually still alive. After paroling, she tracks him down and—since she has already been convicted of his murder—realizes that she can't be tried again if she actually kills him this time because it would legally constitute double jeopardy. But after she finds him, he overpowers her, knocks her out, and locks her next to a real-life corpse in a mausoleum in New Orleans, where all bodies are buried above ground since the city itself sits below sea level. But Judd uses her lighter to spot the hinges on the tomb, and she blasts them away with her gun, then resumes her murderous plot against her husband.
In yet another twist on the real-life abduction and live burial of Barbara Mackie, Laila Robbins stars as the daughter of a rich businessman who gets kidnapped and buried underground with only a 24-hour oxygen supply while being held for ransom. Adrien Brody stars as the kidnapper. Critic Lawrence Van Gelder wrote in The New York Times: "As long as 'Oxygen'' sticks literally to its guns, then this little thriller about a race to save a woman snatched from a Manhattan street in broad daylight and buried alive by a kidnapper has its merits….Still, a cast of good actors, led by Maura Tierney as the detective, Adrien Brody as her adversary, Laila Robbins as the terriified [sic] kidnap victim and James Naughton as her wealthy, impatient husband bear watching even as the tension and suspense leak out of 'Oxygen.'"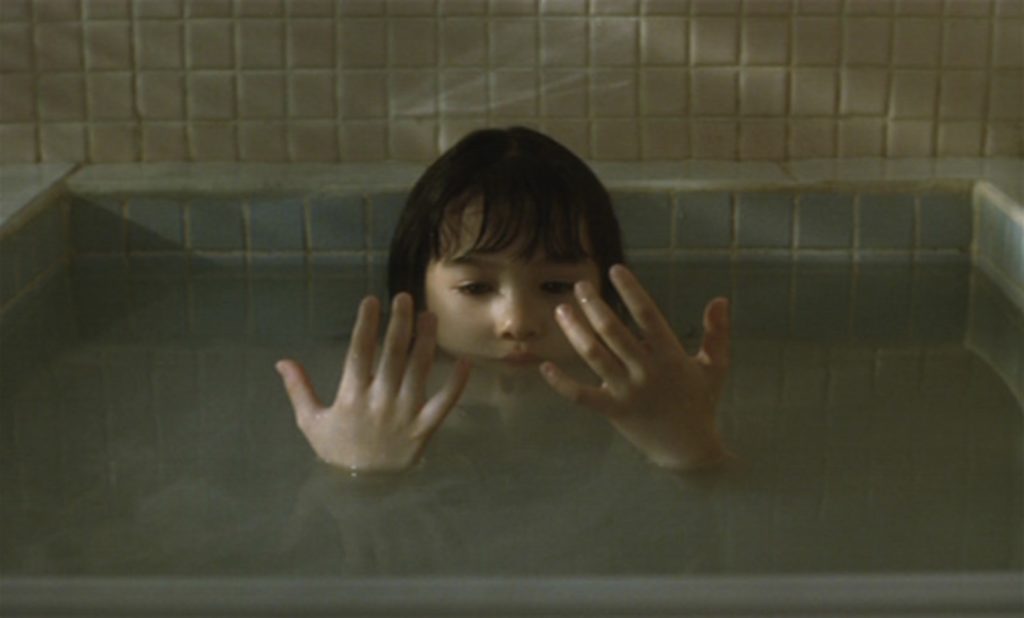 This surrealist film by Japanese writer and director Katsuhito Ishii was originally released in Japan under the title Cha no Aji. Ishii described this project as a demented turn on Ingmar Bergman's Fanny and Alexander. It involves the extremely strange life of a Japanese family; such strangeness includes a six-year-old daughter who is constantly trailed and tormented by a doppelgänger twice her size. The only buried-alive angle comes in one scene where the character of Sachiko rescues a man who'd been buried alive in mud.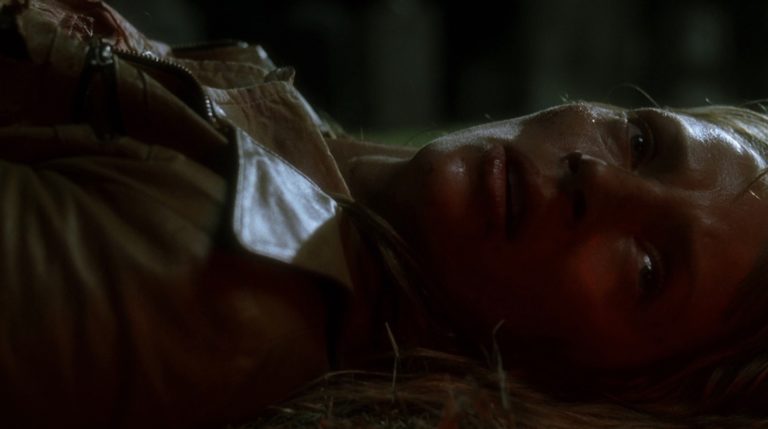 In this, the second half of Quentin Tarantino's two-part homage to sword-wielding Asian action movies, Uma Thurman reprises her role as The Bride, who is on a never-ending quest to seek vengeance against her former employer and lover Bill. In one scene, an intended victim (Michael Madsen) shoots her with rock salt, injects her with a sedative, then buries her alive in a coffin in someone else's grave—a procedure that Madsen's character describes as a "Texas funeral." However, the indefatigable Bride uses her martial-arts skills to punch her way out of the coffin and dig herself back up above ground—to the tune of an Ennio Morricone soundtrack, no less.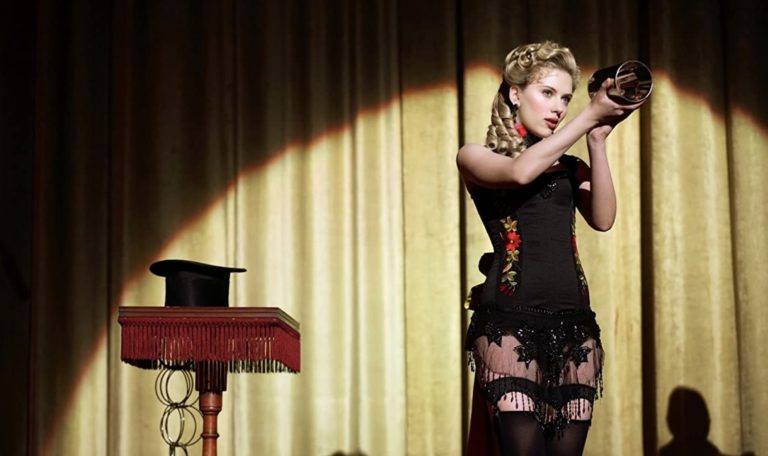 After a magic trick results in a death, two stage magicians played by Hugh Jackman and Christian Bale become locked in a struggle of one-upmanship. Their rivalry knows no bounds, and they seemingly don't seem concerned whether they destroy themselves in their quest to destroy their opponent. Along the way, Michael Caine teams up with Jackman to kidnap Bale's assistant, nail him inside a coffin, and bury him alive, with the "ransom" being a codeword Bale knows that will unveil the secret of one of his magic tricks. Rock star David Bowie makes a cameo as legendary electrical pioneer Nikola Tesla.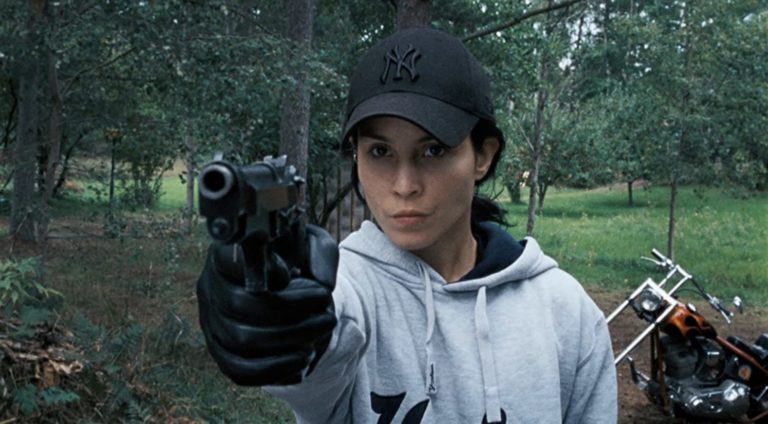 Originally released in Swedish with the title Flickan som lekte med elden, a female hacker named Lisbeth teams with a male journalist named Michael to get to the bottom of a sex-trafficking syndicate. Along the way, Lisbeth gets falsely accused of three murders. She goes on the run but is shot. Her would-be killers, assuming she is dead, bury her in a shallow grave. But Lisbeth is alive and digs her way out. The story creepily parallels the life and death of Swedish author Stieg Larsson, who was murdered while living with his girlfriend.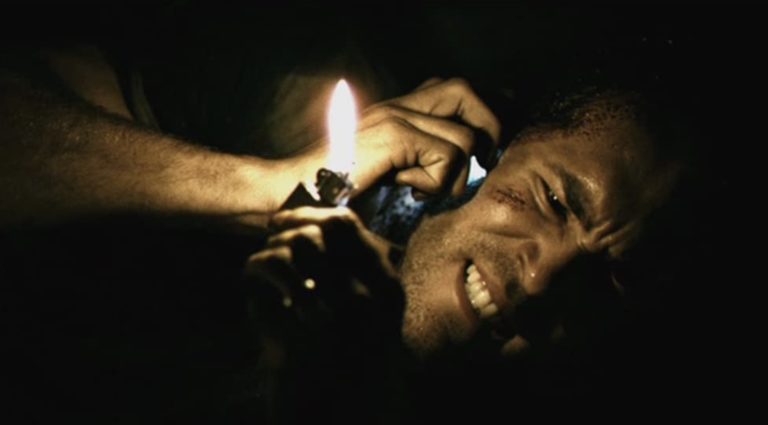 Ryan Reynolds stars as Paul, a US truck driver working in Iraq. He is ambushed by Iraqi rebels and awakes to find himself buried alive in a coffin somewhere in the midst of the scorching Iraqi desert. He only has a lighter and a cell phone in his quest to save himself from this horrific demise. Reynolds said that as filming progressed, he grew more and more claustrophobic, especially since the coffin had gradually filled with sand during filming. He said the last day of shooting was "unlike anything I experienced in my life, and I never ever want to experience that again."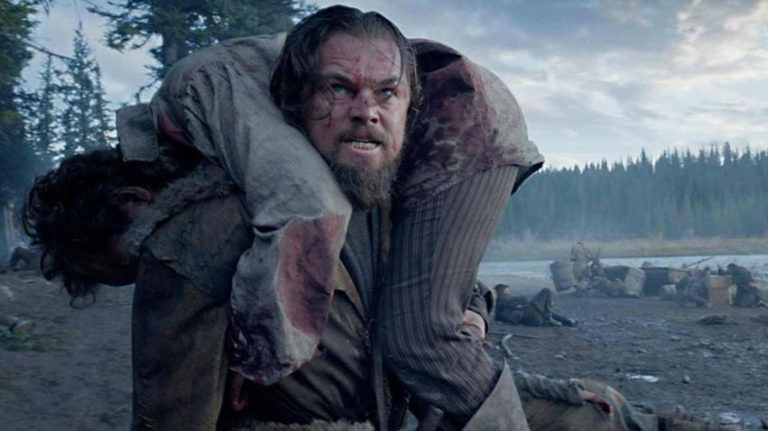 In what he's described as the most difficult acting assignment of his career, Leonardo DiCaprio stars as a fur-trading frontiersman in the 1820s who gets mauled by a bear and left for dead by the rest of his team. Partially as a sign of disrespect and indifference, they bury him in a shallow grave and vamoose. But while sleeping in his living grave, his character dreams of his wife, which provides him the will to live again. He summons the strength to dig himself out of the grave and embark on a survival journey through the harsh American wilderness.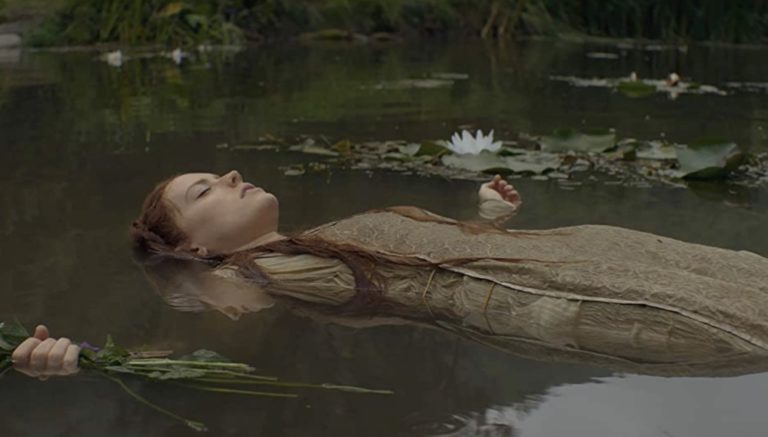 This is a reimagining of Shakespeare's Hamlet told from the perspective of his lover Ophelia. Clive Owen plays Hamlet and Naomi Watts plays Ophelia. She intentionally swallows some poison whose effects mimic catalepsy and is buried alive in a coffin. Horatio rescues her from the coffin. As the cobwebs clear from her mind, she obtains an antidote to the poison from a witch, chops off her long hair, and returns to Hamlet's palace disguised as a man.