Dario Argento Movies — The 'Master of Horror'
Dario Argento (1940 – ) work spans directing, criticism, screenwriting, acting and producing and is most famous for gallo films. Here are all Dario Argento movies ever made.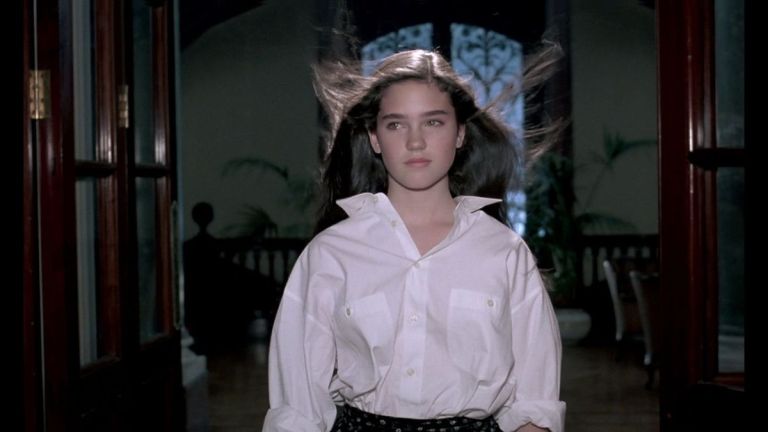 Italian filmmaker Dario Argento (born 1940) is one of the most influential horror directors of all time, earning himself the nicknames "Master of the Thrill" and "Master of Horror."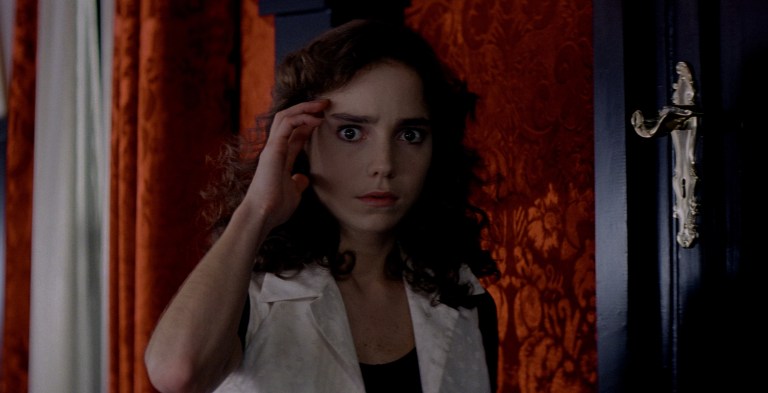 With his focus on striking and surreal visual imagery as well as graphic violence, Argento can be seen as a bridge between the 1960s horror films of Alfred Hitchcock and the American slasher movies of the late 1970s and 1980s. John Carpenter, director of 1978's seminal Halloween, has directly cited Argento's early work as an influence on his style.
Argento is a renowned master of the Italian horror genre known as giallo, which means "yellow" in Italian. The genre gained its name from the predominantly yellow backgrounds on the covers of paperback pulp fiction books, mostly translations of novels by American and British authors such as Ellery Queen, Edgar Allan Poe, Raymond Chandler, and Agatha Christie, that gained popularity in Italy starting in the 1930s.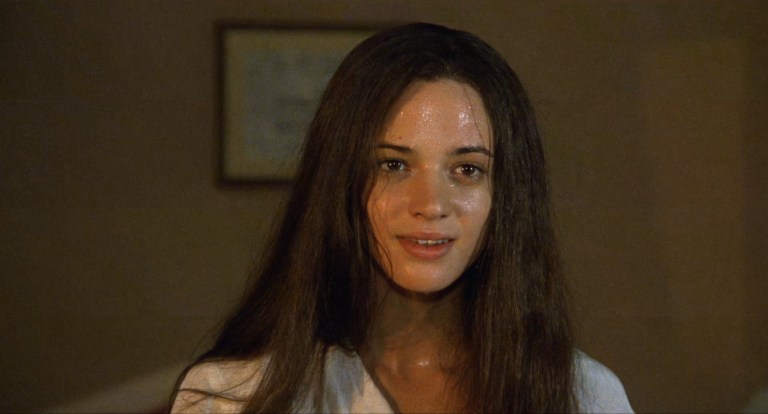 Also known as Spaghetti Slashers, Italian giallo films are characterized by explicit gore perpetrated by a mysterious killer, usually shown masked—or in many cases, only shown by a gloved hand—until his or her identity is revealed at the very end, and usually as a primary character that no one suspected was the killer.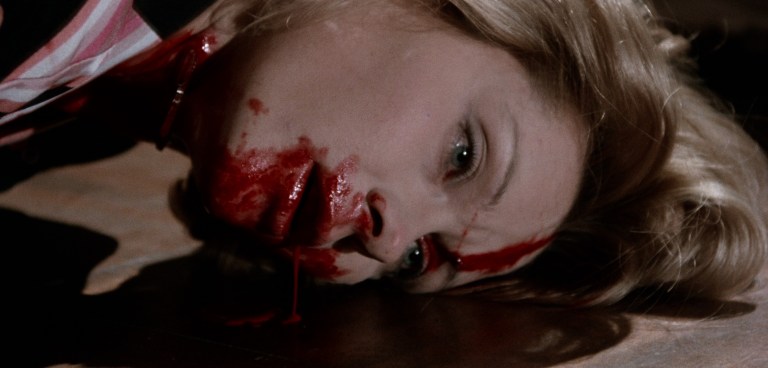 Argento's 1975 film Profondo rosso (Deep Red) is widely considered to be the best giallo ever made. Although the genre is generally thought to have been kicked off with Mario Bava's 1963 The Girl Who Knew Too Much, the roaring financial success of Argento's debut as a director, 1970's The Bird With the Crystal Plumage, is the film that ushered in the golden age of giallo. Combined with his next two films—The Cat o' Nine Tails and Four Flies on Grey Velvet, both made in 1971—Bird With the Crystal Plumage is part of Argento's "Animal Trilogy," so named not due to any thematic similarities but merely because they all have either mammals, birds, or insects in their titles.
As is typical of the rest of the genre, Argento's films are heavy on style and very light on plot. An accurate "plot" description of most of his films would be: "A very beautiful woman in a nightgown winds up covered in blood."
Argento is best known as a director and screenwriter. This list of his movies is arranged into two sections: one for his directing, the other for movies where he wrote the script and story. It's a comprehensive list of all Dario Argento movies.
Movies directed by Dario Argento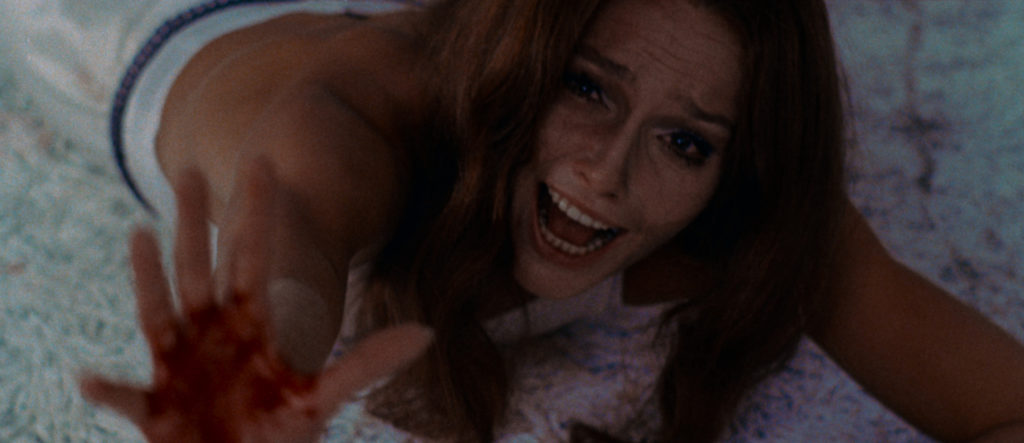 After working as a screenwriter and production assistant throughout the 1960s, Argento's first film as a director was so successful in Italy—where it was released as L'uccello dalle piume di cristallo—that it played nonstop in a Milan theater for over three years. Although uncredited, the film is an adaptation of Fredric Brown's 1949 pulp-fiction novel The Screaming Mimi. American actor Tony Musante stars as Sam Dalmas, a writer expat living in Rome who witnesses an attempted murder of a female art gallery owner by a man wearing a raincoat and black leather gloves. When Sam and his girlfriend begin investigating the murder attempt, they find themselves targeted by the killer. Roger Ebert noted Argento's deft use of atmospherics to build tension: "We keep following the hero into dark rooms, dark alleys, dark parks, dark corridors and dark basements. And that makes us very uneasy. I looked around the theater and found people unconsciously leaning forward in their seats and sort of squinting, as if they could vicariously spot any danger to the hero. That's what thrillers are all about, of course, and that's why this one works."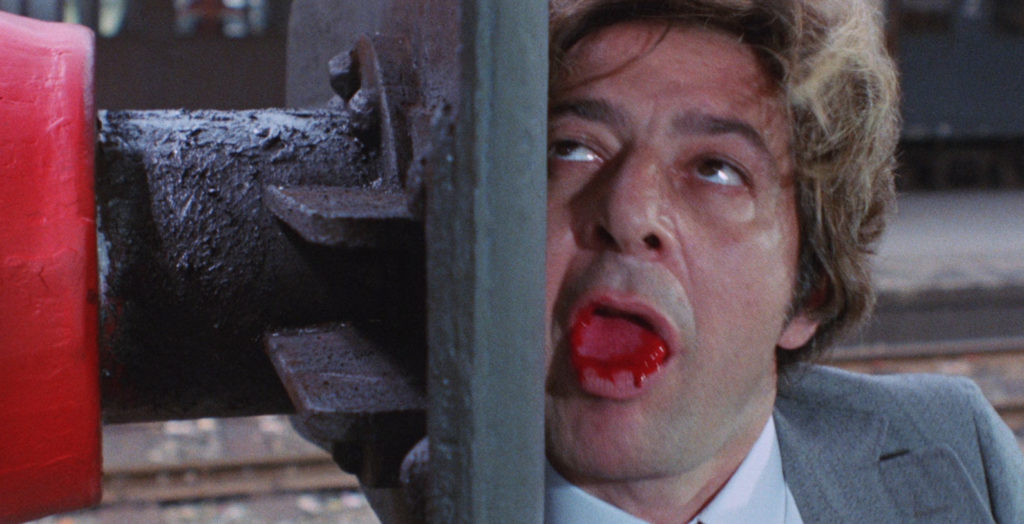 Although one of Argento's biggest box-office hits, the director has named The Cat o' Nine Tails (Il gatto a nove code) as his least favorite of all the films he's made. The title refers neither to a cat nor a bullwhip, but to a web of murder suspects that becomes increasingly complex the further the movie proceeds. The plot involves a retired blind man named Franco Arno (Karl Malden) who teams up with a newspaper reporter named Carlo Giordani (James Franciscus) to solve a series of murders that they increasingly suspect may be linked to a pharmaceutical company using experimental drugs on people with XYY chromosomes to discover if they can alter their propensity to criminality. The Terror Trap called it a "Handsome film helped by a beautiful score from the amazing Ennio Morricone…a work as haunting as anything he did for the famous spaghetti westerns."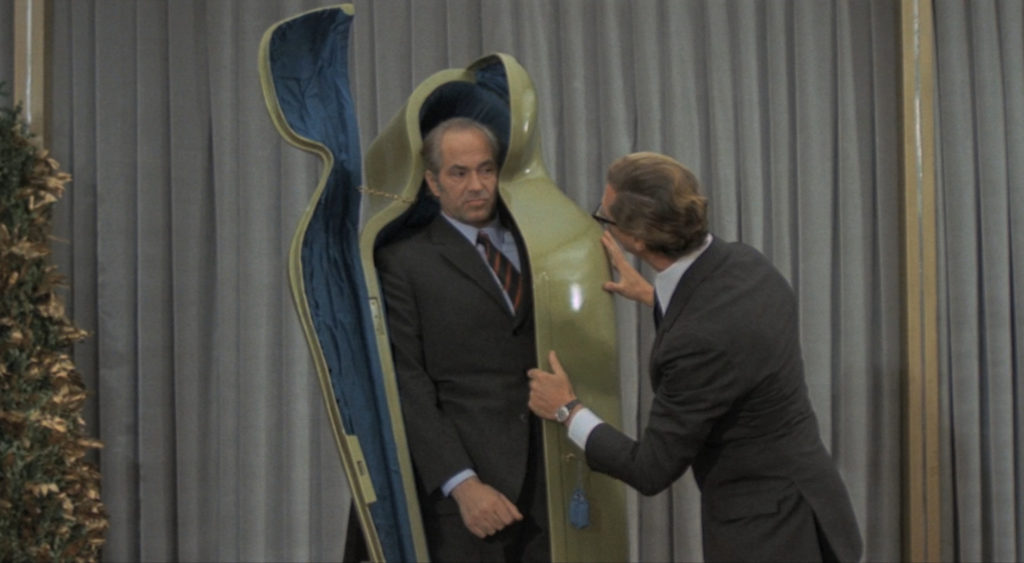 The film's title—it was released in Italian as 4 mosche di velluto grigio—refers to the concept of "optography," the idea that the human eye "records" the last image it sees before it dies, which in this case was a blurry rendering of a pendant the killer wore bearing the image of a fly. The basic plot involves a rock 'n' roll drummer who realizes he's being stalked by a man wearing sunglasses. When he finally confronts him, the man tries to stab him, but in the scuffle, the drummer winds up accidentally stabbing the man to death—only to realize it was all being photographed and that he's being framed for murder. The Terror Trap writes, "As a giallo of its form, Four Flies is singularly without flaws, spiraling confidently towards the obligatory revelation of the killer, dotted with the required murders necessary to its conclusion." However, American humorist Fran Liebowitz has stated unequivocally that it's the worst film she's ever seen.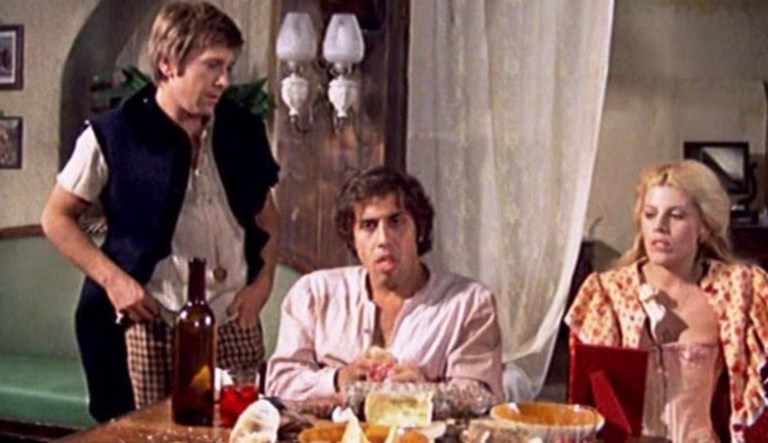 Released in Italy as Le cinque giornate (The Five Days), this film stands out from the rest of Argento's oeuvre because it is a historical comedy rather than a horror film. It is set in the Italian city of Milan during 1848's anti-Austrian revolt. Adriano Celentano—who is considered by some to be the "original rapper" due to his bizarre 1973 song "Prisencolinensinainciusol," a novelty gibberish song meant to sound what English sounded like to Celentano's ears—stars as a small-time criminal who along with a baker gets wrapped up and involved in this momentous historical event without even trying. According to Frank's Movie Blog, "Fans of the director will find it worthwhile, but the script is so insular that non-Italians are likely to find most of it uninvolving."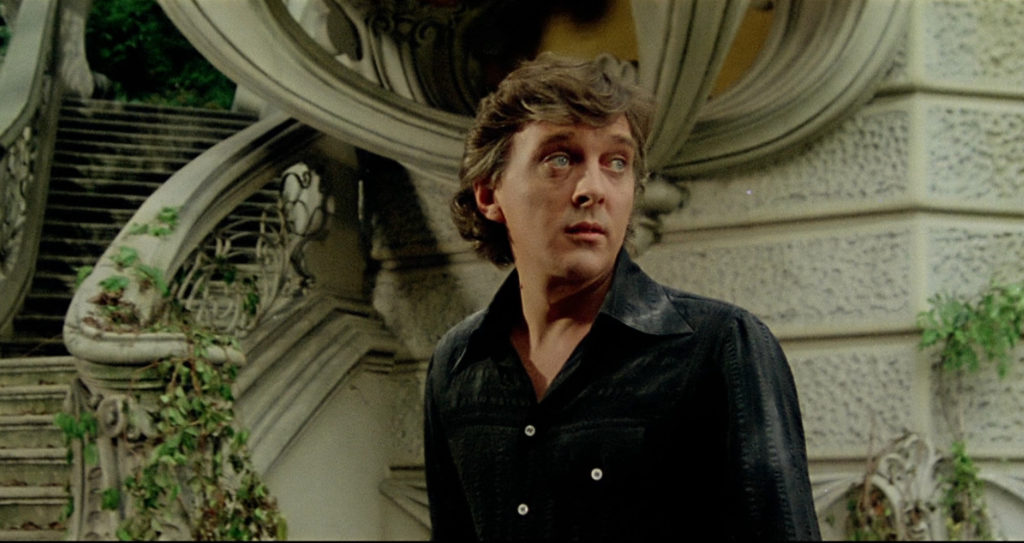 Released in Italy under the title Profondo rosso—which is also the name of a horror memorabilia store in Rome that Argento co-owns—Deep Red was also released with the titles Dripping Deep Red, The Hatchet Murders, and The Deep Red Hatchet Murders. Punctuated by a gripping soundtrack by progressive rock band and frequent Argento collaborators Goblin, Deep Red opens with a scene of a beautiful blonde psychic at a paranormal convention who suddenly realizes to her horror that someone is going to kill her. After she is ushered to safety in her building later that evening, a jazz pianist (the big-eyed English mod icon David Hemmings) witnesses from the street as the psychic is impaled on broken glass shards in the window of her apartment. He teams up with a beautiful young feminist reporter (Argento's then-wife Darla Nicolodi, who is Asia Argento's mother) to figure out who the person in a long brown trench coat was that was seen exiting the psychic's building shortly after the murder. Pop Matters wrote that Deep Red "is as pure an example as you'll find where the sleekness of the camerawork and color design is matched by the queasy bursts of brutality, and where the screenplay's twists reflect the sexual twists of the tortured mind whose guilt is finally revealed via double-whammy."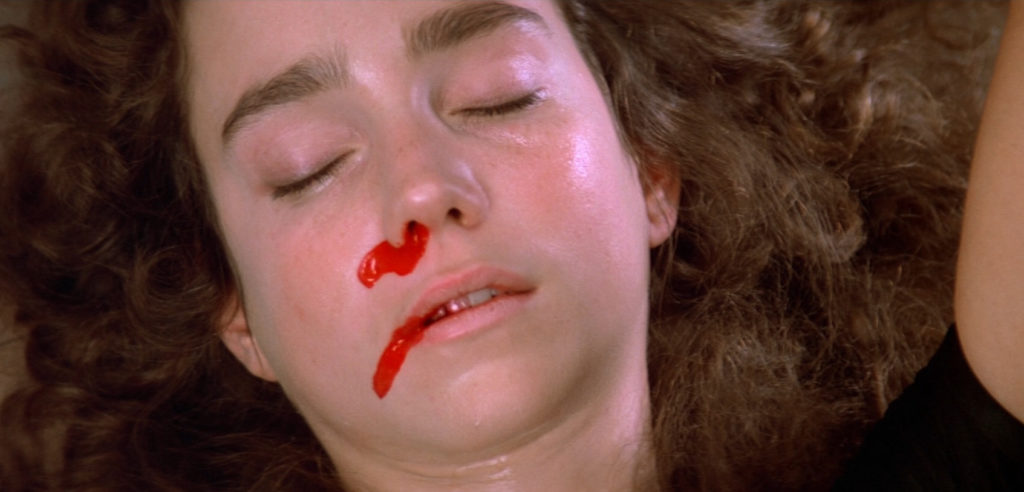 The first Argento film to be marketed heavily in the USA—a prominent TV ad promised that "You can run from Suspiria, you can hide from Suspiria, but you cannot escape Suspiria"—Suspiria would be the first film in Argento's "Three Mothers Trilogy," followed by 1980's Inferno and 2007's The Mother of Tears. The films deal with Italian folklore about three witches who seek world domination and destroy anyone who finds out where they live. The plot involves a female American ballet student who enrolls in a world-renowned German academy, only to realize that the "school" is merely a front for a sinister cult engaged in ritual murder. The infamous "maggot" scene, where seemingly millions of maggots fall from the ceiling onto the students, was filmed as the crew dropped rice grains on the actresses from above. Suspiria is unique among films in that none of the actors were recorded in audio during the filming—their voices were all dubbed in, in different languages to suit the target market, after filming. In New York magazine, John Simon slammed Suspiria as "a horror movie that is a horror of a movie, where no one or nothing makes sense: not one plot element, psychological reaction, minor character, piece of dialogue, or ambience."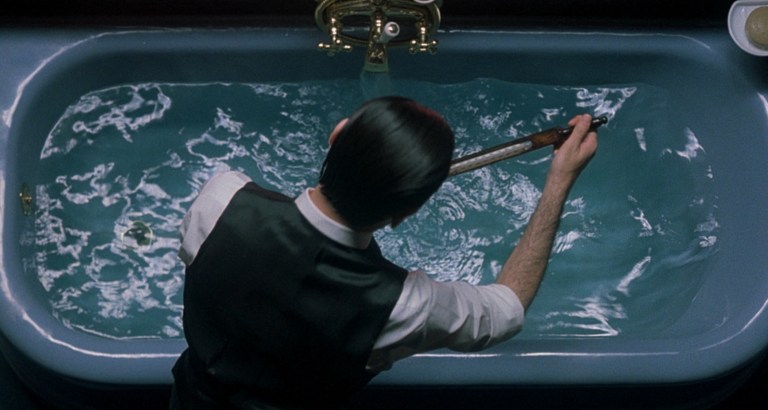 The film is set three years after the events of Suspiria and serves as the second installment in Argento's "Three Mothers Trilogy." A lonely poetess who lives in New York City named Rose Elliott (Irene Miracle) finds an antique book called The Three Mothers, which tells the saga of three evil witches who seek to rain misery upon the world. The book mentions that the witches live in separate homes in Rome, Freiburg, and New York, and Rose gradually begins to suspect that she lives in the same New York building as one of the three witches. Along with her Rome-based brother, Rose seeks to thwart the witches' murder spree. According to Irene Miracle, Mario Bava directed all of her scenes, and Argento was barely involved as a director. Rumor has it that Argento was sidelined for much of the film with a severe case of hepatitis.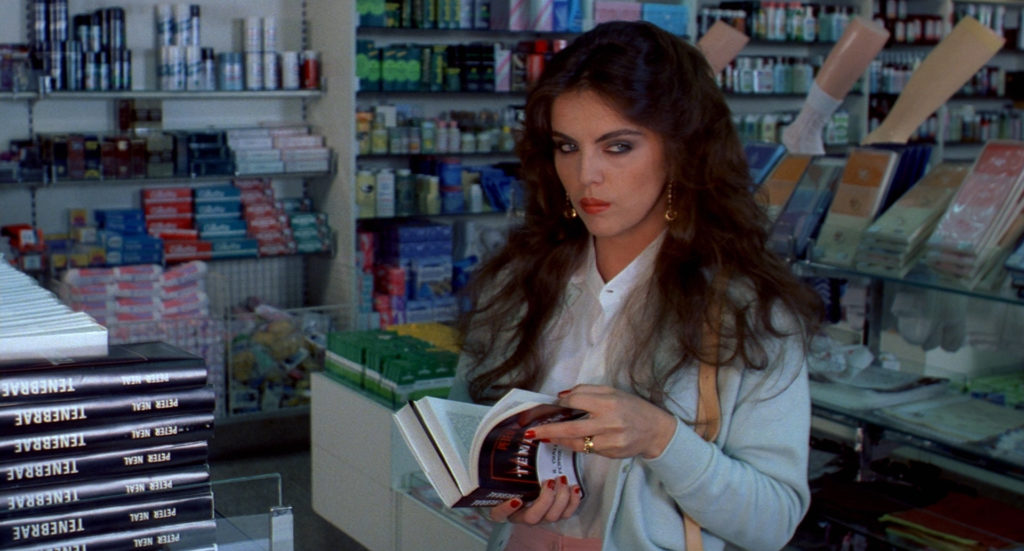 Released in Italy as Tenebre, the title refers to the name of a novel that American writer Peter Neal (Tony Franciosa) is working on while exiled in Rome. Neal finds himself stalked by a serial killer who, one by one, begins picking off everyone involved with the making of Neal's latest novel. According to rumor, Argento made the film after being stalked by an obsessive fan. Teenage Frankenstein writes, "Tenebre is Dario Argento's most successful and fascinating Giallo, more than the overpraised Deep Red….The film is a series of grisly and ornate murder set pieces, the kind of which would be the center of controversy throughout Argento's career."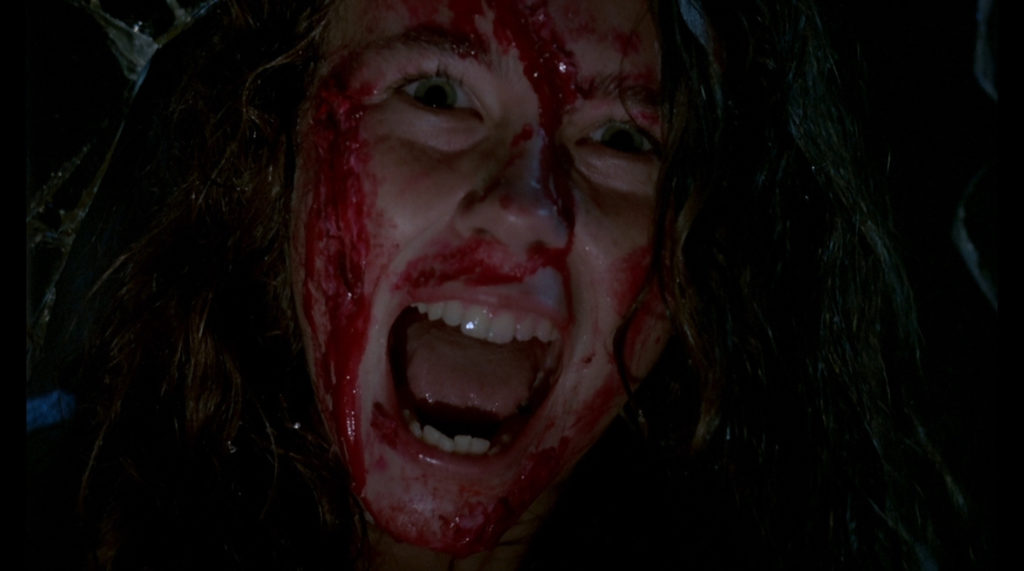 Jennifer Corvino (Jennifer Connelly) is the teenage daughter of a famous actor who arrives at a tony Swiss boarding school. She also has the ability to telepathically communicate with insects. She also has a problem with sleepwalking, which her physician says can potentially lead to a split personality. When she learns that a serial killer is slaying people in a nearby village, she teams up with an entomologist to help him solve the murders. Bloody Disgusting wrote, "If mutant children, chimpanzees wielding straight razors and psychic communication with insects isn't your cup of tea, I guarantee that watching this terrific mess will change your mind and make you wish its sequel wouldn't have been cancelled." The director himself often says that this is his personal favorite of all his films. Jennifer Connelly also had the tip of one of her fingers bitten off by the chimpanzee during filming; she was rushed to a local hospital and had it reattached.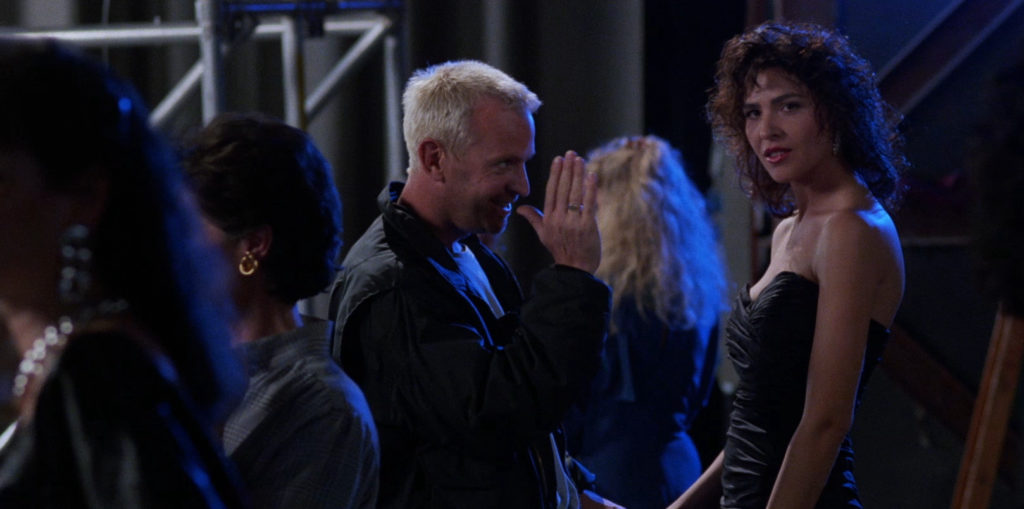 Also released simply as Opera, this film stars Cristina Marsillach as Betty, a young opera singer who finds herself being stalked by an obsessed fan. One by one, the people around her—her boyfriend, her production assistant, her costume designer, and her agent—get killed. Police detective Alan Santini (Urbano Barbarini) claims to be a fan, offers protection, and gets close to her—but is he so uncomfortably close that it's suspicious. The grisly torture device that's used throughout the film—pins placed under a person's eyes to force them to keep their eyes open at all times—came as an idea to Argento after he noticed that audience members often would look away during the goriest scenes in his films. Monster Zine writes: "Any horror film set in an opera house must pay homage to that tale of alienation and obsession, The Phantom of the Opera. In Opera, Argento doesn't revive that story so much as rewrite it. The original Phantom wanted his diva to become a great singer; Argento's masked fanatic has a more complicated agenda: to force a young singer to share his experience as he kills her friends in various inefficient but picturesque ways."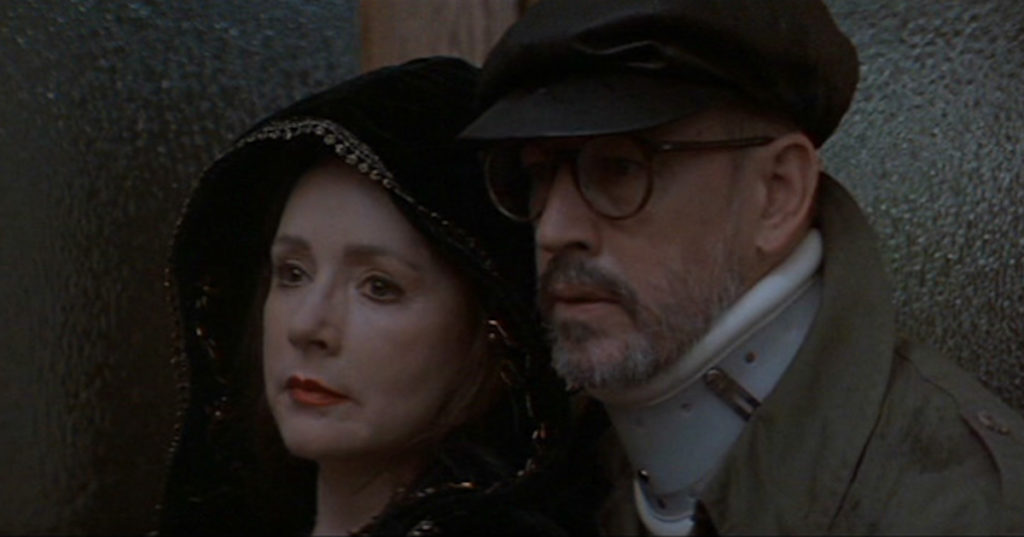 In Dario Argento's first American production, his daughter Asia stars as Aura Petrescu, an anorexic runaway teenage European girl who fled an asylum after she witnessed her parents being decapitated by a serial killer. She meets David Parsons (Christopher Rydell), a young man who offers to help her find the killer—who only seems to murder people while it's raining—before the killer finds them. Asia's character is inspired by her real-life half-sister Anna, who suffered from anorexia and would die in a scooter accident the year after Trauma was released.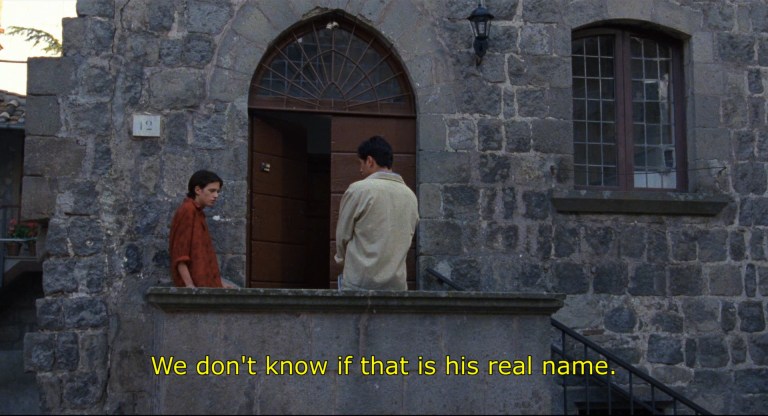 Argento's daughter Asia stars as young Italian police detective Anna Manni, who is assigned to find the secret as to why a rapist serial killer spared his three rape victims in Florence from death. But Anna suffers from "Stendhal's Syndrome," which is a real psychiatric disorder in which people suffer dizziness and hallucinations when they gaze upon artistic masterpieces. To Anna's extreme misfortune, the killer lures her inside Florence's Uffizi museum. Dario Argento is the only director in history who was allowed to film inside the Uffizi. He also says that he suffered from Stendhal's Syndrome as a child—while touring Greece's Parthenon with his parents, he became disoriented and lost for hours. Legendary composer Ennio Morricone wrote the soundtrack, which allegedly sounds exactly the same whether played forward or backward.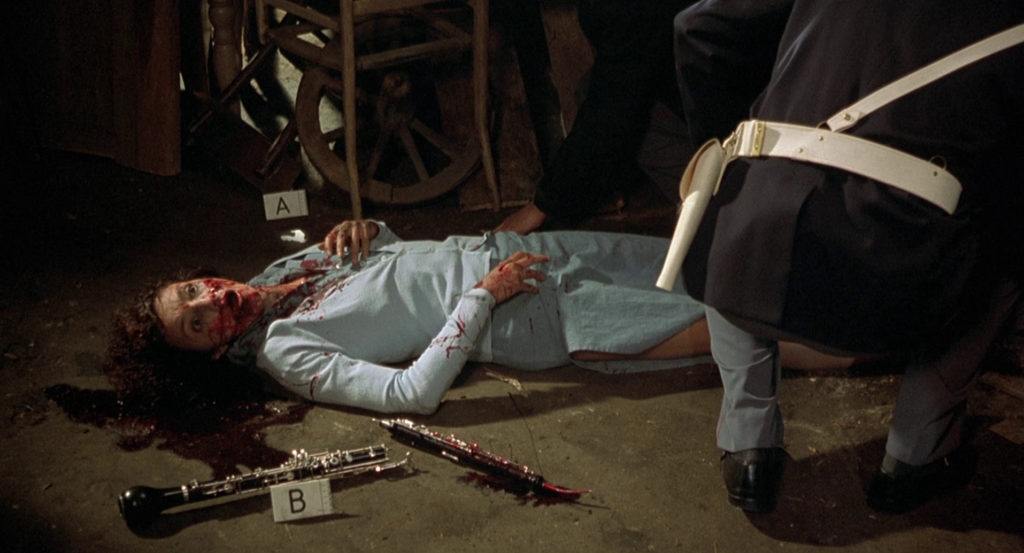 Released in Italy as Non ho sonno (I'm Not Sleepy), this film is set in Turin, Italy. In 1983, a police detective named Moretti (Max von Sydow) promised to a young boy named Giacomo: "I'll catch the killer of your mother, I'll catch him for all my life." Seventeen years later, the killer has returned, dispatching a pair of prostitutes. Giacomo is now a grown man and agrees to team up with Moretti to find the killer. After perusing a morbid children's book called The Death Farm, Moretti realizes that the killer is modeling his slayings on the animal-themed murders in the book. Dario and Asia Argento had planned to make a sequel called Occhiali Neri (Black Sunglasses) but could never find the funding for it.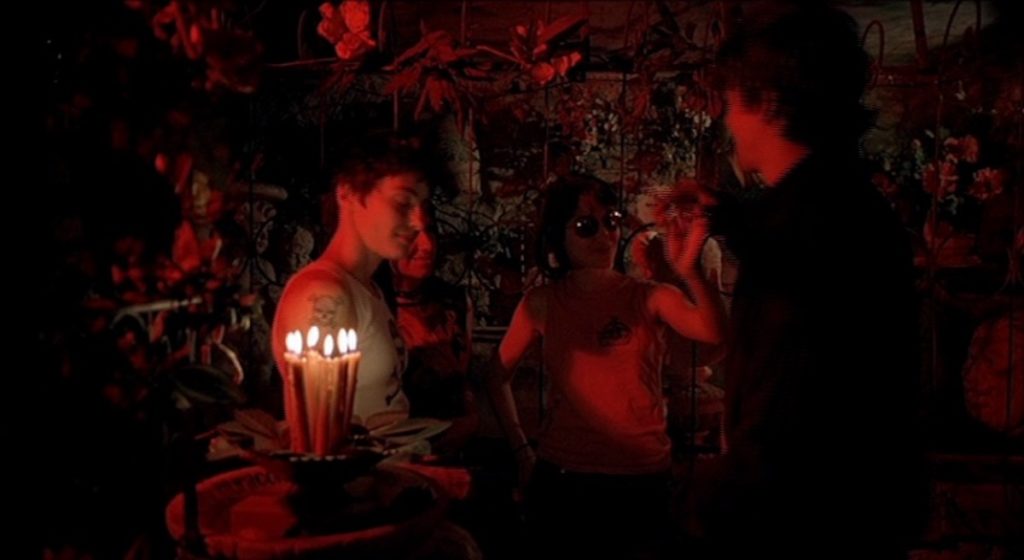 A policewoman in Rome named Anna Mari (Stefania Rocca) joins forces with British Interpol agent John Brennan (Liam Cunningham) to nab a serial killer who taunts police by kidnapping and killing young women and slitting their throats, all while broadcasting it to authorities over a web cam. A review in Variety states,"Italo horror master Argento deals a surprisingly tame hand in 'The Card Player,' in which a serial killer forces the police to play video poker for his victims' lives. Without a drop of blood and most of the violence off-camera, pic is short on the Grand Guignol thrills for which the director is famous."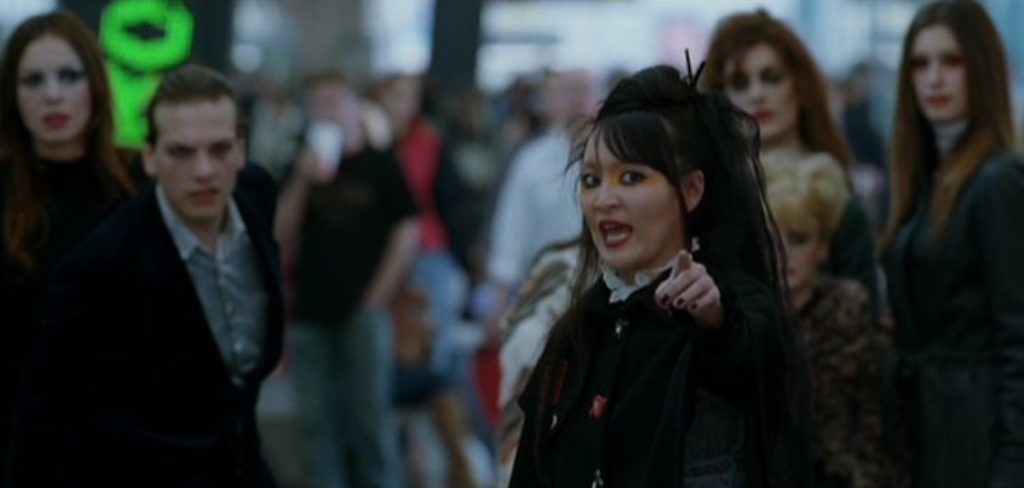 Released in Italy as La terza madre (The Third Mother), this is the third and final installment in Argento's "Three Mothers Trilogy," which was based in part on characters from "Levana and Our Ladies of Sorrow", a section of Thomas De Quincey's book Suspiria de Profundis. Asia Argento stars as Sarah Mandy, an American art student in Rome who opens an ancient urn in a cemetery and unwittingly conjures the reappareance of Mater Lacrhymarum—the Third Mother—and sets off a series of robberies, rapes, and murders. Sarah must summon her own innate magical powers to counteract the return of the Third Mother. Daily Film Dose writes, "'Mother of Tears' in technically the final part of his 'mothers' trilogy following 'Suspiria' and 'Inferno', so for Argento enthusiasts there's may be some inside references to cling onto – for everyone else, it's just some T&A and some blood."
In an attempt to return to the genre which made him famous, Argento for the first time in his career directed a film in which he didn't write the screenplay. In the Italian town of Torino, an American model named Celine (Elsa Pataky) is kidnapped by a taxi driver en route to meet her sister Linda (Emmanuelle Seigner) at her apartment. Police detective Enzo Avolfi (Adrien Brody) fears that Celine may have been abducted by a vicious serial killer known only as "Yellow." When a kidnapping victim survives and tells Enzo and Linda that his skin was yellow, they assume that the killer has jaundice. Without spoiling the plot, let's just say that the killer is one of the main characters. Actor Vincent Gallo was originally cast to play Yellow but dropped out after learning that Linda was going to be played by his ex-fiancee Asia Argento. Ironically, Asia also dropped out after becoming pregnant.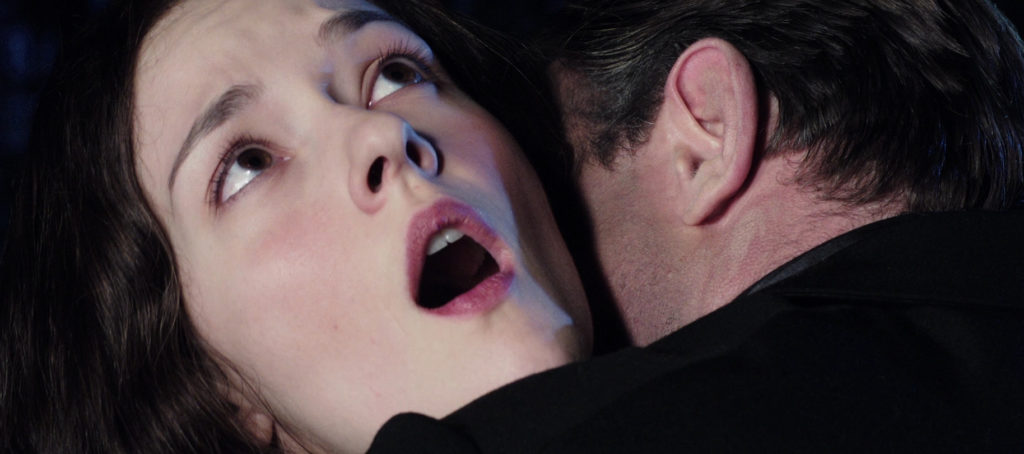 Argento takes his turn at adapting Bram Stoker's classic novel, with the biggest difference being that this film takes place entirely in Transylvania. In this, the fifth cinematic collaboration between Argento and his daughter Asia, the action focuses on Jonathan Harker's attempts to catalog Dracula's extensive library, and then to escape Dracula's castle after he falls under the Count's spell. Screen Anarchy writes, "Nearly every critic and cinephile has scratched their heads and hazarded guesses as to why the horror master who brought us elegant, stylish classics like Suspiria and Deep Red has become such a shadow of his former self….The only thing about the movie that seems to genuinely excite Argento (besides boobs) is the fact that his Dracula has the ability to shapeshift into any animal he wants. He turns into an owl, a wolf and at one point… wait for it… A GIANT CGI PREYING MANTIS!" Also released as Dracula: Dario Argento at the Slash Film Festival and Dracula 3D.
Movies written by Dario Argento
Although Dario Argento is most famous as a horror director, he got his start in filmmaking as a screenwriter and has continued to write screenplays throughout his career. Several of his early films were so-called "Spaghetti Westerns," which received that moniker because they were Italian productions filmed in the Spanish desert but ostensibly modeled on American Western movies. Here are some of the films on which Argento served as a screenwriter—except, perhaps, Cemetery Without Crosses, whose director insists Argento did not write despite the film's credits listing him as a cowriter.
Pardon, Are You For or Against? (Scusi, lei è favorevole o contrario?, 1966) Argento was one of three screenwriters in this comedy film about divorce, which was still illegal in Italy at the time.
Today We Kill…Tomorrow We Die! (Oggi a me… domani a te!, 1968) in this Spaghetti Western, Argento cowrote the film with director Tonino Ceri. The plot involves a wrongly convicted man who seeks revenge against the Comancheros who killed his wife and framed him for the crime.
The Hell Before Death (Comandamenti per un gangster, 1968) after his sister was murdered during a large shipment of gold, a former gangster seeks to avenge his sister's death.
Once Upon a Time in the West (C'era una volta il West, 1968) in this epic Spaghetti Western film by Sergio Leone and starring Charles Bronson, Argento cowrote the screenplay along with Leone and legendary Italian director Bernardo Bertolucci.
Cemetery Without Crosses (Une corde, un Colt…, 1969) in this Spaghetti Western that was shot in the Spanish desert, Argento receives a screen credit as a cowriter, although director Robert Hossein insists that Argento was not involved in the film at all.
The Love Circle (Metti, una sera a cena, 1969) based on a play by Giuseppe Patroni, this film stars French actor Jean-Louis Trintignant as a playwright who fantasizes about an affair between his wife (Florinda Bolkan) and his best friend Max (Tony Musante), unaware they've already been having an affair for years.
Battle of the Commandos (La legione dei dannati, 1969) in this WWII drama, an Irish colonel whose entire platoon has just been killed by German troops teams up with an American explosives expert to seek vengeance against the Nazis. Also released in English as Legion of the Damned.
The Five Man Army (Un esercito di cinque uomini, 1969) this Spaghetti Western stars Peter Graves as a member of a group of men who are assigned to rob a train of gold during the Mexican Revolution. Argento cowrote the script along with Marc Richards.
Dawn of the Dead (Zombi, 1978) this zombie classic by George A. Romero featured a soundtrack cowritten by Argento and his longtime musical collaborators Goblin. Argento also oversaw the translation of the film into Italian.
Martin (Wampyr, 1978) as with Dawn of the Dead, Argento collaborated on the soundtrack with Goblin and helped translate the film for the Italian market. The plot involves a young man who is convinced he's a vampire.
Demons (Dèmoni, 1985) Argento produced this film directed by Lamberto Bava (son of legendary Italian horror director Mario Bava) and was one of four scriptwriters. The plot involves people who get invited to a mysterious screening of a horror film, only to find themselves trapped inside the theater.
Demons 2 (Dèmoni 2, 1986) in this sequel to Demons, Argento was one of five screenwriters. It also marks the film debut of his daughter Asia Argento, who was only 10 at the time.
The Church (La chiesa, 1989) also released as Demons III, director Michele Soavi insisted on rewriting the script to distance itself from the first two Demons films and set the plot in medieval Germany. Asia Argento also stars.