31 Trivia Facts About 'Jawbreaker' (1999)
"I killed Liz. I killed the teen dream. Deal with it."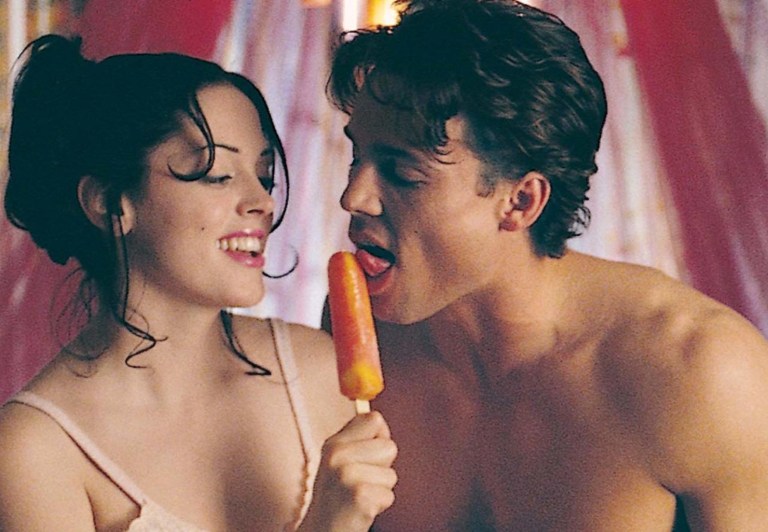 Jawbreaker (1999) is a black comedy with elements of horror (for instance, the premise, which is that a jawbreaker candy placed into the mouth of a teenage girl as a prank unintentionally suffocates and kills her) and a cult classic. A good way to think about Jawbreaker is that it's the 90s version of another teen black comedy cult classic, Heathers (1988). Both films revolve around fashion design, pastel colors, gallows humor, and a group of popular high-school girls flippantly responding to their friends' death(s).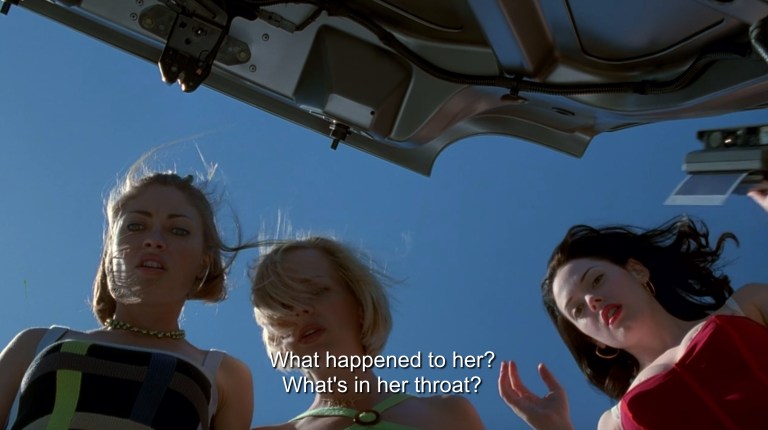 Jawbreaker was written and directed by Darren Stein. Rose McGowan, Rebecca Gayheart, and Julie Ben star with the non-speaking role of Liz Purr played by Charlotte Ayanna and a much too on-the-nose cameo from Marilyn Manson as a local scumbag who sleeps with high-school girls. Stein's original vision had been for a horror movie about a terrible accident that happens as a group of high-school girls prank a friend for her birthday, but as he wrote the script, it became more of a comedy.
The film was a commercial failure, earning $3.1 million on a budget of $3.5 million. Jawbreaker also got terrible reviews, but teen audiences disagreed with the critical response, and it is now considered a teen classic. Here are the most interesting bits of trivia and lore about Jawbreaker: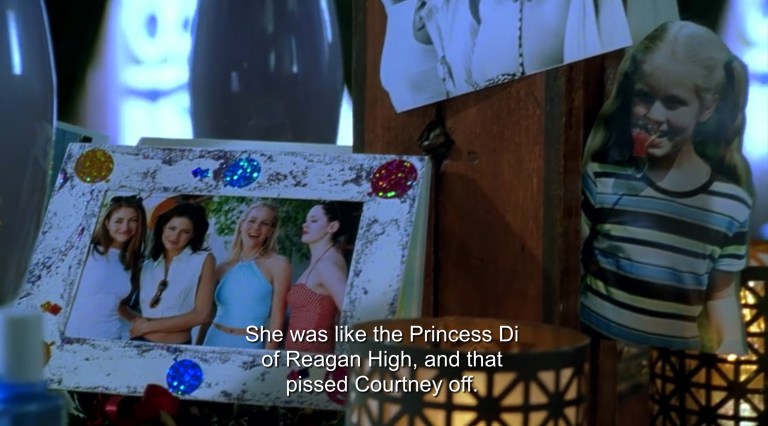 Natalie Portman and Kate Winslet were both considered for the role of Courtney Shayne, but it went to Rose McGowan.
2. Darren Stein named the main character after Courtney Love. Courtney Shayne's prom look was also inspired by Courtney Love and her band Hole's Live Through This album cover, which has more recently inspired Olivia Rodrigo's Sour.
3. Legendary horror actress PJ Soles played Liz Purr's mother. Soles is famous for playing Norma Watson in Carrie (1976) and Lynda van der Klok in Halloween (1978). Judy Greer, who plays Fern/Vylette, was in the 2013 remake of Carrie and joined the Halloween franchise with Halloween (2018) as Karen Nelson, the adult daughter of Laurie Strode. Liz Purr's father was also played by a Carrie alum, William Katt.
4. Another iconic horror actress, Carol Kane from The Mafu Cage (1978), When a Stranger Calls (1979), and Office Killer (1997), plays Principal Sherwood.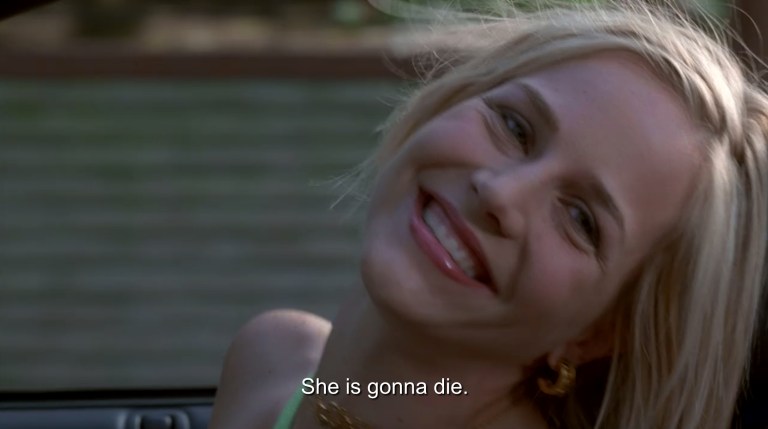 5. The character of Fern Mayo was inspired by Sissy Spacek as Carrie.
6. Rachael Leigh Cook was originally cast as Julie Freeman, but she was replaced by Rebecca Gayheart, who had "better chemistry" with the rest of the cast.
7. Rose McGowan and Rebecca Gayheart were both actresses in the Scream franchise, but they appeared in different films.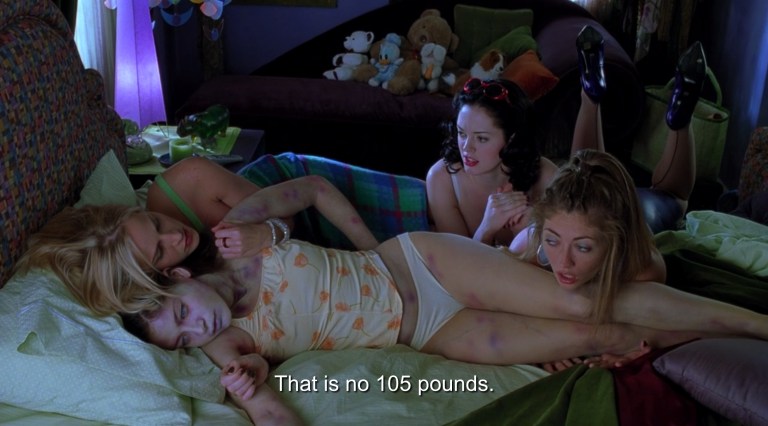 8. The actress who played Liz Purr, Charlotte Ayanna, really was a "teen dream." She won Miss Teen USA in 1993 although she had a troubled home life and was placed in foster care the following year at age 17. She gave herself the last name Ayanna, which means "blessed" in Cherokee.
9. Marilyn Manson was given the role of The Stranger because he was dating Rose McGowan. Manson's memoir shares that he and Trent Reznor were sexually abusing intoxicated women during this time in a case of real life imitating art way too much.
10. The scenes at the fictional "Reagan High School" were actually shot at University High School in West Los Angeles and Notre Dame High School in Sherman Oaks. University High School was used in My So-Called Life, Lizzie McGuire, and JoJo's music video "Leave (Get Out)," 2004.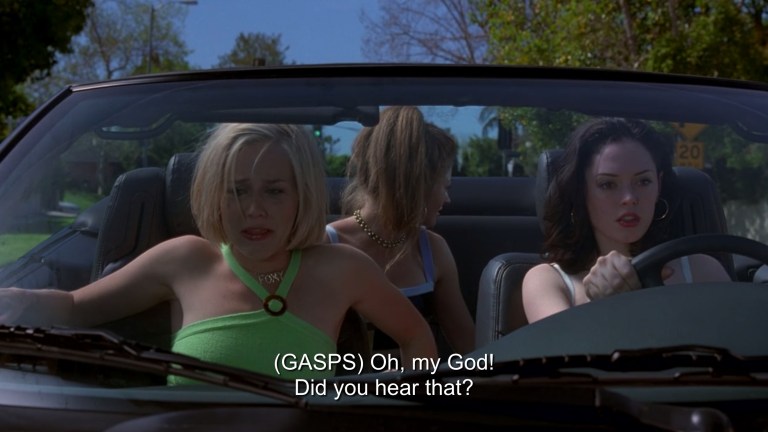 11. The diner the girls bring Liz Purr to for birthday pancakes was a Big Boy franchise location formerly known as Johnie's Broiler in Downey, California. The iconic 50s diner has appeared in other famous movies and TV shows such as Reality Bites (1994), Heat (1995), The Game (1997), and an episode of The X-Files.
12. Legendary action movie actress Pam Grier played Detective Vera Cruz. She had it in her contract that she was in charge of her own hair.
13. According to IMDb, when Judy Greer and Pam Grier met, Judy said, "My last name is Greer, too!" and Pam gave her a once-over and responded, "I don't think we're related."
14. McGowan says her performance as the cruel and manipulative Courtney Shayne was inspired by Gene Tierney's portrayal of Ellen Berent Harland in Leave Her to Heaven (1945). The character is so obsessive about her husband that she watches his disabled brother drown in order to keep hubby to herself.
15. Rose McGowan's real tattoo of herself is shown and built into Courtney's character.
16. Rose McGowan said that in real life, Judy Greer is more Vylette than Fern.
17. The scene where Courtney threatens Vylette in the bathroom is a reference to The Rocky Horror Picture Show. Courtney and Dr. Frank-N-Furter both use the line "I made you, and I can break you just as easily" to threaten their "creations."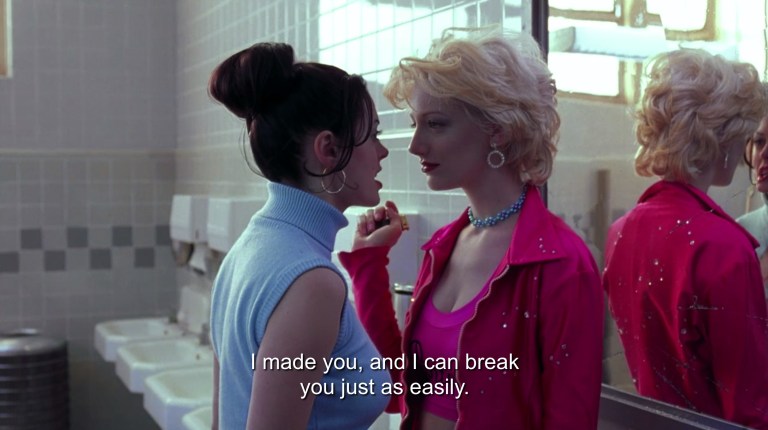 18. Rose McGowan never actually went to high school because she was homeschooled. She also says that the prom in Jawbreaker is the only one she ever attended.
19. Darren Stein made Jawbreaker into a musical that had a short-lived run in Los Angeles. A television show was also imagined in 2017, but it has never made it out of development.
20. Featured in the movie, the music video for Imperial Teen's song Yoo Hoo features Rose McGowan offering the bandmates jawbreakers.
21. After seeing Jawbreaker, Alexander Wang hired Darren Stein to direct a fashion film for him.
22. 1950s and 60s pop singer Connie Francis sued Universal Music Group (UMG) and producers of Jawbreaker for using her song during the sexy scene with Rose McGowan and Ethan Erickson. Francis said the situation caused her emotional distress and violated her "moral rights."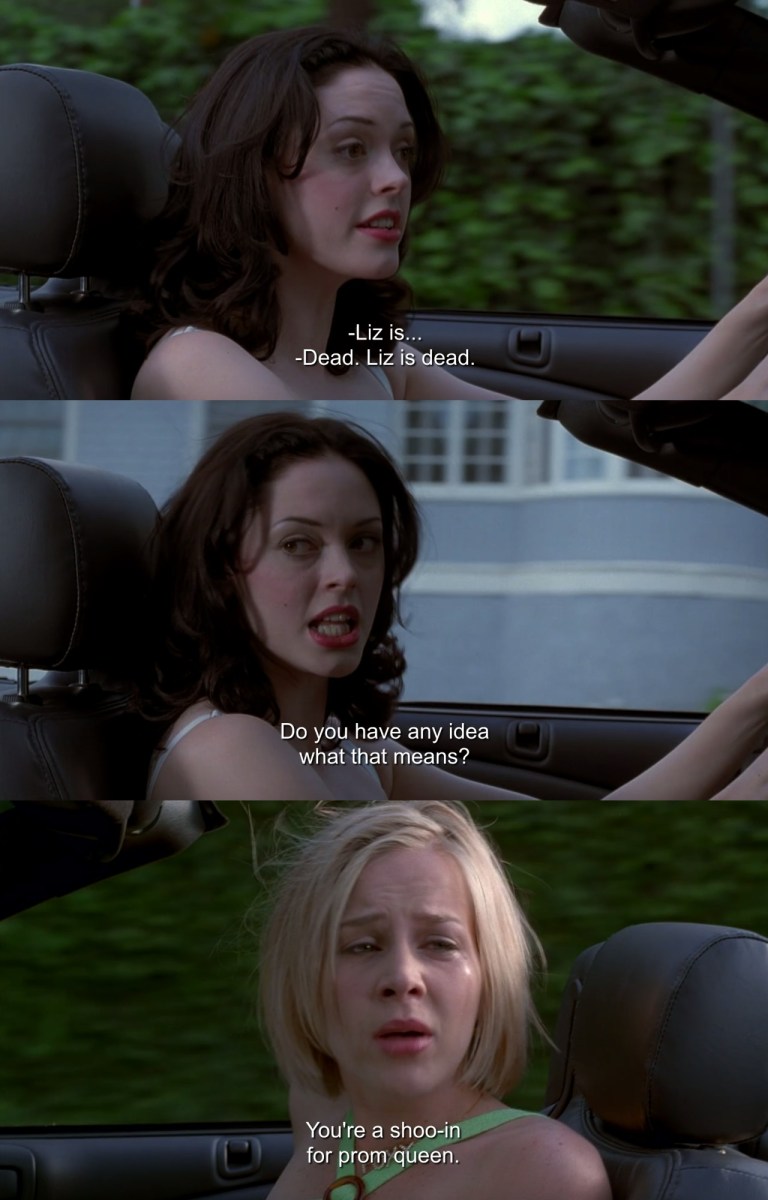 23. Darren Stein has a cameo in one of the girls' yearbooks.
24. Vikki Barrett created the iconic outfits in Jawbreaker. She also worked on a costumer on Clueless (1995) and Romy and Michelle's High School Reunion (1997). The aesthetic was Grease silhouettes with 80s colors and random hints of fetish gear.
25. Barrett's one rule for the costume design was "no black."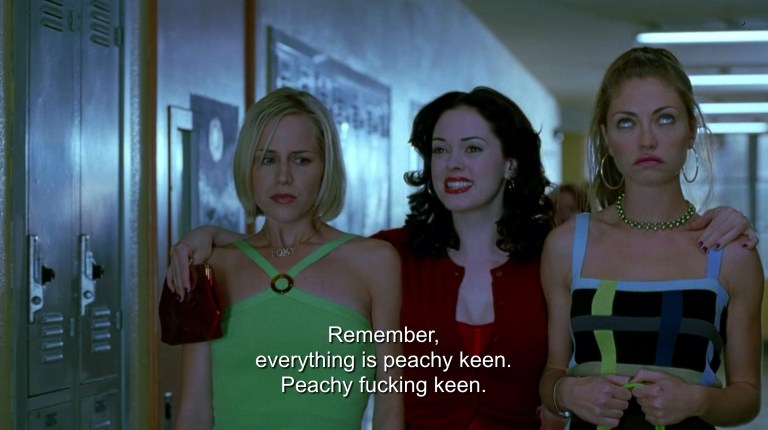 26. Rebecca Gayheart says the scene where the girls carried Liz's dead body from the trunk to her bed was horrible to film. They had to carry her a long distance, in 100 degree heat and while wearing heels. They dropped Liz at least once, and Gayheart says her knees have never been the same.
27. During that scene, only Rebecca Gayheart and Julie Benz are carrying Liz; Rose McGowan is just pretending to help.
28. The Jawbreaker prom used the same filming location as the prom in Buffy the Vampire Slayer (1992).
29. The legacy of Jawbreaker includes Mean Girls (2004), which copies the iconic scene where the girls walk down the hallway. Rose McGowan has said of that scene, "That was everything that it looked like. I owned that shit. We all did, and I still would at this day."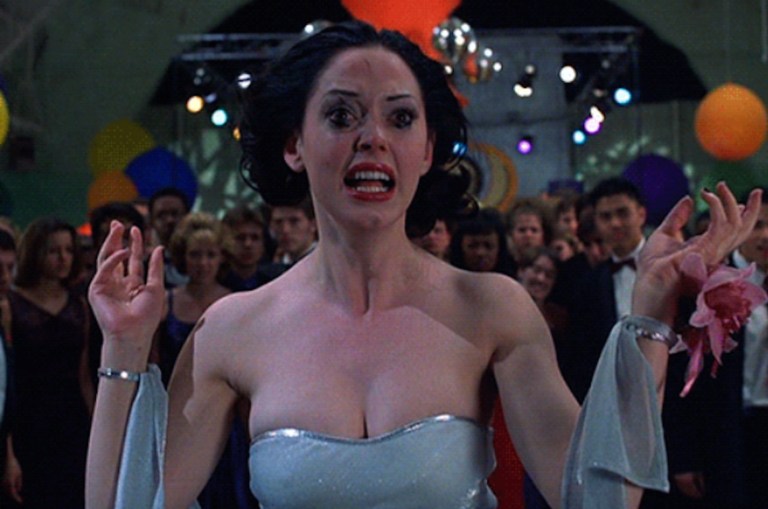 30. Rock band The Donnas is show performing at the prom.

31. The MPAA gave Jawbreaker an NC-17 because of the sex scene with Marilyn Manson. They cut the scene down to get an R.