'Halloween Kills' Hidden Details and References
Halloween Kills (2021) is loaded with references to previous Halloween films as well as details fans might miss. Collected here are as many of those details as we could find.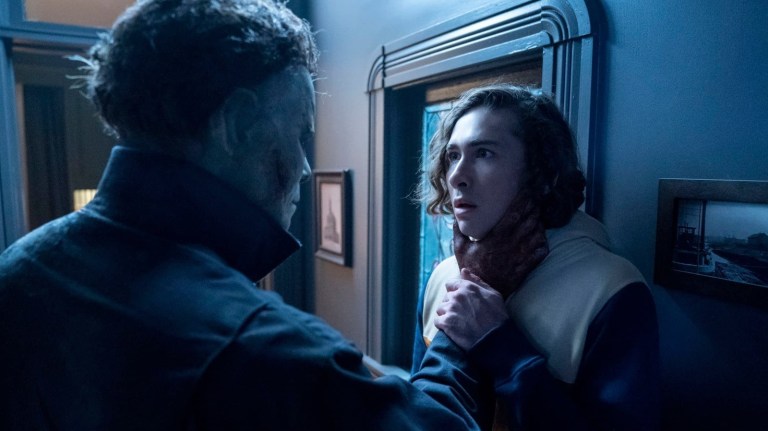 Halloween Kills (2021) is director David Gordon Green's second Halloween movie of a planned trilogy that follows John Carpenter's original 1978 film. The revised continuity of the series places Halloween Kills as only the third movie in the story, but it is also part of a larger franchise. As the twelfth Halloween film in over four decades, Halloween Kills has a ton of history behind it.
As fans of the series themselves, Green and co-writer Danny McBride dove into the history of the franchise and inserted a plethora of hidden details, references, and Easter Eggs into Halloween Kills. Listed here are as many of those details as we could find, with each detail grouped by the movie in which it originates.
Naturally, this article contains major spoilers for many films in the Halloween franchise.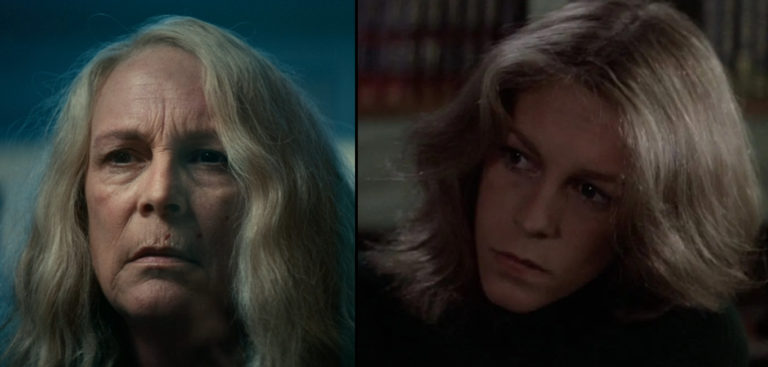 Jamie Lee Curtis reprises her role as Laurie Strode for the sixth time in Halloween Kills. Curtis is one of many actors returning for Halloween Kills who first appeared in the original 1978 film. The original actor playing Michael Myers/The Shape in 1978, Nick Castle, also makes a cameo in Halloween Kills under the mask.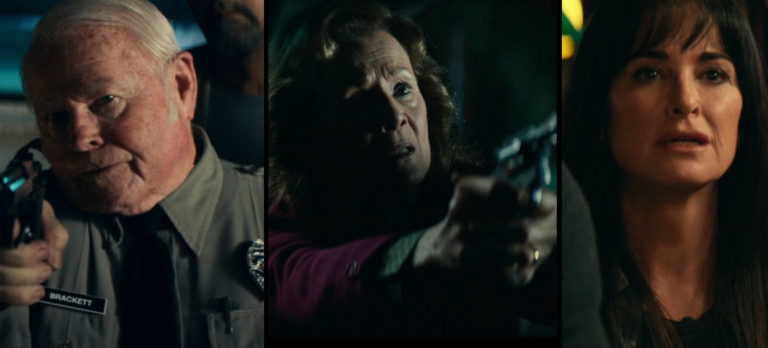 Other actors returning from 1978 include Charles Cyphers (Leigh Brackett), Nancy Stephens (Marion Chambers), and Kyle Richards (Lindsey Wallace). Cyphers also appeared in Halloween II (1981), and Stephens appeared in Halloween II (1981) and Halloween H20, though those films are not in the Halloween Kills continuity.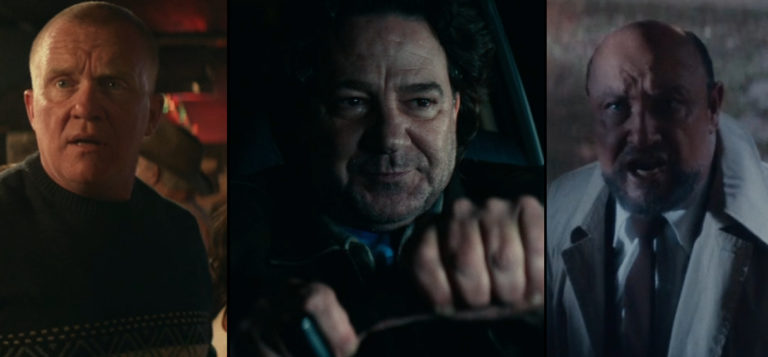 Characters returning from the 1978 Halloween but played by different actors include Tommy Doyle (Anthony Michael Hall), Lonnie Elam (Robert Longstreet as an adult, Tristian Eggerling in flashbacks), and, in flashbacks, Dr. Loomis (played on screen by construction coordinator Tom Jones Jr. and voiced by Colin Mahan).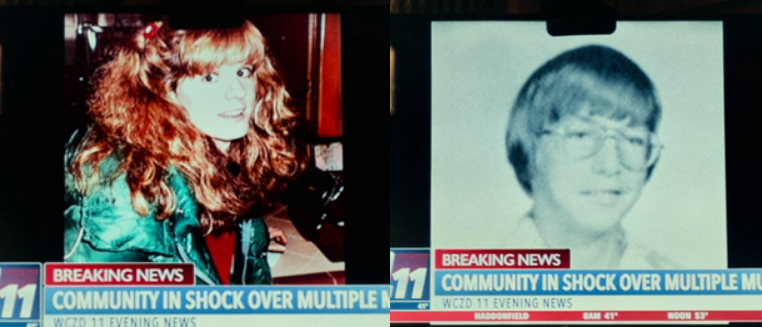 News footage shown in the bar in Halloween Kills references "an event in Haddonfield history" and shows images of Lynda and Bob, two of Michael's victims in the 1978 film. The image of Lynda is of the character's original actor, P.J. Soles. Filmmakers couldn't get the rights to use an image of the actor who played Bob in the original film (John Michael Graham), so the image shown in Halloween Kills is actually a high school photo of actor Bob Odenkirk.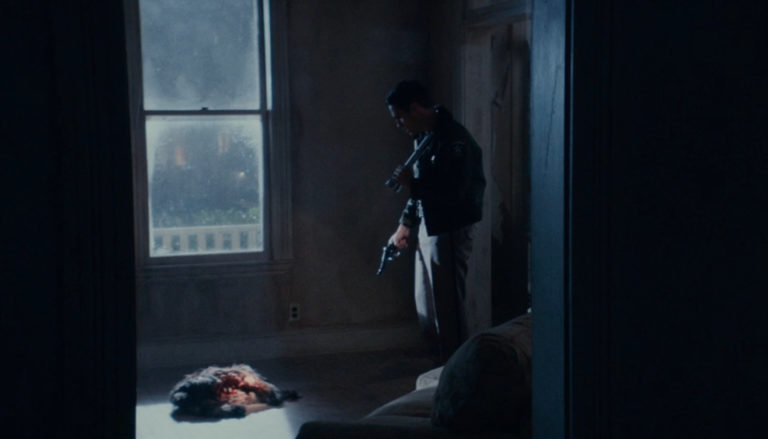 The flashback at the beginning of Halloween Kills gives us a payoff forty-three years in the making (which probably no one asked for). As the police officers are searching the Myers house, we see the dog Michael apparently snacked on before his killing spree. The dog is only mentioned, but never shown, in the original film.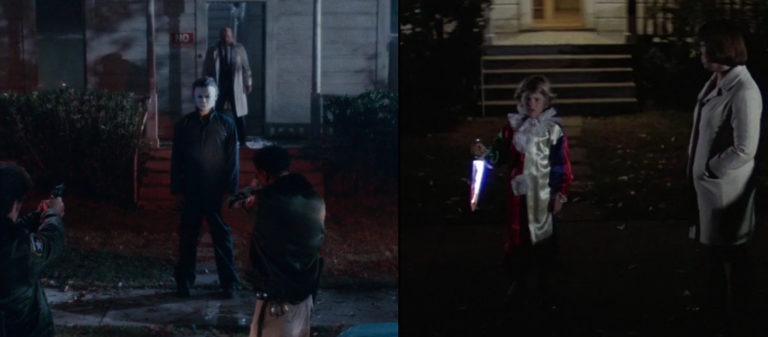 The image of Michael being apprehended in Halloween Kills in a newly-filmed flashback to 1978 is staged and shot like when young Michael Myers is found by his parents in the flashback to 1963 from the original film. In both shots, everyone in frame is perfectly still as the camera pulls up and back.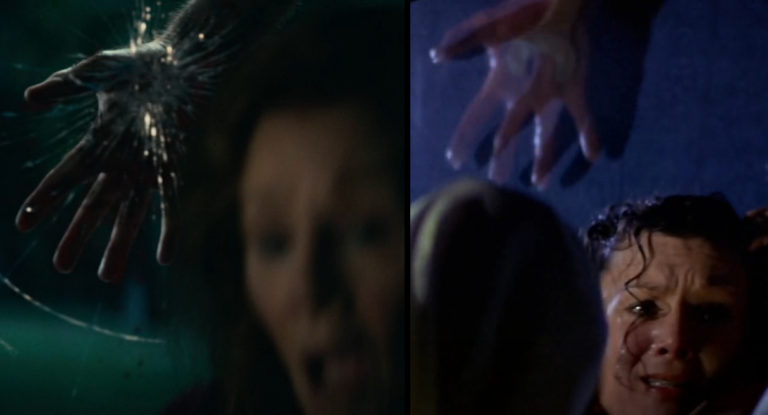 The attack on Marion and the costumed couple in Halloween Kills is very similar to when Michael attacked Marion in the 1978 film. Michael scurries up the back of the vehicles in similar ways, and he smashes the window behind Marion in both films.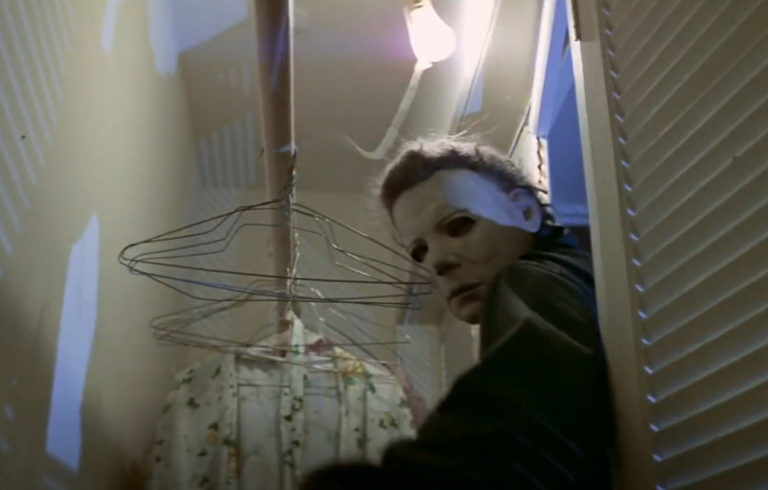 In one of the most famous scenes from the 1978 Halloween, Michael bursts into a closet with louvered doors to attack Laurie. In Halloween Kills, Michael bursts out of a closet with louvered doors to attack Cameron.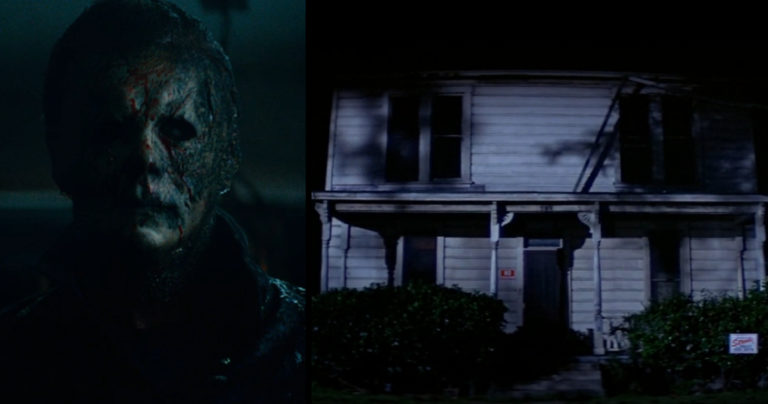 Both movies use their finale to illustrate that Michael Myers is a boogeyman. In Halloween Kills, this is done by having him rise up after being shot, beaten, and stabbed. The final shot of the film is of Michael in his childhood home as we hear his breathing. In Halloween (1978), Michael disappears after being shot and falling from a second-story balcony. The final shot of that movie is of Michael's childhood home as we hear his breathing. In both films, fear is still alive, and it lives in the Myers house.
Halloween Kills emulates a lot of the ideas present in Halloween II despite the 1981 sequel no longer being canon within this particular timeline. For starters, life imitates art in that just like Halloween (2018) was released 40 years after the 1978 Halloween, Halloween Kills was released 40 years after the Halloween II.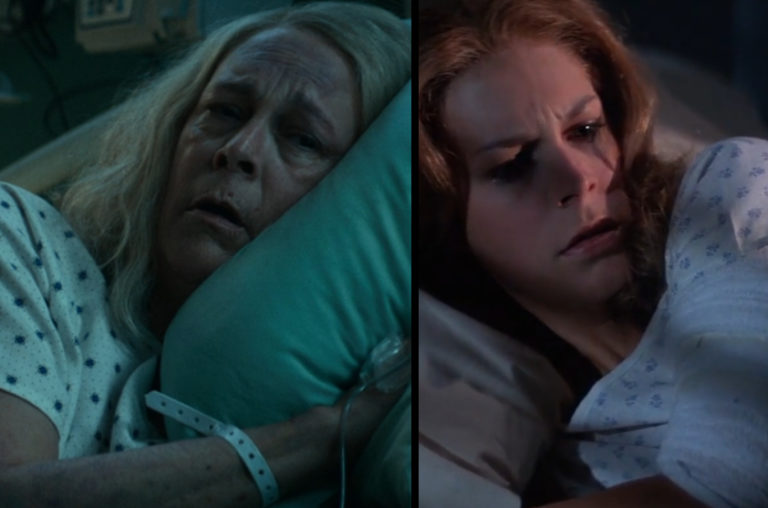 In both movies, Laurie spends almost the entire length of the film inside Haddonfield Memorial Hospital. She's also injured to the point where she can't fight back on her own if Michael were to find her.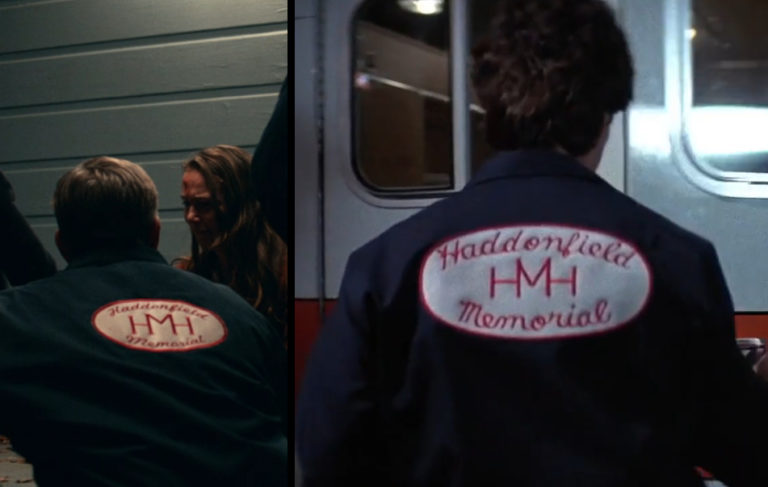 The Haddonfield Memorial Hospital logo on the back of the paramedics' uniforms is the same in both movies.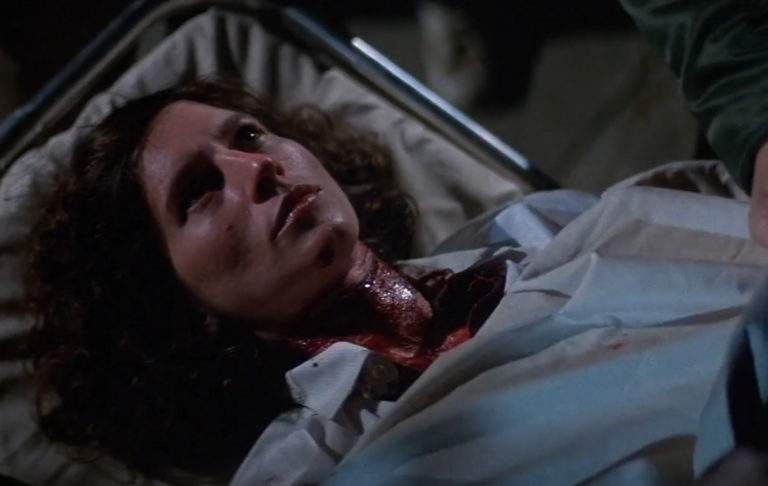 Footage from Halloween II (1981) of Annie Brackett dead on a stretcher is used in Halloween Kills when Tommy is introducing Lindsey to the people in the Mick's Bar. Footage from Halloween (1978) is also shown in the same sequence.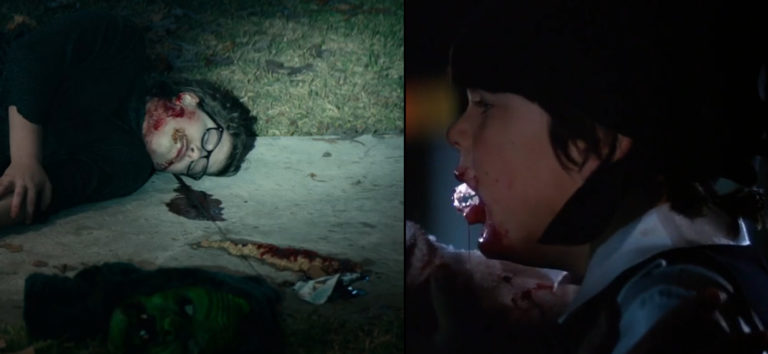 The common Halloween story of razor blades hidden in candy is depicted in Halloween II (1981) when we see a boy taken to Haddonfield Memorial Hospital with a blade in his mouth. In Halloween Kills, the movie's mischievous trio of kids uses the story to prank Big John and Little John.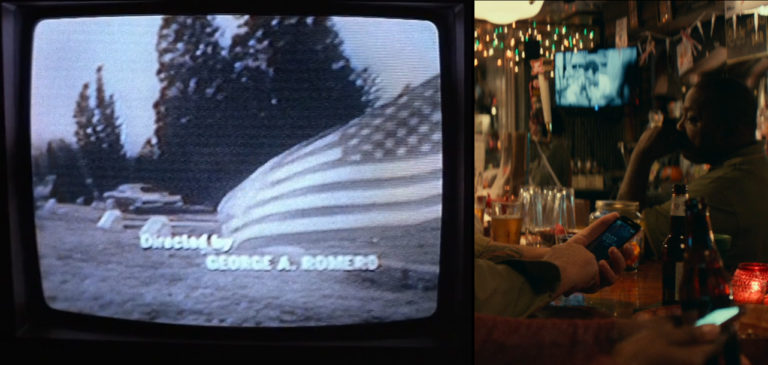 In Halloween II (1981), the couple living in the house Michael steals a knife from has George Romero's Night of the Living Dead (1968) playing on their TV. The film is also playing on televisions in Haddonfield Memorial Hospital. Though it's more difficult to catch in Halloween Kills, Night of the Living Dead is playing in Mick's bar.
Speaking of the couple watching Night of the Living Dead, it's possible they are referenced by the couple flying the drone in their house. The man in Halloween II is sleeping, and the man in Halloween Kills enters the scene wearing a CPAP mask after presumably taking a nap. They are also framed similarly with the man in the foreground and the woman behind him near the kitchen doorway.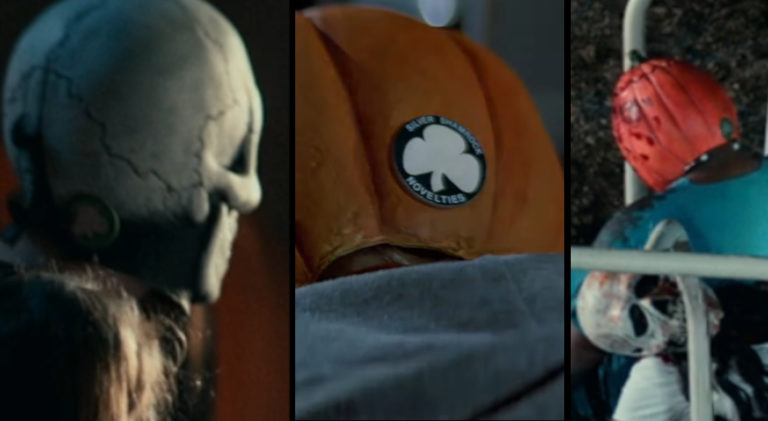 Halloween III: Season of the Witch involves a plot by Silver Shamrock Novelties to sacrifice children by making masks with a magical piece of Stonehenge inserted into a microchip in its logo. The masks from Halloween III (a skull, witch and jack-o'-lantern) are initially worn and carried in Halloween Kills by the children who steal Big John and Little John's candy. The Silver Shamrock logo can be briefly seen on the backs of their masks a couple of times.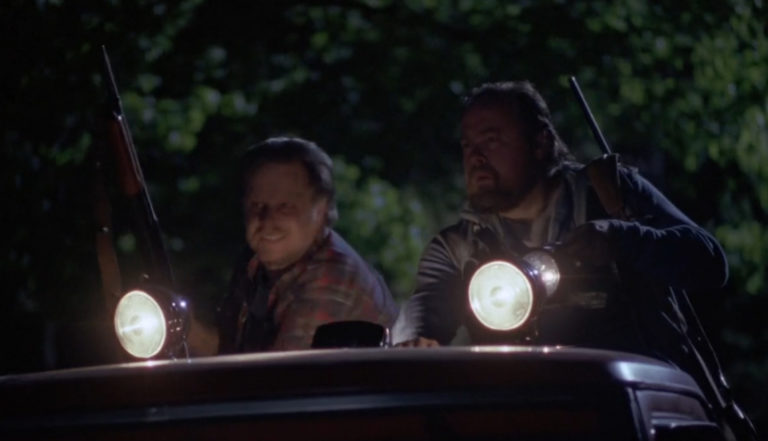 A subplot of Halloween 4 involves an angry lynch mob hunting for Michael Myers just like in Halloween Kills. The mobs in both films end up killing the wrong man.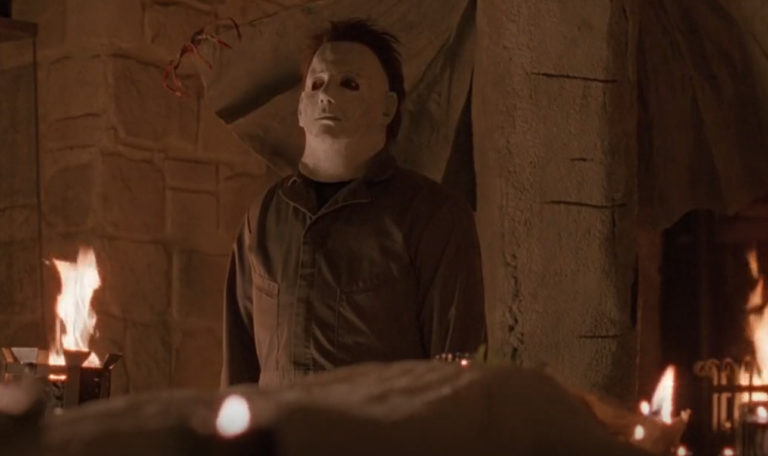 Towards the end of Halloween Kills, Laurie talks about how Michael gains power with every victim he kills. She's taking about the fear he instills in people, saying "that is the true curse of Michael." This could be a sly reference to the title of the bonkers 1995 entry in the franchise.
Being a direct sequel to Halloween (2018), it's natural that a lot of characters and ideas would carry over into Halloween Kills. In addition to obvious returners like Karen (Judy Greer), Allyson (Andi Matichak), and Michael Myers (James Jude Cortney), here are some more notable returning characters.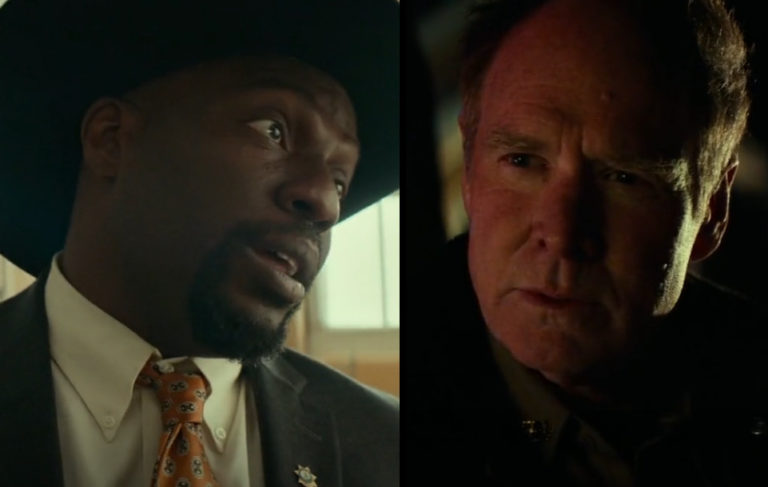 Omar Dorsey and Will Patton return as Sheriff Barker and Officer Hawkins respectively. They both continue to play a large role in the plot.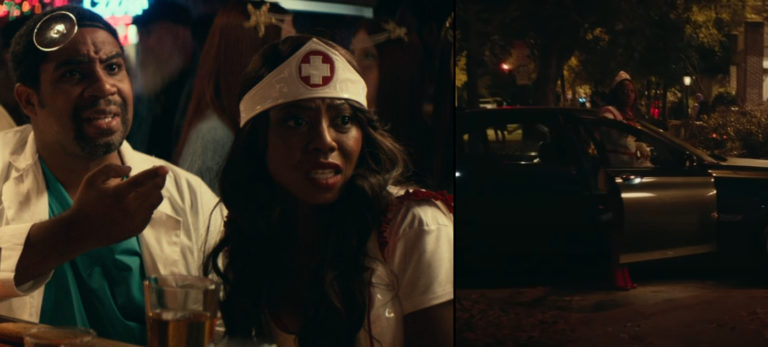 The couple dressed as a doctor and nurse, Marcus (Michael Smallwood) and Vanessa (Carmela McNeal), appear briefly in Halloween (2018). As Michael Myers walks down a street in the 2018 film, he notices the couple as they prepare to leave their home. Vanessa notices Michael as well, but when they drive away Michael loses interest and kills their next door neighbor instead.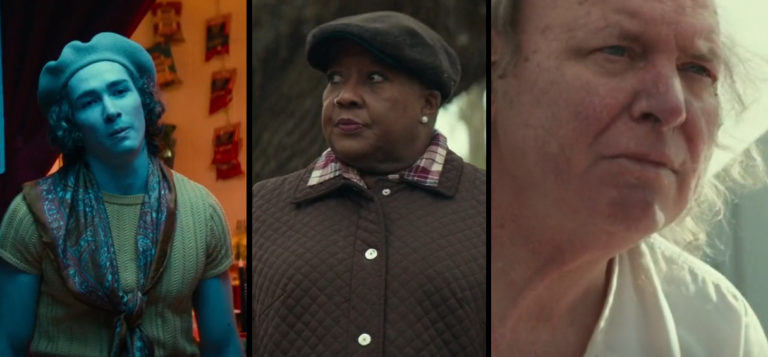 More actors returning from Halloween (2018) include Dylan Arnold as Allyson's boyfriend Cameron, Diva Tyler as Sondra who is also the cemetery caretaker in the 2018 film, and Ross Bacon who is the escaped inmate in Kills and can be seen carrying an umbrella in the opening scene of the 2018 Halloween.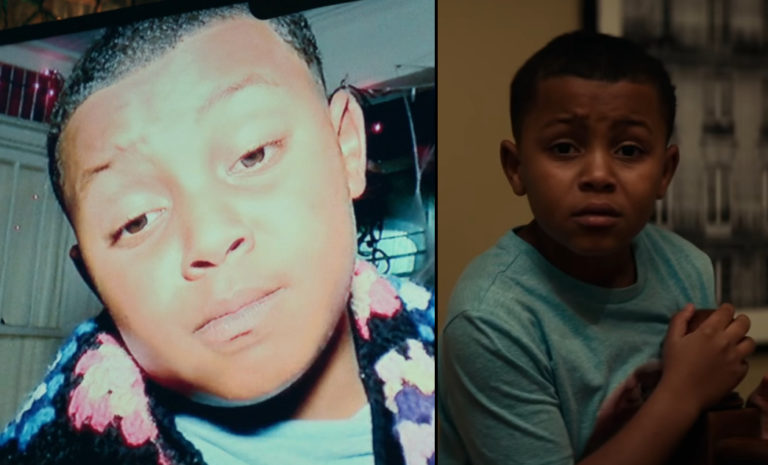 Julian, the boy whose babysitter Vicky is killed in Halloween (2018), makes a cameo in Halloween Kills on a news report shown in the bar towards the beginning of the film.
Cameron's friend Oscar is discovered in the morgue by his mother in Halloween Kills, and a toe tag with Dr. Sartain's name on it is seen attached to a covered body.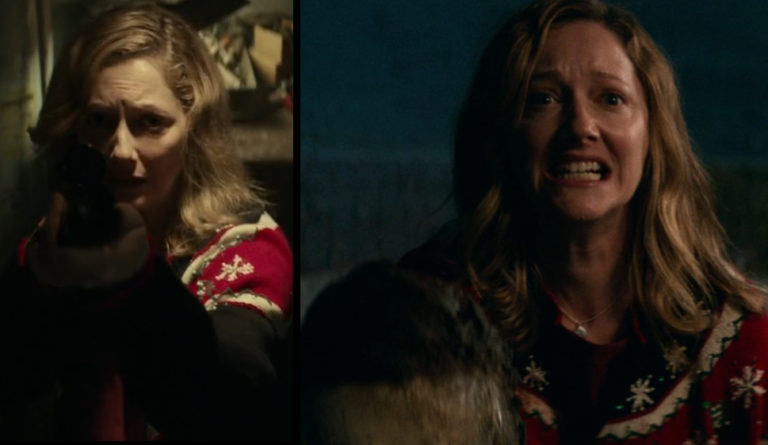 Karen is responsible for luring Michael into a trap at the end of both 2018 and Kills. In the 2018 film, Karen fakes being scared so she can draw Michael out and shoot him. Laurie then attacks Michael and dumps him in her basement where they attempt to burn him. In Kills, Karen takes Michael's masks and draws him to a street where Tommy and his mob attack. Karen says "got ya" both times, but unfortunately for her, neither trap works as intended.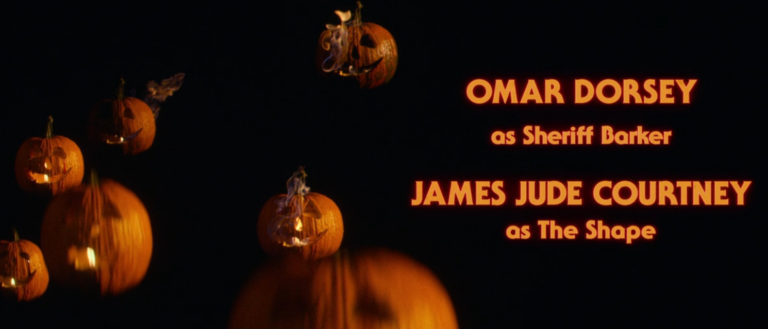 There are 12 jack-'o-lanterns in the opening credits of Halloween Kills. This is likely a reference to the movie being the twelfth film in the franchise. Using multiple jack-'o-lanterns with increasingly wild flames could also symbolize Halloween Kills focusing on groups of people (i.e. the angry mob of Haddonfield) rather than just one main target.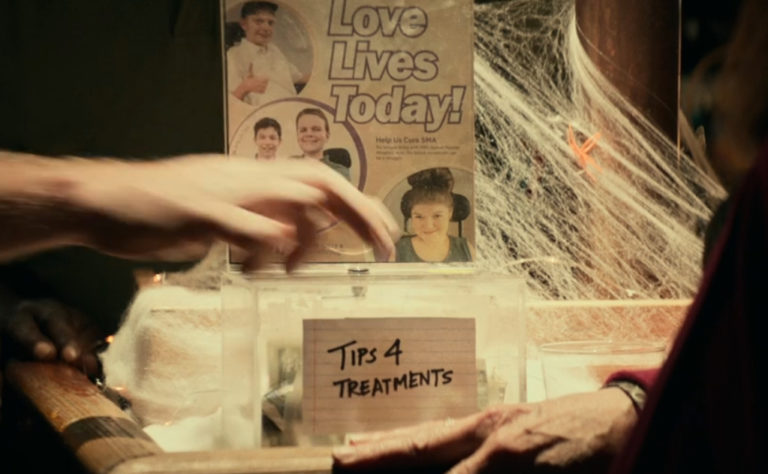 Tommy's mob-leading chant of "evil dies tonight" is inspired by something viewers might miss on a single viewing. On the bar Tommy and his friends are in at the beginning of the film is a charity donation box that has "Love Lives Today" as its slogan. Tommy drops some money into the box after taking the bartender's baseball bat.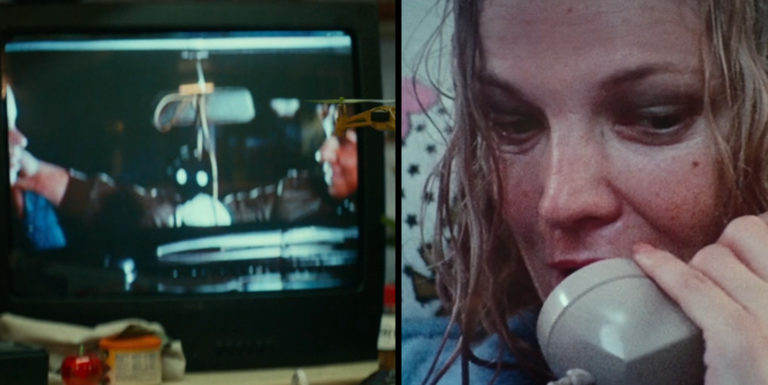 Continuing the tradition of people watching movies within Halloween movies, two more films are seen in addition to Night of the Living Dead mentioned above. The couple flying the drone have The Funhouse (1981) playing on an old CRT TV. The Funhouse contains an homage to Halloween (1978) in its opening scene. The Funhouse also features a monstrous killer who sometimes wears a mask.
Later in Halloween Kills, Big John and Little John are watching Minnie and Moskowitz, a romantic drama from 1971. The connection to Halloween Kills, if there is one, is a bit more obscure.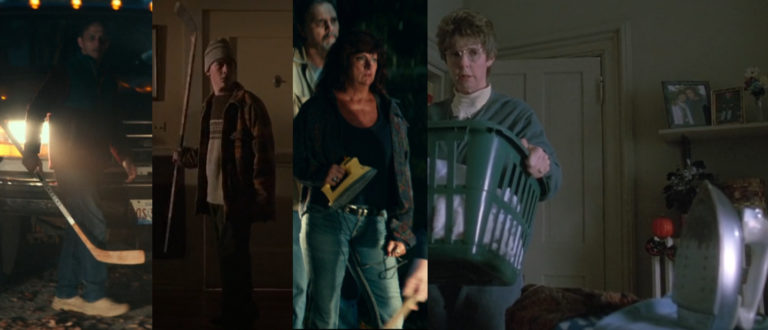 I'm throwing this in here because it's probably more of a coincidence than a reference, but the weapons carried by the mob at the end of Halloween Kills might hold some significance. One guy carries a hockey stick just like Jimmy in Halloween H20, and a woman carries an iron similar to how Debra Strode eyes an iron when she thinks someone might be in her house in Halloween: The Curse of Michael Myers.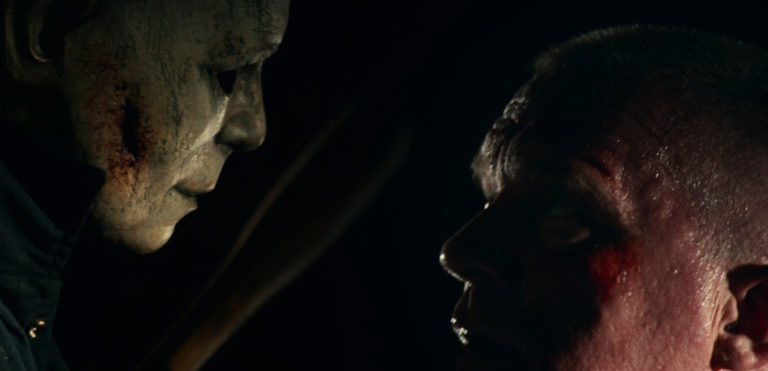 Parts of the final battle between Michael and the angry mob were shot on a stage rather than on location. This wasn't initially planned, but when they ran out of darkness on the night they were shooting, plans changed. The staged shots in the finale give the sequence a dream-like quality which arguably enhances the theme of the sequence.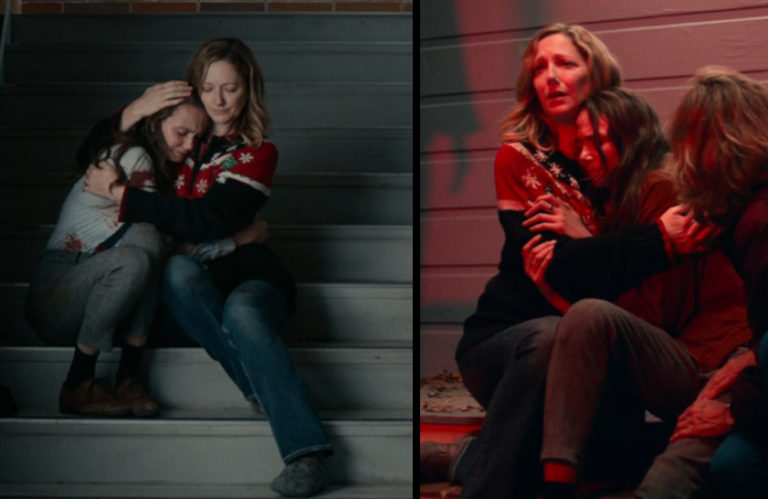 There's a great callback in Halloween Kills when Karen is comforting her daughter Allyson. Near the beginning of the film, Karen tells Allyson "he'll always be with us even if we can't see him" when talking about the death of Karen's husband and Allyson's father. Near the end of the film, Allyson says "he'll always be here won't he, even when we can't see him" in reference to Michael Myers and his impact on their family and the town.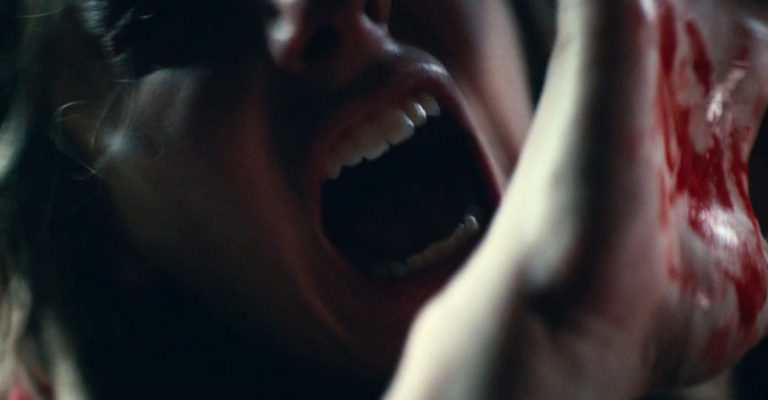 Karen's death is shot and edited in a way very similar to Marion Crane's famous shower death scene in Psycho (1960). Michael appears behind Karen in a shot framed the same way as Norman Bates walking up on Marion, and the actual killings are shown with rapid cuts and lots of close-ups. There's even a shot of Karen face down on the floor similar to Marion. This scene in Halloween Kills could also be an allusion to Michael killing his sister Judith, since it is done in the same location with a similar murder weapon, and the stabbing is implied rather than explicitly shown.