50 Trivia Items About 'Misery' (1990)
Rob Reiner's Misery, based on a novel by Stephen King, is an exceptional horror movie from the 1990s. Here is everything you ever wanted to know about the film.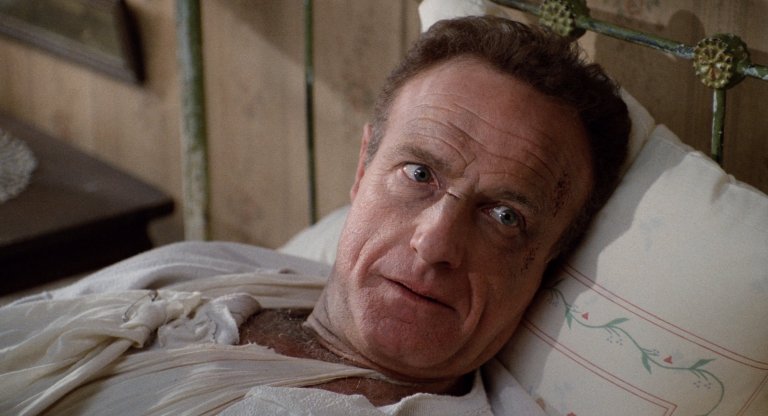 When Kathy Bates won the Best Actress Academy Award for her role as deranged fan Annie Wilkes, Misery became the only film based on a Stephen King story ever to win an Oscar.
Based on the 1987 King novel of the same name, the winter horror film covers the horrific ordeal of romance novelist Paul Sheldon (James Caan), who is injured during a blizzard while driving home to New York City from Colorado. He is rescued by a nurse named Annie Wilkes (Kathy Bates), who takes him into her home and begins to care for him.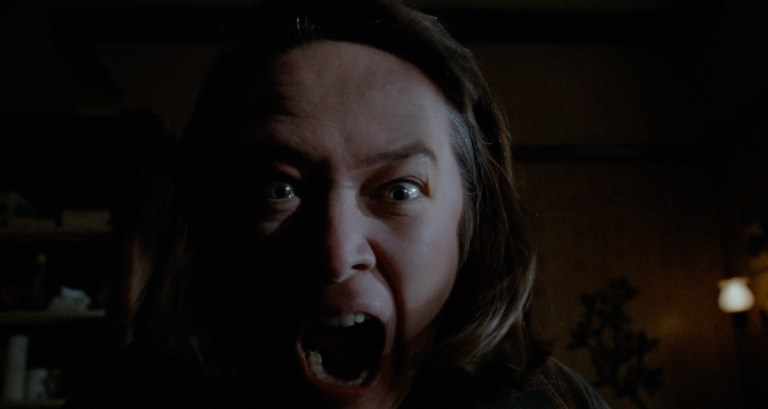 Unfortunately for Paul, Annie is also his biggest fan in the world and becomes enraged to learn that he wants to move onto other subjects and has killed off the heroine of his romance novels, Misery Chastain. Annie then puts Paul through increasingly horrific physical and psychological torture in her blind quest to make sure that Misery doesn't die.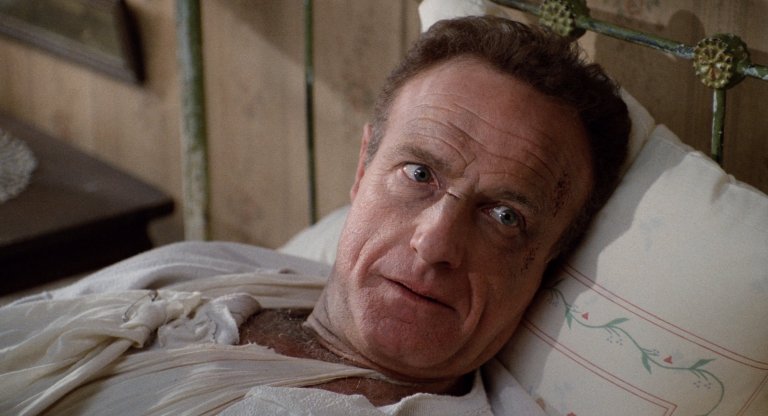 Misery earns a place as one the best stalker movies of all time, earning it a place among deranged-fan classics such as The King of Comedy and Joker. Here are 50 trivia facts about Misery.
Kathy Bates as Crazed Fan Annie Wilkes
1. Stephen King says that the Annie Wilkes character had been intended to be a composite of his scariest fans.
2. King also says Annie was the favorite of all his characters to write because he found her oddly deep and sympathetic.
3. On the collector's-edition DVD, a psychologist says that Annie is a "virtual catalog of mental illness."
4. Filmmakers say they took a lot of time to make sure Annie was seen as a "specifically sick person, not an all-purpose monster."
5. Until Misery, Kathy Bates was mostly known as a stage actress. Screenwriter William Goldman suggested her to Reiner to play the role of Annie Wilkes. "She was our first and only choice," he says.
6. Regardless of what Goldman said, Anjelica Huston was originally chosen to play Annie but had to decline because she had a previous film commitment.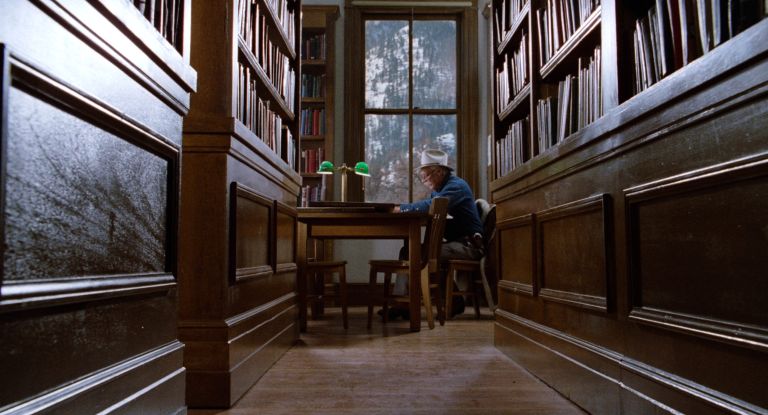 7. Mary Tyler Moore wanted to play Annie but was not auditioned.
8. Other actresses considered for the role were Bette Midler, Jessica Lange, Barbra Streisand, Roseanne Barr, Rosie O'Donnell, and Vicki Lawrence.
9. Bates discussed the background of Annie's character with Rob Reiner, and they decided that she'd been molested by her father, which helped explain her history of killing vulnerable people entrusted to her care.
10. While filming, Reiner noticed that Kathy Bates had been getting more and more isolated as a result of playing Annie, so he advised her to leave the character on the film set when she went home every night.
11. Bates's Oscar for Best Actress in Misery made her the first woman to win the award for a horror or thriller film. In 1931, Fredric March won an Oscar for his role in the horror film Dr. Jekyll and Mr. Hyde. Other actors to win Academy Awards for their roles in horror films are Mia Farrow, Anthony Hopkins, Jodie Foster, and Natalie Portman.
12. The day after Bates won her Oscar, she filmed a scene with Alec Baldwin showing fans asking for their autographs. Later, while walking her dog, she forgot her clean-up bag, so reached for a discarded piece of trash, only to find that it was a crumpled-up autograph of hers that a fan had tossed to the ground.
James Caan as Paul Sheldon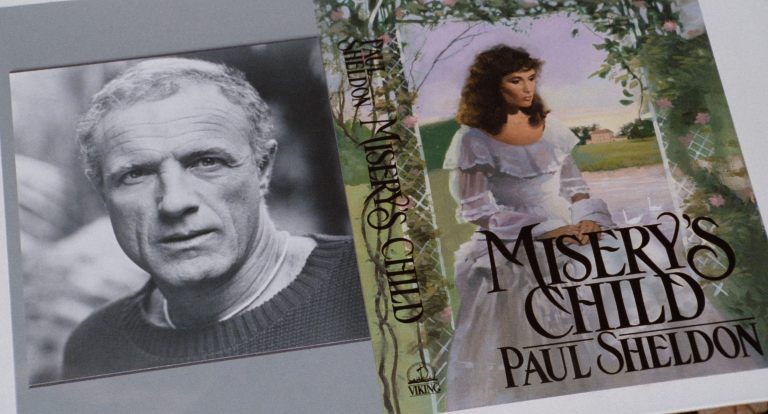 13. Actors who were considered for the role of Paul Sheldon: Robert Redford, Warren Beatty, William Hurt, Richard Dreyfuss, Dustin Hoffman, Robert De Niro, Gene Hackman, Jeff Daniels, Ed Harris, John Heard, Robert Klein, Ed O'Neill, Tim Allen, Robin Williams, Harrison Ford, Mel Gibson, Morgan Freeman, Kevin Kline, Denzel Washington, Bill Murray, and Bruce Willis. Dustin Hoffman reportedly declined the role because he doesn't like violent movies. Jack Nicholson said that doing one Stephen King movie (The Shining) was enough. Richard Dreyfuss said he didn't like the script.
14. After filming, Reiner said, "But, at the end of the day, you can't imagine anybody else playing the part" besides James Caan.
15. Screenwriter William Goldman said that so many actors rejected the role "because leading men hate to be passive; hate to be eunuchized by their female co-stars" and that Annie's character overshadowed Paul's.
16. Although Misery would resurrect James Caan's career, he claims he did not read Stephen King's book before filming.
17. Caan and Bates did not get along well during filming, which helped fuel their onscreen animosity.
18. Caan did not like to rehearse his scenes, whereas Bates loved to practice and practice. Reiner told Bates to use her frustration with Caan's unprofessionalism to fuel her resentment toward his character.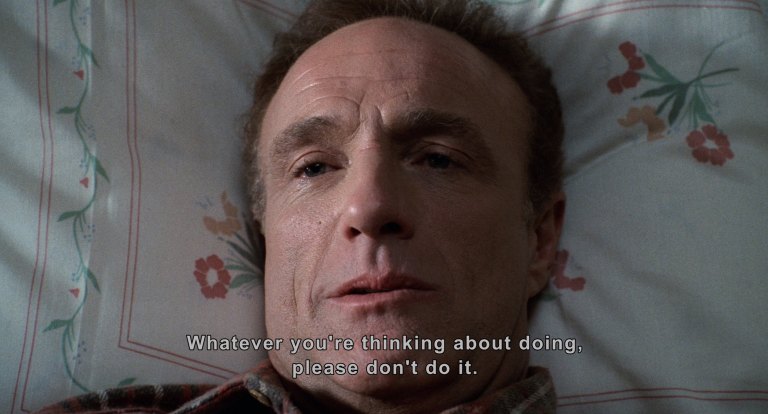 19. James Caan is a naturally active man and hates having to sit still, which made a 15-week shoot where he was essentially bedridden torture for him.
20. Caan took the role after Jack Nicholson declined it. Ironically, Caan had declined the role in One Flew Over the Cuckoo's Nest that won Jack Nicholson an Oscar.
Rob Reiner Identified With Paul Sheldon
21. Before producers decided on Rob Reiner, George Roy Hill (The Sting, Slap Shot) was considered as a possible director.
22. Stephen King had been so impressed with Reiner's adaption of his short story "Stand by Me" that he only agreed to sell the film rights to Misery if Rob Reiner was hired as director.
23. Reiner said that the character of Paul Sheldon appealed to him for personal reasons: "It's important for me to find my way into the film…and as you will see, the movie's really about a man who is trapped by his own success and is desperately trying to break out and establish himself in a different way. I felt very much those feelings when I finished [a starring role in the massively successful sitcom] All in the Family."
24. Reiner said he watched and studied every Alfred Hitchcock film ever made to learn how to film a good thriller. James Caan says he once heard Reiner talking to himself on the set, asking himself, "Who do you think you are, Alfred Hitchcock?"
25. This was the first film produced by Rob Reiner's Castle Rock Entertainment, which was named for a small fictional town in several of Stephen King's stories.
26. Reiner makes a cameo in Misery as the helicopter pilot.
Differences Between the Book and the Movie
27. In the book, Paul only pretends to burn Misery's Return and then goes on later to publish it, whereas in the movie, he burns the only copy.
28. In the book, Annie chops off Paul's left foot. She later cuts off his thumb with an electric carving knife and serves him a birthday cake with his thumb as an unlit candle in it, threatening that he will also have to eat the thumb if he refuses to eat the cake.
29. In the book, Annie uses an axe, while in the movie, she uses a sledgehammer. This is the exact opposite of The Shining, where a mallet was used in the book but an axe in the movie.
30. Focus groups didn't like the fact that Paul initially wound up walking normally at the end of the film, so it was re-shot so that he walked with a limp and used a cane.
The Infamous "Hobbling" Scene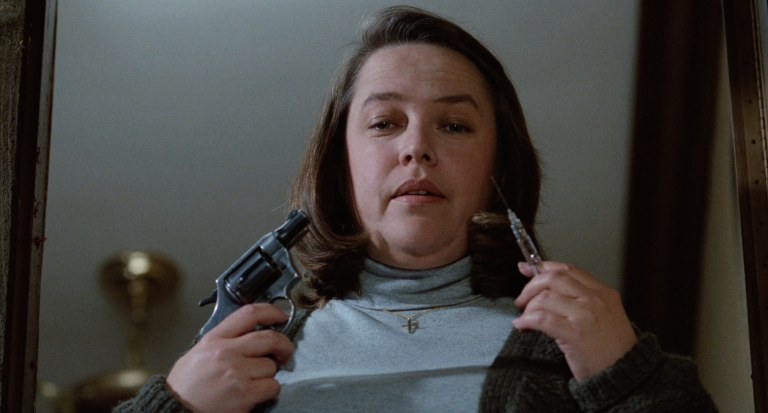 31. Filmmakers altered the part of the book where Annie amputates one of Paul's feet and cauterizes the stump, figuring that it would give her a permanent victory over Paul. Instead, they chose to have her place a wooden block between his legs and smash his ankles with a sledgehammer.
32. After viewing the hobbling scene at a screening, Caan reportedly turned to Rob Reiner and said, "You're a sick fuck."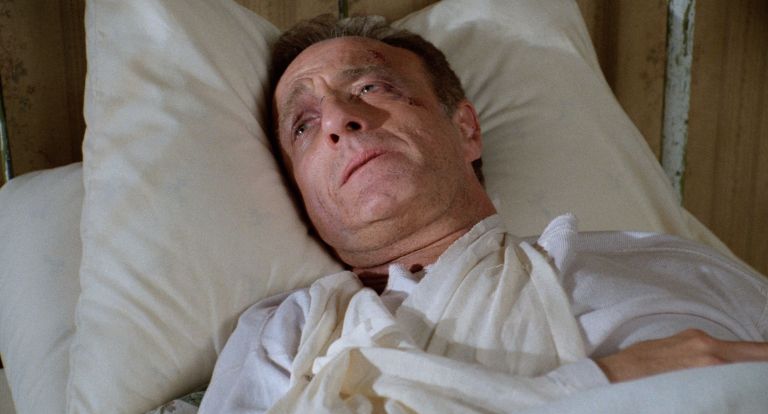 33. Caan says that Kathy Bates reportedly got personally upset at the film's violence and actually cried before the hobbling scene was filmed.
34. During her acceptance speech for winning Best Actress at the Oscars, Kathy Bates joked, "I would like to thank Jimmy Caan and apologize publicly for the ankles."
35. Caan says that decades later, people still greet him with "How are your legs, Jimmy?"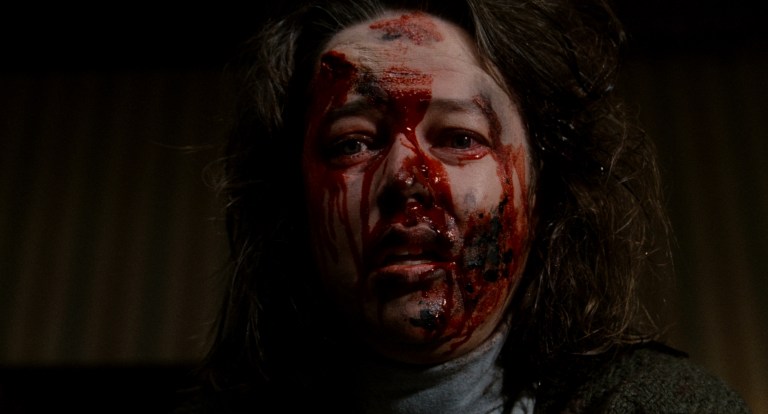 Miscellaneous Facts
36. After decades of remaining silent about his motivations for writing Misery, Stephen King finally admitted that it was a metaphor for his own drug dependency and that Annie was a symbol of King's own addictions holding him hostage.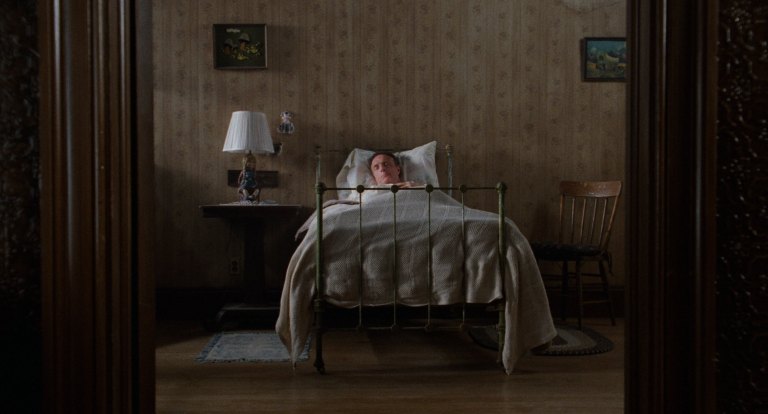 37. Rob Reiner says that Annie Wilkes's previous murders of children under her care were based on the real-life story of Texas nurse Genene Jones, suspected of killing up to fifty children over a two-year-period.
38. Misery is similar to the 1962 film Whatever Happened to Baby Jane? in that it's a claustrophobic thriller about a psychotic woman holding a celebrity hostage. It has also been compared to Sunset Boulevard (1950), in which a woman commands a writer in her house to write a story that will redeem them both.
39. In a grisly possible example of life imitating art, in 1995, a Wisconsin man named Joe Clark kidnapped a 13-year-old boy named Thad Phillip and held him prisoner for 43 hours after breaking the bones in his legs. Philip was able to escape by throwing himself down the stairs and crawling to a phone. He walks with a limp to this day.
40. In yet another possible example of life imitating art, Stephen King was hit by a car in June of 1999, and initial reports said he had died.
41. Just like Paul Sheldon's malfunctioning typewriter, one of Stephen King's first typewriters had a faulty "N" key. In Paul's case, though, the typewriter mangled the two most commonly used letters in the English language, "E" and "T."
42. In 2015, Misery was finally released as a Broadway play starring Bruce Willis as Paul and Laurie Metcalf as Annie.
43. Filmmakers used nine cameras to film the car accident scene, arguing, "We knew we weren't going to be able to throw a car off a cliff too many times."
44. A black-and-white photo sitting near a phone in Annie's living room is an old snapshot of Kathy Bates as a child.
45. At the general store, a video of Rob Reiner's When Harry Met Sally… is visible.
46. If you pause during the scrapbook movie, you will realize that most of the "news articles" are simply one or two paragraphs endlessly repeated.
47. Rob Reiner scene in which Annie runs over a young police officer with a lawnmower, arguing that audiences would find it so over-the-top that they'd laugh.
48. In the scene where Paul's "manuscript" is burned, if you look closely, it's an article about what a great screenwriter Cameron Crowe is.
49. Annie makes an oblique reference to The Shining when she says that one of her victims had been in Colorado to make sketches of a hotel that had burned down because the caretaker had lost his mind.
50. Alternate titles: Misery Doesn't Want to Die (Czech Republic), Trembling Game (Taiwan), Death Book (Turkey), Louca Obsessão/Mad Obsession (Brazil), Misery—The Final Chapter (Portugal), and Misery must not die (Italy).