People Are Literally Throwing up While Watching 'Terrifier 2' (2022)
The film is scaring body fluids out of people.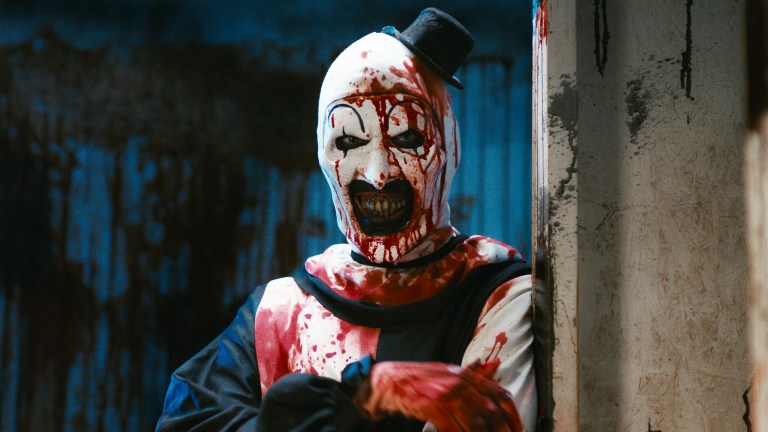 The long awaited sequel to one of the scariest clown movies of all time, Terrifier (2016), is out and the ante has been upped. Apparently the film is so violent that audience members are throwing up and fainting at viewings. Shot on a micro budget of $250,000, the film has been a "shocking" box office success, earning $2.5 million so far. This is big considering it originally opened in only 900 theaters nationwide. It's also been well-reviewed, earning critical praise and a 3.6 rating on Letterboxd.
The splatter movie was written and directed by Damien Leone (who wrote and directed the original) and takes place on Halloween night the year following Terrifier (2016). It's official synopsis reads "After being resurrected by a sinister entity, Art the Clown returns to the timid town of Miles County where he targets a teenage girl and her younger brother on Halloween night." That girl is Sienna Shaw (Lauren LaVera), the new protagonist who goes to school on Halloween day and then a party on Halloween night. The film also follows Sienna's brother, Jonathan Shaw (Elliott Fullam), who chooses to dress as Art the Clown for the day. At the Halloween party, Sienna is drugged with molly and a brutally violent showdown between Sienna and Art commences.
Leone said the script followed years of dreaming about writing a movie about a girl with angel wings battling Art the Clown. He's said that Sienna Shaw is his favorite character he's written. One particularly gruesome scene shows what happened to a character from Terrifier (2016), Vickey Heyes (Samantha Scaffidi), whose face is now disfigured after her encounter with Art.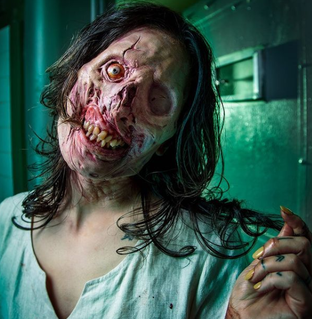 Viewer response to the film has focused on how violent and gory it is. One moviegoer reported on his experience on Twitter, saying "Just saw Terrifier 2. It was an amazing gory mess. The guy behind me passed out cold n crashed into my chair, another guy left because he didn't feel good, I overheard him say and walking out theatre door I heard a guy puking hard & loud in the bathroom."
In response to the incidents of audience members fainting and vomiting, writer/director Damien Leone said, "Listen, I would have loved to have a couple of walk-outs, I think that's sort of a badge of honor because it is an intense movie. I don't want people fainting, getting hurt during the movie. But it's surreal."
He also noted the joy that the film's success has brought him, saying "Every morning I wake up, it's like Christmas morning. Since it hit theaters, the hype's been building, so it's really exciting." Leone's warning for horror fans considering seeing Terrifier 2 is that they should watch the original first to see if they are up for the level of gore Terrifier 2 promises its core audience members: "If you see Terrifier 1, you'd know what you're getting into. There is a now-notorious murder scene, a hacksaw scene, in Part I that everyone walks away talking about. We tried to rival that scene [in the new film] because the really supportive fan base that we've had this entire time, that has really started to put Art on a pedestal, I mean, those are the things that they really want. I think this movie is more accessible, but we're essentially still making these movies for them, and if other people want to come on board, the more the merrier."
Leone has confirmed that Terrifier 3 is in the works and that he already has enough material for Terrifier 4 as well. We can't wait to see what gruesome kills Art the Clown has in store for us!
Related Reading