Slasher Films + Snuggles
It's a horrifying story about a romantic weekend trip where the husband has a heart attack dies, leaving his wife handcuffed to the bed inside a remote cabin.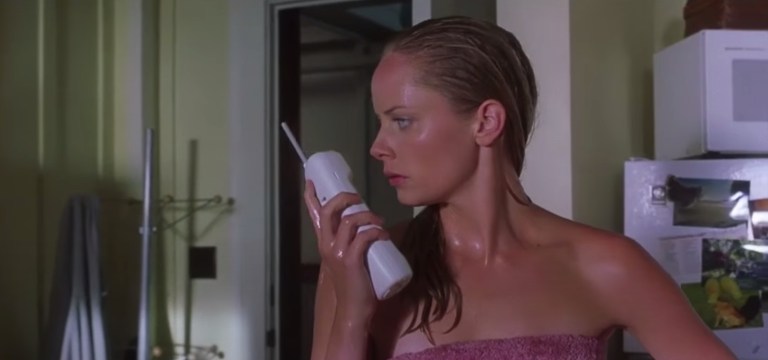 Hey Creepy Catalogers,
It's Valentine's Day weekend so the unofficial theme for this week's streaming recommendations is good horror movies to watch on a date night. These all pair well with cozy candles, conversation hearts and a themed adult beverage. Here's the best of what you'll find streaming this weekend:
Best of Netflix:
Crime Scene: The Vanishing at the Cecil Hotel. This Elisa Lam docuseries just dropped yesterday and it's already #1 on Netflix. It explores the gruesome history of Los Angeles' Cecil Hotel. Since its opening in 1927, the hotel has been the site of an extreme amount of violent deaths, most notable in recent memory is the disappearance and death of Elisa Lam. It's only four parts, so you can certainly fit it into one night if you're ambitious.
If you're looking for a more traditional date night horror movie on Netflix, I loved their take on gothic horror, Rebecca. There's also a brand new offering from Netflix, Red Dot, about people on a camping trip who are hunted by an unseen sniper. Gerald's Game is about a romantic weekend trip where the husband has a heart attack dies, leaving his wife handcuffed to the bed inside a remote cabin.
Best of Hulu:
My Bloody Valentine. This is a 2009 remake of a 1981 Canadian slasher movie centered around the Valentine's holiday. In the small mining town of Harmony, Valentine's Day is a grim reminder of a mining accident in the town's past that took the lives of five people. On the anniversary, a masked killer terrorizes the town.
Other Valentine's suggestions: I think Hitchcock movies tend to make good date movies and Hulu currently has Vertigo, Rear Window, The Birds, and Rope. Kiss the Girls (1997) is about a killer who calls himself "Casanova", which seems timely. If you're following the true crime case of Britney Spears, you might also like Framing Britney Spears.
Best of Prime:
Valentine. This is only available for rental but it's a perfectly themed horror movie that isn't talked about much. A group of women who have been friends since junior high realize they are being stalked by a boy they cruelly rejected when they were young. They no longer know what the boy looks like, but he begins killing them one by one.
Also on the service is another fun early 00s slasher movie, The In Crowd, and Break (2019) which seems like a kind of sequel to Adam Green's Frozen (2015) which I happen to think is extremely underrated.
Best currently airing horror:
Clarice. Clarice Starling is back! This new show will pick up one year after the events of The Silence of the Lambs. Clarice Starling is called to work in Washington, DC to profile the unidentified suspect behind a bizarre set of murders. The series airs Thursdays on CBS at 10/9c and you can stream episodes here.
This week's Horror Happenings:
Stay spooky! 👻