Here's What Is Actually Happening at the End of 'Saint Maud'
As Amanda's health fades, Maud's obsession with saving her soul grows.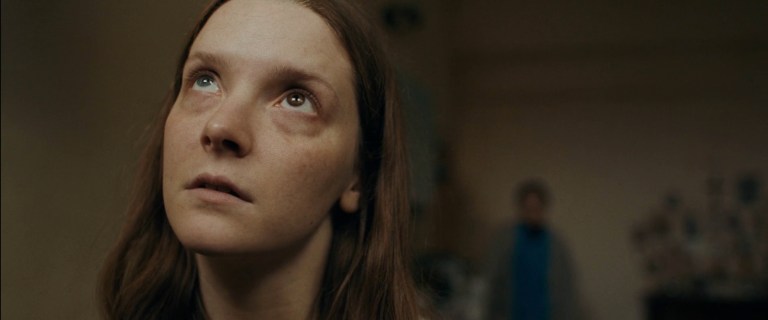 Rose Glass wrote and directed 2020's Saint Maud as a story about isolation and shame. She said she only happened to write a horror story because the subjects she explores are indeed horrifying, not because she set out to scare her audience. For her first feature-length film, Glass hit it out of the park. Saint Maud is one of the scariest horror movies to come out of 2020.
The British psychological thriller is about a hospice nurse named Katie, who has recently started going by the name Maud after a traumatic event at her last nursing assignment. The film opens after "Maud," suffering from PTSD, has become a fervent follower of Catholicism, even practicing self-flagellation. She begins working with a new patient, Amanda, a libertine American dancer who is dying of lymphoma. Maud obsesses about converting Amanda to Christianity and "saving her soul." As Amanda's health fades, Maud's obsession grows.
Notably, the film's ending is pretty out there. (Warning: spoilers for the ending of Saint Maud ahead, discontinue reading and go watch the movie if you haven't seen it yet!) Due to her eccentric behavior, Maud is fired from her job caring for Amanda. She makes a few desperate attempts to leave her self-imposed isolation behind but is instead raped by a man who recognizes her from her "Katie" days. The audience witnesses "God" speaking cryptically to Maud as a cockroach after she'd begged God to talk to her. Maud seems resolved, and the audience follows her closely while not being privy to her unspoken thoughts.
Maud goes to Amanda's home and murders her. The next day, Maud walks to a popular beach near her home. She slowly pours a gallon of acetone over herself. She speaks in the language we briefly heard "God" speak as the cockroach, and then she self-immolates. The other beachgoers gather and kneel before Maud as she alternately looks serene and consumed by pain.
The whole second act is ambiguous. Are we really witnessing God speaking to Maud? Or are we so immersed in Maud's story that we can actually partake in her psychosis?
This little detail that Rose Glass dropped in an interview with Elle might help you decide. When "God" speaks to Maud as the cockroach, and later when Maud utters her last words (translated on the screen as "glory to God"), she is actually speaking Welsh, the native language of actress Morfydd Clark, who plays Maud. Not only is the language something specific to Maud, but the voice we hear is also Morfydd Clark's own voice, pitched down.
Whether you think this is proof that Saint Maud is about a troubled woman who becomes insane or a devout nurse's encounter with spiritual warfare, Rose Glass is happy for you to interpret her story however you like. Either way, it's probably worth a rewatch now that you know what's happening during the scenes where it appears Maud is having supernatural religious experiences. Saint Maud is currently streaming with an EPIX subscription and is available for rental and purchase on Amazon.