An Adaptation of a 'Killer' Podcast Hits Streaming in July 2023
"A macabre retelling of Sweeney Todd where cannibalism is a metaphor for gentrification."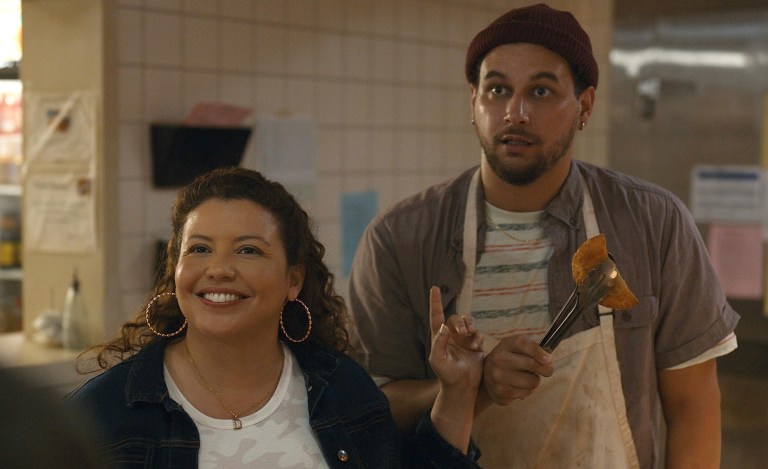 Back in 2018 a podcast called The Horror of Dolores Roach premiered on Spotify. The 13-episode radio drama followed a relatable ex-con (the title character, Dolores Roach) as she is released from prison and goes to "shocking extremes" to protect her freedom and stability on the outside. The podcast was a hit and horror production company Blumhouse won the rights to develop an adaptation for the screen.
The Horror of Dolores Roach will be an 8-episode comedy horror series that follows Dolores Roach (Justina Machado) who is starting over after serving a 16-year prison sentence for pot possession. When she returns to her Washington Heights, New York neighborhood, Dolores finds it almost unrecognizable due to gentrification. Her only friend Luis (Alejandro Hernandez) gives Dolores a place to stay and lets her set up an under-the-table massage business underneath his struggling empanada shop. When Dolores is forced to kill a massage client in order to stay out of prison, customers love the taste of Luis' new empanada recipe.
I'd been working on a series of one-person horror plays that were contemporary reinventions of old horror characters and properties, and I had this crazy idea for a contemporary reimagination of the old Sweeney Todd legend back from the penny-dreadful days.

Aaron Mark, The Story Behind 'The Horror of Dolores Roach'
The Horror of Dolores Roach began as a one-woman play, Empanada Loca, written by Aaron Mark and performed by Daphne Rubin-Vega (who originated the role of Mimi in Rent). After finding success as a play and a podcast, the TV adaptation will star Justina Machado and Alejandro Hernandez and will feature Kita Updike, K. Todd Freeman and comedian/podcaster Marc Maron. The Horror of Dolores Roach had its world premiere at the Tribeca Festival and will hit Prime Video on July 7, 2023.
Further reading: