Best Horror Movies on Amazon Prime (September 2023)
Amazon Prime's library of horror movies can't be beat, but with so many choices it can be tough deciding what to watch. Collected here are the best movies available to rent, buy, or stream for free on Amazon Prime Video.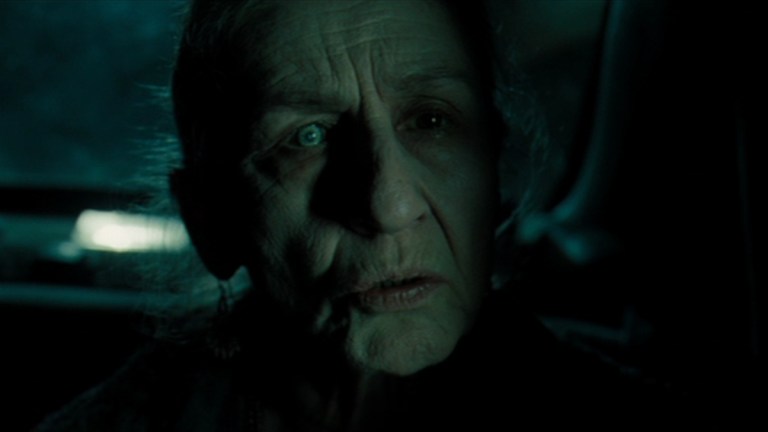 Amazon is a unique streaming platform. Unlike subscription-based streamers like Netflix, Hulu, and Peacock, Amazon provides the largest catalog of movies available to rent or purchase digitally. Just about every new movie, from blockbusters to no-budget indie films, can be found on Amazon, and its selection of older movies can't be beat.
Of course, Amazon does have a subscription service as well. For subscribers to Amazon Prime Video, there is a rotating library of horror movies available to watch for no extra charge. Amazon also partners with other streamers including Max, Showtime, Starz, AMC, Shudder, and more, offering channels that extend its library even further. With so much to choose from, it can be difficult to decide what to watch.
This list is divided into three sections: movies you can watch for free as part of your subscription to Amazon Prime, new and upcoming horror movies made or distributed by Amazon Studios, and the best horror movies available to rent or buy digitally on Amazon not included as part of Prime.
Best Horror Movies Included with Amazon Prime Video
Coming to Amazon Prime September 12, 2023.
Inside is an interesting spin on survival movies. Nemo (Willem Dafoe), an art thief, is trapped inside a luxurious penthouse he is attempting to rob when the security system locks everything down. With the owner away and supplies limited, Nemo is in for a grueling test of endurance as he tries to survive and escape.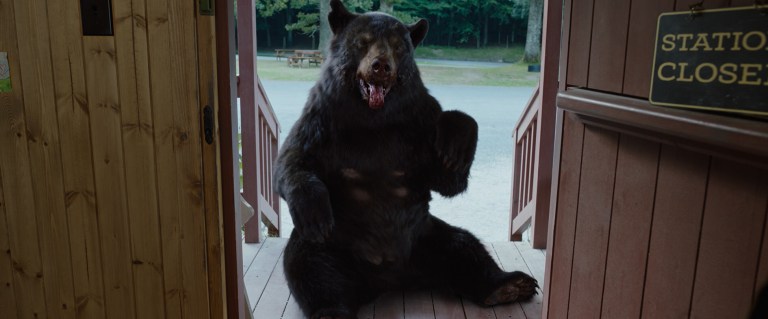 Directed by Elizabeth Banks and written by Jimmy Warden (very loosely based on a true story), Cocaine Bear was one of the wackiest movies to come out in theaters in 2023. It's a super fun animal-attack comedy that totally delivers on its promise of lots of drugged up bear violence.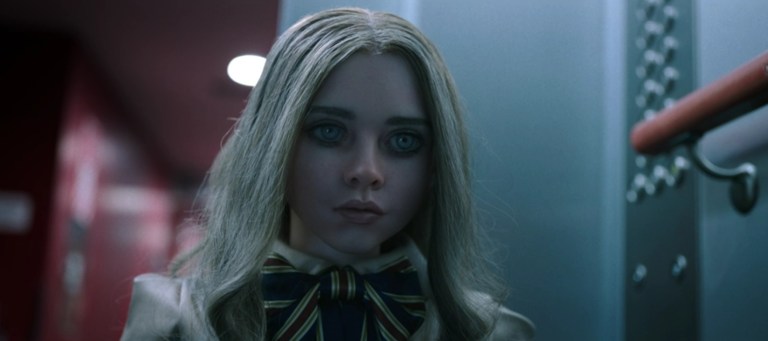 M3GAN is one of the best new horror movies of 2023, and it's currently available to stream for free for Amazon Prime members. If you haven't seen this super fun movie about an android doll that goes on a murder spree, now is the best time to check it out.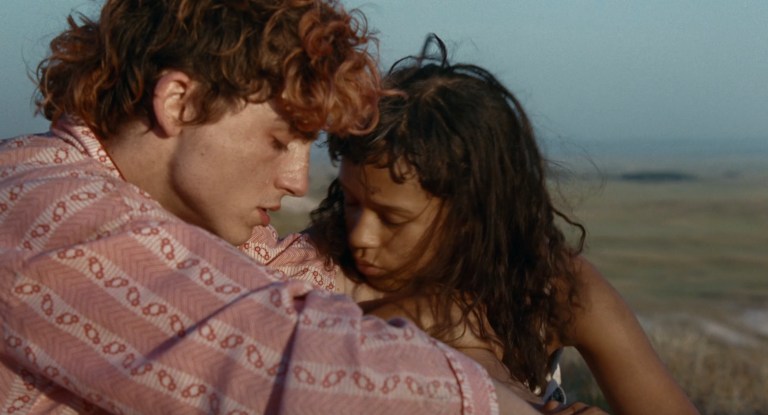 Based on the novel of the same name by Camille Deangelis, Bones and All is a coming-of-age story about finding out who you are and where you belong. For Maren (Taylor Russell), her search for identity begins when she is abandoned by her father after she tries to eat the finger of a friend. Maren is an "Eater," a person who has an overwhelming craving for human flesh. As Maren attempts to find her estranged mother, she encounters other Eaters, including Lee (Timothée Chalamet) who seems similarly lost. Bones and All is touching, gruesome, and romantic, sometimes all at the same time.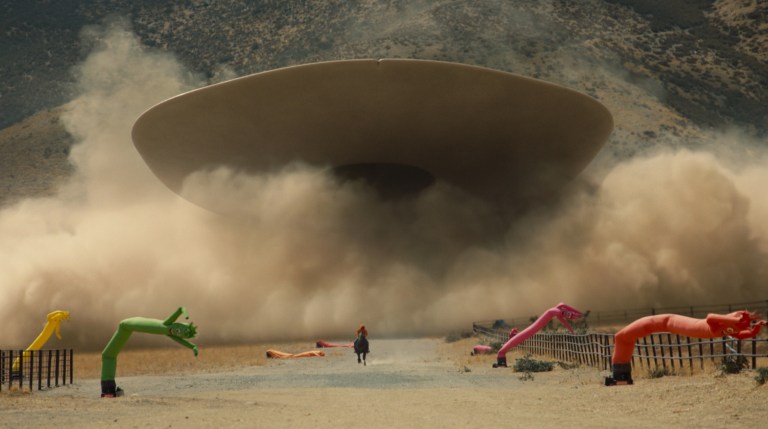 Starring Daniel Kaluuya and Keke Palmer, Nope is a sci-fi creature feature unlike any other. Siblings OJ (Kaluuya) and Em (Palmer) struggle to keep their father's business afloat after he dies under mysterious circumstances. They soon notice something odd in the sky, and they set out to document the UFO in hopes of selling the footage to save their father's ranch. Their investigations uncover something completely unexpected and more dangerous than they could have imagined.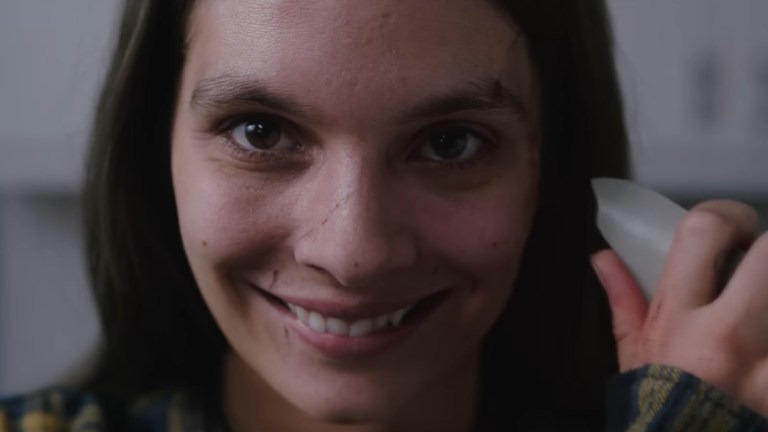 Smile was one of the surprise horror hits of 2022. With a great marketing campaign and some great scares, Smile is a perfect movie when you're in the mood for something spooky. It is a curse-style movie about a therapist, Rose Cotter (Sosie Bacon), who becomes haunted by an evil entity after witnessing a patient kill herself while smiling. Kyle Gallner costars as Rose's ex-boyfriend whom Sosie enlists to help her figure out how she can escape what appears to be her imminent death.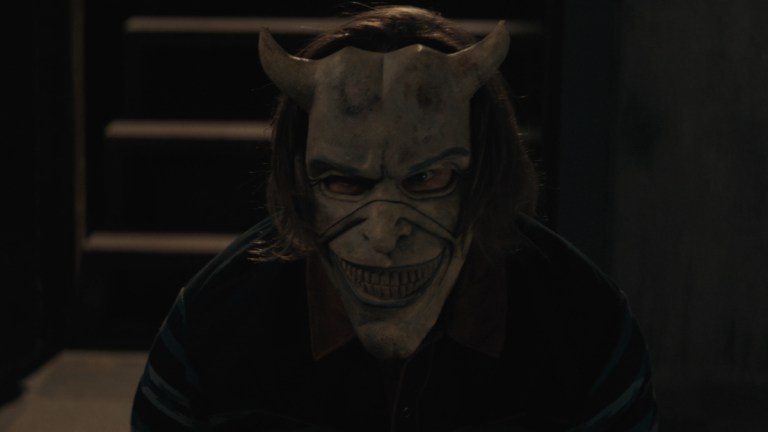 The Black Phone was one of the biggest horror releases of 2022, and for good reason. Directed by Scott Derrickson (Sinister, The Exorcism of Emily Rose), The Black Phone is a tense blending of kidnapping thriller and supernatural horror. Ethan Hawke is chilling as the demon-masked Grabber, and the movie's young leads Mason Thames and Madeleine McGraw carry the emotional weight of the movie superbly.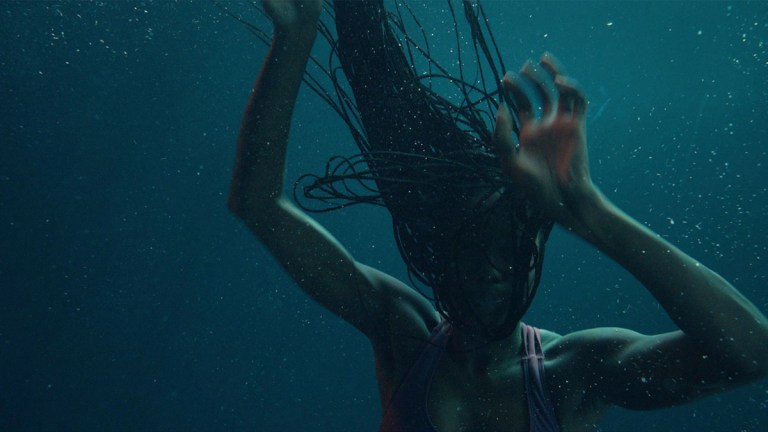 Directed by Nikyatu Jusu in her feature-film directorial debut, Nanny is a psychological horror film about a woman from Senegal, Aisha (Anna Diop), who is working as a nanny in New York City. As Aisha works to make a life for herself in a new country in preparation of bringing over her young son from West Africa, a disturbing presence threatens to destroy everything she's built.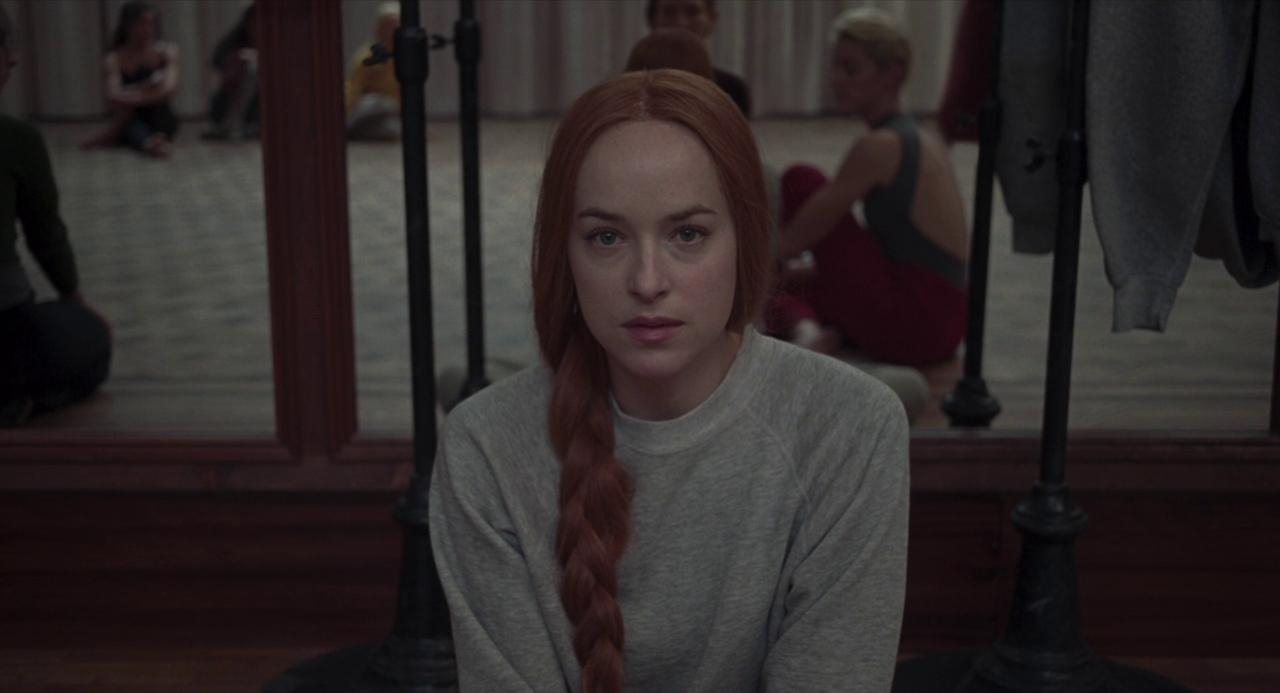 Because the 2018 remake of Suspiria is quite different from the 1977 original, it stands alone as a beautifully grotesque story about witches. The movie is set within a dance academy in West Berlin during 1977. Susie Bannion (Dakota Johnson) is a new student just arriving from a small town in Ohio, and her natural dancing abilities attract the attention of the mysterious Madame Blanc (Tilda Swinton). What ensues is a dark and unsettling horror film that feels more like a tribute to Argento's masterpiece rather than a straightforward remake.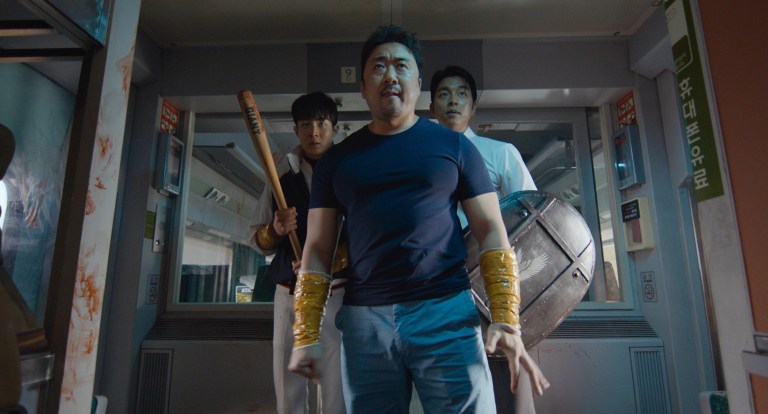 South Korea has a knack for creating fresh and fantastic zombie movies, and Train to Busan is the finest example of this. The movie takes place mostly on a speeding train as a zombie outbreak spreads throughout South Korea. The passengers quickly discover that the zombie infection made it on board, and a dwindling number of survivors do their best to survive in hopes that their destination will provide safety. Train to Busan is packed with action, and the drama hits surprisingly hard as the audience grows more and more attached to the characters who are always just a zombie bite away from certain death.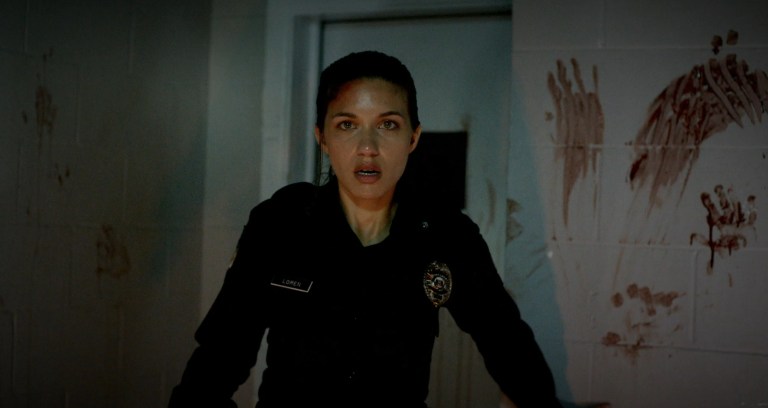 Rookie police officer Jessica Loren (Juliana Harkavy) is given the duty of taking the last shift at a station that is about to be permanently closed. Spending the night alone in the police station is completely uneventful at first, but as the night progresses, a series of terrifying supernatural events turn her first assignment into a nightmare.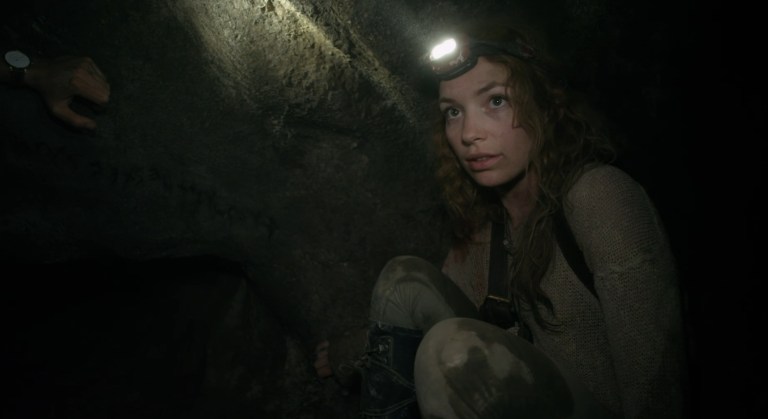 As Above, So Below is a found-footage gem that needs to be talked about more. The story follows a woman's search for an ancient artifact, the philosopher's stone, in the Catacombs of Paris. As she, her documentary crew, and her guides travel deeper into the maze-like tunnels, they encounter an increasingly creepy series of supernatural events. The finale of As Above, So Below is up there with the very best of the found footage format.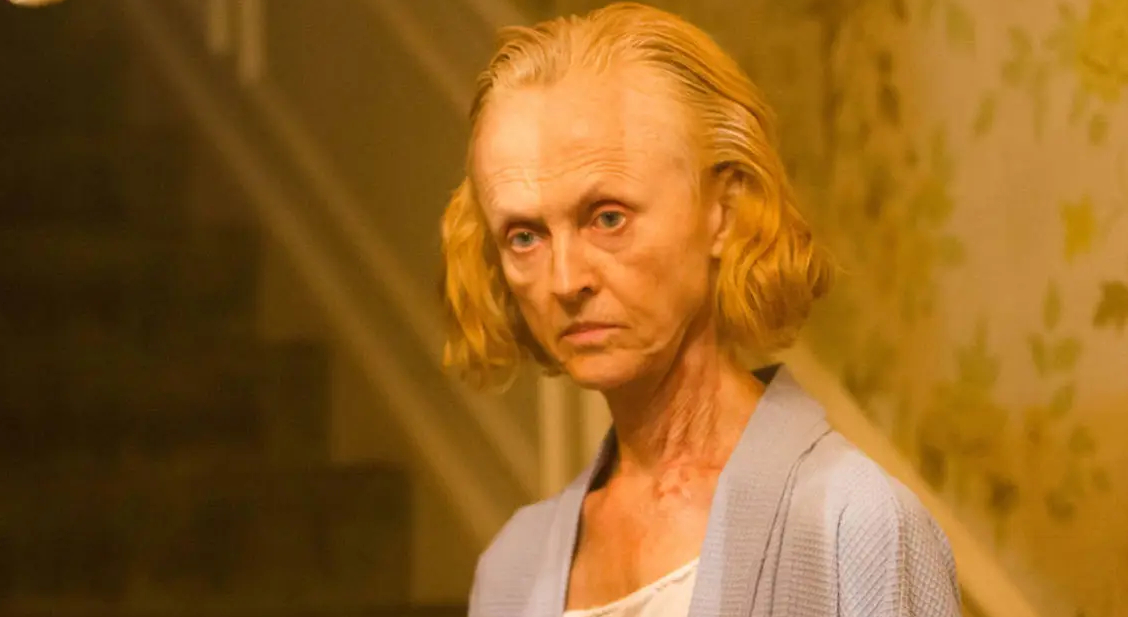 A documentary crew chronicling the life of an elderly woman, Deborah Logan (Jill Larson), diagnosed with Alzheimer's disease discover something terrifying behind the poor woman's struggles. This found-footage film combines the real-life horrors of disease with supernatural terror to deliver an unforgettable gem of a horror movie.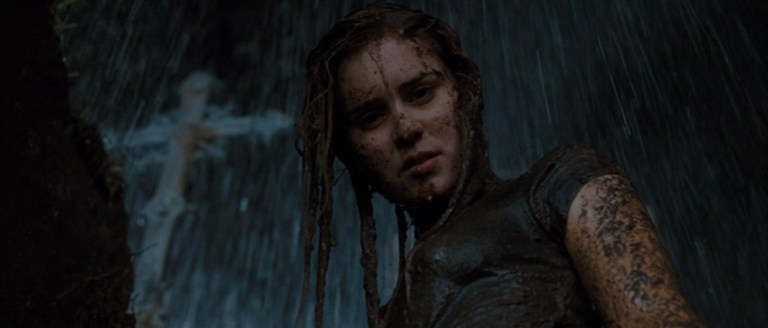 Christine, loan officer, is cursed by a woman after she refuses to extend the elderly lady's mortgage for a third time. Now Christine has just three days to try to break the curse before she is literally dragged into Hell. Drag Me to Hell isn't just a fantastic horror movie in Sam Raimi's signature style, but it can also spark some interesting conversations about the extent to which characters in horror movies "deserve" the horrible fates they end up with.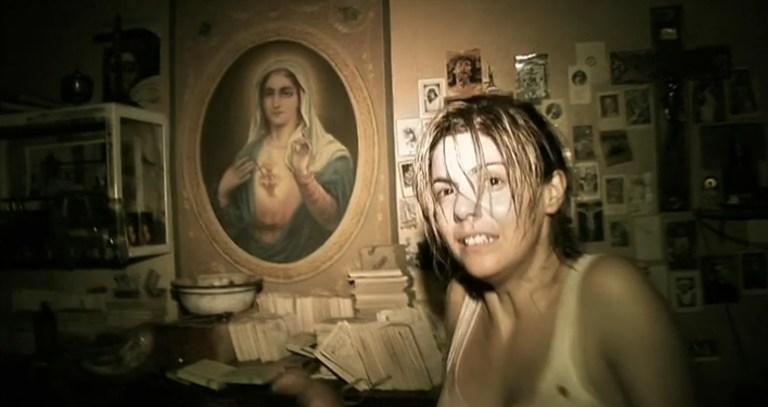 REC is a Spanish found-footage movie about a reporter who becomes trapped inside an apartment building where an infection is turning people into zombie-like monsters. The action picks up quickly, and it rarely ever slows down in this frenetic horror experience. REC uses the found-footage style brilliantly, making the viewer feel trapped inside with the dwindling number of survivors.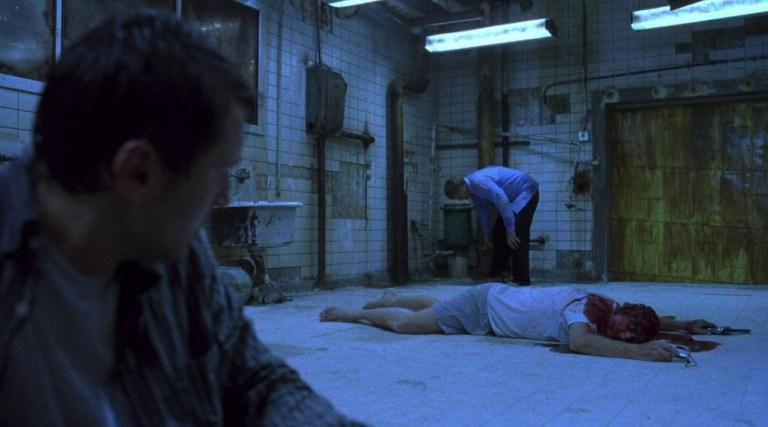 Saw grew into a sprawling franchise, but the original is still arguably the best. In what is essentially an early version of what would become the escape room subgenre, two men wake up to find themselves chained to pipes in a room… and there is a dead body between them. As they search for clues to escape and search their memories for how they got into the mess they're in, the dark saga of the Jigsaw Killer begins.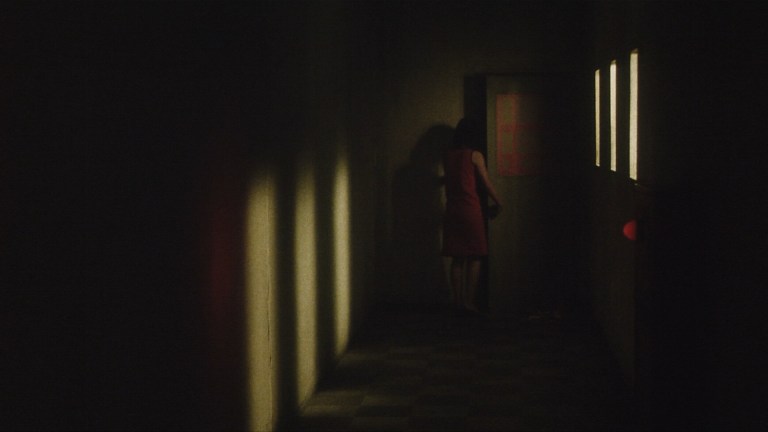 Pulse is an insidiously unnerving horror movie where life, death, technology, and the supernatural come together in an eerie story that touches on isolation and loneliness. Released during the worldwide boom of J-horror around the turn of the century, Pulse is a more quiet experience than many of its famous contemporaries, but that doesn't mean it isn't scary. Pulse is unsettling in a way that will stick with you for a very long time.
Kalifornia is an excellent thriller that deals with themes of society's fear and fascination with criminals and killers. In the film, a couple takes a road trip to California while visiting sites of famous murders as research for a book. They get much closer to the subject of killing than they expected when their ride-share companions turn out to be a murderous ex-con and his girlfriend.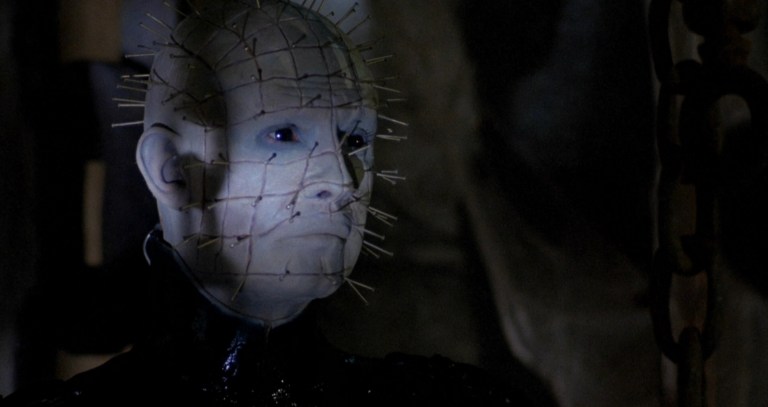 The Hellraiser franchise may have gone in some weird directions over the years (including to outer space and into video games), but the first movie in the series is a superb work of horror. Based on the novella The Hellbound Heart (1986) by Clive Barker, the movie features Doug Bradley as the extradimensional Cenobite known popularly as Pinhead who appears on Earth to reclaim the soul of a man who escaped him and his colleagues. The movie features great gore effects and an overwhelmingly dark and oppressive atmosphere, and the finale is one of the most visually stunning sequences in the entirety of 1980's horror.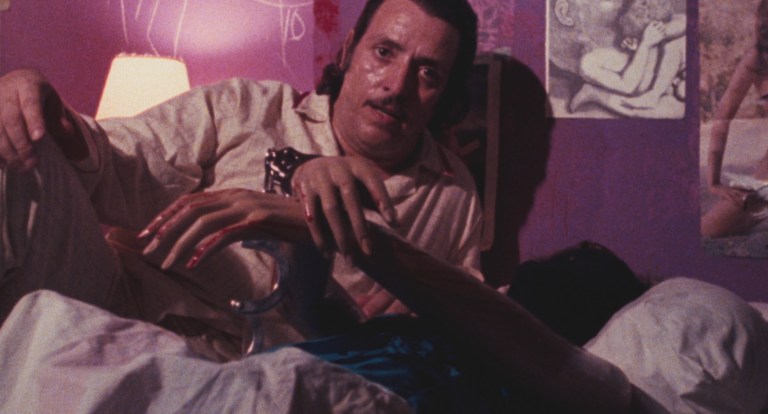 Maniac is an interesting anomaly of 1980s slasher movies. The movie takes place from the perspective of serial killer Frank Zito (Joe Spinell) as he compulsively stalks and kills women. Slasher movies from the era typically took place from the perspective of the victims, so by putting the viewer in Frank Zito's head complete with Zito's thoughts narrating his actions, Maniac is one of the more unnerving serial killer movies ever. Also, Tom Savini's brutal special-effects work in Maniac means that this movie is definitely not for the squeamish.
Abbott and Costello Meet Frankenstein is the first of the legendary comedy duo's forays into the world of the classic Universal monster movies. Chick Young and Wilbur Grey (Abbott and Costello) are baggage clerks who get tangled up in a plot concocted by Dracula (Bela Lugosi) to find a new brain for Frankenstein's monster (Glenn Strange). Meanwhile, the Wolf Man (Lon Chaney Jr.) is trying to destroy Dracula, but his periodic transformations into a werewolf complicate matters.
Recent Amazon Original Horror Movies & Shows
Added to Amazon Prime July 6, 2023.
In The Horror of Dolores Roach, Dolores Roach (Justina Machado) is recently released from prison and tries to get her life back on track. After an incident that involves a murder, Dolores is dragged into a horrifying (and darkly humorous) situation that involves dead bodies and a new recipe for empanadas. This series is based on the podcast of the same name.
Added to Amazon Prime April 21, 2023.
Dead Ringers is a Prime Video series based on the 1988 David Cronenberg movie of the same name. In the series, twins Elliot and Beverly cross the lines of ethics and morality in their desires to revolutionize women's healthcare.
Best Horror Movies on Amazon to Rent or Buy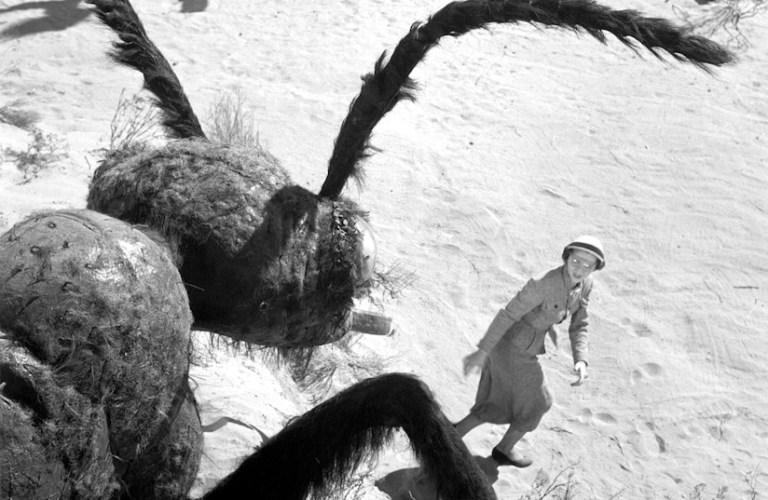 Them! came out in the 1950s when nuclear-powered monsters were all the rage, and it still stands as one of the finest sci-fi horror movies, and easily the best of the "giant bug" movies, of the decade. Directed by Gordon Douglas and starring James Arness, James Whitmore, and Joan Weldon, Them! is about the fight against a colony of giant ants mutated by radiation from the testing of an atomic bomb. The movie's theme as a cautionary tale about the unknown dangers of the Atomic Age are quaint by modern standards, but the well-developed story and incredibly fun action are still entertaining to this day.
Few movies have affected horror cinema in the way Alfred Hitchcock's Psycho has. The movie's influence is still very apparent in modern horror, making Psycho required viewing for every serious fan of horror. From Janet Leigh's iconic shower scene to Anthony Perkins' phenomenal performance, Psycho is an absolute classic. Since it's such an important part of cinematic history, it's odd that it isn't always readily available on subscriber-based streaming services. Thankfully it's available to rent on Amazon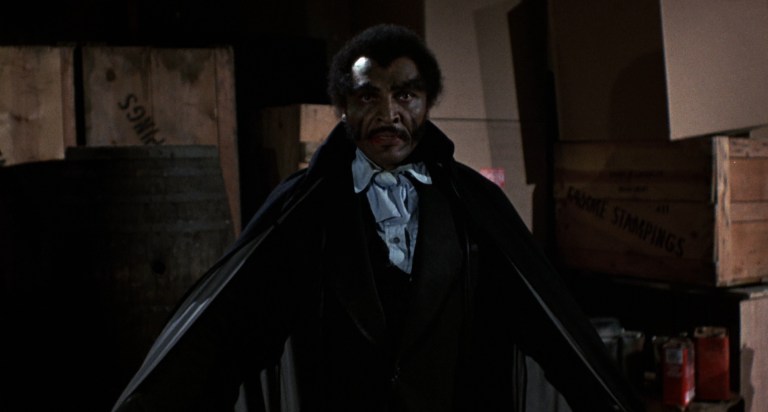 In Blacula, William Marshall stars as Mamuwalde, an African prince who is turned into a vampire by Count Dracula himself. Nearly two centuries later, Mamuwalde, dubbed "Blacula," finds himself in Los Angeles where he becomes convinced that a beautiful woman named Tina (Vonetta McGee) is the reincarnation of his long-dead wife Luva. Blacula is essentially a Blaxploitation adaptation of the Dracula story by Bram Stoker. It's campy, sure, but it's also really good. William Marshall is fantastic in the lead role, and the power of his performance helped inspire a wave of Blaxploitation horror movies in the 1970s. The sequel, Scream Blacula Scream (1973), is arguably even better, and it is also available to rent on Amazon.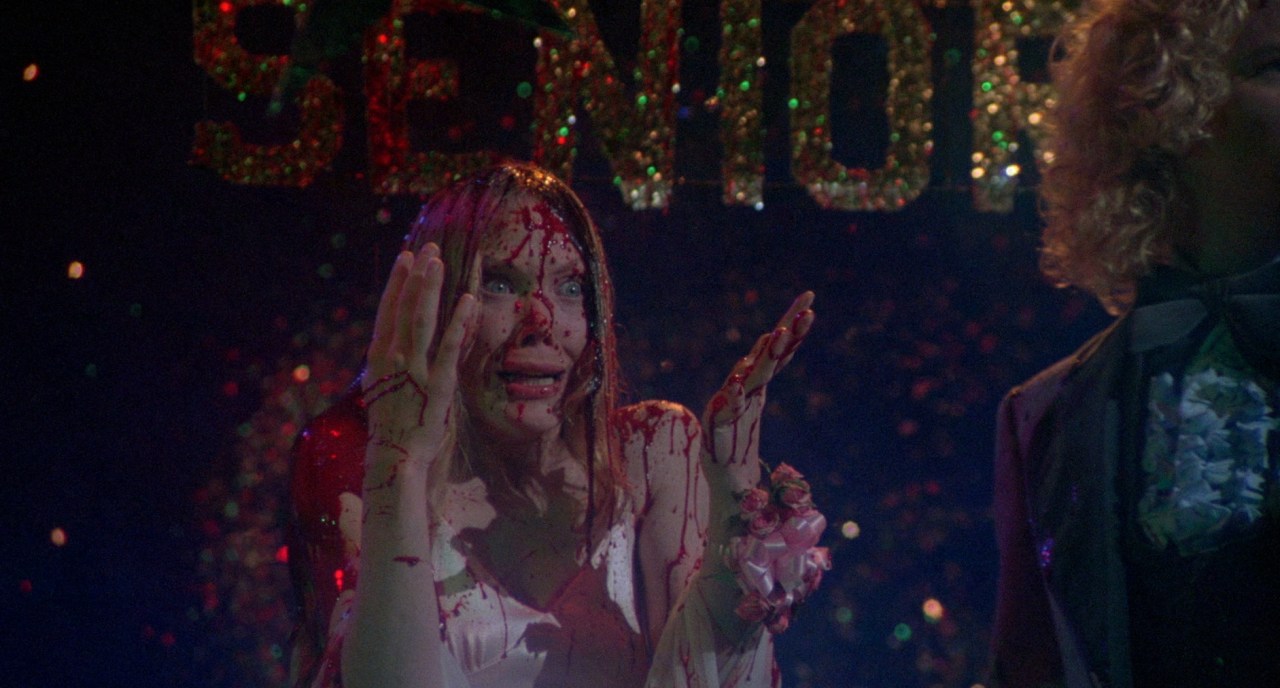 Of all of the many, many movies and TV shows based on Stephen King's writings, Carrie remains one of, if not the, very best. Directed by Brian De Palma, Carrie stars Sissy Spacek in the lead role as a shy, bullied 16-year-old girl whose body is going through both natural and supernatural changes. To make matters worse, Carrie's fanatically religious mother Margaret (Piper Laurie) holds a profound resentment for her daughter and abuses her physically and mentally. The final scenes in Carrie rank up there with with the finest moments in horror history.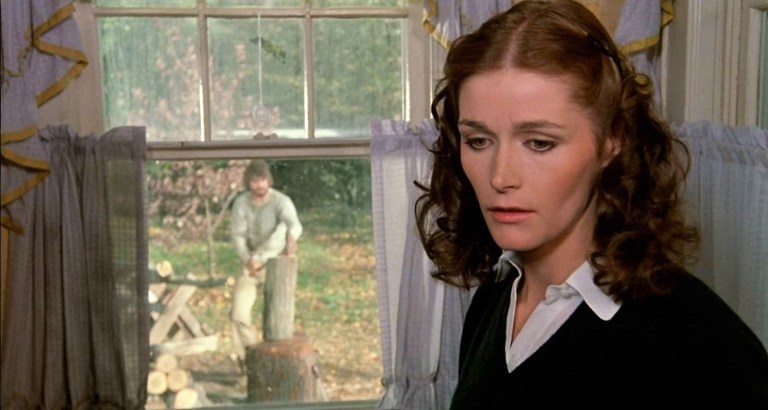 When George and Kathy Lutz move their family into a new house at 112 Ocean Avenue on Long Island, they didn't know they'd flee in terror in less than a month. The Amityville Horror is one of the most recognized haunted-house stories.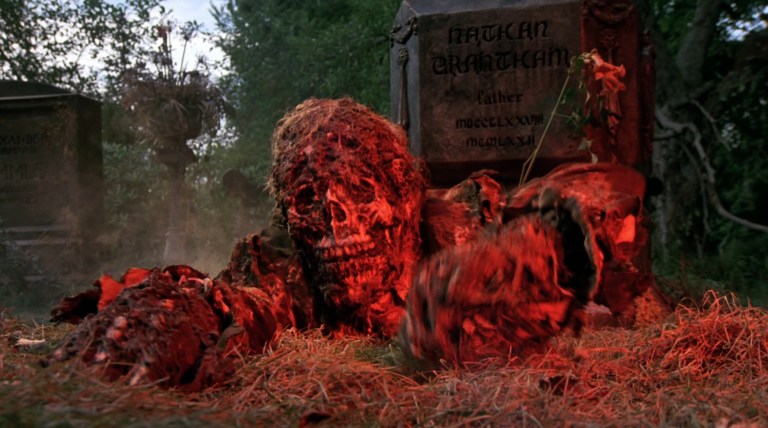 Written by Stephen King, directed by George A. Romero, and with special effects by Tom Savini, Creepshow is at the pinnacle of 1980s horror. It is an anthology horror movie designed as a tribute to the EC horror comics of the 1950s, and the comic-book aesthetic gives Creepshow a timeless appeal. Also, the five stories that make up the movie are supremely entertaining. They have just the right amount of comedic and horrifying elements that will have you laughing right up until the point the monsters, gore, or bugs creep you out.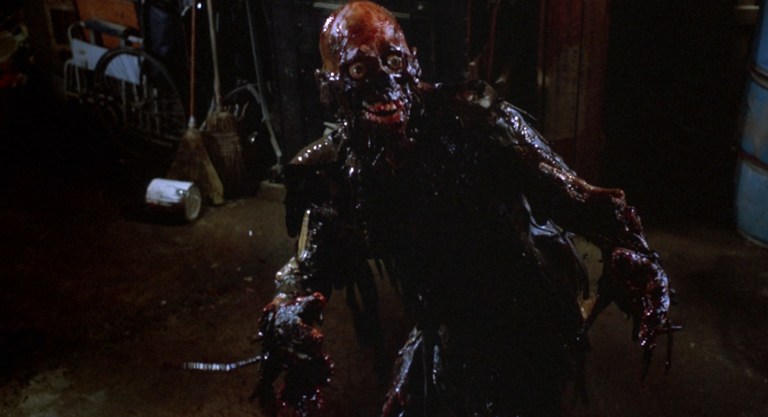 Return of the Living Dead might not be the first zombie comedy ever, but it is certainly one of the most influential. For one thing, this story about a zombie outbreak caused by two bumbling employees (James Karen and Thom Matthews) at a medical supply warehouse originated the idea that zombies specifically want to eat brains. It is also one of the first movies to feature zombies that run, though Nightmare City (1980) is arguably the actual first movie to show fast zombies. Most importantly though, Return of the Living Dead is an absolute blast to watch with infinitely quotable dialogue, memorable characters, and a great combination of comedy and horror.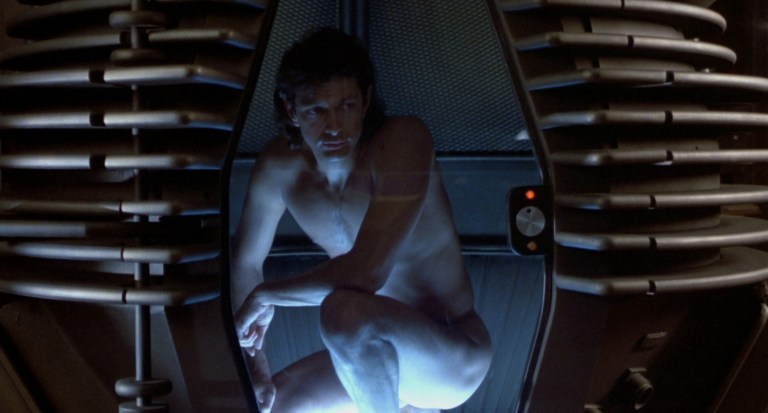 The Fly, a very loose remake of the 1958 movie of the same name, is one of the greatest body horror movies ever. David Cronenberg was already well-known for his grotesque sci-fi horror movies by the time he made The Fly, and this movie continued the director's success at grossing out his audience. But The Fly isn't just about watching Seth Brundle's (Jeff Goldblum) body fall apart as he turns into a giant fly. Cronenberg incorporated universal themes relating to the inevitability of ageing and death, and it's hard not to draw parallels to the horrors of disease.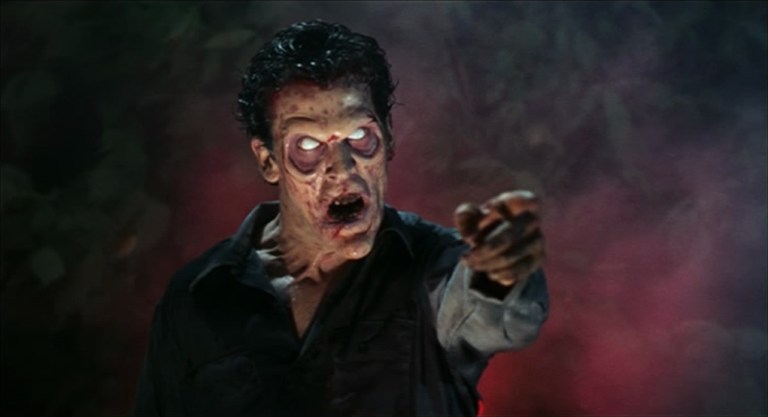 Ash (Bruce Campbell) is forced to spend another night in the demon-infested cabin in the woods in Evil Dead II. Though similar in many ways to The Evil Dead (1981), this sequel dramatically increases the overt, slapstick comedy that director Sam Raimi became known for. Fans may be divided on which of the first two entries in the Evil Dead franchise is the best, but most will agree that both are supremely fun.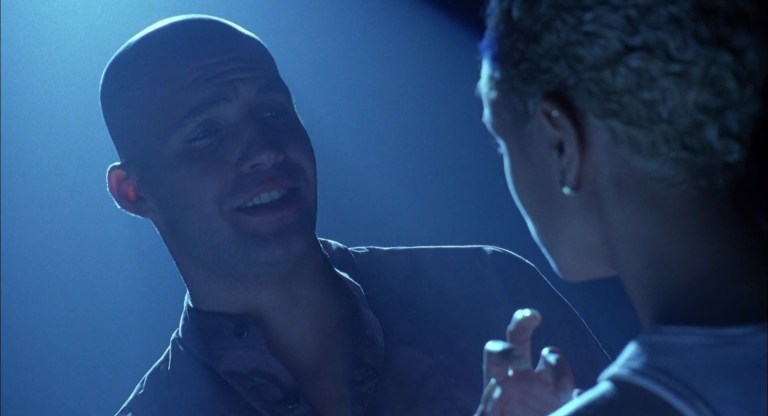 Demon Knight is a feature-length spinoff of the immensely popular Tales from the Crypt television series on HBO, and it's one of the more underrated horror movies from the 1990s. Billy Zane plays The Collector, a demonic entity who is hunting Frank Brayker (William Sadler), the guardian of a mystical key that contains a dangerous power. Brayker is trapped inside a boarding house with a group of strangers, and Demon Knight plays out as a fantastically fun horror comedy as the charismatic Collector tries to manipulate his way into the building, kill everyone, and take the key for himself.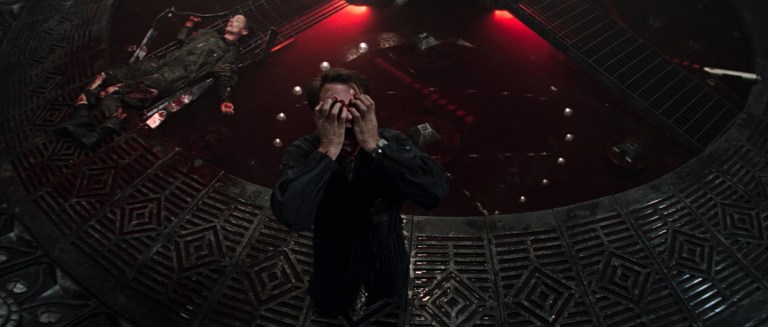 A few decades in the future, a signal is detected near Neptune from a starship thought to be lost. The ship, the Event Horizon, was on a voyage to Proxima Centauri using a gravity drive that folds spacetime. The rescue mission discovers that the Event Horizon is now a ghost ship, but they also find that it brought something back with it from wherever it actually traveled to. Sam Neill and Laurence Fishburne lead a stellar cast in what is one of the best space horror movies of all time.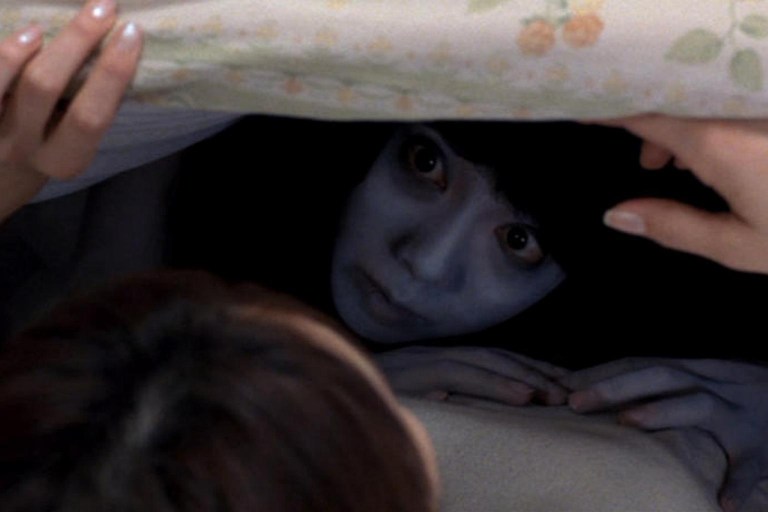 A J-horror masterpiece second in international influence only to Ringu (1998), Ju-On: The Grudge is a fantastic introduction for anyone wanting to get into Japanese horror. Told in a format similar to an anthology film, Ju-On: The Grudge chronicles the effect a cursed house has on the various people who are unfortunate enough to enter. As ghosts Kayako and Toshio torment their victims, the mystery behind the origins of the house's curse becomes clear. Director Takashi Shimizu also directed the American remake, The Grudge (2004), but the original is still the most chilling version.
Shaun of the Dead is probably the greatest zombie comedy of all time. The movie features enough tributes to the history of zombie cinema that longtime zombie fans will constantly be recognizing the references. At the same time, the story manages to perfectly balance comedy, horror, and emotional drama in a way that will entertain viewers that may have no previous interest in the zombie genre. It even manages to throw in some social satire in ways that echo many of the greatest zombie movies that came before it.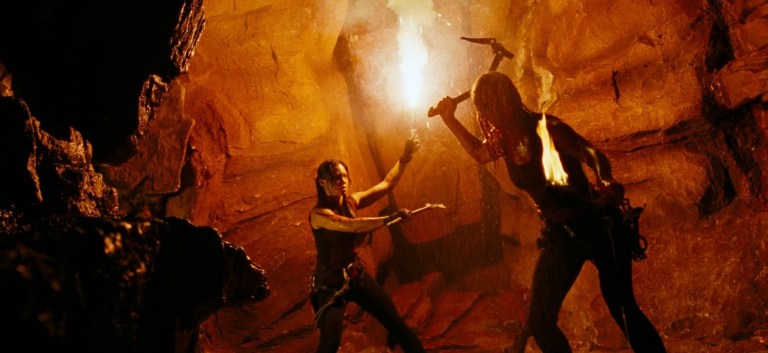 The Descent is an incredibly claustrophobic horror movie that mixes psychological horror, survival, and monsters. The film follows a group of friends as they go spelunking and end up trapped inside the cave they're exploring. They venture deeper into the cave, finding that they are not alone. The stakes are raised by the fact that one member of the group, Sarah (Shayna Macdonald), is on the brink of a mental collapse while recovering from a traumatic experience, and another member, Juno (Natalie Mendoza), has a secret she's keeping from Sarah. The Descent is the best movie of director Neil Marshall's impressive resume which also includes Dog Soldiers (2002) and Centurion (2010).
Released somewhat late in the cycle that came to be known as New French Extremity, Inside is a brutal home-invasion movie about a mysterious woman (Beatrice Dalle) who will do anything she can to take a pregnant woman's (Alysson Paradis) unborn child. Inside is one of the most memorable movies of 2000's French horror thanks to its incredible tension and scenes of unforgettably bloody violence. Inside can be a rough and depressing watch, so it's not a movie for someone looking for a fun horror movie, but it is an impressive work of brutal art.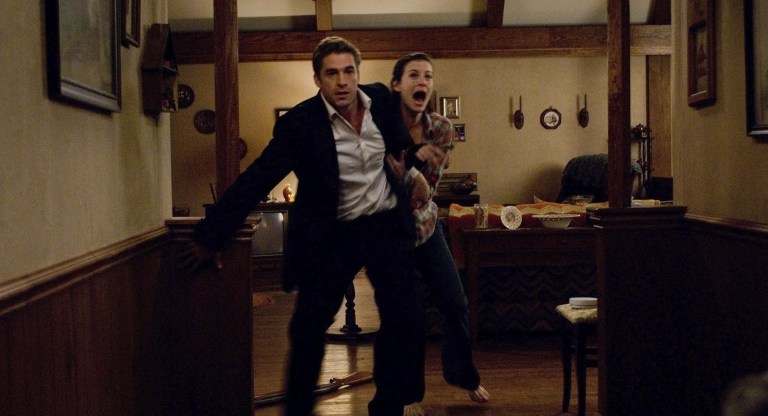 Liv Tyler and Scott Speedman star as a couple who are terrorized by a trio of masked strangers in the aptly titled The Strangers. This home-invasion movie is masterful in its building of tension as the unnamed strangers toy with their victims over the course of a night. Critics were divided on The Strangers when it was initially released, but fans made it a surprise hit in theaters. The movie continued to find its audience on home video, presumably because it's the perfect movie to watch alone, at night, in a completely quiet house.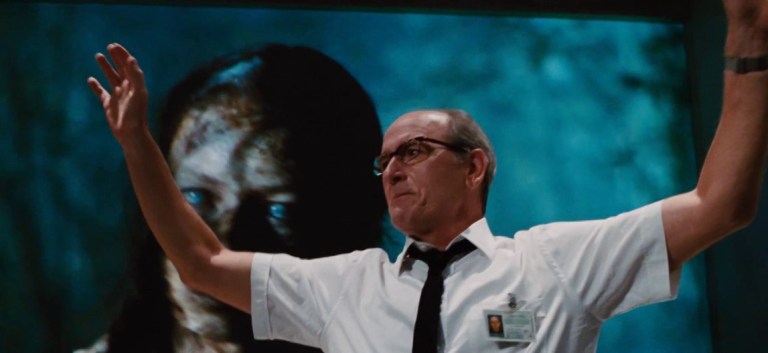 As both an homage to horror movies and as a skewering of the tropes that make up those same horror movies, The Cabin in the Woods is one of the best horror comedies of the 2010s. The movie begins with a typical plot featuring a group of young people made up of horror archetypes heading out into the deep, dark woods for a weekend getaway in a secluded cabin. Shenanigans ensue, but it's not long before viewers are shown that not everything is as it seems. There is something sinister (and rather silly) going on beneath the cabin. With a fantastic script and a cast that includes Chris Hemsworth, Sigourney Weaver, and Richard Jenkins, The Cabin in the Woods is a must-watch for fans of self-aware horror comedies.
Ready or Not is a fabulous survival-game horror movie and easily one of the best horror movies of 2019. Samara Weaving stars as Grace, a bride marrying into the rich and eccentric Le Domas family. Anyone marrying into the family must adhere to the tradition of playing a game drawn randomly from a special box of cards. Grace is forced to play Hide and Seek, but she quickly discovers that the Le Domas family isn't just trying to find her, they're trying to kill her. The tone of Ready or Not is often comedic, but it stull delivers some seriously tense moments of horror.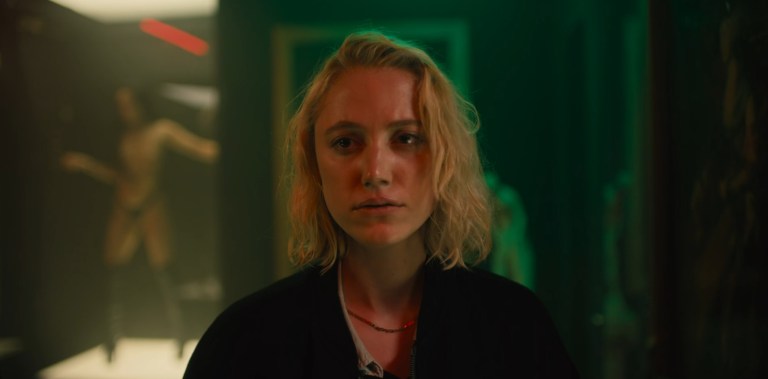 Watcher is an agonizingly tense stalker movie starring modern scream queen Maika Monroe. Monroe plays Julia, a woman who moves to Bucharest with her husband Francis (Karl Glusman). Francis has a new job that takes up most of his time, which often leaves Julia alone in a foreign country where she doesn't speak the language. Julia begins to suspect that a man across the street is repeatedly staring at her, and news of a serial killer on the loose in the city contributes to her growing fear and paranoia. Though the story may feel familiar, it's perhaps this familiarity combined expertly crafted scenarios that make it so frightening.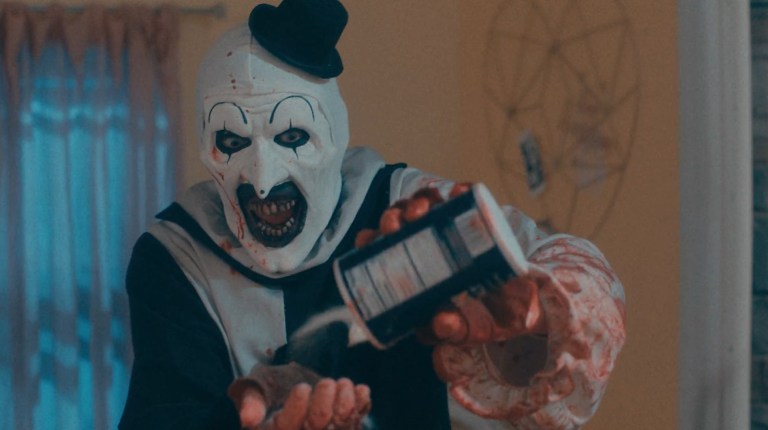 Few people expected a two-hour-plus slasher movie to with excessive gore and violence to be a hit in theaters in 2022, but Terrifier 2 defied the odds. It's planned one-week theatrical release kept getting extended, leading to the low-budget film earning over $10 million at the box office. The story of a supernaturally-powered killer clown and his warrior-costumed final-girl rival captured the imaginations of splatter fans, and now you can watch it as part of Prime Video.
More Streaming Guides