12+ Western Horror Movies
Learn about all the best Western horror movies.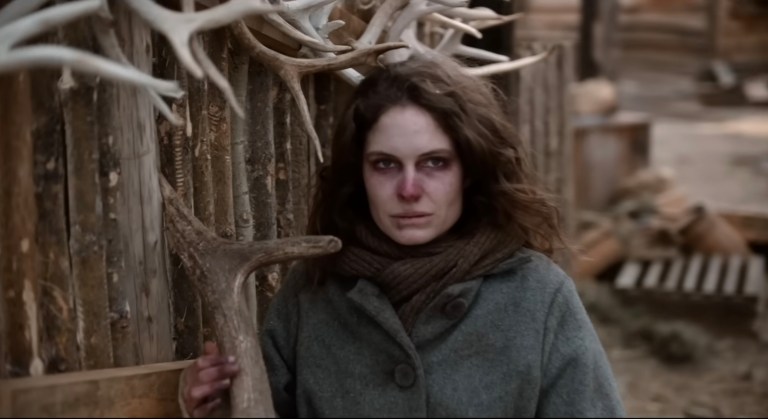 Best Western Horror Movies
The Old West was full of danger and uncertainty. Whether from rattlesnakes, heat, thirst, scorpions, or marauding bands of Native Americans attempting to defend their land, you had no idea when you were going to live or die. Therefore, it seems like a natural setting for horror films.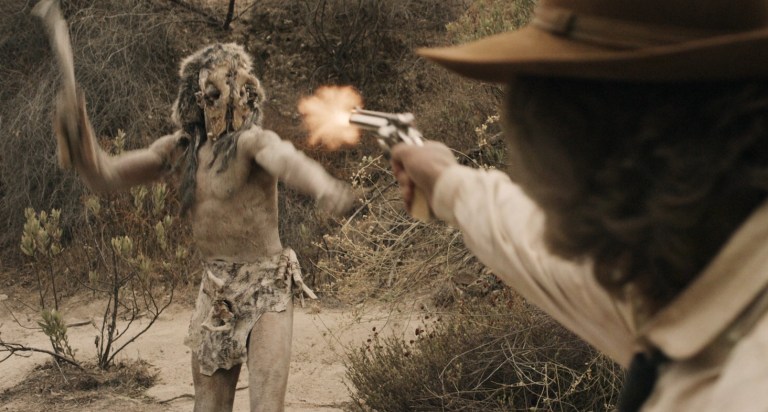 Unfortunately, it seems that the horror genre, due to its insistence on the "atmospherics" of fog and gloom and darkness, depends far more on humidity than anyone expected. You will never see the icy, foreboding fog in classic films such as Dracula and Twilight rolling out there over the bone-dry wastelands of the American West. To create a creepy, ethereal mood, one simply needs fog, and that's something you'll never see in the endless expanses of Nevada or New Mexico. Plus, the sun is always shining out there, and horror movies tend to favor pale villains and paleness in general. As with fog, you're simply not going to find anyone that pale out in the desert.
Regardless, there's a small genre of films that cross-pollinate both the Western genre and the horror genre. They deal with unresolved historical grudges (such as the Civil War), the terrors inherent in being all alone and surrounded by unsettled wild terrain, and, for reasons that remain unclear, loads and loads of cannibalistic vampires and zombies. Why vampires and zombies would flock to the Old West is anyone's guess—one would think they'd like fog and gloom, too. And how can vampires stand all that sunshine?
Here is a brief guide to outstanding films from the Horror Western genre.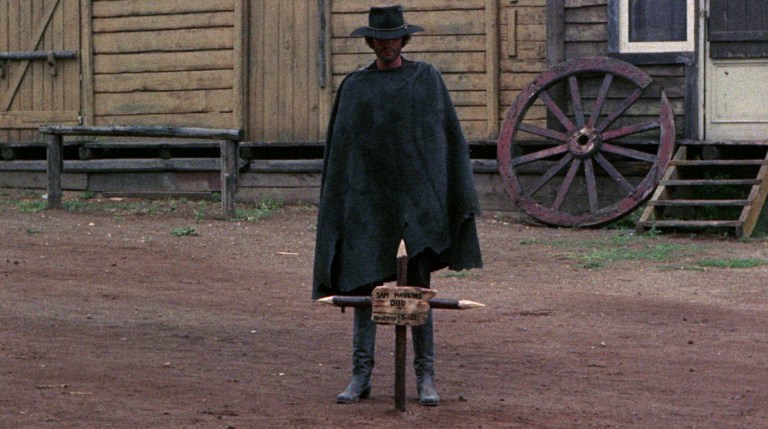 Neither the first nor the last "Django" character in film—the first was 1966's Italian spaghetti Western Django, and Quentin Tarantino famously produced the 2012 slave-revenge drama Django Unchained—this Spaghetti Western by director Sergio Garrone casts the title character as a black-clad drifter who returns to a small dusty town seeking blood vengeance against the former Confederate officers who betrayed him. One by one, before killing each target, he places their name on a wooden cross and plants it squarely in the middle of town. It is never quite made clear whether Django is human or superhuman, but his ability to overcome adversity suggests that he is made of something special. Teenage Frankenstein writes, "As with Drifter, this film often feels like a horror flick or a ghost story. The film's setup is almost slasher-esque, as we follow this iteration of Django systematically killing off one by one his enemies. The film exists in the gloomy, darkly lit, mud-soaked west which was rarely seen in Hollywood westerns."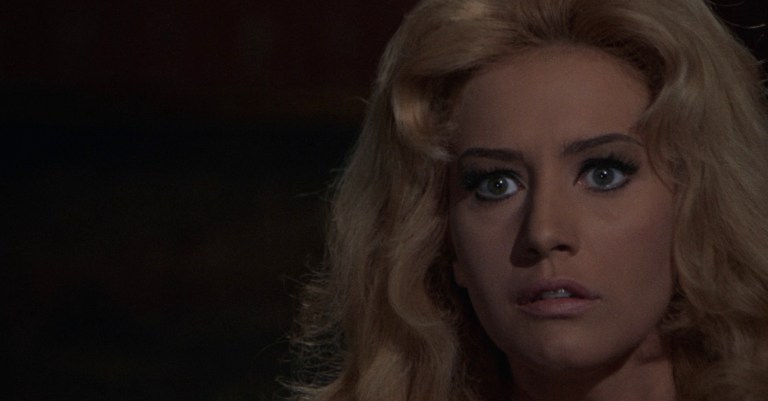 Released in Italy as E Dio disse a Caino…, this grim vengeance story stars Klaus Kinski as Gary Hamilton, a former Confederate officer who has recently returned from ten years of hard labor after his former lover (Marcella Michelangeli) and his ex-business partner Acombar (Peter Carsten) framed him for a heist of Confederate gold that he did not commit. Acombar wound up with the gold and the girl, so Hamilton is hell-bent on revenge. Calling it "a lean and efficient western with some nice gothic horror elements at play," DVD Talk writes, "The film makes excellent use of shadow and light and the cinematography is so good that you almost don't notice that the last half of the film is really just one big, prolonged shoot out….Kinski plays the part perfectly, often bathed in or almost completely obscured by shadow, bringing a weight to his performance that makes it one for the books."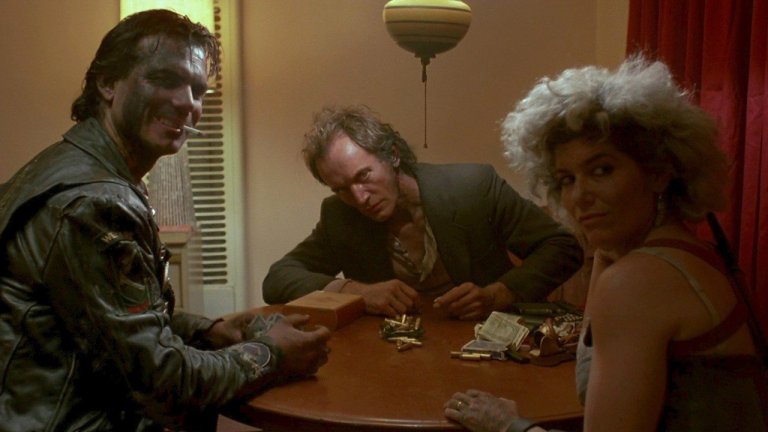 A neo-western horror movie and Academy Award winning director Kathryn Bigelow's solo debut. When a rural farmer's son is bitten by a member of a group of wandering vampires, he has no choice but to leave his previous life and join the undead. Lance Henriksen and Bill Paxton shined as leaders of the vampire pack.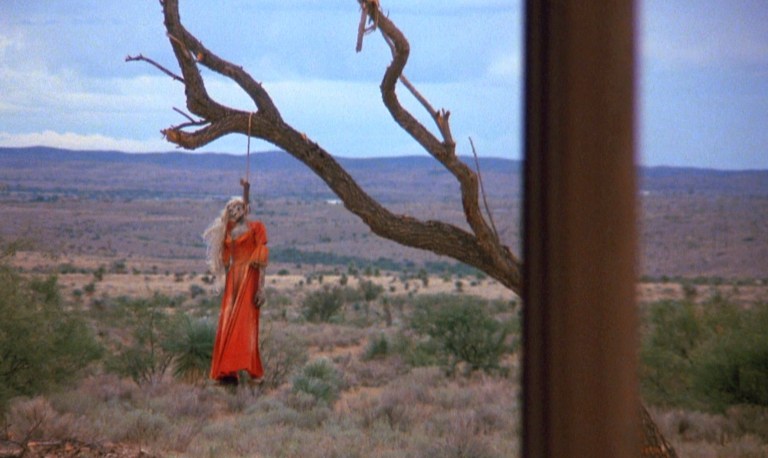 Deputy Langley (Franc Luz) skips out of the wedding of a local debutante named Kate (Catherine Hickland) after she goes missing at her own wedding. Out in the remote wilds of the Arizona desert, he finds her abandoned car, which was apparently wrecked in a violent sandstorm. There's only one thing standing between Langley and Kate—and that's a rogue gang of zombie bandits. Rock! Shock! Pop! writes, "Richard Governor's Ghost Town is a hybrid of two of my favorite genres, the western and horror. Ghost Town did not reinvent the wheel, but no one associated with the film wanted to do that. It seems like they wanted to make a fun, slightly spooky horror-western, and they succeeded….It feels like a low budget 80s horror film, and that type of film is fun."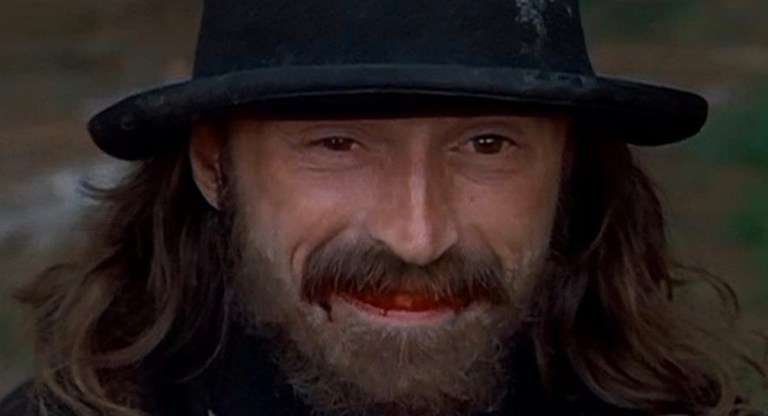 Very loosely based on the infamous cannibalistic "Donner Party" incident of 1847, Ravenous tells the story of Captain John Boyd, a hero of the Mexican-American War whose "reward" is being reassigned to a remote military outpost high in California's frozen Sierra Mountains. As everyone at the outposts slowly slips into insanity, a strange Scottish man appears with horrid tales of cannibalism. But then it starts to become evident that the man himself is a cannibal, and possibly the ravenous Wendigo creature of Native American folklore. Roger Ebert writes, "'Ravenous' is a darkly atmospheric film about an epidemic of flesh-eating and the fearsome power that it brings….'Ravenous' is clever in the way it avoids most of the cliches of the vampire movie by using cannibalism, and most of the cliches of the cannibal movie by using vampirism. It serves both dishes with new sauces."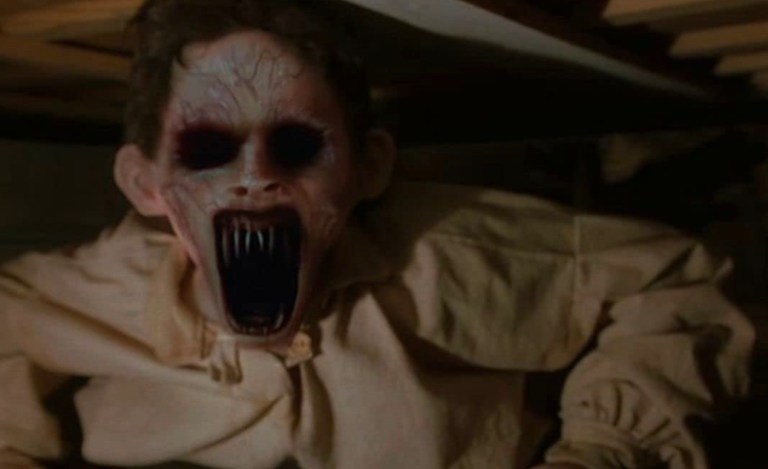 In Alabama during the Civil War, a group of rogue Confederate soldiers robs a bank and then decides to hide in an abandoned plantation mansion, only to find themselves haunted by the ghosts of former traumatic experiences at the home. Driven slowly mad by the spirits, the soldiers slowly begin turning on one another. Reel Film writes, "the film does deserve kudos for the simple fact that it's a horror movie that's actually scary (an increasingly rare thing nowadays).…Director Alex Turner infuses Dead Birds with a hefty dose of style, while the various performers – including Henry Thomas and Isaiah Washington – are surprisingly effective in their respective roles."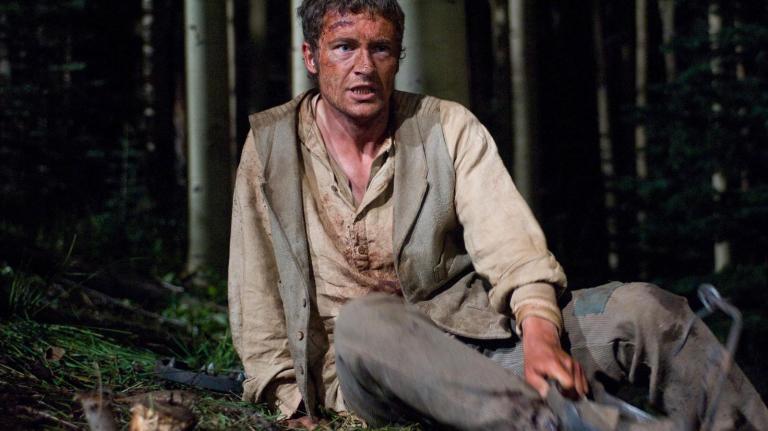 In the frozen and wild tundra of the Dakota Territory in 1879, a settler family sets out to rescue a family that mysteriously disappeared from their home. The band prepares themselves for a battle to the death with local Native Americans—only to realize that their true foes will be a group of ravenous underground predators known as The Burrowers. Basement Rejects writes, "The film takes a bit its story and tone from The Searchers which had a similar set-up and feel…but here, the enemies are monsters. The uniqueness of the genre blend distinguishes it from other horror movies and some of the storytelling and looks at race relations in the Old West give it some credit besides being a monster movie."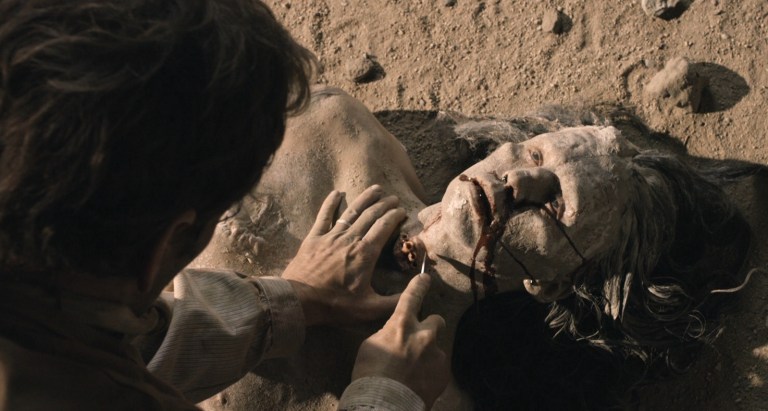 The ordinarily tranquil Old Western town of Bright Hope is suddenly invaded by a posse of flesh-eating, cave-dwelling Troglodytes, who kidnap the town's doctor, a local rancher's wife, and several others, returning them to their lair. A slipshod group of gun-slinging vigilantes, led by a local sheriff, sets out to rescue the kidnapping victims—but they were unprepared for exactly how ruthless and violent the cavemen would be. All Horror writes, "This movie may be mostly a western, but the brief horror it does offer packs a punch….As long as you don't mind a movie mostly about cowboys crossing the desert, and you like gore, you should like Bone Tomahawk."
In this Western horror that was written and directed by women, Caitlin Gerard stars as Lizzie Macklin, a settler on the brutal and untamed wilds of New Mexico in the late 1800s. She lives in relative tranquility with her husband until another couple moves in nearby. The female of the couple, Emma, confides to Lizzie that she can sense a supernatural presence in the area that she cannot quite explain, but it will have catastrophic consequences for both Emma and the baby she will soon be bearing. Lizzie finds a tract called "Demons of the Prairie" and starts to fear it explains some of the strange events swirling around her. Irish Film Critic writes, "It has a great pace, amazing chemistry of the characters and a super strong cast….I would definitely go see this movie because the cast is really amazing…."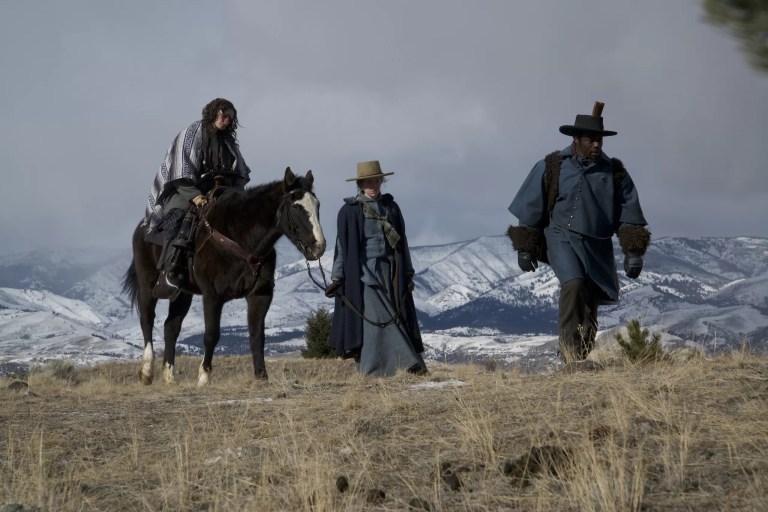 A western horror following a young woman, Abigail (Zoé De Grand Maison) traveling in 1870s Montana with her family. As she struggles to survive the already harsh conditions of the trail, her family is attacked by a bloodthirsty band of outlaws. While not as bloody as its title suggests, Organ Trail captures the real horror of the American frontier.
More Western Horror Films
Curse of the Undead (1959) a strange illness is killing the women in a small Western town until they realize a local gunslinger is actually a vampire.
Jesse James Meets Frankenstein's Daughter (1966) the famous Old West outlaw hides in Baron von Frankenstein's castle, as the notorious scientist's daughter works on transforming Jesse's friend into a bald zombie named Igor.
Billy the Kid vs Dracula (1966) when the legendary gunman plans to settle down with a woman named Betty, Betty's uncle intervenes—and he just happens to be the world's most famous vampire.
High Plains Drifter (1973) is more of a straight revenge film than a horror movie, although Clint Eastwood may play a ghost in it.
Grim Prairie Tales (1990) a bounty hunter and a clerk sit around a campfire somewhere out on the Great Plains and share four different ghost stories.
From Dusk Till Dawn (1996) George Clooney and Quentin Tarantino star as a pair of bandits on the run who get trapped in a truck stop that just so happens to be infested with vampires.
Undead or Alive (2007) two cowboys (Chris Kattan and James Denton) rob a sheriff and seek to evade an ancient Indian curse.
Abraham Lincoln: Vampire Hunter (2012) when the Kentucky-born President of the United States is informed that vampires plan to overthrow his government, he summons his all the powers at his disposal to foil their plot.
Nope (2022) Jordan Peele's third film is a western horror that follows siblings Em and OJ (Keke Palmer and Daniel Kaluuya) as a UFO begins appearing over their Agua Dulce ranch.