44+ Best Ghost Movies Ever Made
Here is a list of the greatest ghost and haunted house movies ever made; from the dawn of sound cinema all the way to the present.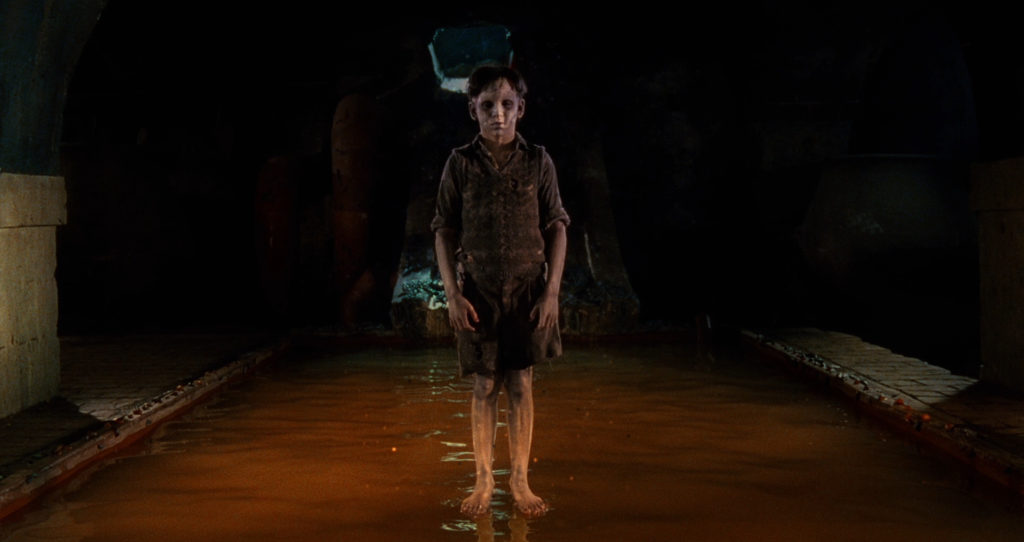 Ghost stories, and thus ghost movies, play an important role in all cultures. All societies have some variant of the belief that tortured souls live on after they die in order to haunt the living. According to English professor Dr. Paul Patterson, ghost stories go all the way back to antiquity:
We see a lot of these stories start to emerge in ancient Roman writings. In the first century, they wrote letters recounting ghost stories they claimed to have witnessed — chains rattling, haunted house type stories. The ghosts are never really harming anyone, but they're always showing up. A lot of the time, the hauntings are because the person was never properly buried. It's tied to respecting the dead.
The Gothic style of ghost stories—haunted mansions, fog, darkness, spiders, and cobwebs—emerged in English fiction during the late 1800s. But as opposed to nearly all other forms of horror, the ghost story has proved to be remarkably flexible—there are ghost comedies, ghost romance films, and ghost science-fiction films.
As technology advanced in the English-speaking world during the late 1800s and early 1900s, one of the first things people tried to do with sound and photographic technology was to attempt contacting the next world. So-called "spirit photography" emerged in the 1860s when people started noticing odd, blurry specters around the photo's main subject and concluded they were ghosts—only to be disappointed when they realized it was only the result of jiggling the camera while taking the shot. During his last years, inventor Thomas Edison was said to be frantically working on a way to contact the dead via telephone. There are even rumors that the CIA used seances as part of its MK-ULTRA program to see if it was scientifically possible to contact the other side.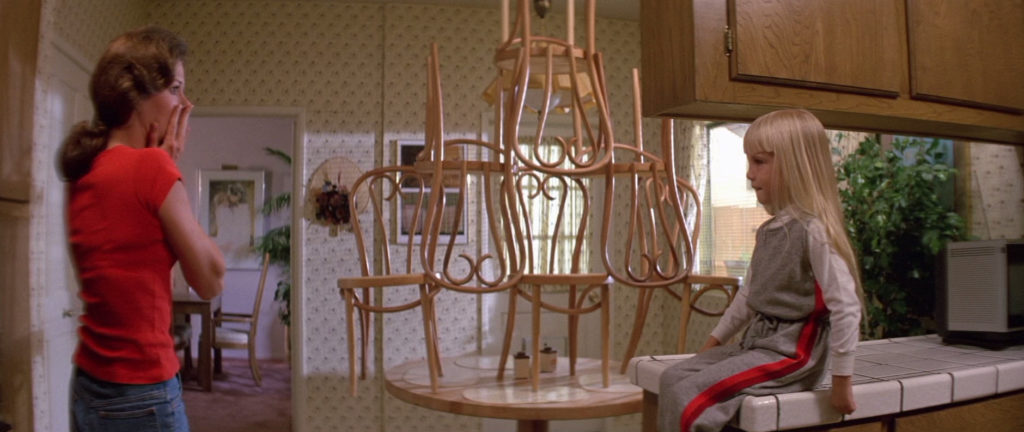 The quest to determine whether ghosts are real or not continues to the present day with reality shows such as Ghost Hunters, Dead Files, and Ghost Asylum, where paranormal investigators track down rumors of hauntings and strain with all their might to finally find evidence of a spirit world that transcends the physical plane.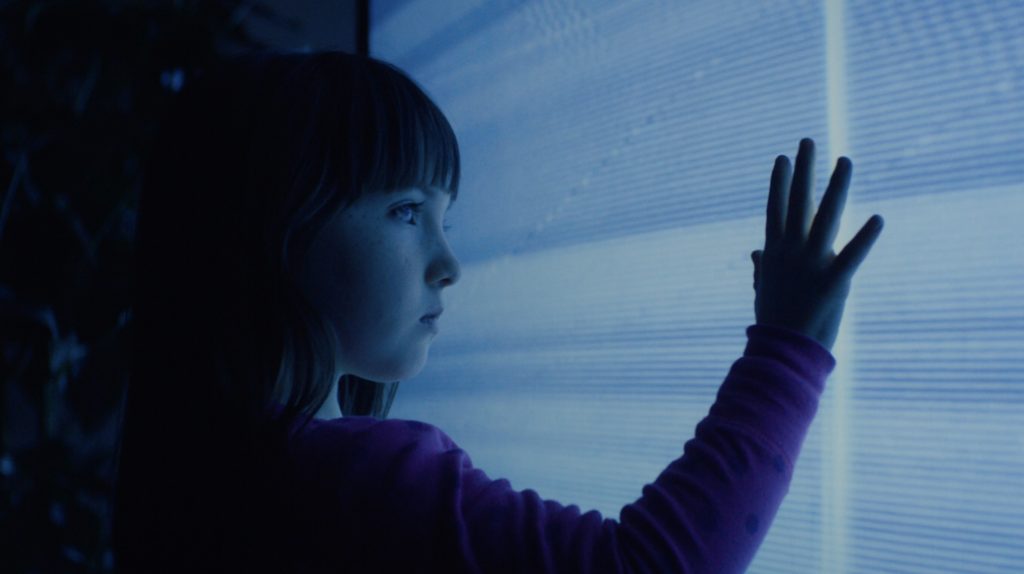 What unites all ghost stories—whether horror, comedy, romance, or simple documentary—is the human need to believe there is a life after this one. After all, which is scarier—the idea of ghosts, or the idea that once we die, we cease to exist? Ironically, a belief in ghosts expresses a desire to believe in the immortality of the spirit.
Here is a list of the greatest ghost and haunted house movies from the dawn of sound cinema all the way to the present. We'd advise you to look over your shoulder every few moments while reading this—for your personal safety, of course.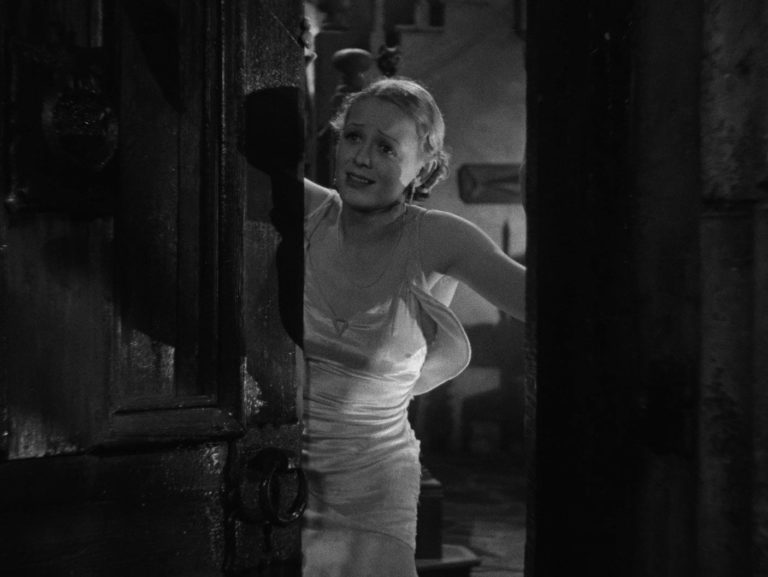 Five travelers who find themselves trapped in a thunderstorm seek shelter—at least temporarily—at an old house in the Welsh countryside in this Americasn pre-Code comedy-horror movie. As the night progresses, they are nearly immolated by the house owner's son, a pyromaniac who's been kept locked in a room for years. The film stars legendary Hollywood actors Raymond Massey, Charles Laughton, Melvyn Douglas, and Boris Karloff as the mansion's alcoholic butler.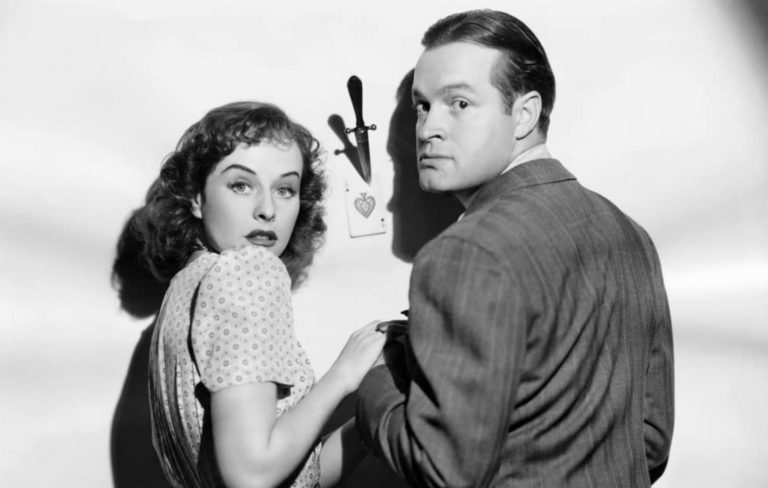 Comedic legend Bob Hope and legendary screen siren Paulette Goddard team together in a ghost comedy that stars Hope as a radio announcer who seeks to escape false murder changes in New York but winds up stranded on a zombie-filled island. Goddard stars as a beautiful young woman who's just inherited a haunted mansion on the island, and Hope seeks to win her affection by helping her slay whatever evil spirits infest the building. Thirteen years after its release, Jerry Lewis and Dean Martin starred in a 1953 remake called Scared Stiff.
A composer and his sister can't understand why they can't purchase a gorgeous seacoast mansion until they realize it's haunted. This is one of the earliest ghost story movies and it still holds up in the modern era as a creepy and uncanny movie that is the apex of Gothic cinema and serious haunted house movies. Apparitions, possession, and spooky voices run amok here. Famous director Martin Scorsese says it is one of the scariest films of all time. By modern standards, though, it probably won't cripple any viewer with a fear beyond belief. The Chicago Reader calls it "An archetypal 40s ghost story, ambitiously decked out in high studio finery, with billowing curtains and other kinds of hyperromantic kitsch."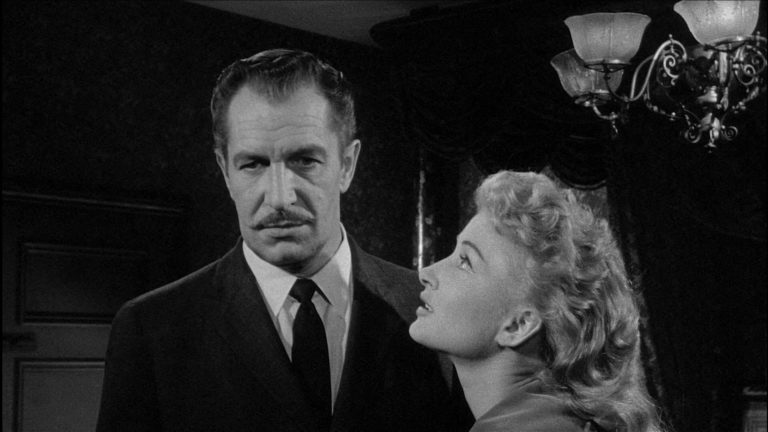 An eccentric millionaire (horror legend Vincent Price) offers five people $10,000 if they can last a full night in a haunted house as a way to test the paranormal activity happening there. Famous exploitation director William Castle used a gimmick for the film called "Emergo" in which a lighted plastic skeleton on a wire would swoop above the audience. The Emergo skeleton was mothballed after mischievous boys in several theaters realized how fun it was to pelt it with their slingshots. In a negative review, The New York Times says "Chandeliers crash, human heads casually turn up in table boxes, a couple of cackling ghosts scoot around (on roller skates, apparently), and downstairs in the cellar a pool of acid yawns invitingly."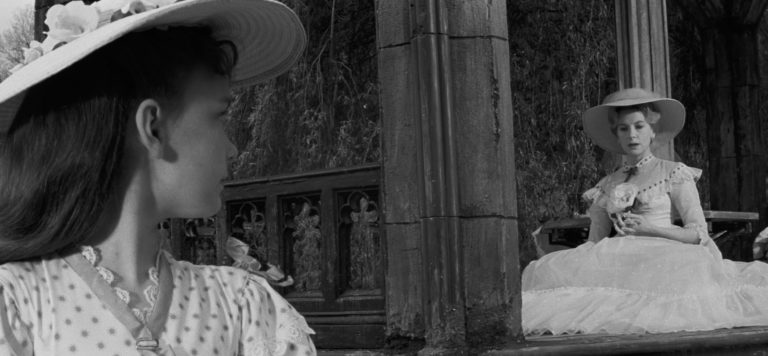 With a screenplay adapted by William Archibald and Truman Capote, this British horror movie tells the paranormal tale of an estate haunted by ghosts. Deborah Kerr shines as a sexually frustrated governess who slowly realizes that the house and the grounds around it are haunted. The Village Voice suggested that The Innocents may be "the finest, smartest, most visually savvy horror film ever made by a big studio" and that Kerr may have delivered "the most unforgettable performance by a British actress in its decade."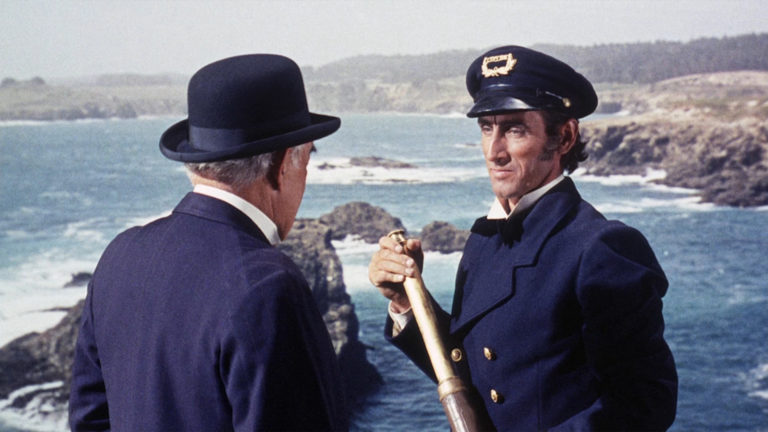 Directed by low-budget maestro William Castle and based on the novel The Visitors by Nathaniel Benchley, this film stars TV legend Sid Caesar alongside Vera Miles as a couple who originally suspect that their son is behind a series of disturbing occurrences at their seaside cabin in England. The reality, however, is that a trio of ghosts, furious that these three human intruders had disrupted their calm and peaceful residence. When the humans leave, the ghosts up the ante by doing things such as sinking two boats that belong to the couple's uncle.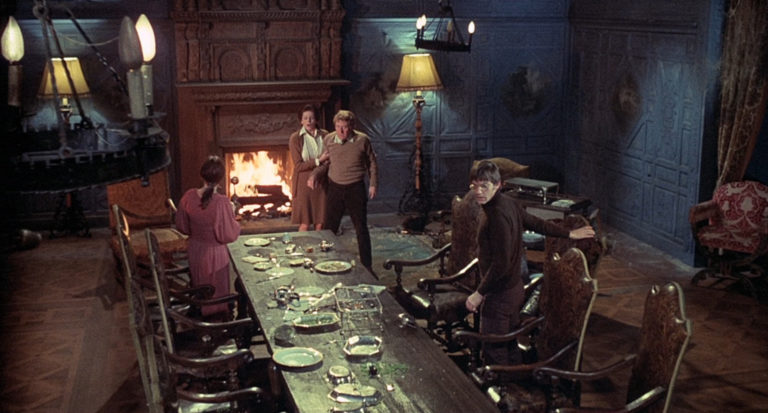 Are there such things as real ghosts? That is the paranormal question that propels the journey of four people as they are called to spend a weekend in a haunted house together and either prove or disprove the presence of a supernatural entity. The ghost that haunted the house is its former owner, Emeric "Roaring Giant" Belasco, a 6'5" millionaire and serial killer. But it's not only haunted by Belasco—it's also filled with the tormented, ghostly souls of Belasco's countless victims.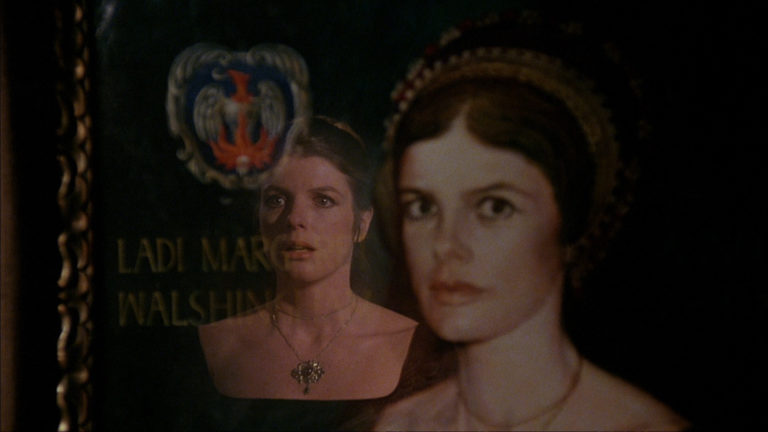 Combining such classic horror-movie tropes such as Satanism, spontaneous combustion, shapeshifting, and "the reveal," The Legacy tells the story of an American couple who visit England and accidentally find themselves at a massive mansion where several rich and famous individuals have been invited by the owners to determine the mansion's fate. Karma and reincarnation are major themes in the film. According to TV Guide, "The gore factor is surprisingly high, however, so fans of Grand Guignol may want to watch the various burnings, drownings, and impalements."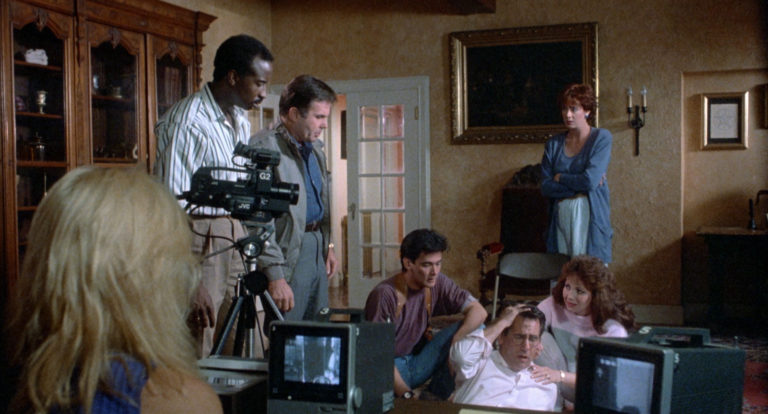 Looking for an over the top and campy 80s movie? Witchtrap, also released under the title The Presence, might do the trick. As so many haunted-house horror movies do, it starts with a group of people heading to a haunted bed and breakfast to try to figure out if there are actual ghosts in the world. These paranormal investigators discover there are ghosts, but as the movie does not make much sense, is the ghost actually a warlock, a male witch and not really a ghost? But they still call it a ghost, or an evil spirit; eh, well, it's amusing in that cheesy sort of way.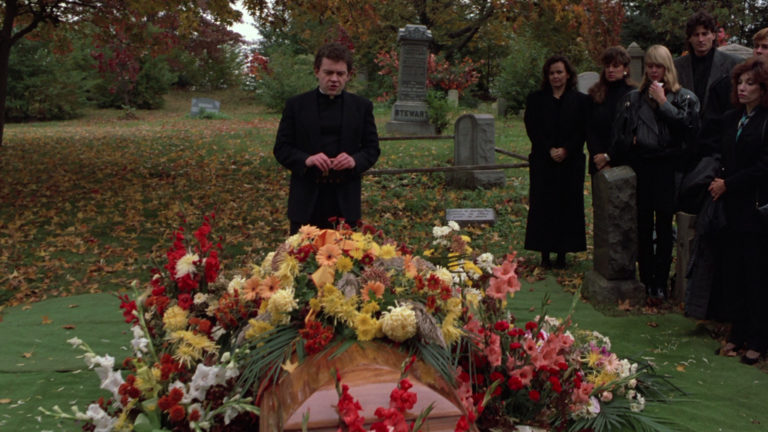 Is this a romantic comedy? Is this a supernatural thriller? Or is this a ghost movie? The early 90s flick is one of the most beloved and best cross-genre movies ever made. It grossed over a half-billion dollars on a measly budget of $22 million, won Oscars for Best Supporting Actress (Whoopi Goldberg) and Best Original Screenplay. Patrick Swayze stars as a young man who was murdered, but whose ghost lingers to warn his lover that she is in danger. In Newsweek, David Ansen called the film "a zippy pastiche that somehow manages to seem fresh even though it's built entirely out of borrowed parts."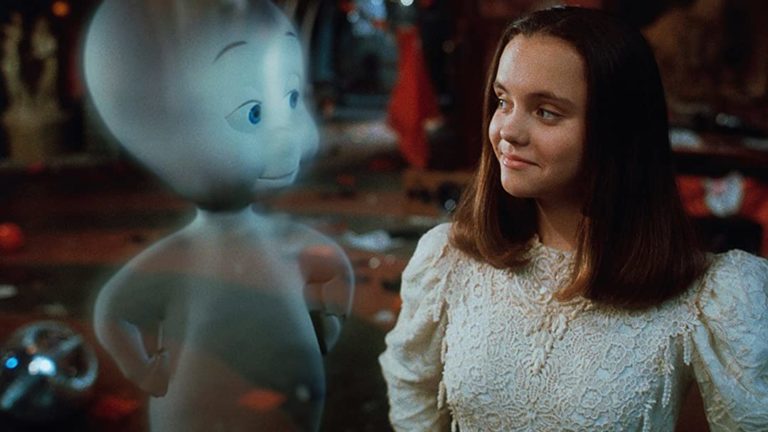 Casper was a movie targeted at kids, but somehow it seemed to capture a much larger audience and became a ghost and haunted house movie beloved by people of all ages. What was it about this narrative that made it so special? Perhaps it was the symbolism within the story: a ghost banished from the world, but a friendly ghost that had no evil spirits in his body and just a desire to connect on the the most human and kind level with the living, yet he couldn't. In so many ways, we as humans feel like Casper: disconnected, ghostlike, and longing for a connection that always seems denied to us. That is the appeal of Casper, and the fact that it has a happy ending gives it that Disney-feel-good notion that makes it a true family classic.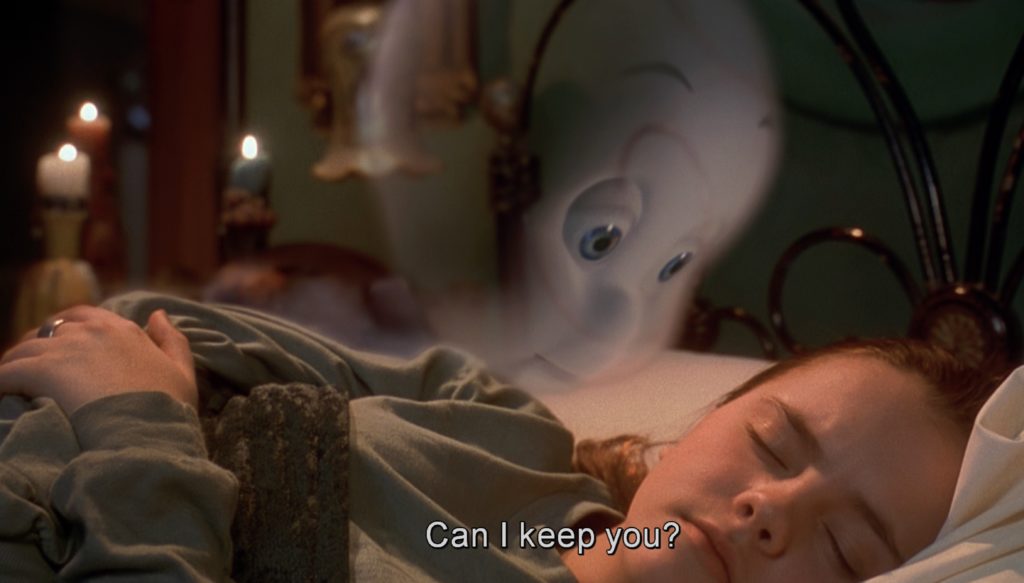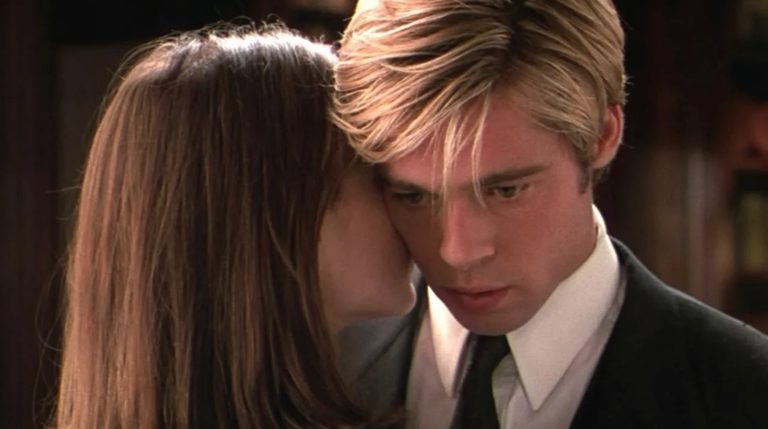 This romantic comedy and supernatural ghost film starring Brad Pitt, Anthony Hopkins, and Claire Forlani is a classic of 90s cinema. While while not a scary movie, it is an existential film that puts death, specifically the Grim Reaper, at the forefront of what it means to be alive. As Roger Ebert remarks, this is a "movie about a rich man trying to negotiate the terms of his own death. It is a movie about a woman who falls in love with a concept. And it is a meditation on the screen presence of Brad Pitt." The film is said to be loosely based on 1934's Death Takes a Holiday.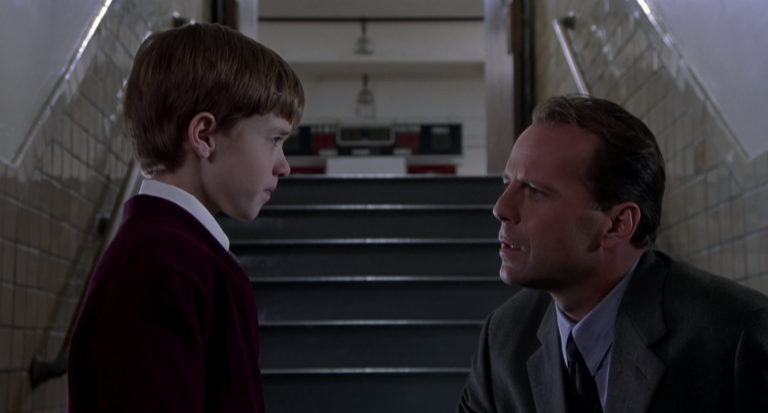 Bruce Willis stars as Malcolm Crowe, a Philadelphia child psychologist who attempts to help Cole Sear (Haley Joel Osment), a young boy that Crowe thinks is mentally disturbed but is actually able to see ghosts walking around but is unable to tell that no one else can see them. Roger Ebert said that the movie "has a kind of calm, sneaky self-confidence that allows it to take us down a strange path, intriguingly."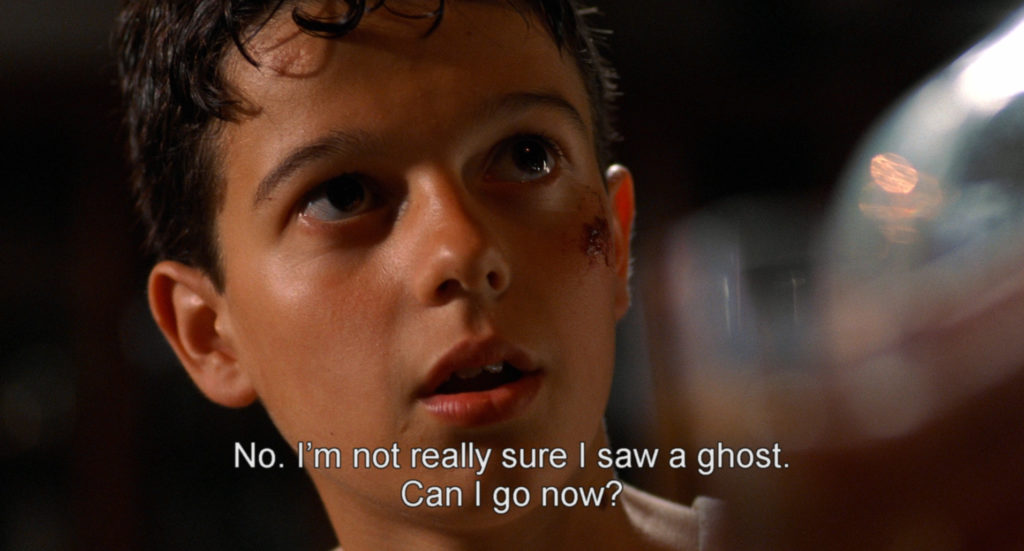 Director Guillermo del Toro's masterpiece was originally released in Spanish as El Espinazo Del Diablo. It is set in 1939 as the Spanish Civil War is winding to a close and the fascists are winning. A 12-year-old boy named Carlos arrives at a boys' orphanage after his father dies. He discovers that the place is haunted and that the ghosts will help the boys if they aid in their fight against the fascists. Roger Ebert praised the film: "Ghosts are more interesting when they have their reasons. They should have unfinished affairs of the heart or soul. The Devil's Backbone, a mournful and beautiful new ghost story by Guillermo del Toro, understands that most ghosts are sad, and are attempting not to frighten us but to urgently communicate something that must be known so that they can rest."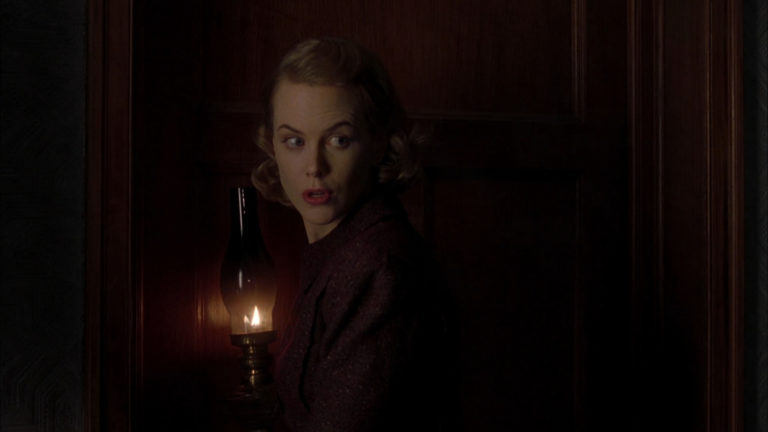 This supernatural psychological horror film is a period drama set in 1945 Europe. Nicole Kidman stars as a woman who lives in a dreary and dusty old family house with her two children, both of whom are afflicted with a very rare actual disease (Xeroderma Pigmentosum), which makes them intensely sensitive to sunlight. Over time, the woman finds good reason to suspect that the house is haunted. Calling the film "dark and brooding," Roger Ebert says "It's not a freak show but a waiting game, in which an atmosphere of dread slowly envelops the characters—too slowly."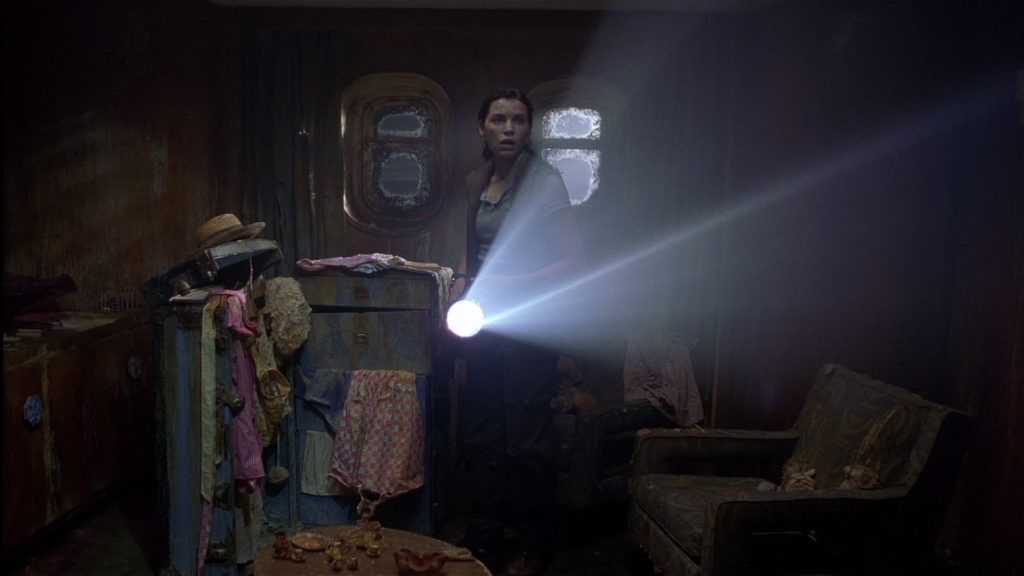 Way up in the frigid northern climes of the Bering Sea, a ship's crew finds the remains of a passenger ship that disappeared in 1962. To their dismay, they discover that the ship is haunted. In a mixed review, Roger Ebert says "It breaks no new ground as horror movies go, but it does introduce an intriguing location, and it's well made technically. It's better than you expect but not as good as you hope."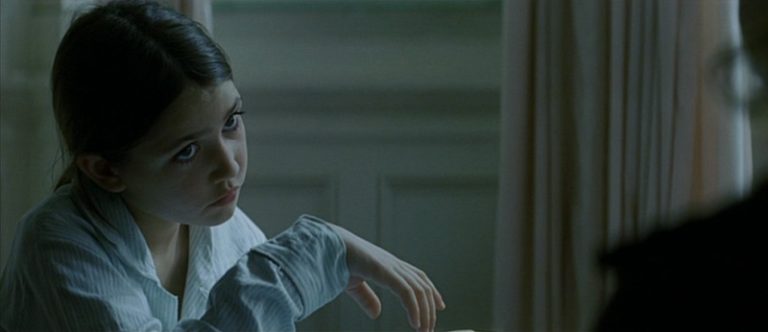 Sarah, a nurse, starts to notice a strange trend in the kids in the children's hospital. The kids seem to detect an evil spirit of a girl name Charlotte, a young girl that is a vengeful ghost. It turns out that Charlotte is a child who died at the hospital ages ago and seeks to wreak vengeance by injuring and killing the hospital's current inhabitants. The film was a British-Spanish collaboration and was released in Spanish with the original title Frágiles.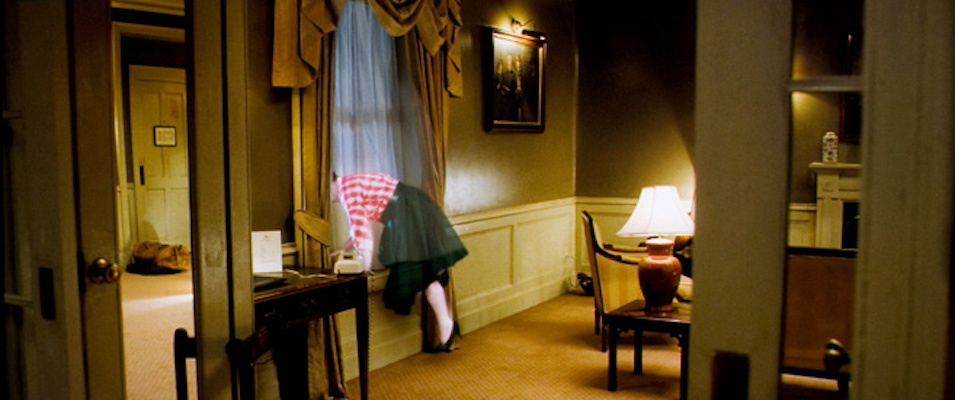 Based on a 1999 Stephen King short story, this film stars John Cusack as an author whose specialty is investigating haunted houses. The film's title refers to room #1408 in a New York City hotel—where over the past century no one has survived longer than an hour and more than 50 people have been killed. Undaunted, Cusack's character elects to check in to room #1408 anyway. The Boston Phoenix compared 1408 to a much better-known horror film: "The Shining gets squeezed into the 'evil' room of the title in a posh New York hotel — just a notch below the Waldorf Astoria — where some 50 people have perished."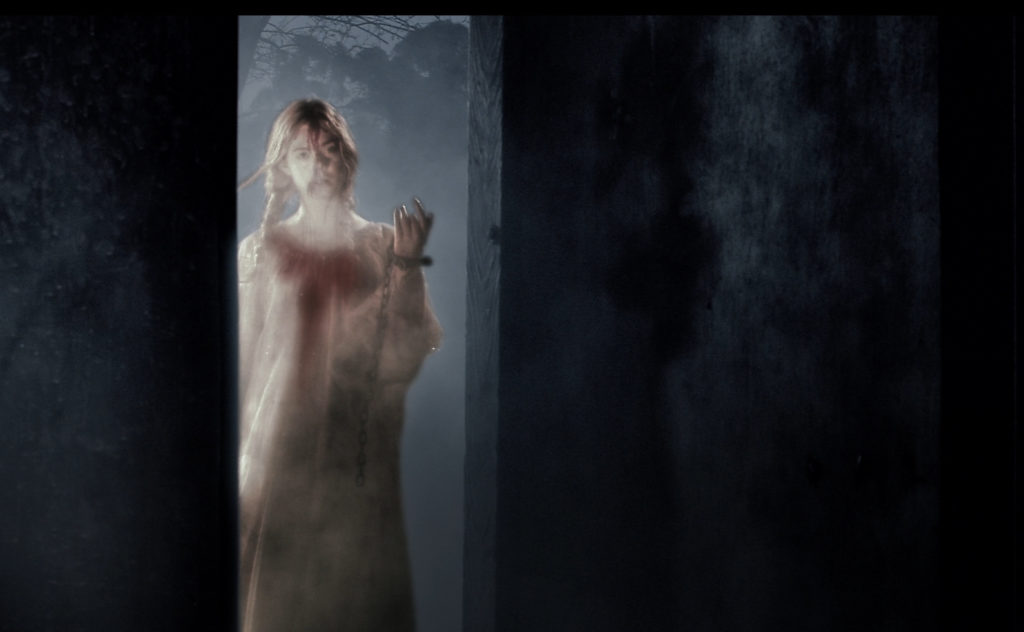 This is a classic ghost story and often forgotten/obscure ghost movie. This review explains the movie well:
It's like a Tim Burton/Wes Anderson movie by FFC with Val Kilmer! If that sounds weird it's because it is, but all the low reviews are just ridiculous. Light in tone but surprisingly dark and occasionally quite affecting this is a very well done film. If you like dark fairy tales and a dreamlike atmosphere then you'll probably like this. Some scenes of violence that are pretty shocking but overall a really fun time.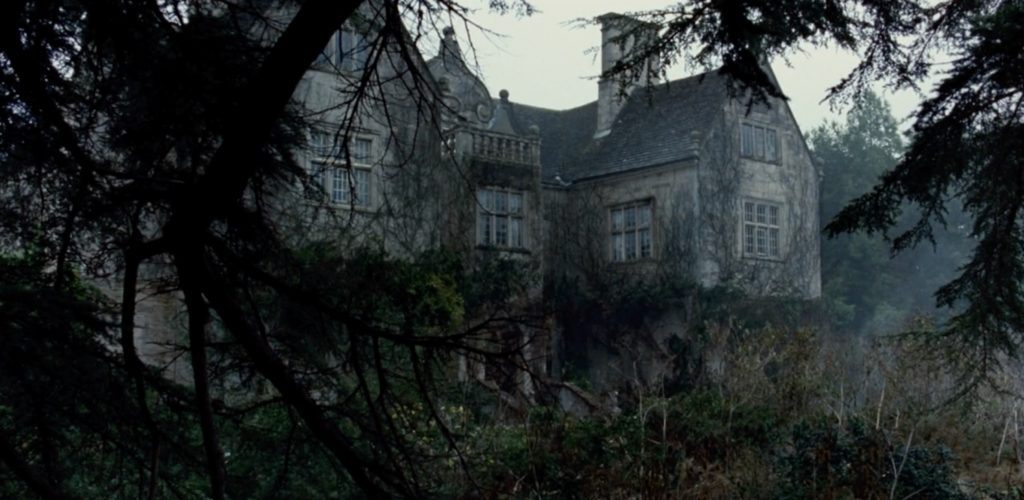 Daniel Radcliffe stars as a Victorian-era lawyer who visits a remote haunted mansion in northern England in a quest for the papers of a recently deceased female occupant, only to realize that her ghost is mourning her own dead child by murdering local children. Roger Ebert wrote: "Not since young Hutter arrived at Orlok's castle in Nosferatu has a journey to a dreaded house been more fearsome than the one in The Woman in Black."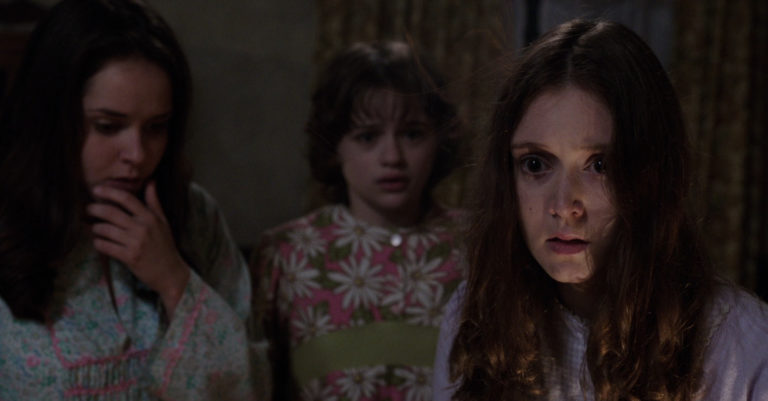 Based on the real-life story of the Perron family—who, because of Rhode Island law, were not informed that the house they were buying had a sordid history involving multiple suicides and multiple murders—The Conjuring also conjures the real-life story of paranormal investigators Ed and Lorraine Warren, who were called in to determine was was wrong at the haunted Perron farmhouse in 1973 and 1974. The Warrens were also the couple who investigated the murders/hauntings at a house in Long Island that later formed the basis of the Amityville Horror franchise. Giving the film only two stars out of five, the Austin Chronicle says: "The Conjuring uses every parlor trick imaginable to scare up a scream: deafening door-slams, ghostly apparitions, demonic cackling, levitating chairs. The seen-it-all-before elements of this supernatural thriller directed by the filmmaker who gave us Saw, however, are more hoary than horrific. It might as well be retitled The Amityville Exorcist." A sequel, The Conjuring 2: The Enfield Case, was released in 2016.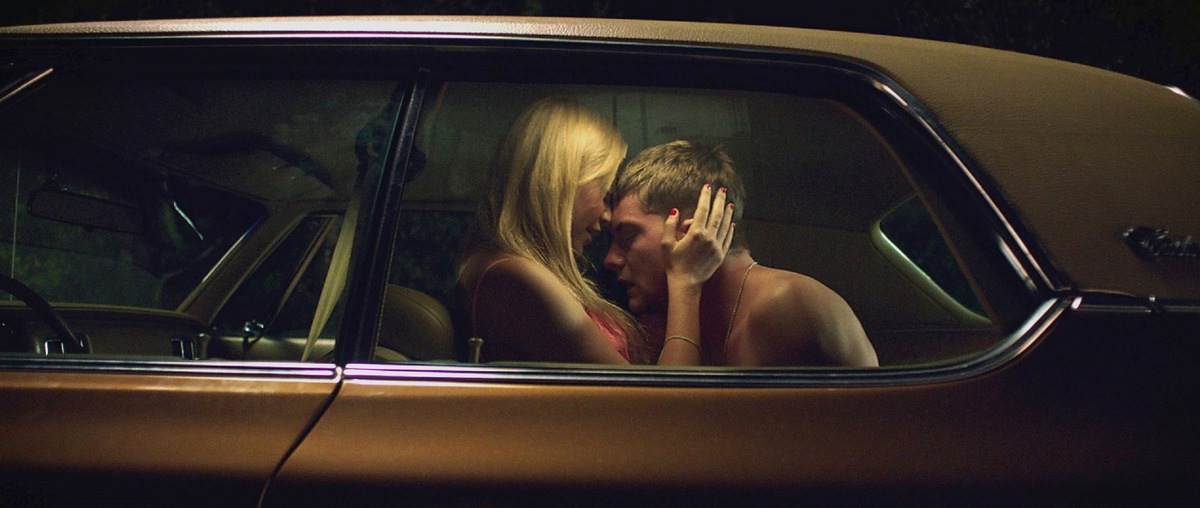 A malevolent entity tracks people after sexual encounters. Director David Mitchell said: "The basic idea of being followed by something that looked like different people, that was very slow, and always coming came from a recurring nightmare I had when I was a kid. Later, as an adult, I added the sexual aspect of passing on this terrible thing." The AV Club offered a positive review: "The film turns its viewers into paranoid spectators, scanning the frame for signs of trouble….It's lovely, until it most chillingly isn't….Throughout, Mitchell spikes his formally masterful horror with thick dollops of sexual anxiety."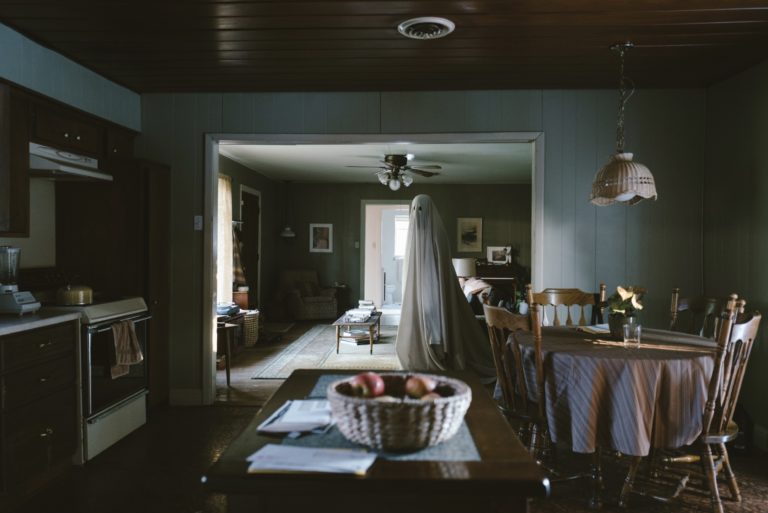 While this ghost movie does have a few jump scares, it is by no means a horror movie. Rather, it is a slow-burn philosophical study of loss, love, death, and grief. Like a Terrence Malick film, it makes you think and ask questions more than it follows a strict narrative structure, making it one of the more surreal ghost films on the list.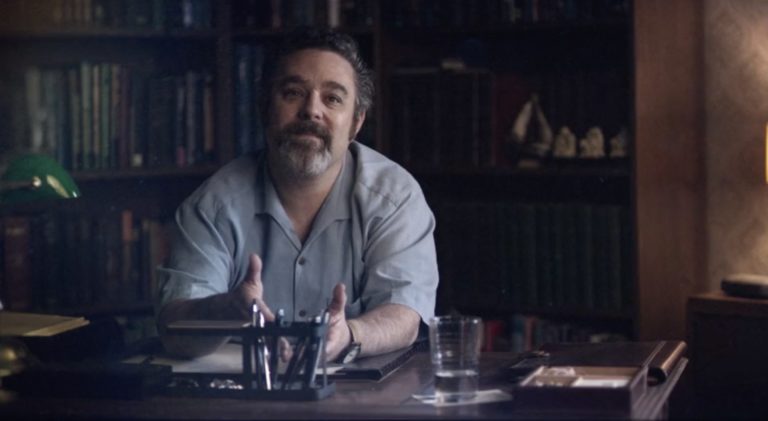 A man who has based his entire career on "exposing" psychics—whom he claims are all frauds—is invited to investigate three strange ghost apparitions and finds, to his horror, that he can't explain them away with reason and sarcasm. RogerEbert.com gave the film a glowing review: "It's the sound of a creaking door, footsteps when no one else is home, the sudden drop of temperature in the center of a room—these are ghost story elements that will always be timeless, and it's so refreshing to see a modern horror movie that knows how to use them as well as 'Ghost Stories.'"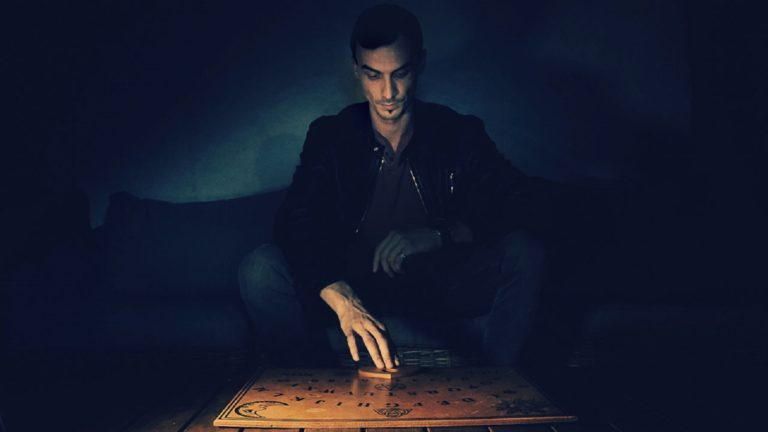 Using found footage in the grand horror tradition of REC, Paranormal Activity, and The Blair Witch Project, this film involves a man named Dylan who plays with a Ouija board and ends up possessed with an evil spirit. A ghost hunter named Andrei takes on the case and seeks to liberate Dylan from the ghost. The "found footage" involves that of ghosts who are captured by surveillance cameras that Andrei has placed throughout the haunted house. Regarding his approach to horror, Director Franck Phelizon told a French reporter: "I play with the fantasies of the public and with their infantile fears."
Other Ghost Movies