'Death Becomes Her' (1992): 24 Facts About a Dark Comedy With a Timeless Message
Bruce Willis suggested that the film be called "It's Death, Baby".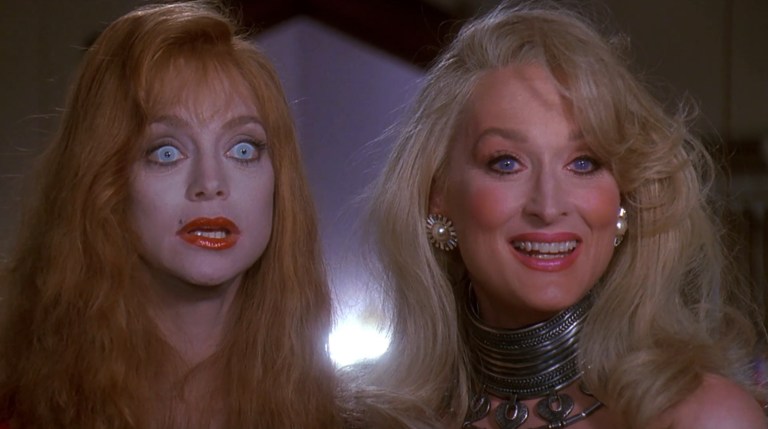 Death Becomes Her (1992) is a dark comedy remembered for the performances of stars Meryl Streep, Goldie Hawn, and Bruce Willis as well as having broken new ground in computer-generated images (CGI), for which the film won the Academy Award for Best Visual Effects.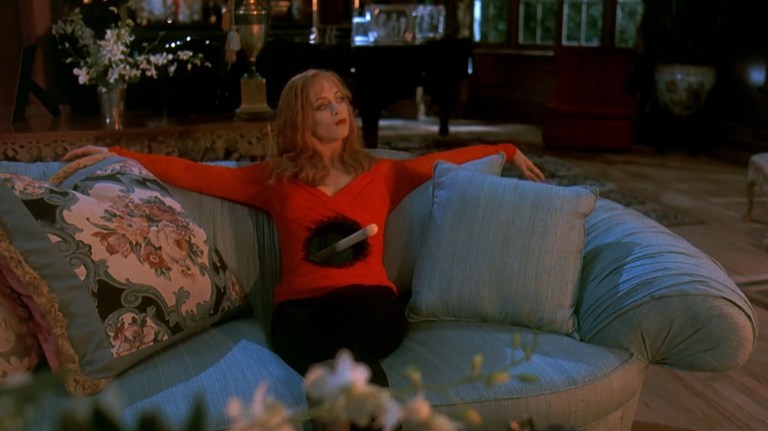 The timeless plot is no less funny or relevant three decades later. Self-absorbed actress Madeline Ashton (Meryl Streep) is introduced to the fiancé, Dr. Ernest Menville (Bruce Willis), of her friend Helen Sharp (Goldie Hawn) and easily seduces him. Madeline and Ernest are married, and a devastated Helen gains weight as she deals with the breakup. Over the years, Helen is committed to a psychiatric hospital when she becomes obsessed with getting revenge on Madeline, eventually leaving the hospital to pursue vengeance.
Fourteen years after Madeline and Ernest meet, they are married and living in Los Angeles. The couple hates each other, and both of their careers have gone downhill. Ernest, a once-prominent plastic surgeon, is now a reconstructive mortician apparently because his alcoholism has caused a tremor in his hands. The couple receives an invitation for Helen's book party, and at the event they realize Helen has lost weight and looks younger than ever. Madeline is jealous, and Ernest is immediately interested in ditching her so he can go back to the more beautiful Helen.
Miserable and desperate, Madeline visits a mysterious woman, Lisle Von Rhuman (Isabella Rossellini), she heard about from a man at her spa. Lisle offers Madeline an exceptionally expensive potion that will rejuvenate the drinker's appearance and allow them to live forever. Madeline drinks the potion and appears to reverse-age almost immediately.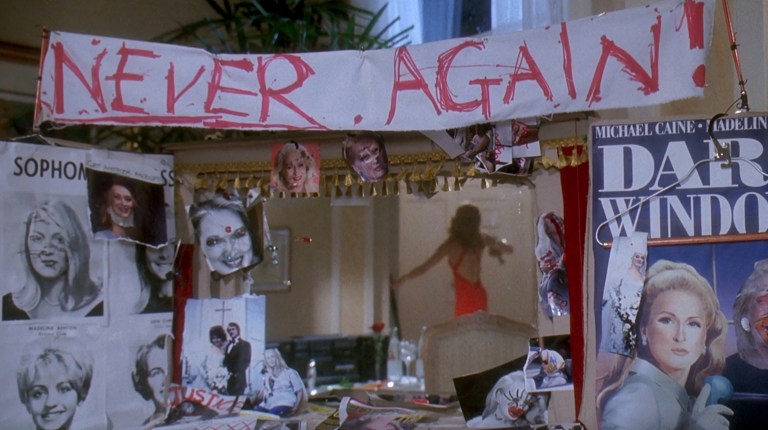 (Warning: major spoilers ahead) Meanwhile, Helen and Ernest conspire to murder Madeline. When she returns from Lisle's, Madeline and Ernest fight and she falls down the stairs so hard, her neck is dislocated. Ernest is shocked to discover that Madeline has survived the fall, so he takes her to the hospital where she is accidentally put in the morgue, as she has no pulse and her body temperature is cold. Ernest rescues her and uses his mortician skills to embalm Madeline to fix her body.
When Helen appears at their home, Madeline shoots her. Helen reanimates with a hole in her stomach, and Madeline and Ernest realize that Helen has taken the potion, too. Ernest announces he is leaving them both, and Madeline and Helen conspire to trap Ernest with them for eternity so that he can keep them looking beautiful forever. He escapes and lives the life he has always wanted, while Madeline and Helen are doomed to live forever in decaying bodies.
Here are the most interesting behind-the-scenes facts about Death Becomes Her:
Death Becomes Her was originally envisioned as an installment in the Tales From the Crypt film anthology.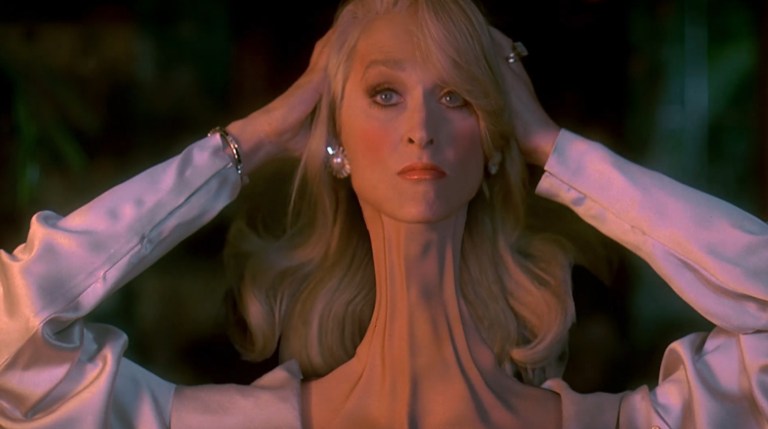 2. George Lucas-founded special-effects company Industrial Light & Magic directed the visual effects in Death Becomes Her, which are considered a milestone in the industry. One of the noted first-time achievements of Death Becomes Her is that it is the first time the texture of human skin was computer-generated.
3. One year later, Industrial Light & Magic used some of the techniques created for the film on their next project, Jurassic Park (1993). Cinematographer Dean Cundey and production designer Rick Carter also went from working on Death Becomes Her to Jurassic Park.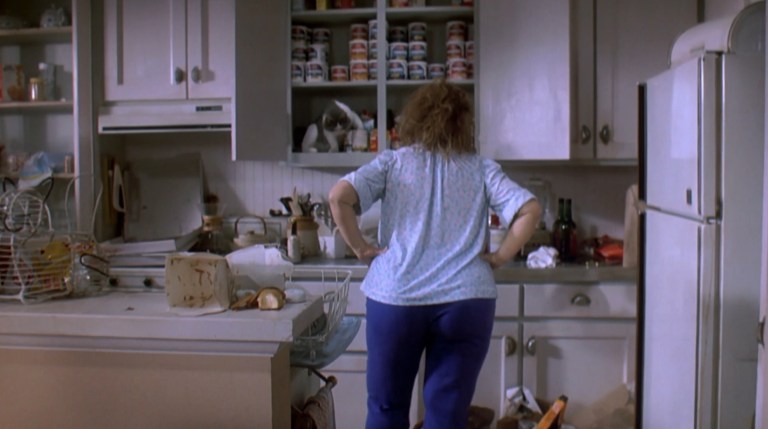 4. Director Robert Zemeckis previously won the Academy Award for Best Visual Effects for Who Framed Roger Rabbit (1988). He would win again with Forrest Gump (1994).
5. Meryl Streep hated working on a film that relied so much on special effects and vowed not to do it again.
My first, my last, my only. I think it's tedious. Whatever concentration you can apply to that kind of comedy is just shredded. You stand there like a piece of machinery—they should get machinery to do it. I loved how it turned out. But it's not fun to act to a lampstand. "Pretend this is Goldie, right here! Uh, no, I'm sorry, Bob, she went off the mark by five centimeters, and now her head won't match her neck!" It was like being at the dentist.

Meryl Streep, behind the scenes on Death Becomes Her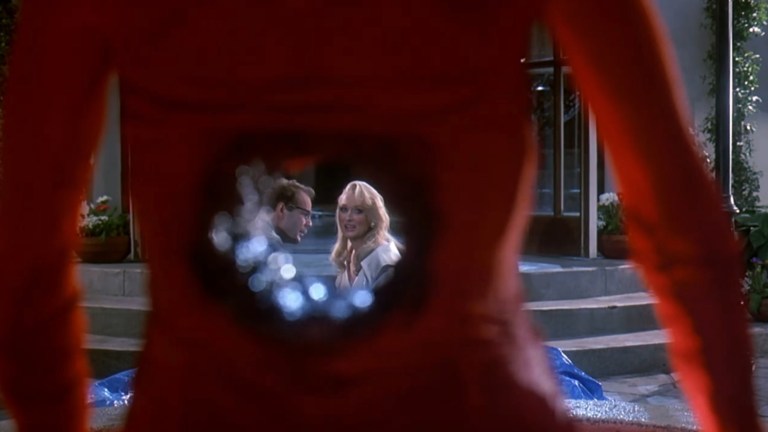 6. In the Robert Zemeckis film Back to the Future (1985), Marty McFly goes back to 1955 on October 26, 1985. In Death Becomes Her, this is the date Helen drank the potion.
7. For the scene where Madeline looks in the mirror and watches as her body reverse-ages, a special bra was built to lift her breasts. When the result wasn't very realistic, the shot was achieved by someone from wardrobe hiding behind Meryl and manually lifting her breasts with their hands.
8. Kevin Kline was originally cast as Dr. Ernest Menville but backed out after a pay dispute. Jeff Bridges and Nick Nolte were also considered before Bruce Willis was cast.
9. Meryl Streep originally assumed she was being asked to audition for the role of Helen.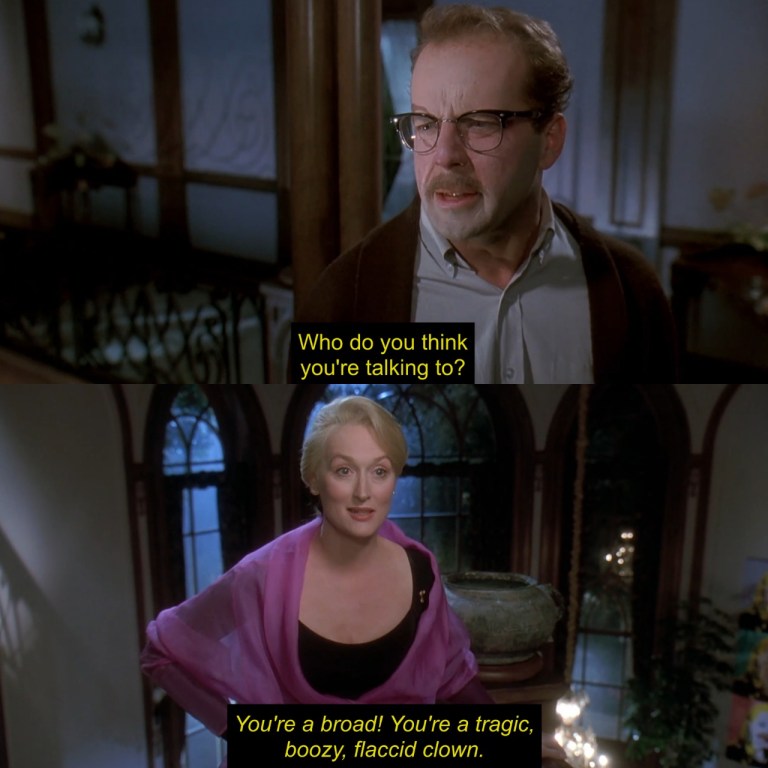 10. Madeline and Ernest's gigantic mansion was just a soundstage, but the exterior was a real San Marino home. Ernest's funeral home used LA's iconic Greystone Mansion that has been the setting for many film, television, and music video projects, including The Big Lebowski (1998), The Bodyguard (1992), and The Prestige (2006). The stairs that Madeline and Helen fall down in the final scene were filmed at a high school, Mount St. Mary's in the Brentwood neighborhood of Los Angeles.
11. During their shovel fight, Meryl Streep accidentally hit Goldie Hawn, leaving a small scar on the actress' face.
12. Lisle acts offended when Madeline guesses her age as "38"; however, actress Isabella Rossellini was 39 at the time of filming.
13. Isabella Rossellini used a nude body double.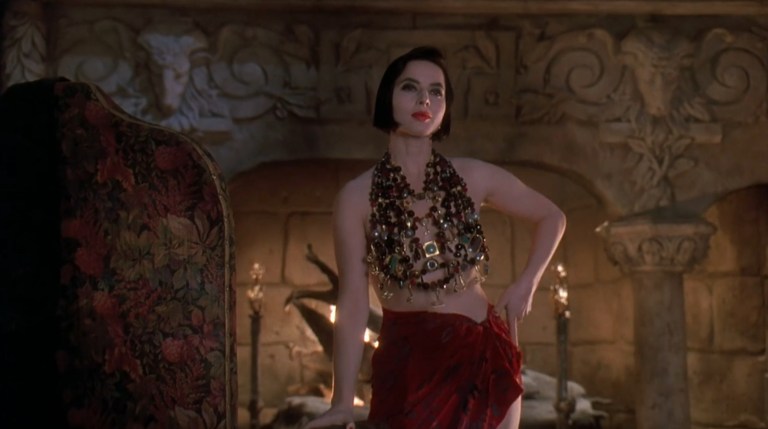 14. Test audiences did not like the film's original ending, so an entirely new ending was filmed. In the original ending, Ernest meets another woman and fakes his death to escape Madeline and Helen. The film ended with Madeline and Helen running into Ernest and his new wife as they are a happy elderly couple and Madeline and Helen are miserable. The original ending has never been released to the public.
15. Tracey Ullman played Ernest's new girlfriend/wife in the original ending. Her role was cut out of the film completely, though she still appeared in the trailer.
16. Released the same weekend as another dark comedy, Buffy the Vampire Slayer (1992), Death Becomes Her opened in the top spot and went on to earn $149 million against a budget of $55 million.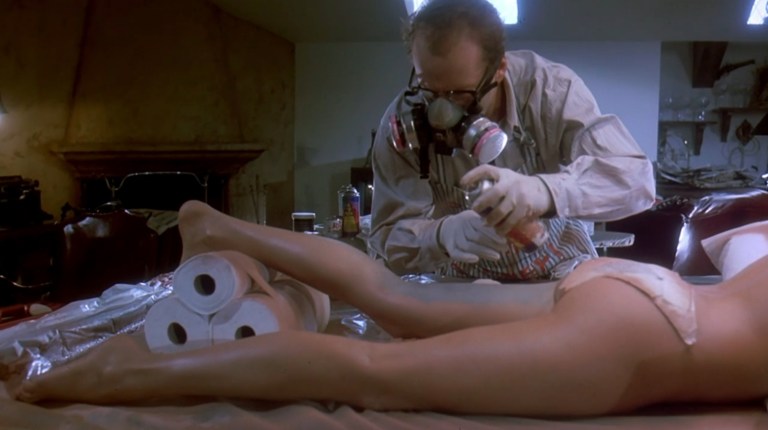 17. While Death Becomes Her became a cult classic after its release on home video, the DVD release of the film was criticized for being "sloppy", leading to a poor quality transfer. The film is especially considered a gay cult classic. On Season 7 of RuPaul's Drag Race, the series featured a Death Becomes Her themed runway show. One Drag Race winner, Jinkx Monsoon, has even starred in a drag version of the film.
We root for the undead divas because they're trying to win a game that's rigged against them, and—to borrow an apocryphal quote from Ginger Rogers—they sort of have to do it 'backwards and in high heels.'

Tom Campbell, The Gloriously Queer Afterlife of Death Becomes Her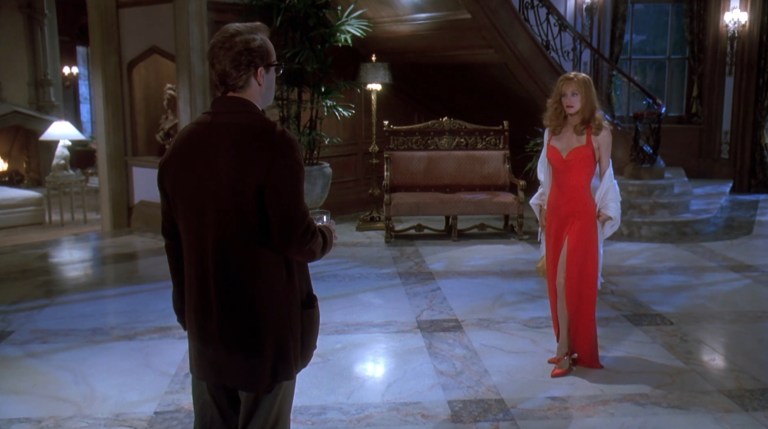 18. Both Siskel and Ebert gave Death Becomes Her a "thumbs down." Writer David Koepp said, "Many people got it and loved it for its weirdness. Many did not. But you can't have a life in the circus without a certain amount of elephant shit."
19. Lisle tells Madeline she will have to disappear from public life after 10 years to avoid suspicion. At her party, one of her employees alludes to guests being present who are well-known celebrities that have taken Lisle's potion and subsequently "disappeared" or faked their death. It's implied that in attendance are Andy Warhol, Marilyn Monroe, Greta Garbo, Elvis Presley, Jim Morrison, and James Dean.
20. In an early draft of the script, Lisle was going to literally be Cleopatra.
21. The events of the film take place between 1978 (Madeline and Ernest meet) and 2029 (Ernest's funeral).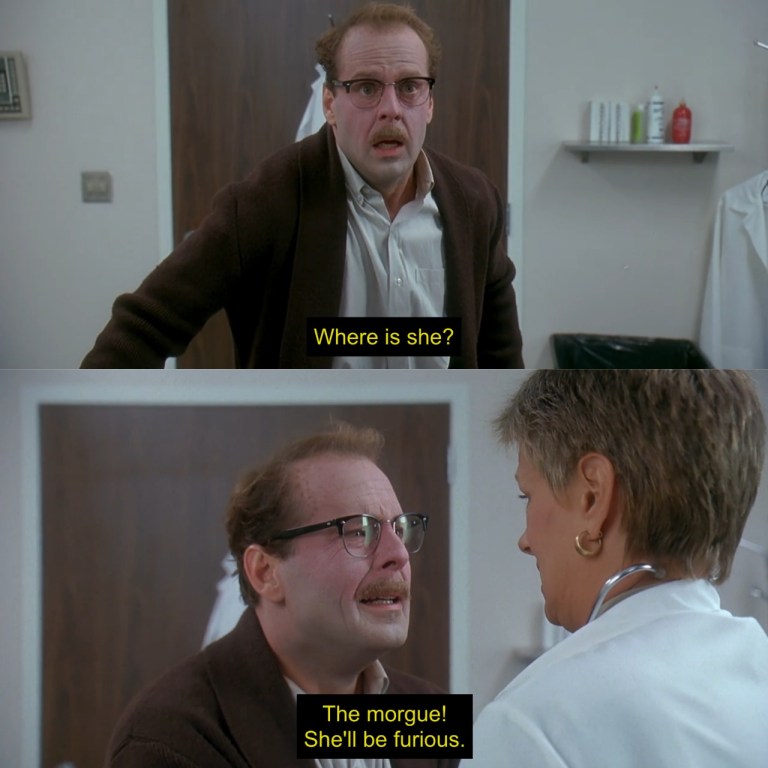 22. Goldie Hawn's partner Kurt Russell has a cameo as a man being interviewed on television in one of the hospital scenes.
23. Sydney Pollack also has an uncredited cameo as an emergency-room doctor.
24. In the script, Madeline and Helen had been friends since attending Radcliffe College together.