34+ Pandemic/Epidemic Movies: The Best Virus Outbreak Films
Get ready to find fear in all the ways diseases can spread with this expansive list of the best pandemic/epidemic movies ever made.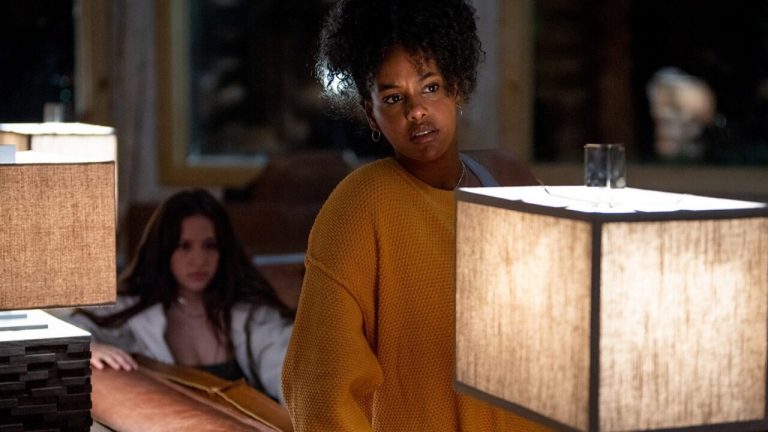 If you're searching for pandemic movies online, look no further. This list outlines all the best virus infection and outbreak films from vintage to recent. It doesn't matter whether you have Netflix, Hulu, or Amazon — or whether you are interested in watching something on Blu-ray instead; we catalog them all in this listicle.
There are plenty of different films you can watch that deal with the concept of virus outbreaks and pandemics. Some of them are pure entertainment, meant to keep you glued to the edge of your seat. Others are more educational and will teach you something scientific you never knew before. Then there are movies that are thought-provoking, movies that will make you ponder your own mortality.
The reason apocalyptic movies have always been so popular, even before the COVID-19 epidemic, is because there's a sense of realism about them. Even when discussing something as silly as zombies, the way the characters cope with their fate isn't so far off from reality. It doesn't feel fake. It feels like something similar could actually happen. Movies like Contagion will make you question how you would personally react when placed in danger — would you remain calm, or would you panic? Would you become paranoid or stay sane?
If you're interested in watching a scary movie, you might as well watch one that hits close to home. Any of the classic movies listed below will do exactly that. Here is our list of the best pandemic films made in Hollywood — and globally. Get ready to find fear in all the ways diseases can spread. It's time to set up your own pandemic movie marathon, perhaps while you yourself are in quarantine.
This early black-and-white classic from American director Earl McEvoy offers an interesting fictional story the smallpox epidemic in New York City. It stars Evelyn Keyes, Charles Korvin, and William Bishop. While it was met with mixed reviews when it came out in the 1950s, it's an interesting piece of cinematic history on epidemics. It was also released as The Frightened City.
This film is about a man who encounters an angel of death. They play chess for his soul during the Black Plague of the 1300s. Although the script is based on a one-act play by director Ingmar Bergman, the last two minutes of the film are completely improvised. It was done in one take. Bergman has made over fifty different films, but he has said this is one of his favorites.
This film is based on a Michael Crichton novel. It is about a team of top scientists investigating an infectious organism that fell to earth from space. The special effects used to create that space germ cost $250,000 in 1971, which doesn't sound like much until you consider inflation. Meanwhile, the scientific lab sets cost more than $300,000 to build. At the time, they were one of the most elaborately detailed interiors on a film set.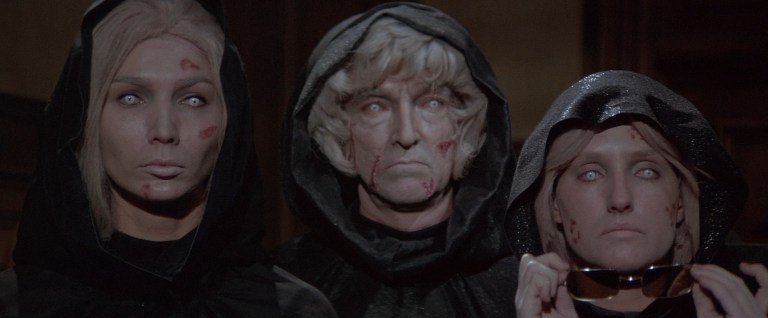 Robert Neville (Charlton Heston) believes himself to be the final uninfected survivor or a worldwide pandemic. He is immune to the deadly plague that killed most everyone else, and turned other survivors into pale mutants who hunt him on a nightly basis. The Omega Man is one of the best sci-fi movies of the 1970s. It is also one of three feature-film adaptations of the novel I Am Legend, the other two being The Last Man on Earth (1964) starring Vincent Price, and I Am Legend (2007) starring Will Smith.
Stigma is a classic 70s movie with a classic theme and a deadly virus thrown in for good measure. A smart doctor moves to a remote area — and starts to realize that there is a conspiracy about a new virus or STD that effects young people that believe in free love. The tagline for the film is "the curse that begins with a kiss", which is a great description of the movie.
This film is about a European train attacked by terrorists and infected with a pathogen. The writer and director, George P. Cosmatos, was inspired by a cholera outbreak he experienced while living in Egypt. Cosmatos once said he believes an epidemic seems more destructive than an earthquake, fire, or even a bomb, especially when it is manmade. Overall, this is an entertaining film that has everything — helicopters, shootouts, explosions, and thieves. Plus, it has a star-studded cast with Martin Sheen, O. J. Simpson, and Sophia Loren.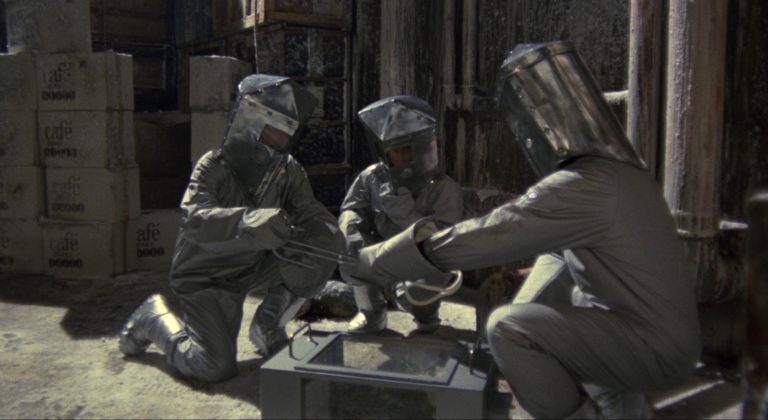 Contamination is violent science-fiction movie about infested alien eggs. The official film description reads: "A cargo ship drifts up the Hudson River. Its crew: all dead, their bodies horribly mutilated, turned inside out by an unknown force. Its freight: boxes upon boxes of glowing, pulsating green eggs. It soon becomes clear that these eggs are not of this planet, and someone intends to cultivate them here on Earth. But who? And to what end?"
This movie is from the famous Danish film director and screenwriter, Lars von Trier, and it's the only art house pandemic film on this list. This post-modern film is not for everyone and it's actually quite a rare film to find on DVD or stream anywhere. It's a movie-within-a-movie that tells the tale of two screenwriters making a movie about an epidemic, and epidemic seemingly occurring in real-life. As critic, John Petrakis, notes while this is an interesting film, it "will never be confused with von Trier's great films. But it is an intriguing introduction to his later cinematic obsessions."
This is based on a classic and notoriously chilling Edgar Allan Poe story about a group of aristocrats who seal themselves safely away in a prince's castle while a vicious disease called the "Red Death" ravages the countryside. There have been two other versions—one in 1990 with Sylvester Stallone's brother Frank and one in 1964 with legendary horror actor Vincent Price as Prince Prospero.
This movie is about a viral disease that breaks out in a Californian town. It follows the CDC scientist trying to stop it from spreading and harming more of the population. Although this is a work of fiction, the film was inspired by real-life events that are discussed in the book The Hot Zone by Richard Preston, Jr. In addition to the riveting, realistic storyline, the cast is impressive. Four Oscar winners are included in this film: Dustin Hoffman, Morgan Freeman, Kevin Spacey, and Cuba Gooding, Jr.
This is a science-fiction movie about a time traveler sent to the 1990s to identify the origin of a disease that nearly wipes out humanity. Bruce Willis, who you know from Die Hard (1988) and Pulp Fiction (1994), stars in this movie. Willis originally filmed his scenes for free because he wanted to work with the director, Terry Gilliam, so badly. He didn't get paid until after the film was released. Brad Pitt, on the other hand, appears in this film as comic relief. He was originally signed for a small salary as well, but by the time the movie was released, he had turned into a top-salary actor.
This series is loosely based on the video-game series with the same name. It's about an evil corporation that creates a virus that turns humanity into zombies. Although the storyline is very different from the storyline in the games, it has several overlapping characters like Jill Valentine, Carlos Oliveira, Claire Redfield, Chris Redfield, Barry Burton, Leon S. Kennedy, Ada Wong, and Albert Wesker. Resident Evil is officially the highest-grossing film series based on a video game. It has generated over 1.2 billion dollars worldwide.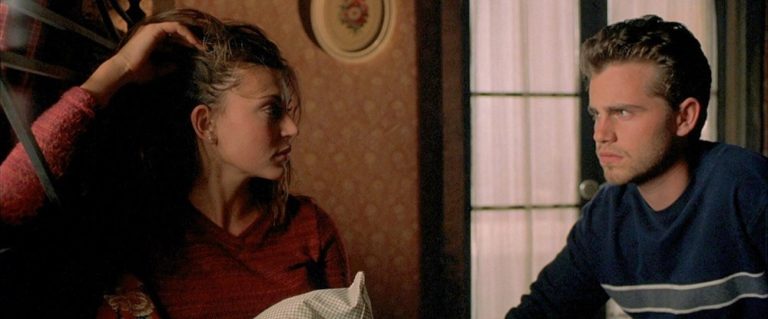 This film is about a group of college graduates who become infected with a flesh-eating virus during a camping trip. It stars Rider Strong, who you might recognize from Boy Meets World (1993-2000). While covered in blood for one of his scenes, he took a walk through the woods and stumbled upon a group of girls on a field trip who screamed at his appearance. Robert Jones, a crew member, has an equally horrifying story. He took home a decapitated body prop after filming and was held at gunpoint by officers who thought the corpse was real.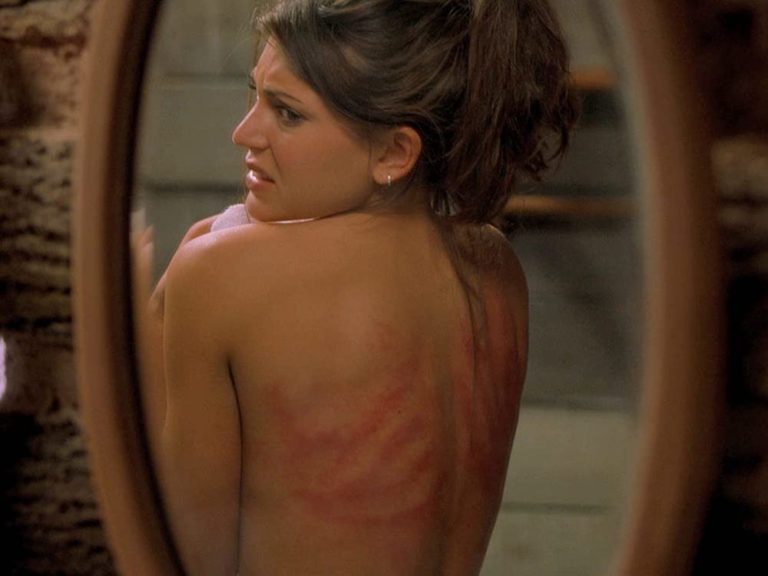 The hospital used in this film about a mysterious virus spreading through the UK is a real day hospital. It is only open during the week and is available for filmmakers to use on weekends. That means the money from filming went directly into the hospital's trust fund to help real patients. Another fun fact for fans of 28 Days Later is that Stephen King is a huge fan of the film. He bought out an entire showing in New York City. Then, in his novel Doctor Sleep, he paraphrased one of the lines from the film, saying, "He needs us more than we need him."
This movie is about a zombie apocalypse that functions like a plague. It follows a nurse, a policeman, a young married couple, and a salesman who take refuge in a shopping mall. Just like in the original Dawn of the Dead (1978), there is a scene with zombies with limbs missing, who are all played by actual amputees. A lot of the other actors, who were also playing zombies, carried remotes that discharged blood cannons on their back. That way, blood would explode behind them, making it look like they got shot in the head.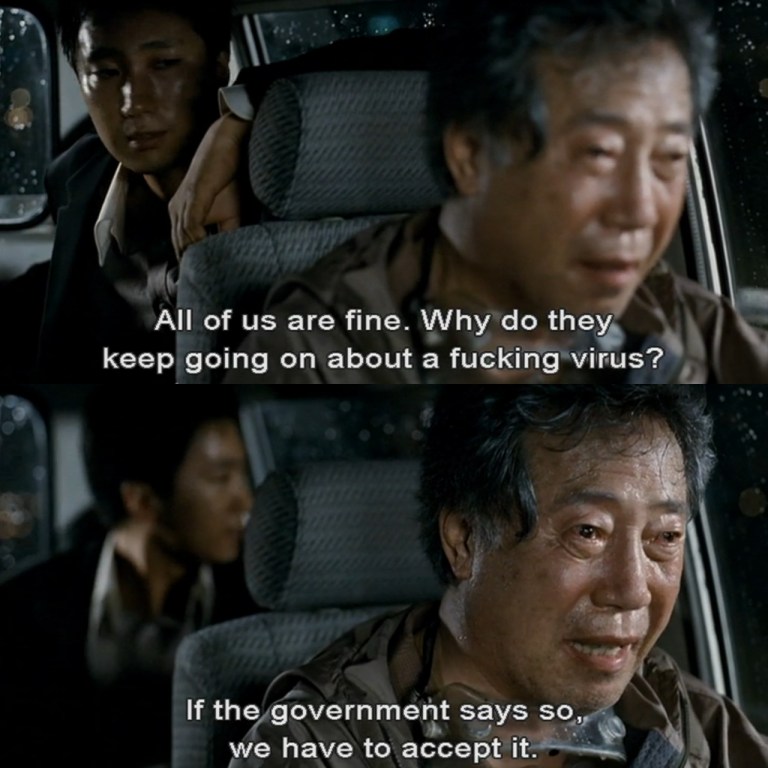 This South Korean monster movie by Bong Joon-ho features a subplot where the government tells its citizens that the monster is also the host of a deadly virus. The quarantine plot serves as a foil for the main plot, which is about the Park family rescuing their youngest family member from the monster's lair. It is revealed later in the film that (tap to reveal spoilers) the virus was a government invention, for the purpose of distracting the public from the monster on the loose.
This film is about a plague that has wiped out most of humanity and has transformed the rest into vampires. Although it is based off of a book written by Richard Matheson, it has a very different storyline. The movie follows Will Smith's character, the last human survivor in New York City, who doesn't have anyone except his dog. While filming, Smith grew so attached to that dog that he tried to adopt her after they finished production. However, her trainer refused to give her up.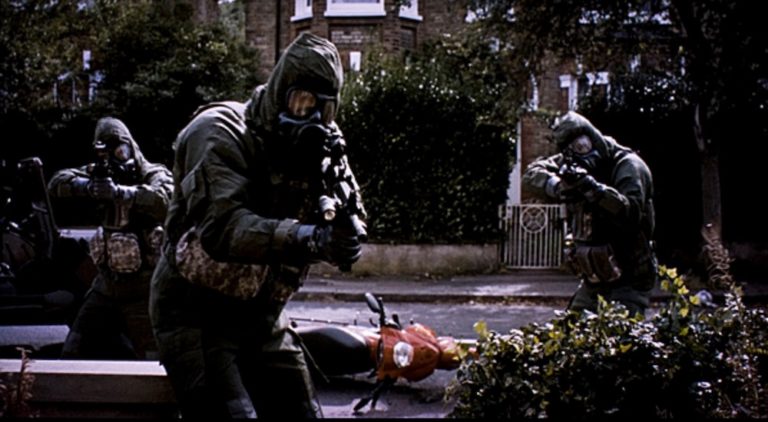 After a virus hits Great Britain, the US army helps secure an area of London where survivors can repopulate. This is a sequel to 28 Days Later (2003), another pandemic movie about a virus that turns infected humans into enraged monsters. All of the infected people in the film are played by actors who have a history in either dance, gymnastics, circus, or mime. In addition to the excellent acting, the film has crisp visuals and memorable music. This is one of the rare instances where the sequel is just as good, if not better, than the original.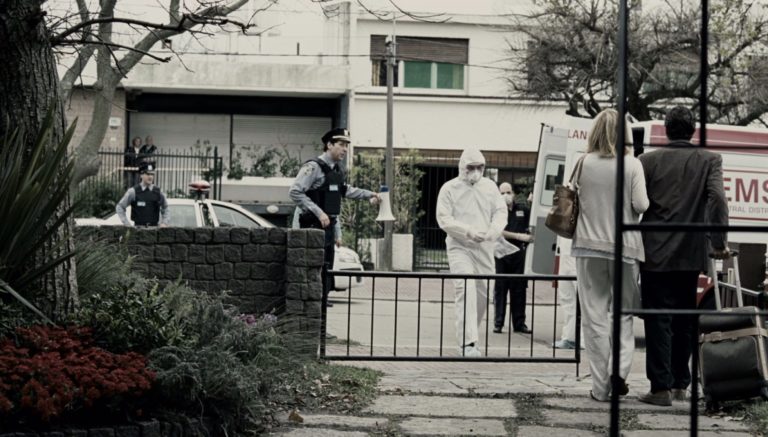 This film is based on a popular novel written by Jose Saramago. It's about a pandemic that instantly renders people blind. Like the novel, no names are used throughout the course of the story. However, it has a star-studded cast with Mark Ruffalo, Julianne Moore, and Danny Glover. In order to prepare for their roles, the actors and extras participated in "blind camps." This involved them being blindfolded, taken to a random location, and dropped onto a street in order to get used to the sensation of missing their sight.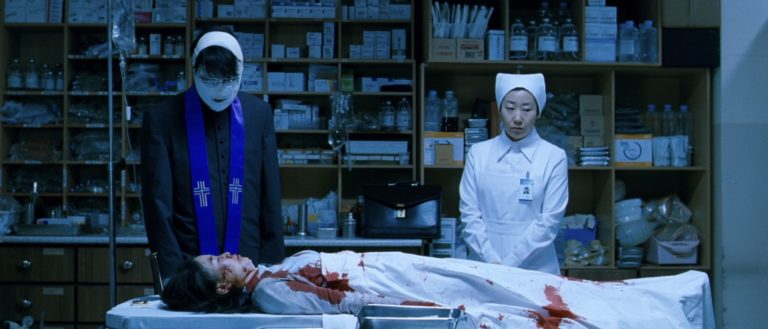 Another vampire/infection flick, but this time from the vibrant horror cinema industry from South Korea. The fatal Emmanuel Virus threatens to destroy the nation, so to help find a cure, a Catholic priest volunteers to take an experimental vaccine. It cures him, but he develops a sudden taste for human blood as well.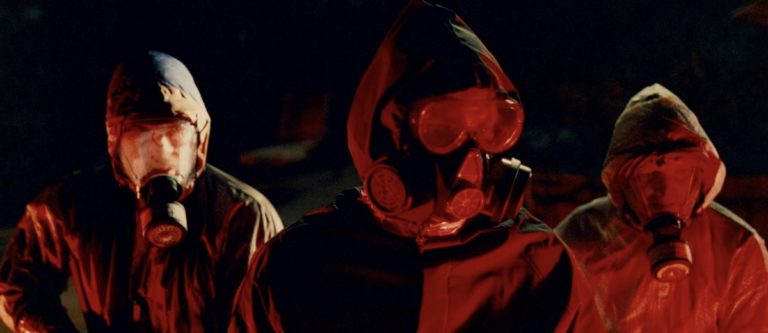 This film is about four friends who survived a global pandemic. It follows them as they embark on a road trip to a place where they can live in peace. Unlike most virus movies, Carriers focuses on the emotional and psychological health of the survivors rather than their physical survival. Although this movie was filmed back in 2006, it was not released by Paramount until 2009, shortly after Chris Pine had great success in Star Trek. He plays one of the main characters in Carriers, along with Lou Taylor Pucci, Emily VanCamp, and Piper Perabo.
This film is set during the time of the first bubonic plague outbreak in England. It tells the story of a monk who is recruited to investigate an untouched village. It stars Eddie Redmayne, who you might recognize from Les Miserables (2012) and The Theory of Everything (2014). It also includes several members of Game of Thrones (2011) such as Sean Bean, Carice van Houten, Emun Elliott, and Tim McInnerny. In addition to the excellent casting, the film has a beautiful atmosphere and a surprising twist toward the end.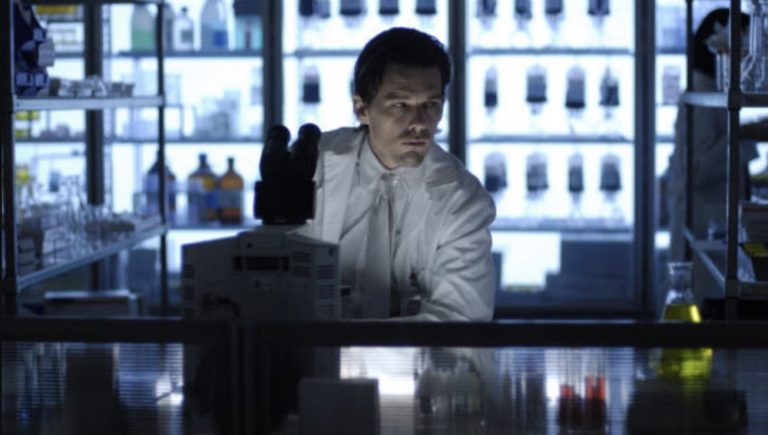 Daybreakers is a movie about a pandemic and vampires. In this virus movie, the contagion turns most of the people on Planet Earth into vampires. In the film review on The New York Times, critic Jeannette Catsoulis said of this virus film: "Among the many pleasures of Daybreakers is its reminder that vampire movies can function as more than just metaphors for teenage celibacy. "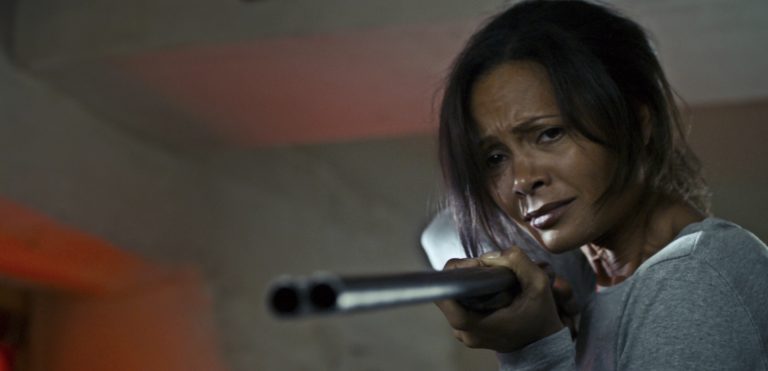 This apocalyptic film features Thandie Newton (Maeve Millay from the HBO show Westworld) and is directed by Carl Tibbetts. An airborne killer disease is sweeping through Europe, but a young couple are on a remote island and don't know about it, until a stranger comes to the island and lets them know about it. While the movie does not have the best IMDB rating, on reviewer makes clear this is a good film: "it's a brilliantly acted film, it's a new twist on the whole 'pandemic' concept that has come about during the last few years, and I think it definitely deserves a watch. Do not let the mediocre IMDb score put you off!" This list 100% concurs.
This movie is a reboot from the 1960s. It tells the story of a pharmaceutical firm trying to find a cure for Alzheimer's disease. One of the drugs works on a chimp, but the virus turns out to be fatal to humans and spreads across the globe. In addition to having a compelling storyline, the CGI in this film is impressive. The apes' body language and facial animations make them feel real. Plus, the music is tense and powerful, making for an excellent pandemic movie.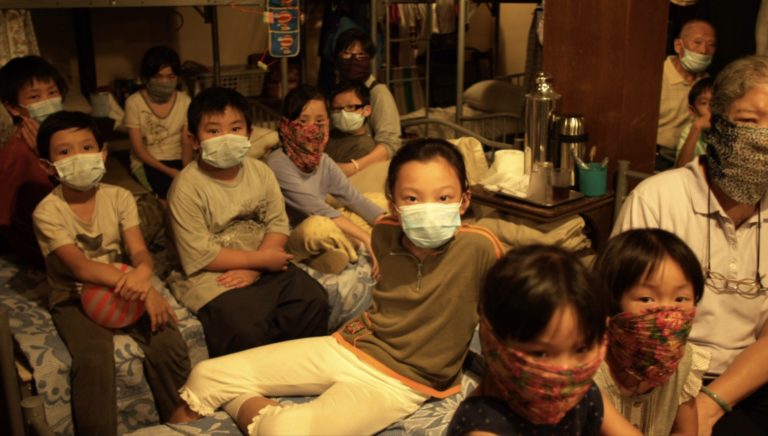 This is a thriller about diseases spreading and the difficulty in finding a cure. It is now one of the most well-known pandemic movies of all time. However, in order to promote the film when it was first released and lesser-known, Warner Brothers Pictures built two giant Petri dishes treated with bacteria and fungi. They set them in a storefront window in Toronto for everyone to see. Over the course of a few days, the bacteria spread to spell out the name of the film.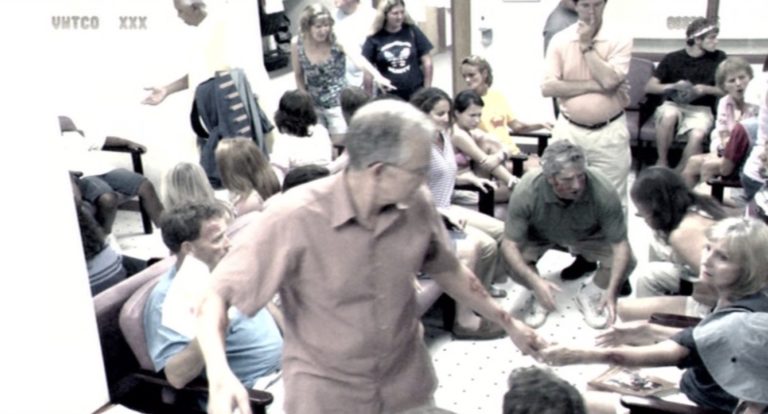 This is a found-footage film about a small town in Maryland during a pandemic. The director, Barry Levinson, was originally approached to create a documentary about the same town in Chesapeake Bay. However, he was worried no one would care about the pollution and scarcity of fish in the waters. Instead, he decided to use true facts about the location to turn the story into a theatrical piece. Levinson might sound familiar to you, because he was also the director of Rain Man (1988) and the producer of Wag the Dog (1997) and Toys (1992).
Brad Pitt stars in this famous film, which is based on Max Brooks's bestselling book. However, the book and movie have very little in common. The book contains a collection of accounts about the zombie plague as told by various characters. Meanwhile, in the film, Pitt plays a UN worker who tries to discover the origin of a zombie pandemic. When World War Z was first released, it was actually the highest-grossing film of Pitt's career. He claims his involvement was thanks to his young sons. He wanted them to be able to see one of his movies before they turned eighteen, and they were big fans of zombies.
This film is about a virus that causes a city in South Korea to become quarantined. Some viewers have called it South Korea's version of Outbreak and Contagion. Even though the film is filled with cliches, it has a fast pace, tense music, and a realistic storyline. It shows the panic, anger, sacrifice, and violence that can occur during a major lockdown. It is a cleverly constructed film with strong acting and thrilling action.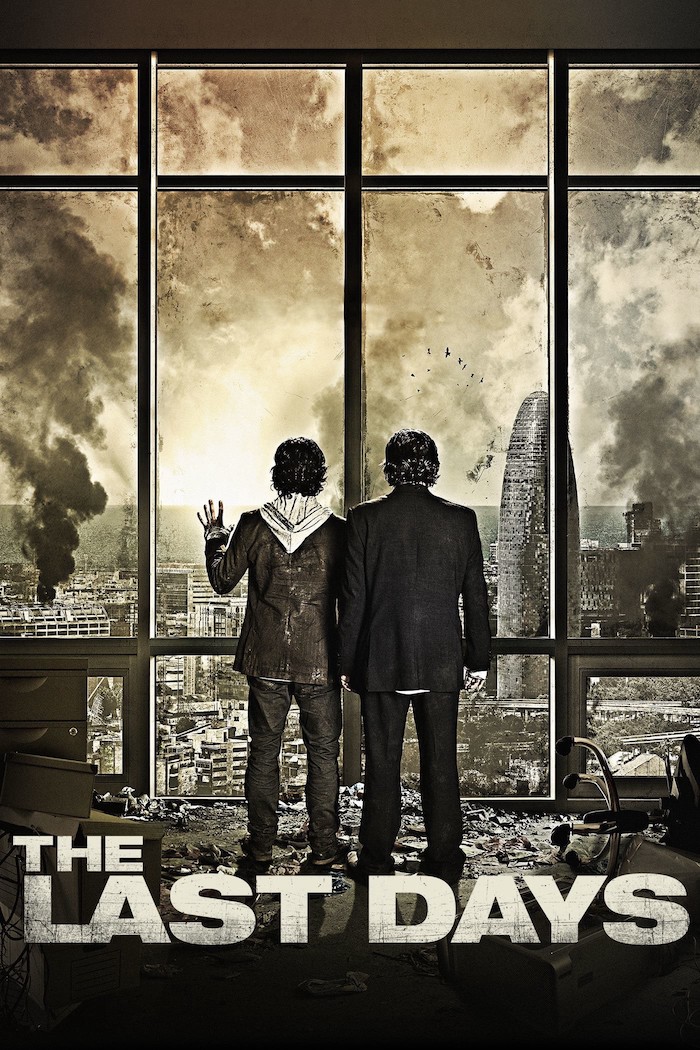 In this film, a mysterious epidemic spreads across the planet. It causes humanity to fear going outside into wide-open spaces because they could be dead within seconds. To protect themselves, they remain inside of buildings for as long as they can. This isn't actually the first pandemic movie that the directors David and Alex Pastor have created. They also created Carriers (2009), which deals with similar themes.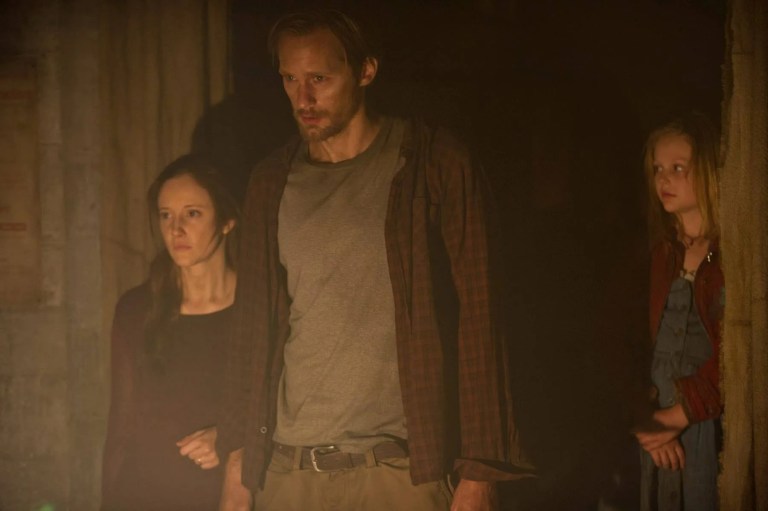 A psychological thriller that follows a family of three almost a year after a sudden outbreak of a mysterious virus has driven them underground. Ray (Alexander Skarsgård), Claire (Andrea Riseborough) and Zoe (Emily Alyn Lind) have survived in an underground bunker where they pass the days in fear of the "breathers" that live above ground. Although it's a bit of a slog to get to the third act, Hidden has a killer ending that's worth sticking around for.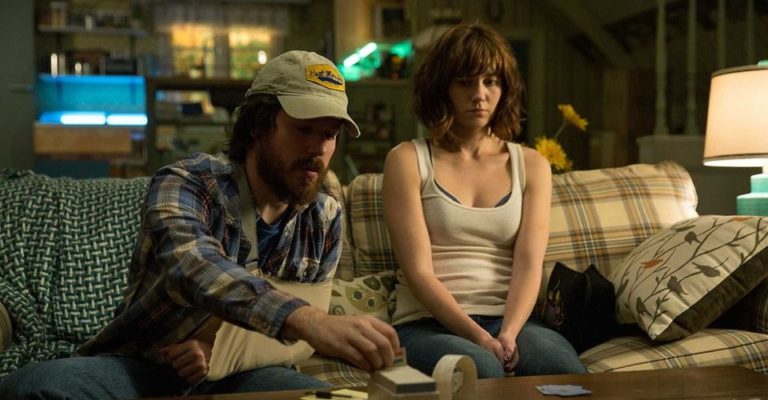 Directed by Dan Trachtenberg, produced by J. J. Abrams and Lindsey Weber, is not so much a film about viruses being unleashed on the world. However, it's a movie thoroughly about being stuck in quarantine while the outside world is supposedly in shambles and hence makes this list. Watch this psychological horror-thriller to experience what it would be like to be stuck in a bunker for a very long time without knowing why,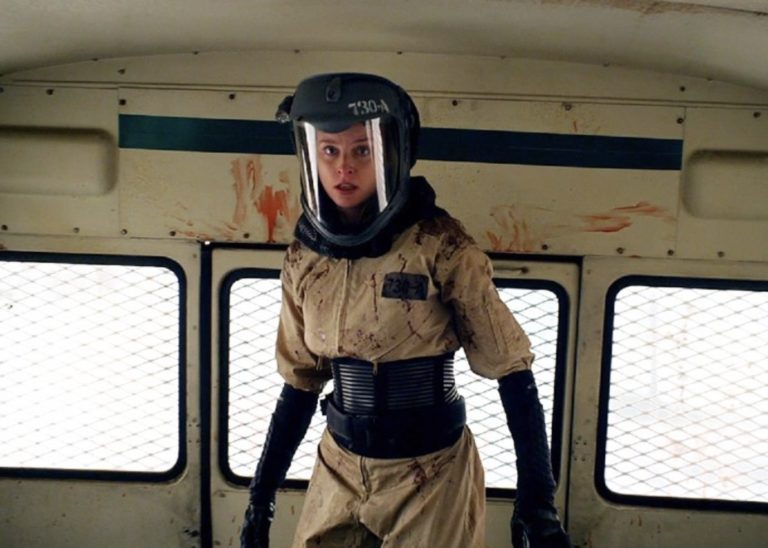 This film is set in the near future, after a virus has overtaken the planet. It follows a doctor who travels to Los Angeles after the fall of New York, hunting for uninfected survivors to rescue. The camerawork is meant to mimic a first-person shooter in a computer game with shaky visuals. Although the storyline is a bit cheesy, it still has several unpredictable moments. Overall, it is a fun zombie movie that will keep you entertained for an hour and a half.
This film was inspired by a real Ebola outbreak in 2014. It is about a group of people in Nigeria who try to get the virus contained before it reaches a major city filled with over twenty-one million people. Although the pacing is a bit slow, the story is compelling, and the actors' performances are powerful. Since this film is based on a true series of events, it is dedicated to everyone who lost their life while containing Ebola in Lagos, specifically Ameyo Adadevoh. He was a Nigerian physician who played a key role in containing the virus in Nigeria.
This film is about a zombie virus that breaks out on a train in South Korea as passengers travel from Seoul to Busan. It was the sixth-highest grossing domestic film of all time in South Korea. It was also very well-received in Malaysia, Hong Kong, India, and Singapore. It broke multiple records in several countries and was nominated for countless awards. Edgar Wright, who directed Shaun of the Dead (2004), called it the best zombie movie he's seen in a while.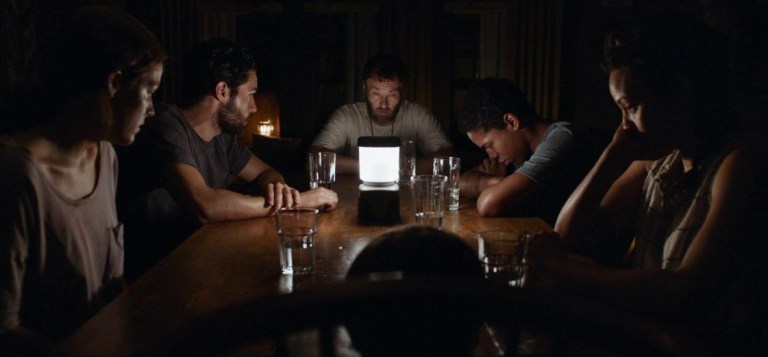 It Comes at Night takes place in a world where a pandemic has wiped out most of the world's population. A couple and their son are surviving in isolation at a cabin in the woods. One day, a family in need of help arrives. Trying to balance fear, meager supplies, and a need for extra help in defending the cabin, the two families attempt to live together. However, trust is difficult to have in a world where dangers can't always be seen.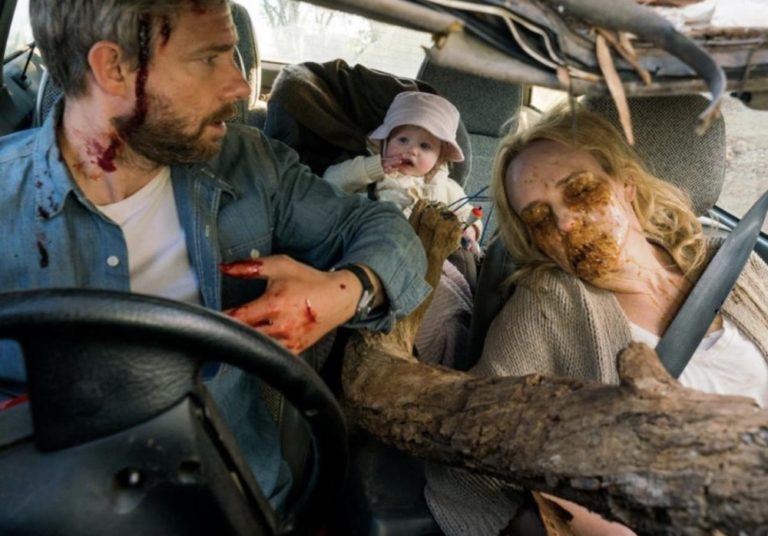 This film follows a father and daughter who are trying to survive as an epidemic spreads across Australia. It stars Martin Freeman, who you will recognize from Black Panther (2018), The Hobbit (2012), and Sherlock (2010). He acts alongside a young actress, Simone Landers, in her first official film role. Cargo is based on a popular short film with the same name. It achieved viral success on YouTube, earning over thirteen million views, and was quickly turned into the first Australian Netflix Original movie, which is always streaming on Netflix.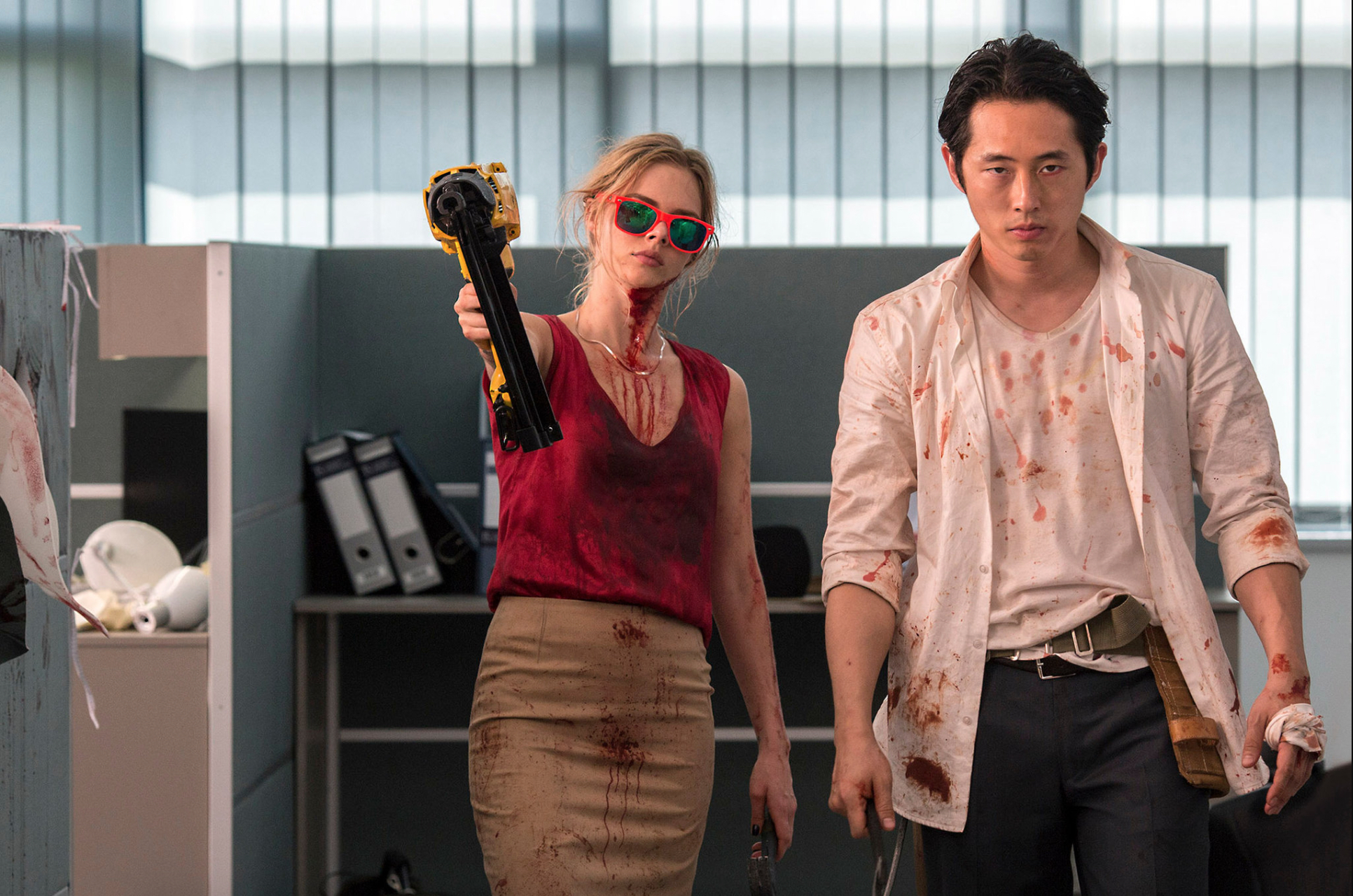 Steven Yeun plays a corporate lawyer working for a soulless firm as a virus, ID-7 "Red Eye", that impairs reasoning and causes the infected to act impulsively spreads around the globe. His office building is quarantined after an outbreak occurs. An antidote is delivered but it will still take 8 hours for the infected to return to normal. Oh, and the firm happens to have previously set the precedent for the infected to not be legally responsible for the decisions they make while infected… including murder.
This film is based on a real outbreak that took place in Kerala, India, in 2018. It follows a group of brave individuals whose actions helped successfully contain the virus. This is a pandemic movie, a horror movie, and a survival thriller rolled into one. It is also surprisingly motivational. It gives a look at how healthcare workers overcame adversity and risked their own lives in order to protect others.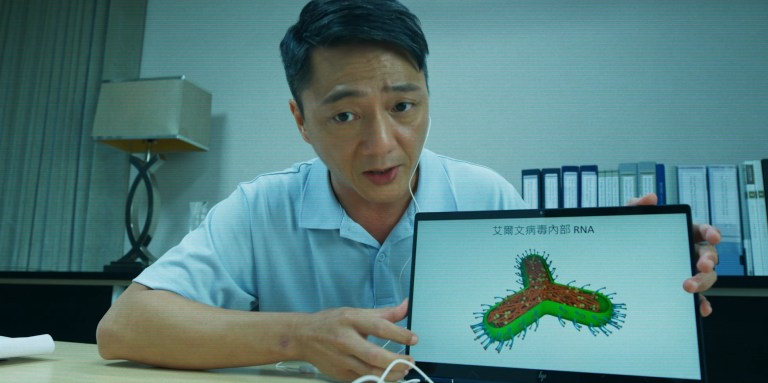 The Sadness is the goriest movie to ever come out of Taiwan. It is about a couple, Jim and Kat, who try to find each other after being separated when an incredibly infectious virus breaks out. The virus turns people into violent killers who act on their darkest impulses, and the results are disturbing. It's disturbing not just because there are gallons of blood flowing freely throughout the movie, but because the violence is so mean and nasty that it makes the gory scenes even more difficult to watch.
Written by Kevin Williamson, Sick follows two best friends in the early days of the pandemic. The girls decide to quarantine together at a family cabin in the woods. Unexpectedly, a visitor shows up in the middle of the night. The friends are pushed to their limit as they try to survive a masked intruder who seems set on revenge.
After a deadly outbreak decimates the world's population, brother and sister Harry (Dean Michael Gregory) and Lily (Melissa Worsey) set off to look for safety. Crossing the English countryside, the two run into dangerous infected who have a scent for blood. harry and Lily also run into other survivors and debate whether they have better odds against the living or the dead.