The Best Horror Movies to Stream Thanksgiving Weekend
The gods of my tribe have spoken. They have said, "Do not trust the Pilgrims. Especially Sarah Miller."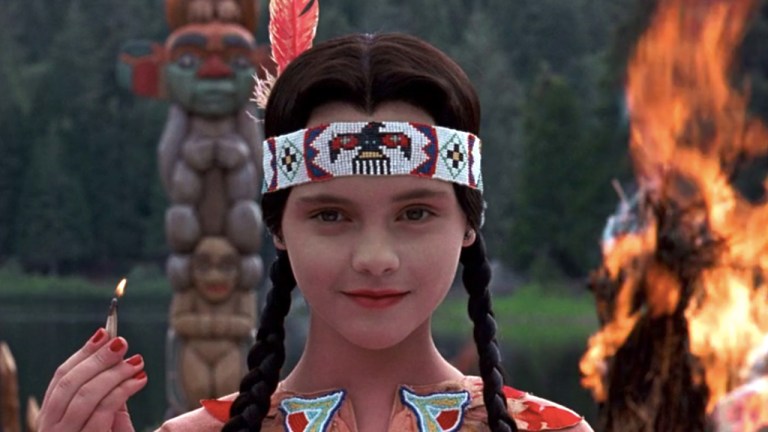 Hey Creepy Catalogers,
There's a gravy train of Thanksgiving horror for your holiday weekend:
Addams Family Values (1993). Streaming on Netflix. This is the Addams family movie with the Thanksgiving play at the summer camp Wednesday and Pugsley attend where Wednesday delivers an iconic and scathing monologue:
You have taken the land which is rightfully ours. Years from now my people will be forced to live in mobile homes on reservations. Your people will wear cardigans, and drink highballs. We will sell our bracelets by the road sides. You will play golf and enjoy hot hors d'oeuvres. My people will have pain and degradation. Your people will have stick shifts. The gods of my tribe have spoken. They have said, "Do not trust the Pilgrims. Especially Sarah Miller."
It's also a good rewatch before getting into the new Wednesday series on Netflix with Scream queen Jenna Ortega.
The Mist (2007). Streaming on Netflix. If you're ready for something scarier than a last minute trip to the grocery store before Thanksgiving, The Mist is real shopping horror movie. It also has one of the most brutal endings in horror.
Kristy (2015). Streaming on Tubi. My favorite Thanksgiving horror movie, Kristy is about a women who stays at college over the Thanksgiving break. While at a nearby gas station, she makes an enemy out of the wrong person and they follow her back to the abandoned campus where a game of cat and mouse ensues.
Resurrection (2022). streaming on Shudder. If you're just looking for a new scary movie to watch, Resurrection is the best under-seen 2022 horror movie. Rebecca Hall stars as a successful single mother who believes she is being stalked by a man from her past.
This week in horror:
Creepy reads:
Happy streaming and stay spooky!
Canonical CC Horror Fiction: Elias Witherow