11+ Best Thanksgiving Horror Movies
Thanksgiving is a time to gather the family around the television— not to watch football, but to view the Thanksgiving horror movies included in this list.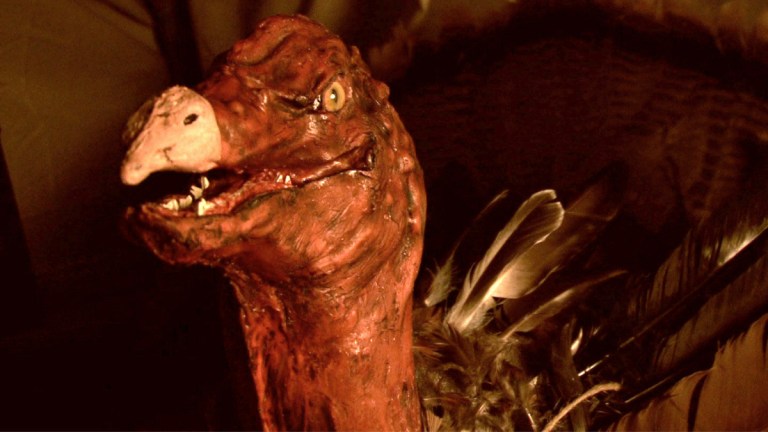 Thanksgiving is an undervalued holiday. Set directly in-between Halloween and Christmas, horror fans are still lamenting the passing of the former while businesses want us to move on to the latter.
Thanksgiving is also undervalued for its horror-movie potential. The gatherings of family and friends are perfect setups for slasher flicks like Home Sweet Home (1981). The tradition of overeating goes well with body horror as seen in the fake trailer for Eli Roth's Thanksgiving. Cannibal movies also fit nicely into the idea of a holiday feast. Plus, the holiday's mascot is the ever-menacing turkey. You'd think more filmmakers would capitalize on an underused setting like Thanksgiving.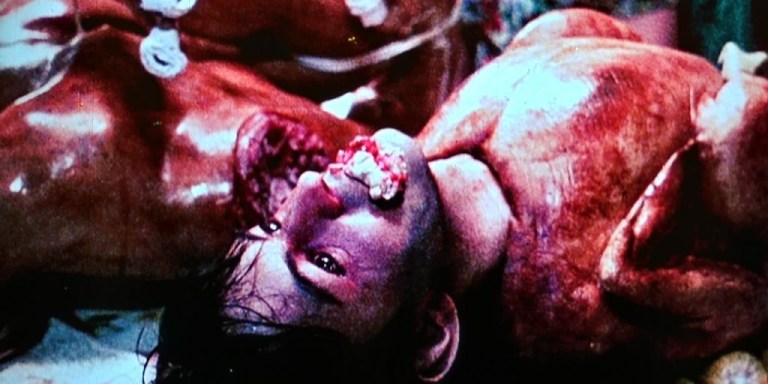 Many of the horror movies that fully dedicate themselves to the Thanksgiving premise tend to be campy and low-budget. For fans of the horror genre who need a few flicks to drown out (and potentially chase away) annoying relatives during the holiday festivities, campy and low-budget shouldn't be a problem.
The Best Thanksgiving Horror Movies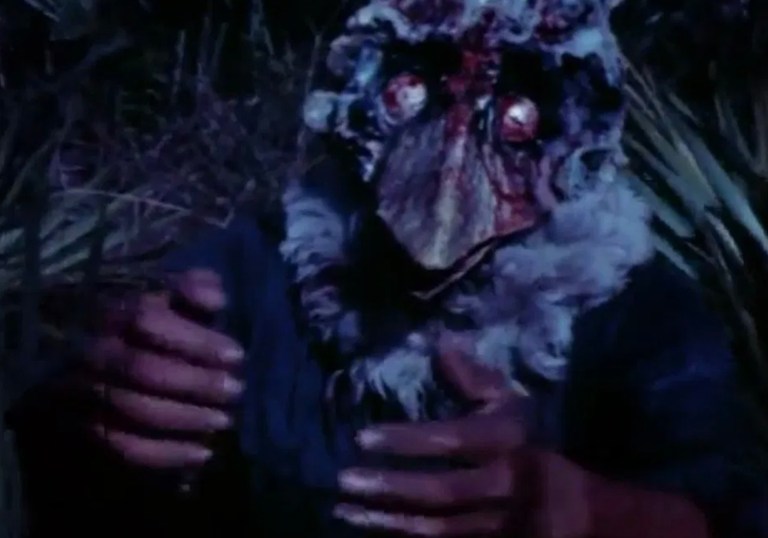 What's a Thanksgiving without a little turkey? Well, how about a Thanksgiving with a movie about a vampiric turkey-headed man who is addicted to the blood of drug addicts? That's the basic plot of Blood Freak, a goofy and trashy proto-slasher that is essentially a cross between Reefer Madness (1936) and a gory Troma movie. Blood Freak isn't set on Thanksgiving, but the amount of turkey nonsense you'll see in it will pair perfectly with the leftover turkey sandwiches you enjoy days after your Thanksgiving feast is over.
Perhaps the only Thanksgiving-themed horror movie ever directed by a woman (Nettie Peña), Home Sweet Home is slasher movie about a drug-crazed mental patient who slaughters people celebrating Thanksgiving at an isolated ranch. Home Sweet Home definitely feels like it's one of many horror movies of its time trying to cash in on the holiday horror theme established by Black Christmas (1974), Halloween (1978), and My Bloody Valentine (1981). Regardless, it's still a fun movie to watch late at night when you've had your fill of Thanksgiving festivities.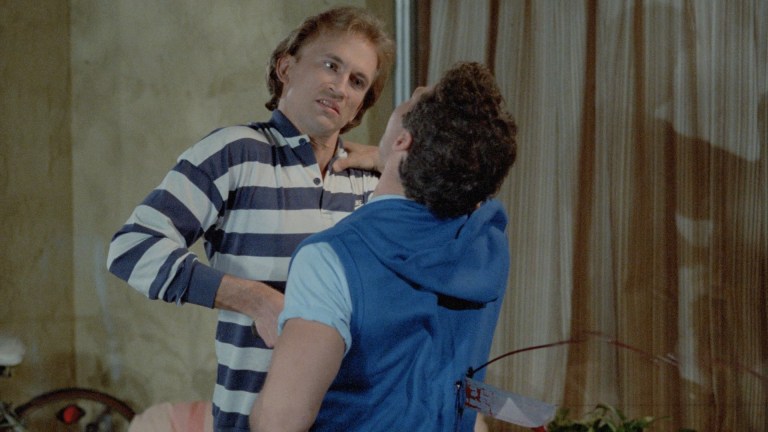 During Thanksgiving, many people go home to be with their family. In the slasher film Blood Rage, Todd (Mark Soper) escapes from a mental hospital on Thanksgiving day and journeys back home to be with his mother and brother. The thing is, Todd was framed for murder by his twin brother Terry (also played by Mark Soper), and Terry uses Todd's escape as cover for a night of bloody killings. Blood Rage was a lesser-seen horror flick for years, but it eventually became something of a cult classic for the Thanksgiving season.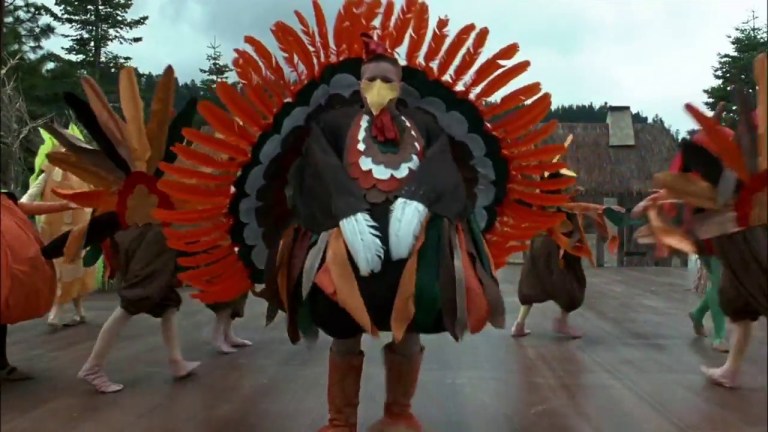 The much darker and less campy sequel to 1991's The Addams Family sees Wednesday (Cristina Ricci) and Pugsley (Jimmy Workman) sent off to summer camp, where the two Addams children are singled out and bullied for their weird, deathly appearances. Wednesday is originally cast as Pocahontas in the camp's Thanksgiving play, and Pugsley is cast as a turkey. Wednesday resists playing the role, but she eventually relents—so long as she can rain holy hell on the entire affair.
Alien Abduction: Incident in Lake County is a TV movie and belongs to the very unique subgenre of alien/horror/Thanksgiving movies. This pseudo-documentary is presented as containing footage from the night the McPherson family disappeared. The McPhersons, a typical American family living in Lake County, MT, sit down for Thanksgiving dinner, only to be interrupted by an alien ship landing in a nearby field. Directed by Dean Alioto, it is a remake of his 1989 low-budget video The McPherson Tape. The documentary style confused people, many of whom insist that the 1989 original was authentic and that the remake was some sort of government disinformation attempt to "discredit" an actual documentary about an alien landing at Thanksgiving.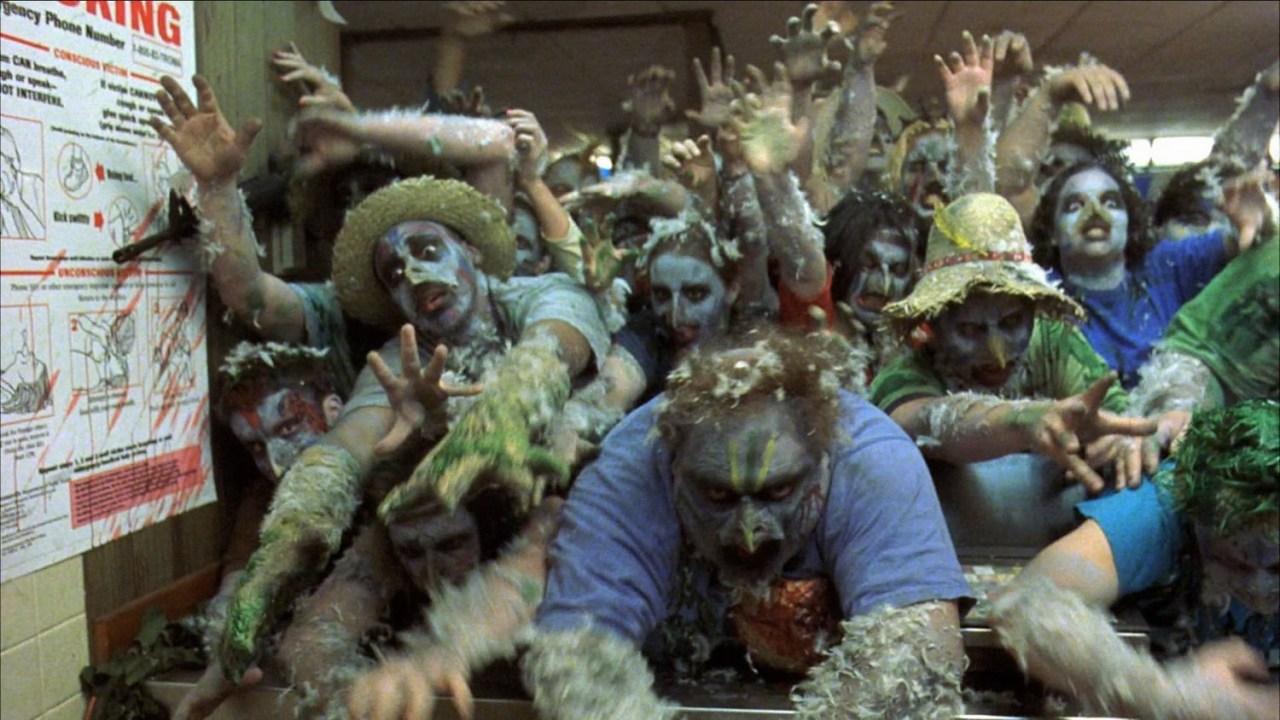 Poultrygeist isn't really about Thanksgiving, but with a lack of true Thanksgiving horror movies in the world, it's become associated with the holiday by default. And besides, some people eat chicken for Thanksgiving dinner, right? Well, in Poultrygeist, the chickens might eat you. Or rather, chicken possessed zombie people might eat the motley crew working at a fast-food restaurant built atop a Native American burial ground. This horror/comedy/musical was directed by Lloyd Kaufman, one of the cofounders of Troma. If you know Troma, then you know what you're getting into. If not, then tread carefully. This is gory and goofy stuff.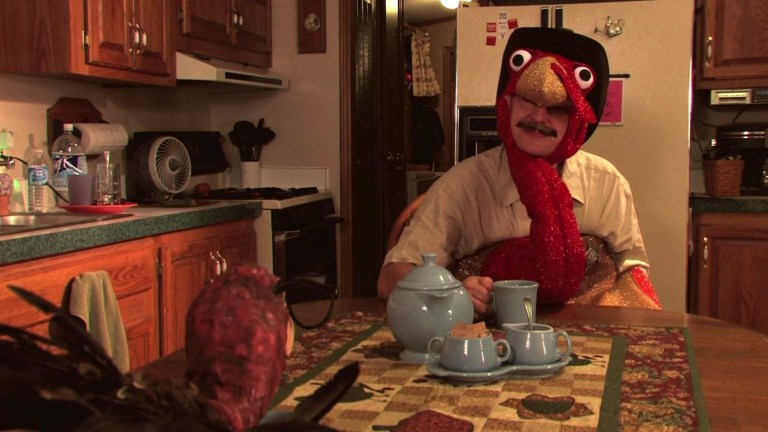 ThanksKilling is an extremely low budget (with a reported budget of only $3,500) horror comedy about a killer turkey who terrorizes a group of college students on their way home for Thanksgiving. The undead turkey, named Turkie, was created centuries ago by a vengeful Native American as a way to get back at the white people who had dishonored him. Now, resurrected when a dog pees on his grave, Turkie is back to kill anything and everything in his path. ThanksKilling is goofy horror trash for people who love the "so bad it's good" style of movies.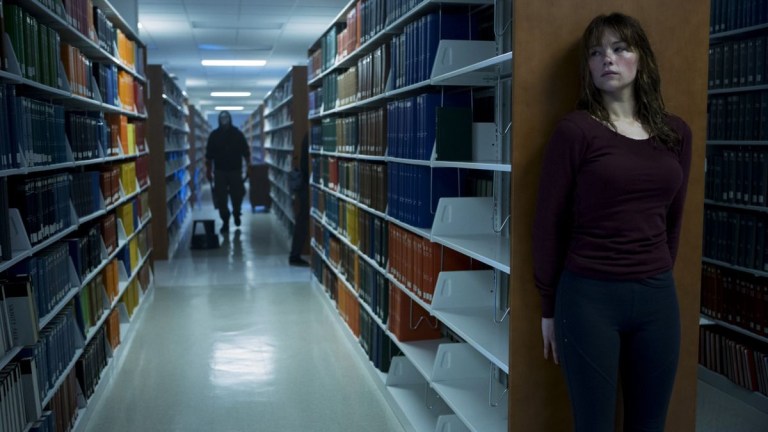 Justine (Haley Bennett) is a college student who spends the Thanksgiving break almost entirely alone on campus, with the only other two humans who haven't gone home for the holiday being a security guard and a groundskeeper. Justine suddenly finds herself targeted by a cult of killers who are obsessed with murdering religious people, whom they refer to as "Kristys"—with "Kristy" being derived from a Latin phrase meaning "follower of God." In the face of constant cyber-harassment and real-life threats, Justine is forced to battle the cult single-handedly.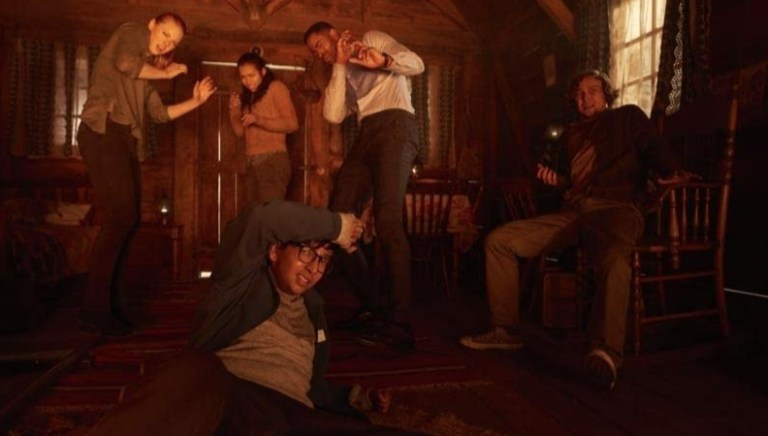 Thanksgiving is a time to think about what you are thankful for. For the characters in Escape Room, they are tricked into participating in a deadly game that, in a way, should make them feel thankful for their lives (if they manage to escape with them). Escape Room takes place in late November during Thanksgiving break for college student Zoey Davis (Taylor Russell). At first, Zoey and five other people think they are playing an escape room for a cash prize, but they quickly realize that losing means death. They also realize that they were picked for a reason because the trapped rooms each represent a moment in one of the players lives when they were probably incredibly thankful to be alive.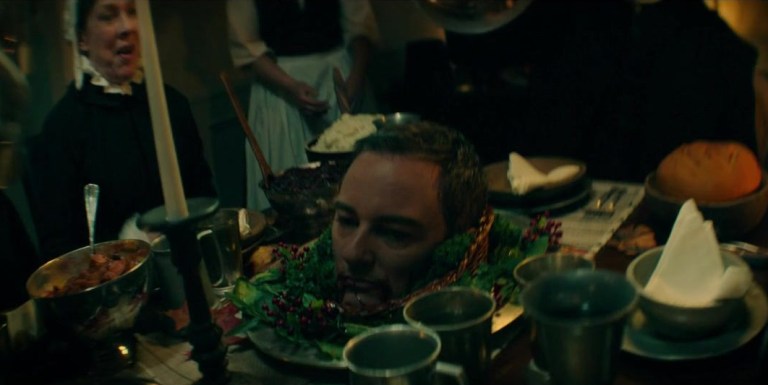 This is a self-contained 90-minute slow-burn horror film that also just happens to be an episode of the Hulu TV series Into the Dark. The plot involves a mother who invites two actors who portray "Pilgrims" into her home for an educational Thanksgiving experience. Problem is, the Pilgrims never break character, and suddenly it seems like they might not be actors at all. Pilgrim leans into the campiness of the whole situation, delivering one of the more memorable instalments of Hulu's series of horror movies.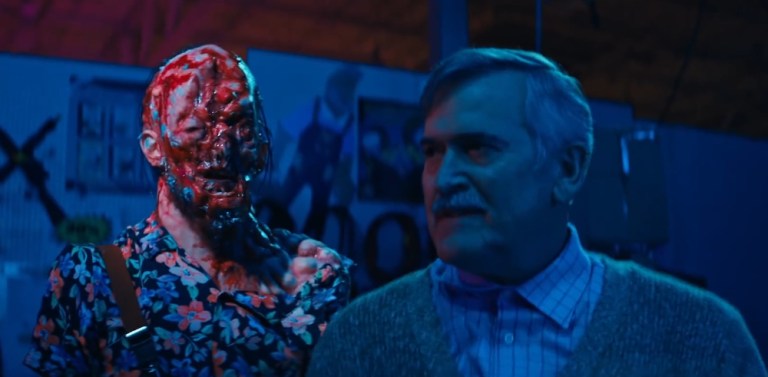 The day after Thanksgiving, popularly known as the shopping holiday Black Friday, is awful. You have to get up way too early and fight crowds of people in stores for limited merchandise when you should really be sleeping and resting after a hard day of eating turkey and stuffing (or dressing). Instead of participating in Black Friday, why not stay home and watch the Bruce Campbell horror comedy Black Friday? You'll witness shoppers turned into zombie-like monsters by alien parasites which is way better than anything a real store has to offer.
More Thanksgiving Horror Movies: The Leftovers
Still hungry? Here are a few more horror movies that will help you pass the time while avoiding speaking to your relatives during Thanksgiving. Some of the connections to the holiday are more thematic that explicit, but they're all a good way to get your fill of horror.
Further Reading