42 Trivia Items About 'House of 1000 Corpses' (2003)
Facts and trivia you may not know about Rob Zombie's House of 1000 Corpses.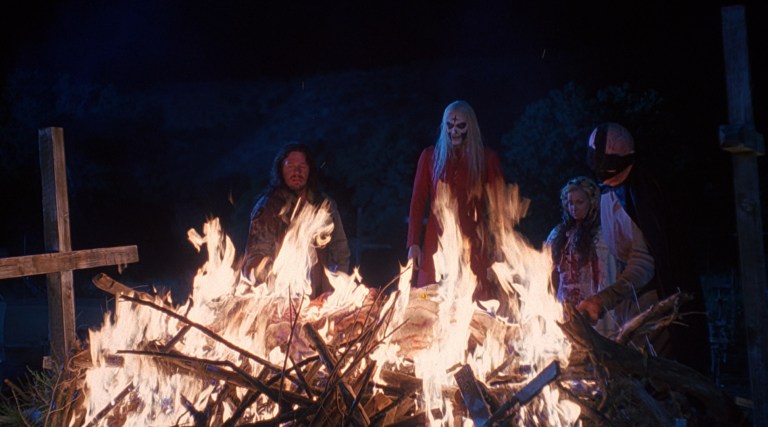 The directorial debut of musician Rob Zombie—who is so fond of ironic pop-culture references that he can be called a heavy metal Quentin Tarantino—House of 1000 Corpses is a graphically violent horror comedy that pays homage to classic horror films and refuses to take itself too seriously. Set in 1977, it tells the story of a group of teenagers who are traveling cross-country to write a book but get kidnapped and tortured by a demented family during the Halloween holiday. It led to a career for Zombie as an A-list Hollywood horror director and spawned two sequels: The Devil's Rejects (2005) and 3 from Hell (2019).
Here are 42 intriguing and oddball facts about House of 1000 Corpses.
From Haunted House to Movie…and Back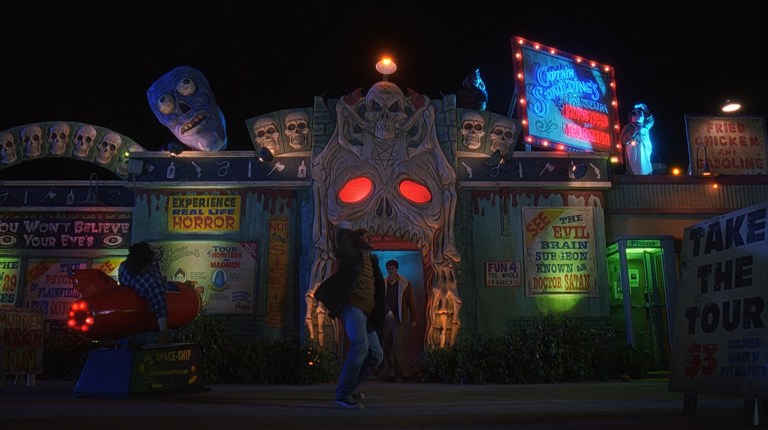 1. After successfully creating a horror maze for Universal Studios in 1999, Rob Zombie came up with a new idea for a haunted house attraction for the following year. Starting with a rough idea and a title, "House of 1000 Corpses," Zombie started thinking about the attraction's story. According to Zombie, "I was in the office of the head of production or something and he asked me if I had any movie ideas, and I pitched him Corpses, which was very rough at the time, because I wasn't ready and I made it up on the spot. He liked it, I went home, wrote a 12-page treatment and met up with them. Two months later, we were shooting."
2. The house in the movie was the same house used in the 1982 film The Best Little Whorehouse in Texas, which is a feature attraction during Universal Studios' tram ride. According to Zombie, filming had to be halted several times because the studio kept the tram tours running while House of 1000 Corpses was being filmed.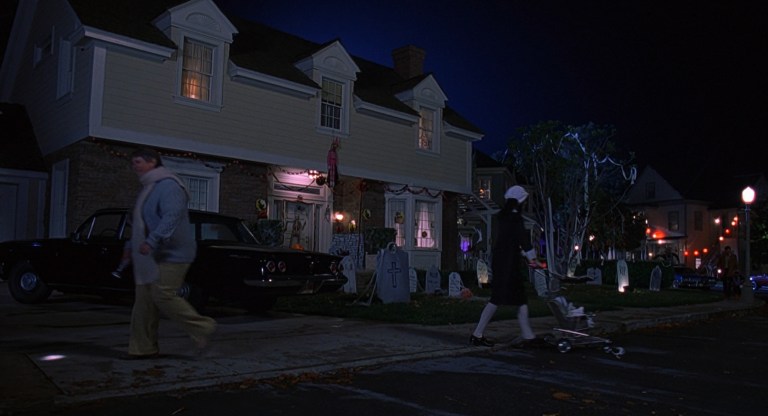 3. About 17 minutes into the film, Harrison Young's character is shown looking out of his window at trick-or-treaters. His house was actually the same one used on the 1950s TV sitcom Leave it to Beaver, and at one point during this scene, you can see him looking at the house where Herman Munster's family lived in the TV horror sitcom The Munsters (1964-1966).
4. Due to the fact that the movie was shelved for three years between 2000 and 2003, when Zombie's haunted house attraction originally opened in 2000, it was called American Nightmare.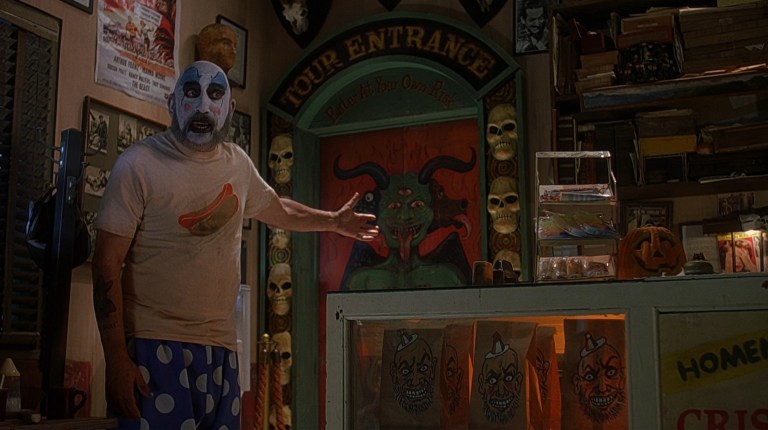 5. Finally, in 2010, 2011, and 2019, Universal's Halloween Horror Nights in Hollywood featured the "House of 1000 Corpses" maze under its original name.
The theatrical cut was nearly one hour shorter—and much tamer—than the original version.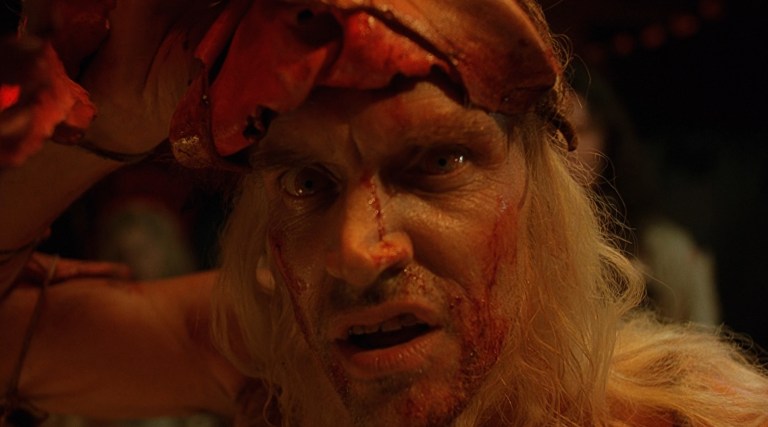 6. Rob Zombie's original script and original film edit was far bloodier than the 89-minute version that made its way into theaters in 2003. The original cut clocked in at 145 minutes.
7. Crew members on the set initially joked that due to the excessively disturbing subject matter, House of 1000 Corpses would receive a "W" rating for "Wrong."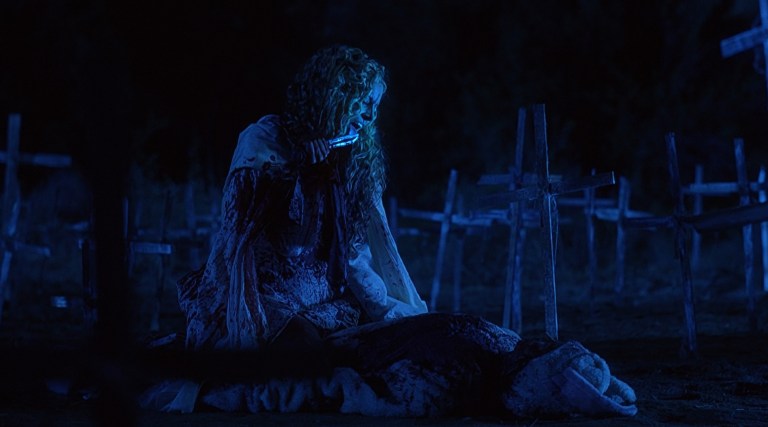 8. The director's cut—which clocked in at 105 minutes—was first screened in Argentina on March 13, 2003.
9. Zombie says that most of the scenes that were cut due to content involved his wife, Sheri Moon Zombie, who played Baby Firefly. One such scene involved her masturbating to climax by using a skeleton's hand.
The film's release date was halted several times due to its extreme gore content.
10. Although production wrapped in 2000, House of 1000 Corpses was not released in theaters until 2003.
11. Universal Pictures, the original production company, shelved the film, fearful the MPAA would doom its chances of success by giving it an NC-17 rating due to the excessive gore.
12. Rob Zombie purchased the movie rights back from Universal and then sold them to MGM—who refused to release it after hearing him joke that the company had no "morals" for buying it.
13. Zombie again bought the film rights back and finally sold it to Lionsgate, who released it in 2003.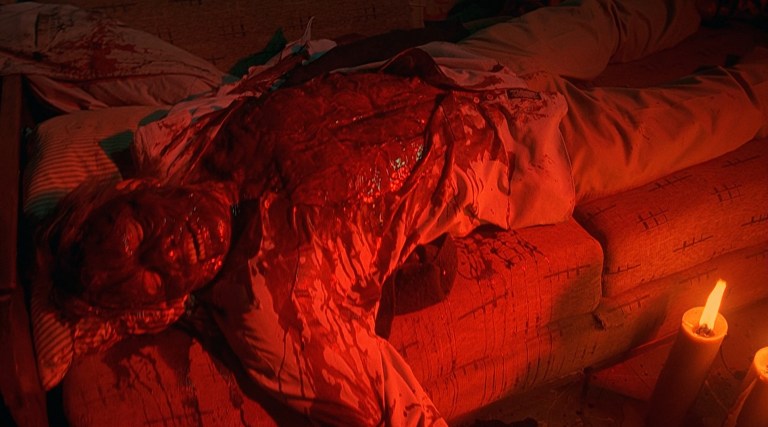 14. The director says he was baffled why two major studios rejected the film based on content, when he'd never tiptoed around the subject matter: "I named it House of 1000 Corpses; what did they think it was going to be about.…I was really blatant when I talked to them. I didn't want to get into a situation where they thought I was making something mainstream. And I told them that I wanted to make a drive-in movie, something very gritty and nasty and weird."
House of 1000 Corpses is stuffed to the gills with pop-culture references.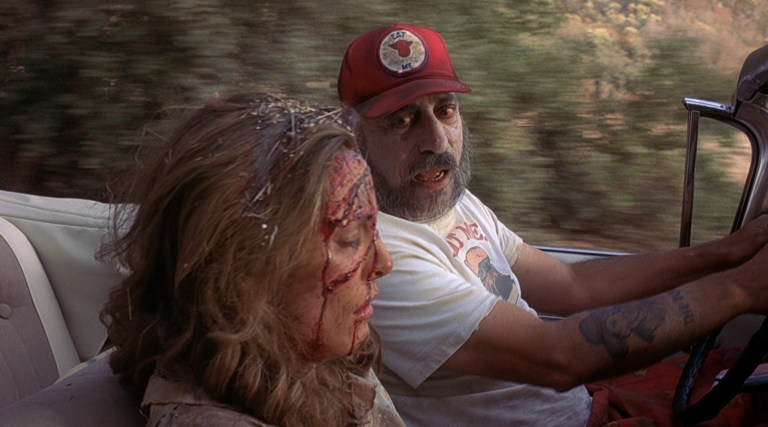 15. Rob Zombie says the stylistic inspiration for his debut film came from 1970s horror movies such as The Texas Chain Saw Massacre (1974) and The Hills Have Eyes (1977).
16. Actor Sid Haig—who played Captain Spaulding—also starred in a bizarre and obscure 1967 black-and-white film called Spider Baby. The plot is eerily similar, as it involves a demented family who lure strangers into their house to torture them.
17. Captain Spaulding's character is inspired by serial killer John Wayne Gacy, the "Killer Clown" who murdered 33 young males and stuffed most of them in the crawlspace under his house. In one parallel between inspiration and character, Gacy managed multiple KFC restaurants, and Captain Spaulding runs a gas station that sells fried chicken.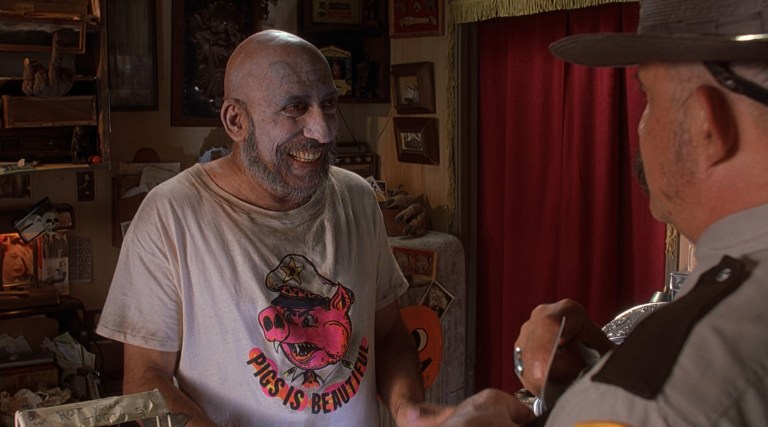 18. The scene where Captain Spaulding warns Jerry, "Do yourself a favor son, just forget about it" regarding the house is thought to be a nod to the scene in The Texas Chain Saw Massacre (1974) where the gas-station attendant tells the curious teens to stay away from the house because they might get hurt.
19. "Captain Jeffrey T. Spaulding" is the name of Groucho Marx's character in the 1930 Marx Brothers film Animal Crackers. Four other characters in the film would take their names from Groucho's movie characters: Quincy Adams Wagstaff, Otis B. Driftwood, Rufus T. Firefly, Hugo Z. Quackenbush, and S. Quentin Quale. The name "Emmanuel Z. Ravelli" was the name of Chico Marx's character in the 1935 Marx Brothers classic A Night at the Opera (1935). Baby Firefly's "real" name in the film is Vera-Ellen, which is the name of the actress who played the female lead in the Marx Brothers' final film, Love Happy (1949).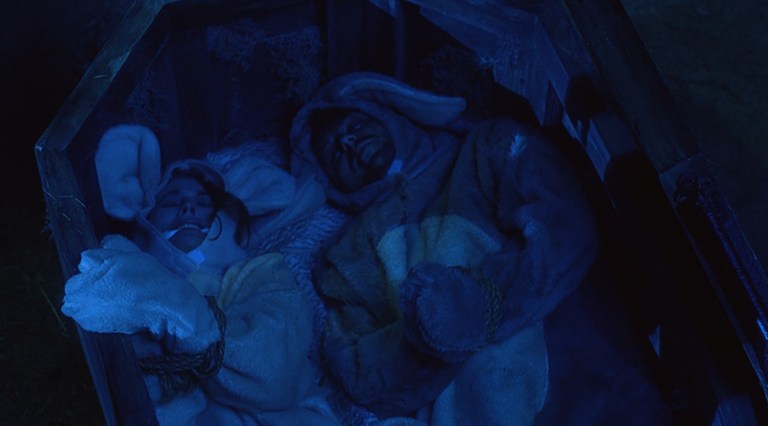 20. Toward the ending as coffins are being lowered into the ground along with a tape player, the audio on the tape is a clip of British Satanist Aleister Crowley saying "bury me in a nameless grave," a line from his 1920 poem "The Poet."
21. Inside Captain Spaulding's gas station are reproductions of Aleister Crowley's paintings of demons.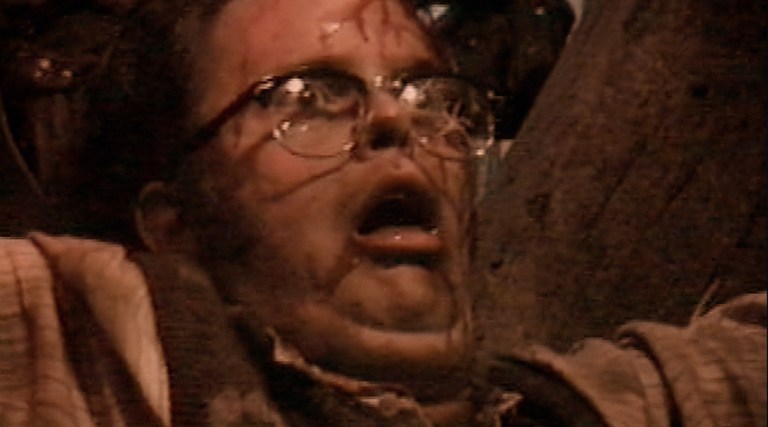 22. The scenes of Otis and Baby's "home movies" were said to be inspired by similar self-made films by the Manson Family.
23. In the scene where Denise calls her dad from a phone booth, a "Missing Dog Head" poster can be seen. This poster became popular during the 1990s during the early days of the internet boom in the United States.
24. Around the 53-minute mark, a scene from a 1965 episode of TV horror sitcom The Munsters (#36, titled "Hot Rod Herman") is shown. In the episode, Grandpa Munster builds himself a hot rod called "Drag-u-La," which would become the name of a song Rob Zombie released in 1998.
25. Scattered throughout the film are shots from a fictional TV show called Doctor Wolfenstein's Creature Feature Show. At different points, clips can be seen from horror classics The Old Dark House (1932), The Wolf Man (1941), and House of Frankenstein (1944).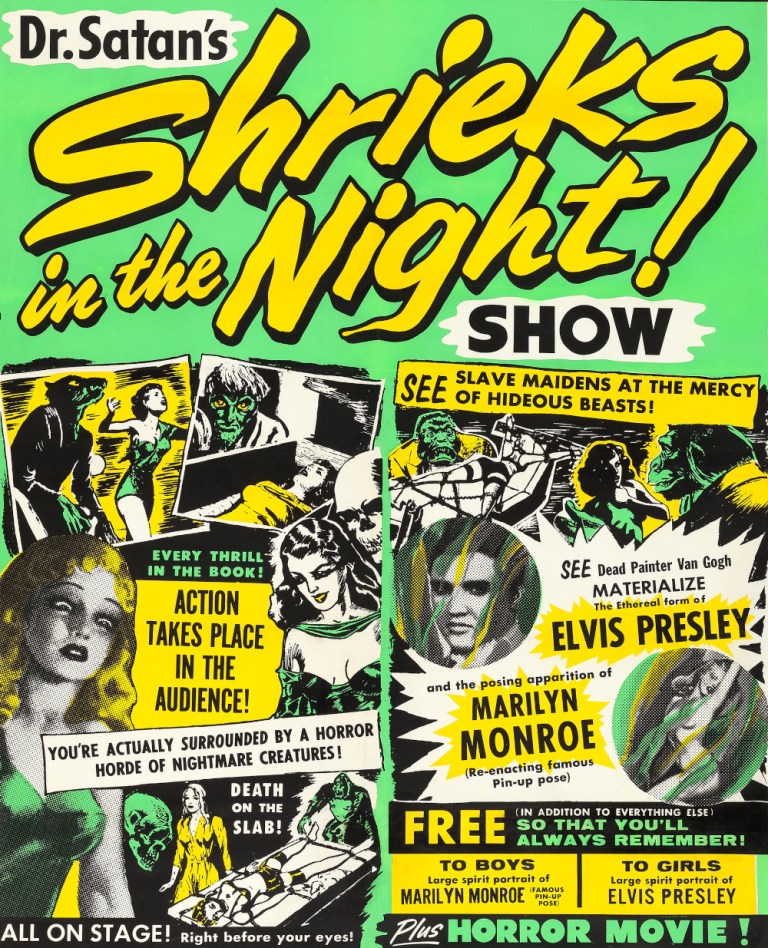 26. Dr. Satan's character got his name from a 1950s poster that advertises a spook show hosted by someone called "Dr. Satan."
27. In one scene, Jerry is scalped for being unable to guess that Baby's favorite movie star is Bette Davis.
Continuity Problems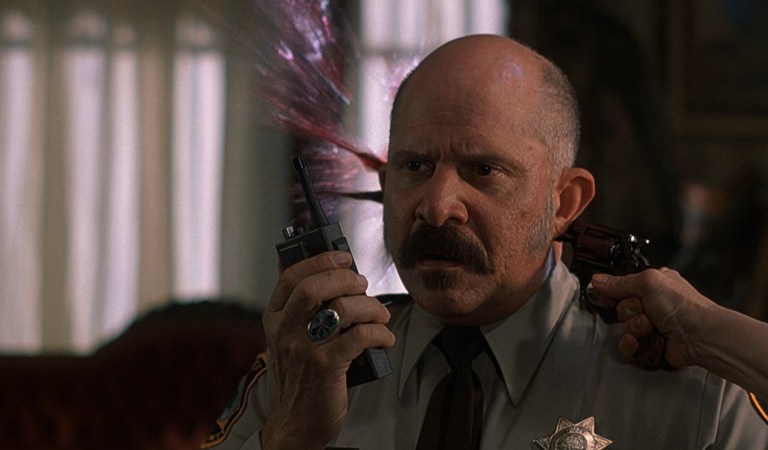 28. In the scene where Mother Firefly (Karen Black) shoots the Deputy George Wydell, she holds the gun right up to his neck and shoots. Although blood comes streaming out the other side of his head, the side on which he was shot remains practically unscathed.
29. In the scene where Wick (David Reynolds) and Stucky (Michael J. Pollard) are arguing near the gas station bathroom, Wick's gun repeatedly changes from silver to black and back to silver again.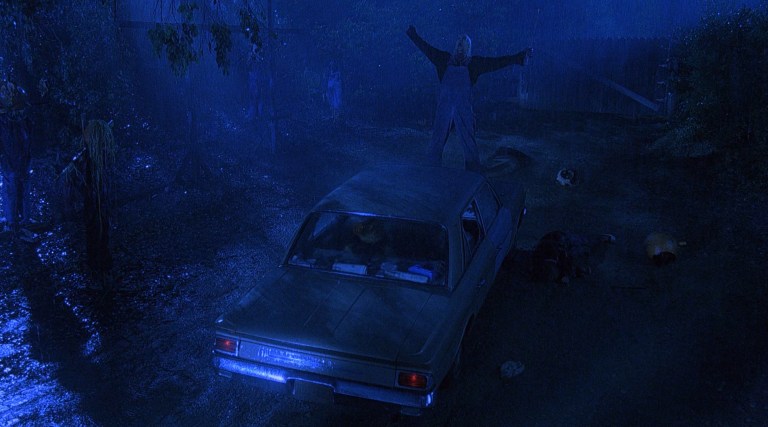 30. Midway through the film, the kids' car has its windshield almost completely smashed in. Later, when police examine the car, the damage to the windshield is not nearly as extensive.
31. If it's possible to have "continuity problems" between a movie and its sequel, Otis's character is an albino with red eyes in House of 1000 Corpses. But in The Devil's Rejects (2005), Otis is not an albino.
Miscellaneous
32. Rob Zombie makes a cameo as Dr. Wolfenstein's assistant. He can be seen very briefly in the background smashing a pumpkin with a sledgehammer.
33. This is the film debut of Rob's wife, Sheri Moon Zombie. Starring almost exclusively in her husband's films, she would establish herself as a bona fide Scream Queen, which is ironic because she says she hates horror movies because they frighten her.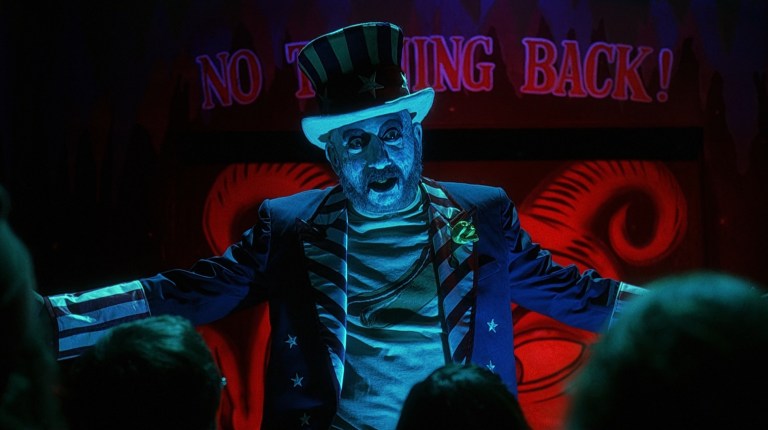 34. Released in Japan as Murder Ride Show.
35. A poster for two young missing boys is shown more than once throughout the film. The boys pictured are actually Rob Zombie and his brother (Spider One, the lead singer of the band Powerman 5000) as kids.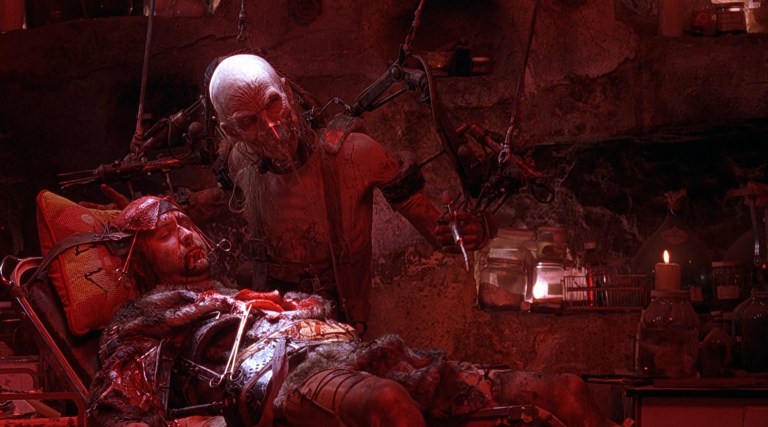 36. Rob Zombie said he originally filmed a subpar ending on purpose: "I knew the ending sucked, so I let it suck and they said, 'The movie's great but the ending sucks' and I know. So they gave me more money and we shot a more elaborate ending, bigger sets, the whole razzamatazz."
37. While the film was in theaters, the number "666" emerged twice on box-office receipts: The total haul during the opening weekend was $3,460,666, and the per-theater average was $666.
38. For their roles in House of 1000 Corpses, Sid Haig and Karen Black won Best Supporting Actor and Actress at the 2004 Fangoria Chainsaw Awards.
39. In the scene where Otis holds a gun to Officer Steve Naish's head and shoots him, the pause between pointing the gun to his head and pulling the trigger lasts an excruciating 26 seconds.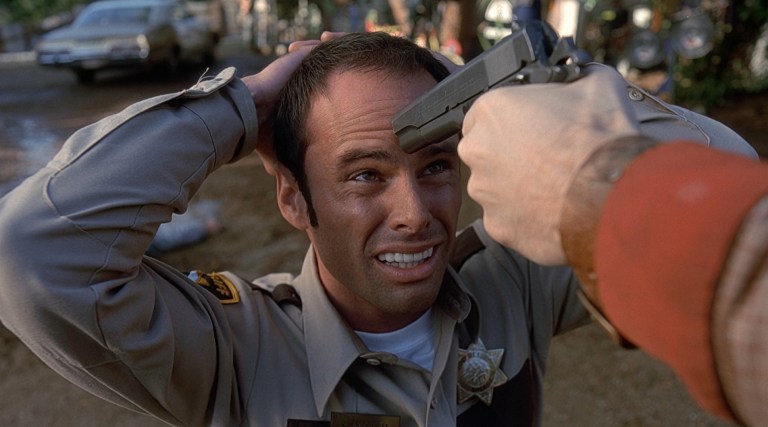 40. The movie's soundtrack features artists such as The Ramones, Lionel Ritchie, Slim Whitman, and Buck Owens. Rob Zombie performs the title track, which features audio clips from the "Nazisploitation" film Ilsa, She Wolf of the SS (1975).
41. As of 2021, only 18 years after the film's release, several of the major actors had already died: Karen Black, Sid Haig, Tom Towles, Dennis Fimple, Irwin Keyes, Matthew McCrory, and Michael J. Pollard.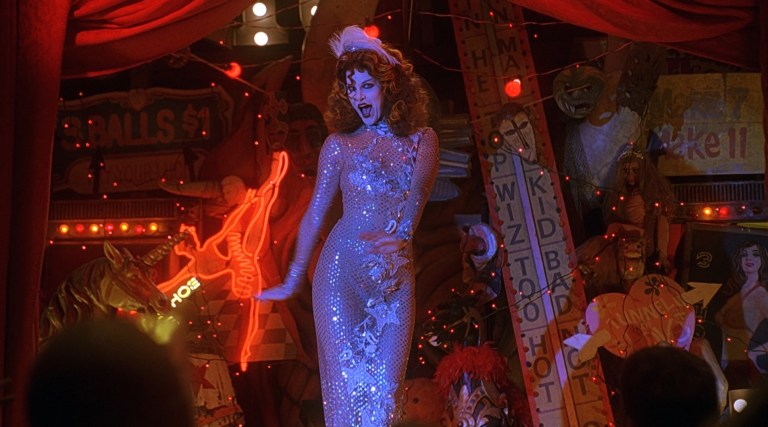 42. Rob Zombie is not a fan of his directorial debut: "The first film [I directed], which people seem to love, is just a calamitous mess. Well, when it came out it seemed like everyone hated it. Now everyone acts like it's beloved in some way. All I see is flaw, upon flaw, upon flaw… upon flaw."