1940s Horror Movies — An Overlooked Decade
An essay and list on the horror movies of the 1940s, an often forgotten decade of horror film history.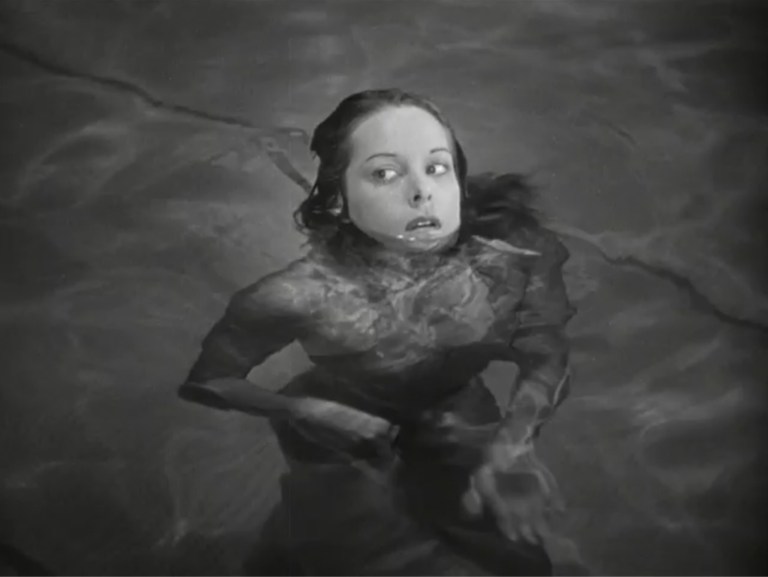 1940s: An Under-Appreciated Decade for Horror
Horror movies from the 1940s are often overlooked and critically underappreciated for two main reasons:
They are compared unfavorably to the horror films from the 1930s, especially the landmark 1931 movies Dracula starring Bela Lugosi and Frankenstein with Boris Karloff. Since both characters appear multiple times in sequels throughout the 1940s, the sequels are deemed to be uninspired carbon copies.
What was considered a "horror" film back then had a much broader definition than what constitutes a horror film now.
Although it's true that there were Dracula and Frankenstein spinoffs during the 1940s, the two primary monster characters shifted to the Wolf Man and the Mummy. Although both also appeared as monsters in 1930s films (the obscure 1935 movie Werewolf of London and 1932's The Mummy starring Boris Karloff), it wasn't until 1941 that Lon Chaney, Jr. would claim film werewolves for himself with The Wolf Man.
When Lugosi first appeared as Dracula and Karloff first appeared as Frankenstein, the concept of a "horror movie" didn't even exist—these films were seen as cinematic adaptations of theatrical and literary successes.
When the concept of "film horror" finally gained traction in the 1940s, it had a much more wide-ranging definition than it does now—it embraced mystery, psychological drama, "paranoid woman" films, Sherlock Holmes whodunits, and what is now known as "film noir," which in French means "dark film." Back then, "horror" signaled internal disorientation as much as it did external threats, and even external atmospheric conditions such as fog or dark shadows pointed back to this inner malaise. Many such films would go on to carve out their own genres, but in the 1940s, they were all classified as horror.
But these days, "horror" is more defined in terms of knife-wielding maniacs and unstoppable monsters. Therefore, using modern standards, 1940s horror would seem to be nothing more than retreads of Dracula, Frankenstein, Mummy, and Wolf Man tropes.
But this is a shortsighted way of not only viewing 1940s horror, but the 1940s in general.
From 1938-1945, the planet was plunged into World War II, which brought a new form of uncertainty and only enhanced the sense of psychological and social disconnectedness. War propaganda was strictly controlled through the State Office of War Propaganda, and Nazis served as brutal and unfeeling real-life villains with whom no movie monsters could hope to compete.
What follows is a review of horror films, both mainstream and obscure, from this under-appreciated decade.
Best Horror Movies from the 1940s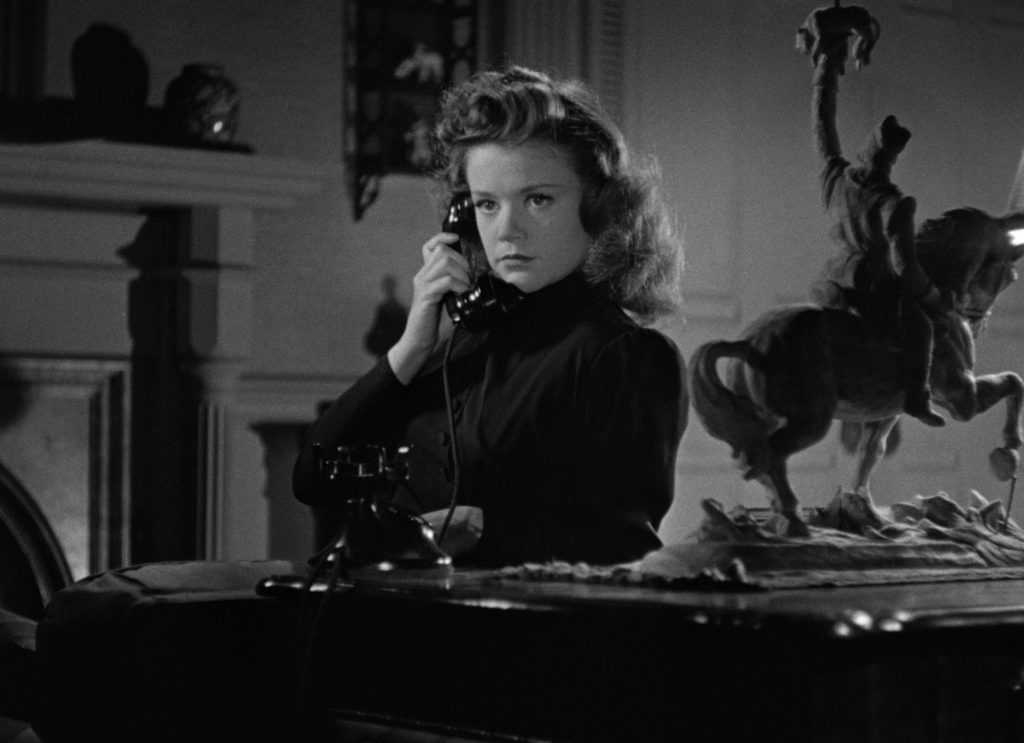 A beautiful but reclusive Serbian fashion illustrator named Irena Dubrovna (Simone Simon) moves to New York, where she meets and falls in love with an engineer named Oliver Reed (Kent Smith). Although they marry, she refuses to consummate their union based on an old folk tale from the motherland that said since the people of her village were witches, any expression of passion could turn them into murderous panthers—they were known back in Serbia as "Cat People." Her fears seem to be justified when Irena and Oliver visit a pet store and all the animals recoil at the sight of her. Oliver seeks solace by airing his troubles to an associate named Alice (Jane Randolph), and suspicions about whether their relationship is more than platonic rouses enough jealous passion in Irena to transform her into a panther.
A sequel, Curse of the Cat People, was released in 1944. Cat People was remade in 1982 starring Nastassja Kinski and Malcolm McDowell, with a theme song by David Bowie.
The film's most frightening moments depend on ambiguity, such as when romantic rival Alice (Jane Randolph) is trapped in a dimly lit swimming pool where every dark shadow might contain a stalking panther, and the subsequent 'bus scene' regarded as containing cinema's first 'jump scare'.

Murray Leeder, Horror Film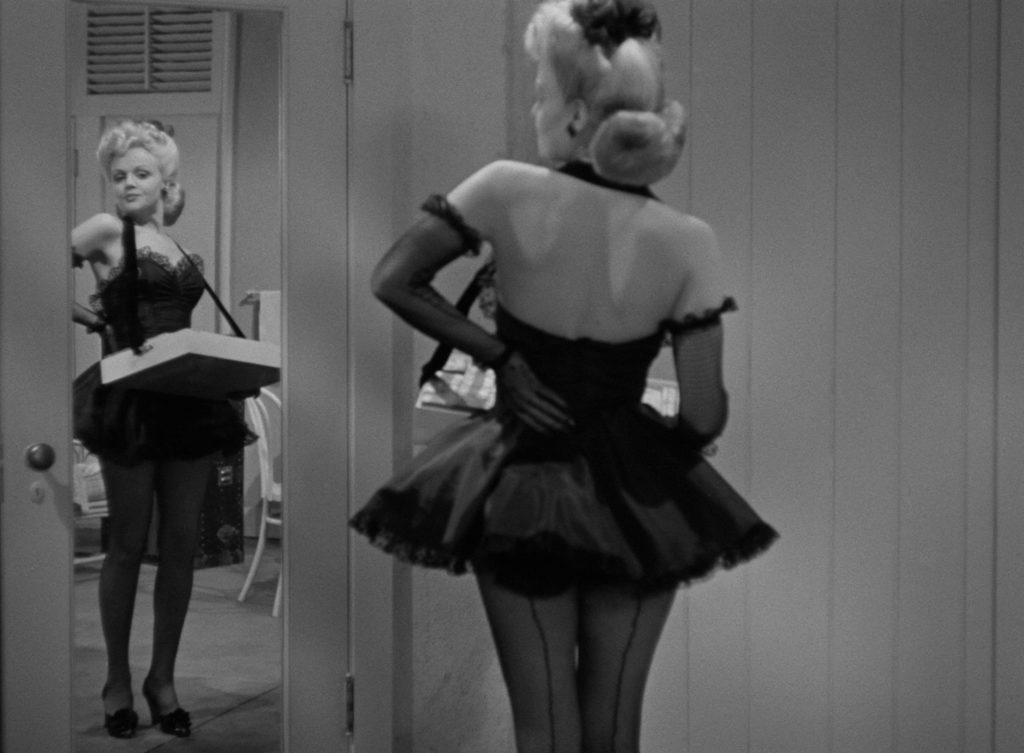 Jerry Manning (Dennis O'Keefe) is a PR man who, in a quest to garner publicity for his stage-performer client Kiki Walker (Jean Brooks), procures a black leopard for her show. The giant cat appears to be tame. But Kiki's jealous rival, a castanets player named Clo-Clo (an actress known only as "Margo"), scares the giant cat, which escapes into a small New Mexico town. Three women are soon killed, and when black fur is found at each murder scene, the leopard is suspected. But what if all along, the leopard was only a ruse to hide the real killer's identity? This low-budget B-movie clocked in at only 66 minutes, which usually meant that it would be the second film shown during a double feature.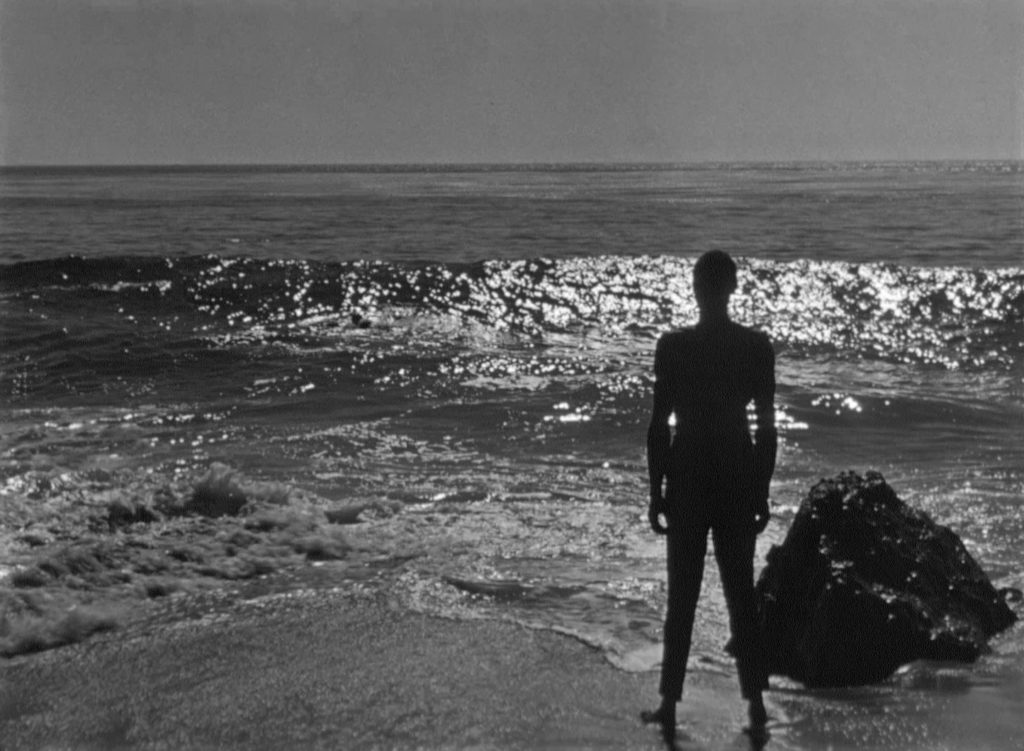 In this eerie Val Lewton thriller, a Canadian nurse named Betsy Connell (Frances Dee) travels to a sugar plantation in the Caribbean to care for the owner's listless and disinterested wife Jessica (Christine Gordon). Over time, Betsy comes to believe that Jessica is a zombie whose condition was caused by, and can only be cured by, the high priests of the island's voodoo cult. Thickening the plot is the fact that the plantation owner's alcoholic half-brother Rand (James Ellison) has been in love with Jessica for years. I Walked With a Zombie has often been likened to the Gothic romance novels by the Bronte sisters.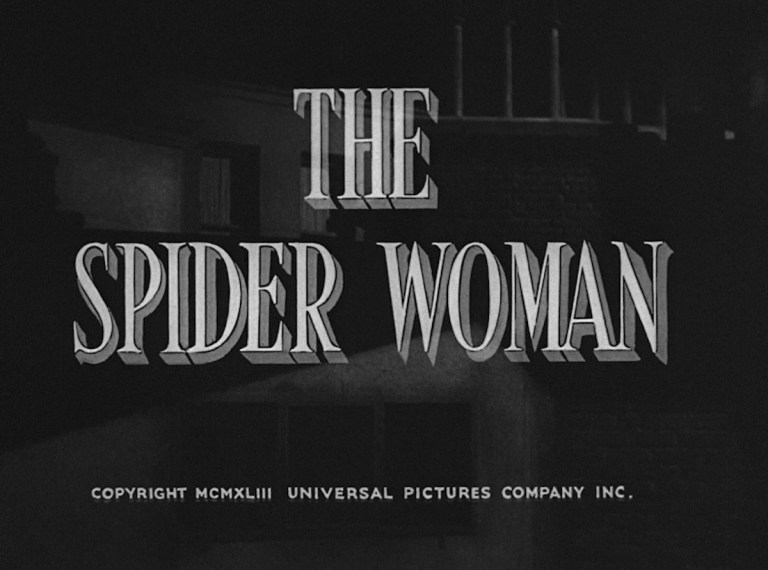 In this, the seventh of fourteen Sherlock Holmes films by Universal that pair Basil Rathbone as Holmes and Nigel Bruce as his assistant Dr. Watson, a string of suicides among London's wealthy elite lead Sherlock Holmes to believe that a woman is prowling the city's gambling halls for victims. She gets men to sign over life insurance policies to her and then has them bitten with a spider known as the Lycosa Carnivora, whose venom is so painful that it causes people to kill themselves. Holmes disguises himself as an Indian tourist as he lurks through London's gaming halls and finds that the seductive "Spider Woman" is Adrea Spedding (Gale Sondergaard). The film's plot was directly inspired by Sir Arthur Conan Doyle's short story "The Adventure of the Devil's Foot."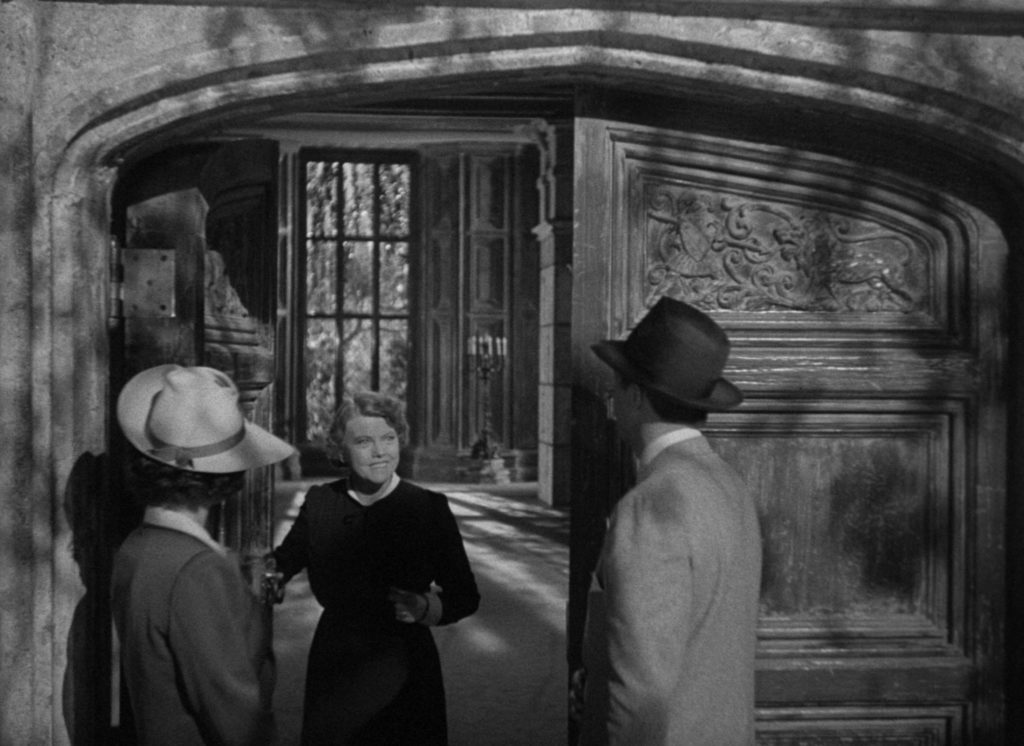 Ray Milland stars as London music critic Roderick "Rick" Fitzgerald, who in 1937 takes a coastal holiday with his sister Pamela (Ruth Hussey), where they fall in love with an abandoned seaside home known as Windward House. They buy it for a very low price from a man known as Commander Beech (Donald Crisp), whose 20-year-old granddaughter Stella (Gail Russell) lives with her grandfather in a nearby town but is emotionally attached to Windward House, despite the fact that her mother fell to her death from a nearby cliff 17 years prior. Although Beech commands Stella to stay away from the house, she disobeys him, and Rick falls in love with her. But a series of strange events—a sudden odd chill in the air, the sounds of a sobbing woman, and the house cat's staunch refusal to go upstairs—lead them to believe that the house is haunted.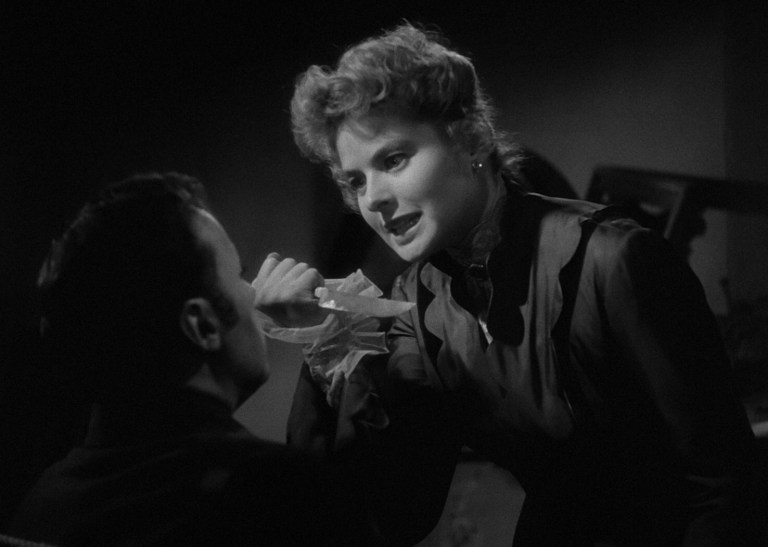 This is the film from which the psychological term "gaslighting" originated. Ingrid Bergman won a Best Actress Oscar for her portrayal of Paula Alquist, an opera singer from the 1880s who falls in love with the handsome and charismatic Gregory Anton (Charles Boyer) while in Italy. They return to London to a house where Paula's aunt had died in an unsolved murder ten years earlier. Through a series of strange events—the house's gaslights dim even though no one is adjusting them, footsteps coming from the attic, and the unexplained loss of several personal items—Paula begins to believe that she is insane. But in the gripping final scene, she realizes that Gregory knows more about her aunt's murder than he lets on and that he's been gaslighting her the entire time.
Merle Oberon stars as Leslie Calvin, a woman who returns to the USA aftert surviving a Nazi U-boat attack on the ship where she'd been making her transatlantic voyage. She'd been traumatized after witnessing her mother and father drown in the icy ocean after the attack. When she arrives at the train station in a small Louisiana town, no one is there to pick her up, which only accentuates her trauma and sense of dislocation. She eventually finds her way to her aunt and uncle's estate, only to realize slowly that someone seeks to murder her for her inheritance. The film ends as multiple bodies sink in the Louisiana swamp.
Scott Henderson (Alan Curtis) is an unhappily married man who fights with his wife on their anniversary, then goes out to a bar and picks up a woman wearing a distinctively strange hat. They take a taxi to see a show. When Henderson returns home, his wife has been murdered—strangled with one of his neckties—and he is arrested for the crime. His attempts to find witnesses that will vouch for the fact that he wasn't home that night fall flat, and he is imprisoned. However, his secretary, Carol "Kansas" Richman (Ella Raines), is convinced of his innocence and seeks out the taxi driver and musicians who would have seen him that night. It turns out that Henderson's best friend killed his wife. It also turns out that "Kansas" is in love with Henderson—and he feels the same way.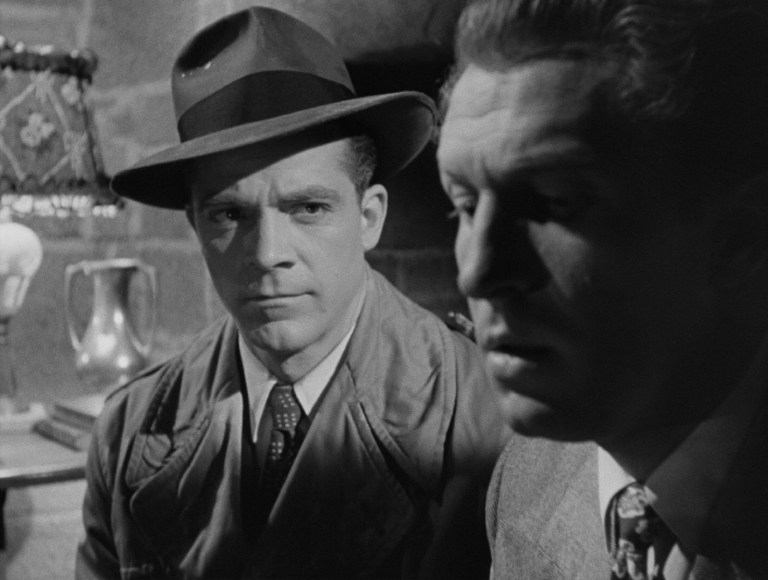 Produced and directed by by Otto Preminger, this psychological thriller stars Gene Tierney in the title role as Laura Hunt, who was supposedly found dead on her apartment floor before the film even begins. Assigned to the case, Detective Lieutenant Mark McPherson (Dana Andrews) becomes enamored of a painting of Laura hanging on her apartment's wall. He begins to investigate Laura's companions—a newspaper columnist named Waldo Lydecker (Clifton Webb), her playboy fiancé Shelby Carpenter (a young Vincent Price), and her high-society aunt Ann Treadwell (Dame Judith Anderson), all of whom had a plausible motive to kill Laura. One night McPherson falls asleep in Laura's apartment, only to be awakened by a fully alive Laura Hunt. McPherson comes to believe that it was another woman, Diane Redfern, who'd been murdered, and that Laura was actually the murderer. Without revealing the plot, it turns out that one of the three initial suspects had killed Redfern to create the impression that Laura was dead.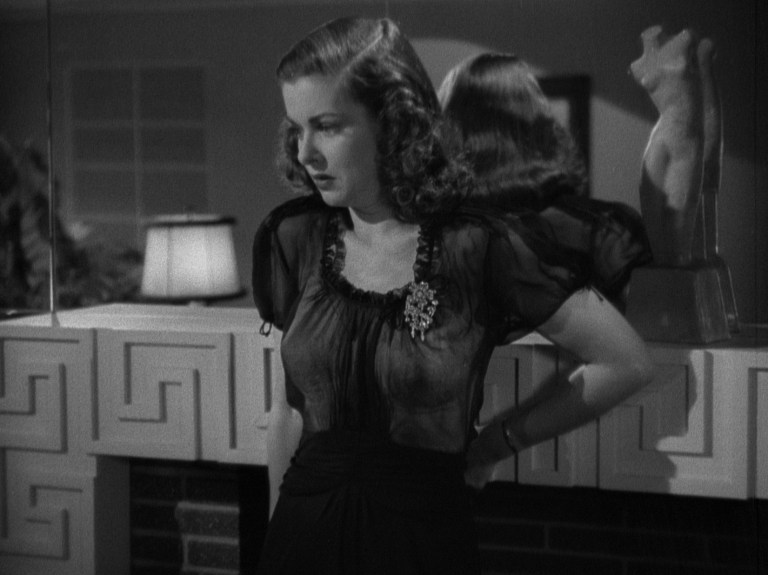 A college professor (Edward G. Robinson) has an affair with a femme fatale (Joan Bennett) while his wife and kids are away. As a surprise to no one, the affair is a mistake and he quickly becomes embroiled in blackmail and murder. The 1944 film is unrelated to The Woman in the Window (2021), which is adapted from the A.J. Finn novel. Finn's novel has been criticized for drawing uncredited inspiration from the novel Saving April by Sarah A. Denzil as well as the 1995 thriller film Copycat.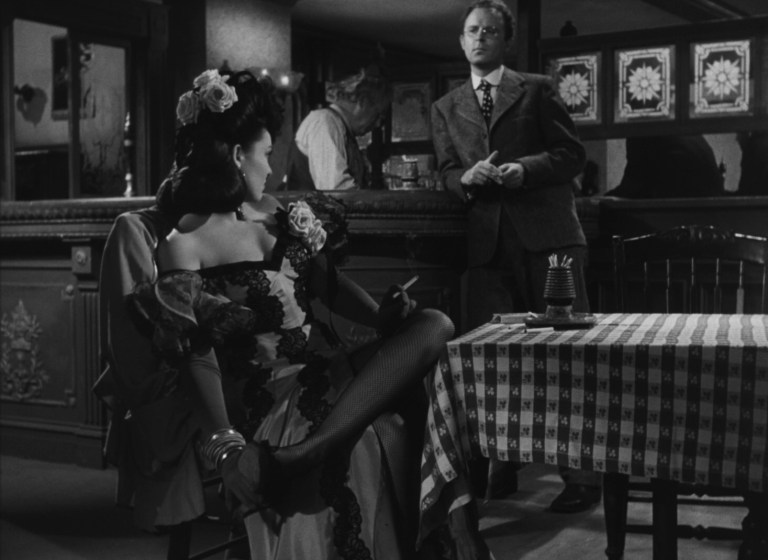 George Harvey Bone (Laird Cregar) is an up-and-coming but amnesiac classical musician in turn-of-the-century London who suddenly finds himself walking down a street one night away from a fire when it occurs to him that he has no memory of what happened during the past half-hour or so. It doesn't help his situation that the fire was set after an elderly shopkeeper was stabbed to death. When he arrives home, his fiancée Barbara (Faye Marlowe) suspects that he both committed the murder and set the bonfire. George goes to see his doctor, who finds no evidence that he committed the crimes. Seeking relief, George attends a beer hall, where he meets a bawdy and gorgeous dancer named Netta (Linda Darnell), whom he approaches, along with her manager, with the proposition that they produce and sell a song he has written. But when he realizes that Netta plans to marry another man, he strangles her to death and sets a bonfire to hide her remains.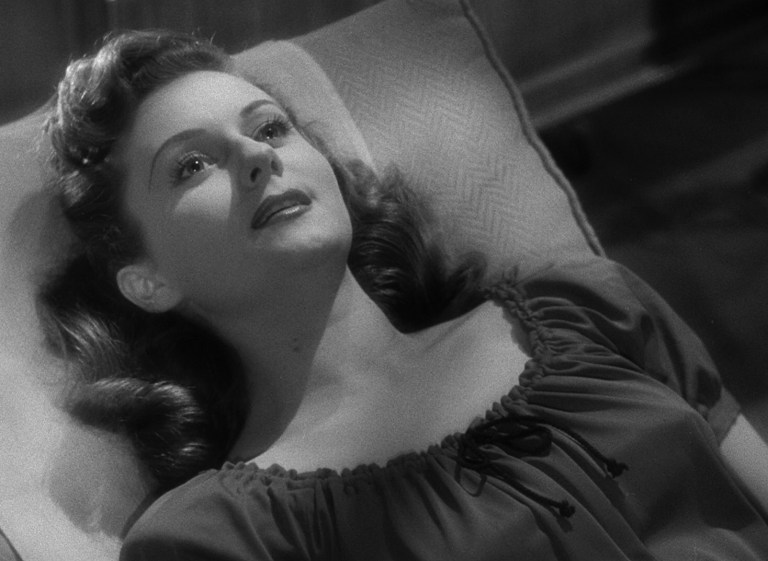 In this Alfred Hitchcock psychological thriller based on the 1927 novel The House of Dr. Edwardes, Ingrid Bergman stars as the aloof Dr. Constance Petersen, a psychiatrist who works at Green Manors mental asylum in Vermont. The asylum's manager has just been replaced by the famous Dr. Anthony Edwardes (Gregory Peck). When the two fall in love, Dr. Peterson notices some odd quirks in Edwardes's behavior that leads her to believe that he is an amnesiac impostor. Because she is deeply in love with him, they flee the asylum together as she tries to treat his condition while searching for the real Dr. Edwardes.
Based on Charles Jackson's 1944 novel of the same name, The Lost Weekend won four Academy Awards—Best Picture, Best Director (Billy Wilder), Best Actor (Ray Milland), and Best Adapted Screenplay. Milland plays Don Birnam, a failed writer and lifelong alcoholic who has abstained for about ten days and has planned to go on a country weekend vacation with his brother, only to steal the $10 they'd left for the chambermaid and go on a horrific alcoholic bender. Over this four-day "weekend," we learn of his alcoholic past through flashbacks and realize that this will, one way or another, be the last time he ever drinks.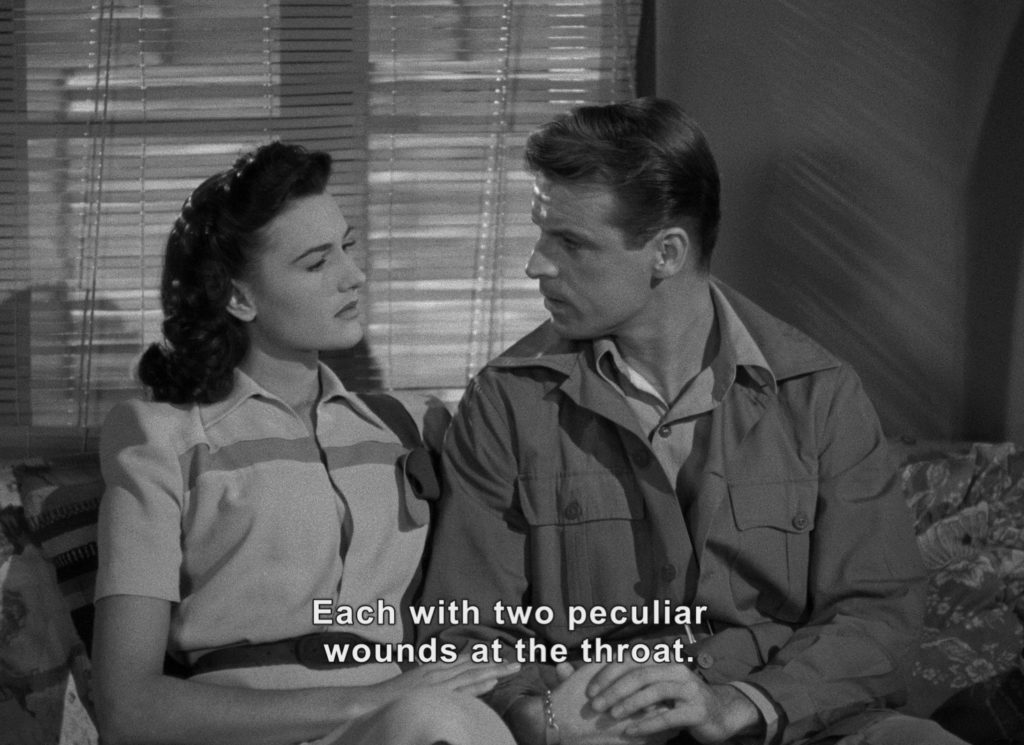 Webb Fallon (John Abbott) runs a seedy bar in the small African port town of Bakunda. He is a newcomer to the area and seems to know a lot about the occult and voodoo. When Roy Hendrick (Charles Gordon) returns to Bakunda after a brief absence, he learns that there has been a series of murders where all the victims were bitten in the neck and drained of their blood. Roy, his girlfriend, and their father—who runs a local plantation—dismiss the natives' belief that the murders are the work of a vampire. But then it becomes undeniable that Fallon is a vampire, and he is slain with a native's silver-tipped spear—but not before Fallon bites Roy and forces him to join the ranks of the undead.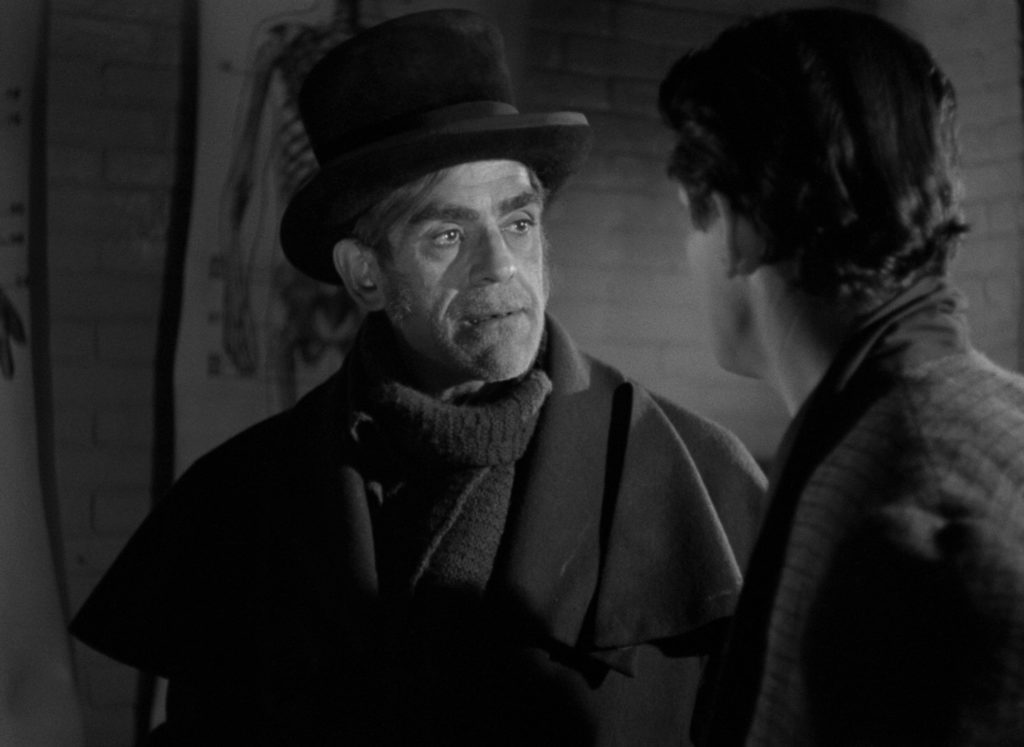 Based on the short story of the same name by Robert Louis Stevenson, The Body Snatcher is set in the 1820s and stars Boris Karloff in the title role as a cabdriver and graverobber named John Gray who procures corpses—whatever way is necessary—for a doctor who needs them for medical studies. One night, when a student of the doctor accuses Gray of murder, the conversation is overheard by the doctor's assistant Joseph (Bela Lugosi), who threatens to blackmail Gray. The film's tagline was "The screen's last word in shock sensation!" The Body Snatcher was produced by Val Lewton and directed by Robert Wise of West Side Story and Sound of Music fame.The other two films Karloff did with Lewton for RKO were Isle of the Dead (1945) and Bedlam (1946).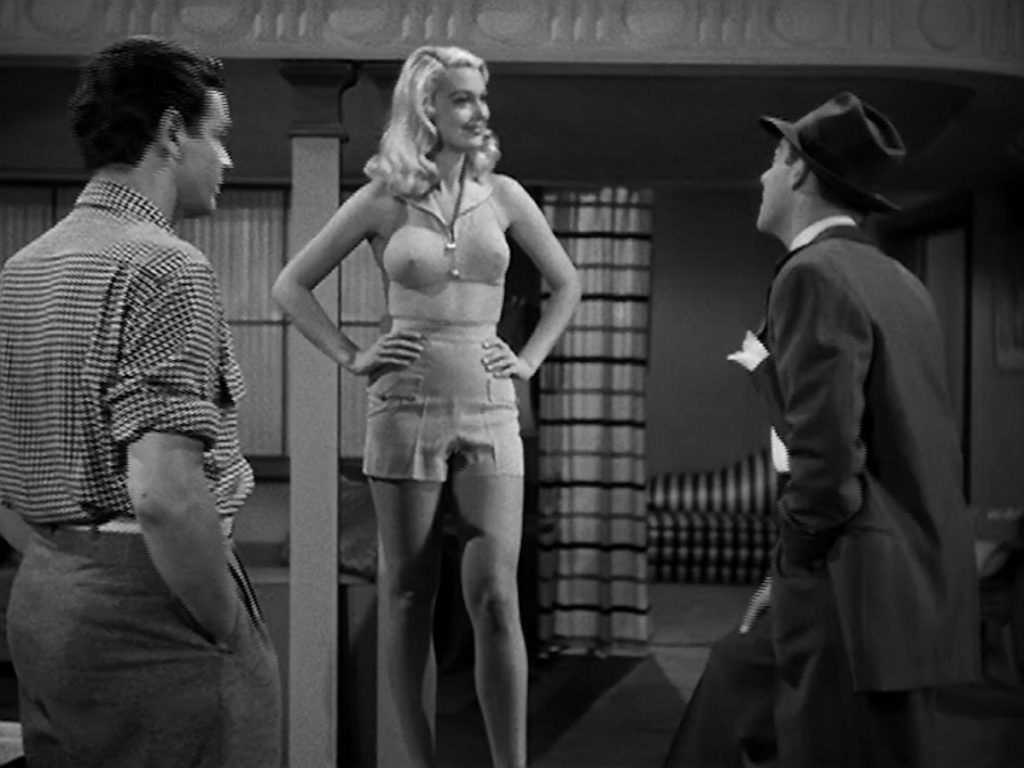 Marcel DeLange (Martin Kosleck) is an unsuccessful sculptor who is emotionally wrecked after a famous art critic savages his work. He walks to the waterfront intending to kill himself. Foiling his plans is a drowning man whom he rescues. The man is huge, with an oddly grotesque face and is played by Rondo Hatton, whose natural features required no makeup for him to portray a convincing monster. But saving the man gives Marcel new hope, and he plans on making him the latest subject of a sculpture. Newspaper headlines reveal that a serial killer known only as "The Creeper" is murdering prostitutes by breaking their backs with his bare hands. Even after Marcel realizes that the man he saved is The Creeper, he continues working on his newest sculpture.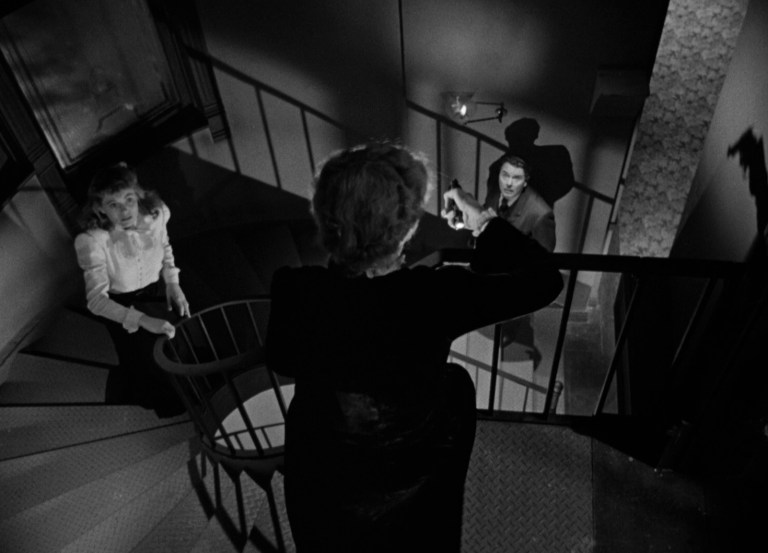 It's 1906 in small-town Vermont, and a serial killer is targeting disabled women. A mute woman named Helen (Dorothy McGuire) attends the screening of a silent film at a local inn. During the screening, a crippled woman who's been lodging at the inn is murdered by a man who was hiding in the closet. The inn's mistress, Mrs. Warren (Ethel Barrymore) tells Helen to leave immediately. But even while packing her bags, Helen suspects that it may be too late. While looking at herself in a hall mirror, she spots someone watching her in the shadows.
Universal Monster Movies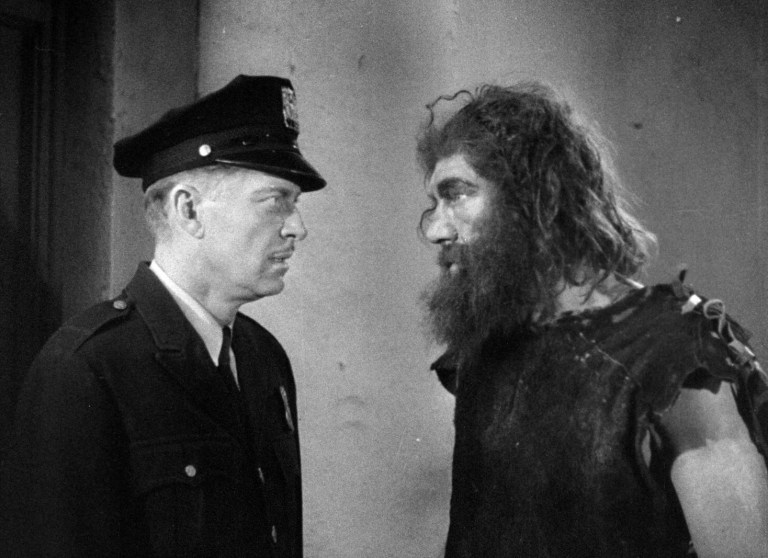 Universal Studios continued to dominate the horror market during the 1940s but has faced substantial criticism for its output during the decade. Many critics have noticed the lack of new themes and the proliferation of remakes and sequels, all of them featuring monsters with which the public was already familiar.
Here are some prime examples of Universal horror films from the 1940s. It's undeniable that they feature previously used characters, actors, and themes; what's open for debate is whether or not their lack of originality means that they can't possibly be good horror films.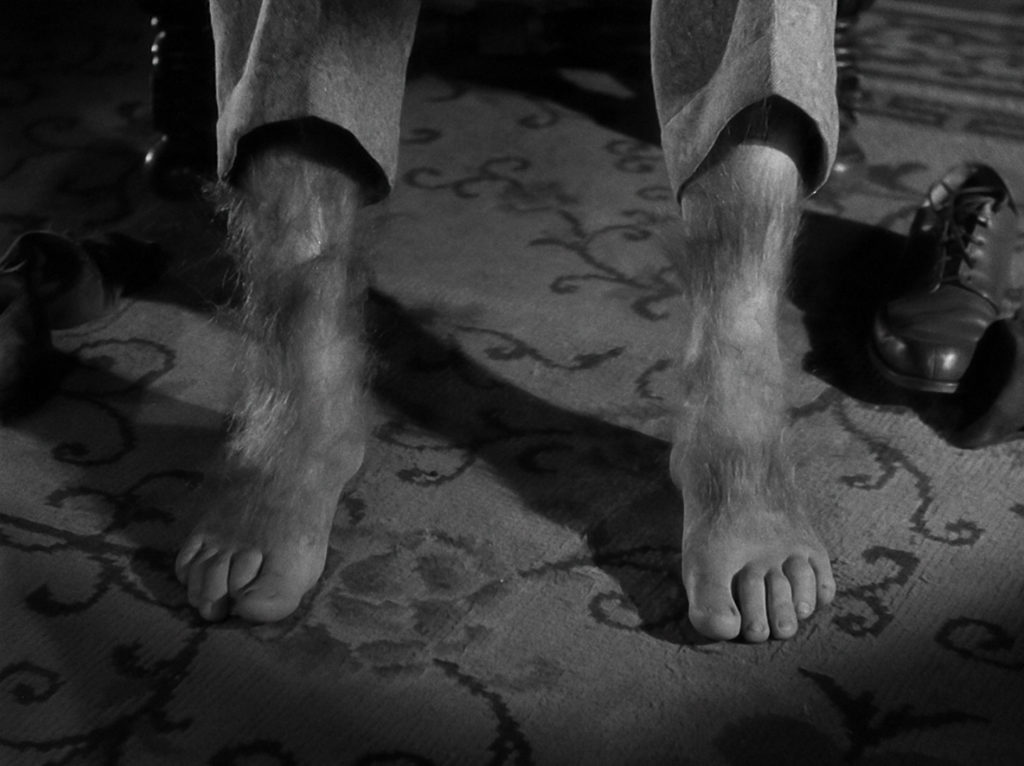 In retrospect, the films written and produced by Val Lewton at RKO—which include items listed above e such as Cat People, I Walked With a Zombie, The Leopard Man, and The Body Snatcher—tend to garner more respect than Universal's monster-retread fare from the 1940s.
More Horror Movies from the 1940s
Further Reading