Demonic Possession Movies: The Satanic Element in Cinema
Demonic possession is when an evil spirit inhabits a person. The realistic horror in these demonic possession movies will have you praying by nightfall.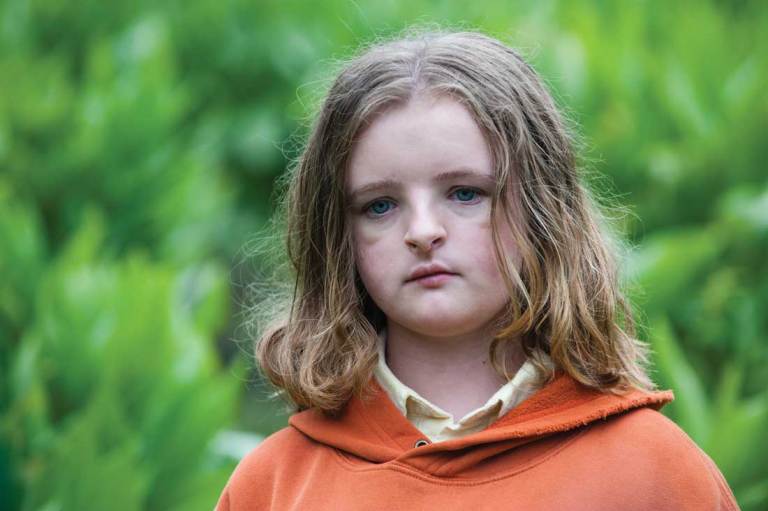 Demonic possession is when an evil spirit takes control of a person. Normally the demon does so to carry out sinister attacks and results in a state of madness for the possessed person.
There is a diverse set of belief systems on what accounts for and how to deal with demonic possession. In Western cinema, particularly in horror films from Spain, the United States, and Italy demonic possession is usually associated with Christianity (namely the Catholic church) or ancient paganism.
The Exorcism of Emily Rose (2005) is one of the scariest exorcism films, partially due to the fact that the terrifying plot was based on a true story. After battling years of epilepsy-induced psychosis, severe depression and suicidal tendencies, the young woman received 67 exorcism treatments from the Catholic church during the last year of her short life. In this case, her unfortunate battle with mental illness and strict Catholic upbringing led to an intolerance for religious objects and seeing the devil's face throughout her school day.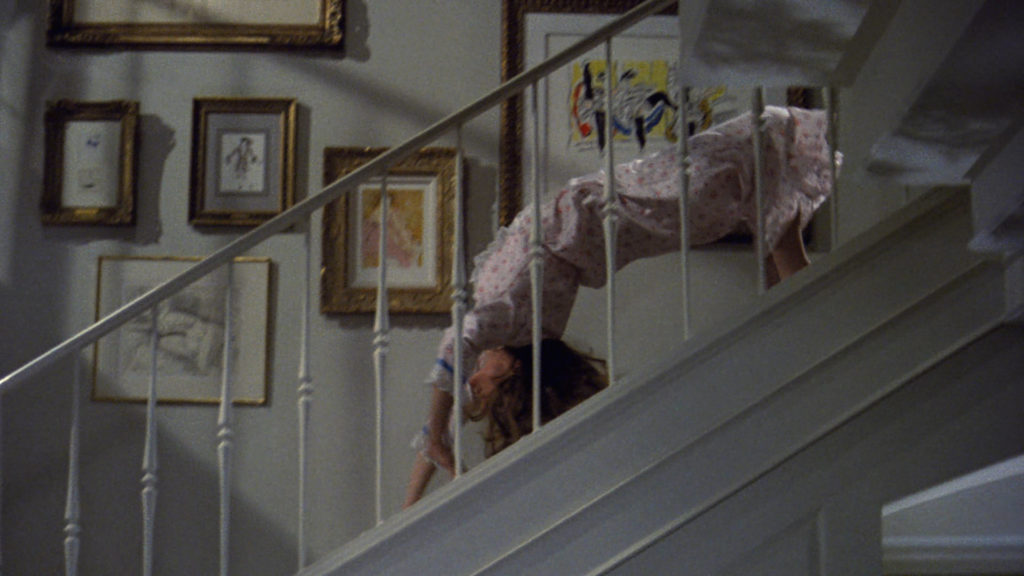 It's a trend that many evil spirits prey on characters who already suffer from mental illness related to PTSD and depression. In the fan-favorite paranormal classic The Exorcist (1973), evil spirits are instead drawn in by an innocent Ouija board game. This highly controversial horror film drew in massive crowds, amassing a total of $441.3 million in box office sales. Despite a violent crucifix masturbation scene and audiences suffering adverse physical reactions to the theater experience, The Exorcist became the first horror film nominated for a Best Picture Oscar.
Here we survey all the demonic possession horror films from past to present.
Demonic Possession Movies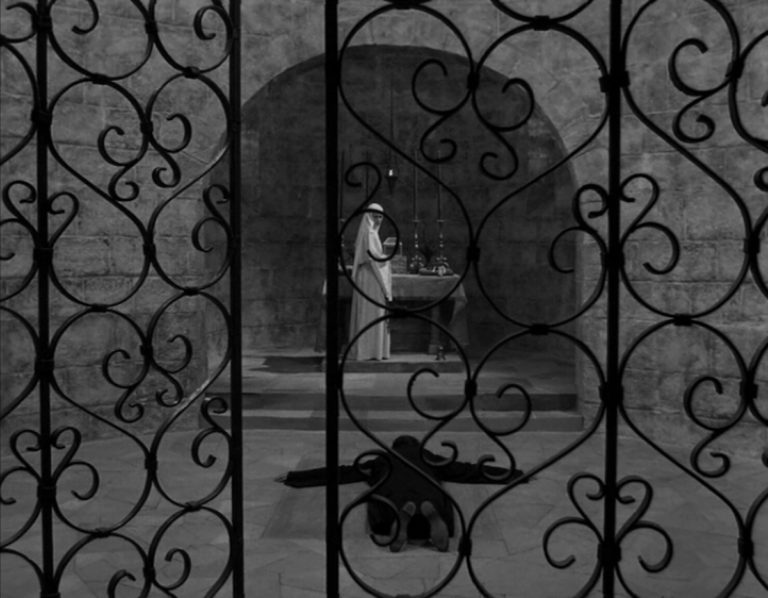 Originally titled Mata Joanna od Aniolów, this Polish mystery horror was based on a historical incident dealing with a demonic exorcism. A 17th century Catholic priest visits a remote countryside convent plagued by a demonic presence. As he attempts to extract the demon from an innocent nun's soul, he realizes there are other evil forces intruding on his visit.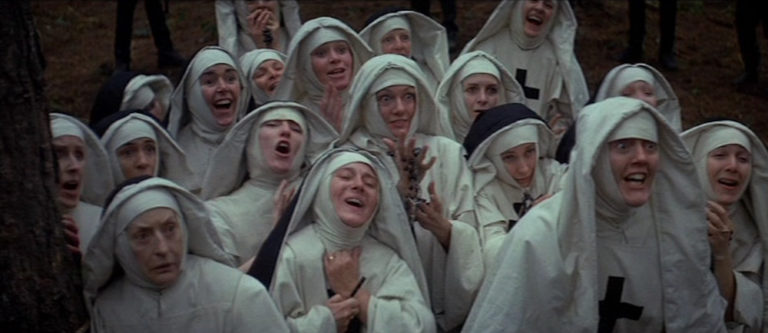 Set in 17th Century France, this graphic horror film opens on King Louis XIII of France and his highest Catholic Cardinal discussing the monarchy's Protestant uprising. The Cardinal, desperate for power, seeks to demolish a town led by a well-liked priest. When troops arrive for destruction, the small town erupts into a frenzy as sacrilegious secrets are brought to light and public exorcisms incite nuns to run around the town naked.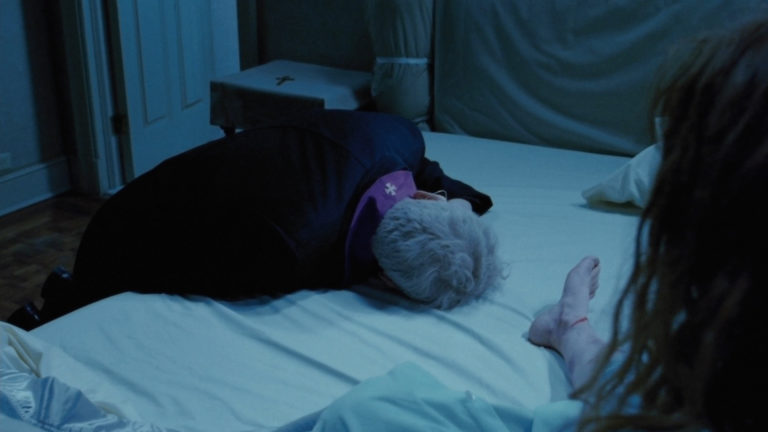 A Hollywood actress takes her preteen daughter along for an extended film shoot in DC, where the two encounter disturbing paranormal activity and traumatic physical symptoms. Mysterious noises in the night and troubling behavior from her daughter cause this newly divorced mother to become desperate for answers. A traditional counselor's diagnosis doesn't suffice, so the mother takes her daughter to the infamous Father Karras, a doctor/psychiatric counselor for the Catholic church. His sidekick, Father Merrin, helps determine what evil force is controlling the young girl and why she is being possessed by the devil.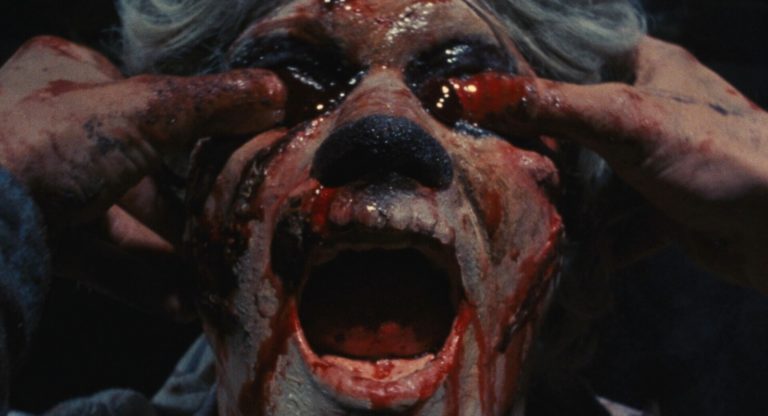 A college couple and their best friends take a trip to a secluded cabin in Tennessee for a weekend full of memories. From the moment they arrive, strange noises around the house and suspicions lead them to a mysterious discovery that soon turns to terror. The 20-somethings open a dusty book of the dead called "Necronomicon," and play the tape recording translations. As each recording plays and ends, another friend of the group becomes possessed and empowered by the surrounding woods' evil force. They finally discover that the only hope for survival is to dismember the entire body of a possessed person, leaving few left to fight for their own life.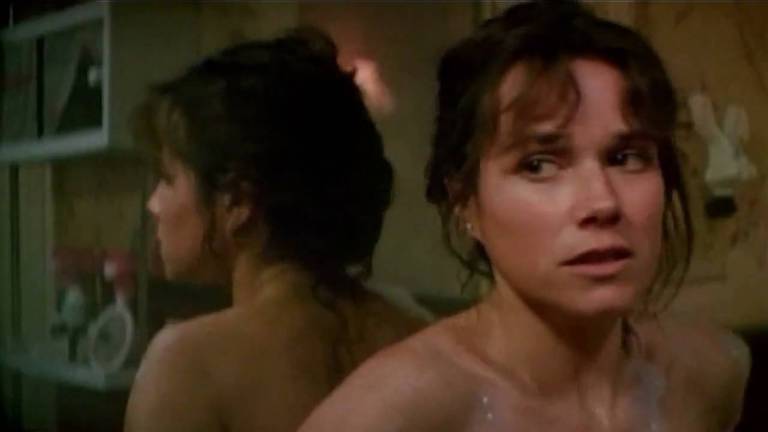 Martin Scorsese declared this as one of his top 11 favorite horror films ever. The Entity is inspired by the true paranormal events of a single mother of three tormented by demonic assailants. Her encounter with the demonic mirror real life abusive relationships: she is isolated and unsure what to believe. Even while her body (and her children's bodies) bear physical evidence of the attacks, they are treated as unreliable witnesses. The woman undergoes psychotherapy to determine what evil possession is responsible for her trauma. A horrifying scene shows the woman at home being sexually attacked by an invisible demon, in front of her own helpless and confused boyfriend who is powerless to help her, mirroring the way those close to victims of abuse often watch abuse play out in horror, unable to do anything to stop the abuser.
A creepy aspect of this based-on-a-true story horror movie is that the actor who played Doris Blither's (the real woman the story is based on) son, broke his arm while acting out a scene in which her real son also broke his arm during a demonic attack.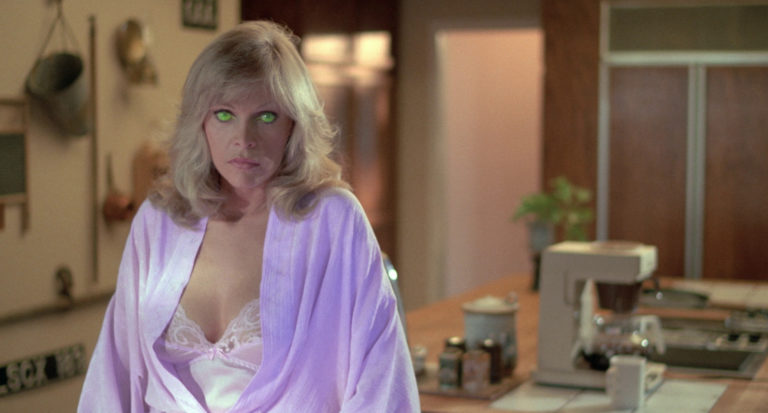 Is there any way to escape the wrath of a possessed demon if it runs in the family? They say blood runs deep, and in this film, it leads a demon straight to its next victim. A 300-year-old family curse targets the firstborn daughter of a new generation, giving the young girl superstitious powers with evil destructive tendencies. Coincidentally, the family's name "Nomed" is the word demon in reverse. If you are a horror fan and looking for some good ole 1980s nostalgia, this female demonic possession film is for you.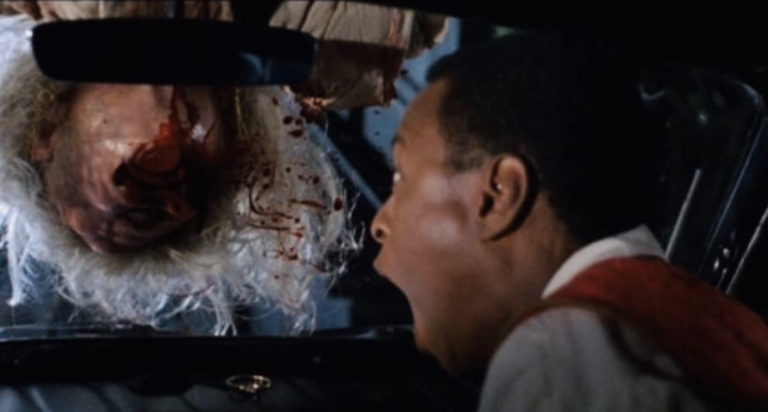 Two ring leaders gather of group of their high school friends to an abandoned funeral home on Halloween night. The property is said to suffer the lifelong curse of an ancient Native American legend, as well as a murder-suicide that took place years prior. As the evening's spooky festivities unfold, harmless games turn into a frightening reality when the teens spot a demon. Eventually, one by one, each friend either becomes possessed or ripped to shreds by the demons around them. The film's witty script and modest $1.2 million budget paid off, grossing over $3 million worldwide.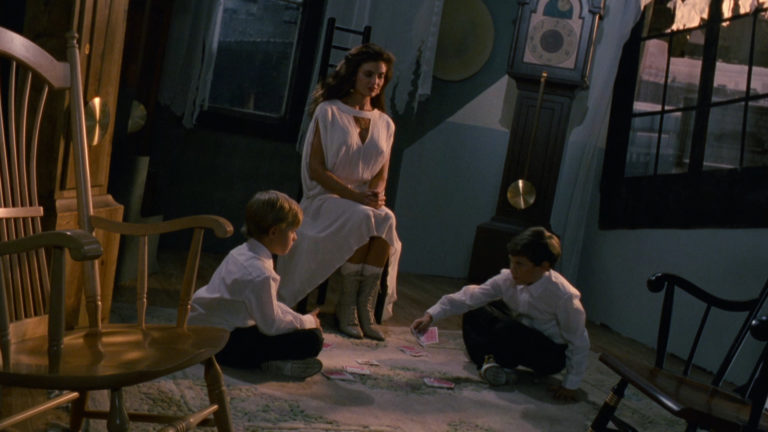 Skipping a theatrical release, this R-rated direct-to-video horror comedy is perfect for any campy horror lovers. The graphic murder film follows a police officer's quest to arrest illegal gun dealers, which turns into an unexpected fight against evil toys who brutally murder anyone coming near them. A child possessed by the demon reveals his plot to become a super destructive human, causing the police officer to outsmart his diabolical opponent and its deadly team of murderous toys. Peter Manoogian directed this funny fantasy horror film.
Emily Rose is your average 19-year old college student navigating life. And of course, life isn't perfect, but things take an unconventional turn when she suffers persistent terrifying visions and inexplicable physical harm. She is put on epilepsy medications by her doctor, but decides to enlist the help of her priest, Father Moore. As the church leader conducts exorcist efforts on the teenage girl, he suggests she stop taking her prescribed medications. Not before long, the girl dies and the priest finds himself testifying for his life under negligent homicide charges in court. The film's opening weekend in the US earned $30 million in box office sales.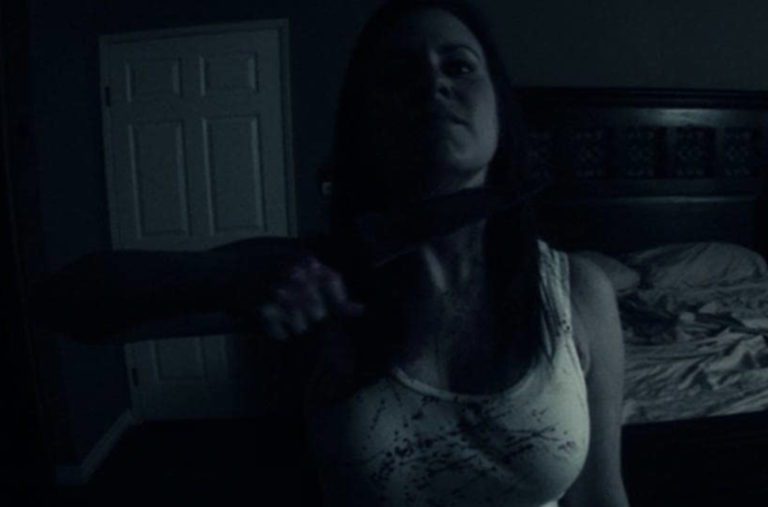 Imagine falling for the woman of your dreams. As you spend more time together, you discover her quirks. For this San Diego couple, the woman claims to have a ghost that has followed her since her childhood. Not thinking too much of it, the couple moves in together and strange things start happening at night. Her boyfriend starts out by joking around with a Ouija board one night, but as innocent jokes evolve into all-to-real terror, they set up a camera in their bedroom to capture any suspicious paranormal activity. Night footage shifts from strange electrical happenings to the girlfriend's own creepy behavior. While her boyfriend sleeps, she can be found standing awake, staring at her vulnerable partner for hours. The boyfriend, once opposed to a demonologist's help, calls him in when his girlfriend is dragged out of bed screaming and suffers a mysterious neck bite.
Oren Peli wrote and directed this horror mystery centered on a suburban couple's traumatic nightly encounters with a demonic presence. The found footage shooting approach enhances the couple's relatability, resulting in a deeply intimate account and elevates the audience's personal connection to this horrifying story.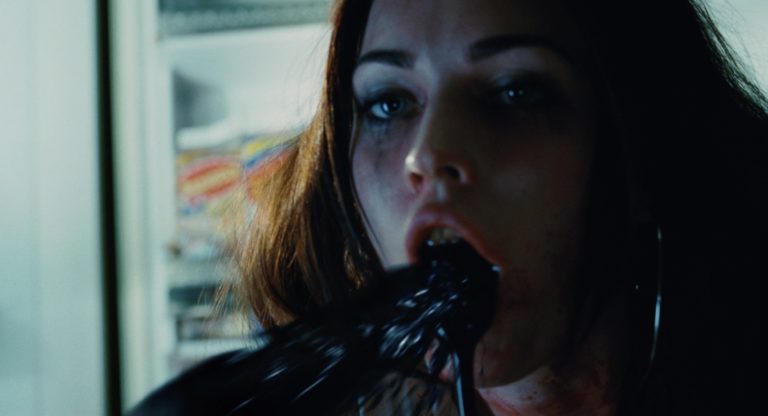 Megan Fox co-stars in this feminist classic as a dangerous succubus, alongside Amanda Seyfried, who plays the meek, virginal best friend. The story follows these classmates as they navigate the horrors of high school, dodging sleazy jocks and creepy teachers. NYU alum Karyn Kusama directed this cult comedy riffing off time old horror tropes, with a studious good-final girl playing opposite of the sensual blood-sucking seductress. When an attempted virginal sacrifice goes wrong, the victimed non-virgin becomes possessed and must feed on flesh to maintain her destructive super strength.
In the first 2010 installment of the Insidious series, Rose Byrne plays the mother of a young boy who was sent into a coma after suffering a tragic accident in their attic. When his parents decide to revisit the mysterious room in their house, they are met with evil spirits who promise never to return their loving boy. A paranormal expert comes to their rescue, but the parents must heal their own individual childhood traumas before having a chance to save their new family.
The year of 2013 introduced Insidious: Chapter 2, a terrifying sequel that was shot on a budget of $5 million and earned $161.9 million at the box office. Audiences are met with the same family that survived the first film, except a different family member is under the microscope for terrifying reasons. A homicide from years ago comes to light and the family's short taste of normalcy runs thin due to a nightmarish supernatural presence in the home. Suspense and paranoia play an influential role in this horror film, leaving no surprise as to why audiences kept coming back for more in the following sequels.
Leigh Whannel wrote, directed and even acted in the 2015 mystery horror Insidious: Chapter 3. This prequel takes audiences back to the world of a familiar character, years before the haunting events of the first film ever took place. An innocent teenage girl becomes possessed by evil spirits and is desperate for help from her local medium. When the medium refuses to help the minor contact her dead mother, more spirits intrude on her adolescent world causing massive destruction. As the two begin to work together on dispelling the evil spirits, they discover that they are up against a dangerous paranormal power they never could have imagined before.
2018's The Last Key played out to be a horrifying ending to the almost decade long series. Audiences are taken back to the childhood of a parapsychologist whose traumatic memories are causing recurring haunting nightmares. Despite her suffering, she reluctantly agrees to help a client whose home is being attacked by an evil entity. She soon realizes that the location of this haunted home is the same address of her chilling childhood home. This film marked the second installment in the franchise to feature a demon since the first 2010 film.
The series in its entirety was shot on a combined budget of $26.5 million. A humble budget didn't stop the horror series from grossing a combined total of $539 million in box office sales!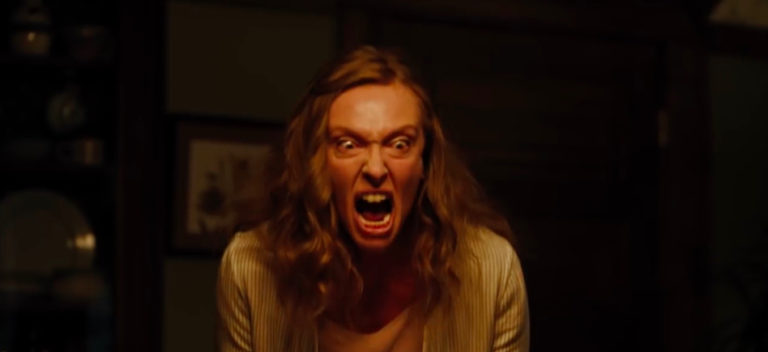 Grief affects us all in different ways, especially under the confines of a family home. The story opens on a mysterious grandmother's funeral, and unfolds as each member of her family is haunted by a supernatural presence. Tragedy strikes the family again, heightening devastating consequences that come as a result of their desperate attempt to rid their world of demonic control. However, help comes in the form of someone who may have other intentions for the family's state of panic and vulnerability.
Indie director David Lowery has said Hereditary is one of his favorite movies saying, "Ari Aster's debut is one of the scariest movies I've ever seen…I caught it at an advance screening in Vancouver, and had to sleep with the hotel lights on afterwards — something I haven't had to do since 2002. I was traumatized. I wondered if the movie might be too brutal. The only way to find out, of course, was to drag as many friends as I could to see it when it opened a few weeks later. Maybe it was thanks to my loudly screaming chums, but this time around I couldn't stop laughing. What a wicked movie. I can't wait to rewatch it every October for the rest of my life."
Other Demonic Possession Movies
Repulsion (1965) is a British black-and-white horror directed by Roman Polanski. Set in London, the story follows a woman who endures dragging daily advances by men that ultimately lead her into a dangerous catatonic state.
Sorority Babes in the Slimeball Bowl-O-Rama (1988) is a comedy horror flick full of a classic slasher staple: scream queens. A group of sorority girls and frat boys accidentally release an devilish imp who offers them each a wish. Not before long, they realize his promises are too good to be true and they fight the demon for their only chance at survival.
The Last Exorcism (2010) is a found-footage paranormal horror film that grossed more than $67 million on a $1.8 million budget. Audiences are taken along a documentary-style cinematic journey through the evangelical world of exorcism and fraud.
Sinister (2012) is a supernatural horror film conceptualized after the screenwriter watched The Ring (2002) and had a nightmare that inspired the plot. Unexpected jump scares and uniquely integrated Super 8 film footage make this a must-see for any horror fan.
The Conjuring (2013) is an American horror film that erupted the highly successful Conjuring Universe franchise. A married demonologist duo place camera throughout a haunted house in an effort to identify the evil spirit living inside, and must get approval from the Catholic church to perform an exorcism before it's too late.
The Babadook (2014) is an Australian psychological horror film written and directed by Jennifer Kent. Her directorial debut features a widowed single mother whose son's erratic temper begin to tear away at her sanity, and she is left with no choice but to confront their traumatic past if they want any chance at a hopeful future.
The Witch (2015) is a 1630s period piece with a supernatural horror twist. Based in New England, the story opens a Puritan family whose unbaptized infant son is stolen by a witch with sinister intentions. If you are a horror movie lover looking for a film where an animal is possessed by the devil look no further than this A24 horror movie.
Saint Maud (2021) is a movie about religious fanaticism and the way it can psychologically grip a person's mind. Although in this movie, the lead character believes she is talking to God, from the outside it looks like she is possessed by the devil.
Smile (2022) in this horror thriller, the protagonist insists she is not haunted by a demon or a ghost, but an "entity" that is super violent and feeds off trauma.