36 Light Horror Movies That Aren't Too Scary
This list compiles horror movies that aren't too scary and are beginner (or just scaredy cat) friendly.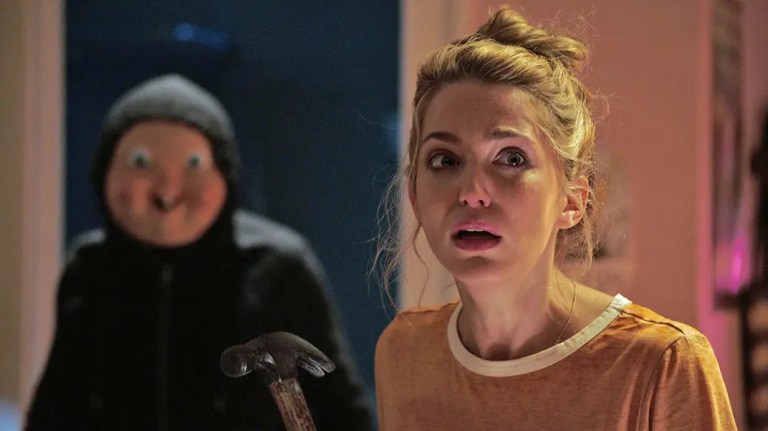 A sad truth is that not everyone is a horror movie fan. This can be hard for people who love horror because they want to share what they love with the people around them. Genre fans can be desensitized to the kinds of macabre content and gore others avoid, which makes it a constant struggle to select films that will please both horror fans and their skeptical friends and family.
This list seeks to solve that problem by compiling a large number of horror movies that are beginner (or just scaredy cat) friendly. The criteria used is that the films included should be horror movies though there are many films outside of the genre that would please both horror and non-horror fans (1998's Practical Magic, cult classic Hocus Pocus and 1993's Addams Family Values come to mind here along with psychological thrillers, murder mysteries, "scary" Disney movies and family horror movies that are intended for a younger audience). The second criterion is that the movies included in this list should be light on blood and graphic violence. Ghost and haunted house movies are a great place to look as they usually don't have much, if any, gore. Lastly, the movies included in this list aren't overly dark in subject matter. We've included a rating system (from "not scary" to "very scary") and trigger warnings to call out any potential dealbreakers for hesitant viewers.
Creepy Catalog has a list that compiles the scariest movies of all time, this is meant to be an inverse version of that list. These are light horror movies that can be enjoyed by any adult and are a good introduction to horror for squeamish viewers. If you are looking for a horror movie that isn't too scary, here are the best options: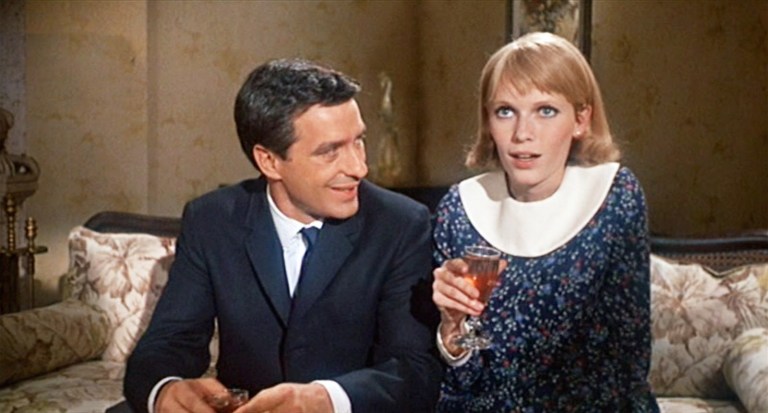 How scary is it? Scary
Trigger warning: Sexual assault
A psychological horror movie starring Mia Farrow as Rosemary, a young wife living in Manhattan. Rosemary and her aspiring actor husband Guy (John Cassavetes) have just moved into a new apartment building and she begins to suspect that their overly helpful neighbors (Ruth Gordon and Sidney Blackmer) have a sinister hidden motive. While Rosemary's Baby is a scary horror movie, most of the horror is implied and happens off-screen making this a good horror movie for beginners.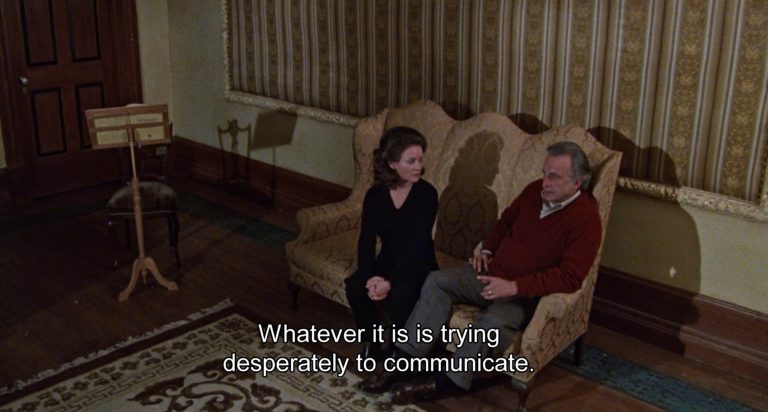 How scary is it? Pretty scary
Trigger warning: Brief violence against a child
A supernatural horror movie about a widower (George C. Scott) who moves into a historic mansion following the sudden death of his wife and daughter. He soon discovers that the house is haunted and begins to investigate the home's history, hoping to put the spirit at rest. The Changeling is frightening movie that scares veteran horror viewers, but because it lacks blood and gore is still a potential fit for scaredy cats.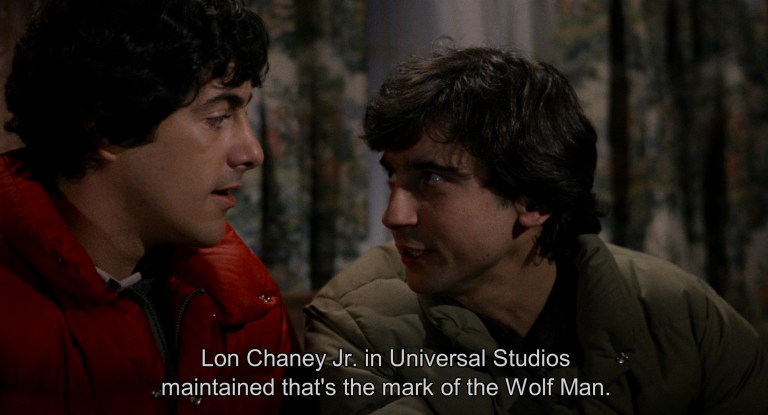 How scary is it? Scary if you watch when the moon is full
Trigger warning: Nudity, gore
A comedy horror movie following American backpackers David Kessler (David Naughton) and Jack Goodman (Griffin Dunne) who are attacked by a werewolf while traversing the moors in Yorkshire under a full moon. Locals deny the existence of a werewolf but an undead Jack warns David that he is now a werewolf and will transform at the next full moon. This movie does have some blood and gore as people are attacked by werewolves but the comedy and supernatural elements keep it from being too scary.
How scary is it? Not scary
Trigger warning: Light violence and gore
A supernatural horror movie following brothers Michael (Jason Patric) and Sam (Corey Haim), who move to Santa Carla, California following their mother's divorce. They soon discover that the town is overrun by vampires. The Lost Boys is a fantastic 80s movie and a cult classic. Movie fans of all sensibilities will enjoy rooting for the Emerson family as they battle against vampires played by Edward Herrmann, Kiefer Sutherland and Alex Winter.
How scary is it? Not scary
Trigger warning: Light violence and gore
A horror comedy about characters from Universal Monsters movies who run afoul of a group of pre-teen Universal Monsters fans who call themselves The Monster Squad. Armed with legendary vampire hunter Dr. Abraham Van Helsing's diary, The Monster Squad seek to destroy a powerful amulet before Dracula, The Mummy, Gill-Man and The Wolf Man can use it to take over the world. This is a cult classic beloved by children of the 80s and appropriate for even the least brave adult viewers.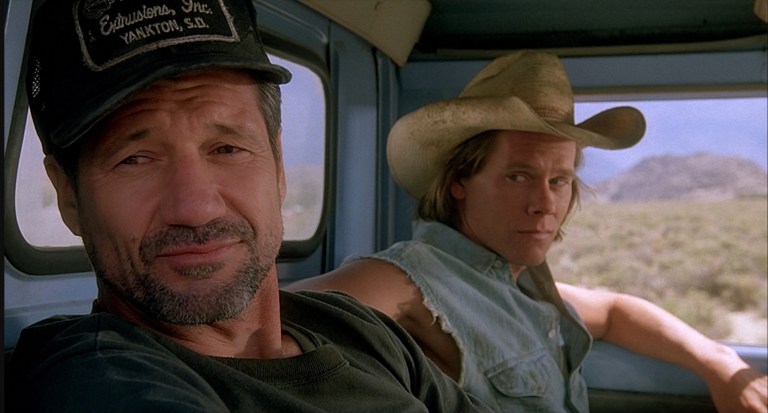 How scary is it? A little scary
Trigger warning: Light gore
A monster comedy horror movie following underachieving best friends Valentine "Val" McKee (Kevin Bacon) and Earl Bassett (Fred Ward) in the isolated rural town of Perfection, Nevada. When they discover giant underground worms are terrorizing the town, Val and Earl lead their friends and neighbors in a daring fight for survival. Tremors is a fun worm slasher movie that won't scare anyone too much (though you might take up pole-vaulting as a safety precaution). Bonus: there are seven Tremors movies so the original can be viewed as part of an extended movie marathon.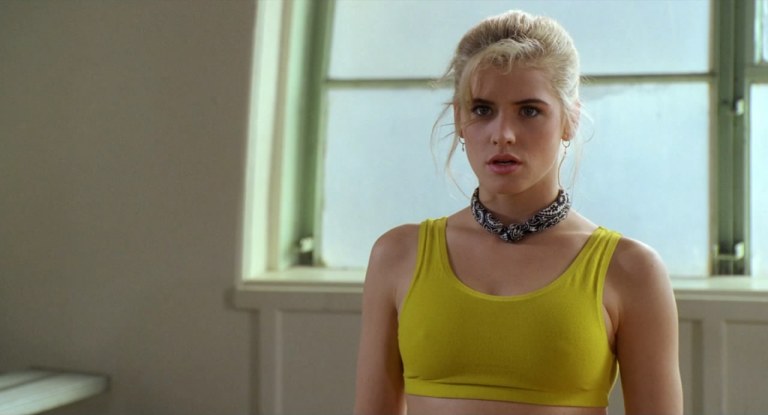 How scary is it? A little scary
Trigger warning: None
A comedy horror movie following a shallow Los Angeles high school cheerleader, Buffy (Kristy Swanson), who is informed that she is The Chosen One, a Slayer whose destiny is to kill vampires. Buffy initially rejects her role but comes to accept and embrace her duty while falling for outsider Pike (Luke Perry). Although Buffy the Vampire Slayer is a great movie, writer Joss Whedon was unhappy with how it differed from his script. He later created the Buffy the Vampire Slayer series in his own vision.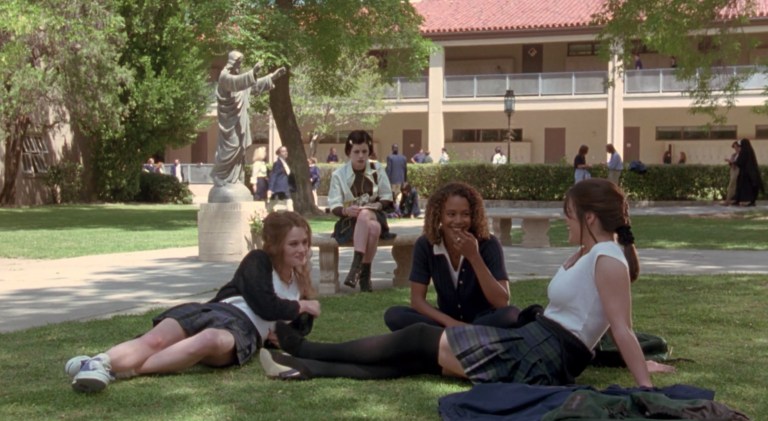 How scary is it? Scary
Trigger warning: Light violence and gore, depictions of self-harm, attempted sexual assault, creepy snakes/insects
A teen supernatural horror movie following Sarah Bailey (Robin Tunney) as she relocates from San Francisco to Los Angeles. At her new school, she befriends three outcasts who are rumored to be witches (Fairuza Balk, Neve Campbell, Rachel True) and the foursome form a powerful coven. Abuse of power and a rift in their friendship leads to the film's third act, but it's creepier than it is frightening.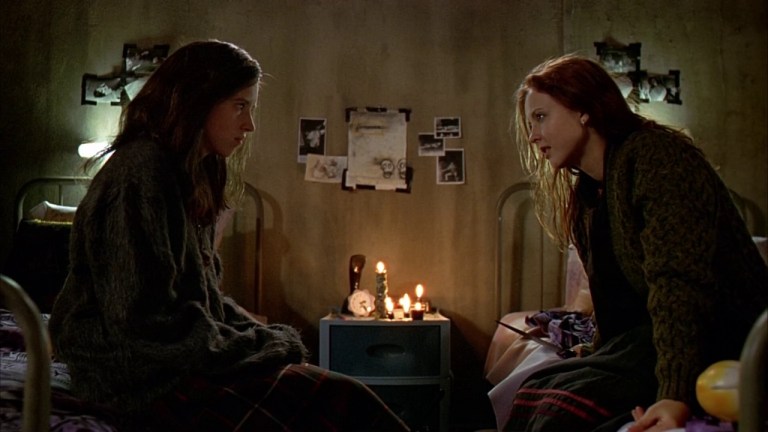 How scary is it? A little scary
Trigger warning: Depictions of self-harm, some violence and gore, dog death ☹️
A supernatural horror movie about two morbid sisters, Brigitte (Emily Perkins) and Ginger (Katharine Isabelle) Fitzgerald. The girls are desperate to leave their suburban town of Bailey Downs (or die) by the time they turn 16. Instead, Ginger is bitten by a werewolf when she starts her first period and begins a horrifying transformation. While Ginger Snaps is macabre and contains violent werewolf-related scenes, it is not scary and is an interesting and enjoyable movie for a wide audience.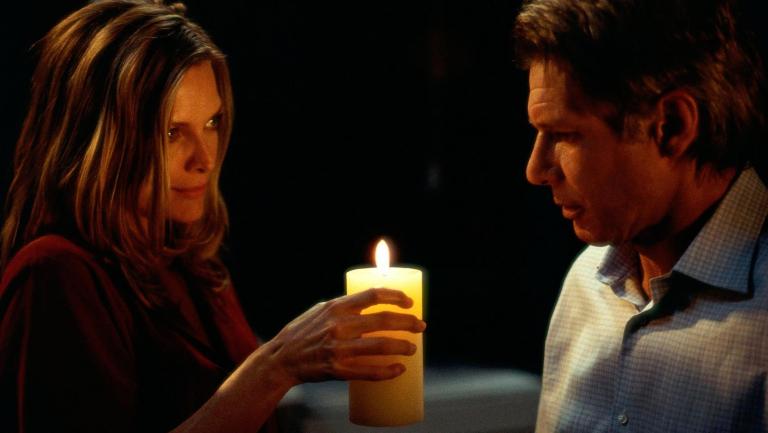 How scary is it? Scary
Trigger warning: A few great jump scares
A psychological horror movie about empty nesters Claire (Michelle Pfeiffer) and Norman (Harrison Ford) Spencer, who live in a lake house in Vermont. Claire becomes obsessed with their new neighbor Mary, who she believes may have been killed by her abusive husband. A ghostly presence seems to confirm that Mary's spirit is asking Claire for help, but as Claire digs deeper she uncovers a forgotten secret from the couple's past. There's no gore in this pg-13 horror movie but it is pleasantly scary and a very good murder mystery.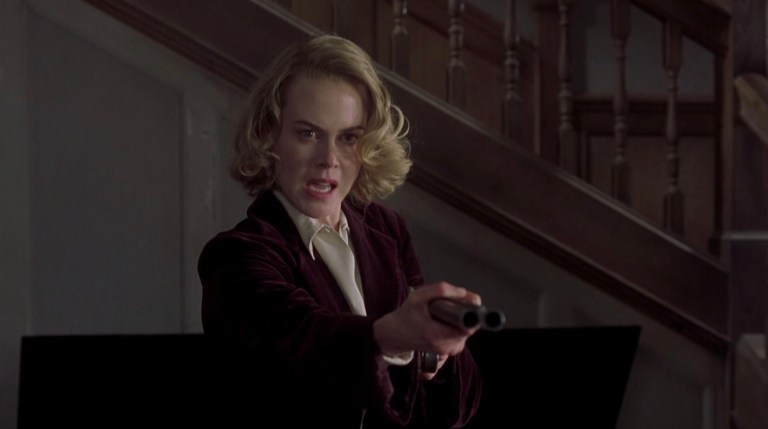 How scary is it? Very scary
Trigger warning: Jump scares
A gothic supernatural horror movie set on the island of Jersey in the immediate aftermath of WW2. Grace Stewart (Nicole Kidman) lives in a remote country house with her two children, Anne (Alakina Mann) and Nicholas (James Bentley). Grace trains her new servants to keep the home darkened as the children have a serious sensitivity to light and maintains the manor with her strict Catholic values, refusing both the servants and her children's contention that the house is haunted. Although The Others is a very scary ghost movie, there is no blood or gore at all and the scares mostly come from the viewers imagination.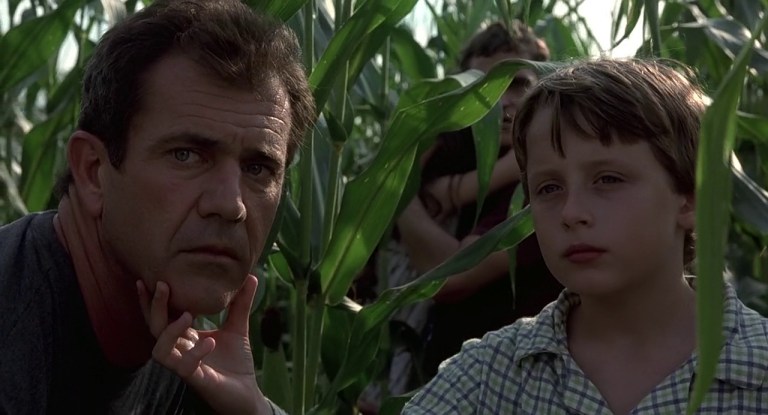 How scary is it? Scary
Trigger warning: A very emotional car accident scene, dog death, violence against aliens
A sci-fi horror movie following an Episcopal priest (Mel Gibson) who has recently lost his faith after the tragic death of his wife. Living on a farm with his brother (Joaquin Phoenix) and his kids (Rory Culkin and Abigail Breslin), the family discovers crop circles in their field and subsequently learns of a global alien invasion from the news. All of M. Night Shyamalan's films are a good compromise for horror fans and scaredy cats as they are light on violence and gore and heavy on implied horror. Signs is scary, but it is also a poignant film about faith and the unknown.
How scary is it? Scary
Trigger warning: Some violence
A Southern Gothic horror movie starring Kate Hudson as Caroline, a New Orleans hospice nurse who is looking for a change and takes a home care position in the rural Terrebonne Parish. She works for the elderly Violet Devereaux whose husband Ben was recently partially paralyzed by a stroke. In the Devereaux's plantation home, Caroline discovers hoodoo paraphernalia and realizes Violet is hiding a sinister secret. The Skeleton Key is a scary movie with an awesome twist-ending that has some violent scenes but little blood or gore, it is a great horror movie for beginners.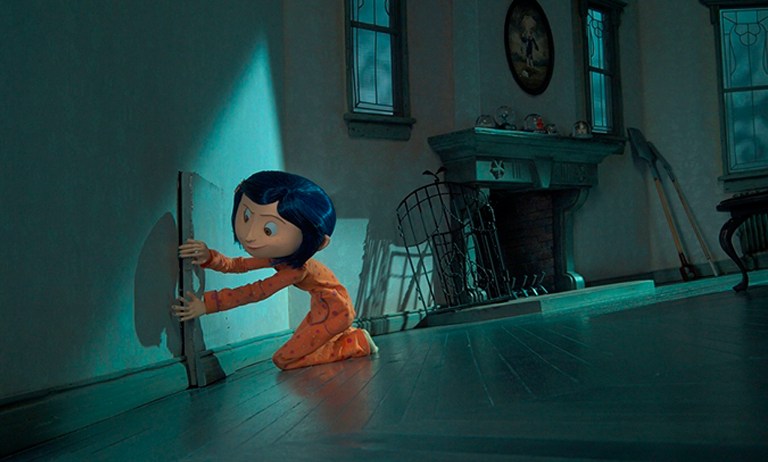 How scary is it? A little scary
Trigger warning: None
An animated dark fantasy horror movie about a little girl named Coraline (voiced by Dakota Fanning) who has recently moved across the country and is ignored by her parents. She finds a secret door that leads to an alternate universe where her parents dote on her. Soon, however, Coraline realizes that her Other Mother is evil and seeks to trap Coraline in the Other World. Coraline is rated PG and is probably the scariest animated PG ever made, which still isn't very scary. It's safe for everyone except young children to watch.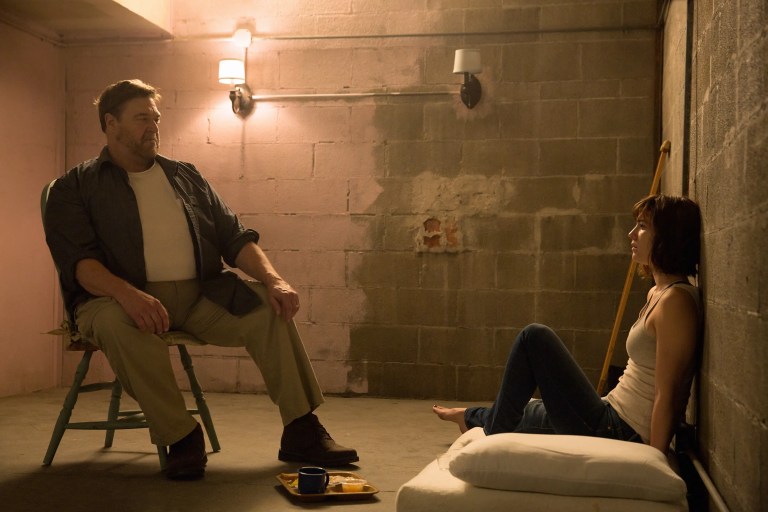 How scary is it? Scary
Trigger warning: Some violence and gore
The Cloverfield franchise is made up of found footage monster movie Cloverfield (2008), sci-fi horror thriller 10 Cloverfield Lane (2016) and sci-fi horror The Cloverfield Paradox (2018). These three movies are pretty different but are connected by a mostly undiscussed meta story of a monster/alien invasion. We know the meta story exists because all the films are called Cloverfield and because if you play The Cloverfield Paradox (2018) at the same time as Cloverfield (2008), the particle accelerator fires in The Cloverfield Paradox at the exact moment the monster appears in Cloverfield. Nevertheless, these are good horror movies that are scary but not too scary and light on blood.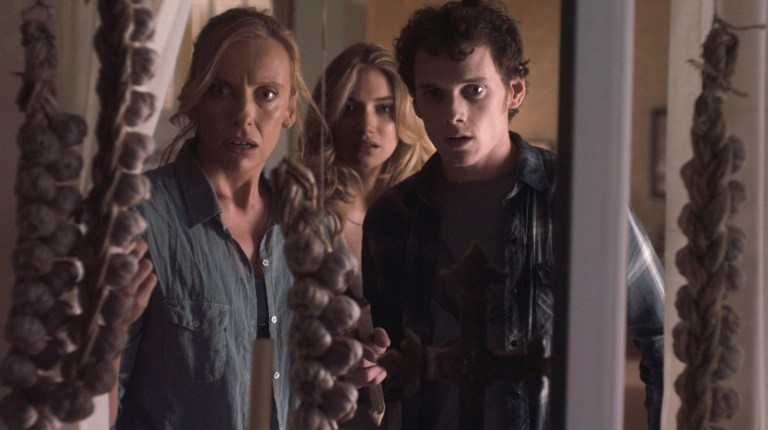 How scary is it? Not scary
Trigger warning: A little vampire gore
A supernatural horror comedy that is a remake of the 1985 film of the same name (both are great movies). Charley Brewster (Anton Yelchin) is a teenager living in a Las Vegas suburb with his mother (Toni Collette). His vampire-obsessed best friend Ed (Christopher Mintz-Plasse) is convinced that Charley's new neighbor (Colin Farrell) is a vampire. Charley only starts to believe him after Ed goes missing and he seeks the counsel of a famous vampire expert Peter Vincent (David Tennant) for help. Fright Night is a fun watch for horror fans as it explores vampire lore and pokes fun at genre tropes but it's also light enough to watch with someone who is easily scared.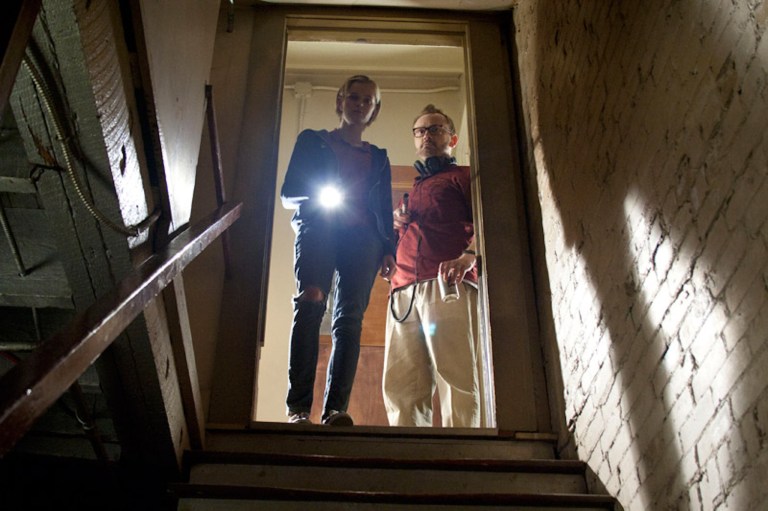 How scary is it? Scary
Trigger warning: Light ghost violence
A supernatural horror movie written and directed by Ti West. Claire (Sara Paxton) and Luke (Pat Healy) are the only employees left during the last week of operations for Yankee Pedlar Inn before it closes down. The coworkers are amateur paranormal investigators who plan to use the week to capture evidence that the historic hotel is haunted, while also attending to the hotel's few guests. The Innkeepers is a top tier suspense film that leaves a lot up to the viewer's imagination.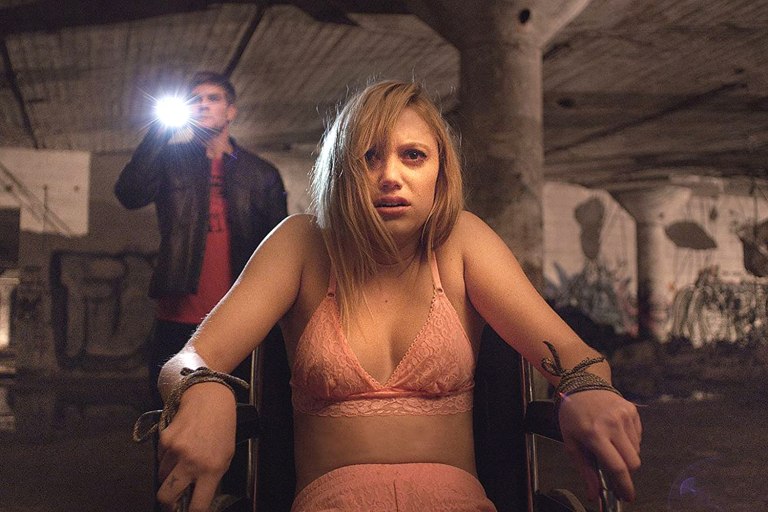 How scary is it? Scary
Trigger warning: Sexual violence, nudity, some violence and gore
A horror movie based around a supernatural entity that relentlessly pursues people who refuse to pass on a curse spread by sex. College student Jay (Maika Monroe) is informed about this curse after sleeping with her new boyfriend Hugh, who then abandons her. As the entity begins to stalk Jay, her sister Kelly (Lili Sepe) and friends Paul (Keir Gilchrist) and Yara (Olivia Luccardi) are determined to help her. There are some gruesome shots of the entity's victims in It Follows but it is not a gory movie overall.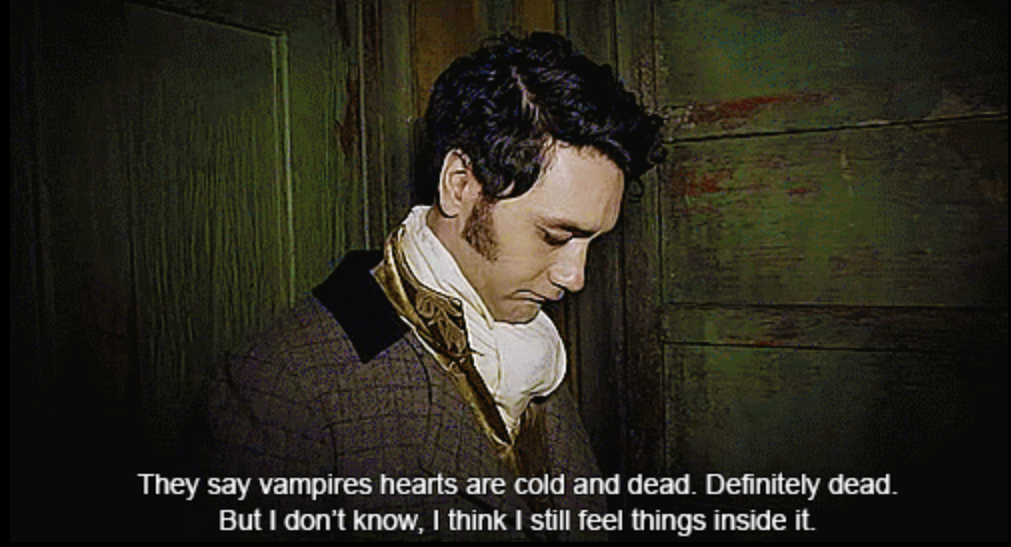 How scary is it? Not scary
Trigger warning: Light violence and gore
A found footage horror comedy that is on the surface a documentary about a group of vampires sharing a flat in Wellington, New Zealand. However, the film's subjects are totally oblivious and a lot of comedy is created by putting the stereotypical vampires into typical roommate conflict scenarios. The franchise has since expanded to include two television shows: Wellington Paranormal and What We Do in the Shadows. A sequel film, We're Wolves (lol) is in pre-production.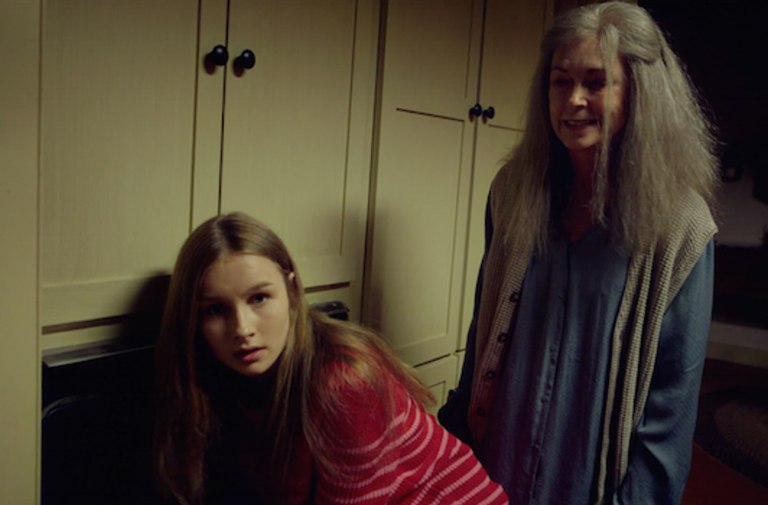 How scary is it? Scary
Trigger warning: Dead bodies are briefly shown
A found footage horror movie following siblings Becca (Olivia DeJonge) and Tyler (Ed Oxenbould) as they visit their estranged grandparents, Nana (Deanna Dunagan) and Pop Pop (Peter McRobbie), for the first time. The horror in The Visit comes from the creepy old people and an enduring sense of "something is not right", but there is little blood or gore in this movie. Comic relief in the form of Tyler's beat boxing/musical stylings also helps keep The Visit from becoming too terrifying for beginner horror viewers.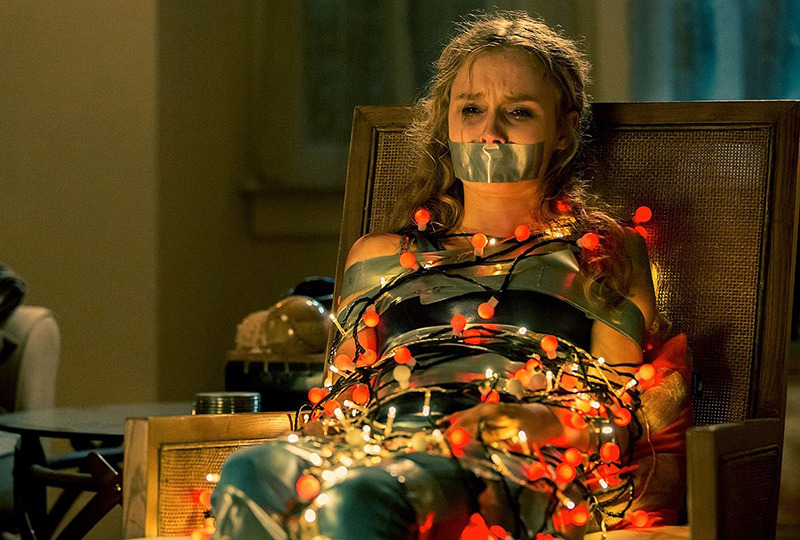 How scary is it? A little scary
Trigger warning: A little violence and (mostly offscreen) gore
A babysitter horror movie starring Olivia DeJonge as teenage babysitter Ashley and Levi Miller as her 12-year-old charge, Luke. On a winter night before Christmas Ashley is watching Luke when the house comes under attack from a home invader. The film's big twist makes the whole scenario either more or less frightening, depending on how the viewer sees it. Either way, this is a fun horror movie that is lighter on scares and beginner friendly.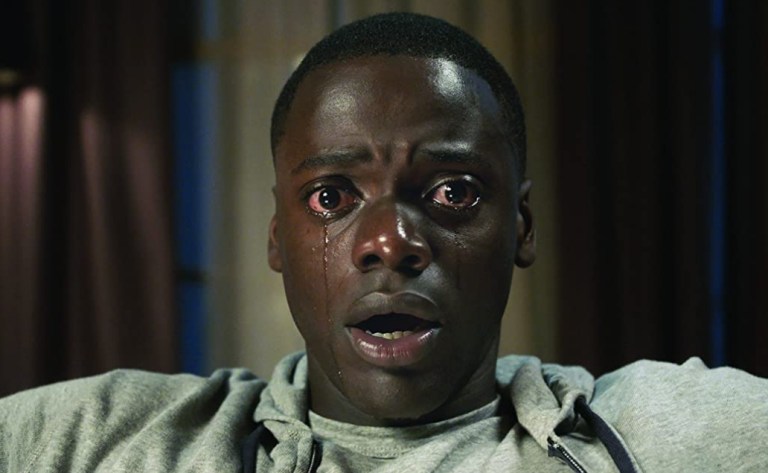 How scary is it? A little scary
Trigger warning: Some blood and violence
A psychological horror movie written and directed by Jordan Peele in his revered directorial debut. Chris (Daniel Kaluuya) and Rose (Allison Williams), an interracial couple, travel to Upstate New York to visit Rose's family for the first time. While Chris notices that Rose's family and friends seem strange, he is polite and just tries to make it through the trip. Unfortunately, Rose's family has other ideas. There are scary and violent scenes in Get Out but they aren't overly graphic and Lil Rel Howery brings comic relief that prevents it from being too scary for most viewers.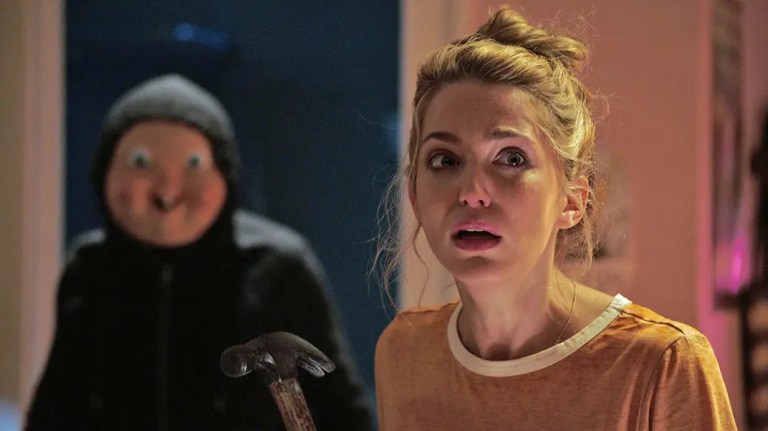 How scary is it? A little scary
Trigger warning: Some violence and gore
This duo of black comedy slasher movies follows college student Tree Gelbman (Jessica Rothe) who is murdered on her birthday. A time loop allows Tree to wake in the morning to relive her death day all over again. She enlists the help of fellow student Carter (Israel Broussard) to help her discover the identity of her murderer and end the time loop. The sequel expands the story into a multiverse and both make a great double feature.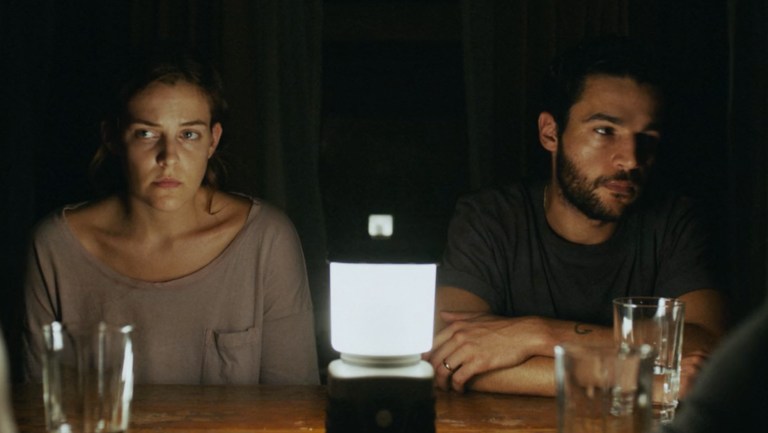 How scary is it? Scary
Trigger warning: Gun violence, a dog death
A psychological horror movie that takes place in the aftermath of an extremely contagious pandemic that has disrupted life as we know it. Paul (Joel Edgerton) and Sarah (Carmen Ejogo) live isolated in a cabin in the woods with their teenage son Travis (Kelvin Harrison Jr.). The family scavenges by day and spend the nights locked in their home. When they meet another family in the woods, paranoia about contagion threatens to destroy everything they have built. The ending of It Comes at Night is controversial among horror fans, but in a way that lends itself to being a good horror movie for people who are scared easily.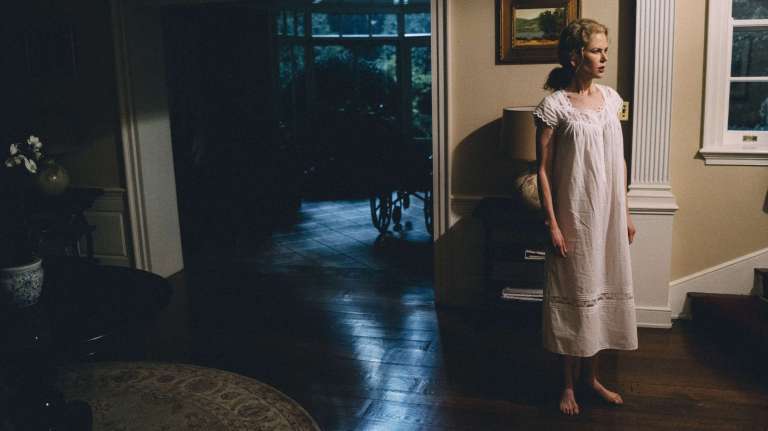 How scary is it? More creepy than scary
Trigger warning: Some blood and gun violence
A psychological horror thriller movie inspired by the Greek tragedy Iphigenia in Aulis by Euripides. A cardiac surgeon, Steven (Colin Farrell), has an undefined relationship with a 16-year-old boy named Martin (Barry Keoghan). One day Steven's son wakes up and realizes he cannot move his legs. Shortly afterward his daughter also becomes paralyzed. Steven is given a choice to select one family member to kill or risk each of them dying from the mysterious illness. The Killing of a Sacred Deer is pretty disturbing and creepy but shouldn't be too much for viewers who are easily scared.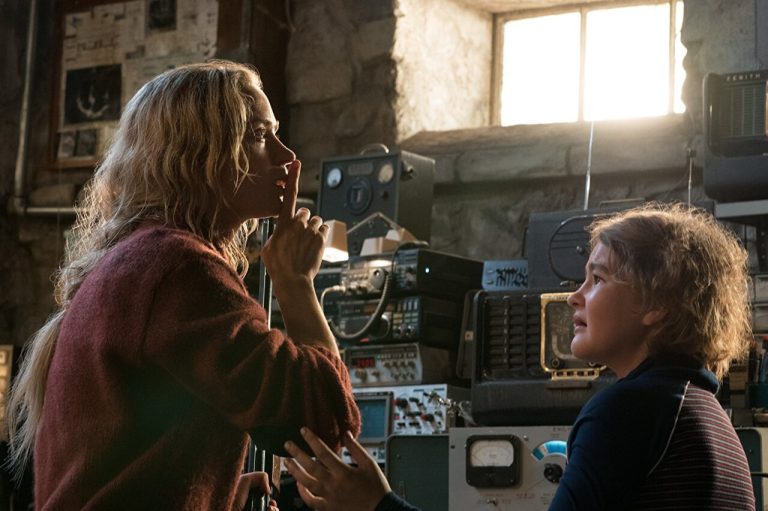 How scary is it? A little scary
Trigger warning: Some blood and gore
This post-apocalyptic horror franchise follows the Abbott family surviving an invasion by aliens with hypersensitive hearing on their family farm. The family lives in silence, using American Sign Language (which they learned because daughter Regan, played by Millicent Simmonds, is deaf) to communicate. The scares in the original come from encounters with the aliens and from matriarch Evelyn's (Emily Blunt) desperate silent delivery of a child while alone with an alien in the family's farmhouse. In the sequel, the Abbott family evades the aliens and searches for community to help them endure life after the collapse of society. A third installment, A Quiet Place: Day One is expected to release in 2024.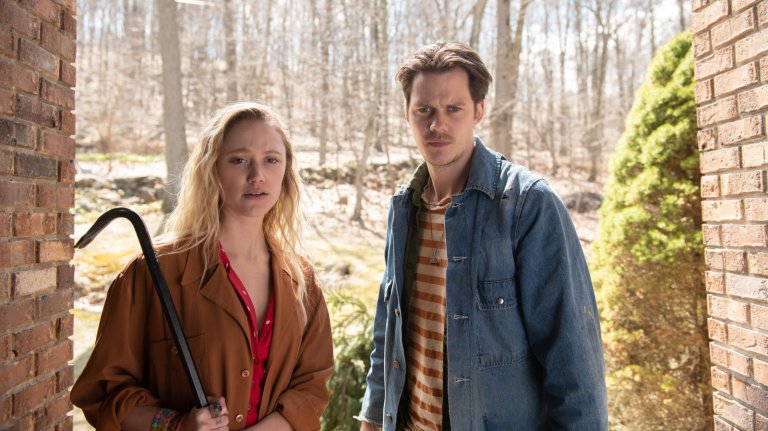 How scary is it? Not scary
Trigger warning: Some blood and gore
A fun black comedy horror movie starring Bill Skarsgård and Maika Monroe as young lovers who rob a gas station to fund their move to Florida. When their car runs out of gas, the couple decides to break into a nearby house in search of gas or a car to steal but instead discover a little girl is being held hostage in the basement. The home's owners (Jeffrey Donovan and Kyra Sedgwick) appear and the audience realizes the titular "villains" aren't the likable outlaws we've been following up to this point. Sweet, funny and thrilling, Villains is a great horror movie for scaredy cats.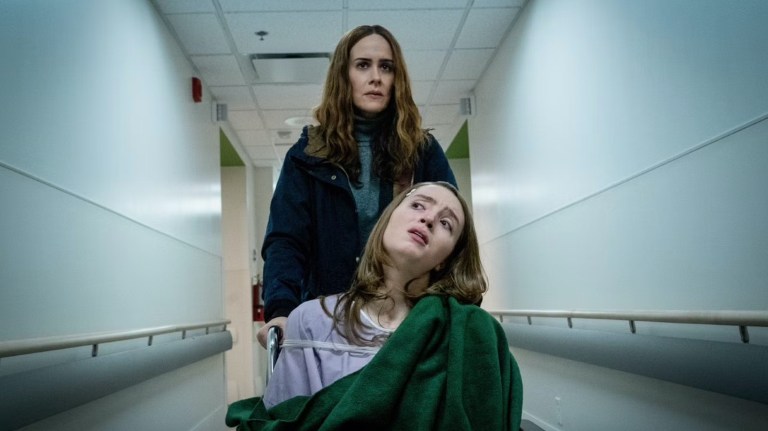 How scary is it? A little scary
Trigger warning: A small amount of blood
A psychological horror thriller that is unofficially inspired by the case of Dee Dee and Gypsy Rose Blanchard. Chloe (Kiera Allen) is a disabled teenager who is homeschooled by her overprotective mother Diane (Sarah Paulson). The two live in isolation, allowing Diane near limitless control over Chloe's life. When Chloe begins to suspect that she might not be as disabled as Diane claims, there are few avenues available for escape. Run is a great horror movie that is only lightly scary.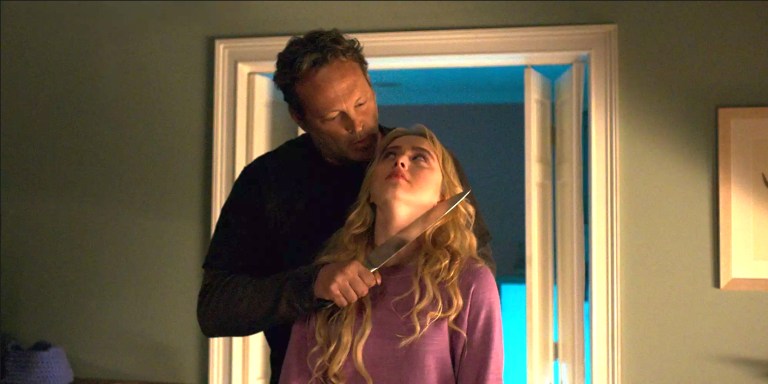 How scary is it? A little scary
Trigger warning: Violence and gore
A comedy slasher movie that is a horror twist on Freaky Friday. A bullied teenage girl, Millie (Kathryn Newton), is attacked by a local serial killer the Blissfield Butcher (Vince Vaughn) and due to his weapon being an ancient dagger with magical powers, the two swap bodies. As Millie, the Blissfield Butcher kills her tormenters in creative ways. In the Butcher's body, the real Millie realizes she must swap back to her body by midnight or be trapped in a middle aged serial killer's body. Because many of the kills in Freaky are played for laughs or are framed in a way where the audience roots for the killer, it's not too scary and is good for people who prefer lighter horror.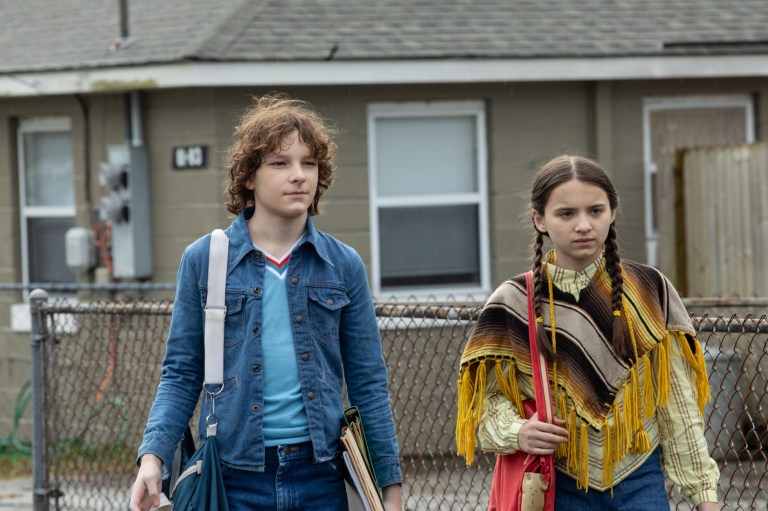 How scary is it? Scary
Trigger warning: Child abuse, violence, some blood
A supernatural horror movie set in 1978 when a child murderer nicknamed the "Grabber" (Ethan Hawke) is abducting children from a Denver suburb. A young boy named Finney Blake (Mason Thames) is kidnapped by the Grabber and wakes up locked in a basement. In the basement is a supposedly disconnected black rotary phone that allows Finney to connect with the Grabber's previous victims, who help him survive. Meanwhile Finney's sister Gwen (Madeleine McGraw) has psychic dreams about the Grabber and tries to convince the police to take her seriously. The Black Phone is a scary horror movie with dark themes (child abduction and murder at the hands of the Grabber and the Blake children's abuse by their father) but because it doesn't go hard on gore and has light-hearted characters, it is an intermediate horror movie.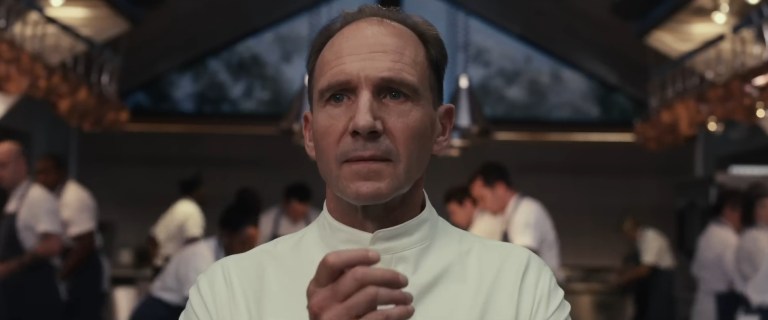 How scary is it? A little scary
Trigger warning: Violence, a little blood and gore, depictions of self-harm
A comedy horror movie that pokes fun at snobby "foodie" culture. Tyler (Nicholas Hoult) and Margot (Anya Taylor-Joy) attend an exclusive dinner on a private island prepared by celebrity chef Julian Slowik (Ralph Fiennes). As the meal progresses, Chef Slowik becomes more unhinged and a sinister motive is revealed to his guests. The Menu is light on horror and feels more like a darkly funny satire than a horror movie. It is a good horror movie for scaredy cats.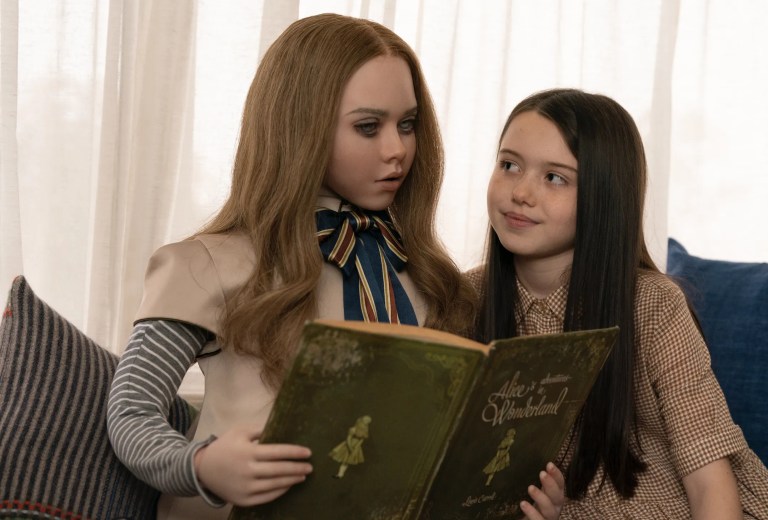 How scary is it? A little scary
Trigger warning: Violence and gore, malevolent AI, creepy doll dancing
A sci-fi horror movie following roboticist Gemma (Allison Williams) who takes custody of her 8-year-old niece, Cady (Violet McGraw), after the tragic death of Cady's parents. Unsure how to connect with her niece as Gemma has no children of her own, she completes her designs for M3GAN, or "Model 3 Generative Android", a child-sized doll operated by artificial intelligence and brings it home for Cady to test. Cady and M3GAN bond so well that M3GAN begins to override her controls in order to better "protect" Cady. While M3GAN is a pretty creepy doll, the movie is really fun and not overly scary. You can also choose between the PG-13 or the unrated version of M3GAN, this guide will help you decide which version is for you.
Further reading: