Scary Seniors: 11+ Best Geriatric Characters in Horror Cinema
Aging: do it or die. Here is a list of the most sinister seniors on screen.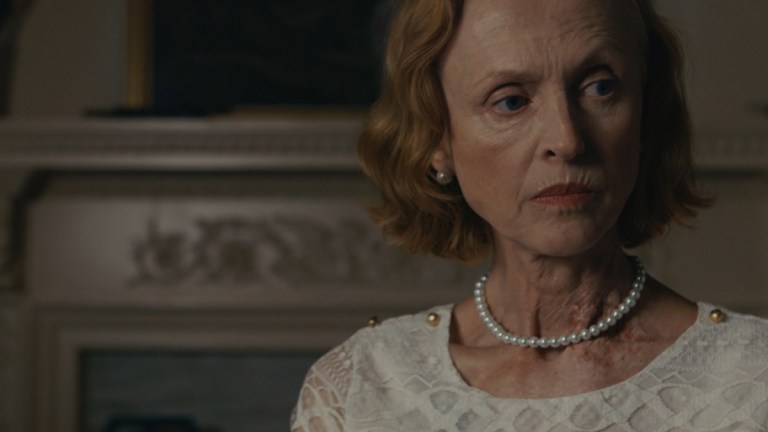 Cinema is a cultural indicator. Our on-screen fears are a surreal version of our real-life fears. While seniors aren't naturally scary, aging is a terrifying concept for many. The process of aging comes with certain horrors, after all. Losing memory, losing control of your body, being underestimated. Some horror films have found ways to spin these fears and more into an even scarier narrative.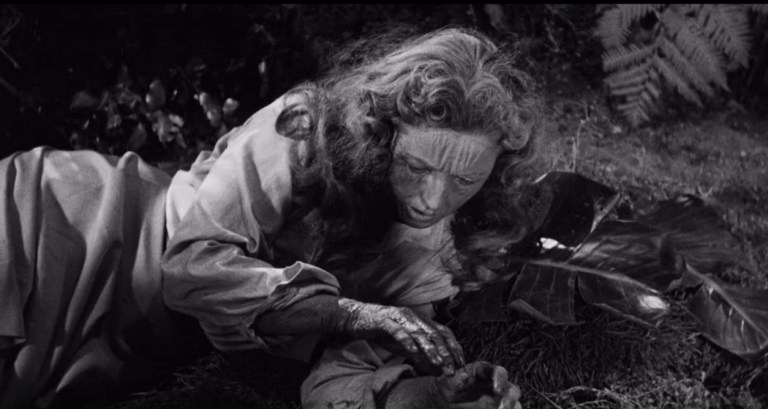 When you imagine seniors, you probably envision baking, caregiving, and cuddles. However, the characters on this list are the most sinister of seniors. You can find kids instead of cookies in their ovens. This juxtaposition leaves us afraid, not only of the characters but perhaps of our own future as well. Who's to say the spirits of the past won't take you as they did Deborah Logan? What would the Devil have to offer you for a favor? What price would you pay for eternal youth? Keep reading to discover the scariest side of aging. And, possibly, to look into your future.
Best Geriatric Characters in Horror Cinema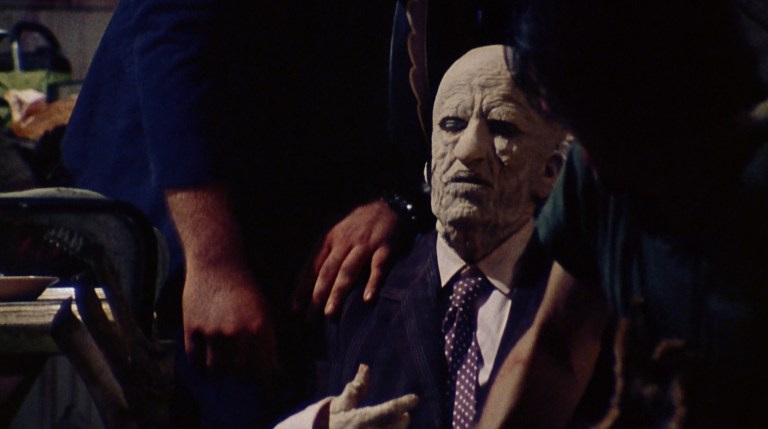 At well over 100 years old, the patriarch of the maniacal backwoods family in The Texas Chain Saw Massacre is by far the oldest (living) character in this list. Referred to simply as Grandpa, when we first encounter this ancient man he appears to be a corpse. Later, his family sits him down for dinner where they feed him a taste of blood before trying in vain to help him kill poor Sally Hardesty with a hammer. Apparently he used to be best killer in the family, but the ravages of time have left him barely mobile.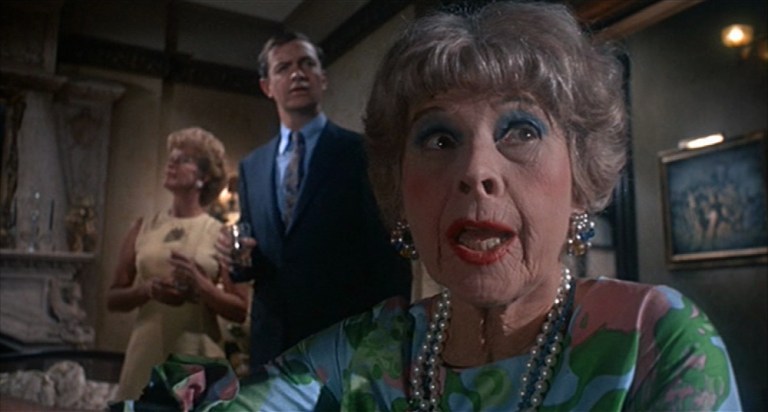 Rosemary (Mia Farrow) and her husband (John Cassavetes) move into an old NYC building. They immediately find their older neighbors annoying and uninteresting. Minnie (Ruth Gordon) and Roman (Sidney Blackmer) reveal themselves to be very interesting, however, with a lot to offer. And a lot to hide. In one chilling scene, Minnie and Roman watch indifferently as the Devil violently rapes Rosemary.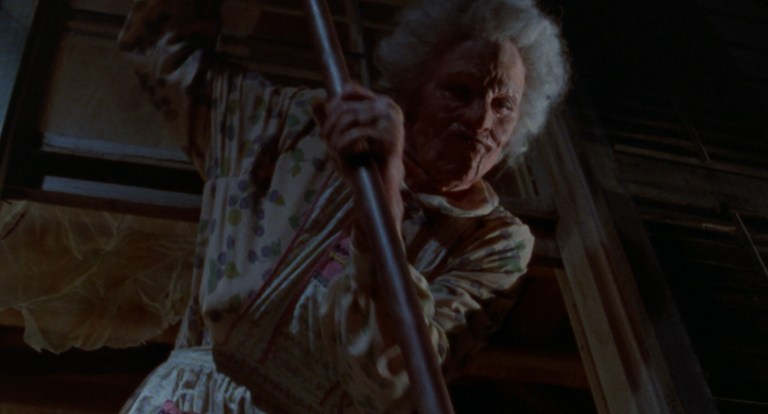 Though it's unclear exactly how or when Abigail Leatherbee died, what is clear is that she is still protective of her home. Around 40 years after her death, her former house has a young new owner. The new owner and his friends arrive to renovate the isolated house, and one of them begins by smashing Abigail's tombstone with a sledgehammer. Abigail awakens, and throughout the night she stalks and kills her unwanted house guests one by one. This supernatural slasher movie is great fun, and it's also commonly known by the titles The House on Tombstone Hill and The Dead Come Home.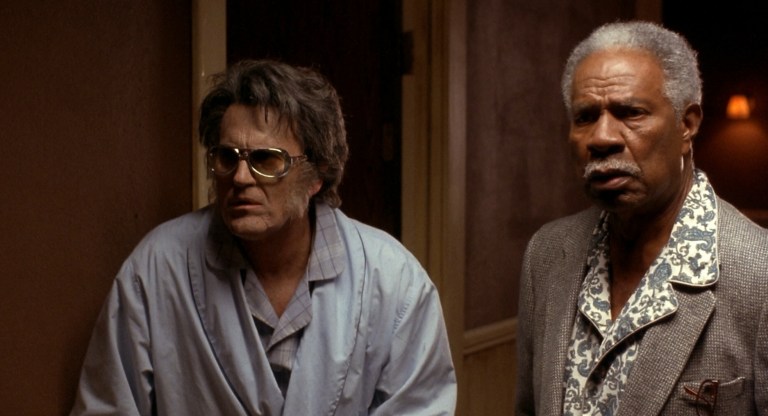 In Bubba Ho-Tep, an Egyptian mummy is loose in a nursing home sucking the souls of the elderly out through their butts. The only hope to stop the mummy lies with two friends: a man who claims to be the real Elvis Presley who switched with an impersonator prior to "Elvis's" death in 1977, and a man who claims to be President John F. Kennedy who had his skin dyed black after an assassination attempt and had his brain replaced with a bag of sand. It's certainly a strange movie, but Bubba Ho-Tep is a welcome change of pace in which the elderly are portrayed as heroes rather than villains.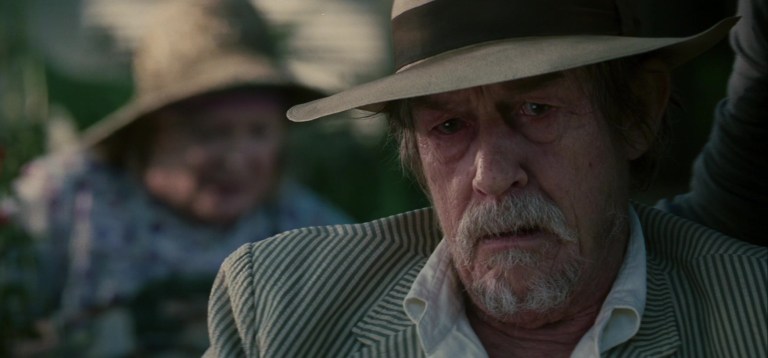 In a decaying plantation home, Violet (Gena Rowlands) and Ben Devereaux (John Hurt) harbor a secret within the home and within themselves. The mute and defenseless Ben is the scarier of the two. The simplicity of his foreboding stares and terrified eyes implies he is experiencing horrors that he can't speak of. The pair's strange actions aren't entirely their fault, though. Old souls parasitize Ben and Violet, keeping them prisoners in their own bodies.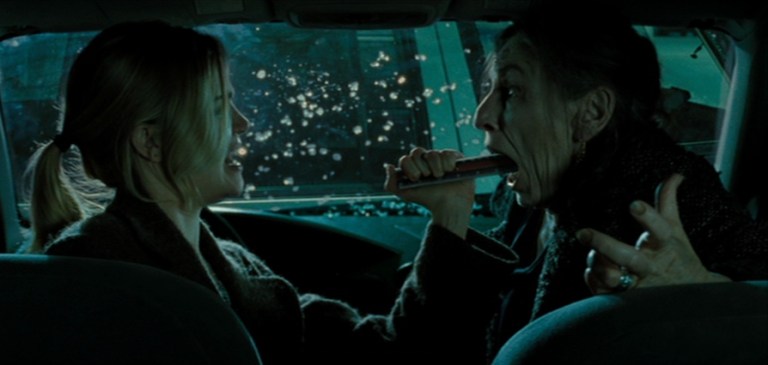 After being denied a mortgage extension, Sylvia Ganush (Lorna Raver) places a curse on loan officer Christine Brown (Alison Lohman). The film demands sympathy for both characters, characters who ultimately lead to each other's undoing. Drag Me To Hell was released during the 2009 foreclosure crisis. Many people were losing their homes, adding realism to the film, realism that implies that the rest of the horrific tale can happen, too.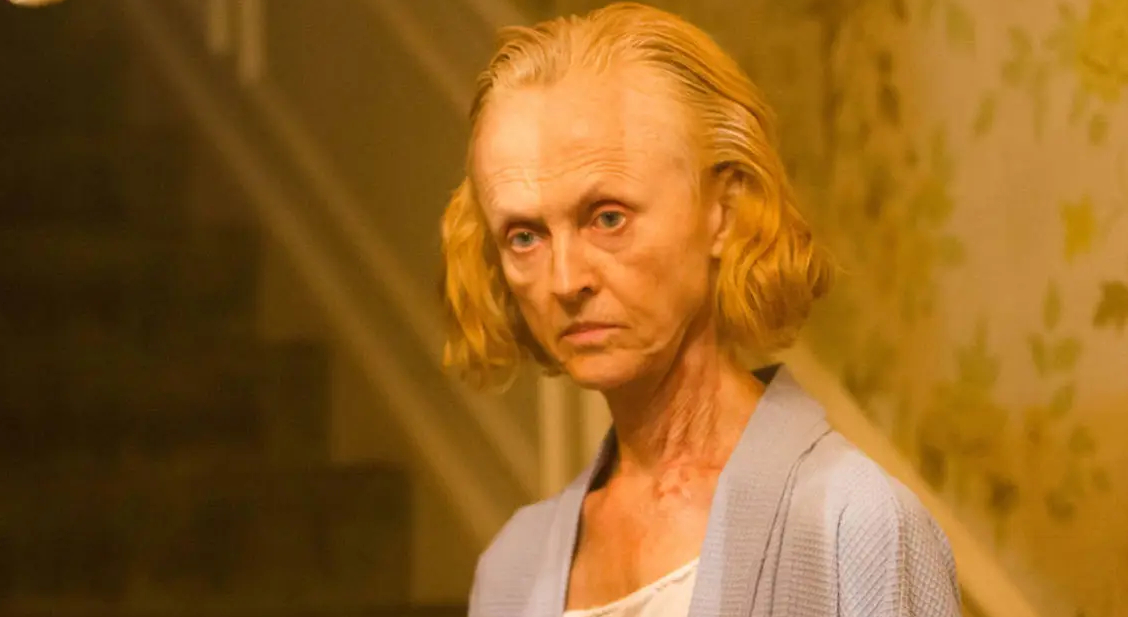 Deborah Logan (Jill Larson) is losing control. Rage seemingly takes over her personality as she is possessed by an evil spirit in this found-footage shocker. However, something equally dangerous is taking over her mind – dementia. Her actions become more deadly as her memory becomes weaker. While this film is a paranormal horror, the real terror lies in reality. Alzheimer's is a disease that can possess us in the same malevolent manner as an evil spirit.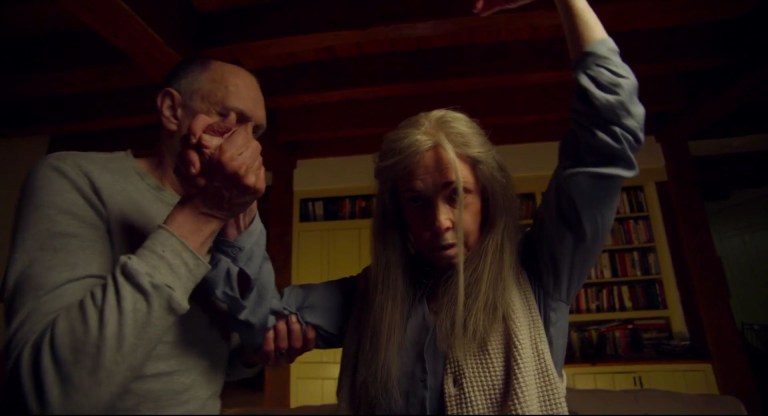 Grandparents are seen as innocent, loving caregivers. But Nana (Deanna Dunagan) and Pop Pop (Peter McRobbie) seem more intent on destroying their grandchildren. In otherwise innocent moments, the grandparents act paranoid and occasionally deadly. While the film touches on some serious subjects such as sundowning (Sundowning was actually the movie's title for a while during production), there are more laughable moments than scary ones. This makes a good reminder to laugh through life's natural insanity.
In looking for a home to burglarize, a group of teenagers choose who they assume to be an easy target: a blind old man. This man, Norman Nordstrom (Stephen Lang), outwits them at every corner, however. And more so, he does unimaginable harm to the teens who are now trapped in his home. Neither his blindness nor his age dull his terrifying aggression and desire. This successfully destroys the stereotype of extreme fragility that is assumed in seniors. Stereotypes like this always lead to harm, though not always to whom you'd think.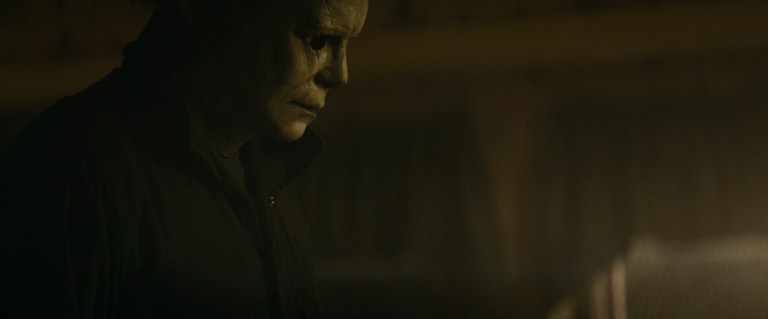 By the time Michael Myers returned to Haddonfield in the first of David Gordon Green's Halloween trilogy, he was 61 years old. Michael's rampage on Halloween night in 2018 lasted for two movies (continuing in Halloween Kills) in which he killed numerous people and took on the entire town of Haddonfield. Not a bad night's work for a senior citizen. When he eventually retired in Halloween Ends, Michael was 65. James Jude Courtney, the actor who plays Michael in all three movies, is roughly the same age as Michael, being born just months before to Michael's fictional date of birth in 1957.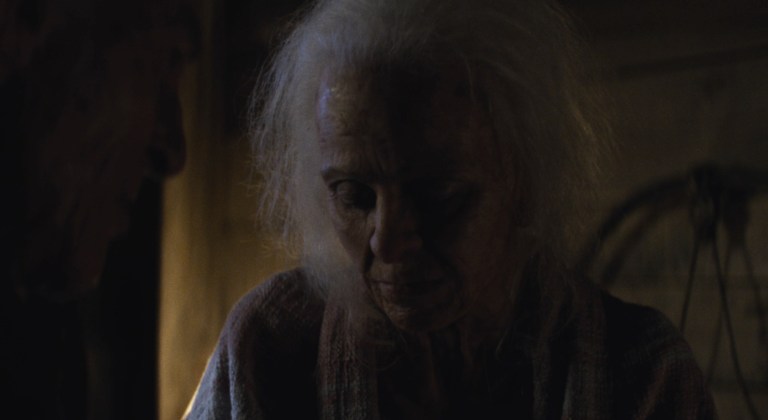 When a group of secretive pornographers arrive to shoot a movie on her property, Pearl remembers the old days when she used to have dreams of being a star of the silver screen. Pearl sees a lot of herself in aspiring star Maxine Minx (Mia Goth plays both roles), but the closer she is drawn to Maxine and the rest of the film crew, the more violent Pearl gets. Time and age have taken a toll on Pearl's body and mind, and the only way she knows how to express her sadness and anger is through bloody murder.
More Scary Seniors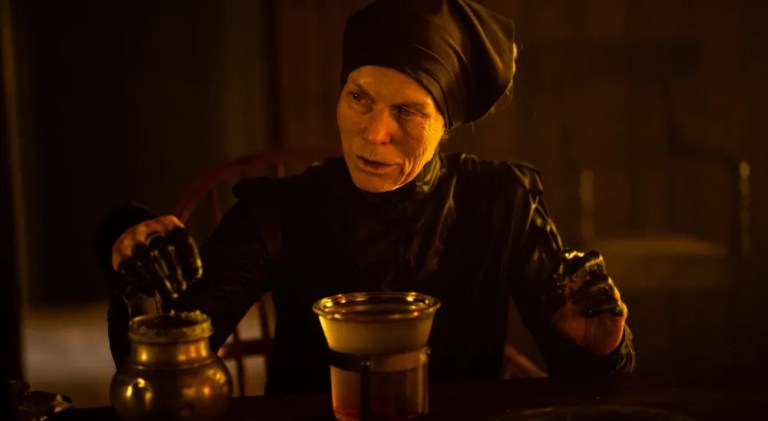 Further Reading