The 40+ Best Funny Horror Movies
Making a movie that elegantly blends comedy and horror isn't easy. Watch the funny horror movies from this list to enjoy some jokes alongside some scares.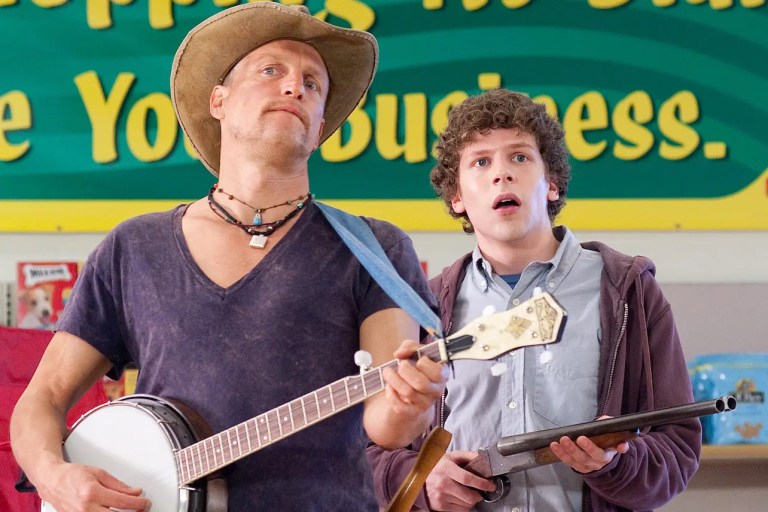 Making a movie that elegantly blends comedy and horror isn't an easy feat. Throw in too many jokes and you have an overdone spoof; not enough, and the comedic angle is lost. But when a horror comedy is done right it offers entertainment and satisfaction that few genres can. Comical moments can lower our inhibitions and make us more susceptible to impending horror. Inversely, they can soften the blow of brutality with absurdist humor. It takes a lot of finesse to evoke such a range of emotions, and these horror comedies nailed it.
Old Funny Horror Movies
Based on a successful Broadway play, Frank Capra's film follows Mortimer Brewster (Cary Grant), who elopes with his childhood neighbor Elaine (Priscilla Lane). The couple visit their families separately to announce the marriage before their honeymoon, but shocking revelations in the Brewster household have to be dealt with first. Mortimer discovers that the aunts who raised him, Martha and Abby, murder unmarried men. Mortimer's brother Jonathan arrives — he's also a serial killer who has evaded police capture by altering his face with the help of his plastic surgeon accomplice.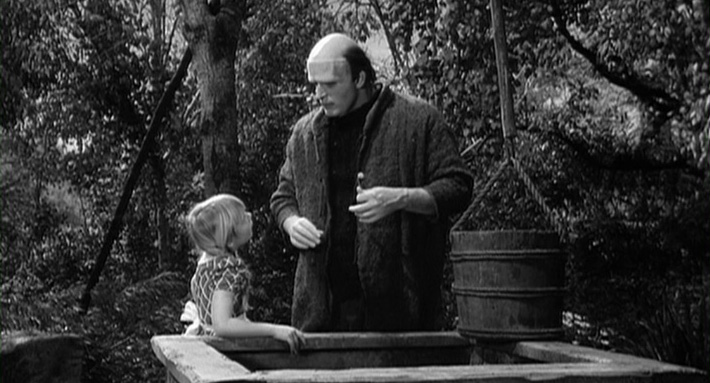 In this parodic masterpiece from Mel Brooks, Gene Wilder plays the neurotic and eternally frazzled Dr. Frankenstein—which he insists is pronounced "FRONK-un-shteen"—in his endlessly valiant attempts to reanimate dead tissue and promise humankind eternal life. Marty Feldman plays his assistant Igor, who mistakenly returns with an abnormal brain that gives the monster (Peter Boyle) an extremely low IQ and an usually high sex drive. Madeleine Kahn becomes the monster's eager bride.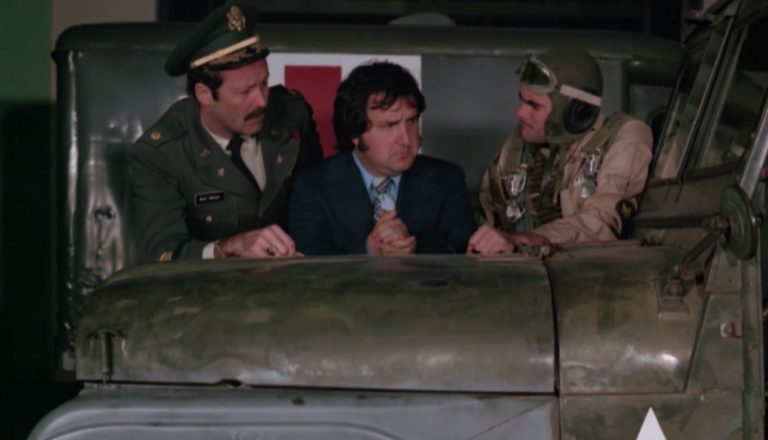 In this low-budget parody classic, a group of nerdy scientists pool their knowledge in a desperate attempt to save the planet from an onslaught of intergalactic mutant tomatoes. "The opening of the film plays very well, perhaps because the idea of killer tomatoes is at its most novel," writes Camp Academy. "I laughed out loud when two senior citizens calmly observed a giant tomato munching down on Little Timmy." Don't miss the 'earmuffs' on the giant tomato at the end—they're actually a pair of bright green toilet-seat covers.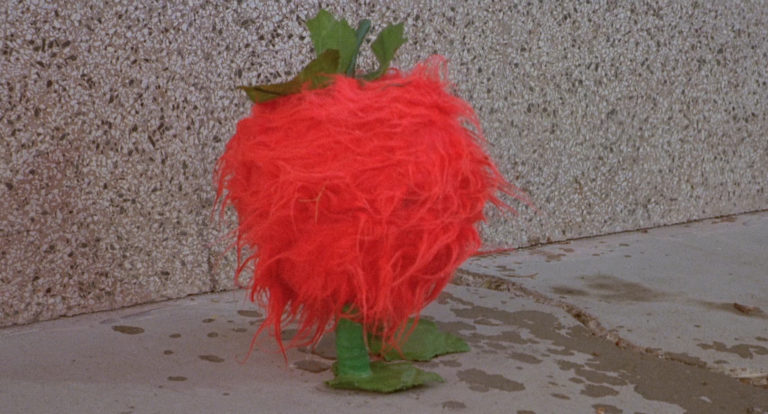 Funny 80s Horror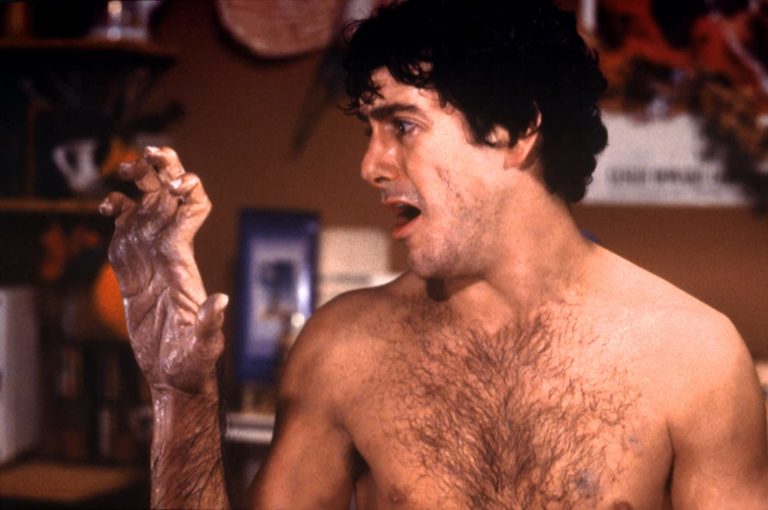 American backpackers Jack and David hike the North York Moors during a full moon. They're attacked by a creature that kills Jack, but David is saved by locals who shoot the beast. While recovering in the hospital, an undead Jack visits and pleads with David to kill himself before he transforms into a werewolf on the next full moon. He ignores the warning and later becomes a werewolf, killing multiple people in his beastly rampage. After a failed suicide attempt, David transforms again and becomes surrounded by police. The movie won a Saturn Award for Best Horror Film, and it was the very first Academy Award winner in the category of Best Makeup.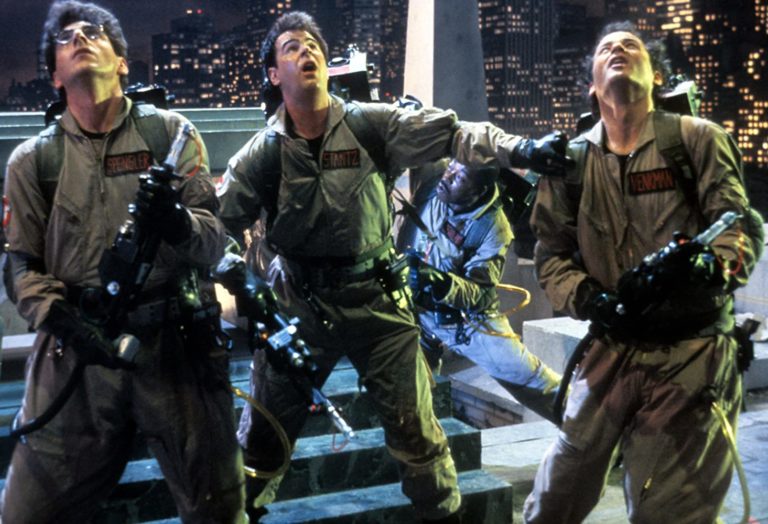 Ghostbusters is the highest-grossing comedy of the 1980s and landed itself a spot on the National Film Registry for its cultural significance. It's been nearly four decades and its popularity hasn't diminished, as shown by recent reboots. Dan Aykroyd, Bill Murray, and Harold Ramis play a trio of paranormal investigators who must fight a pack of gods to stop them from destroying New York City. Ghostbusters received critical acclaim and was nominated for two Academy Awards, three Golden Globes, and won the BAFTA Award for Best Original Song.
In this 80s horror creature feature, we are told the story of a cute little Pokemon-like animal called Gizmo. Gizmo is super-fun and the best pet but the problem is when these little creatures touch water, they turn into absolute lunatics that cause chaos on an unprecedented scale. Two young teenagers need to save the world from these psychotic little animals!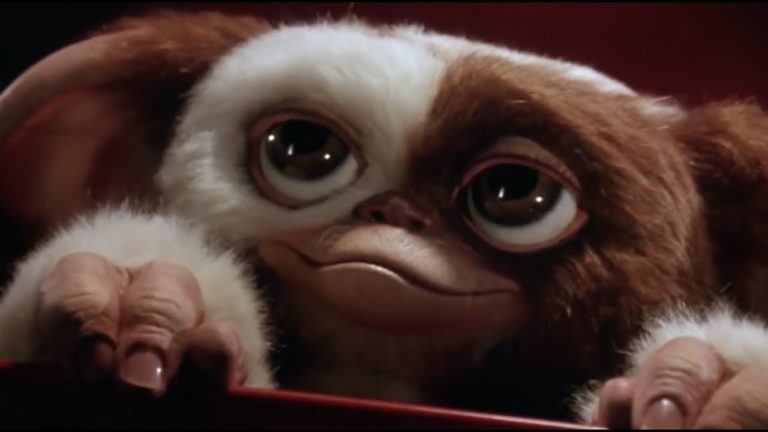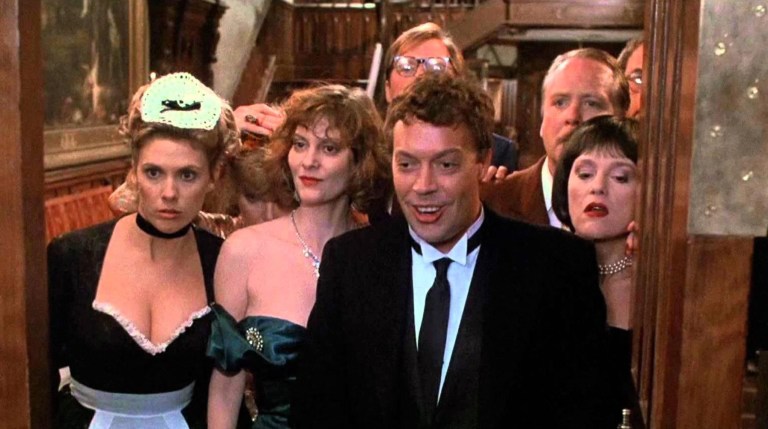 Six guests visit a mansion for dinner. When their host is murdered, they must untangle a web of motives, blackmail and misdeeds. Based on the popular board game Clue is both a murder mystery movie and a comedy. While it flopped at the box office, Clue is considered a cult classic.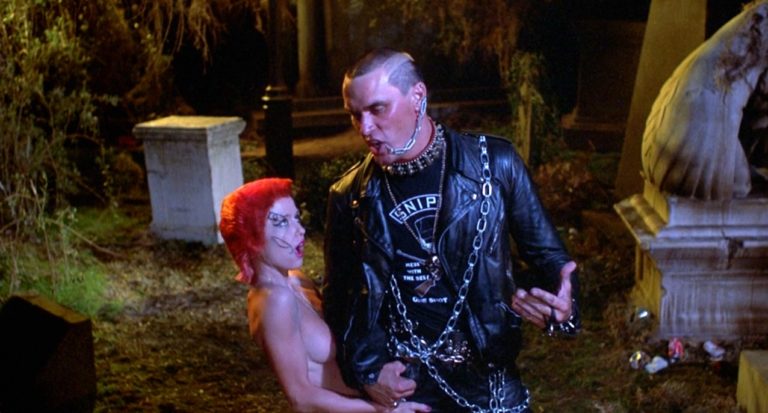 Frank, a foreman at a medical supply warehouse, and his new employee, Freddy, accidentally release a gas that awakens zombies. They attempt to destroy the creatures' brains but discover that each body part can survive on its own. Frank's boss, Burt, suggests they incinerate the undead at his friend Ernie's mortuary. Freddy's friends go to the warehouse to look for him and are attacked. While at the mortuary, Frank and Freddy learn that they have no vital signs and begin transforming into zombies themselves. The police try to fight the horde but become overwhelmed. In a last-ditch effort, Burt contacts Colonel Glover, who has been searching for the chemical drums that were stored at the warehouse. The film was nominated for four Saturn Awards.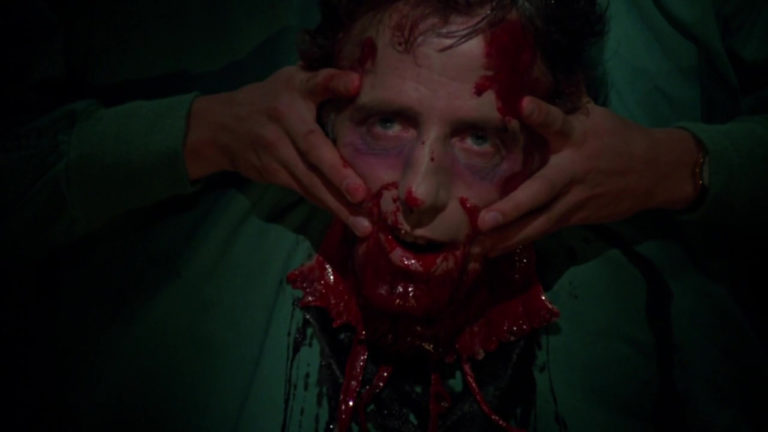 Loosely based on H.P. Lovecraft's "Herbert West-Reanimator" series, the film centers on Herbert West, a medical student who discovers a reanimating reagent. When his medical career is on the line, Herbert and his roommate Dan sneak into the morgue to prove his findings but the corpses become murderous zombies. It's critical consensus on Rotten Tomatoes declares, "Perfectly mixing humor and horror, the only thing more effective than Re-Animator's gory scares are its dry, deadpan jokes."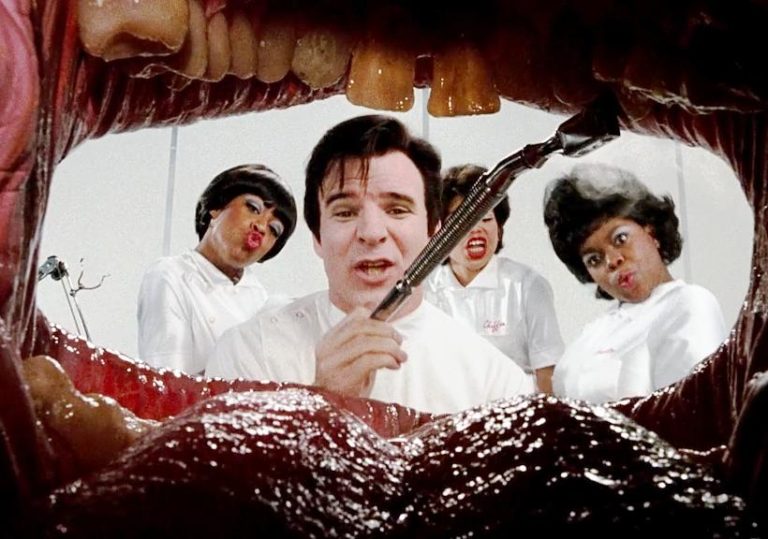 What's more fun than a comedy horror musical? Rick Moranis stars in this Broadway adaptation as Seymour, a man working at a failing flower shop. When his boss considers closing the store, Seymour's coworker, Audrey, mentions that he has an unusual plant that they could put on display. The strange plant (named "Audrey II" due to Seymour's crush on Audrey) resembles a Venus fly trap and immediately draws customers to the store. One day, Seymour accidentally pricks himself on the withering plant. When Audrey II perks up, he realizes that it needs human blood to survive. He continues feeding it on his own and the thriving plant gains him local notoriety — but Audrey II's appetite becomes unsustainable. The film is directed by Frank Oz and includes appearances from Jim Belushi, John Candy, and Bill Murray.
Michael Keaton steals the show—ad-libbing an estimated 90% of his lines—as an evil, wise-cracking ghost hired by the ghosts of a dead couple who simply can't stand the annoying family that's moved into the house that they haunt. Roger Ebert gave the film only two stars: "Beetlejuice gets off to a start that's so charming it never lives it down. The movie is all anticlimax once we realize it's going to be about gimmicks, not characters."
Oh dear heavens, a killer klown? Oh, wait what, a killer klown from outer space? In this comedy, slasher, sci-fi, evil clown movie, you get more than you could have bargained for. Here is one Amazon reviewer, praising the production quality of this low-budget film: "Make no mistake, this is a low budget B movie, but it was exceptionally well done, and every cent of that low budget is on the screen. The clown makeup alone probably ate the majority of the budget." We agree, this one is a classic for the ages.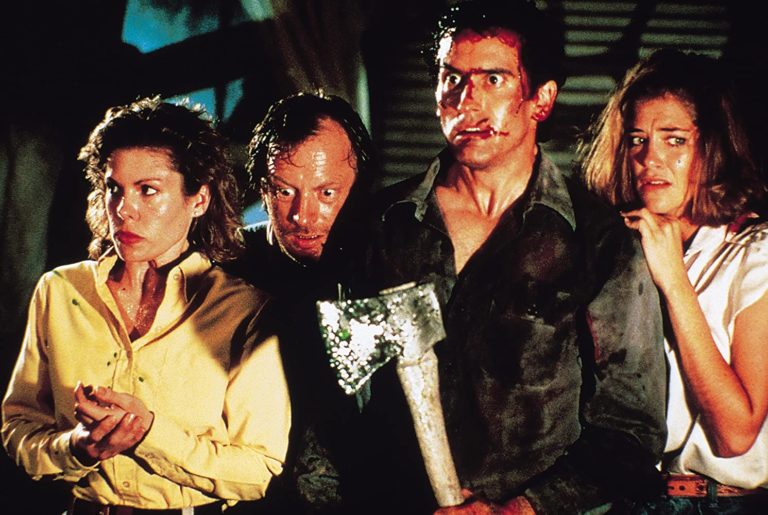 The Evil Dead series has a truly devoted cult following — even if fans can't agree on whether the second film is a remake or a sequel. It currently holds a 97% approval on Rotten Tomatoes, making it the highest rated of the series. Ash Williams accidentally releases an evil entity while staying at an abandoned cabin with his girlfriend, Linda. Linda becomes possessed and Ash decapitates her, but she continues to attack him and he's forced to cut off his hand after being bitten. Archaeologists and their guides arrive at the cabin after finding the missing Necronomicon pages, which leads to a battle between them, Ash, and the deadites.
New Funny Horror Movies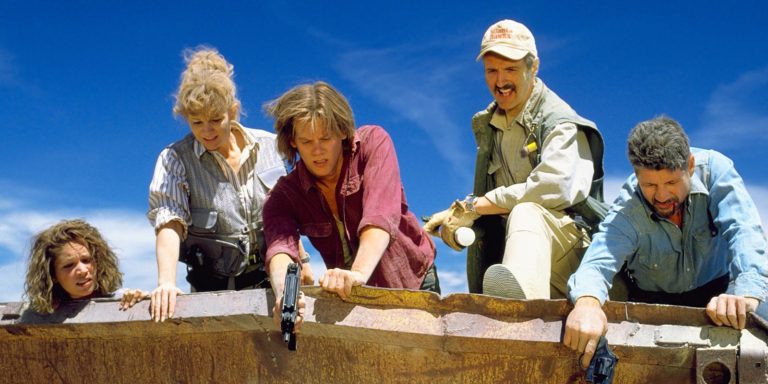 Kevin Bacon and Fred Ward star as Val and Earl, handymen in pursuit of a new living situation. On their way out of town, they stumble upon the bodies of several residents, initially believing that a serial killer is on the loose. After discovering what appears to be the body of a large, dead worm, a graduate student uses seismology tests to determine that three more massive worms are hunting the area. Tremors was well received by critics and holds an 88% approval rating on Rotten Tomatoes at this time.
When we think of Buffy the Vampire Slayer, we think of Sarah Michelle Gellar in her TV role as Buffy, a quite serious vampire show about slaying evil spirits. The origin story of Buffy, though, is much more light-hearted and comical. It started with this whimsical tale of a 90s Valley girl and cheerleader named Buffy who is forced to become a vampire slayer. It's a quite funny vampire movie, even by modern standards and has a series of cameos from Seth Green, Ben Affleck, Alexis Arquette, Seth Green, and more! Certainly the best movie in the sub-genre of high-school dark comedies about vampires.
Madeline is an actress whose career is waning. Her friend Helen is an aspiring writer whose fiance, Ernest, leaves her to be with Madeline. Helen is committed to a psych ward and vows revenge on her ex-friend. Years later, Madeline and Ernest are still together, albeit unhappily. They're invited to Helen's book launch party and notice that she's more radiant than ever. Jealous of her rival's looks, Madeline contacts a youth rejuvenation specialist and consumes a special potion that is later revealed to be Helen's beauty trick, too. Both women come to realize that the potion doesn't offer eternal youth; instead it gives them eternal life and will eventually make them walking corpses. Death Becomes Her won an Academy Award for Best Visual Effects.
A man returns from the USA with a pot of gold he claims he stole from a leprechaun during a visit in Ireland. But that mean-spirited leprechaun will do anything to get his pot of gold, even it it involves going on a killing spree. Leprechaun marked Jennifer Aniston's film debut. It led to five sequels, the last of which was called Leprechaun: Back 2 tha Hood (2003). Then came a 2013 reboot called Leprechaun: Origins.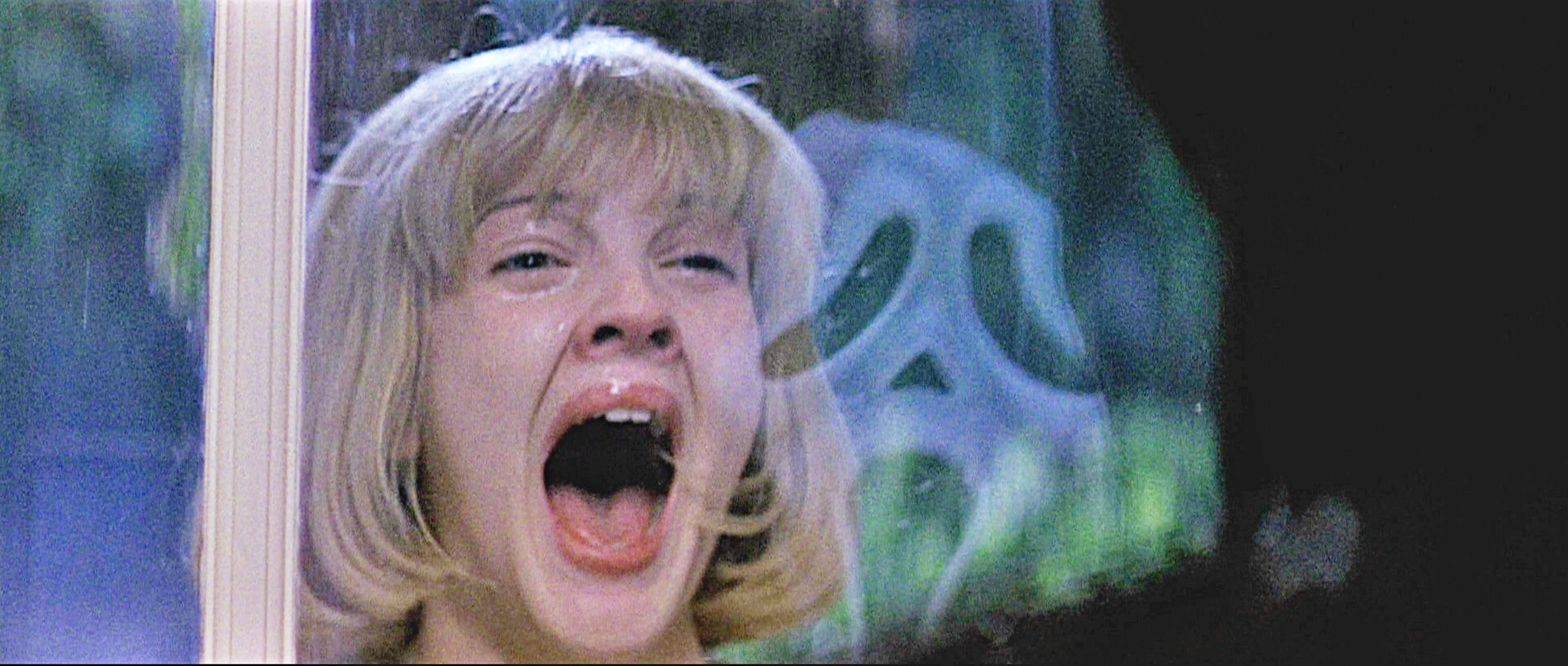 Wes Craven's Scream is one of the most iconic slasher comedies in existence. Until 2018, it held the record for highest-grossing slasher film of all time. Two high-school students in Woodsboro, CA are murdered, and the police search for the killer. At the same time, student Sidney Prescott is dealing with the loss of her mother who was murdered a year earlier. Sidney's boyfriend Billy is initially suspected after she's attacked in her home but calls from the killer are traced to her dad's phone. The school is temporarily closed and the teens throw a party that reveals the murderer's identity. Empire ranked it #3 on a 2016 list of 50 best horror movies ever.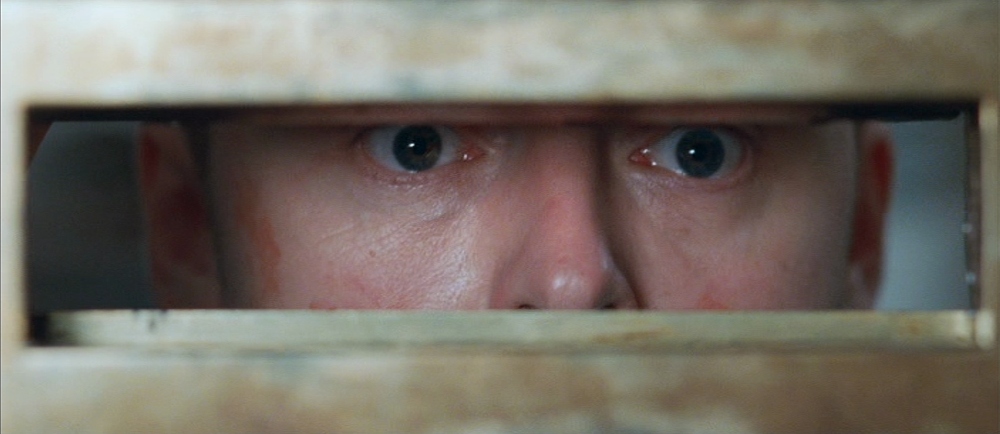 Shaun and Ed are best friends with no ambition. When a zombie outbreak occurs in London, they decide to leave to save Shaun's mom and Liz, his ex who just broke up with him. The rescue mission affords them some life revelations but, unsurprisingly, they also suffer many losses. The film was a box-office success and received two nominations at the British Academy Film Awards. It won Best Horror Film at the Saturn Awards and Best Screenplay at the British Independent Film Awards.
The corporation ZomCon provides fencing and zombie collars that prohibit their cravings for flesh so they can be used for menial work. Small-town resident Helen brings home a collared zombie and her son Timmy forms a bond with him, affectionately naming him Fido. A collar malfunction allows Fido to turn their neighbor into a zombie, causing a small outbreak that threatens to tear apart Fido, Timmy, and life in the quaint community.
An alien plague turns a small rural town into a hotbed of zombies and monsters. In order to get just the right balance of comedy and horror, director James Gunn reportedly told actors: "We are making a funny movie, but we are not making a comedy." Roger Ebert said, "There is some humor in the plot, effective action and scenes that entertain us because of how stupidly the characters behave."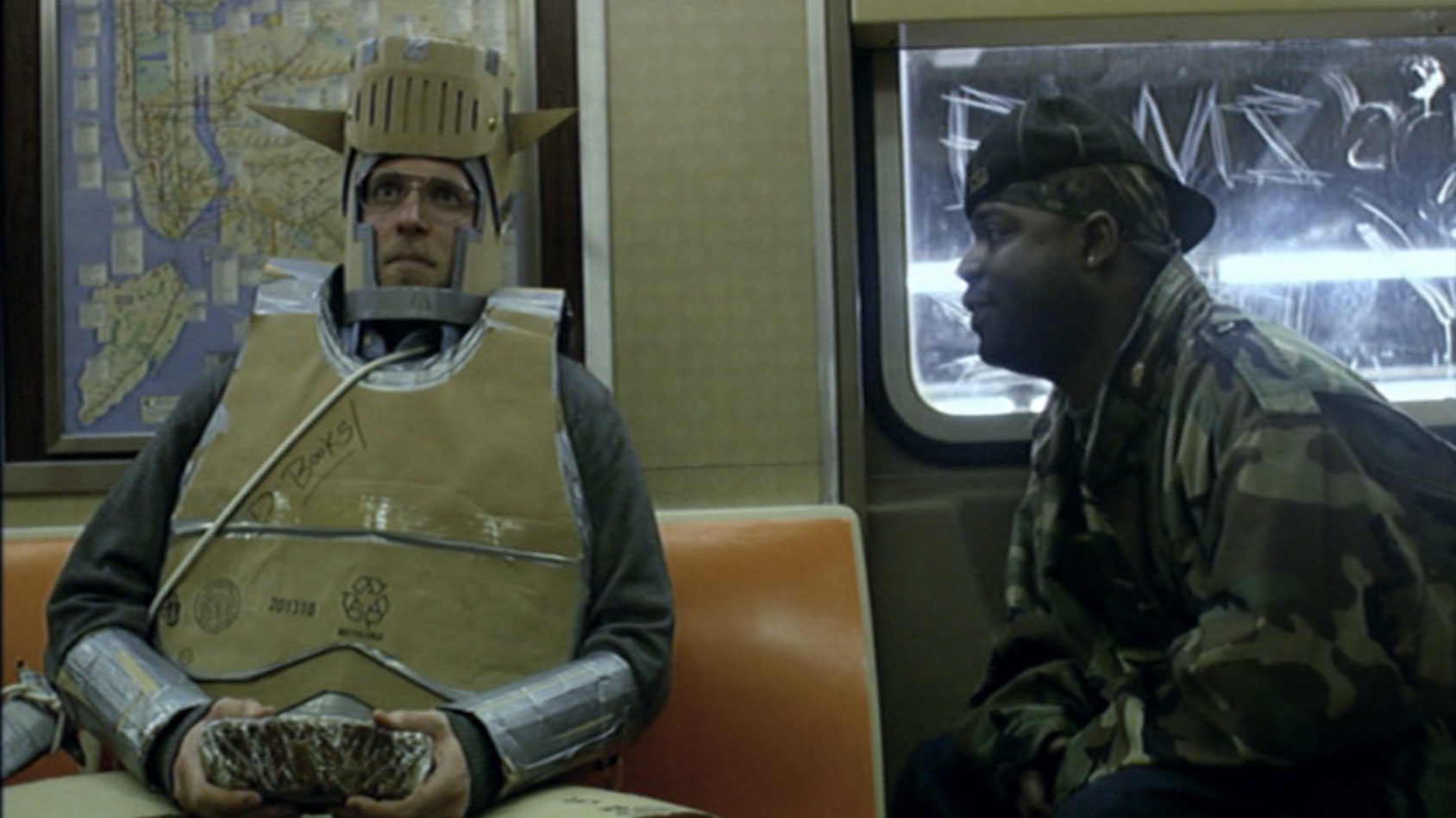 In an attempt to impress a fraudster promising grant money, a group of art students lures an unsuspecting loner to a Halloween party. The target, Christopher, shows up in a homemade knight costume and is quickly subdued by the group, who plan to murder him as an art installation. Things go awry when an artist with non-organic raisin allergies takes a bite out of the pumpkin raisin bread that Christopher brought. She faints and suffers a fatal blow to the head. The friends stash her body before Alexander, the patron, arrives. As the night goes on, Christopher's captors ingest drugs and drink heavily. Another member of the group accidentally kills himself, and the remaining artists turn on each other and hunt down the escaped Christopher.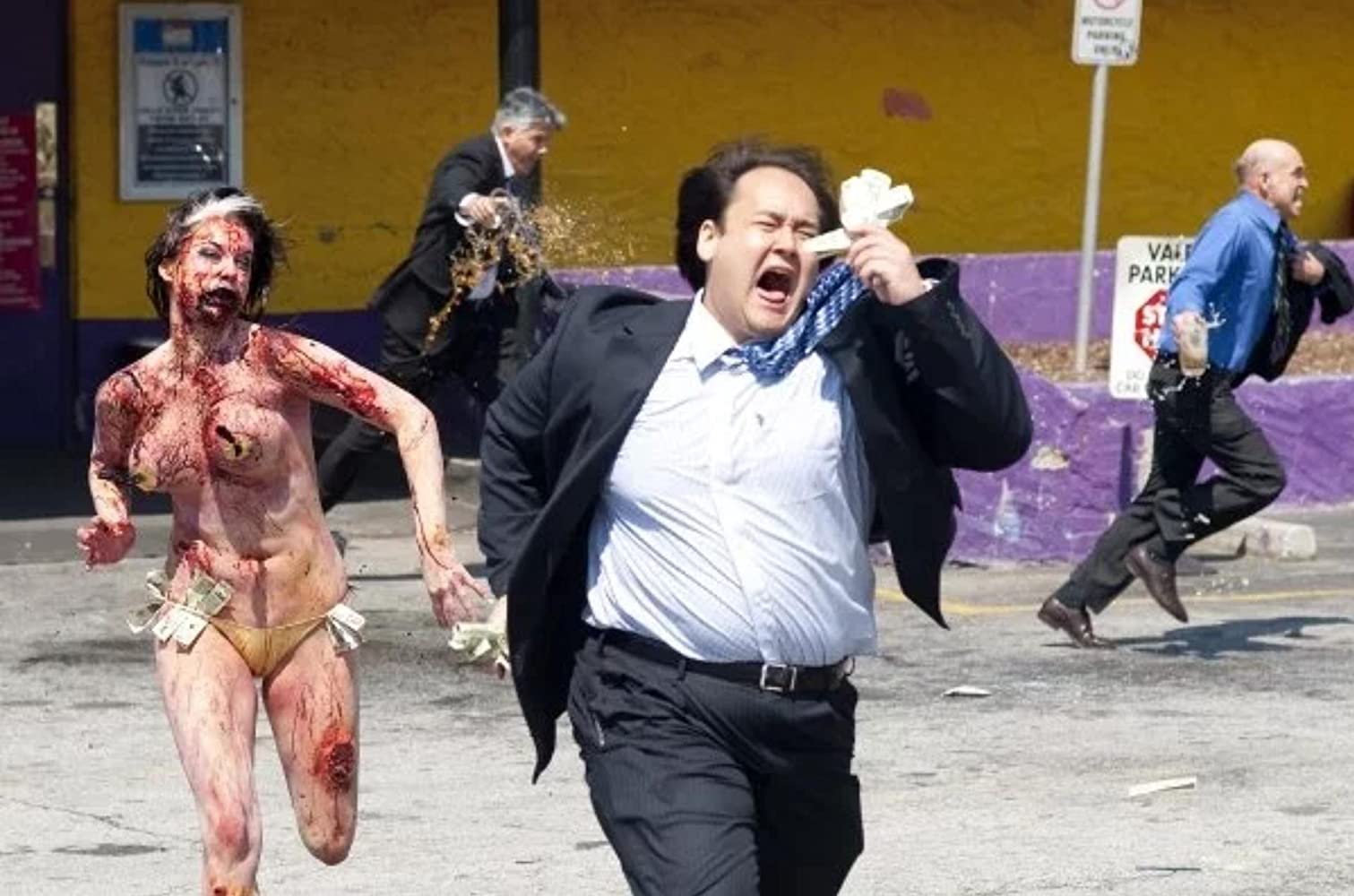 The United States is overrun with zombies due to a mutated strain of mad cow disease. The remaining humans refer to one another by their hometowns. Columbus is trying to make his way back home to Ohio when he meets the ruthless Tallahassee. While traveling together, they come across sisters Wichita and Little Rock, who end up tricking the men into handing over their weapons before stealing their car. The group eventually calls a truce, and the sisters tell them they're heading to an LA amusement park that's rumored to be zombie-free. Wichita fears her growing attachment to Columbus, prompting her and Little Rock to ditch their friends and head off for the park alone — but even in an undead world, humanity can thrive. CinemaScore audiences gave it an average grade of A- during its opening weekend, and Zombieland held a 90% approval rating on Rotten Tomatoes in 2020.
Dead Snow follows a group of students who are bombarded by zombie Nazis on a getaway in Norway. It's every bit as ridiculous, yet satisfying, as it sounds. Seven friends learn that the cabin where they're staying was previously Nazi-occupied territory. They tortured the town's residents for years, but as War World II was coming to an end, the locals revolted and drove the SS soldiers out. It was assumed that they froze to death in the mountains. After unearthing a box of Nazi treasure, the students become their targets.
Tucker and Dale vs Evil (2010)
Hillbilly pals Tucker and Dale visit their rundown cabin, which they excitedly refer to as a "vacation home." They cross paths with a group of college kids at a gas station, and Dale tries to introduce himself to one of the girls, Allison. His nervousness is mistaken for creepiness, scaring the group. After the college friends are settled at their campsite, they tell stories of a massacre committed by hillbillies 20 years earlier. While skinny-dipping, Allison hits her head and is saved by Dale and Tucker, who were out fishing. But her friends misconstrue the situation and believe she's being kidnapped. They launch an attack to save their friend, but one by one the group accidentally kills themselves in a series of mishaps.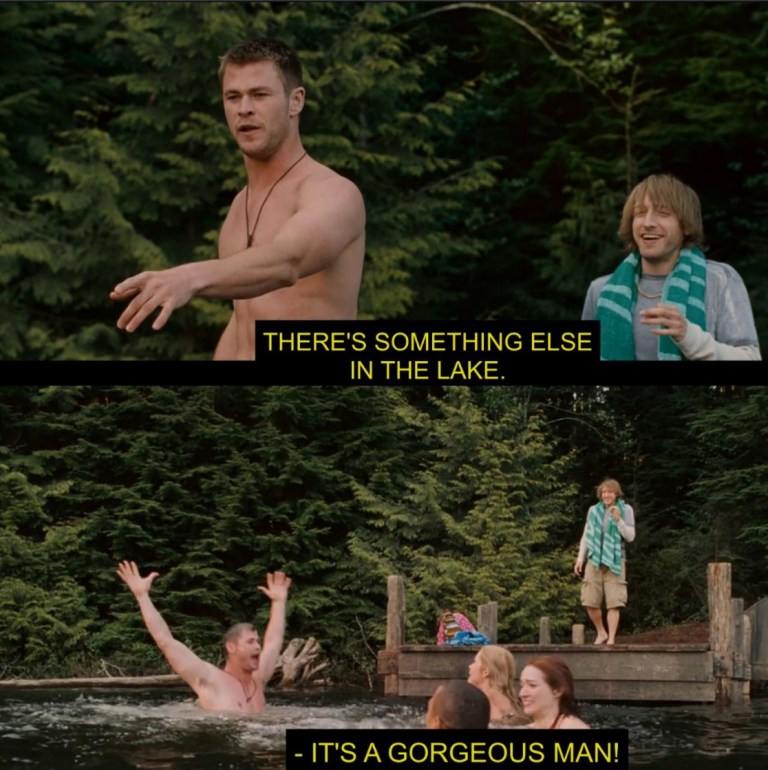 A group of college friends set out for a weekend trip to a remote cabin. Unbeknownst to them, lab workers are watching and controlling their actions as part of a sacrificial ritual. If they don't die, with "the whore" first and "the virgin" either last or surviving, the world will be consumed by the Ancient Ones. The workers use pheromones and mind-altering drugs to hinder their rational thought. Monsters are released to kill them based on which object they touch in the cabin's cellar and, ultimately, they're attacked by a family of zombies. Two of the friends manage to escape, finding the nightmarish underground facility responsible for the sacrifice. When security guards corner them, they hit a button to unleash every caged monster, causing mass chaos and perhaps the end of the world.
This British comedy centers around two slackers that have to save the world, as they are the only people who know how to properly handle a new drug called Soy that blends time and space. The movie is quite clever and features several moments of gruesome carnage that will make any devout horror fan happy.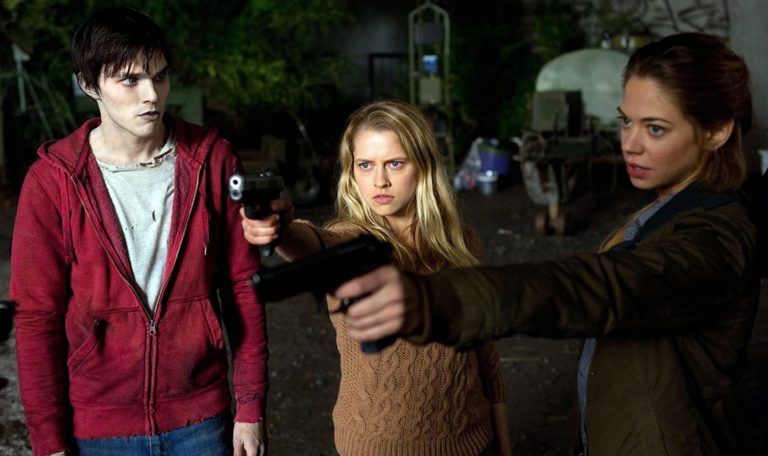 R (Nicholas Hoult) is a zombie who experiences snippets of his victim's memories while eating their brains. R and his pack find a group of humans collecting medical supplies. Among them is Julie, who causes his heart to beat for the first time since becoming undead. He eats her boyfriend's brain but manages to save Julie from the other zombies, taking her to his home inside an airplane. Although mistrustful at first, Julie opens up to R and the two form a friendship. After Julie returns to the human compound, R notices that he and the other zombies are slowly regaining human characteristics and heartbeats. They go to find Julie in hopes that the humans can help them, but first they have to convince her dad, Colonel Grigio. In her Time review, Mary Pols called Warm Bodies an "inventive charmer" and stated, "The main character's interior monologue, a deadpan account of life as a zombie, wins you over from the start."
Kylie is sentenced to eight months of house arrest after being caught trying to steal an ATM. She is forced to stay with her mother Miriam and stepfather, neither of whom she gets along with. Miriam believes their house is haunted and reveals that it used to be a halfway house where a murder occurred. While initially skeptical, Kylie comes to believe in the haunting. Her psychologist disputes the claims and pushes for Kylie to be institutionalized.
Scream queen Amanda and her daughter Max get in a car accident following an audition, and Amanda is killed. Years later, Max attends a double feature of her mom's slasher films with friends, but the theater catches fire. She cuts a hole in the screen with a machete ,and the trapped friends step through, unknowingly walking into the movie's universe. The group uses the rules of the slasher genre to try to save the film's characters, with Max hopeful that rescuing her mom in the movie will give her a chance to reunite in real life. In a positive review, Sebastian Kahn of Screen Anarchy said, "Imagine a mix between the first two Scream movies and Joss Whedon's The Cabin in the Woods, minus the over-the-top gore; the end result would be something akin to Todd Strauss-Schulson's The Final Girls."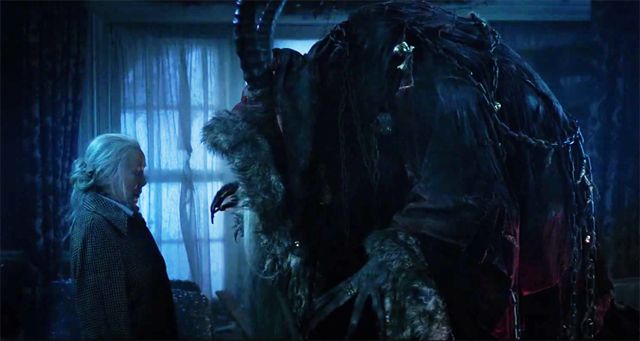 Adam Scott and Toni Collette play Tom and Sarah Engel, a married couple preparing to host their dysfunctional family for Christmas. Their young son Max still believes in Santa and wants to keep the holiday traditions alive — until his cousins make fun of his letter to Santa, causing him to declare hatred for Christmas. When the Engels' teen daughter Beth disappears, Tom and his brother-in-law Howard look for her, but they're attacked by a beast hidden in the snow. Omi, the German grandmother, confesses that she knows what's happening. As a child, she became discouraged by the holidays, throwing a ripped Santa doll in the fireplace and wishing that her parents would go away. This awakened Krampus, an ancient spirit who punishes those who disrespect Christmas, and he dragged her parents to the underworld. The family is forced to fight off the evil while Max desperately tries to apologize for his wrongdoings.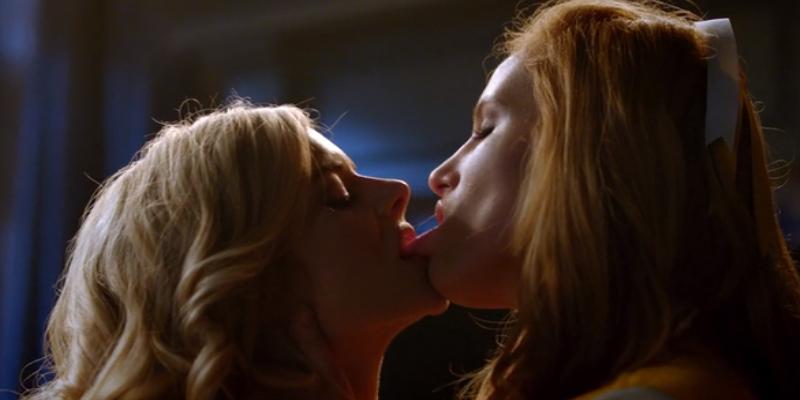 Cool, outspoken Bee is beloved by the twelve-year-old she babysits, Cole. During an overnight stay, Cole decides to spy on Bee and her high-school friends, but instead of an innocent game of spin the bottle, he witnesses them brutally kill a classmate to consume his blood. He rushes upstairs and pretends to be asleep, but the teen cult is on to him. After ruining their ritual and calling the cops, he becomes the young blood they're after. Cole summons all his strength and ingenuity as he battles against his older crush and her followers. Rob Hunter from Film School Rejects called it "ridiculous in the best possible ways."
The ID-7 virus causes people to act impulsively and immorally, even leading some to kill. Derek is a lawyer who recently won a client's case by proving the virus was responsible for his murderous actions. He climbed the corporate ladder but has grown disillusioned with the success. His company asks him to take responsibility for an important mishandled case, but Derek refuses and security comes to escort him out. Before he can be thrown out, the building goes into lockdown after ID-7 is detected in the ductwork. The building erupts into pandemonium and Derek joins forces with Melanie, a woman whose loan he had to deny earlier. Together they decide to hold the higher-ups responsible by any bloody means necessary.
A college student is murdered on her birthday but awakes in the morning and realizes she's stuck in a time loop. In order to escape the loop and stop living out her own murder day after day, she needs to uncover the identity of her killer and stop them. Kaitlyn Tiffany of The Verge gave it a positive review, calling it a murderous 13 Going on 30 and (of course) Groundhog Day, and said, "What's lurking behind the surface of this ruthlessly violent horror movie is a glimmer of gold."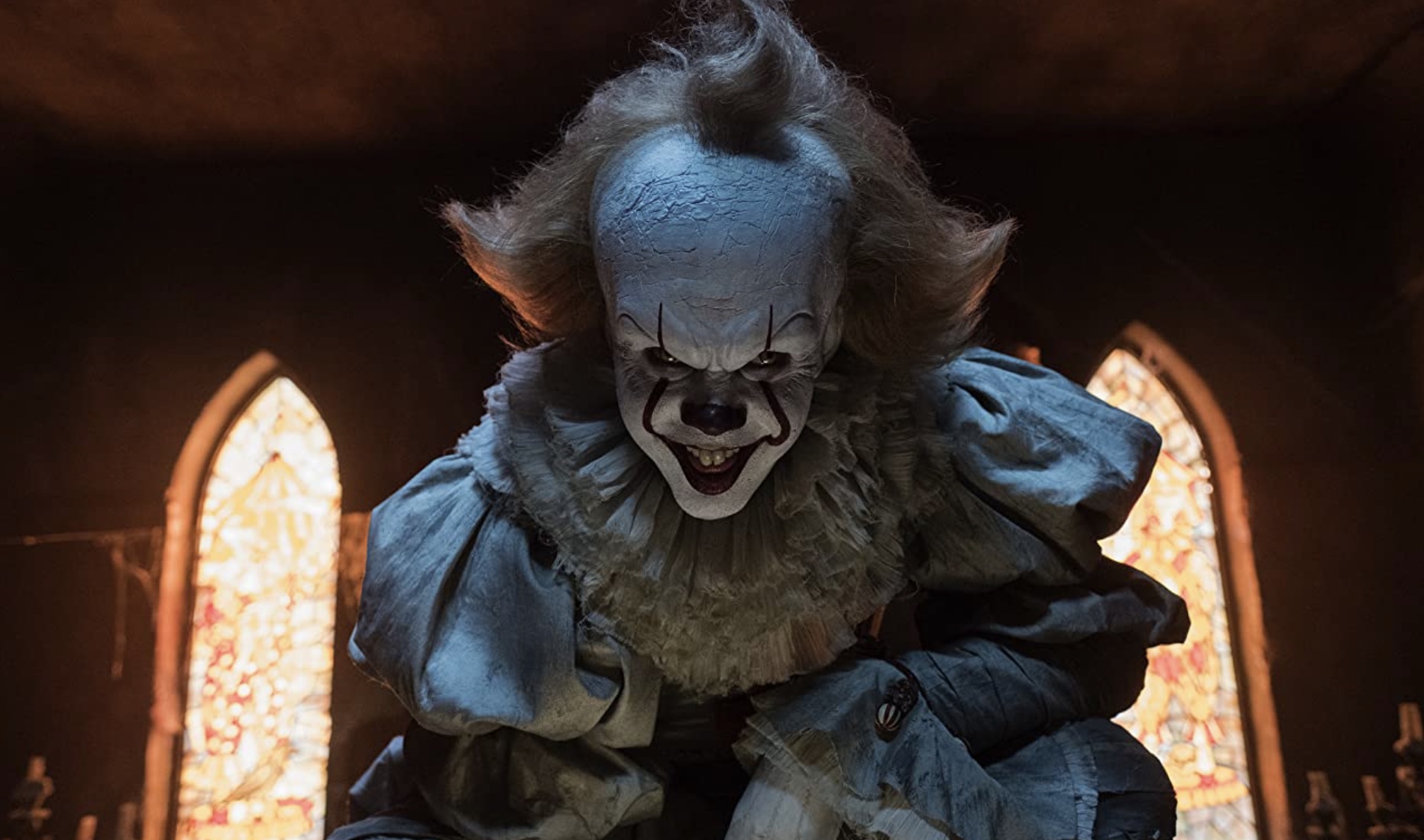 Both of these Stephen King adaptations are hilarious and terrifying. While being a genuinely scary story about a group of outcast kids who meet a monster who feeds in their town every 27 years, both movies are also filled with the humor of a close knit group of friends. The 2017 film features the immature humor of teenage boys while the 2019 movie is mostly about adults, with real life comedian Bill Hader cast in the ensemble of the Loser's Club.
Masses of parents attempt to kill their children after static transmission causes hysteria. Carly and her brother fight back against their homicidal mom and dad, along with the help of Carly's boyfriend Damon, who was forced to kill his own dad in self-defense. Their grandparents arrive as the static has affected them, too. The murderous mom and dad are played by Selma Blair and Nicolas Cage, who's just the man wild enough for this role. Simon Abrams of Roger Ebert gave it 3 out of 4 stars and said it has an "infectious personality."
Newly married Gary notices some oddities in his five-year-old stepson Lucas. After Lucas tells a teacher to "go to hell" and she kills herself, both Lucas and Gary are urged to start therapy. After further deadly coincidences, Gary pushes his wife on the identity of Lucas's dad and it's revealed that he was conceived in a cult ritual. He comes to believe that her son is the Antichrist and takes him to a water park to stage a drowning. Gary has a change of heart as they bond during the trip — so when a doomsday cult abducts Lucas and Gary's wife, he's ready to fight for his family, even if their child is the Antichrist. Little Evil currently held a 92% on Rotten Tomatoes in 2020 and has an A+ cast with appearances from Adam Scott, Evangeline Lilly, Clancy Brown, and Sally Field.
Bill Skarsgård and Maika Monroe star as Mickey and Jules, a criminal couple on the run. When their car runs out of gas in a rural area, they break into a seemingly empty home to siphon gas from a car in the garage. They search the basement for a gas can but instead find a young girl chained up who they decide to help — but their efforts are thwarted when the homeowners arrive. Villains is a reverse home-invasion film that offers its audience a little bit of everything: anxiety-inducing thrills, perfectly timed comedy, fulfilling character development, and even a few feel-good moments.
A down-on-his-luck man named Dave is staying with his sister and nephew, Felix. He agrees to chaperone a field trip in hopes of impressing Felix's teacher, Miss Caroline. During the outing, zombies overrun a nearby testing site and attack the class. They try to find refuge in the gift shop, but children's celebrity Teddy McGiggle, who is there filming his show, locks them out. Dave breaks in and grants them access. The group has to fight the zombies and escape before the military bombs the farm. Chris Hewitt of Empire called it, "A very pleasurable surprise, with likeable leads, the right amount of gore, and some incredible near-the-knuckle gags."
Pizza delivery driver Sam is feeling disgruntled during her first day of work. When her last customer stiffs her on a tip, she decides to re-enter the mansion and demand one. Instead, she interrupts a satanic coven that discovers she's a virgin and holds her captive. They plan to use Sam to give birth to the demon Baphomet. Teo Bugbee of The New York Times called it a "bloody delight" and praised the film's old-school effects.
In Ready or Not, Weaving plays Grace, a young woman preparing to marry her fiance, Alex Le Domas, at his wealthy family's estate. Grace is excited to have a real family after growing up in foster care. After the celebration, Grace and Alex gather for a family tradition. Her new father-in-law explains that the Le Domas family fortune, built on a successful game company, was actually acquired because an ancestor made a deal with a man named Le Bail. In exchange for perpetual wealth, all new family members must choose a card from Le Bail's puzzle box and play the game listed on the card. Alex is clearly shaken when Grace draws "Hide-and-Seek." Thinking it's just an innocent game, Grace gleefully searches for a hiding spot, unaware that the Le Domases must find and kill her before sunrise, or all will die. Bobby LePire of Film Threat gave it a 10/10 rating and said, "The acting is incredible, the directing striking and intense, and the screenplay is unbelievably brilliant and funny."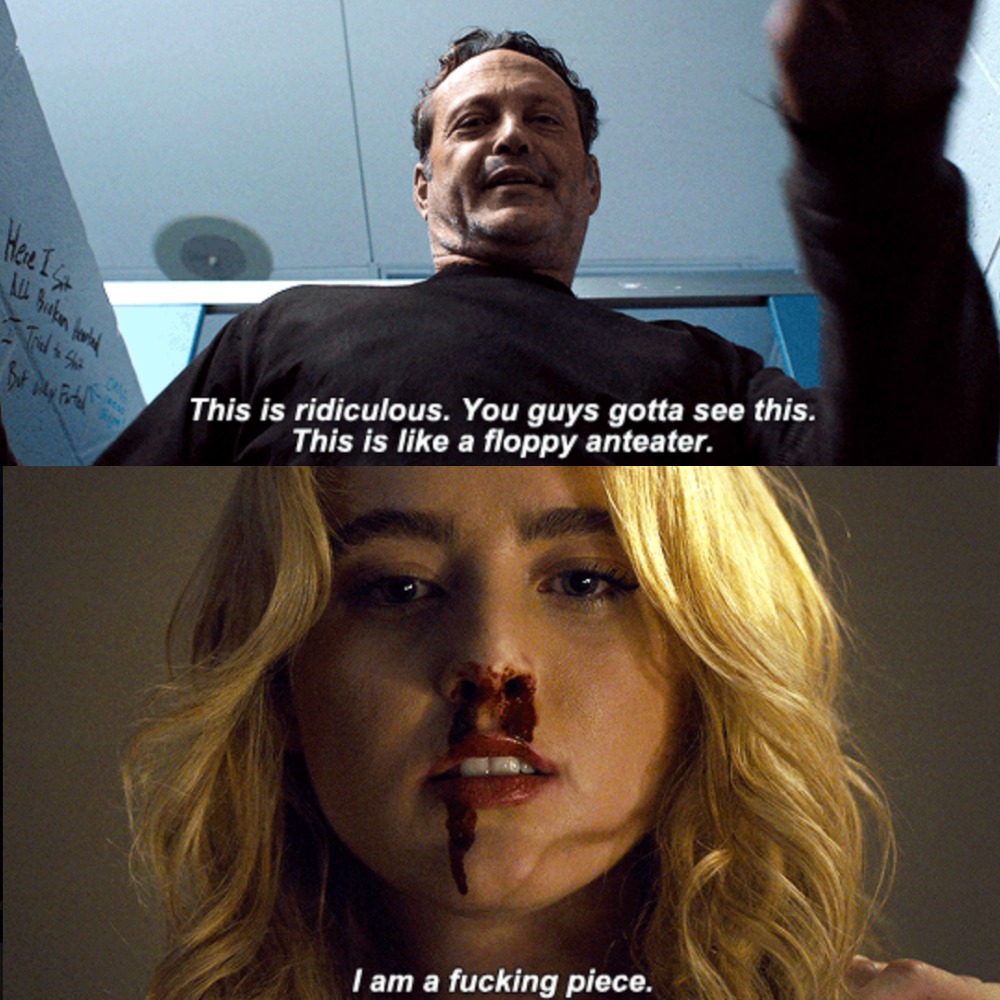 Freaky is a funny body swap movie about a high school student, Millie, who switches bodies with a serial killer as a result of a magic dagger. The serial killer is thrilled to have a new, less threatening, body to live in while Millie realizes if she doesn't get her body back in 24 hours, she will be trapped forever. This movie takes place in the same universe as Happy Death Day (2017).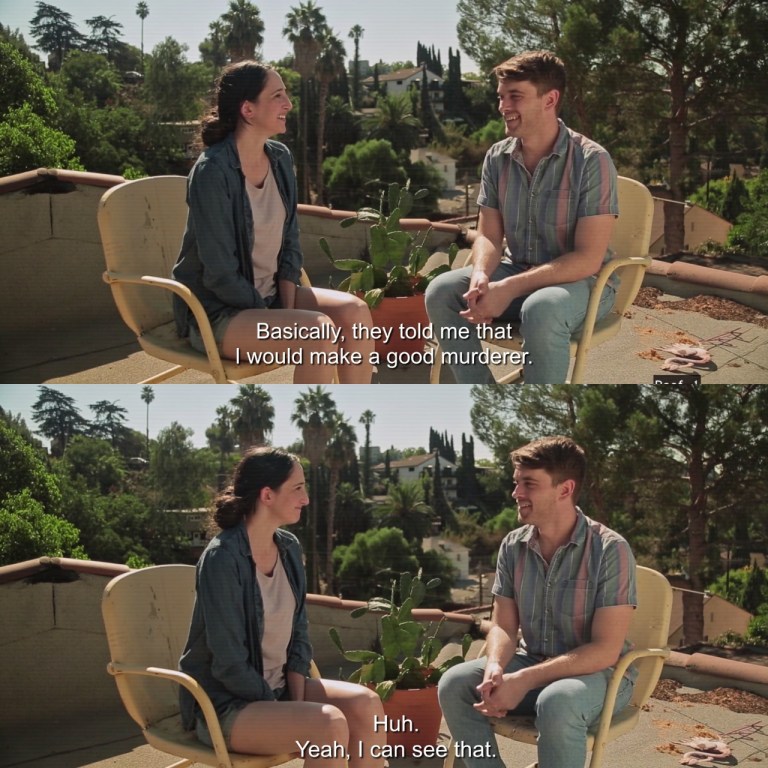 A struggling filmmaker named Gillian decides to make a documentary based on a compliment she'd been given that she would be able to commit the perfect murder. Despite her friends and boyfriend being pretty sickened by the project Gillian becomes obsessed with the project. Her life is transformed as she gets closer to nailing the perfect ending and the perfect murder.
More Horror Comedies!