Horror Movies Directed by Women ⁠— Feminist Filmmaking
Meet the women of horror.
This article will take a look at horror movies directed or written by women, what they say about the experience of being a woman and whether or not they succeed as feminist pictures. Please note that I have heavily referenced the books Men, Women and Chainsaws by Carol J. Clover, Women Make Horror: Filmmaking, Feminism, Genre edited by Alison Peirse, House of Psychotic Women by Kier-La Janisse, Recreational Terror by Isabel Cristina Pinedo and Women, Monstrosity and Horror Film by Erin Harrington. I will be including more films and more women in filmmaking as I am able to research and update this article.
Old horror movies written or directed by women
Modern horror movies written or directed by women
Old horror movies by women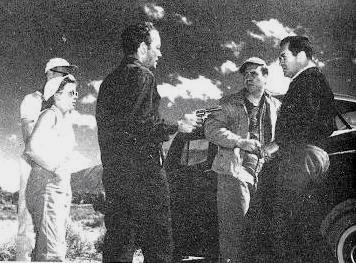 A crime film noir, The Hitchhiker was written (with Collier Young) and directed by a woman, Ida Lupino. The film follows two men on a fishing trip from southern California to Mexico who are held hostage by a sadistic hitch-hiker. Lupino worked as an actress in 59 films and directed 8. She was the only woman to direct an episode of The Twilight Zone, "The Masks" in its original run.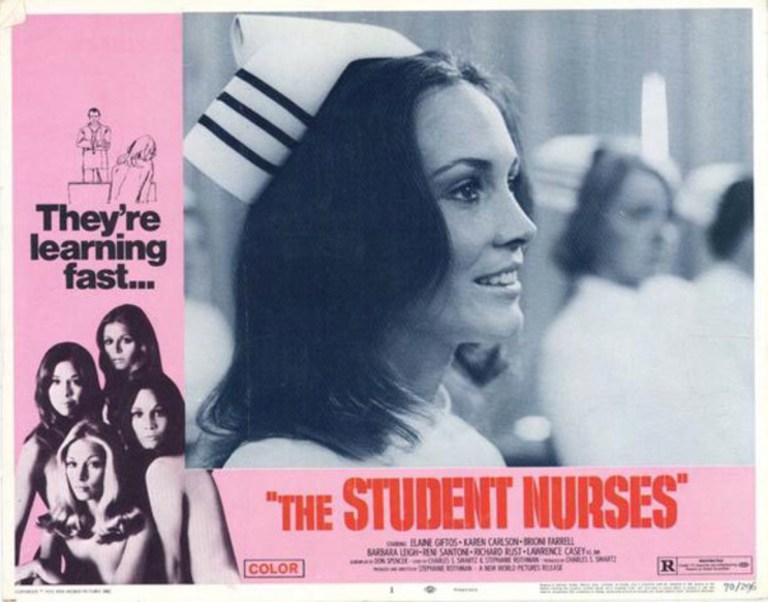 An exploitation movie directed by Stephanie Rothman about four nursing students who live in a house together. Producer Roger Corman has tried to take credit for its feminism now that the film is considered a cult classic, but luckily Rothman is around to set the record straight. As recorded in the book Women Make Horror, Corman characterizes his work on Student Nurses as "I insisted each [woman] had to work out her problems without relying on her boyfriend", Rothman corrects this narrative with her own memory: "When [Corman] first saw the rough cut, he told me he didn't think it was 'raunchy' enough… it concerned him that the girls were too intelligent."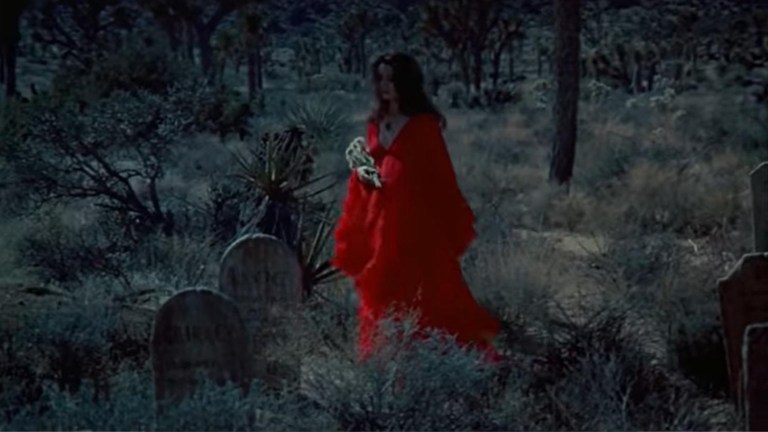 Stephanie Rothman directed this erotic vampire movie about a love triangle between a vampire named Diane LeFanu and a married couple. The surname "LeFanu" is a reference to Carmilla author J. Sheridan Le Fanu. Shot in Mexico, this dreamy and aesthetically pleasing film has become a cult classic. Notably the scenes filmed in Diane's home create the feeling that the layout of the house is a maze, a technique Stanley Kubrick later became famous for when he used it in The Shining (1980). Rothman retired from filmmaking in 1984 (she was 48), exhausted from the pushback of being a woman in the industry.
I received dire warnings from men who were film executives but not filmmakers, that I would never be allowed to direct, and that even if I were, male crews would never work for me. I have always thought this was a veiled way, or what they mistook for a veiled way, of telling me that they did not want to see me progress.

Stephanie Rothman on working as a female filmmaker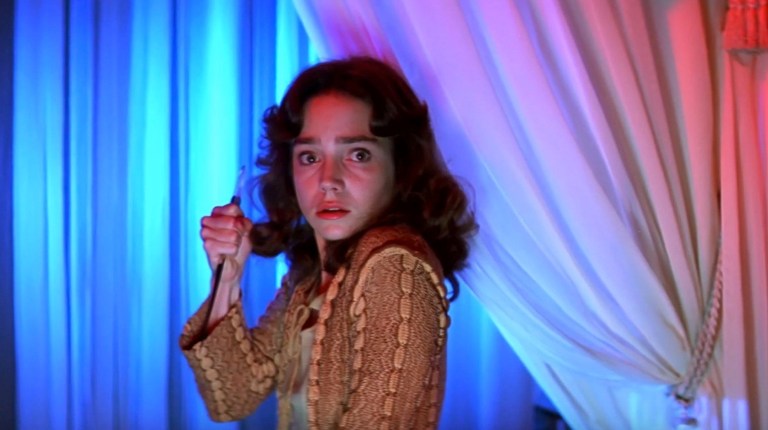 While this Italian horror movie is synonymous with director Dario Argento, recent feminist criticism argues that he gets too much credit as he frequently centers himself and describes the creation of Suspiria as a solitary undertaking akin to being a "monk in exile". The story was actually co-created with writer Daria Nicolodi who was only credited as co-writer after pushing back against Argento. Nicolodi wrote the screenplay based on a story her grandmother told her about being invited to take piano lessons at an academy but leaving after encountering teachers who used black magic (Argento disputes this and his word is taken as the authority). She has said, "I really want to stress that in Suspiria, as well as in Inferno there is a lot of myself, my cultural background and my experience, even though Dario did have an inner predisposition towards the genre. He had reached a point where, after the thriller period, he didn't know which path to take and I suggested the field of fantasy."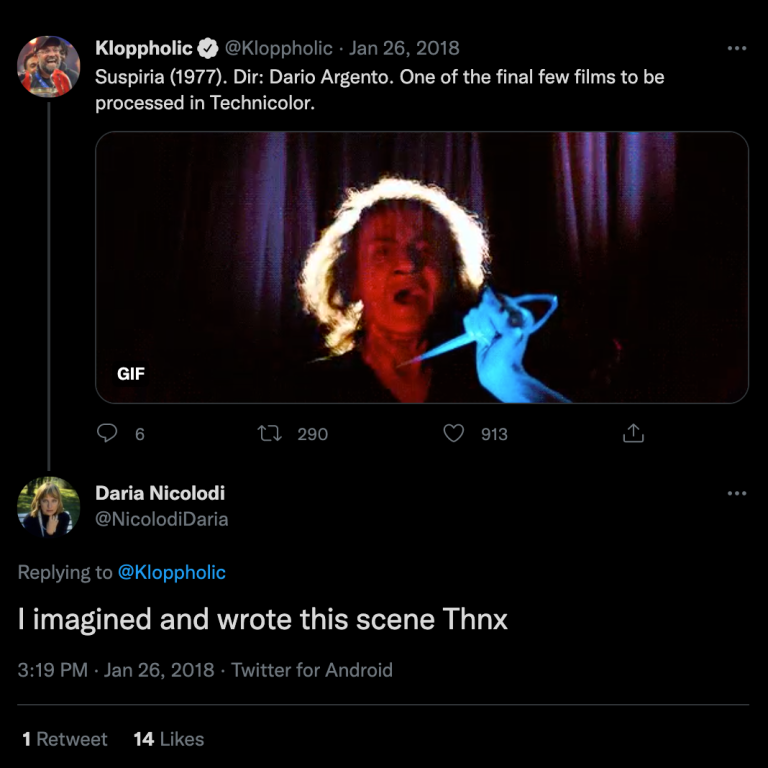 Suspiria necessitates a model of multiple and collaborative authorship. Recent scholarship on multiple authorship has sought to foreground not only the collaborative nature of filmmaking but also models for thinking of films as shaped by multiple authors by paying attention to both film texts and production history.

Martha Shearer, The Secret Beyond the Door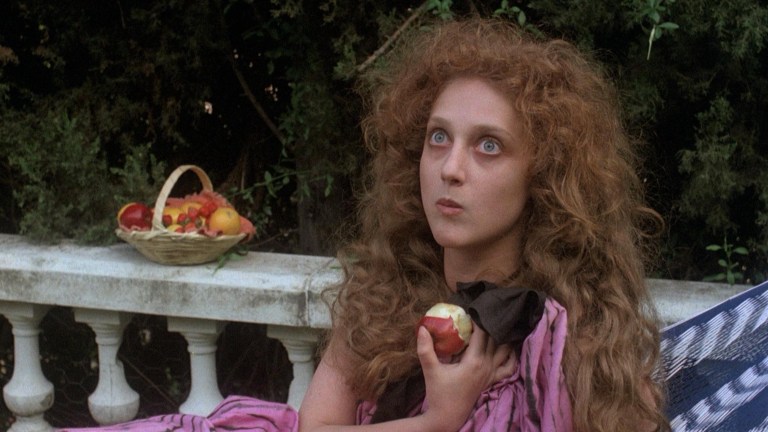 Carol Kane and Lee Grant star as sisters whose father was a famed anthropologist. They live together in a dilapidated Hollywood Hills mansion where one sister keeps a large cage in the living room for her pet monkeys, which she refers to as "Mafus". Karen Arthur directed and developed the story with writer Don Chastain based on the French play Toi et Tes Nuages.
This newly rediscovered cult classic was previously forgotten as it had not been championed by the boys club like other films of similar quality from the era. Arthur managed to break into Hollywood in 1971 after spending her tax refund on a filmmaking course at UCLA. Her first film was Legacy (1975) which she followed with The Mafu Cage and then Lady Beware (1987). Her experience trying to make feature films was so poor she quit the industry after Lady Beware and moved to working in television instead.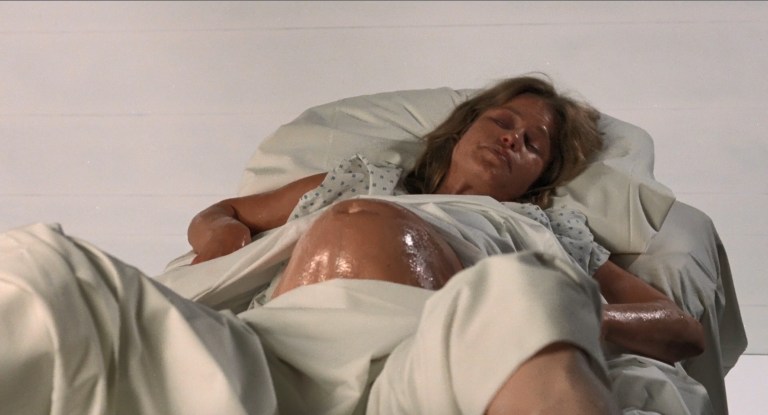 Director Barbara Peeters asked for her name to be removed as director for this film after famed horror producer Roger Corman shot explicit rape scenes without her permission. He refused to take her name off the project. Corman was unhappy with the more nuanced way Peeters shot the rape scenes and had them reshot by James Sbardellati. The final cut of this sci-fi monster movie fulfilled horror stereotypes of the era with graphic nudity and a storyline centered on mutant creatures raping women of a small village.
Of the film, Barbara Peeters says, "I don't talk about that film… I've always — since a small, little girl — been a feminist."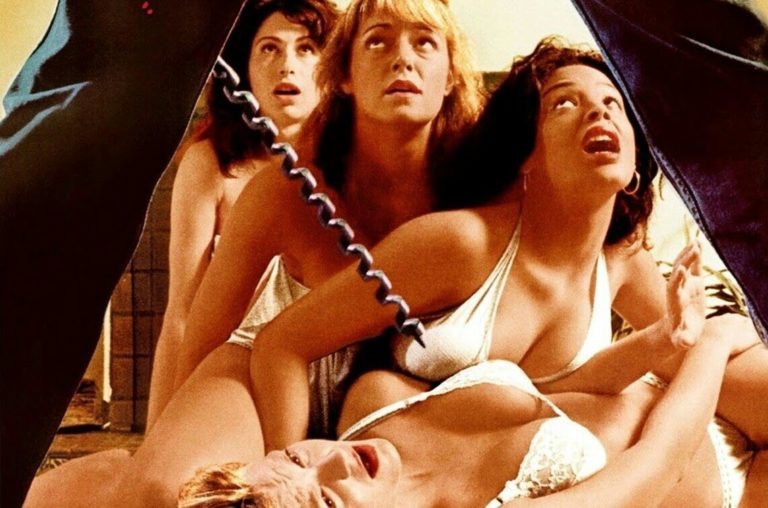 In 1975, Amy Jones served as Martin Scorsese's assistant while he directed the exploitation vigilante film Taxi Driver. Years later, Jones turned down the opportunity to edit Steven Spielberg's E.T. for this 1982 directorial debut. This film follows a slumber party's dark demise at the hands of a serial murderer who fetishizes power tools. Although this was still a bloody horror with standard nudity screen time for the 80s, the complexities of female friendship, isolation and trust were weaved throughout a storyline catered to the female experience. Despite having a female director, this film received flack for it's exploitation of women, which Jones defended by comparing her directorial work to male directors who did not receive the same criticism for their own exploitation style.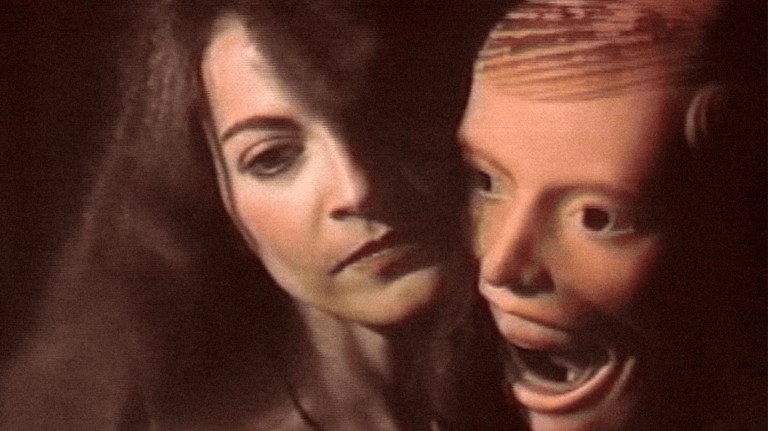 Possibly in Michigan is an experimental 12-minute horror video written and directed by artist Cecelia Condit that is both funny and scary. A woman navigates a nonsensical world where she is subjected to much of the same trauma women endure in the real world, mostly at the hands of men. In recent years Possibly in Michigan has been discovered by Zoomers and gone viral on TikTok. The full video can be viewed on Cecelia Condit's YouTube channel:
One way to avoid retraumatizing is to work through trauma memories under predictable and controlled circumstances. This chapter argues that horror tropes can provide such a contained surrogate, as the genre provides the ritualistic rites to work through vestiges of unresolved trauma. By externalizing internal demons through the vehicle of horror, trauma memories are rendered visible and therefore knowable and destructible.

Katia Houde, Personal Trauma Cinema and the Experimental Videos of Cecelia Condit and Ellen Cantor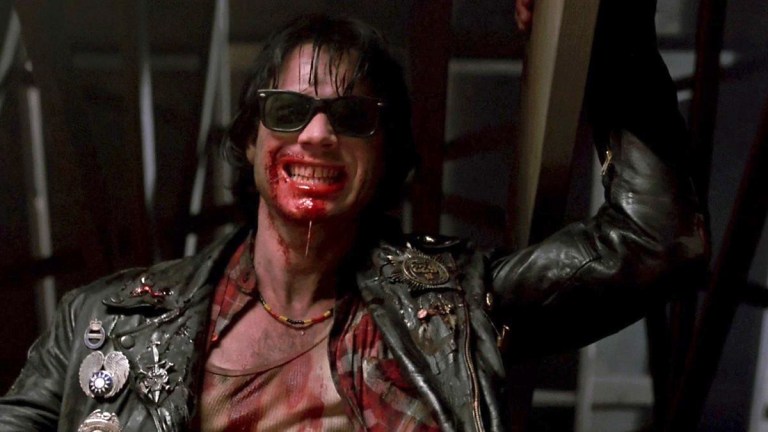 The first woman to win an Academy Award for Best Director, Kathryn Bigelow, made her solo directorial debut with this neo-western vampire movie that became a cult classic. Near Dark is about a man from the midwest who falls in love with a vampire from a rowdy gang of Southern biker-vampires.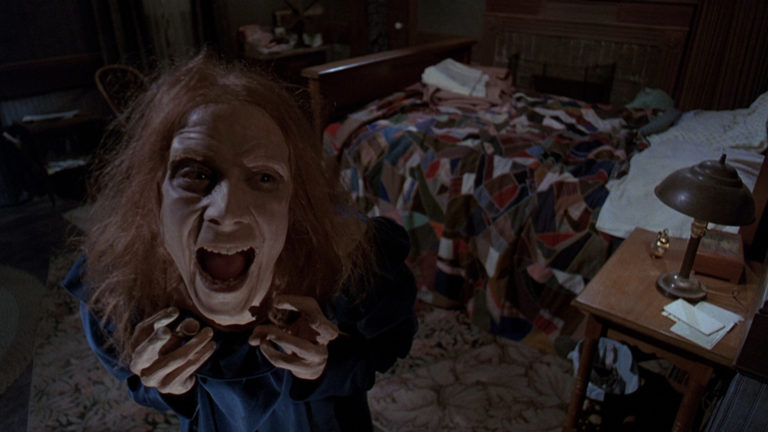 As the daughter of a rice and cotton farmer, Mary Lambert followed her passion of art when she graduated from Rhode Island School of Design. Her career started by directing wildly popular music videos, such as Madonna's Like A Virgin, Material Girl and Like A Prayer, to name a few, then soon began working on her feature directorial debut starring Jodie Foster. Pet Sematary was adapted from Stephen King's 1983 novel on a budget of $11.5 million, grossing $57.5 million at the box office. When a family moves to a small town in rural Maine, their young daughter's tomcat dies in a horrific accident. The father takes neighborly advice and buries the family pet's body in a mystical graveyard some claim to have resurrecting powers. Haunting spirits reveal themselves and wreak havoc on the family, resulting in a bloody fight for survival.
A shy goth newcomer in town is outcasted by the local high school, and finds solace in a mysterious antique mirror she finds in her new home. Living with her widowed mother, the teenager unknowingly becomes possessed by the mirror's demonic powers and her world is tormented by freak incidents. Sister screenwriting duo Annette and Gina Cascone penned this screenplay, which was directed by Marina Sargenti.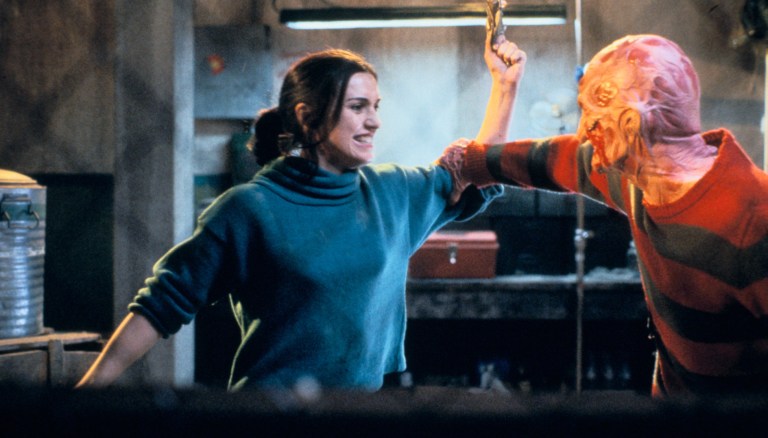 The sixth installment of the Nightmare on Elm Street saga finally saw a woman at the helm: Rachel Talalay directed this campy slasher sequel that takes place 10 years after the events of A Nightmare on Elm Street 5: The Dream Child (1989). This film was meant to end the Freddy Kruger saga and Talalay, a Yale graduate with a mathematics degree, was chosen to direct because she had produced four films in the franchise. Still, she was given memos that instructed her not to make the film "too girly". Notably, Talalay infused much more humor and self-awareness into the film than previous entries into the franchise. It is also the only Nightmare movie that actually mentions sexual abuse — a concept deemed too gruesome for the original when Freddy's crime against the parents of Springwood, Ohio was changed from molesting children to murdering them.
Jonathan Markovitz acknowledges that horror may challenge presumptions of "female paranoia" by establishing it "as a reasonable response to a world that is hostile to women".

Tosha R. Taylor, Self-Reflexivity and Feminist Camp in Freddy's Dead: The Final Nightmare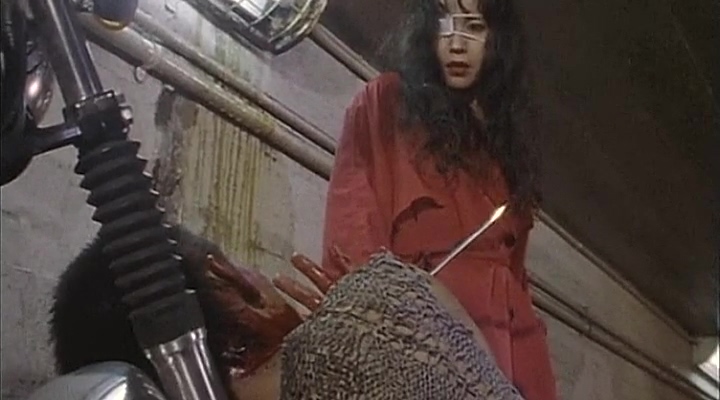 Japanese filmmaker Kei Fujiwara directed and starred in this film adapted from a play her theater company produced. She plays the one-eyed sister of a high school teacher who leads a gang of organ thieves. The sickening practices that take place in their underground slaughterhouse are exposed by undercover detectives, one of which has an identical twin. As the storyline evolves, common misogynist horror themes are revealed through virginal victims and maternal sexual abuse.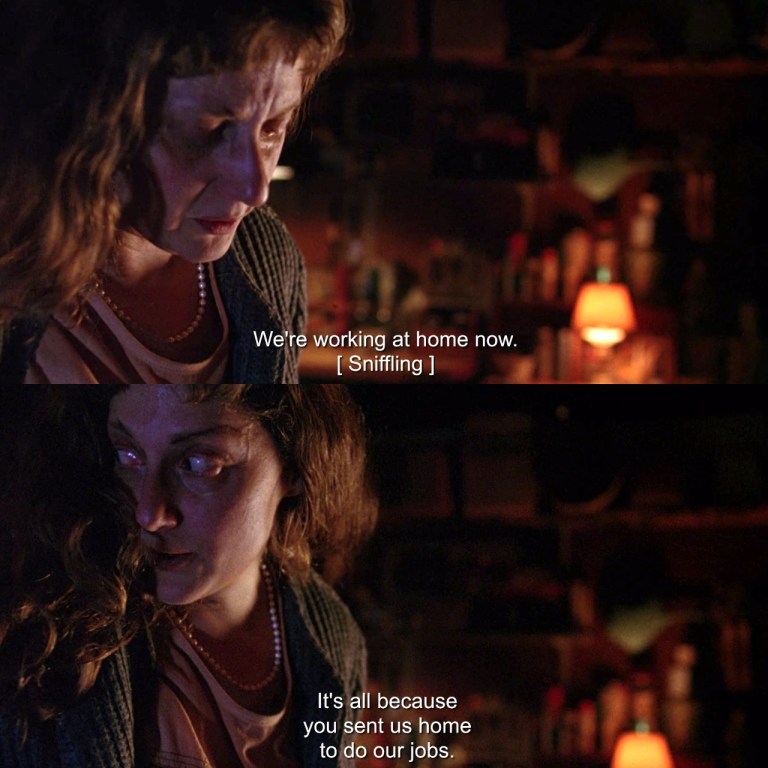 A horror comedy directed by artist Cindy Sherman about a magazine editor who is forced to work from home because of budget cuts at her job and eventually kills her coworkers and keeps the bodies in her basement office. Rarely mentioned in conversations about Sherman or her body of artistic work because of the "low" status of horror movies as a form of creative expression, Office Killer is about the loss of intimacy as technology replaces many of our face to face interactions — and this was decades before the internet took over our lives.
New horror movies by women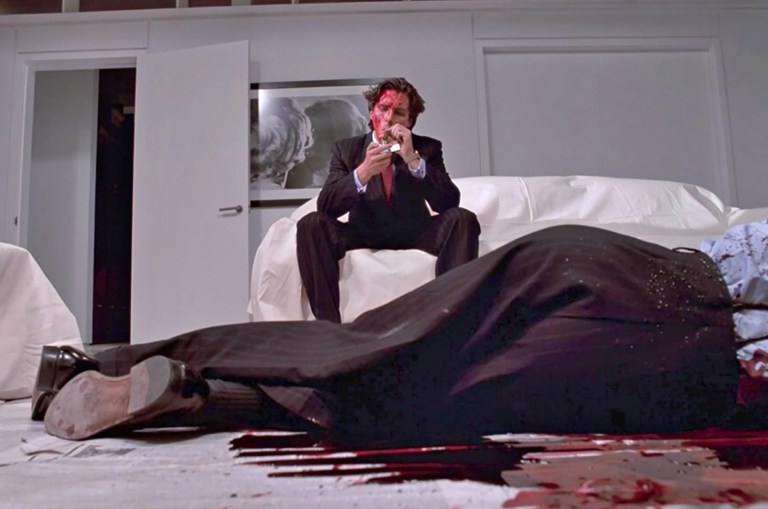 At the time it was made, American Psycho was a widely discussed adaptation of the controversially violent Bret Easton Ellis novel. It follows a white collar serial killer living and working in Manhattan named Patrick Bateman. He is a clinical and obsessive man both desperate for the admiration of his peers and inclined to murder them. Originally, David Cronenberg was going to direct and Bret Easton Ellis wrote a script that included "a musical number atop the World Trade Center". Thankfully Mary Harron was hired to direct and co-wrote the screenplay with Guinevere Turner. Production was protested by the National Organization of Women and the Feminist Majority Foundation though Harron's film removes a lot of the sexualization of women and (if you can believe it) violent scenes from the novel.
I don't approach movies with an ideology, with a message. I think I approach them with a perspective. I want to tell stories from a female point of view. That doesn't mean I'm trying to teach a lesson, or that I have a line that I am trying to push, because I'm interested in contradiction, I'm interested in questions that I can't answer, that are hard to answer.

Mary Harron, Murders and Adaptations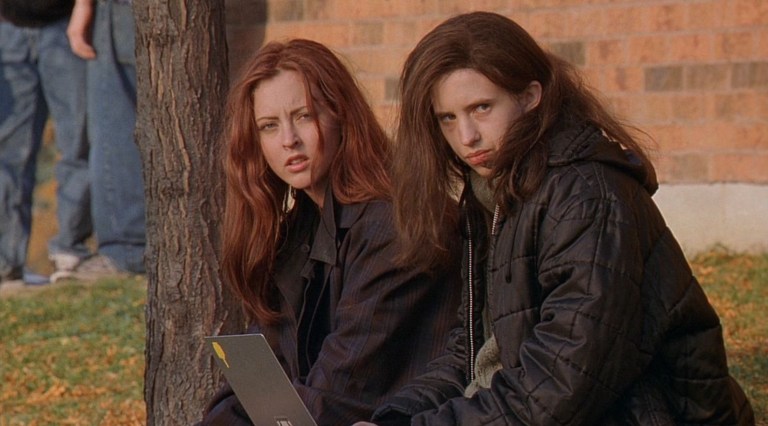 This Canadian horror comedy was directed by a man, John Fawcett, who co-wrote the script with Karen Walton. Because of the film's position as a cult film regularly cited by female horror fans as a favorite, it is included in this list. Ginger Snaps is also a good opportunity to discuss filmmaking as a collective creative process, a fact which is obscured by the common practice of ascribing almost sole authorship of a work to the director. When only the kind of people who have the access and support to become a director are remembered in the film industry, we ensure that the industry will (wrongly) be read as overwhelmingly white and male. By giving more thought to the contributions of below the line creators, we will have a more realistic and diverse view of filmmaking.
The 1950s and 1960s auteurism in France and the United States — according to which a film director is an individual agent who controls the entire creation process of the film — especially erased the contributions of the women who, due to a number of historical, economic, and cultural circumstances have had greater access to the positions of screenwriter, editor, actress, and costume designer than that of director.

Katarzyna Paszkiewicz, Gender, Genre, and Authorship in Ginger Snaps
Trouble Every Day is an excellent example of why diversity in filmmaking is so important. Claire Denis directed this erotic horror story and wrote the script with Jean-Pol Fargeau. Whereas male filmmakers have conveyed love, romance and desire all through the camera's objectified gaze of an idealized female body, Denis instead lingers on the character's imperfect bodies, showing zits and body hair and favoring long close-up shots of the actor's expressions over dialogue. By using close-ups of human skin, Denis escapes the more toxic aspects of showing sex on screen because the viewer is unable to know whose body they are looking at, and are thus unable to objectify it and must be present with the romantic and prosaic "reality" of sexual interactions. In Trouble Every Day, desire is communicated through both loving touch and a violent inability to stop consuming your partner, even when your desire is hurting them.
Coré's and Shane's mirrored scenes both begin in ways that feel carnal and romantic. However, Denis uses the language of the horror film to blur the boundaries of desire. As she remarks, 'It's actually a love story. It's about desire and how close the kiss is to the bite.' Denis does not represent female desire in an idealized way but instead plays on societal fears about sexuality, creating a slippage between eroticism and agony.

Maddi McGillvray, The Feminist Art Horror of the New French Extremity
Part of the New French Extremity movement, Trouble Every Day premiered at Cannes where viewers booed and walked out in protest of Denis, a respected French filmmaker, using her skill to make something as low-brow as a horror movie.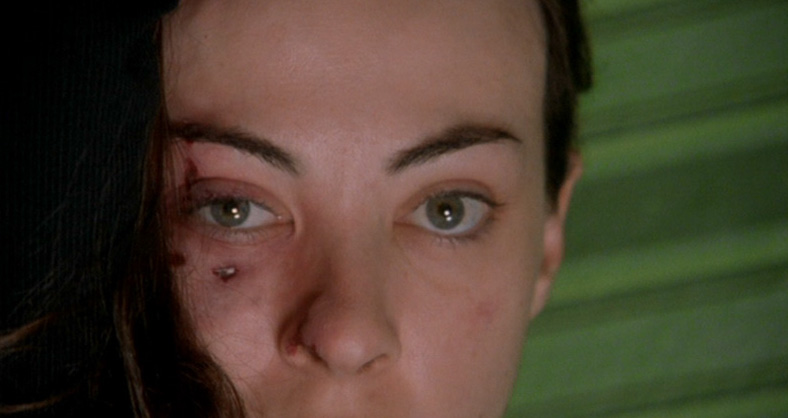 Inexplicable self-mutilation forces your eyes to stay open in this disturbing story of a woman with a seemingly perfect life. When a horrific laceration in her leg unveils her own cannibalistic desires, the young woman must fight her urges in order to escape suspicion and worry from her loving boyfriend and disgusted co-workers.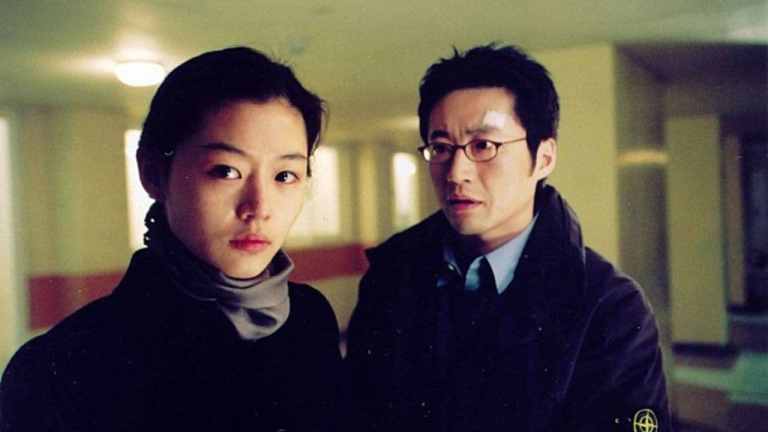 The Uninvited is a South Korean psychological horror film that was Lee Soo-yeon's directorial debut. The story revolves around Jung-won, an engaged interior designer who has a chance encounter with two murdered women on a train and begins seeing their ghosts at his dining room table. The idea for the film came from the real murders of two children (her daughter, and a neighbor's child) by a woman in Bucheon in 1996 who dropped the children from the top floor of an apartment building.
Lee Soo-yeon herself has claimed that motherhood is overly idealized in and outside of cinema. She argues, "Motherhood that has been fantasized and sanctified is like a 'bridle' to women. People conceptualize motherhood with selflessness at the same level as that of a god. When you are a mother, you are not a human, you need to be a god. Through my film, I wanted people to perceive motherhood in terms of what it really means for women."… As maternal horror, The Uninvited is an antithesis to the culturally sanctioned concept of maternal self-sacrifice and how this is bound up with the dominant discourses of the idealization of the patriarchal nuclear family.

Molly Kim, Women-Made Horror in Korean Cinema
NYU alum Karyn Kusama directed this cult comedy riffing off time old horror tropes, with a studious good-final girl playing opposite of the sensual blood-sucking seductress. When an attempted virginal sacrifice goes wrong, the victimed non-virgin becomes possessed and must feed on flesh to maintain her destructive super strength.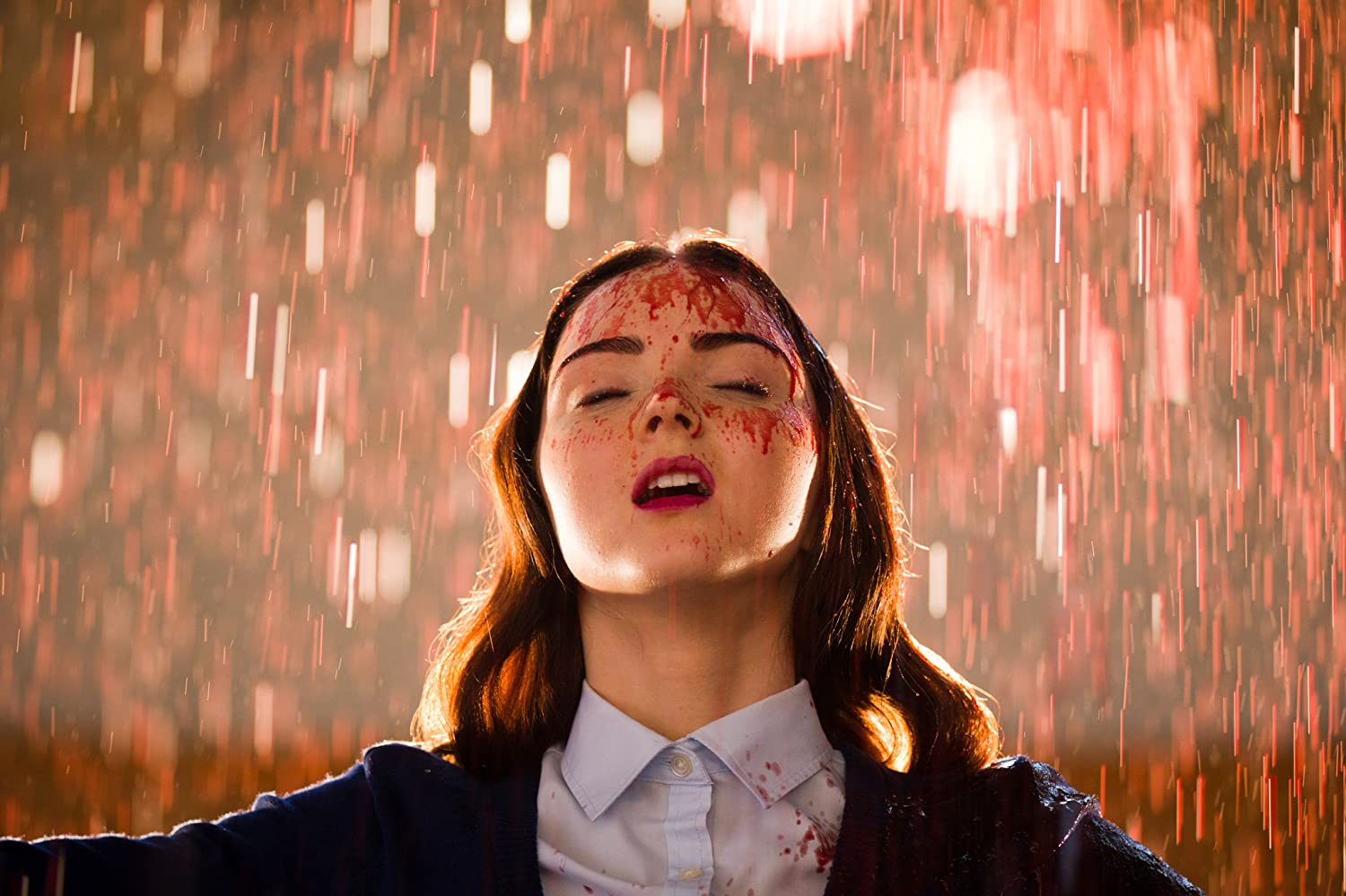 Directed by Mary Harron (American Psycho) and based on the incredible gothic novel by Rachel Klein, The Moth Diaries feels like a horror movie made by and for women. The plot follows Rebecca Cantor (Sarah Bolger) as she returns to her all girls boarding school. Rebecca is excited to keep a journal for this school year and to spend time studying poetry (her father's profession) and hanging out with her best friend Lucy. However, the strange new student Ernessa (Lily Cole) drives a wedge between Rebecca and Lucy at the same time that Lucy begins to appear frail and sickly.
I have always been intrigued by the journals that girls keep. They are like dollhouses. Once you look inside them, the rest of the world seems very far away, even unbelievable.

Rachel Klein, The Moth Diaries
The Soska Sisters were fed up with their stereotypical role offers in the acting business, so they decided to get behind the camera and stir up some trouble for the male dominated industry. In this drama horror, a medical student plagued with debt finds an underground world of misfits in desperate need of her budding surgical expertise. The feminist perspective is executed through a gory storyline based on body dysmorphia and how minor modifications can lead to major irreversible repercussions.
Daughter of Hollywood actor-director John Cassavetes, Alexandra "Xan" Cassavetes wrote and directed this erotic horror. A screenwriter falls in love with a beautiful woman at a local video store, but it doesn't take long before her blood-sucking secrets come to light. When the visit of her vampiress sister, a leader in the vampire community, causes bloody chaos, the two lovers are put to a test that unfolds in this modern gothic thriller.
Kimberly Peirce's debut directing work won Hilary Swank's Best Actress Oscar for her performance in Boys Don't Cry (1999). Channing Tatum and Joseph Gordon-Levitt starred in her second feature Stop-Loss (2008). By 2013, she was directing this third adaptation of the infamous 1974 Stephen King novel with Julianne Moore on center stage. With the star actress being a minor playing a high schooler for the first time in this adaptation's history, this film ditched exploitative explicit nudity and instead focused on compelling acting. This modern take on a classic story follows the shy daughter of a paranoid, protective mother whose sheltering causes her daughter to become a bullied misfit at the high school. Cyber bullying meets self mutilation and revenge in this film that reportedly used 1,000 gallons of fake blood.
Prior to her directorial work, Axelle Carolyn spent time in front of the camera as an actor, and behind the keyboard as a journalist. Two years after the release of her first two short films, she came back for blood with this chilling feature. After the devastating death of her husband, a widow's disturbing struggles with psychosis lead her to a horrific act. The terrifying film opens on an extremely graphic failed suicide attempt and evolves into a haunting supernatural tale with sinister spirits.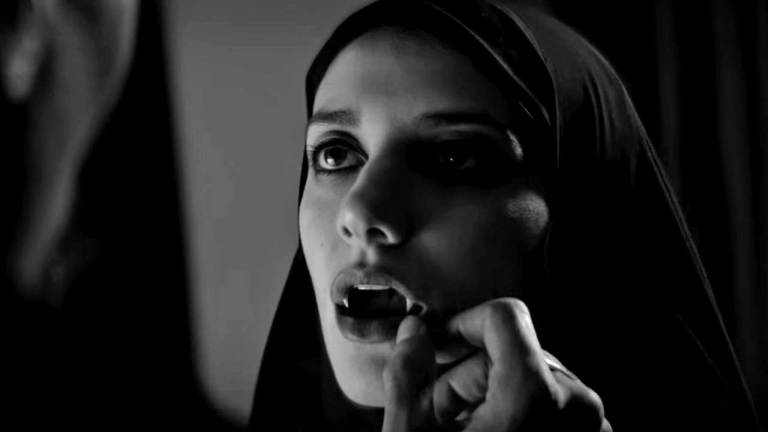 Ana Lily Amirpour wrote and directed this film which she calls "The first Iranian vampire Western". Filmed in black and white, A Girl Walks Home Alone At Night is about a lonely vampire who is credited only as "The Girl". She wears a chador and seduces men in order to kill them. She also skateboards and listens to music in her apartment. Amirpour tells The Girl's story through spaghetti western stylization in this unconventional and compelling cinematic masterpiece.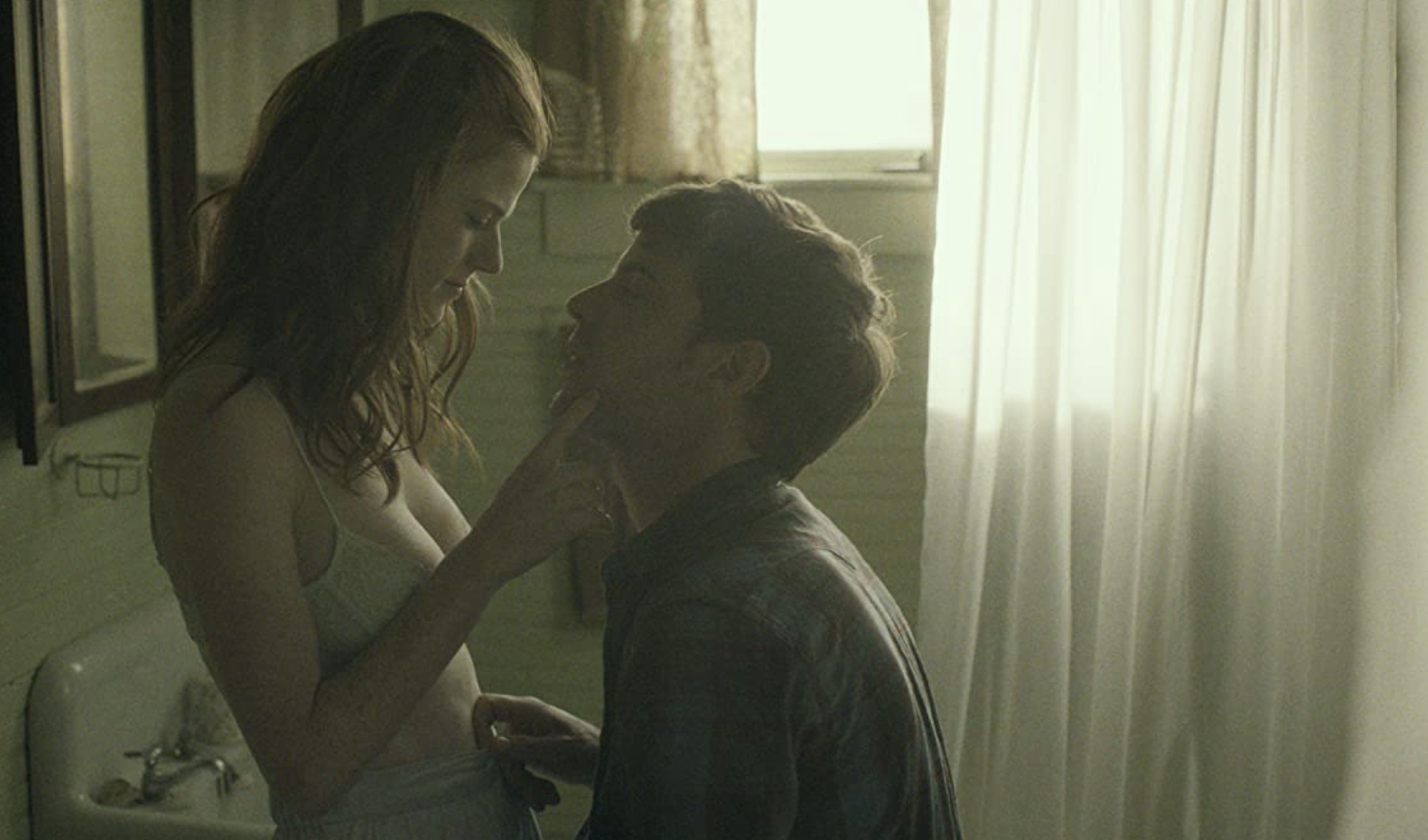 Newlyweds Bea and Paul spend their honeymoon at Bea's family cabin. The first night, Harry wakes to discover Bea is missing. When he finds her, she claims she was sleepwalking. As the trip progresses, Bea continues to act strangely and Paul finds more reasons to be suspicious. Honeymoon was Leigh Janiak's directorial debut and she co-wrote the script with Phil Graziadei. Janiak went on to direct the Fear Street trilogy in 2021.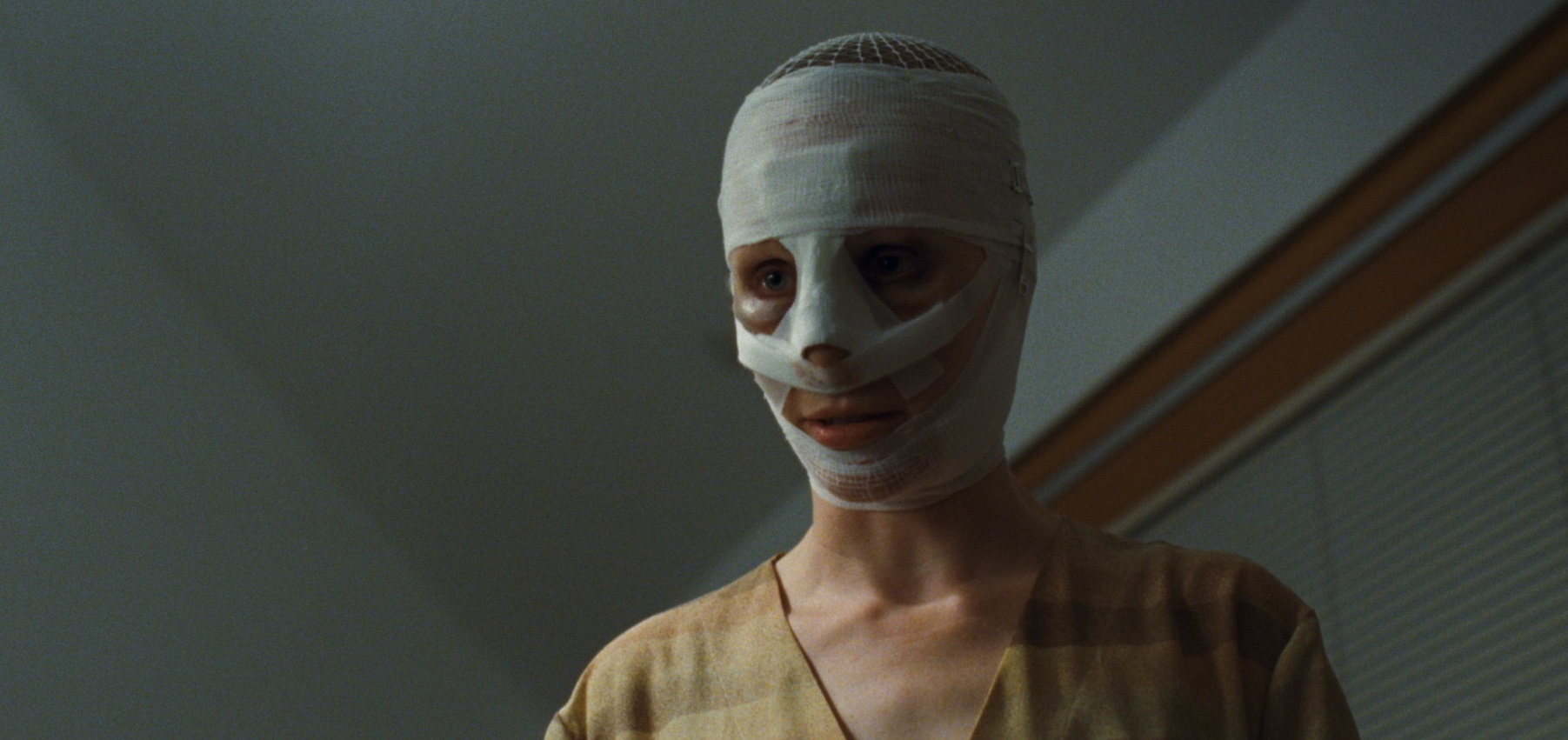 Written and directed by the aunt-nephew team of Veronika Franz and Severin Fiala, Goodnight Mommy is a pastoral horror movie about two twin boys and their mother. When the mom returns home from getting plastic surgery, her bandages render her unrecognizable and with their relationship already distant, the boys begin to believe she is an imposter.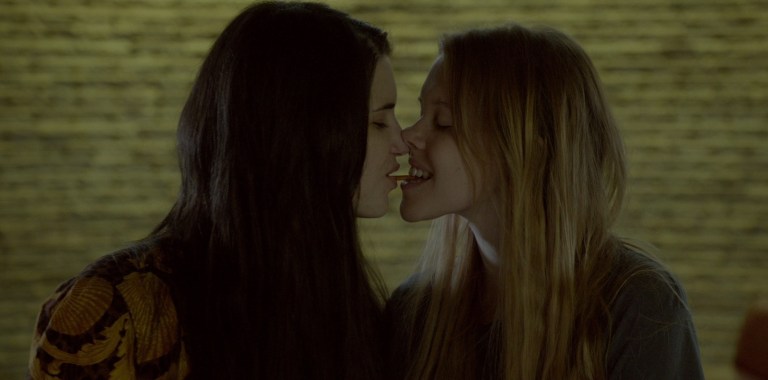 Inspired by the 1837 fairytale The Little Mermaid, this salacious genre bending horror follows two performing mermaid sisters in a 1980's Polish beach town. While one sister longs for love from a local boy, the other's fantasies of a vicious attack on the town slowly build into a disturbing reality.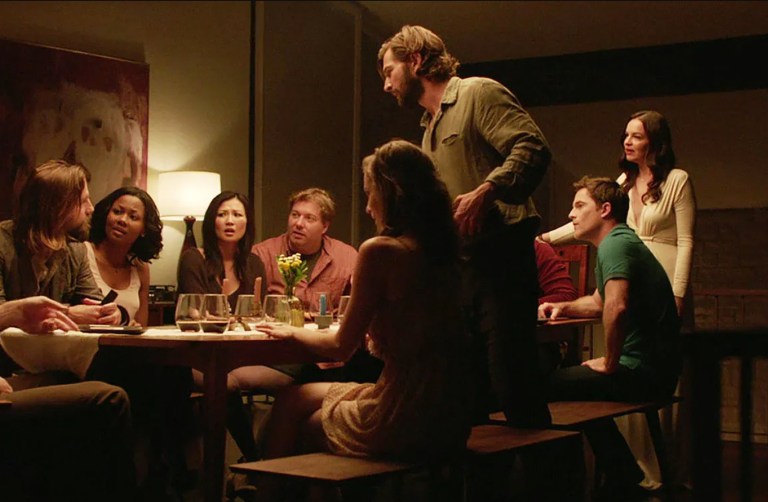 Karen Kasuma's next feature after Jennifer's Body (2009). A couple go to a home in the Hollywood Hills for a dinner party with the man's estranged ex-wife. Unsure about the invitation from the getgo, they learn the other dinner party guests are as curious about the invitation as they are. When their hosts finally reveal the reason for inviting everyone to their home, the night begins to collapse into a violent fight for survival.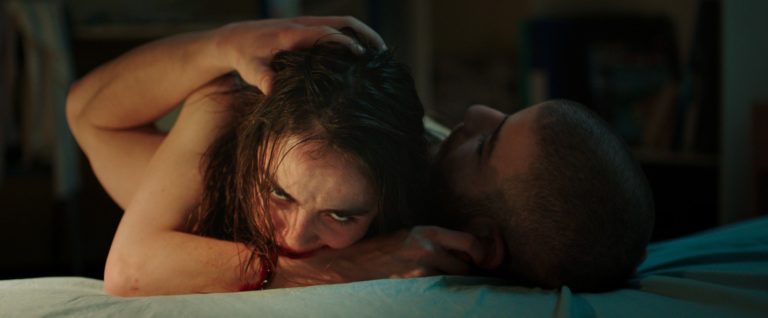 French film writer-director Julia Ducournau studied screenwriting in Paris before she released her own award winning short film Junior at the 2011 Cannes Film Festival. Five years later, she sent audiences on a thrilling ride with her feature directorial debut Raw. A veterinary student endures first semester hazing rituals that challenge her vegetarianism lifestyle, and take a gruesome turn when she gets a taste on what she's been missing out on her whole life.
Anna Biller's directorial work has gained a cult following due to her artistically elaborate aesthetic and campy appeal. In her self-written and directed feature The Love Witch, audiences are taken on a 35mm journey alongside a young witch whose well-intentioned love spells lead her potential lovers to death. Watch the trailer and you will certainly become entranced by the smooth, saturated cinematic approach to another world.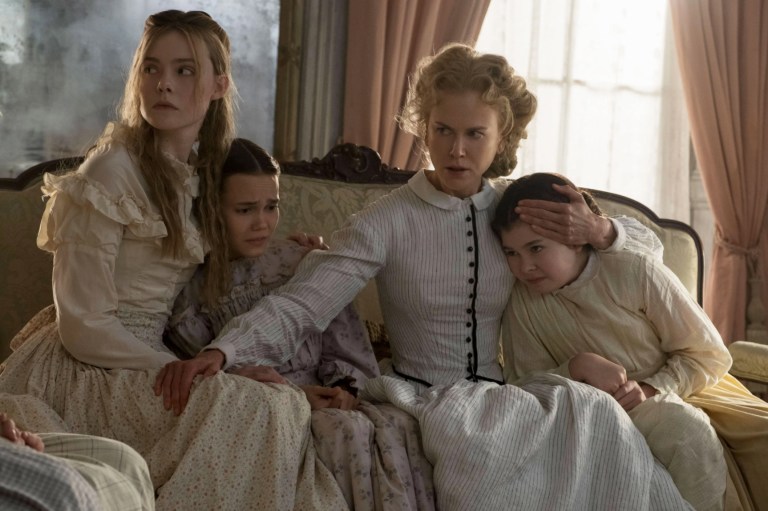 Sofia Coppola wrote and directed this adaptation of Thomas P. Cullinan's 1966 novel that was previously adapted by Don Siegel into the 1971 film of the same name with Clint Eastwood in the lead. The Beguiled is a Southern Gothic horror story about a Union soldier who is injured and found by an all girls school in Confederate Virginia during the Civil War. The soldier manipulates the women and girls in an attempt to be a guest rather than a prisoner, but in an all-female house his tricks are discovered and the women turn on him (and each other).
Coppola is the daughter of famed director Francis Ford Coppola. The Beguiled was her sixth film. Despite not having made a thriller before, Coppola was drawn to the story after seeing the 1971 film and imagining what the story would look like told from a woman's point-of-view. The film premiered at Cannes where it was nominated for the Palme d'Or and Coppola became the second woman in the festival's history to win Best Director.
When a wealthy married CEO and his mistress squeeze in a romantic getaway before an all-boys hunting trip with his friends, company creeps in early on their isolated villa. It doesn't take long before the power-hungry men set their twisted eyes on the young woman, and a series of traumatic events leaves her dead. Writer-director Coralie Fargeat paints a visually stimulating world that exposes audiences to the unimaginable and keeps you rooting for bloody retaliation.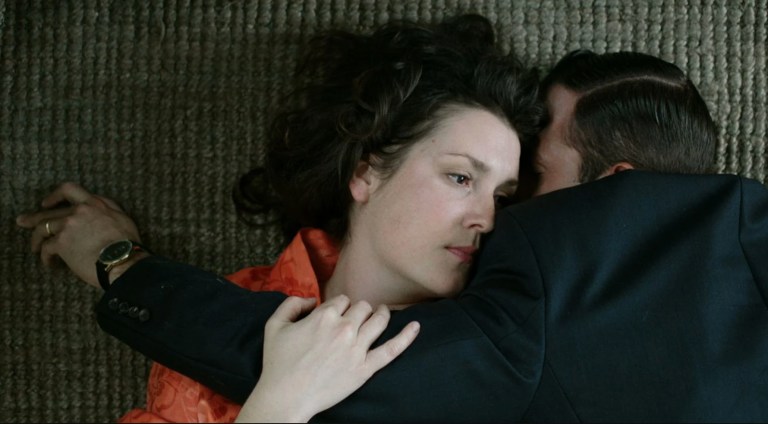 After experiencing frustration when mainstream horror anthologies like V/H/S (2012) and The ABCs of Death (2012) overlooked female directors almost entirely, Jovanka Vuckovic, Annie Clark, Roxanne Benjamin and Karyn Kusama created their own woman-led anthology, XX. Annie Clark is also known by her musician name, St. Vincent. This was her directorial debut.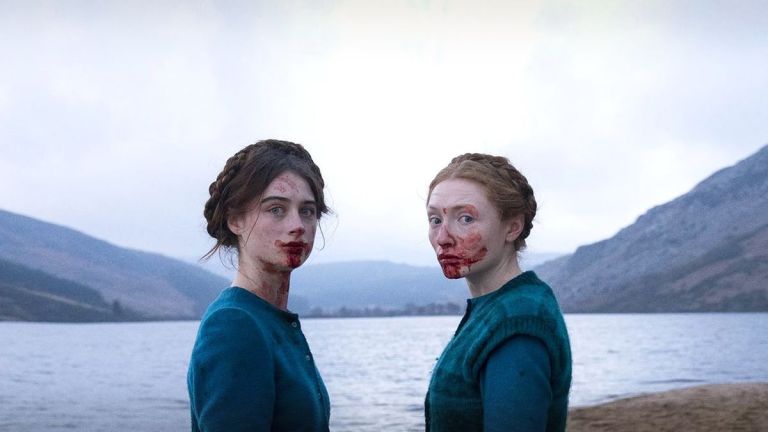 Directed by Polish filmmaker Małgorzata Szumowska and written by Catherine Smyth-McMullen, The Other Lamb is a horror film about a girl who is trapped in a polygamist cult. As she comes of age, she will transition from a "Sister" into a "Wife" and be forced to have sex with the cult's leader.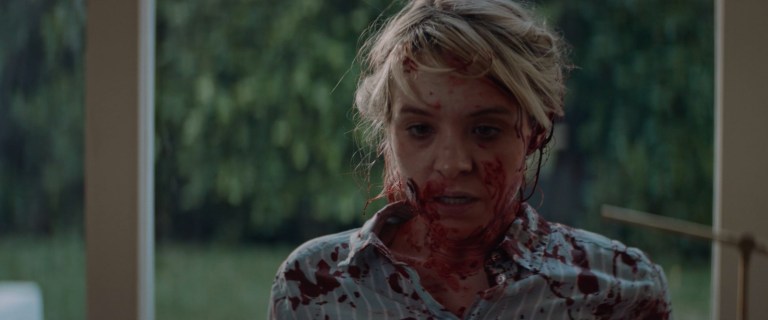 Written by Brea Grant (who also stars) and directed by Natasha Kermani, Lucky follows successful self-help author May who one night experiences a bizarre home invasion with her husband. Her husband acts as if the crime is completely normal and happens every day, he also refuses to engage with May about the details of this. Sure enough, the next night and the night after that May experiences another home invasion. Lucky is a really interesting social commentary played out through some scary on-screen moments.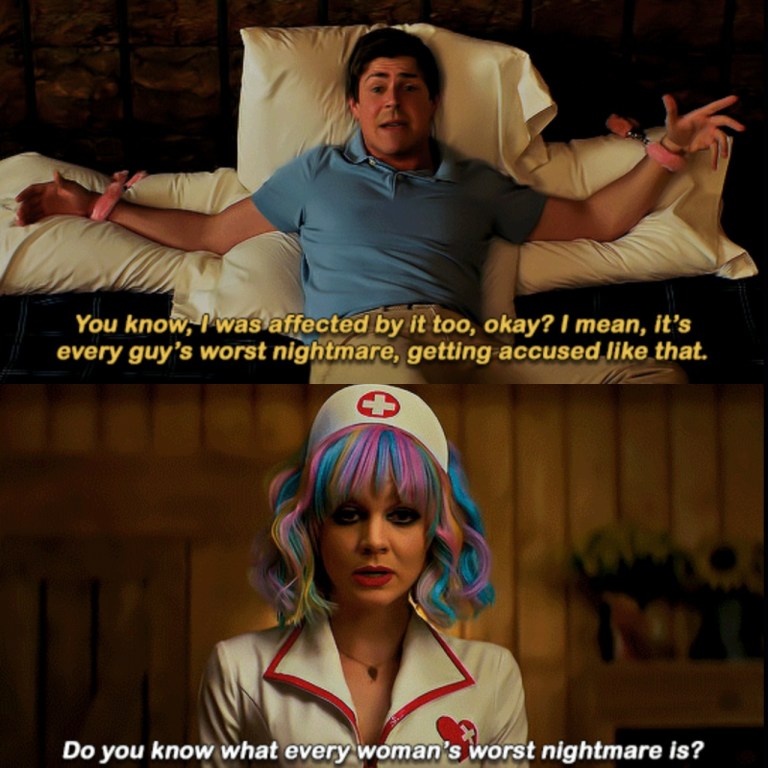 The title Promising Young Woman is a play on the phrase "promising young man", often used by defenders of rapists to argue for short (or no) sentencing so that the men can move on with their lives. The injustice being that a similar concern is not extended toward the man's victim, who is suffering and struggling to move on with her life. Written, co-produced, and directed by Emerald Fennell, Promising Young Woman is a black comedy thriller about a medical school dropout traumatized by the rape and subsequent death by suicide of her close friend, who decides to get revenge.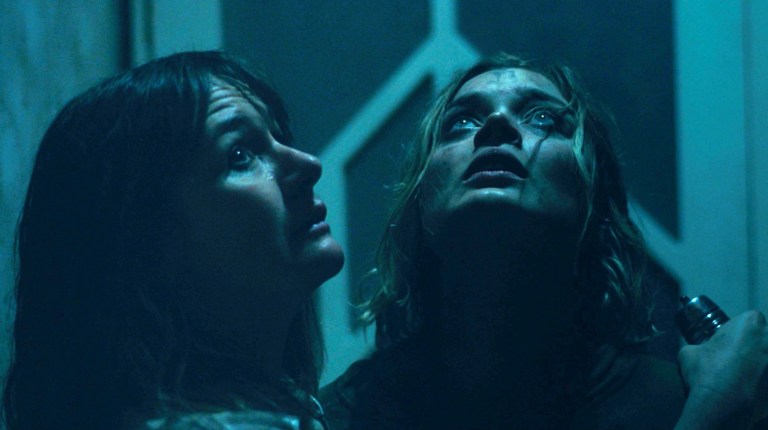 An Australian psychological horror directed by Natalie Erika James about three generations of women from one family and a haunted house.
It's a woman, her daughter, her mother. So, grandmother-mother-daughter. And crazy things happen inside a house, lot of amazing visual effects. It's a bit like 'The Babadook,' it's kind of a domestic horror.

Mary Harron, The 'American Psycho' director loved 'Relic'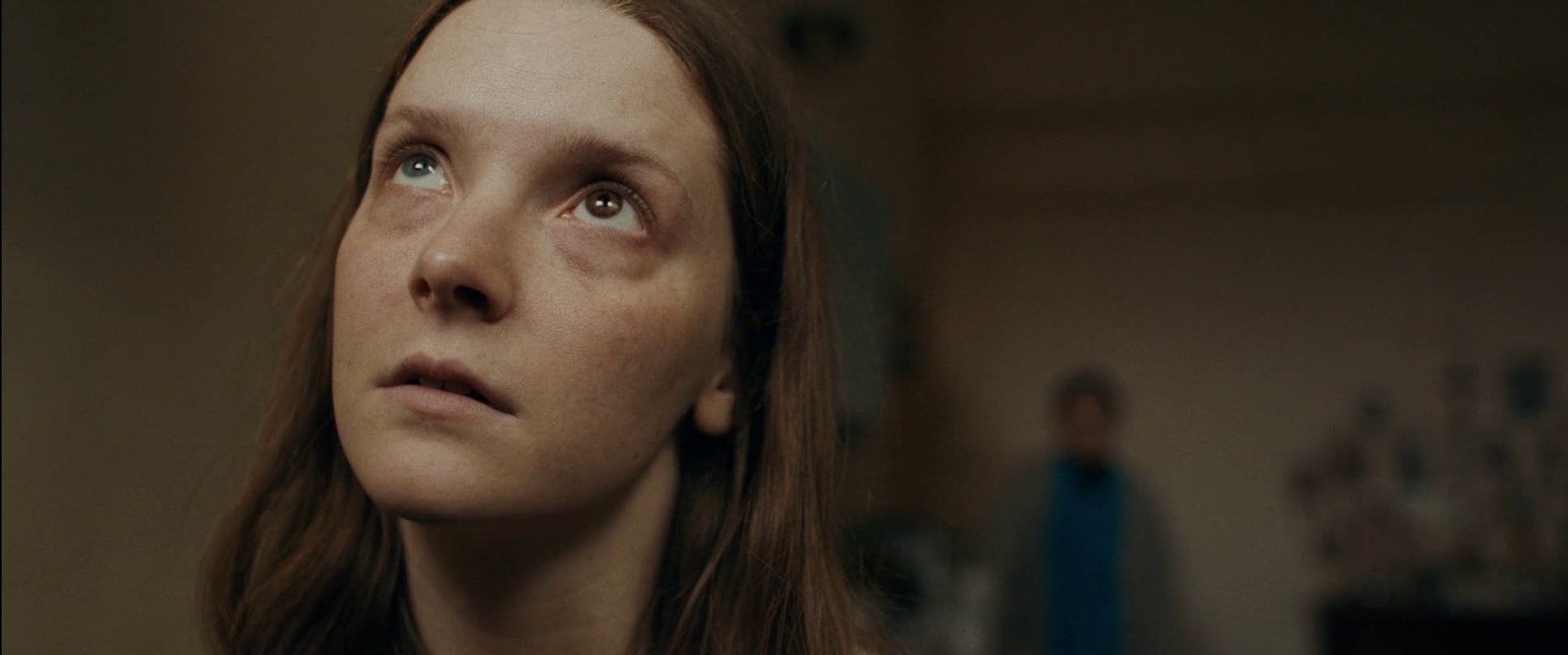 Rose Glass wrote and directed this psychological horror movie about a young hospice nurse, Maud, who has recently become a devout Catholic. Maud cares for her patient, Amanda, who is an atheist and tries to convert her in order to save her soul. When Amanda rebuffs her attempts, Maud begins to spiral.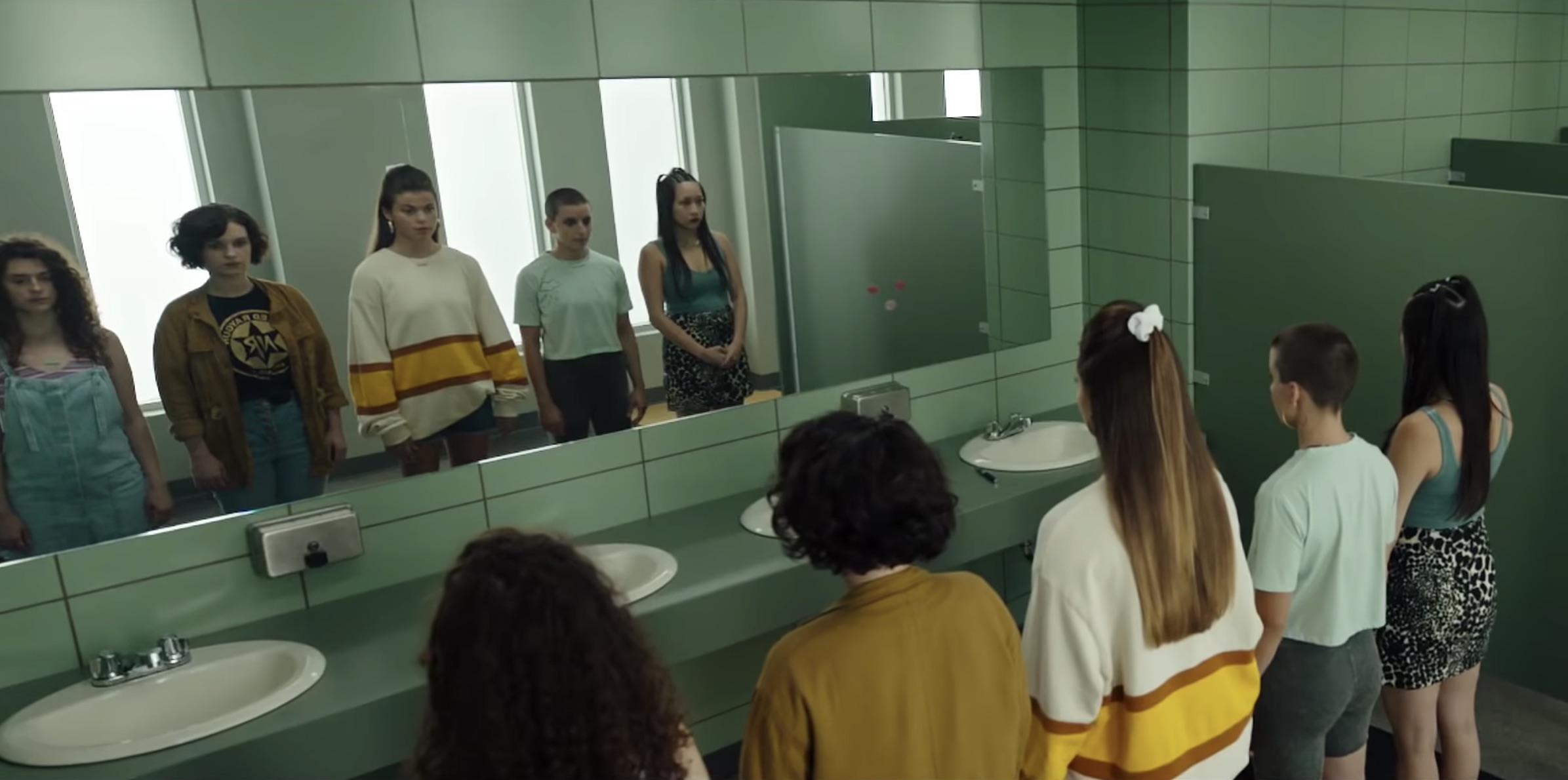 Nia DaCosta's spiritual sequel to the iconic 1992 horror movie was her second film to direct, she also co-wrote the script with Jordan Peele and Win Rosenfeld. The film picks up the Candyman story with Chicago artist Anthony McCoy who decides to investigate the urban legend of the Candyman haunting the Cabrini-Green projects. When Candyman debuted at number one at the box office, DaCosta became the first black woman to achieve the honor.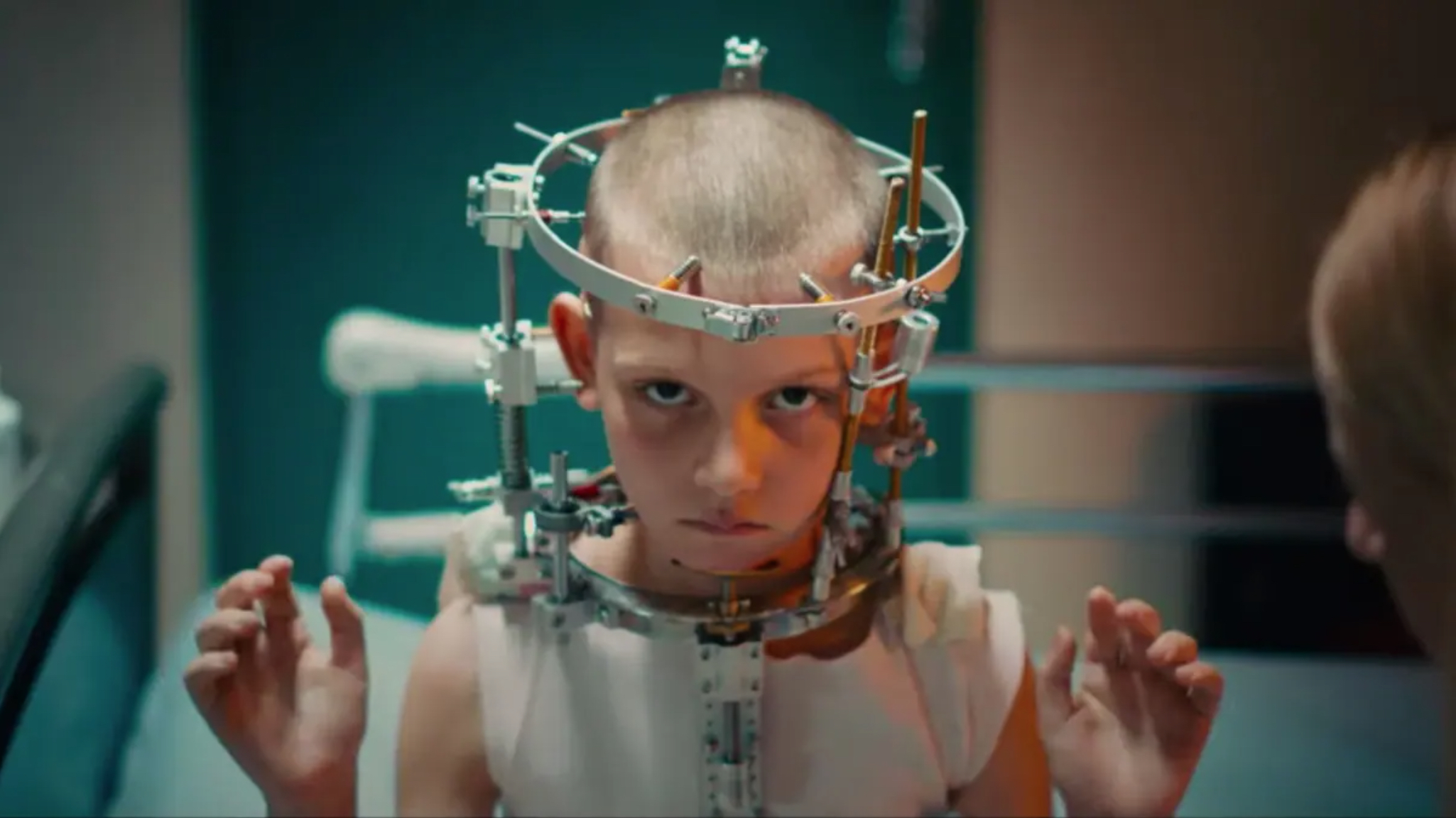 Julia Ducournau's follow up to Raw (Garance Marillier makes an appearance as Justine) is a body horror about a girl, Alexia, who has a titanium plate put in her head following a childhood car accident. As an adult, Alexia is a car model by day and a serial killer by night. When one of her kills goes wrong, she literally burns down her old life and starts anew as "Adrien". Titane is about gender, parenting, families, loneliness and love.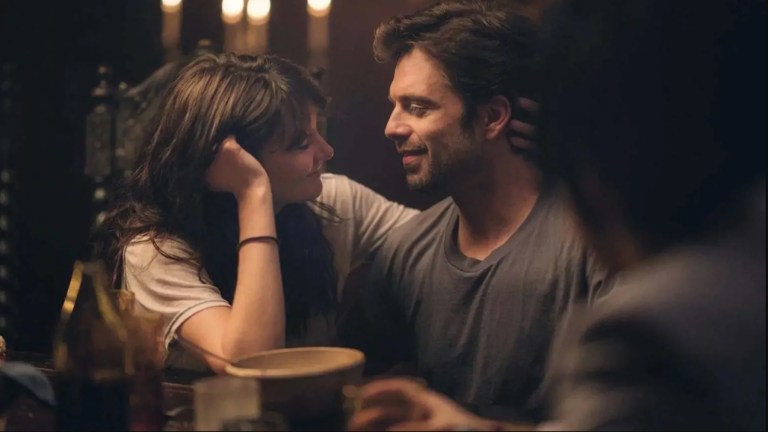 Fresh was many reviewers favorite at 2022's Sundance Film Festival before premiering on Hulu in March 2022. The horror comedy is about a woman named Noa (Daisy Edgar-Jones) experiencing the misogyny-filled horror of modern dating. When she meets Steve (Sebastian Stan) at the grocery store, she thinks she has finally met one of the good ones only for a very effective twist revealed right before the opening credits, 30 minutes into the film.
Written by Lauryn Kahn and directed by Mimi Cave, Fresh is a dating horror story told from the female perspective. The film works as an allegory for how women are often objectified and viewed as meat to be consumed or a product to be sold by men. When one woman, Ann, is revealed to be upholding the patriarchy, a subsequent scene shows her disrobing for a shower in order to highlight what proximity to men has cost her, even while she enjoys a privileged position within that system. Later, Jojo T. Gibbs' character, Mollie, screams at her "Bitches like you are the fucking problem."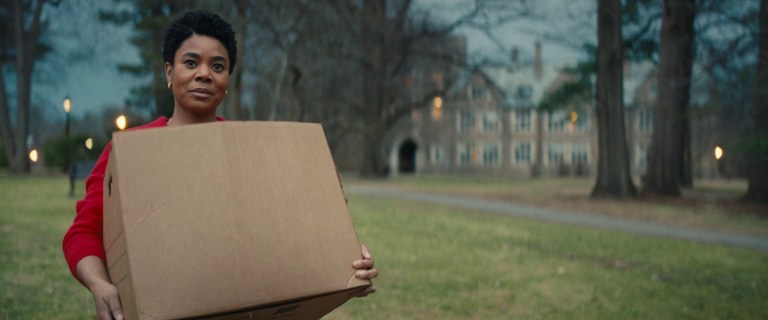 Regina Hall returns to horror in a serious role as Gail Bishop, the first black "master" (head of a college) at Ancaster, an elite New England university. Meanwhile a black student, Jasmine Moore (Zoe Renee) moves into a dorm room that is infamously haunted by the school's first black student, who died in the room by suicide. Jasmine's roommate and friends bully and humiliate her and Jasmine is also killed by suicide. At the film's climax, (warning, spoilers) Gail helplessly breaks down as she explains that proving racism or bullying or abuse is like trying to prove that a ghost exists. Even when you can see it and even when it has very real effects (like causing people to die by suicide), you can't put your finger on it and convince others that it is a cause.
More feminist movies directed by women
Context: Women, History and Horror Cinema
While horror has always been viewed as a genre made by and for men, women have been creating and consuming horror from the very beginning and are present throughout the tapestry of horror film history – if you know where to look:
In 1913 French filmmaker Alice Guy-Blaché directed an adaptation of Edgar Allen Poe's The Pit and the Pendulum.
Artist and special effects designer Milicent Patrick created the iconic costume for the Gill-man from The Creature from the Black Lagoon (1954), though credit was stolen by a male colleague (who fired her when she protested) until research in 2019 revealed Patrick as the actual creator.
Debra Hill co-wrote and produced Halloween (1978) though her legacy and career would suggest otherwise when compared with her co-writer John Carpenter.
Even after the objective success of her film Pet Sematary (1989), the highest grossing horror movie directed by a woman, Mary Lambert's idea for a sequel following the character of Ellie Creed was turned down by studios in favor of a story written by a man and following a male protagonist – with lackluster critical and commercial results.
Writers like Mary Shelley, Shirley Jackson, Daphne du Maurier, and Anne Rice contributed iconic works of horror filmmakers are still adapting today.
And yet, when books and documentaries are made and film courses are taught about the history of the genre, women are nowhere to be found. In the exhaustive 867-page overview Horror Film Directors 1931-1990, for instance, the author lists only one woman, in the category he labels "obscure/hack". As Joanne Russ argued, "A mode of understanding literature which can ignore the private lives of half the human race is not 'incomplete'; it is distorted through and through." Traditional means of understanding the history of the horror genre have not even given us an "incomplete" view by which we can extrapolate and hope to understand the real story. It is a history that is so false as to be completely unhelpful. This reimagined history doesn't only neglect the perspective women. As bell hooks points out, "many feminist film critics continue to structure their discourse as though it speaks about 'women' when in actuality it speaks only about white women." Even as we make gains in making films that represent more stories than just those that appeal to the white North American or European man, we are also becoming aware that simply including white women isn't enough.
The 1950s and 1960s auteurism in France and the United States– according to which a film director is an individual agent who controls the entire creation process of the film– especially erased the contributions of women who, due to a number of historical, economic and cultural circumstances, have had greater access to the positions of screenwriter, editor, actress and costume designer than to that of director.

Katarzyna Paszkiewicz, Gender, Genre, and Authorship in Ginger Snaps
It is certainly true that there are less female directors than there are male directors for a variety of social and economic reasons. It is also true that women's contributions are routinely ignored and forgotten, or their authorship is attributed to a male coworker or boss. In order to best understand women's role in horror, we have to look beyond the role of director as the singular creative genius behind a film and instead view movies as collaborative art created by a team of people talking to each other about what scares us.
As a woman I can get certain things out of actors that if I were a man, I don't think I could. Sometimes the male ego balks with another male ego, or a male ego intimidates a female ego or vice versa. It's not saying one is better than the other, it's just saying you get something different.

Karen Arthur, Inside Karen Arthur's The Mafu Cage
It is important to note that simply because a film is directed by a woman does not make it a feminist film. For instance, Barbara Peeters "officially" directed Humanoids from the Deep (1980) but asked for her name to be removed from the project after producer Roger Corman had explicit rape scenes shot and added into the film without her permission. Obviously an exploitation film with egregious rape scenes is not a feminist film. It is also possible for men to direct a feminist film. For instance Ari Aster's Midsommar (2019) explores the emotional horror of being held hostage in a toxic relationship and is certainly a feminist interpretation of horror. Similarly, cult favorite feminist horror film Ginger Snaps (2000) was directed by John Fawcett who co-wrote the script with Karen Walton.
Jonathan Markowitz acknowledges that horror may challenge presumptions of "female paranoia" by establishing it as "a reasonable response to a world that is hostile to women."

Tosha R. Taylor, Self-Reflexivity and Female Camp in 'Freddy's Dead: The Final Nightmare'