Every Major Horror Movie That Came Out In 2020
Find your next horror flick with this expansive list of every horror movie that came out in 2020. Who knew it would be such a great year for horror?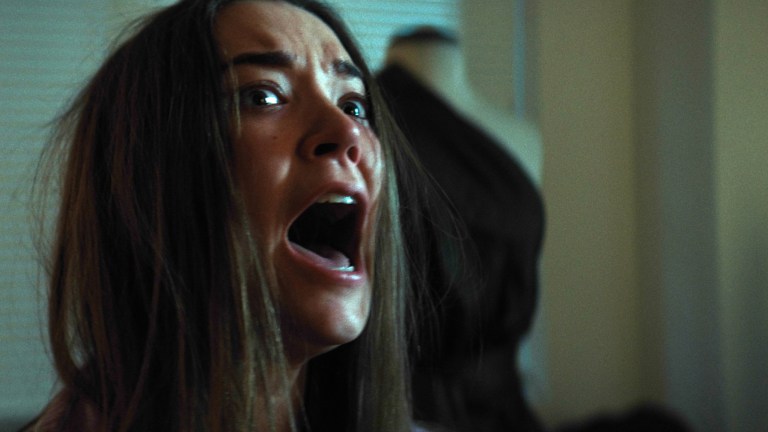 Even though the pandemic changed just about everything we expected 2020 to be, we still managed to have an awesome year for horror. Big name productions like A Quiet Place 2 and Halloween Kills were pushed from release until 2021 in hopes that people will be back to buying movie theater tickets. However, plenty of other movies were released straight to streaming and horror fans had more than enough to be happy about. Here are all the movies that came out this year, I noted my favorites of the year with a thumbs up 👍 emoji.
This movie about a Los Angeles transplant moving into a cult-y apartment complex went viral on Netflix in August. It's genuinely scary and has a few scenes that are in the running for most horrifying of 2020.
1Br is available here.
Janelle Monáe-led horror movie about a sociologist who seems to be slipping back and forth between her modern day life, and the Antebellum south where she is tortured as a slave on a plantation.
Antebellum is available here.
Riveting survival horror story about a woman who randomly encounters a sadistic sociopath while on a solo road trip. If you travel alone (ever) and love horror, carve out a night with this one.
Alone is available here.
A horror-comedy that serves as the sequel to last year's Netflix Original The Babysitter.
The Babysitter: Killer Queen is available on Netflix.
This is an Amazon original about a man who gets an experimental procedure to help him endure the trauma associated with a car accident and his wife's death.
Black Box is available here.
I actually think The Boy is underrated but I was still shocked to discover this movie got a sequel. Katie Holmes stars as Brahms the doll's next victim.
Brahms: The Boy II is available here.
In a post-apocalyptic near-future, a starving family lucks into a meal. The price is participation in a dinner theater that turns deadly.
Cadaver is available on Netflix.
An old man plays a sinister prank on a trio of teenagers after his wife's tragic death. If you use your imagination, this movie could exist in both the universe of Saw and also M. Night Shyamalan's The Visit.
The Call is available here.
A child's imaginary friend turns out to be a sinister entity.
Come Play is available here.
A low budget horror comedy that tbh seems pretty racist? I'm not really clear on what's happening here.
Corona Zombies is available here.
Another era, another three witches in high school looking for their fourth. More than a modernized version of the cult classic or a remake, this is really just another story in the Craft universe.
The Craft: Legacy is available here.
A slow burn horror about a family who gathers at a remote farm to be present for their sickly father's passing. While there, they realize their father's illness isn't as concerning as whatever dark thing is happening with their mom. While it can be slow at times, the suspense is well done and there are scenes that will haunt you long after the screen turns black.
The Dark and the Wicked is available here.
A direct sequel to Deep Blue Sea 2 (but not the original, which is what most people have seen). Scientists on a remote artificial island discover an especially blood thirsty family of sharks. I think shark movie enthusiasts will love this one, but I'm mourning the absence of LL Cool J.
Deep Blue Sea 3 is available here.
Blumhouse's adaptation of the fantasy TV series from the 70s. A group of friends win a contest that sends them to "Fantasy Island" where they are told their wildest fantasy will come true. Of course, the fantasies aren't exactly as pleasurable and wholesome as the guests assumed.
Fantasy Island is available here.
A fun, modern horror take on Freaky Friday in which a high school girl switches bodies with a middle aged serial killer. A cool element is that this movie takes place in the same cinematic universe as Happy Death Day and the director has expressed that future movies may expand this story even more.
Freaky is available here.
A group of American soldiers in France during WWII are charged with holding a castle that has been taken from Nazi rule. Both supernatural and real life horror slowly reveal themselves to the soldiers as they begin to question their sanity and whether they can actually hold the castle.
Ghosts of War is available here.
A horror adaptation of the famous fairy tale of "Hansel and Gretel".
Gretel & Hansel is available here.
This was supposed to be a remake of the original American Grudge movie (which was only released in 2004) but ended up just being another story in the same universe as The Grudge 1-3. After a nurse leaves Japan for the U.S., she leaves behind a trail of people who experience Kayako's curse.
The Grudge is available here.
A creepy Netflix original about a family of refugees who seek asylum in the UK. They are granted public housing and told to strictly follow the rules or else they may be deported. Unfortunately, the house they are mostly confined to happens to be haunted.
His House is available on Netflix.
A fun pandemic horror movie about a group of friends who hire a medium to spice up their weekly Zoom calls during quarantine. However, some of the friends don't take the virtual seance seriously and have to deal with the consequences of an angry entity from beyond the material world.
Host is available here.
A controversial horror comedy about a group of liberal elites who hunt "deploreables" a la The Most Dangerous Game. Despite the concept it's actually really funny and an enjoyable horror movie for people of any political persuasion.
The Hunt is available here.
A (very) loose adaptation of the HG Wells science-fiction novel. A woman escapes her wealthy, violently abusive ex only for him to fake his death in order to torment her and her loved ones with an invisibility suit he invented.
The Invisible Man is available here.
Creepy slow-burn movie about a blended family trying to spend their first Christmas together at a remote cabin.
The Lodge is available here.
An unhinged thriller about a group of sorority sisters who plan to have a fun weekend at a lake house.
Nesting Dolls is available here.
A group of teens hiking in a Polish forest discover enough evil to ensure they may never make it home.
Nobody Sleeps in the Woods Tonight is available on Netflix.
An Amazon original about two sisters who attend a competitive school for the arts. The tension builds from one sister being considered much more talented than the other.
Nocturne is available here.
An influencer goes to Russia to go to an invite-only escape room run with deadly consequences for failing to win.
No Escape is available here
A sci-fi horror about a near-future where a "possessor" is able to control another person's body via a small implant in order to carry out assassinations.
Possessor is available here.
A Netflix original that serves as an adaptation of a Daphne du Maurier novel. A woman falls in love with a wealthy English widower while on vacation. The two are married and return to his dazzling estate, but secrets from his past haunt the manor.
Rebecca is available on Netflix.
A lonely man meets a friend through a VHS tape.
Rent-A-Pal is available here.
Dave Franco's directorial debut about two couples who plan a fun weekend at a rented cottage. The rental's creepy owner turns out to be a red herring from the true horror that's waiting for the group.
The Rental is available here.
Sarah Paulson stars as the creepy mother of a disabled child. This movie is loosely based on the (legit insane) Gypsy Blanchard Munchausen murder case.
Run is available on Hulu.
A woman wakes up convinced she will die tomorrow. As she lives her last day on earth, her fear becomes contagious.
She Dies Tomorrow is available here.
Written by Bret Easton Ellis and based on the Smiley Face Killer theory, this movie follows one man who believes he is about to fall victim to the Smiley Face Killer.
Smiley Face Killers is available here.
A rideshare driver who dreams of being an influencer fills his vehicle with cameras and murders his passengers.
Spree is available here.
A woman takes a job as a live-in tutor for two children on a remote (and haunted) British estate. The story is a loose adaptation of Henry James' The Turning of the Screw.
The Turning is available here.
A group of scientists at a remote underwater facility in the deep ocean fall prey to monstrous aquatic life after an earthquake.
Underwater is available here.
This is a Netflix original is a fun horror-comedy about a group of vampires trying to gentrify the Bronx.
Vampires vs. The Bronx is available on Netflix.
After a few months at summer camp, a girl returns home to find her mom about to marry a suspicious man.
What Lies Below is available here.