14 Horror Movies About Writers
No, this isn't just a list of Stephen King movies.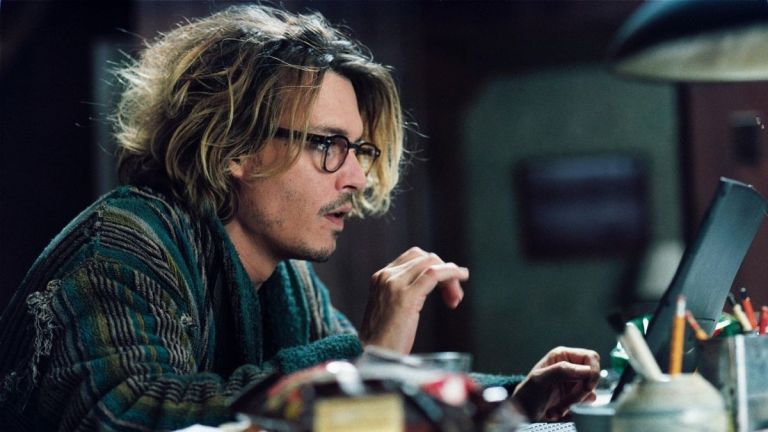 The overabundance of writers in horror has certainly been helped along by horror writer Stephen King, who has written versions of himself into many of his stories. For instance, Jack Torrance in The Shining is somewhat based on King himself, a confession on his part about how far his alcoholism had gone and its effects on his young family. King also wrote about protagonists who are writers in other books that became major horror films such as Salem's Lot (1979), Misery (1990), It (1990), Secret Window (2004), and 1408 (2007).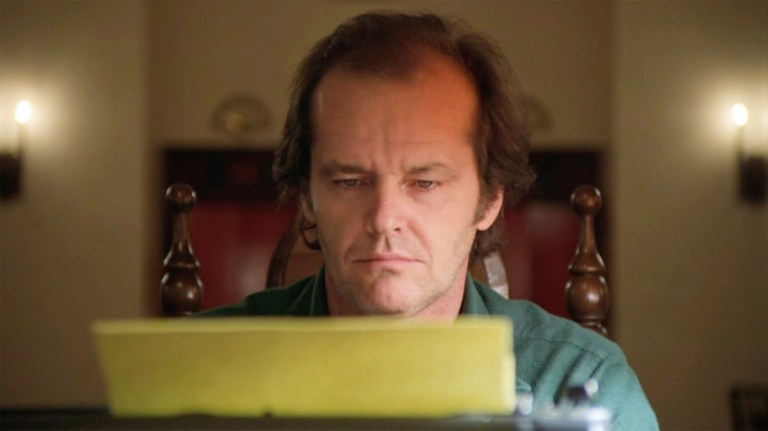 However, this is not just a list of Stephen King adaptations. Many other writers and directors have chosen to center writers as their films' protagonists. Writers can be the perfect protagonists for horror because there is always an excuse to put them in some kind of horror movie setup. Like Jennifer from I Spit on Your Grave (1978), they could venture into an isolated location to have peace and quiet to work on their writing. Or, like Ellison Oswalt in Sinister (2012), they could put themselves in a haunted place to write about it, unaware that the haunting is about to get out of hand.
Here are the best horror movies about writers:
This rape and revenge film follows a Manhattan short story writer Jennifer Hills (Camille Keaton) as she rents a remote cabin in Connecticut to work on her first novel in peace and solitude. Her plan is derailed by the local men who feel personally attacked by an independent woman's presence. After the men gang-rape Jennifer, she recovers and begins a violent rampage of revenge.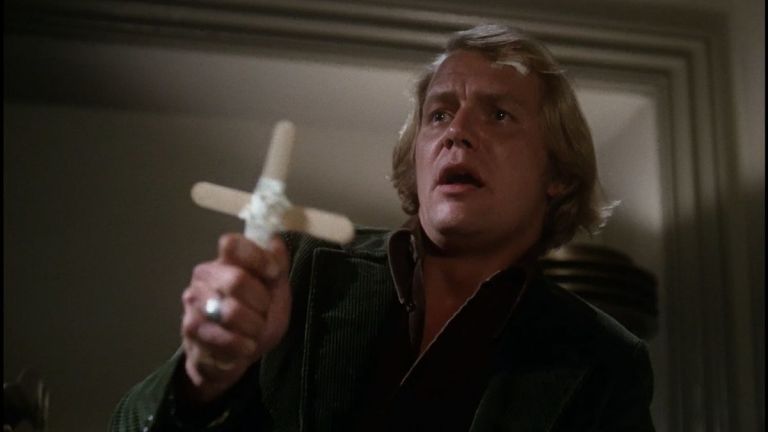 Ben Mears (David Soul), a successful author, returns to his hometown of Salem's Lot, Maine to research and write a book about a spooky old mansion that fascinated him as a child. Upon his return, Mears discovers that the town is being overrun by vampires with ground zero being the mansion to which he was drawn. Together with the remaining living townspeople, Mears attempts to kill the vampire leader and end the infestation.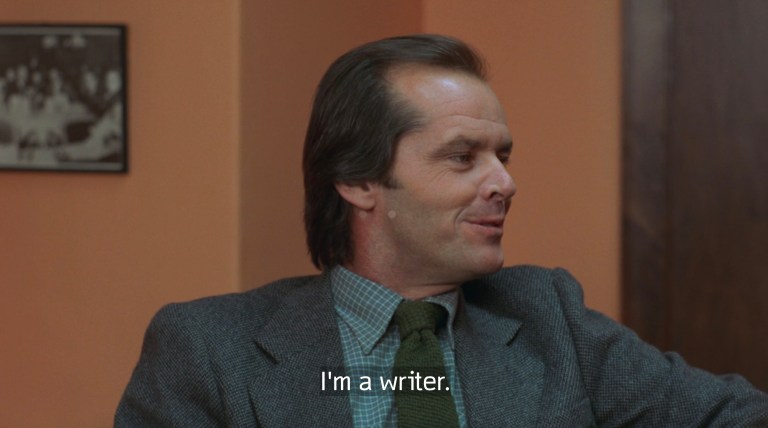 Based on the semi-autobiographical novel by Stephen King, in this Stanley Kubrick film Jack Nicholson plays alcoholic writer Jack Torrance, who has recently taken a job as the winter caretaker of the Overlook Hotel after losing his job as an English teacher for attacking a student. Jack has also recently dislocated his son's arm in a fit of anger and has since been sober for a few months. When the solitude of the Overlook fails to evoke any works of genius for Jack, he turns on his wife and son.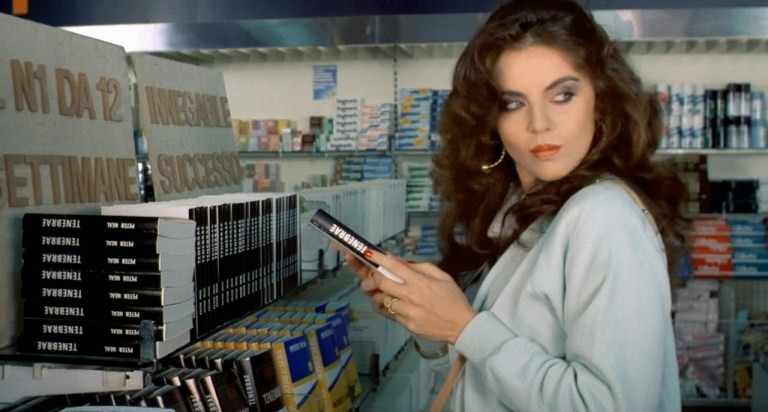 A giallo written and directed by Dario Argento, Tenebrae is a scary murder mystery about an American horror writer in Italy. The writer, Peter Neal (Anthony Franciosa), goes to Italy to promote his latest horror novel. There, a string of murders breaks out and the killer sends Peter a note that he is inspired to kill based on his novels.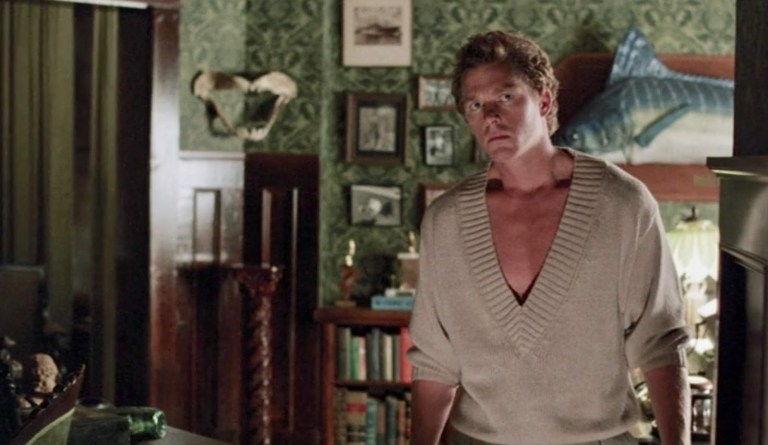 A horror comedy about writer Roger Cobb (William Katt) who moves into his aunt's house after her death to write a memoir about his time serving in Vietnam. After moving in, Roger is besieged by nightmares about the war at night and haunted by ghostly phenomena in his waking life. Eventually, the home's supernatural presence forces Roger to confront his past.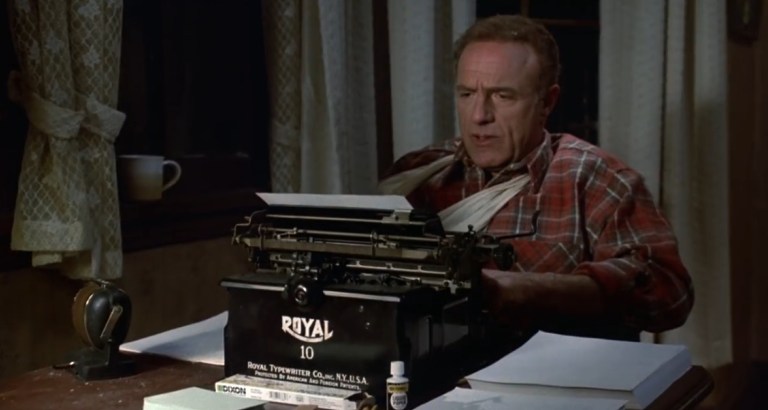 Paul Sheldon (James Caan) is a famous novelist who has just finished his latest manuscript at a Colorado hotel. When he gets in his car to travel back to New York City, he gets caught in a blizzard and drives his car off a cliff. Unluckily for him, he is rescued by a deranged local, Annie Wilkes (Kathy Bates), who happens to be his number one fan. Wilkes refuses to call anyone and instead holds Sheldon hostage while she forces him to write a new book.
After reading a book by horror novelist Sutter Cane (Jürgen Prochnow), a man has a psychotic break and murders his family. An insurance investigator named John Trent (Sam Neill) is tasked with finding Cane and his latest manuscript by his publisher. When he finds Cane and his latest novel, In the Mouth of Madness, he discovers something sinister is at work.
Rachel Keller (Naomi Watts) becomes the protagonist of The Ring for two reasons: Her niece is killed by Samara under mysterious circumstances, and she is a journalist who has the resources to investigate the death on behalf of her sister. Rachel tracks the death back to a supposedly cursed videotape her niece watched with friends while staying at a cabin at Shelter Mountain. Identifying the woman in the tape as Anna Morgan, she travels to Moesko Island to interview Anna's widow and discovers that the couple's adopted daughter, Samara Morgan, was able to psychologically torture people and is responsible for the cursed tape.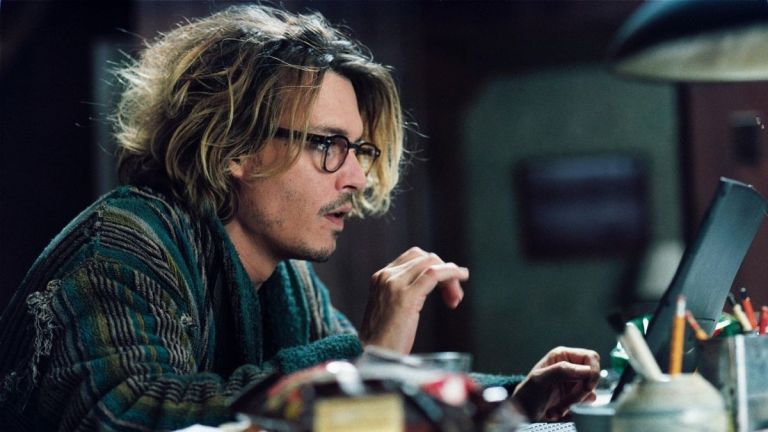 Recently separated mystery writer Mort Rainey (Johnny Depp) moves into his upstate NY cabin where he suffers from writer's block and drinks his days away. When a man named John Shooter (John Turturro) shows up at his door claiming Rainey plagiarized one of his stories, Shooter demands Rainey provide proof that he didn't plagiarize the story and kills his dog as a threat. Rainey tries to get proof so that Shooter will leave him alone, but it proves difficult.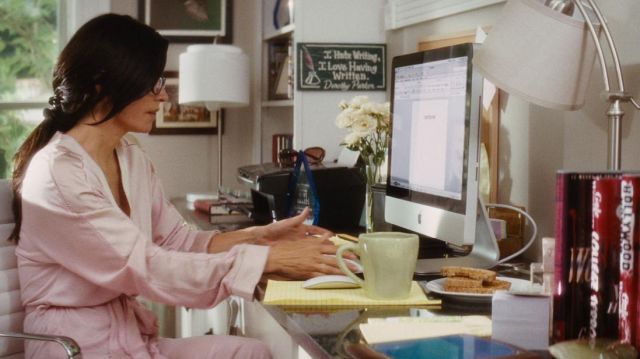 Scream 4 finds franchise protagonist Sidney Prescott on a book tour for her memoir, Out of Darkness, with the last stop being her hometown of Woodsboro. Meanwhile, author and TV reporter Gale Weathers is also suffering from writer's block as she attempts to leave tabloid journalism behind and write something new. Ghostface returns, targeting Sidney's niece, Jill Roberts (Emma Roberts) and her friends Sidney and Gale are unaware, but this Ghostface wants to write a new version of the story.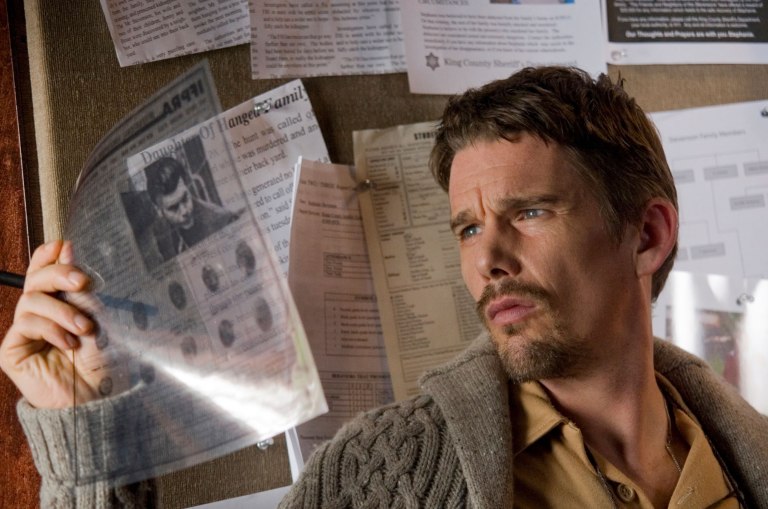 True crime author Ellison Oswalt (Ethan Hawke) moves his unsuspecting family into a home where a brutal family murder took place to research his next book. Unfortunately, he discovers that a demonic entity has a role in the murders, which are tied to a string of other family murders in which each case also has a missing/surviving child. The entity is able to attack families who move into the home of the previous murder after they move to a new home.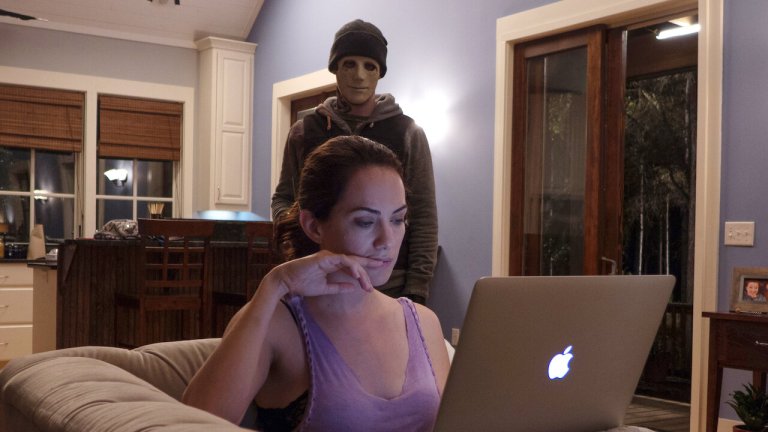 A slasher film about a deaf-mute horror author named Maddie Young (Kate Siegel) moves to a remote cabin in the woods to work on her craft. When a slasher killer sets his sights on Maddie, it takes her a minute to notice she is in danger, as she cannot hear him taunting her by tapping on the glass or moving around outside. A game of cat and mouse begins as Maddie has to think of a way to outsmart the killer.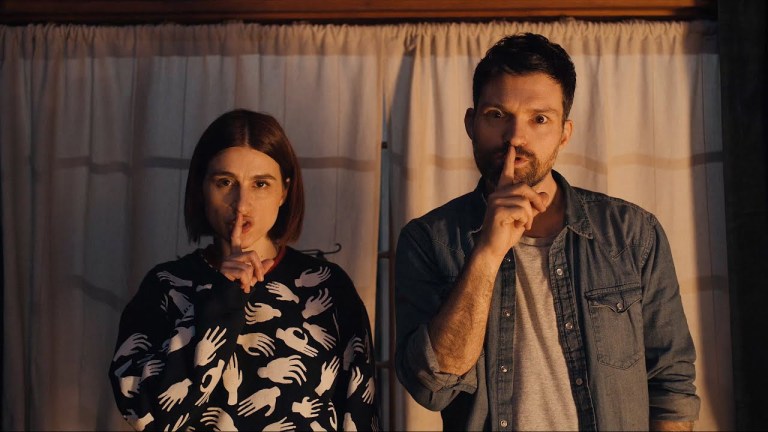 A horror comedy about two writers, successful author Fannie (Aya Cash) and aspiring writer Fred Banks (Josh Ruben), who meet on vacation while renting cabins near each other. Fred is impressed and insecure with regard to Fannie's success. A storm that knocks out power on the mountain brings the two writers together as they agree to tell scary stories in front of the fire.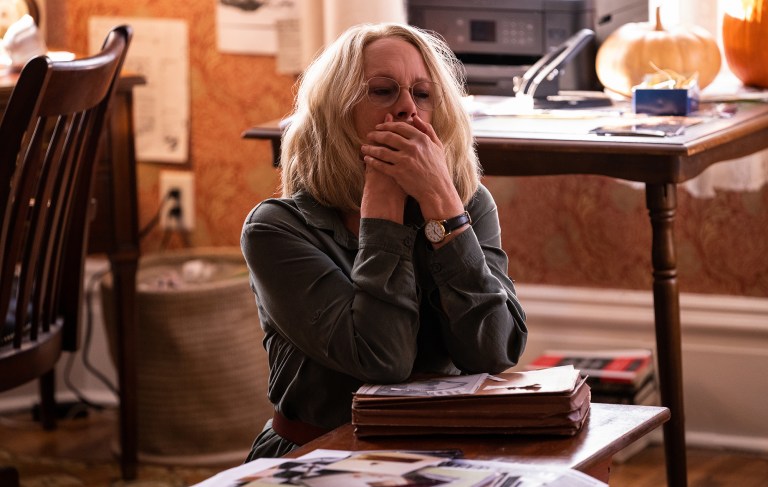 The final chapter of David Gordon Green's Halloween trilogy finds Laurie Strode (Jamie Lee Curtis) working on a book about her life with Michael Myers. New Haddonfield resident Corey Cunningham (Rohan Campbell) terrorizes the town with his new pal Michael Myers. Laurie begins to notice that something is wrong with Corey and he makes plans to leave town forever with her granddaughter Allyson (Andi Matichak).