Everything We Know So Far About 'Scream VI'
In a city of millions, no one hears you scream.
Directing trio Radio Silence has said that Scream VI will find the survivors leaving Woodsboro to "start a fresh chapter" in New York City. Filming started in June 2022 in Canada and the movie will be released on March 10, 2023.
Background: Scream (2022), the meta slasher franchise's first installment since Scream 4 (2011) surpassed the $100 million mark showing that the Scream franchise is still lucrative. This is a big take considering Paramount took a risk and only released Scream in theaters during the Covid Omicron surge. Radio Silence, the directing duo of Matt Bettinelli-Olpin and Tyler Gillett, will return to direct Scream 6 with James Vanderbilt and Guy Busick writing the script. This is the same team that brought us Scream (2022) and critical and audience reviews have been positive. The film has been characterized as "a love letter to horror fans" and currently holds a 3.5 rating on social film site Letterboxd where users wonder if "the real killer wasn't the friends we made along the way."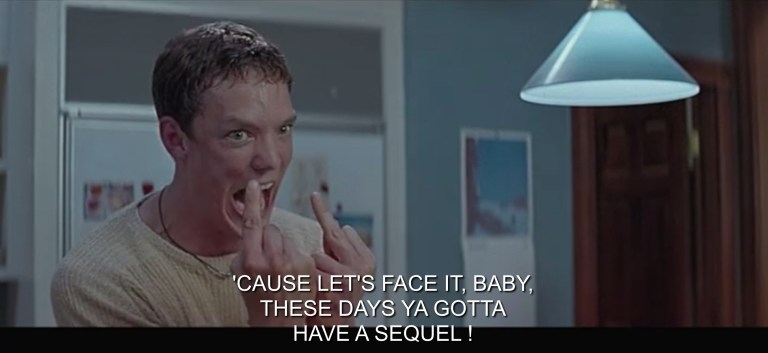 Scream VI Trailer
The official trailer was released on Jan. 19, 2023. The clips show a pretty scary scene where Sam and Tara Carpenter attempt to hide from Ghostface in a bodega. Ghostface survives a shotgun blast and quickly turns the gun on the survivors. We also see Gale Weathers getting her first direct call from Ghostface in the franchise! She pulls out a gun in what looks like her home and fires at Ghostface, showing us how far she's come from the reporter in the first film who didn't know how to turn off the safety. The trailer ends with the subway scene we say in the teaser trailer where several Ghostfaces appear on a poorly lit subway car with Sam, Tara, Mindy and Chad.
A second poster was also released on Jan 19: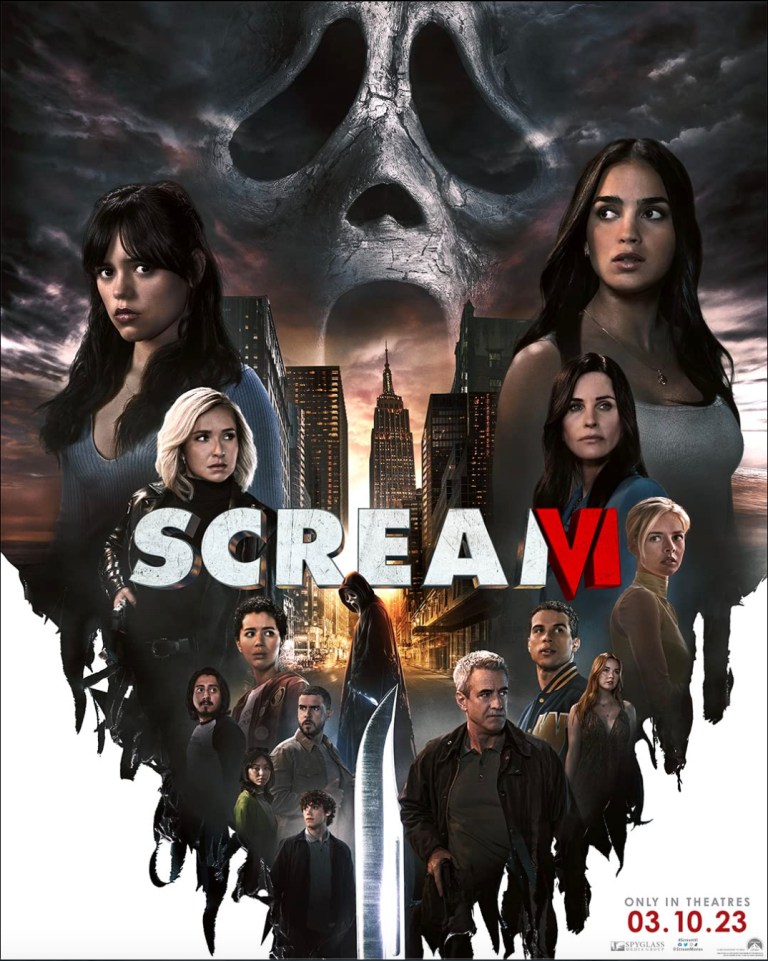 A one-minute teaser trailer was released on Dec. 14, 2022:
The trailer shows Sam Carpenter (Melissa Barrera), Tara Carpenter (Jenna Ortega), Mindy Meeks-Martin (Jasmin Savoy Brown) and her twin brother Chad Meeks-Martin (Mason Gooding) in a NYC subway train packed with people in costumes, including several in a Ghostface costume. As the lights flicker and a certain Ghostface toys with the four survivors, the realization sets in that in New York City there may be people everywhere, but no one will pay attention to your scream.
A new poster for Scream 6 was also revealed with the film's title stylized as "Scream VI":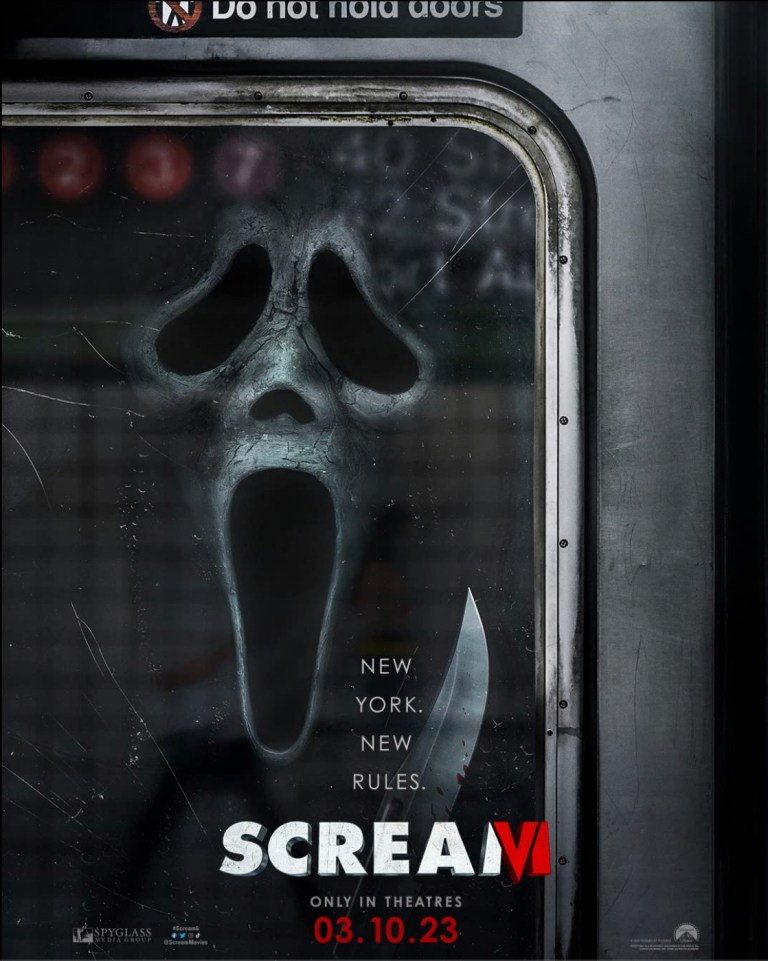 Scream VI Cast And Crew
As a woman I have had to work extremely hard in my career to establish my value, especially when it comes to Scream…I felt the offer that was presented to me did not equate to the value I have brought to the franchise.

Neve Campbell, Neve Campbell Won't Be Back For 'Scream 6'
Scream VI Release Date
Scream VI will be in theaters March 10, 2023.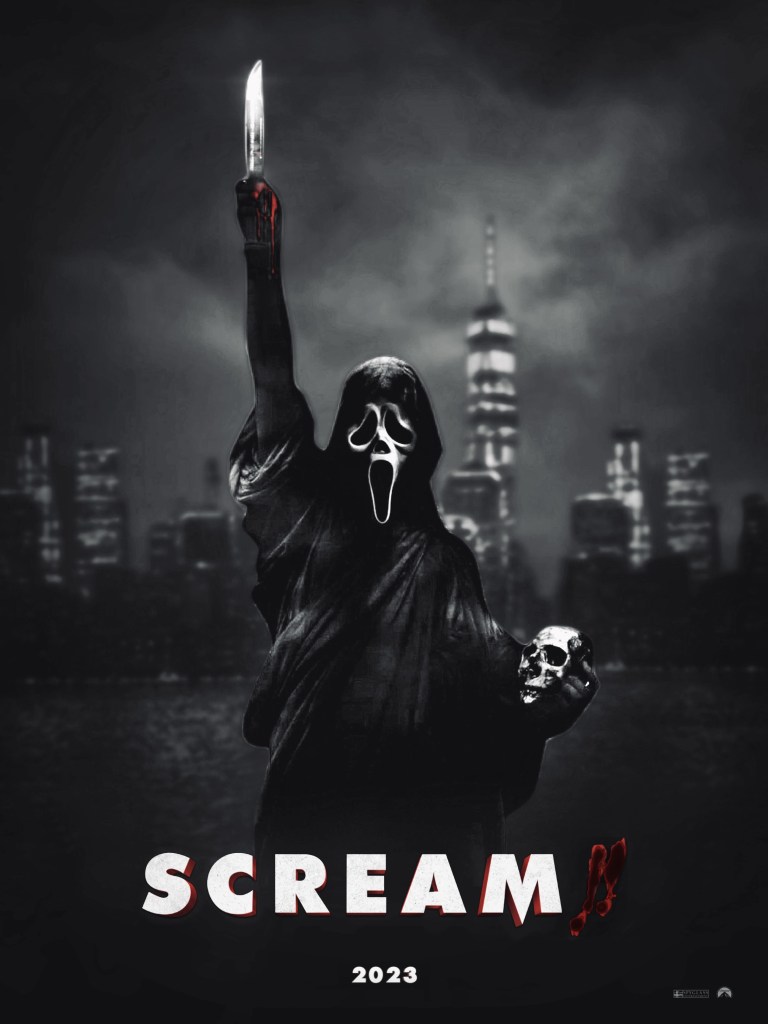 Scream VI's official synopsis reads: "The film continues with the survivors of the latest Ghostface killings, sisters Samantha and Tara Carpenter and twins Chad and Mindy Meeks, as they leave Woodsboro behind and start a new chapter of their lives in New York City, only to again run afoul of a new killer dressed in the Ghostface visage."
Star Jenna Ortega, who plays Tara Carpenter, says that this will be the most violent Ghostface we've seen so far saying, "I just read part of the script, and it just gets more and more gory. I think that this is probably the most aggressive and violent version of Ghostface we've ever seen, which I think will really be fun to shoot."
Like all Scream movies most of the plot details are being kept under wraps. Production documents have revealed that the working title of the film may be "Blackmore" but no one knows what this might refer to. Several fan theories have emerged about what may happen in this film including the return of Charlie Walker (Rory Culkin) and a meta Ghostface killer being revealed.
Frequently Asked Questions
Are there spoilers for Scream 6?
There may be spoilers for
Scream 6
around the internet. Creepy Catalog will not publish spoilers and you won't find spoilers in this article. If you'd like to read spoiler-free speculation about what might happen in
Scream 6
, you can do that
here.
What is the release date for a full trailer for Scream 6?
So far, only a one-minute teaser trailer has been released for Scream 6. The film is being released on March 10 and fans can expect a full trailer to be released any day now.
Who will die in Scream 6?
As the film hasn't been released, no one knows which characters will die in Scream 6. Since we lost a major character in Scream 5 (2022) and Neve Campbell won't be returning as Sidney Prescott, the only legacy character to appear in Scream 6 will be Courtney Cox as Gale Weathers. Several Scream 5 characters will return, and Kirby Reed (Hayden Panettiere) will reprise her role from Scream 4.
Who is the killer in Scream 6?
No one knows who the killer is in the unreleased Scream 6 movie. Fans have speculated that almost every character has a motive and could be the killer.
Where is scream 6 streaming?
Scream 6 will have a theatrical release date on March 10, 2023. It will almost certainly stream on
Paramount Plus
, a few months after the theatrical release is over. This is what happened with
Scream 5
, so it's likely the same thing will happen with
Scream 6
. It is very unlikely that you will be able to stream it on Netflix or HBO Max.