23 Fun Trivia Facts About 'Wild Things' (1998)
"It's like a three-way collision between a softcore sex film, a soap opera and a B-grade noir. I liked it."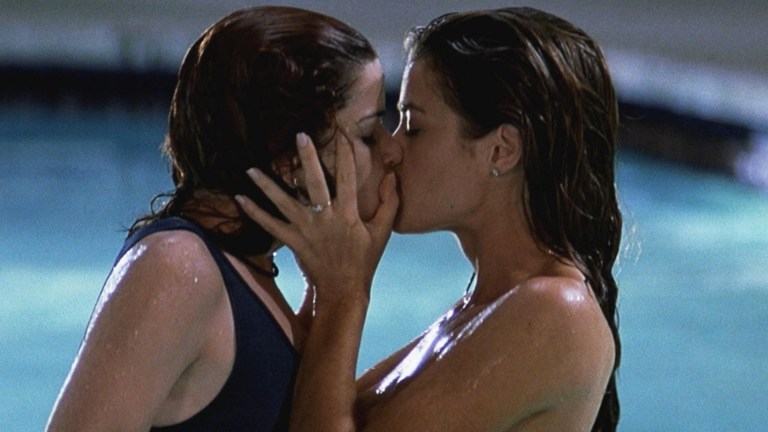 Wild Things (1998) is the kind of neo-noir erotic thriller the 90s were known for. The dark plot spins the viewer 'round and 'round as crimes are committed and hidden motives revealed. Illicit sex, greed, betrayal, and revenge are major themes.
The basic plot of Wild Things (warning: spoilers ahead) is about a high-school guidance counselor named Sam Lombardo (Matt Dillon), who is so well-regarded in his wealthy Florida community that he was just voted "Educator of the Year." The community is shocked when two of his 18-year-old students come forward to say that Mr. Lombardo raped them. The students are wealthy Kelly Van Ryan (Denise Richards) and poor "swamp girl" Suzie Toller (Neve Campbell). The case goes to trial, and in a dramatic courtroom moment, the whole thing is revealed to be a revenge plot: Kelly wanted to get back at Lombardo for having an affair with her mother, and Suzie was angry he did not bail her out of jail when she was arrested for a drug charge. The case is dismissed, and Kelly's mother pays Lombardo $8.5 million to keep Kelly out of jail, as her daughter committed perjury.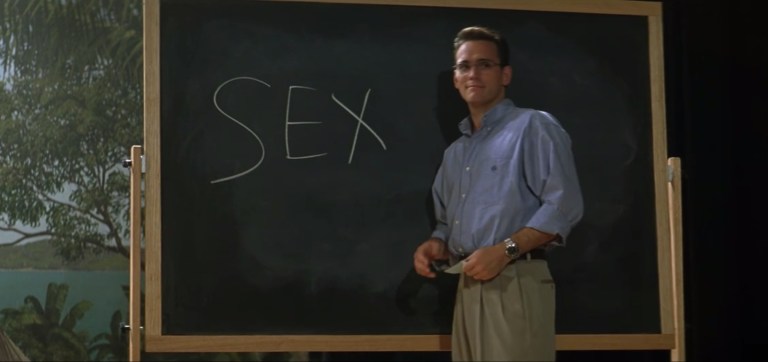 During the police investigation into Sam Lombardo, it is only the female detective, Perez, who says she suspects Kelly is making up the details of her rape and asks for her to be subjected to a polygraph test. The detective pushes back against her colleagues and says she doesn't even want to question Lombardo's other students or neighbors because then he will be associated with claims of impropriety. In a scene that takes place in Lombardo's hotel room near the end of the movie, it is implied that Detective Perez's deference to Lombardo was caused by her attraction to him, feelings which Lombardo pretends to return.
Public perception of Lombardo skyrockets, as not only is the attractive former athlete still the "Educator of the Year," he is now a wounded survivor of false rape accusations and newly wealthy as a result of the settlement. It is then revealed that Sam Lombardo is actually the mastermind of a conspiracy with both Kelly and Suzy. He planned the scheme to get millions of dollars from Kelly's mother, which he has promised the girls will be divided three ways. The three meet in a seedy hotel room, drink champagne, and have a threesome. Notably, this scene reveals that the rape accusations may have been true all along, but the timeline of the relationship between Mr. Lombardo and the girls is never spelled out completely to the audience.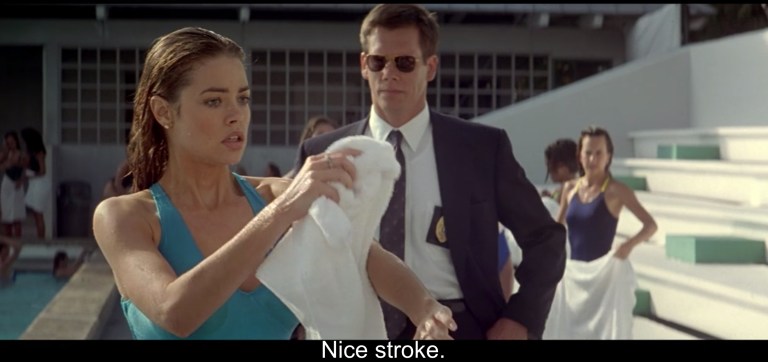 The police officers who investigated the rape charges, Sergeant Duquette and Detective Perez, become suspicious of Lombardo, Kelly, and Suzie and attempt to dig deeper. Sergeant Duquette privately threatens the girls while Lombardo warns them to "stick to the plan." Later, Lombardo, Kelly, and Suzie meet on a beach under the pretense of partying together. However, it appears that Lombardo murders Suzy and that Kelly helps him dispose of the evidence. Police begin to suspect that Kelly is the mastermind of the plan as well as Suzie's murderer. Sergeant Duquette visits the Van Ryan residence and shoots Kelly after he says she pulled a gun on him. He is fired, and police conclude that Kelly was Suzie's killer.
In the Bahamas, Lombardo and Duquette meet up and it is revealed that THEY are the masterminds behind the conspiracy. Lombardo intended for Kelly to be framed but is angered when Duquette kills her instead. The next day, Lombardo takes Duquette sailing and kills him. It is revealed that Suzie is alive, having faked her death with Lombardo and Kelly. It is also revealed that Duquette previously killed Suzie's friend Davy in an unrelated murder. Finally, Suzie is revealed as the plot's ultimate mastermind. She kills Lombardo and meets with his lawyer to take all the money for herself.
While the credits roll, flashbacks provide the audience with more information about how the whole scheme went down with Suzie as the actual mastermind.
Here are the most interesting bits of trivia and lore about Wild Things: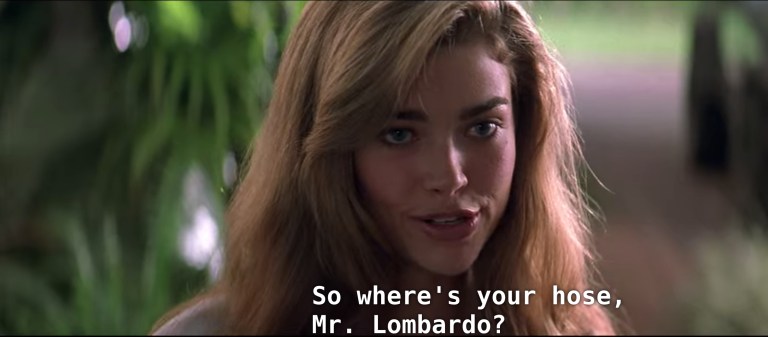 The creepiest thing to happen on set is that production found a dead body while they were shooting. According to the director, "We called the police, and they actually grabbed the body and kept it from getting into our shot."
2. Robert Downey, Jr. was the first choice for the part of Sam Lombardo. He was unable to be hired because it would cost too much to insure an actor who'd recently been in drug rehabilitation, because if he relapsed it would cause expensive delays.
3. Tara Reid auditioned for Denise's role.
4. While filming a scene at a local high school, it was determined the lacrosse team "wasn't good enough," so a rival team was brought in for the B-roll. Savage!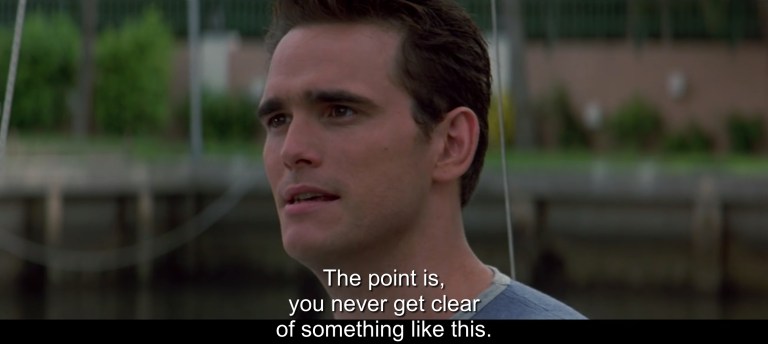 5. Of the threesome scene, Matt Dillon said he wanted it to have a "psychological dynamic to it. It should be about the taboo, about pushing the envelope. It shouldn't just be a bunch of people rolling around on a bed."
6. Neve Campbell had a no-nudity clause in her contract. Denise Richards's contract said that she could use a body double, but she ended up filming the scenes with nudity herself. Kevin Bacon also had a no-nudity clause, but he told the director to do what he thought was best and ended up with a full-frontal scene.
7. Part of the reason Neve Campbell's contract said no nudity is because Party of Five made her include the clause. She did do nudity later on in the erotic drama When Will I Be Loved (2004), in which she also plays a femme fatale.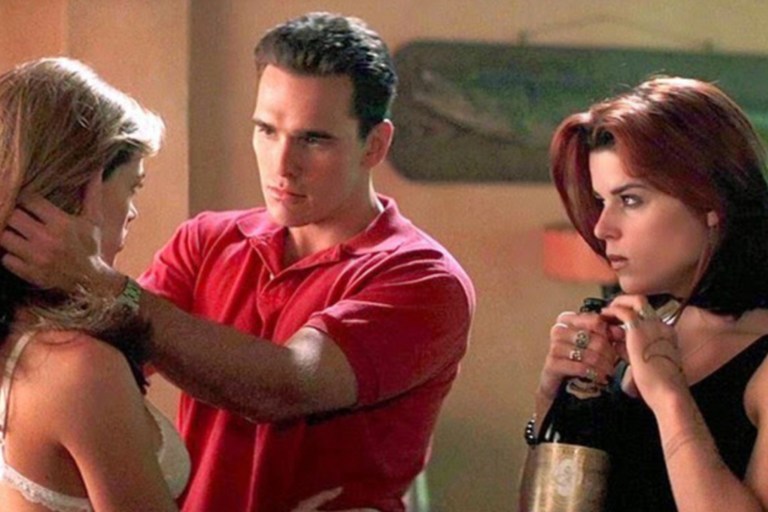 8. Campbell and Richards drank a pitcher of margaritas before their threesome scene.
9. Campbell wanted to the role because it was so different from her Party of Five character, and she thought it would help her avoid typecasting in the future.
10. Neve Campbell was 24 at the time of filming. Denise Richards was 27. The actor who plays Denise's mother, Theresa Russell, is only 14 years older than her.
11. The name of the dive bar near Suzie's home is called "Smiling Jack's Fishing Club" after a moment in A Few Good Men (1992) when Tom Cruise refers to Kevin Bacon as "Smiling Jack."
12. During filming, a tornado almost took down the trailers production was using.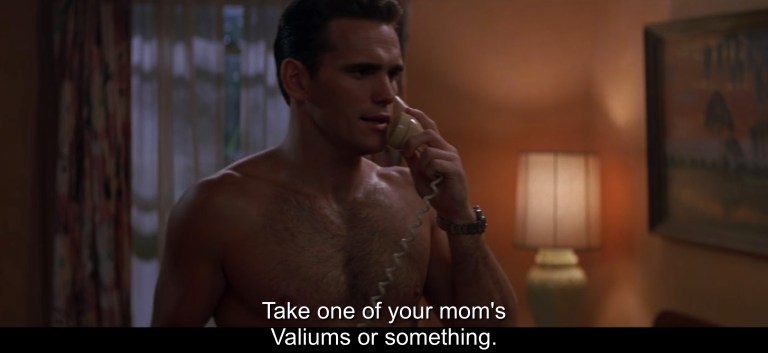 13. Bill Murray won a Los Angeles Film Critics Association Award for Best Supporting Actor for both Wild Things and the Wes Anderson comedy Rushmore, which was also released in 1998.
14. Of Kevin Bacon's nude scene, director John McNaughton recalls: "We called Kevin and he said, 'How do I look?' We said, 'You look good, Kevin.' He goes, 'No problem.'"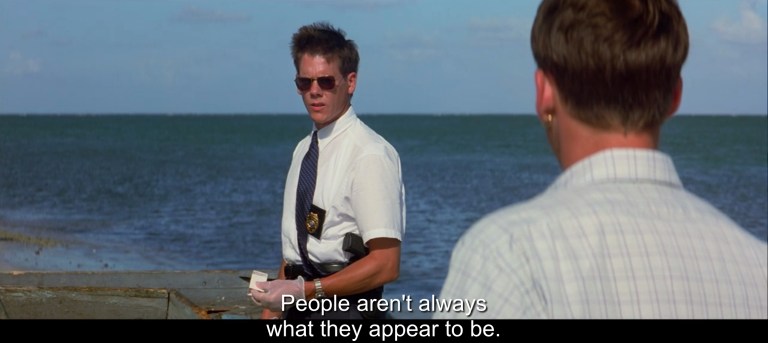 15. The shower scene almost included Matt Dillon and Kevin Bacon kissing and lathering each other, but ultimately it was thought to be "one twist too many."
16. John McNaughton made sure the lush south Florida scenery was included to contrast with the ugliness of the characters.
17. A deleted scene reveals that Suzie is actually Kelly's aunt, being the child of Kelly's grandfather and Suzie's mother. Grandfather Van Ryan leaving passively caused the death of Suzie's mother by alcoholism.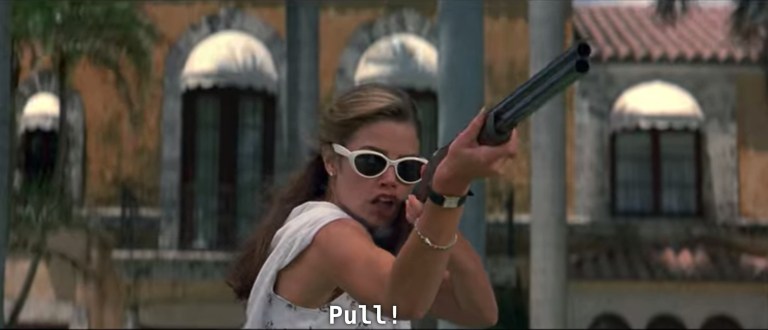 18. Denise Richards's onscreen rival Jennifer Taylor (who plays Matt Dillon's love interest Barbara Baxter) was on Two and a Half Men when Denise guest-starred. They competed for Charlie Sheen's affection this time.
19. Barbara Baxter's father is played by legendary actor (and person of interest in the death of Natalie Wood) Robert Wagner. Wagner played the lead in A Kiss Before Dying (1956), a role played by Matt Dillon in the 1991 remake.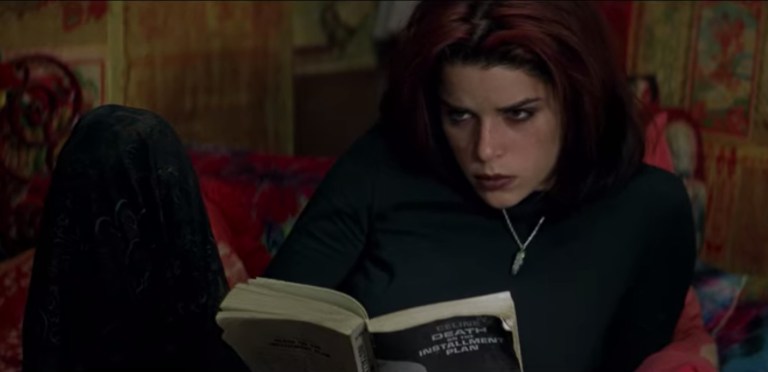 20. When one of Denise Richards's daughters asked her about the movie, she told them: "I would appreciate if you didn't watch it. It's not age-appropriate and it was a movie I did, it was a script I loved, it's me being creative. I worked with amazing actors and one day if you do see it, you may not agree with my decision but that's what mom decided to do."
21. The name of Lombardo's boat is "Helios," the Greek god of the sun who was also the god of oaths and sight.
22. Suzie is said in the movie to have an IQ of 200. Early on, she is seen reading Death on the Installment Plan by French novelist Louis-Ferdinand Céline, hiding her character's genius in plain sight.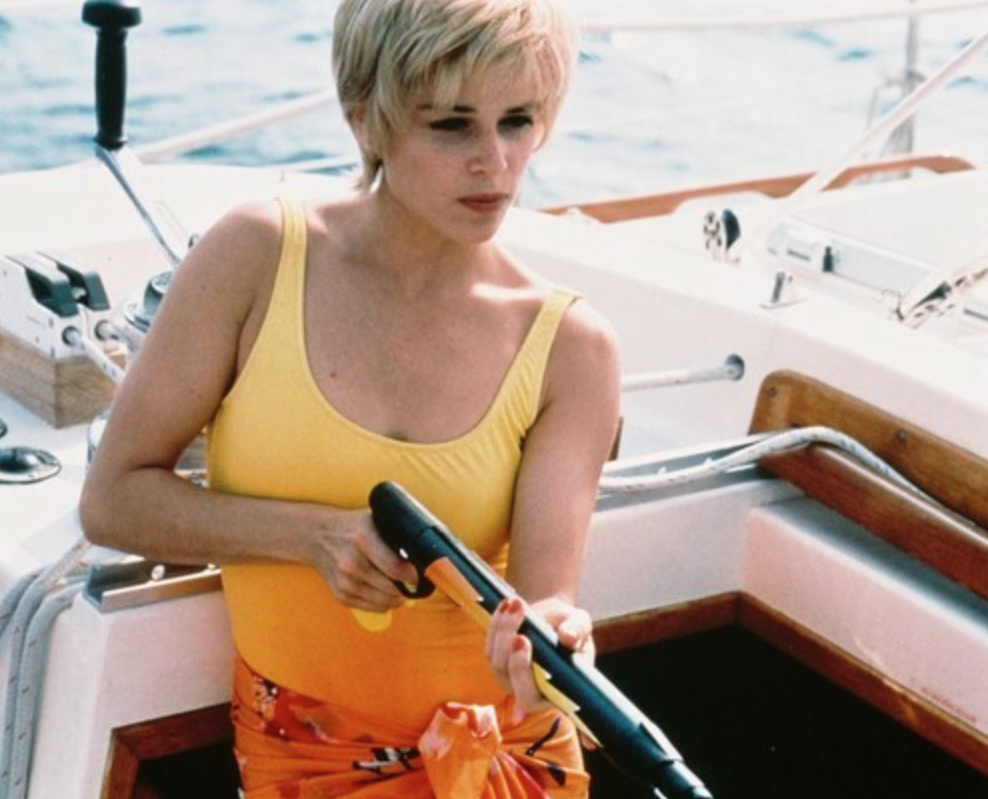 23. John McNaughton's idea for a sequel followed Suzie's future daughter and would have been called Wild Child Things. He was not involved in any of the actual sequels that were made.