30+ Blackmail and Extortion Movies
Blackmail and extortion have been at the center of many movie plots. Here are the best movies on the topic.
The term "blackmail" is the act of demanding money from someone under the threat of having damaging information released about them if the money isn't paid. The first known appearance of the word "black-maill" in print was in a Scottish document from 1530 in which a serial criminal named Adam Scot had his life cut short with a beheading.
The difference between blackmail and extortion is that the latter includes threats of violence or damage to a person or property. The legal term "extortion" originally applied only to public officials but has now been expanded to include any situation where someone is threatened with violence or property damage if they fail to comply with someone's demands.
Best Blackmail Movies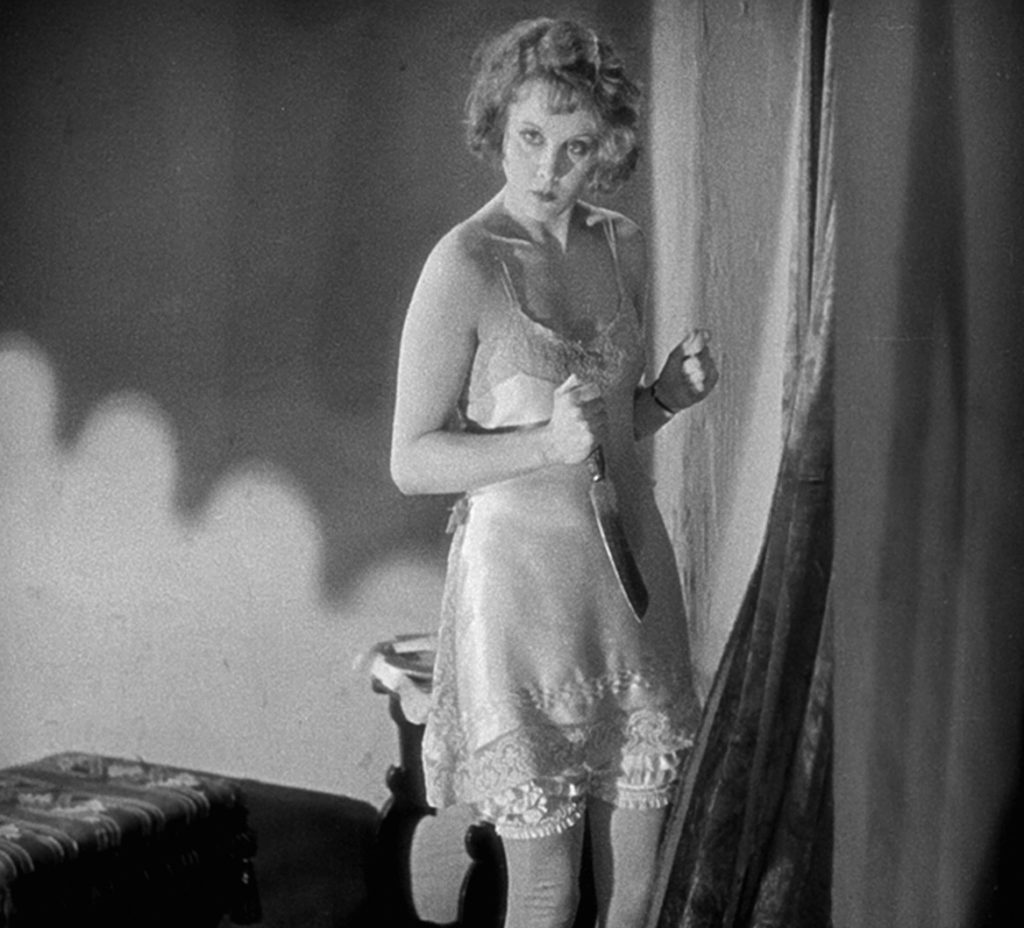 Legendary director Alfred Hitchcock's first sound feature was 1929's Blackmail, which was about a woman who is blackmailed after killing a man who attempted to rape her.
Since blackmail and extortion involve themes of money, subversion, sex, and power, it's no wonder they've been a staple of dramatic thrillers throughout film history. What follows is a list of some of the best examples of this genre.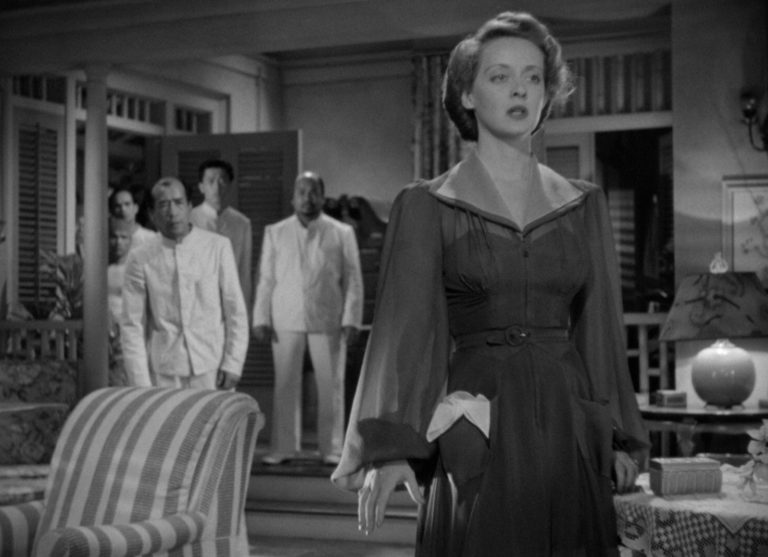 Bette Davis stars as Leslie Crosbie, the wife of a man who owns a rubber plantation in Malaysia. One night when her husband Robert is away from home, Leslie shoots and kills a man that she claims had tried to sexually assault her. But the Attorney General in Singapore believes there is more to the story and indicts Leslie for murder. Her lawyer is informed that rather than the murdered man intruding on her house to rape her, Leslie had written him a letter inviting him over that evening for a sexual tryst. The woman who owns the letter is the murdered man's widow. To save her reputation and avoid being convicted of murder, Leslie agrees to pay the widow a hefty price to retrieve the letter—but maybe the widow is seeking revenge rather than just money?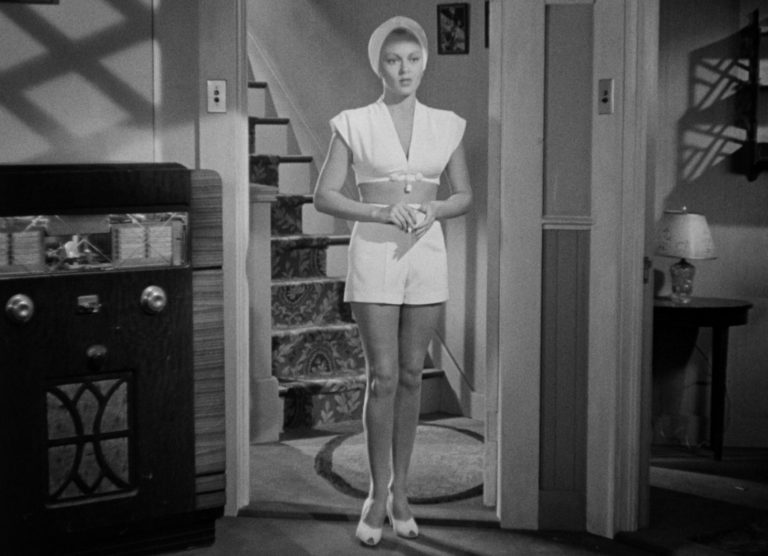 John Garfield plays a rough-and-tumble drifter who takes a job at a remote California diner, where he meets a beautiful woman named Cora (Lana Turner), wife of the restaurant owner. The two engage in a torrid affair and scheme to take care of the only obstacle to their union—Cora's husband—by murdering him. Cora's lawyer prevents a prosecutor from receiving her full murder confession and is able to secure only a conviction for manslaughter, for which she would receive mere probation. But then her lawyer's private detective, who himself has romantic designs on Cora, threatens to blackmail Cora by releasing her full confession to the prosecutor. The film was remade in 1981 starring Jack Nicholson as Frank and Jessica Lange as Cora.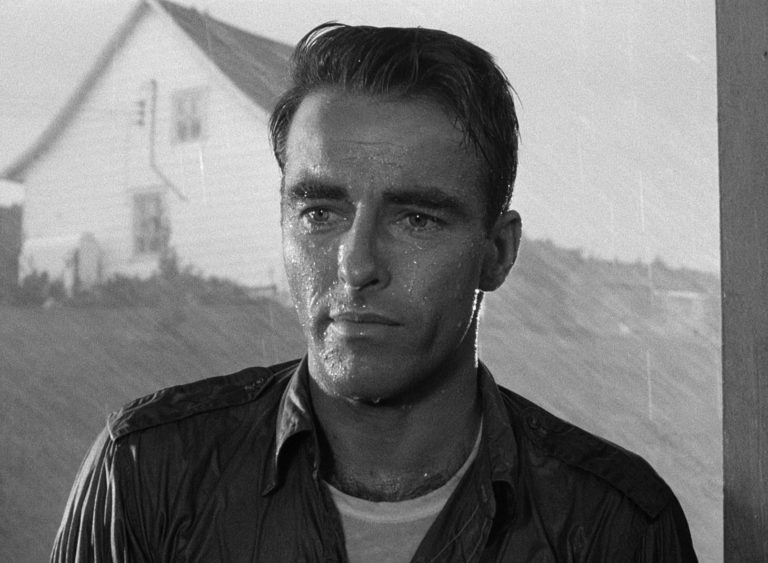 In this thriller directed by master of intrigue Alfred Hitchcock, Father Michael Logan (Montgomery Clift) is a Catholic priest in Québec City, Québec. A caretaker who works for Father Logan's church wears a priest's cassock to rob a nearby house and in the process winds up killing the house's owner. He confesses murdering the man to Father Logan, who becomes the prime suspect in the murder but is bound by the rules of the confessional never to reveal to the public what someone privately confessed. The caretaker also blackmails Father Logan by threatening to reveal Logan's romantic relationship with a woman. Logan is now forced to make a decision between remaining faithful to his priestly vows or protecting his own life.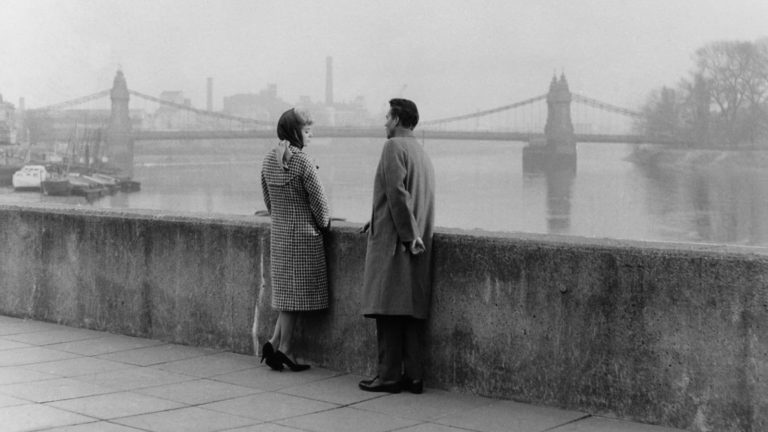 Made back when anti-sodomy laws were still on the books and being outed as gay was career and social suicide, Victim stars Sir Dirk Bogarde as Melville Farr, a lawyer who is married to a woman but is also bisexual. His wife married him with full knowledge of his inclinations. Farr learns of the suicide of a young gay man named Jack "Boy" Barrett (Peter McEnery), who committed suicide in a jail cell after being arrested on sodomy charges. Barrett had also been photographed with Farr. The two had a personal friendship rather than a sexual relationship, but Barrett's suicide impels Farr to risk his reputation in the process of tracking down whoever is blackmailing gay men. The film was revolutionary for its time and the social climate in which it was made. CrimeReads wrote that "Few films understand the history of blackmail and queer criminalization better than Basil Dearden's Victim."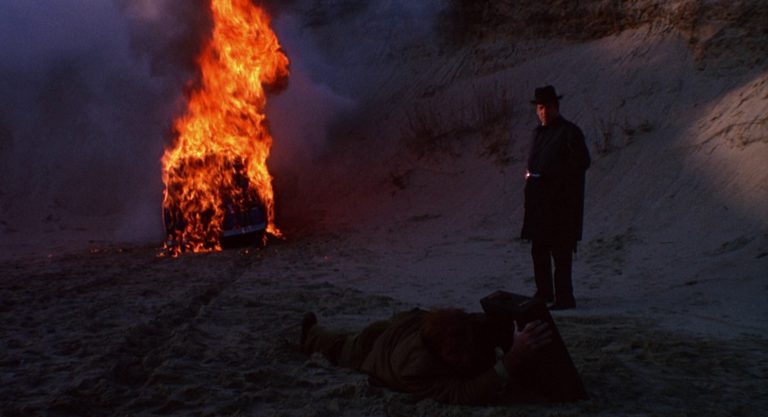 Bud (Marlon Brando) and Leer (Richard Boone) are two thugs who kidnap an unnamed young girl (played by Pamela Franklin) at Orly Airport in Paris and spirit her away to a remote beach house owned by a drug-addicted airline stewardess named Vi (Rita Moreno). At first they intend to hold her for ransom, but infighting among the motley crew of ne'er-do-wells threatens to unravel the entire scheme. Bud, Vi, and another conspirator drive to a local cafe to pick up the ransom, leaving the young girl alone at the beach house with the lascivious Leer. Two people get murdered in the process.
Roman Polanski directed this 1930s period piece and also has a cameo as a small-time thug who accuses Detective Jake "J.J." Gittes (Jack Nicholson) of being "nosy," whereupon he slashes his nose with a knife. The plot is based on the "California Water Wars" of the 1930s in which William Mulholland took bribes to secure water rights for landowners in the Owens Valley. Nicholson's character is hired by the wife (Faye Dunaway) of Hollis Mulwray, a big player in the water wars who eventually winds up dead from drowning. Jake Gittes finds himself being extorted for withholding evidence about the murder.
Clue is the best murder-mystery comedy based on a board game ever made. It is also one of the most fun blackmail movies ever. The story involves a group of people who are invited to the home of Mr. Boddy. It is revealed early in the film that each of the guests is being blackmailed by Mr. Boddy, and Wadsworth, the butler, brought everyone together with the hope of confronting their blackmailer and turning him over to the police. But when Mr. Boddy is killed in the dark, they must all figure out who among them is a murderer.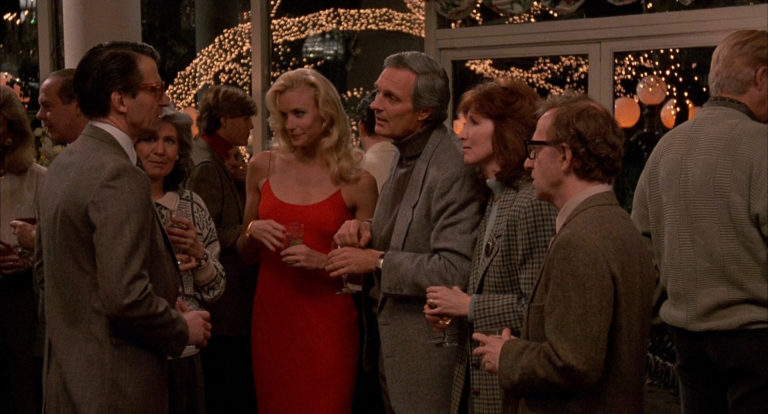 One of the two major plot themes of Crimes and Misdemeanors involves Woody Allen as a disgruntled husband who seeks to escape his miserable marriage by starting an affair with a film assistant (Mia Farrow). The other theme involves ophthalmologist Judah Rosenthal (Martin Landau), a very well-respected member of the community who just so happens to be having a long-term affair with a woman named Delores (Anjelica Huston). When Judah fails to leave his wife as he'd long promised to do, Delores writes Rosenthal's wife a letter spilling the beans, but Judah intercepts the letter in time. He then is advised by his brother, who has mob connections, to silence his mistress by arranging for her to be killed.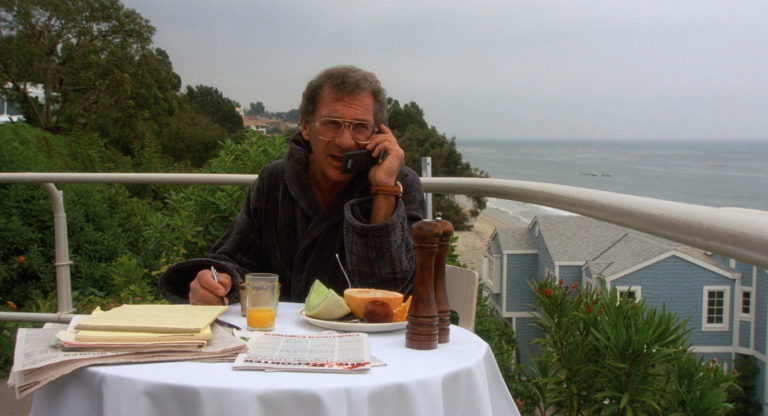 In this acerbic Robert Altman satire about the machinations behind Hollywood filmmaking, Griffin Mill (Tim Robbins) is a studio executive who handles literally thousands of film pitches a year but is only permitted to green-light about a dozen of them. One day he starts receiving threatening post cards that he assumes were sent by someone whose film idea he rejected. He believes he knows who's sending them and confronts the man at a local film screening. Their argument spills out into the parking lot, where Griffin accidentally kills the man during a fistfight. But the threatening post cards continue, and the stalker is aware that Griffin killed the wrong man. Ultimately, he is blackmailed into producing the screenwriter's film, which is called The Player.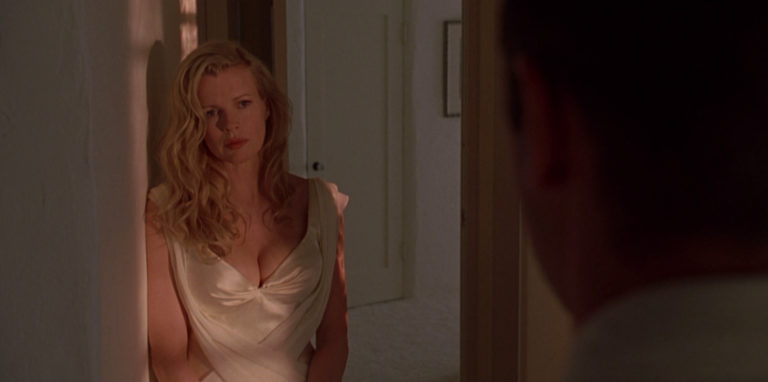 Based on the gritty noirish crime novel by James Ellroy, L.A. Confidential stars Guy Pearce, Russell Crowe, and Kevin Spacey as a trio of policeman who each investigate a string of murders in their own unique way. Spacey is a police sergeant who on the side feeds tips to Sid Hudgens (Danny DeVito), a tabloid publisher. Hudgens decides to involve Spacey's character (Sergeant Jack Vincennes) in a blackmail scheme wherein he arranges a homosexual encounter between an obscure actor and the local District Attorney. After the actor winds up murdered, Sgt. Vincennes pries open a decade-old blackmail case involving Hudgens setting up businessmen with prostitutes.
In this over-the-top thriller/satire by the Coen Brothers, Jeff Bridges stars as Jeff "The Dude" Lebowski, a slovenly slacker who is mistaken by Russian thugs as a multimillionaire known as The Big Lebowski (David Huddleston), so one day the thugs break into The Dude's apartment and urinate all over his carpet before they realize that this little hovel could not possibly belong to a millionaire. In his quest to have his soiled carpet replaced, The Dude seeks out the Big Lebowski and becomes entangled in a kidnapping/extortion plot involving The Big Lebowski's wife Bunny (Tara Reid), which may or may not have been a legitimate kidnapping after all.
Kathryn Merteuil (Sarah Michelle Gellar) and Sebastian Valmont (Ryan Phillippe) are two preposterously wealthy Manhattan step-siblings who always seem to get whatever they want. When Kathryn loses her boyfriend to a young girl named Cecile, she does everything in her power to turn Cecile into a slut and therefore hand her over to her ex as "damaged goods." Sebastian, who is normally able to seduce any girl he wants, has his sights set on Annette (Reese Witherspoon), the daughter of the headmaster at their elite prep school who recently wrote a viral article about how he vows to remain a virgin until marriage. Sebastian bets Kathryn that he can take Annette's virginity; she bets him that he can't. If he loses, he hands over his Jaguar to Kathryn. If he wins, he also gets to have the woman he truly desires—his step-sister Kathryn.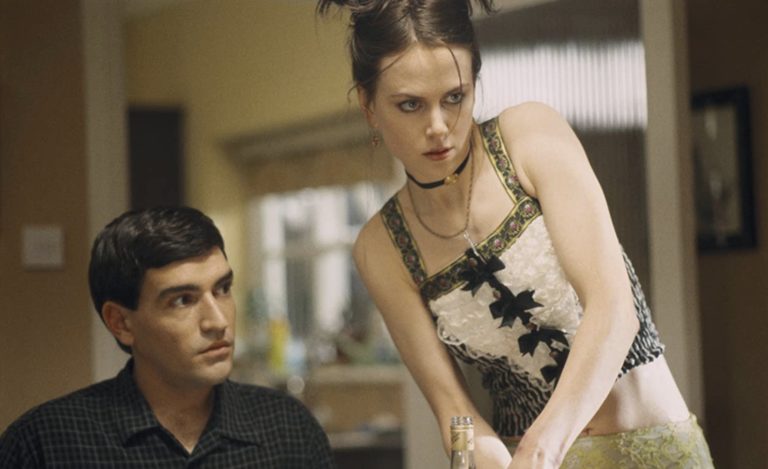 Ben Chaplin stars as John, a lonely small-town English bank clerk who decides to procure himself a Russian mail-order bride. When Nadia (Nicole Kidman) arrives, Ben is overjoyed not only at her looks, but at her bedroom skills. But then one day two Russian thugs named Yuri and Alexei—falsely labeled as "cousins" by Nadia—arrive at her birthday party and being to strong-arm Ben. Since Ben holds a key to the local bank's vault, they extort him into robbing the bank where he works under threat of being killed.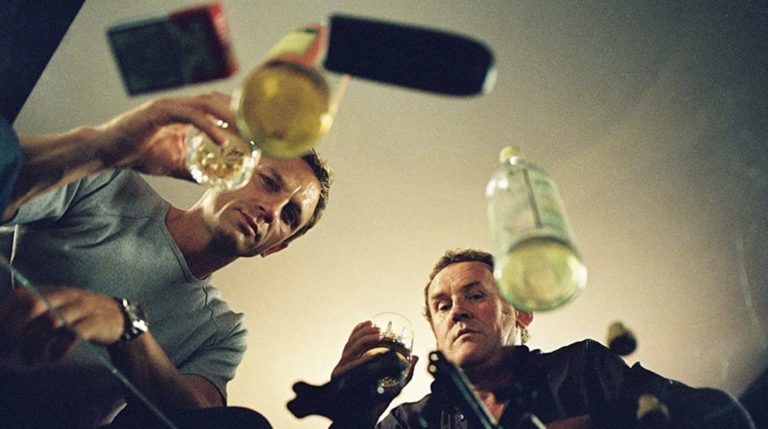 Daniel Craig stars as an unnamed English drug dealer who was never officially a member of any criminal gang but whose wits and cunning enabled him to plan an early retirement. But just when he thought he was out, they pull him back in—a Mafia boss named Jimmy Price (Kenneth Cranham) forces him to take a case where he must track down and find Charlie Ryder (Nathalie Lunghi), a missing princess and daughter of Jimmy's friend, a powerful socialite and businessman. Thickening the plot are two million British pounds' worth of Ecstasy tablets that have been purloined from a ruthless Serbian gang. Craig's character eventually learns that he has been tricked by Jimmy, who is forcing him to risk his life but also intends to keep the reward money. The title Layer Cake refers to the impossibly intricate layers of a criminal underworld where power is the only goal and traditional loyalties are a thing of the past.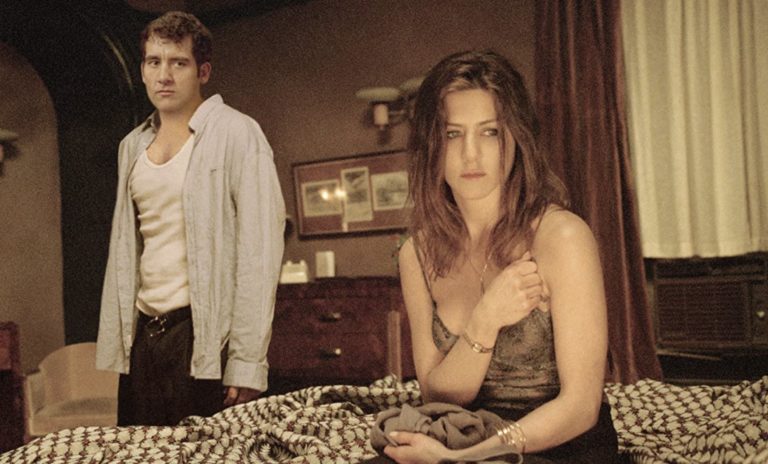 Charles "Chaz" Schine (Clive Owen) and his wife Deanna (Linda George) are stuck in a miserable marriage that appears to be bogged down by their daughter's diabetes, treatment for which threatens to drain them of their life's savings. One day on a commuter train, Schine meets a sexy investment adviser named Lucinda (Jennifer Aniston), and they embark upon an affair. One night when she takes him to a seedy motel, a French thug knocks down Chaz and rapes Lucinda right in front of him. He later contacts Chaz and demands money under threat of telling his wife about the affair. But in the end, it turns out the Lucinda was also in on the plot.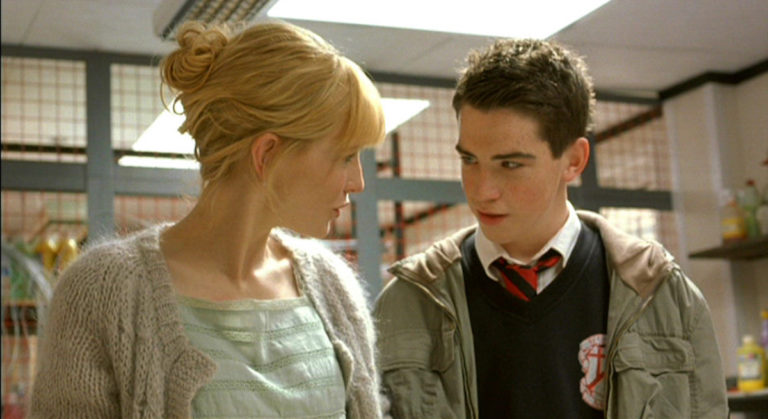 In this twisted tale of intrigue and woman-on-woman misogyny, Dame Judi Dench stars as a bitter and aging English schoolteacher named Barbara Covett, who lives alone with her cat and is unpopular with her students. Then one day a new teacher named Sheba Hart (Cate Blanchett) arrives and is everything that Barbara isn't—young, pretty, married, and popular with the students. Sheba becomes Barbara's new obsession. One day she learns that Sheba is having an affair with a fifteen-year-old male student and uses this knowledge to blackmail Sheba. After Sheba refuses to end the affair at Barbara's demand, Barbara informs the faculty of Sheba's misdeeds, leading to Sheba's termination and divorce. Sheba is temporarily forced to cohabitate with Barbara, who finally reveals that she is sexually interested in her—a confession that Sheba finds highly unpleasant.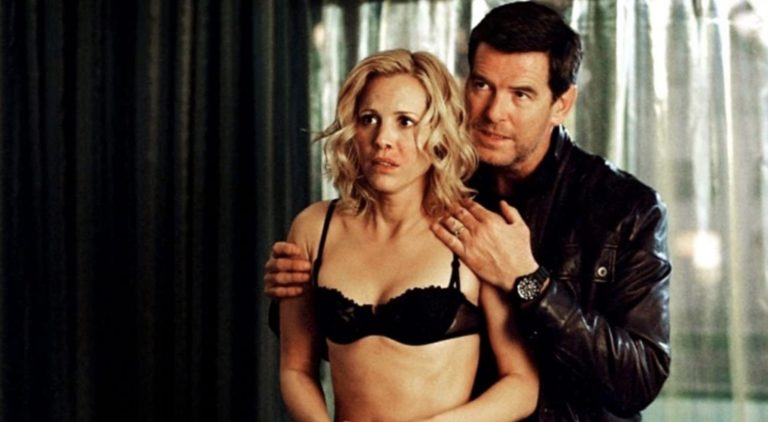 Released in England as Butterfly on a Wheel, Shattered is a British-Canadian mystery thriller that only superficially involves extortion but instead is based on a sociopath's desire to make people suffer. It is superficially an extortion film because a happily married couple named Neil (Gerard Butler) and Abby (Maria Bello) are kidnapped at gunpoint by a thug who calls himself Tom Ryan (Pierce Brosnan), who instructs them that they will do everything at his command for the next twenty-four hours. He forces them to withdraw their life's savings of $130,000, which he then burns and throws into a river. He then takes them to a shady part of part of town and demands that they immediately scrape together $300—which they do by pawning a watch and bracelet. In the end, it turns out that this was a blackmail scheme rather than an extortion plot—Tom forces Abby to deliver a document to the competitor of Neil's employer which reveals that Neil had hacked into customer accounts. If the document is leaked, it will ruin both Neil and his employer.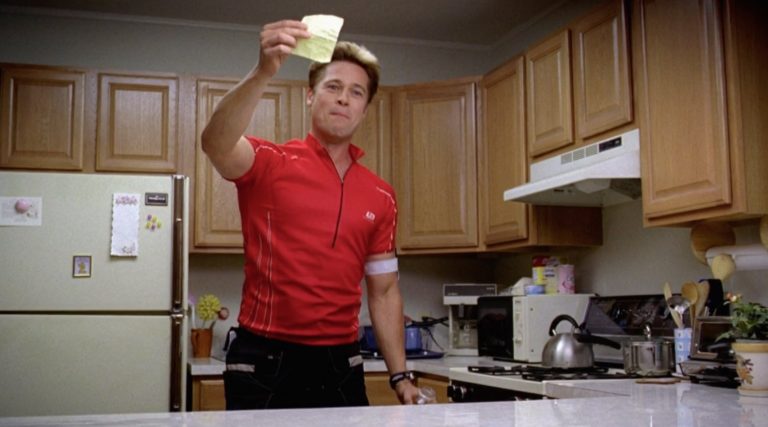 In this satirical thriller by the Coen Brothers, John Malkovich stars as a former CIA analyst named Osborne Cox who was fired due to his excessive alcoholism. He announces to his wife that instead of being fired, he quit and that he plans to write a book about his time spent working for the CIA. His wife Katie (Tilda Swinton) seeks to divorce him, and at the advice of her lawyer, she downloads his personal and financial information from his computer onto a CD. But she accidentally leaves the CD at a local gym called Hardbodies, where it is found by a worker named Chad Feldheimer (Brad Pitt). Chad conspires with coworker Linda Litzke (Frances McDormand), and they plot to use the CD to blackmail Osborne.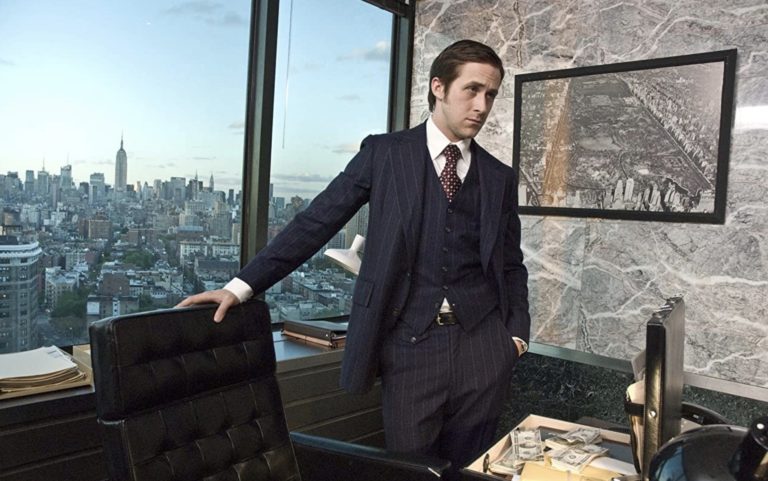 Based on the true story about New York real-estate mogul Sanford Marks, who was suspected of, but never tried for, killing his daughter-in-law Katie in 1982, All Good Things stars Frank Langella as Sanford Marks, who strongly disappears of his son David (Ryan Gosling) marrying a lower-class woman named Katie McCarthy (Kirsten Dunst). At first, David and Katie attempt to escape New York by opening a health-food store, but their class and personal differences gradually push them apart. When she attempts to separate from David, the Marks family cuts off her funds, making it impossible for her to go to college. To get revenge, she seeks to blackmail the Marks family by threatening to reveal incriminating financial documents about them—but then she suddenly disappears.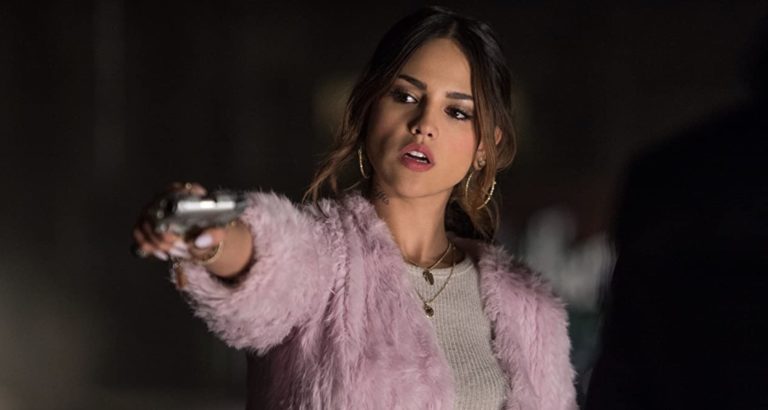 A getaway driver nicknamed Baby (Ansel Engort) uses a disability—he's hearing-impaired—as an advantage when he finds he can perform stunt-level driving maneuvers in time to loud music. After acting as a getaway driver for a series of heists, he wants out of the criminal lifestyle. He meets a pretty waitress at a local diner named Debora (Lily James) but is understandably reluctant to share his line of business with her. As they fall in love, Baby leaves the criminal life and becomes a pizza deliveryman. But his crime boss won't let him go so easily—he threatens to harm Debora if Baby refuses to help him pull off one last heist.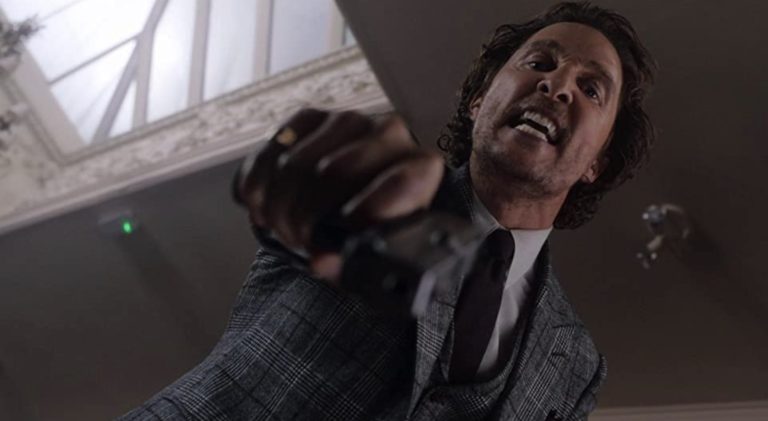 Matthew McConaughey stars as Mickey Pearson, an American expat and Oxford graduate who has made himself insanely wealth as a marijuana entrepreneur by exploiting British aristocrats who've fallen on hard times. But when he tries selling off his business to another American billionaire, it sets off a chain reaction of schemes, bribery, machinations, plots, blackmail, and street-level violence and murder.
More Movies Featuring Blackmail/Extortion