7 Last-Minute A24-Inspired Halloween Costume Ideas
What better way to commemorate the spooky season than sourcing A24?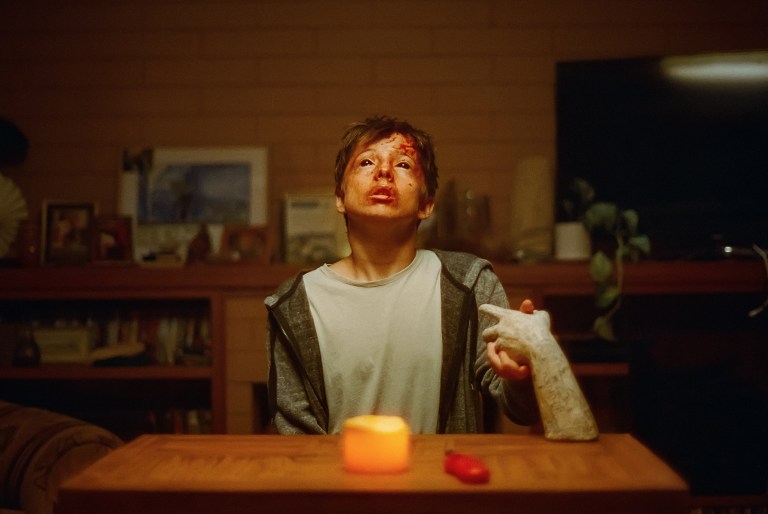 With Halloween around the corner, many of us are still trying to figure out what costumes to wear. What better way to commemorate the spooky season than sourcing A24? The independent production company is responsible for some of the most horrific movies and characters. That said, here's a list of the best A24-inspired Halloween costumes.
Ti West introduced us to Pearl, a homicidal woman in her golden years, in the neo-slasher X (2022). Not long after, Mia Goth reprised the role in the prequel Pearl (2022). Fortunately for trick-or-treaters on the hunt for a Halloween costume, both Pearls are fun and easily recognizable.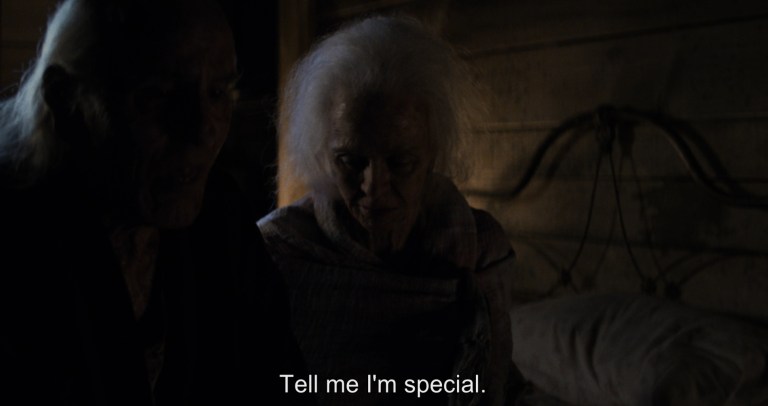 To pull off elderly Pearl, pick up an "old lady costume set," a nightgown like the one in the movie, and a pitchfork. Splatter some fake blood on yourself, and voila. Young Pearl's just as easy to pull off; Pearl cosplay/costume dresses and fake axes are available in several online shops. To prepare, practice Pearl's toothy grin and dance routine. No, she didn't get the part in the movie, but don't let that stop you. If dresses aren't your thing, you can opt for Pearl's more relaxed blue shirt, denim suspenders, and signature pitchfork.
This is an option for singles or couples. A24's Talk to Me is about a group of kids who allow themselves to become temporarily possessed in exchange for a quick high. The film, quickly becoming one of 2023's best horror movies of the year, is loaded with great costume options. Let's consider the comfortable yet haunting option of Possessed Mia.
First, you'll need black sclera contact lenses. I recommend talking to your optometrist about theater or costume lenses to be safe. Next, do your hair like Mia's by spiking it or finding a wig. Shop around for a yellow fleece like Mia's, but don't stress it too much. People will catch the reference if whatever sweater you settle on is close.
Lastly, we'll need to incorporate the film's signature haunted hand. A24 is selling one, but it costs $110, so losing it would be a shame. Instead, buy a stage or prop hand to take with you on Halloween night. Use Sharpies to write all over the hand, just like the one in the movie. Have fun with it, and write in gag lines and pop references. For my arts and crafts girlies, turn it into a purse for some extra flair.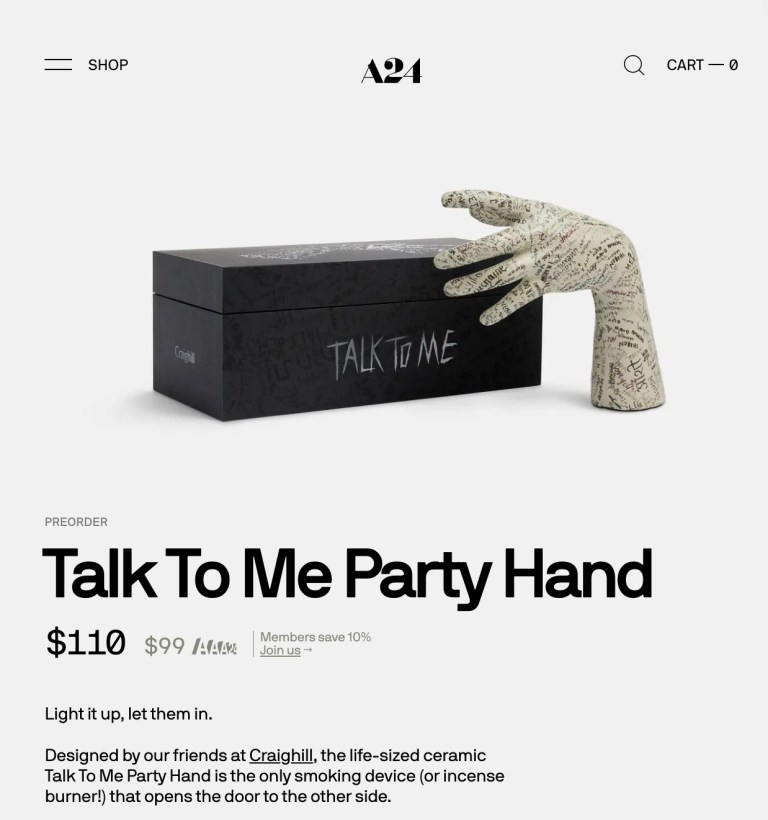 If you have a partner who would like to join the fun, I recommend one of two options. For the first option, find a kangaroo costume and slather it in fake blood. The second option, which is more elaborate, is to dress as the watery ghost in the nightgown who follows Mia in the film.
If you prefer to dress as the ill-fated Riley, keep the contacts and the hand, but switch the sweater for a gray shirt and hoodie. To elevate the look, paint fake blood on your face like it's pouring from your forehead and around your mouth. Too soon?
Ari Aster's Hereditary (2018) tells the story of a family whose brokenness leaves them vulnerable to spiritual predation. Peter, brilliantly played by Alex Wolff, is eventually possessed and hailed as the demon king Paimon. To achieve this gnarly look from the film's ending, bandage your nose with gauze and surgical tape. Use a Halloween makeup kit to darken your eyebrows, paint bruises under your eyes, and add a beauty mark under the left side of your nose. Don't stress over the crown—some yellow construction paper, and you're all set. Throw on a burgundy hoodie for extra points.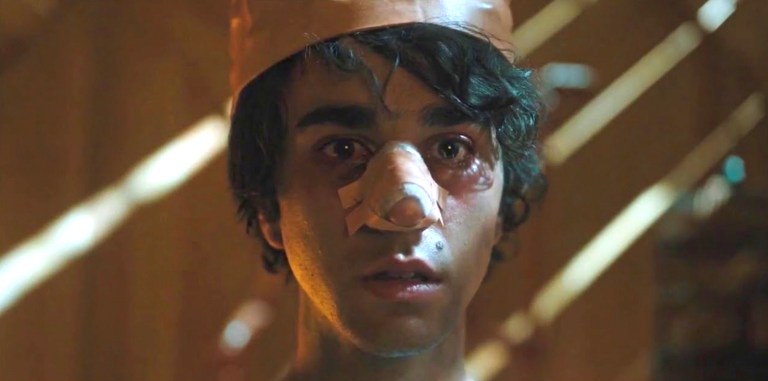 This is an option for singles or couples. Speaking of Ari Aster's work, we cannot forget the 2019 horror fairy tale, Midsommar. In it, Dani (played by Florence Pugh) suffers a traumatic experience that paves the way to her becoming the May Queen, which is our inspiration for this costume. Warning: you're going to need a lot of fake flowers. Overachievers with a budget can choose to do fresh flowers if they so choose. Anyone who isn't looking to craft anything but would still like to pull off this look should search online for the Midsommar flower crown because a few sellers offer options. The "bohemian floral embroidery" dress is also available online, making this costume one of the simplest to assemble.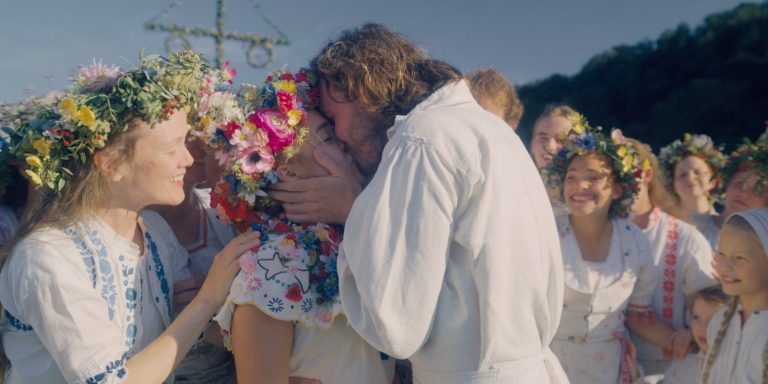 Partners wanting to get in on the fun have two options. They could tag along as Christian wearing a bear costume, but this decision may send the wrong message about your relationship. Dressing as Pelle, the second option, is slightly less toxic. Just find a white Bohemian shirt and linen pants. The royal blue embroidery would be a nice touch but optional.
This is an option for singles, couples or the whole family! Robert Eggers' The Witch from 2015 is a modern horror classic about a family who falls prey to evil forces after being exiled. The inspiration for this Halloween costume is Black Phillip, a goat from the movie who's likely the Devil in disguise.
First, you'll need to find a black goat mask. Fortunately, many sellers (especially on Etsy) specifically offer Black Phillip masks. Next: Google black faun satyr accessories and thank me later. Complete the look with a furry body costume or a simple black suit.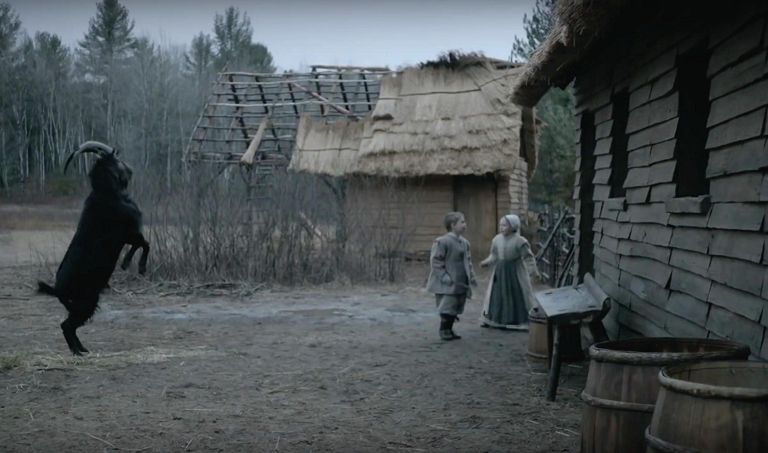 If you're a rock and roll parent, you could spice things up more by dressing the kids in pilgrim costumes. If you have a partner interested in joining the fun, they could dress as the witch when she lures Caleb into her cottage and set it off with "old witch costume hands." No matter how you choose to do this costume, prepare to live out Halloween night deliciously.
Further reading: