13 Kooky and Spooky Facts About 'Wednesday' (2022) on Netflix
"All too often in stories about teenage girls, the heroine starts out as weak or ugly, and then she grows and blooms into a butterfly. This is not that."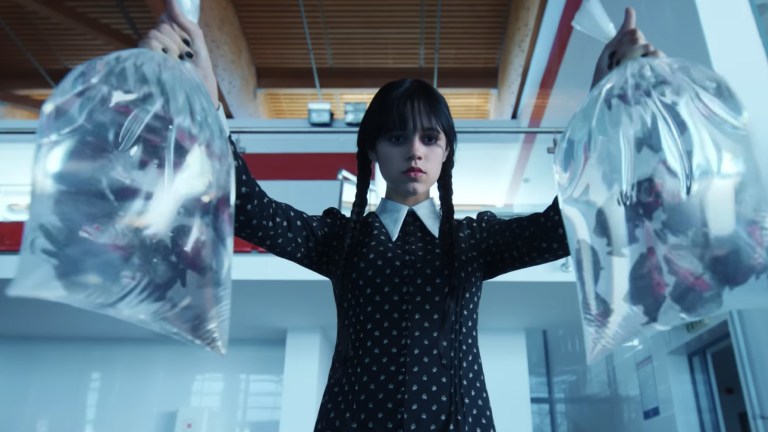 Wednesday is a supernatural comedy horror TV series streaming on Netflix. It is a modern incarnation of the Addams Family focusing on the character of Wednesday Addams (Jenna Ortega) as she goes to the boarding school Nevermore Academy, which her parents Gomez (Luis Guzmán) and Morticia Addams (Catherine Zeta-Jones) also attended. The series is executive produced by Tim Burton.
The plot of the first season of Wednesday follows the title character as she is expelled from school following an incident in which she gets revenge on the water polo team for bullying Pugsley (Isaac Ordonez) by dumping live piranhas into the pool during practice. Wednesday's parents then enroll her in their alma mater, Nevermore Academy, a private school which specializes in teaching social "outcasts" such as vampires, werewolves, and sirens. As she comes of age, Wednesday learns to interpret her psychic visions as a monster stalks the town of Jericho and murders her classmates.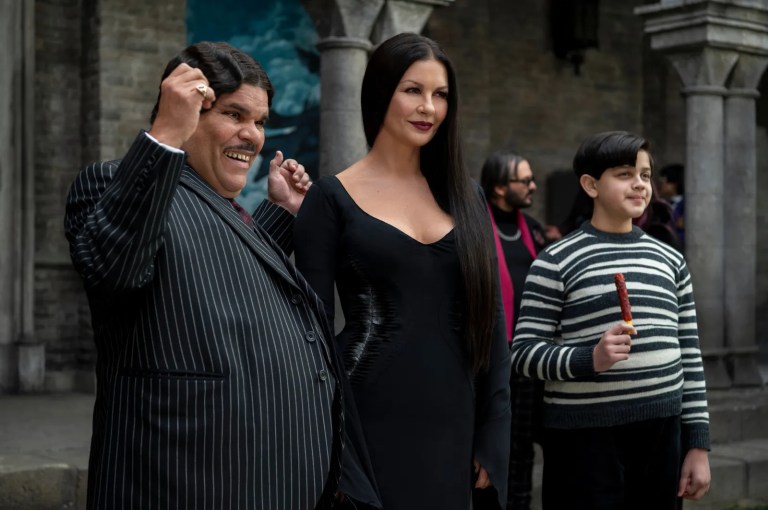 All too often in stories about teenage girls, the heroine starts out as weak or ugly, and then she grows and blooms into a butterfly. This is not that. What we love about Wednesday is that she is a really strong, independent, opinionated, incredibly smart and funny young woman who is fully realized at the beginning of our story.

Mile Millar, Creating a new Wednesday Addams for 2022
Wednesday was a big hit for Netflix, garnering 341.23M hours viewed in its premiere week and setting a new record for English-language shows. This puts the series between the fourth season of Stranger Things (335M hours viewed) and the wildly popular Korean series Squid Game (571.8M hours viewed in one week). Wednesday is so popular it is in the top 10 in all 93 countries where Netflix tracks streaming.
Here are some fun facts about Wednesday:
A Tim Burton Addams Family project has been three decades in the making. Originally Burton passed on directing The Addams Family (1991) because he was busy with Batman Returns (1992). Later, he was attached to a stop-motion Addams Family project which was ultimately canceled.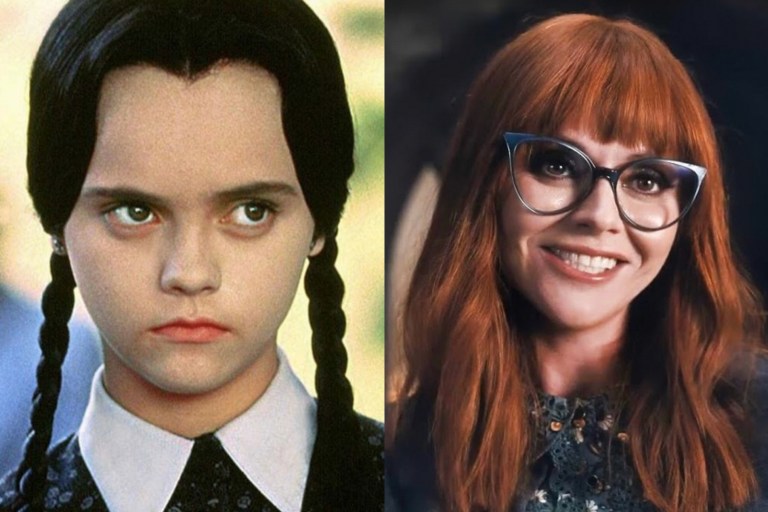 2. Fans of the Addams Family will have recognized botany teacher Marilyn Thornhill as being played by Christina Ricci, who portrayed Wednesday Addams in The Addams Family (1991) and Addams Family Values (1993). Jenna Ortega said that Ricci was supportive on set and never brought up "her" Wednesday, trusting Ortega to create her own version of the character. Ricci and Tim Burton previously collaborated on Sleepy Hollow (1999).
3. Series creator Miles Millar said that as soon as they met with Jenna Ortega over Zoom, they knew no one else could play Wednesday. Millar says Ortega reminds him of a silent movie actress because "she's able to convey things without words."
4. Tim Burton also sang the praises of Jenna Ortega, calling her one of the most talented actresses he's ever worked with. In order to prepare for the role, Ortega took cello, archery, and fencing lessons and also studied German.
I felt very close to her, because when I was a child, I used to play in a cemetery near my house, and loved horror movies, and felt like Wednesday in a certain way. And that's just part of who she is, and it's part of the Addams Family world, too. That, again, is something that I felt very close to.

Tim Burton, Secrets from the Set of Tim Burton and Jenna Ortega's Addams Family teen reboot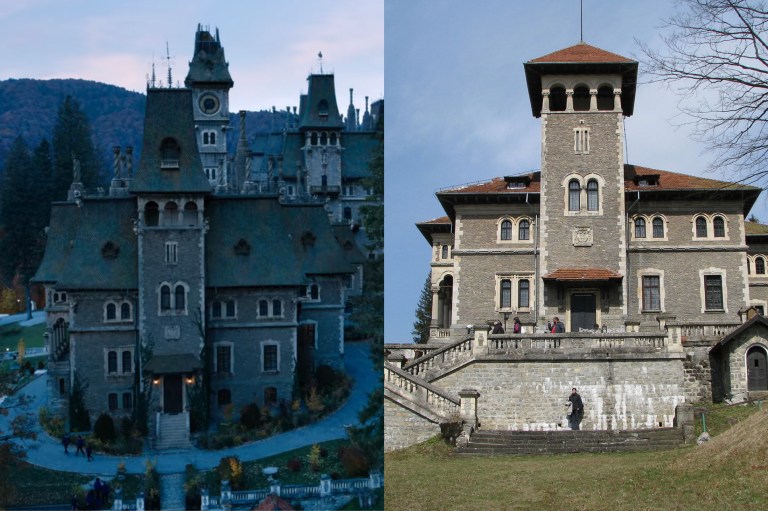 5. Gilmore Girls fans might recognize the town of "Jericho" as Stars Hollow. It was filmed on a Warner Brothers backlot that has been used for other shows such as You, Pretty Little Liars, and Vampire Diaries. Cantacuzino Castle in Romania (where most filming took place) was used as Nevermore Academy.
6. If you look closely at the decor in the Weathervane Cafe where Tyler works, you can see framed movie stills from Tim Burton's career.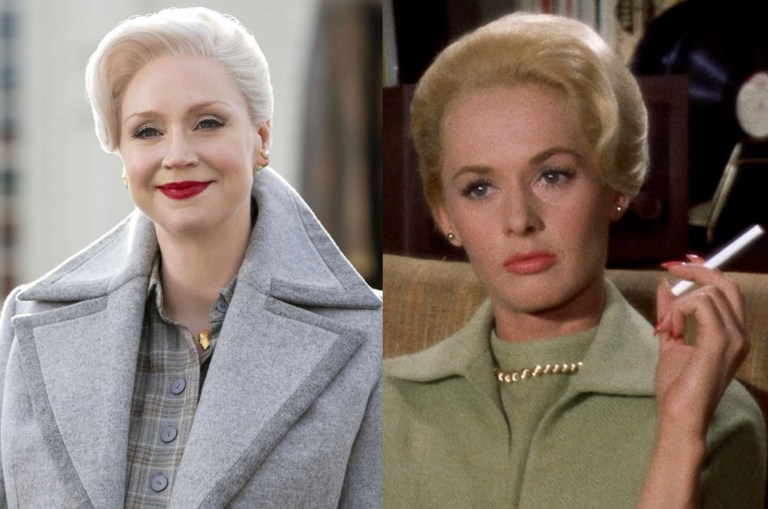 7. Gwendoline Christie's headmistress Weems wore clothing inspired by Tippi Hedren's look in The Birds (1963).
8. Jenna Ortega choreographed her own dance to The Cramps' "Goo Goo Muck" for the iconic school dance scene.
9. While casual Addams Family fans have said they don't understand the casting of Luis Guzmán as Gomez given the more recent portrayals of the character as a good-looking Casanova (for instance, Raul Julia's portrayals in the 90s), Charles Addams's original cartoons depicted Gomez as fat. This is the incarnation Tim Burton was interested in reviving. Guzmán is also the oldest actor to play Gomez at age 66. At 53, Catherine Zeta-Jones is also the oldest actress to play Morticia.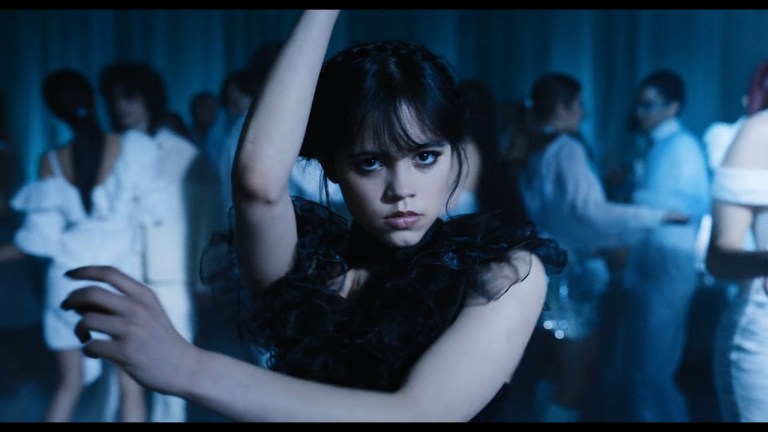 10. George Burcea is the shortest actor to ever play the character of Lurch. He is 6'6″. There's a little Easter egg shoutout to the character at one of the scenes at the Weathervane when Tyler says "you rang?"
11. The Weathervane is a coffee shop in Wednesday, but it's also the name of the high school literary magazine where Charles Addams first published cartoons of the Addams Family.
12. The Nightshades, a Nevermore Academy secret society, uses finger snaps as one of their rituals. This is an ode to the classic Addams Family theme song.
13. Morticia explains that Wednesday's name comes from a line of a nursery rhyme that goes "Wednesday's child is full of woe." Every episode title of this season contains the word "woe."