Teddy Bears Wage War on Unicorns in the Gory Animated Horror-Comedy 'Unicorn Wars' from GKIDS
Described as "Bambi meets Apocalypse Now," Unicorn Wars will be available in theaters and on demand March 10, 2023.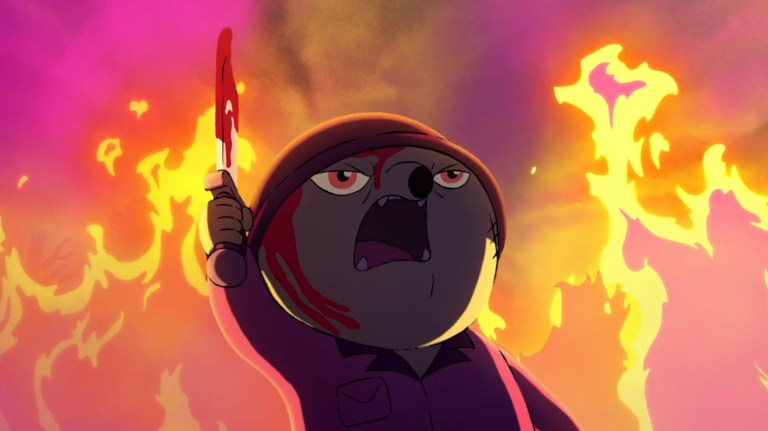 With beautiful animation and harrowing images, Unicorn Wars mixes "adorable" with "atrocious" to tell a story with depth. See the latest trailer below.
Described as a "horror-comedy" by distributor GKIDS, Unicorn Wars explores heavy subjects including military fascism and religious zealotry in a story about cute, pastel-colored teddy bears who go to war with their hated enemy, unicorns. Here's the full synopsis:
For ages, teddy bears have been locked in an ancestral war against their sworn enemy, the unicorns, with the promise that victory will complete the prophecy and usher in a new era. Aggressive, confident teddy bear Bluet and his sensitive, withdrawn brother Tubby could not be more different. As the rigors and humiliation of teddy bear bootcamp turn to the psychedelic horrors of a combat tour in the Magic Forest, their complicated history and increasingly strained relationship will come to determine the fate of the entire war.

GKIDS
Unicorn Wars comes from Spanish writer and director Alberto Vázquez who cites Apocalypse Now (1979), Bambi (1942), and The Bible as his main inspirations for the film. As for the visual style, Vázquez mentions such disparate influences as the Care Bears cartoons and Watership Down (1978). As you can tell from the trailers and descriptions, Unicorn Wars is aimed at an adult demographic.
Unicorn Wars received critical acclaim during its time in festivals and its release in Europe in 2022. The movie was nominated for Best Animated Film at the 2023 Goya Awards (Spain's equivalent to the Academy Awards). It was also named Best Animated Feature Film at the 2023 Días de Cine Awards.
GKIDS will distribute Unicorn Wars. GKIDS has become synonymous with quality animation thanks to its years of bringing new and classic animated movies from around the world to North America. Perfect Blue (1997), The Secret of Kells (2009), and Alberto Vázquez's Birdboy: The Forgotten Children (2015) are just a few of the amazing films GKIDS has brought to the big and small screens.
Unicorn Wars will be released in North American theaters and on-demand on March 10, 2023. For more release dates of upcoming horror films, keep watching Creepy Catalog's "New/Upcoming Horror Movies" tracker.