27+ Prostitute Movies: Sex Work in Cinema
One reason for the proliferation of sex work in film is that it's just an excellent plot device to motivate male characters to do something dangerous or get them to a remote location.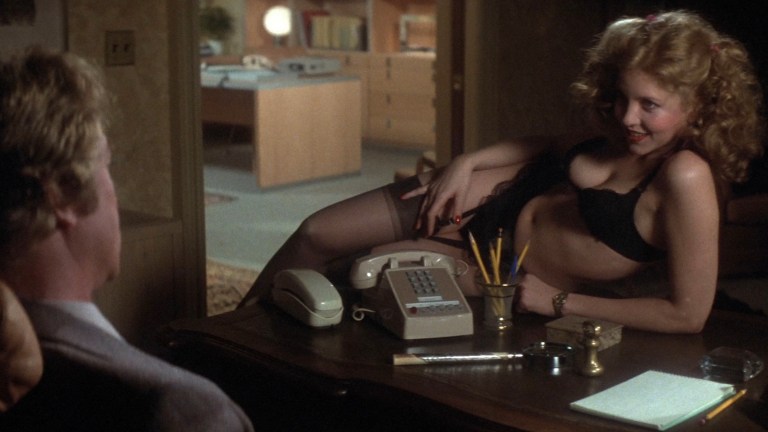 Sex work is a popular subject in cinema because it is a taboo topic and audiences are hungry to imagine what the experience is like for both consumers and providers. The term "sex work" is the preferred way to refer to the exchange of sex for money as "prostitute" brings with it a lengthy history of stigma and contempt. "Sex worker" also centers the worker's autonomy and separates the worker as a person from the job they perform for money. We use both "prostitute movies" and "sex work" in the title both because "prostitute" is the vernacular used in many of these films and in an attempt to distinguish those movies from modern portrayals of autonomous individuals who choose sex work for reasons other than force or survival.
While "sex work" is defined as "voluntary", many women who provide sex work do so for a variety of reasons other than choosing the vocation out of genuine interest (though this is also true for a large number of people in any job) and some are victims of trafficking. For instance, a 2009 study of sex work in Europe found that 90% of the sex workers in Spain and Italy were undocumented immigrants who were not legally allowed to find traditional (and safer) forms of work. In the U.S. sex workers have a fatality rate of 459 per 100,000, making it by far the most dangerous job in America. For context, police officers have a fatality rate of 14 per 100,000 workers.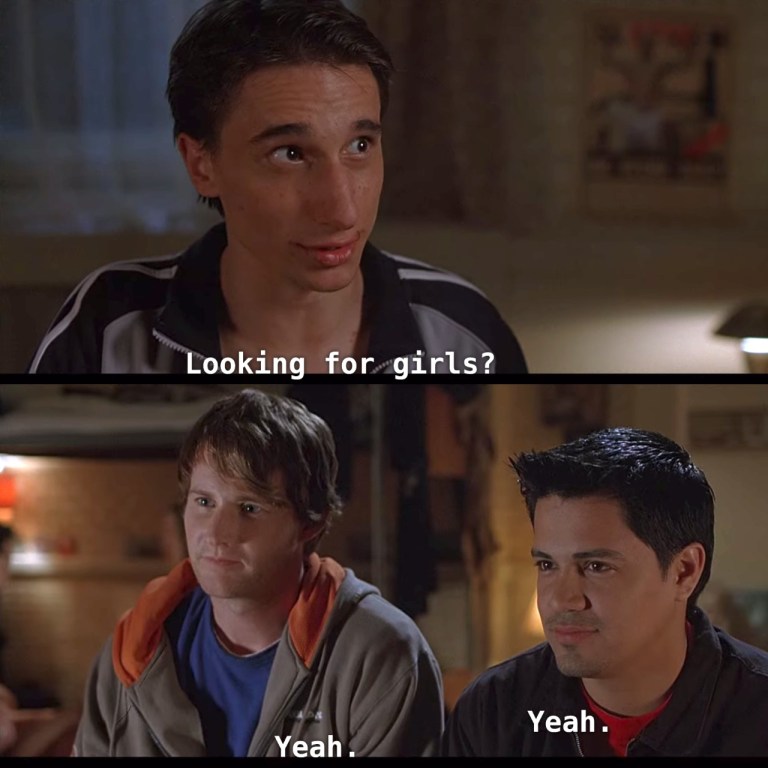 The sex work industry as a whole is estimated to be a $14 billion a year business in the U.S. alone. A 2004 survey found that 30% of single men in America over the age of 30 have exchanged money for sex. Of those respondents, 57% believed they were paying for the services of someone who was abused as a child and 40% said they were intoxicated at the time of purchase. The fact that buying sex is such a lure for men that they will do it even though they believe the sex worker is only consenting because they are among the less privileged in our society creates a fertile territory for horror.
Many sex work films focus on the exploitation of the sex worker or serve as a revenge movie in which the John is punished. Others utilize the vulnerable positions Johns put themselves in when meeting with a sex worker and cast her as the villain or antiheroine, preying on men for money or murder. Some are played for laughs or even manage to be romantic or erotic while providing a thrill or exploring the controversial subject through the lens of horror.
Prostitute movies can be violent revenge films to romantic comedies to morbid tales of living on the fringe. Most of the films in the list are about prostitution directly, but some deal with adjacent themes of sex work and human trafficking.
Old Movies about Prostitution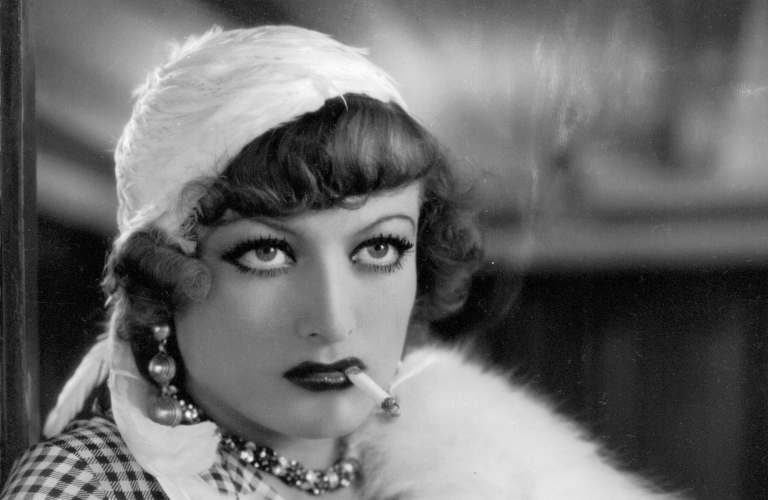 Rain is a pre-code drama starring Joan Crawford as Sadie Thompson, a prostitute who is stranded on a ship bound for Samoa due to a cholera outbreak. While waiting for the quarantine to end, Sadie parties with the American marines on board. She captures the attention of a missionary couple on board who try to "save her soul". Sadie experiences a religious conversion and the missionary husband experiences lust for Sadie's old ways.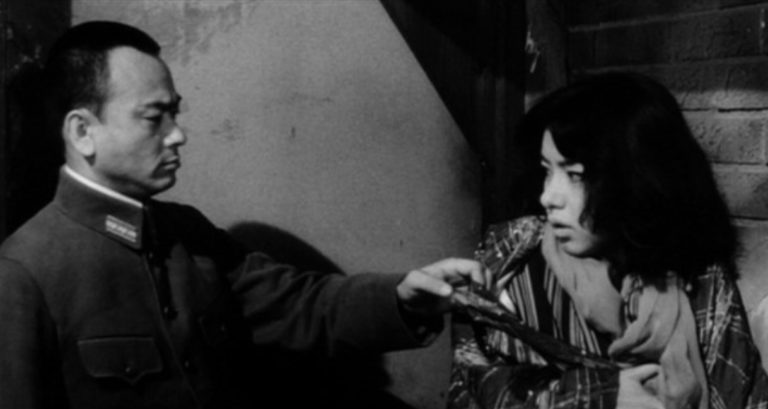 This striking black-and-white film is set in WWII Manchuria and is based on a popular novel by Taijiro Tamura, who actually served as a soldier in that war, as did director Seijun Suzuki. It tells the tale of a woman named Harumi, who due to poverty and romantic rejection takes a job as a prostitute in a "comfort house" during the Sino-Japanese war. She experiences abuse at the hands of a brutal Japanese commandant named Lieutenant Narita yet also finds herself drawn to his subordinate, a more empathetic soldier named Mikami. As the two form a mutual bond that leads to love, they find themselves both transgressing the rules of their respective occupations.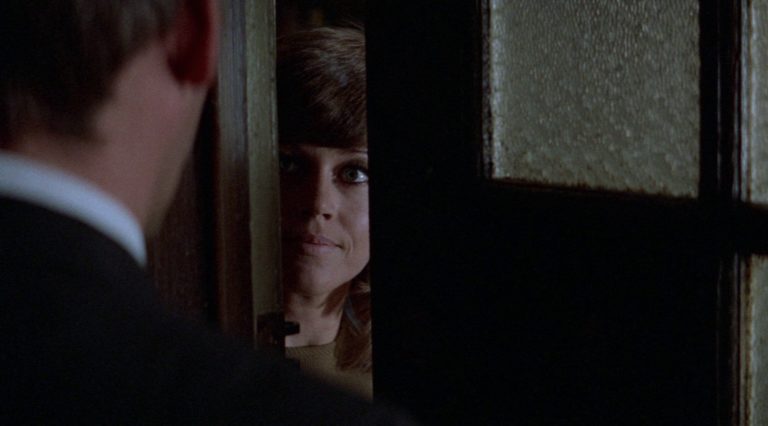 Donald Sutherland stars in the title role as private detective John Klute, who is hired by the wife and boss of Pennsylvania businessman Tom Gruneman after Gruneman goes missing. At first, Klute's only clue is an obscene letter sent from Gruneman to a Manhattan call girl named Bree Daniel (Jane Fonda, who received a Best Actress Oscar nomination for her performance). Bree admits she received the letter, as well as similar letters and mysterious obscene phone calls from someone, but she can't identify Gruneman from a picture. John Klute seeks to protect Bree from her harasser as Klute and Bree grudgingly fall in love with one another.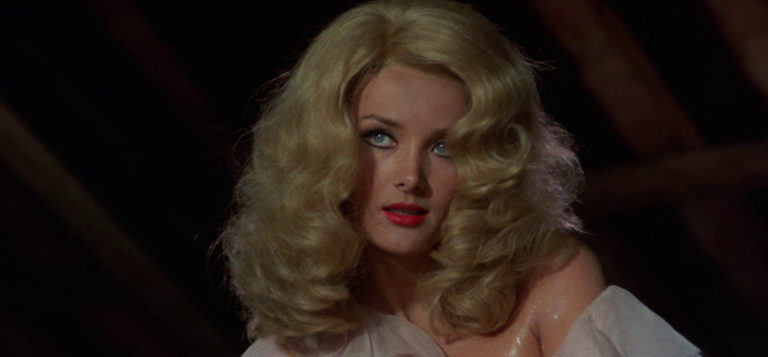 Barbara Bouchet stars as Margie, a former prostitute who left her profession to marry a mob boss (Henry Silva), who trafficks in drugs and black-market currencies. Meanwhile, Tony is a brutal mob hitman who is sent to Italy to attempt a truce between warring gangs, one of them led by Margie's husband. Margie seduces and then quickly falls in love with Tony, which makes both gangs turn their attention toward killing him.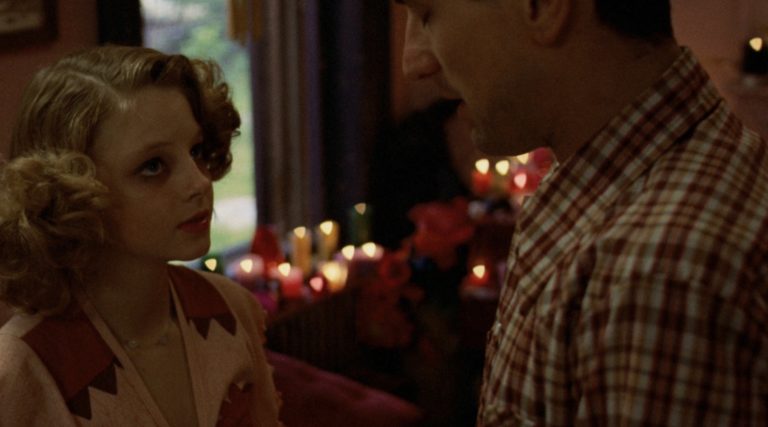 This brutally violent and dark film by Martin Scorsese stars Robert De Niro as Travis Bickle, a Vietnam war veteran who returns to America and gets a job as a cabdriver on the dirty and decadents streets of New York City. Completely inept with women, Travis focuses his attention on killing a presidential candidate. When that goes nowhere, he switches his mission to saving Iris (Jodie Foster), a twelve-year-old prostitute held hostage by a pimp named Sport (Harvey Keitel). Travis goes on a bloody killing spree and subsequently receives a thank-you letter from Iris's parents.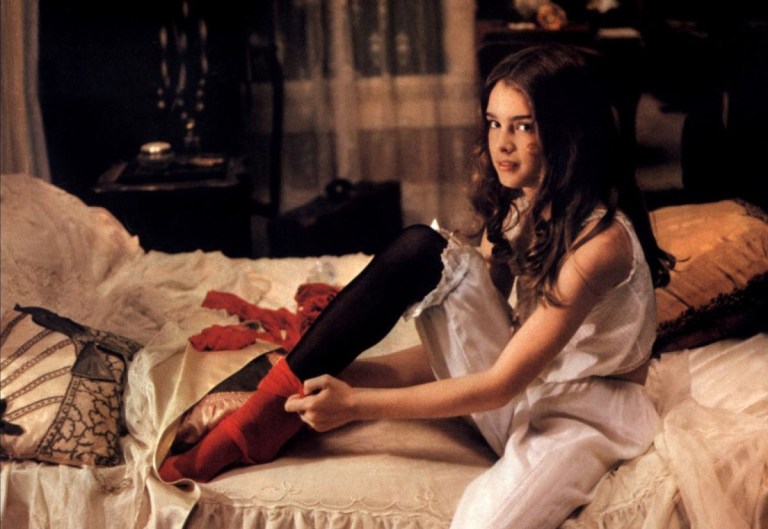 Brooke Shields was only 12-years-old when she was cast as the star of this film about a child named Violet living with her mother, a sex worker, in a brothel in the red light district of 1917 New Orleans. Violet's virginity is auctioned off and she is raped by a customer. When her mother abandons her at the brothel in order to escape sex work and move to St. Louis, Violet seeks out a relationship with the client in the hopes of gaining some sort of stability. Pretty Baby is ill-remembered both for casting a 12-year-old as a child "prostitute" (since children cannot consent to sex, there is no word for a child who does sex work, it would legally be rape) and because Shields has a nude scene and her on screen kiss with 29-year-old Keith Carradine.
Later while a student at Princeton in the 80s, Brooke Shields wrote her senior thesis on Pretty Baby director Louis Malle titled The Initiation: From Innocence to Experience: "The Pre-Adolescent/Adolescent Journey in the Films of Louis Malle, Pretty Baby (1978) and Lacombe, Lucien (1974)".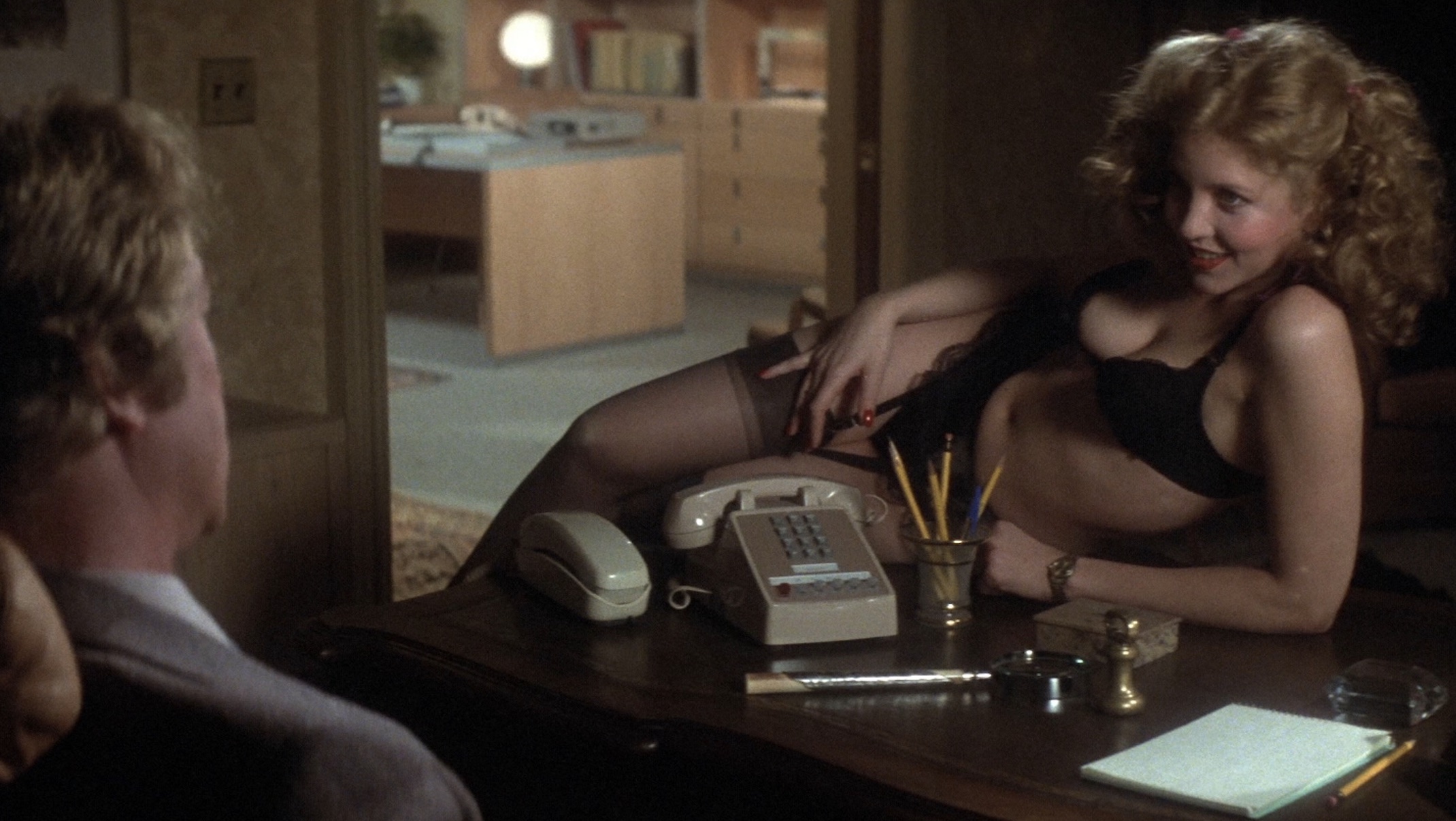 A quintessential Brian De Palma neo-noir erotic thriller about a serial killer who targets the patients of New York City psychiatrist Dr. Robert Elliott. An escort named Liz witnesses one of the murders and becomes both a suspect and a potential victim for the murderer. A unique feature of this film for its time is that it shows how police aren't interested in protecting Liz because of her status as a sex worker but rather target her as a potential suspect despite how far-fetched this theory is.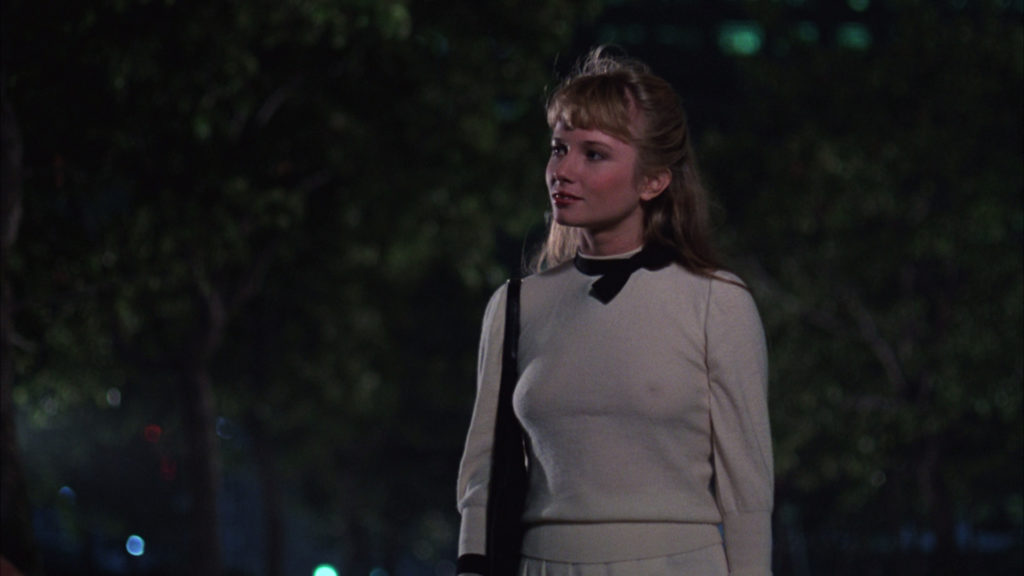 Risky Business is an unusual teenage drama comedy starring Tom Cruise. Tom Cruise's character, Joel, a well-mannered and smart high school student, hires a prostitute for one night and hilarity as well as chaos ensues. Cruise's character ultimately ends up turning his parents house into a brothel and creating a new customer base in suburban Chicago for paid sex — his fellow high school students.
Also known as Ladies of the Night, this is a made-for-television movie that is probably inspired by the true story of Hollywood Madam Heidi Fleiss. Faye Dunaway plays the titular Beverly Hills woman who caters to the rich and powerful men of Beverly Hills. She is the madam of four young women who she dresses in designer clothing and tries to train into the perfect sex workers for her clients.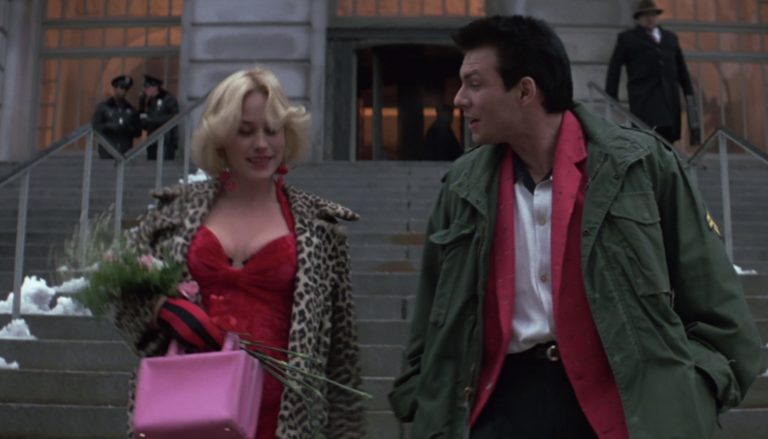 In this Ridley Scott film that was written by Quentin Tarantino, Christian Slater stars as Clarence Worley, a lonely and geeky Elvis fanatic who goes to a movie alone on his birthday. At the theater, a woman named Alabama Whitman (Patricia Arquette), accidentally spills popcorn on him, leading to a discussion, an overnight tryst, and a marriage the next day. Clarence finds out that Alabama has been a prostitute for four days and seeks to rescue her from the profession. Alabama's pimp (Gary Oldman) and a henchman beat up Clarence, who in turn shoots them to death. They make a getaway with a suitcase which they at first think contains Alabama's clothes but instead is filled with mob cocaine. They head to LA in Clarence's pink Cadillac to sell the cocaine to his friend, unaware that both the mob and the LAPD are hot on their trail.
Julia Roberts is Vivian Ward, a young prostitute whose fondest wish is that a Prince Charming will come along and rescue her from her unenviable plight. Richard Gere is Edward Lewis, a billionaire corporate raider who visits LA to take over a company and sell it in pieces. One night while lost in Hollywood, he asks Vivian For directions. They wind up in a hotel and spend the night together. Then he offers to pay her to stay with him for a week so that he can appear to have a significant other in his life. This will require Vivian to go through a Pygmalion-styled makeover to appear to be "respectable." Over the course of the week, they realize their relationship is far deeper than mere business.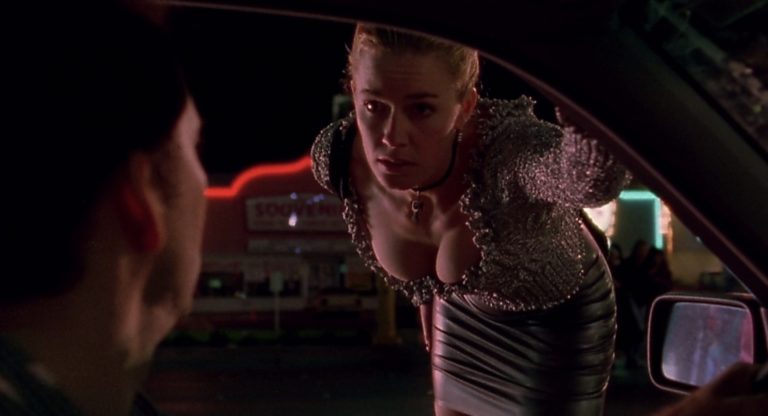 Nicolas Cage won a Best Actor Oscar for his performance as Ben Sanderson, a once-successful screenwriter whose drinking has caused his wife to leave him and take their child with her. Ben's drinking has also caused his producers and agent to drop him. Unsuccessful at picking up women at bars, he makes it his mission to move to Las Vegas and drink himself to death. One night while cruising the Strip, he almost runs into a prostitute named Sera (Elisabeth Shue), who is in the grip of a brutal pimp named Yuri. The next day, Ben accidentally encounters Sera again and offers her $500 to spend an hour with him in a motel room. To her surprise, he doesn't want sex, only someone to listen to his problems. They form an unlikely relationship based on one simple premise: She doesn't complain about his drinking, and he doesn't complain about the fact that she's a hooker.
Recent Movies about Prostitution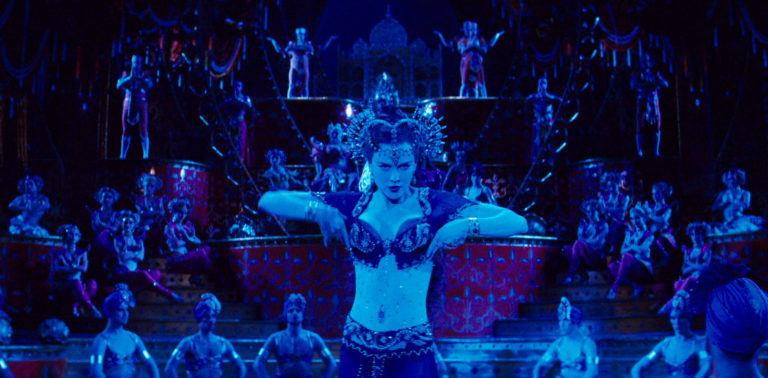 In 1899, a romantic young poet named Christian (Ewan McGregor) comes to Paris and immerses himself in the Bohemian revolution of drugs and licentiousness, which centers around the legendary nightclub called the Moulin Rouge. It is there that he falls immediately for a courtesan named Satine (Nicole Kidman), who at first resists his advances but gradually falls for him, too. But their budding romance is sabotaged by The Duke (Richard Roxburgh), who owns the club and, by implication, owns Satine. The three of them become entangled in a love triangle that is laced with danger.
James Franco stars in the title role as an honorably discharged soldier who returns to New Orleans in the hope of taking a legitimate job that is offered to him by an associate. However, the job never materializes, and he finds himself once more in the employ of his mother (Brenda Biethyn), a madame named Jewel who had used him as a gigolo. Also working under Jewel is a new female prostitute named Carol (Mena Suvari), and Sonny and Jewel rapidly fall in love with one another and plot to escape the seedy underworld of sex trafficking. Directed by Nicolas Cage.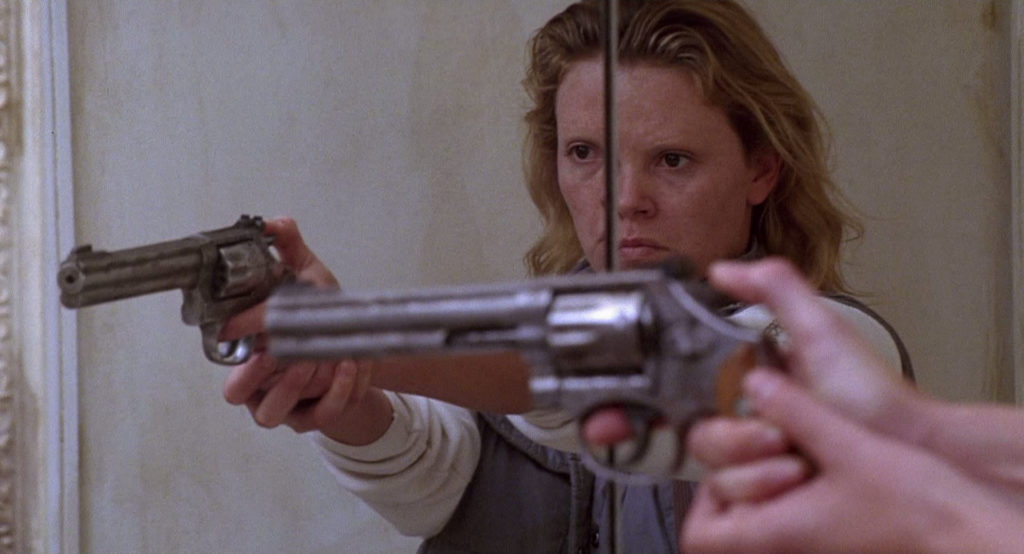 The normally glamorous Charlize Theron won an an Academy Award for Best Actress for her remarkable transformation into Aileen Wuornos, a real-life serial killer who escaped an abusive childhood in Michigan by becoming a prostitute who serviced highway truck drivers in Florida. During one brutal encounter with a john who nearly killed her, Aileen turned the tables and shot him to death. She then used this as her MO, eventually killing at least six men and possibly many more while taking their money and vehicles. Monster focuses on a nine-month period when Wuornos forged a lesbian relationship with a woman named Selby (Cristina Ricci).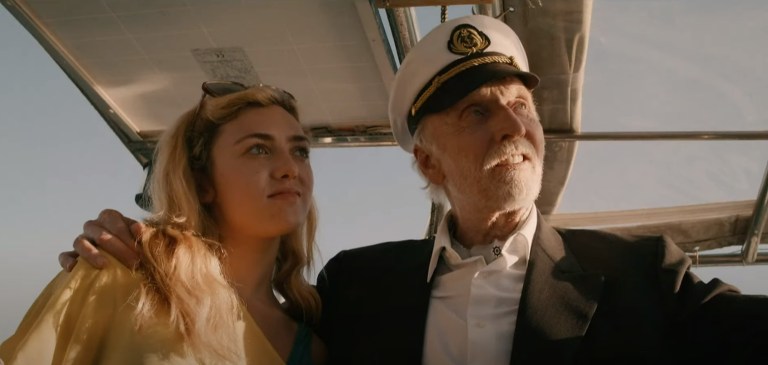 Aileen Wuornos' story is also explored in the less-compelling 2021 film Aileen Wuornos: American Boogeywoman, though Peyton List is a joy to watch as the title character.
Emile Hirsch stars as Matthew Kidman, an 18-year-old virgin who plans to become president one day but who becomes distracted when a beautiful blonde named Danielle (Elisha Cuthbert) moves in next door. One night Danielle spots Matthew peeping on her and forces him to run around town naked as recompense. Matthew falls deeper and deeper under Danielle's spell until his dream is destroyed when it is revealed that she is an ex-porn star and that her former employer Kelly (Timothy Olyphant) has returned to lure her back into the porn world. Will Matthew be able to salvage what he thought was a perfect romance—and more importantly, will Danielle allow him?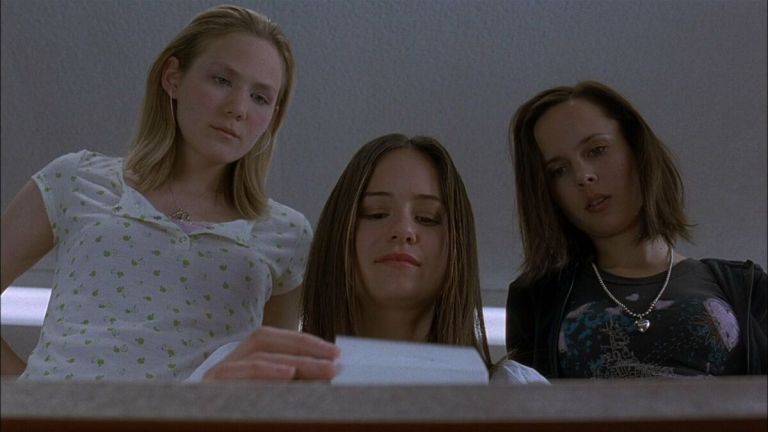 A teenage girl named Shirley is flattered by the attention an older man, the father of children she babysits for, gives to her. The next time Shirley babysits, the man kisses her and then pays her extra money to stay quiet. Enamored with both the money and the attention, Shirley begins setting her friends up with neighborhood dads as "babysitters" for a 20% fee and enters the dangerous world of pimping.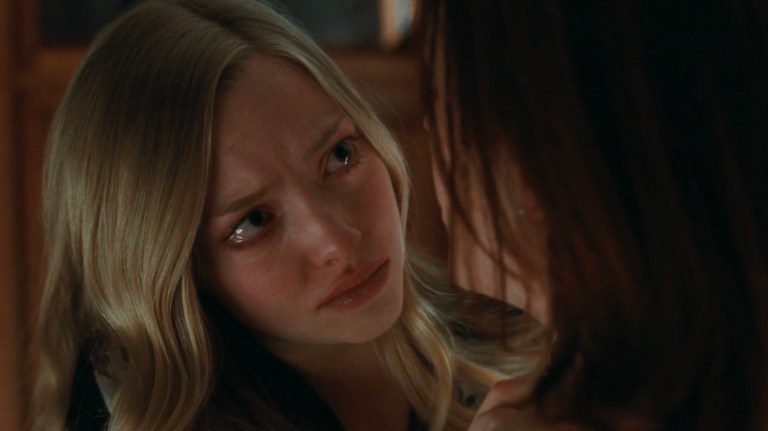 Chole, directed by Atom Egoyan, is a remake a French drama film called Nathalie. The plot revolves around a middle-aged women (Julianne Moore) that suspects her husband (Liam Neeson) is cheating on her. To find out, she hires a young sex worker (Amanda Seyfried) to seduce him and report back on how he acts. Things don't go as expected, and a bizarre series of twists keep unfolding in this sexy thriller from the late 2000s.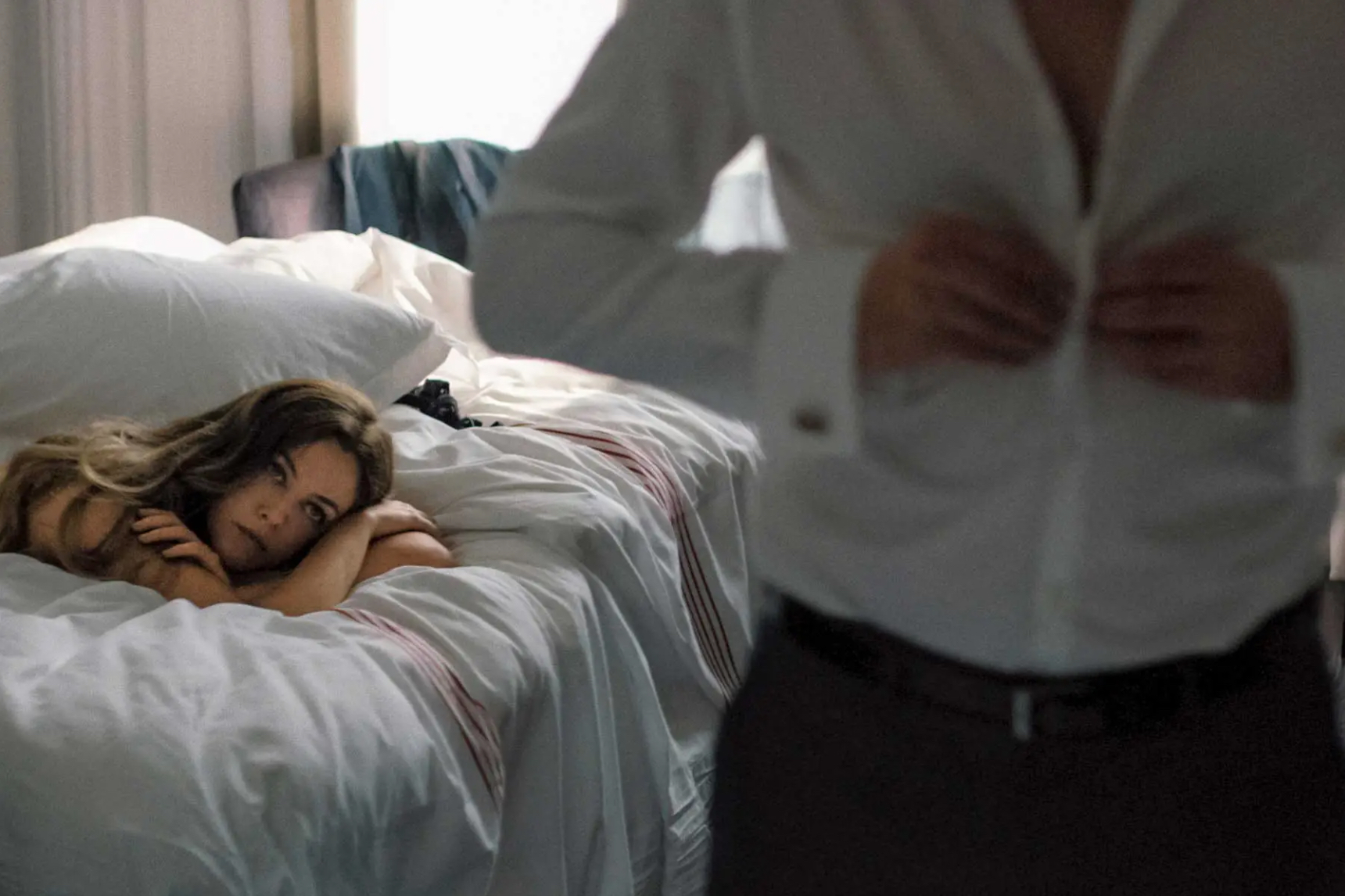 Before the 2008 financial crisis, The Girlfriend Experience covers five days in the life of a high-end Manhattan sex worker Christine, played by former porn actress Sasha Grey. In 2014, the film was made into a television series with Riley Keough as the lead.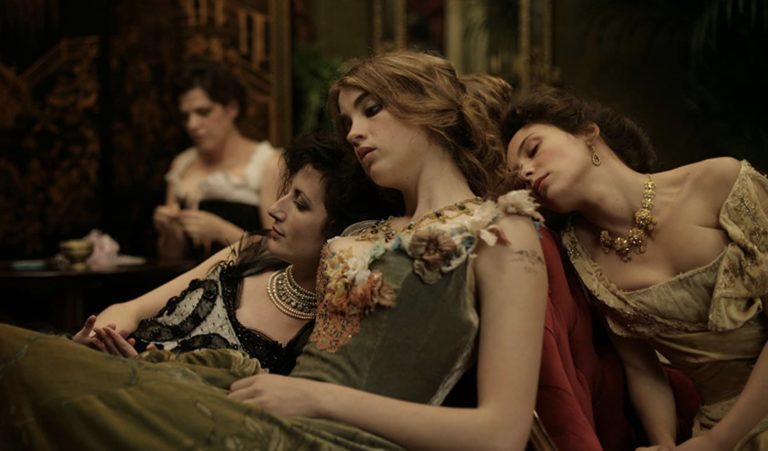 Released in France as L'Apollonide Souvenirs de la maison close, House of Tolerance is set in an upscale Parisian brothel at the beginning of the 20th century. While the women are all beautiful and the surroundings are lush, this cloaks the fact that they live in a world of excess, abuse, conflict, and financial slavery to the brothel's madame. All of them yearn for a day when a client will come along and pay off their debts to the madame and marry them. The final scene is shot in contemporary Paris and shows streetwalkers soliciting customers in their cars, with the implication being that no matter how time changes, the world's oldest profession remains the same.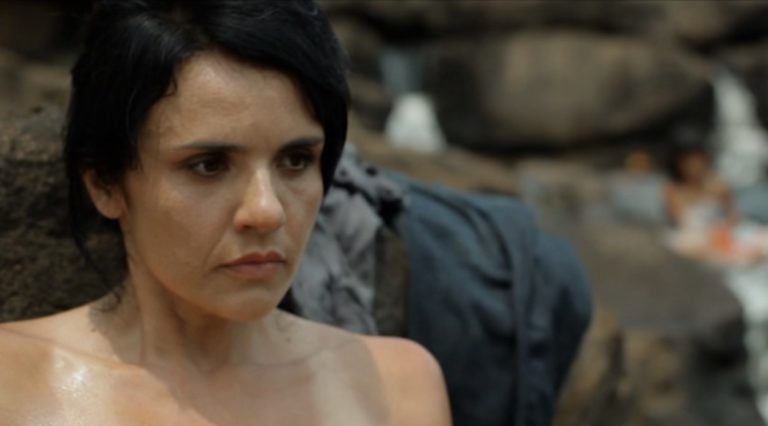 Ilaria Borrelli wrote, directed, and starred in this film as Mia, a comfortable middle-class photographer in Paris who flies to Cambodia to surprise her middle-class husband and convince him to finally build a family with her. However, her dreams are forever dashed when she finds him in a brothel having sex with a ten-year-old girl. She makes it her mission to rescue the girl from the bordello and from the evil clutches of her pimp. She reluctantly has sex with a government official to achieve this. She also is forced to pay the pimp $5,000 for the young girl's release. When they finally leave the brothel, Mia finds that the young girl has also brought two other underage female prostitutes with her. Now it is Mia's mission to return the girls to heir homes amid Cambodian jungle villages while evading torture and revenge from both the pimp and the government. Also released as Talking to the Trees.
Set in 1921, this film stars Marion Cotillard as Ewa Cybulska, a Polish immigrant who travels to Ellis Island along with her sister Belva (Dagmara Dominiczyk), only for them to be separated by officials when they determine that Belva has a contagious lung illness. Forced to walk the streets of New York alone and disoriented, Ewa is befriended by Bruno (Joaquin Phoenix), who takes her under his wing and forces her into a life of prostitution. But Ewa soon meets Emil (Jeremy Renner), a magician who is Bruno's cousin and who wishes to free Ewa from her dilemma. Along the way, Bruno commits a murder and tries to frame Ewa for it.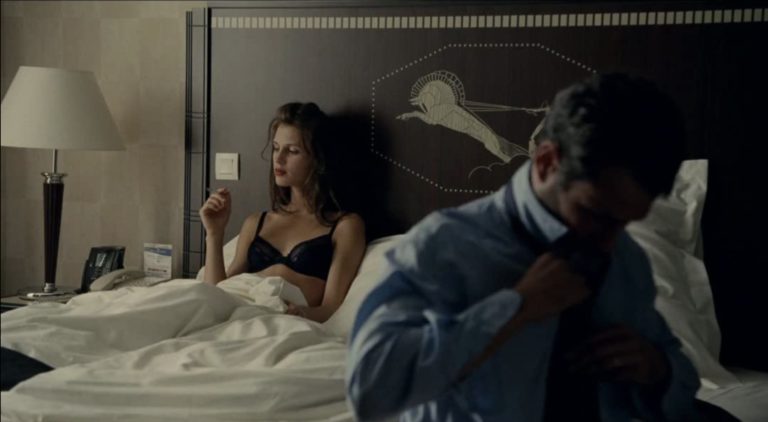 Marine Vacth stars as Isabelle, a young woman who loses her virginity with a German boy and subsequently decides to become a high-priced but intentionally aloof call girl. She seems neither interested in the sex nor the money. Most of her clients are old men, and she develops a mild affection for a man named Georges, who is married with a daughter. Then one night during sex with Isabelle in a hotel, Georges suffers a heart attack and dies. Now Isabelle must flee the police, who are aware of her identity and want to question her for possibly murdering Georges.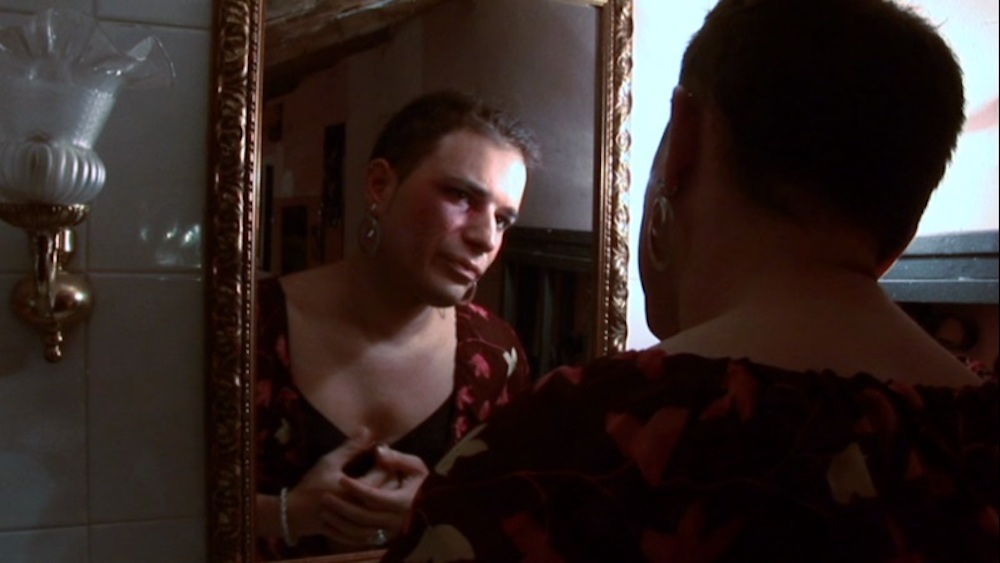 Released in Spain as Noches de Espera, Longing Nights focuses on a quartet of 20-somethings in Barcelona whose lives intertwine through sex, drugs, and divergent sexual identities, all in a desperate attempt to escape urban loneliness. Much of the film deals with how the four main characters find themselves unable to form meaningful relationships due to their promiscuity. The prostitution angle involve Aitana, a gay transgender club kid who has a relationship with a female prostitute.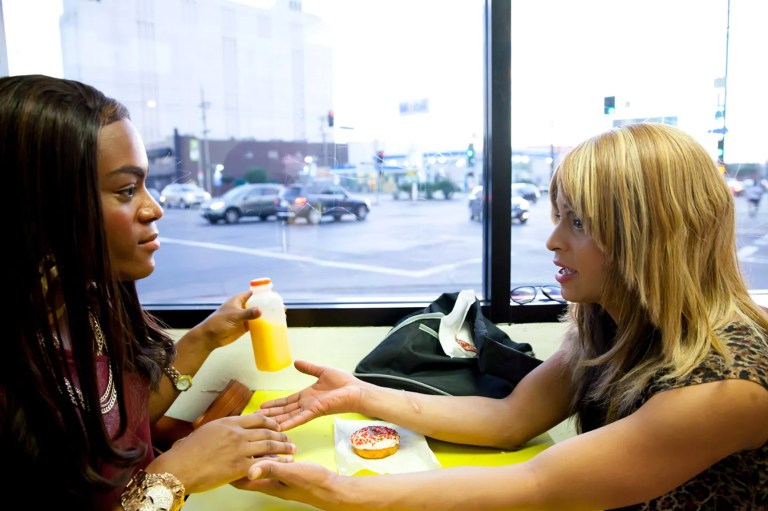 Tangerine is a dramedy about a trans sex worker who discovers her boyfriend, who is also her pimp, is cheating on her. The film is one of the most realistic portrayals of what sex work is like for most of the people who do it, set apart from portrayals of sex work that focus on high-end escorts and wealthier, white workers. Director Sean Baker filmed Tangerine on an iPhone 5S.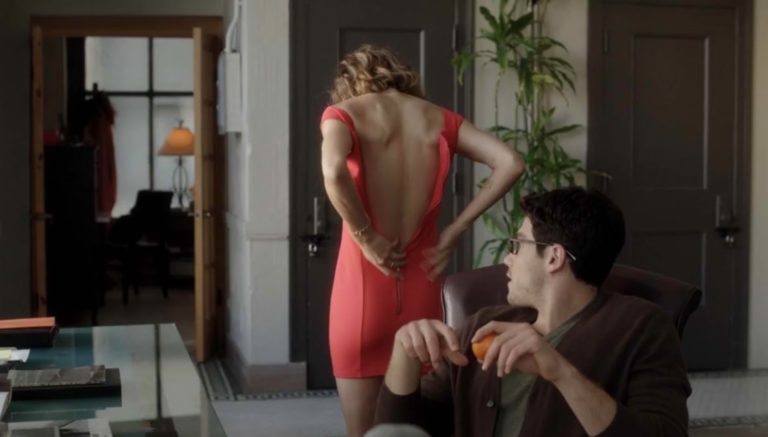 Derek Ramsay starts as Mitch, a lonely sex addict who gets fired due to his obsession and then applies for a job as a magazine. He is offered a position if he can come up with a more interesting article concept than his competitors. Mitch decides to write about Natalie (Lovie Poe), a Stanford-educated high-class escort. She at first rebuffs him but then takes him into her world after a violent encounter with a john. Mitch and Natalie have a falling out, but Mitch's article on the sex industry becomes a rampaging success. Natalie then contacts him, saying she's seeking a way out of prostitution and wants to make amends with him.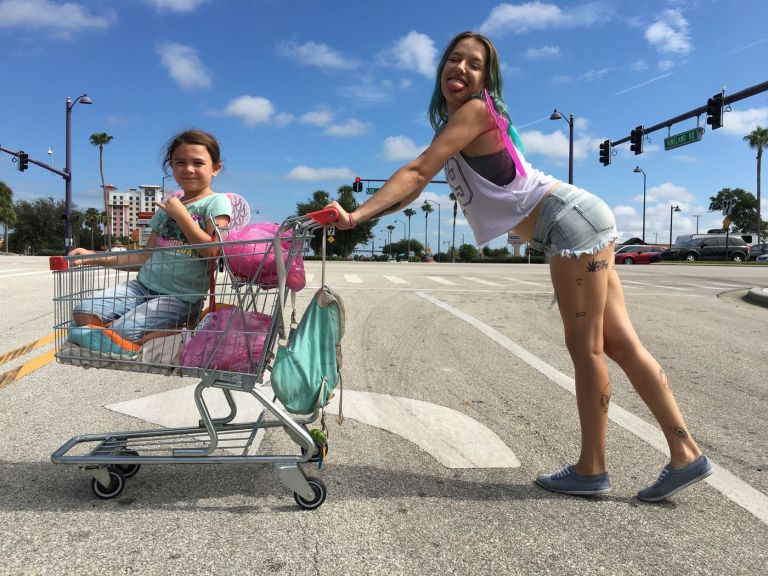 In this coming-of-age drama, 6-year-old Moonee and her mother, Halley, try to survive as a poor family in Kissimmee, Florida in the shadow of the nearby excess at Disney World. Halley is fired from her job as a stripper when she refuses to have sex with a client and their benefits are cut off. When their situation gets even more desperate, Halley begins using sex work to feed herself and her daughter.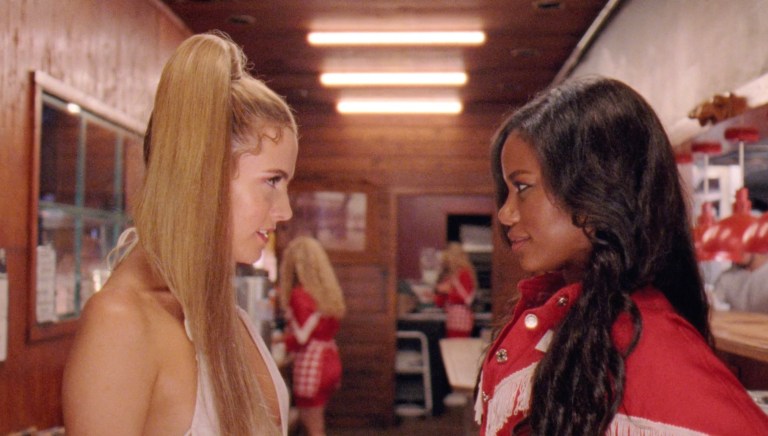 Based on one of the most viral Twitter threads of all time, the almost-too-insane to be based on a true story movie Zola is a black comedy crime movie about two strippers who decide to take a trip to Florida to make money together. The trip does not go as planned and Zola (Taylour Paige) finds herself in a dangerous situation as Stefani and her pimp have advertised her services (including her photo) on Backpage without her permission. Zola helps Stefani make more money but does not participate in the sex work herself, hoping to just be able to leave and go home at some point. Unfortunately, a rival pimp becomes involved and things get even more dangerous for the women.
Directed by Ti West, X is about a film crew shooting a porn movie at a rural Texas home. The home's owners, an elderly couple, at first just seem overly interested but eventually their involvement becomes sinister and violent.
Other Prostitution Movies
The World of Suzie Wong (1960) William Hodlen stars as a businessman who moves to Hong Kong to become an artist, then falls in love with a prostitute he had hired as a model.
Never on Sunday (1960) In this film by famed director Jules Dassin, Dassin stars as an American who moves to Greece and falls in love with a prostitute (Melina Mercouri).
Accattone (1961) In this Italian film, a pimp finds his life spinning out of control after his prostitute is arrested and sent to prison.
Belle de Jour (1967) Surrealist director Luis Bunuel tells the tale of a dissatisfied housewife (Catherine Deneuve) who chooses to become a prostitute to stave off boredom.
McCabe & Mrs. Miller (1971) Warren Beatty and Julie Christie star in this Robert Altman film about a gambler and a prostitute who run a successful brothel in a mining town until a corporation establishes itself there.
Bring Me the Head of Alfredo Garcia (1974) Sam Peckinpah, master of shoot-'em-up violence, brings this tale of a pianist and his hooker girlfriend who infiltrate the Mexican underworld to collect a bounty.
In the Realm of the Senses (1976) Based on a real-life story, this explicit sexual drama by Nagisa Oshima relates the tale of an obsessed geisha girl who castrates her soldier lover and walks around dazed with his severed penis stuffed inside her.
Lola (1981) A woman who is a cabaret singer in public and a prostitute in private plays a building contractor against a building commissioner in a ploy for power.
Last Exit to Brooklyn (1989) Jennifer Jason Leigh stars as a prostitute who falls in love with a customer in the midst of a violent labor war.
Requiem for a Dream (2000) centers mainly on the saga of four drug addicts in seaside Brooklyn, but there's a subplot where one of the addicts (Jared Leto) encourages his girlfriend (Jennifer Connelly) to prostitute herself to her therapist so they can get money to buy drugs.
The Client List (2004) a television series starring Jennifer Love Hewitt, based on a real prostitution scandal in Odessa, Texas.
Sold (2014) a woman who is the victim of sexual trafficking in India struggles to achieve freedom.
The Deuce (2017-2019) an ensemble drama about Times Square in New York City during the golden age of pornography. All of the characters are involved in porn or sex work either as providers, pimps or customers. Maggie Gyllenhaal is especially good as an ambitious sex worker who moves from working the streets to directing her own artistic porn films throughout the series' three seasons.