17+ Horror Films About Musicians
Horrific harmonies and creepy chords make the best horror films about musicians. Find them on this list.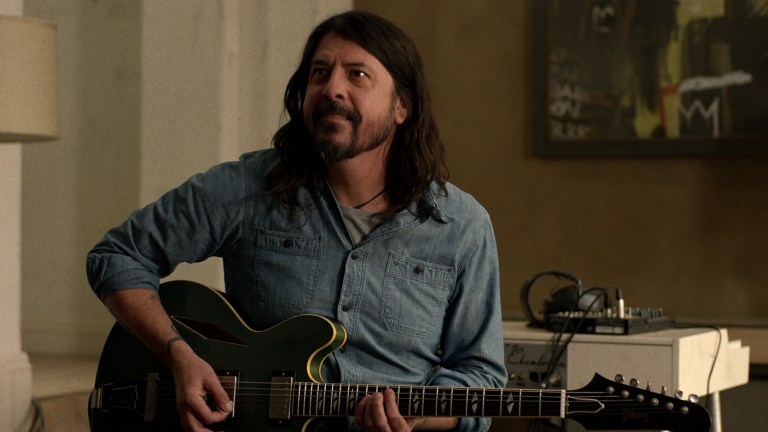 Robert Johnson met the devil at the crossroads. Armed only with his guitar, he made a deal with the beast. A thriving music career for the small price of his soul. Rumors abound even today that the same exchange is common in the music industry. Whether or not these stories are allegory or complete truth, two things are certain. Horror can be hidden within the most beautiful things, such as music. And artistry sometimes comes with a high cost.
While many see songs as soothing, singing has deep roots in horror. Legends of sirens serenading sailors prevail throughout history. Yet, these sirens' mesmerizing melodies conceal a deadly intent. To kill anyone who follows the beautiful song to its deadly source. These tales serve as a chilling reminder that the power of music goes far beyond mere entertainment. Its enchantment can also lead to doom. Don't understand how? Keep reading this article to find out.
Best Horror Films About Musicians
Pianist Paul Orlac's life is defined by what his hands create. When a train accident destroys his hands, he gets a pair of transplants. The new hands can't play the piano. They are not designed for creation, but for destruction. The donor of Orlac's new hands? An executed murderer. Orlac spirals down a dark path as he believes himself to not only be capable of murder, but of being drawn to it thanks to his new appendages.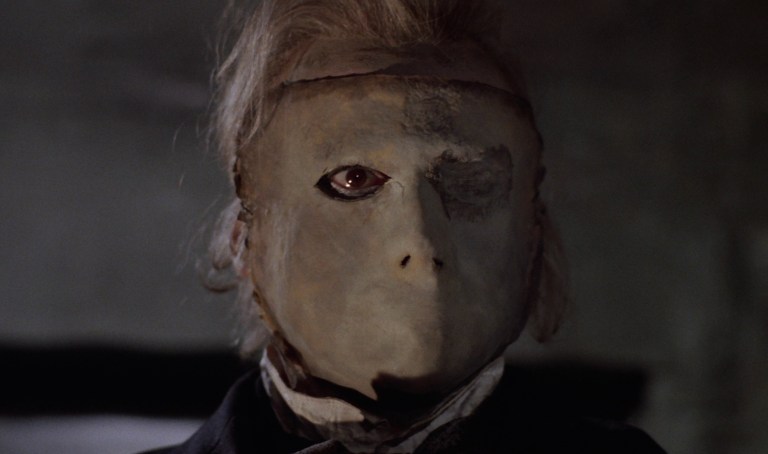 A rich composer makes his fame by stealing the work of Professor L. Petrie, a man too poor to press legal charges. Taking justice into his own hands, Petrie breaks into a printing office to take back the stolen composition. Instead, he accidentally sets a fire and is burned into severe disfigurement. The man becomes a phantom, haunting the doomed opera house and all who perform within it. In all of his agony, only the most beautiful aria can heal his soul.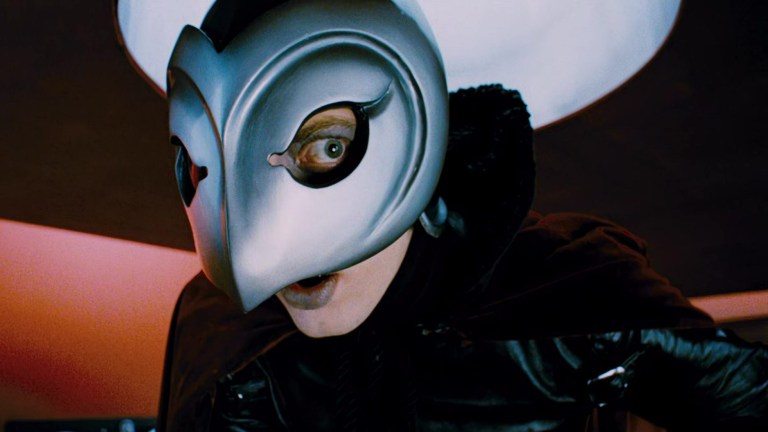 Campy and utterly ridiculous, Phantom of the Paradise is a cult classic made up of rock music and satire. In a familiar story, an aspiring musician has his music stolen by an unscrupulous record producer. Seeking revenge after being stolen from and horribly disfigured, the musician haunts the music venue run by the producer. Though the basic story is that of The Phantom of the Opera, the way it plays out is probably like nothing you've seen before or since.
Released amid the satanic panic of the 1980s and its attacks on heavy metal music, Trick or Treat is about a teenage outcast's resurrection of a devil-worshiping rock star. When the teen, Eddie "Ragman" Weinbauer, realizes the mistake he made when he listened to Sammi Curr's records backwards, Eddie tries to stop the oncoming slaughter the supernatural rocker has planned. Trick or Treat was definitely a treat for metalheads when it came out. Not only does it feature music by the band Fastway, but it also contains cameos from Gene Simmons and Ozzy Osbourne.
A quartet of teenagers (and a few friends) stay at a condo for a weekend of band practice and slumber partying. One of the band members is Courtney Bates, a survivor of the attacks by a drill-wielding maniac a few years prior. Courtney is haunted by nightmares of a man carrying a guitar with a giant drill sticking out of its neck, and her nightmare become reality when the supernatural killer attacks her and her friends.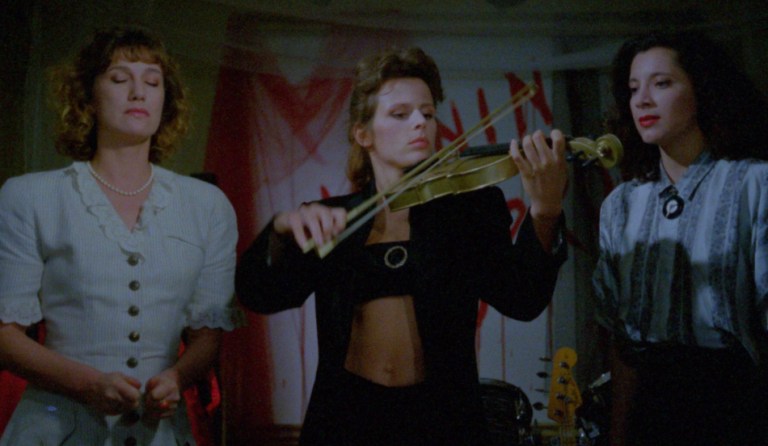 An all-female rock band agrees to adapt and record an unpublished composition by composer Niccolò Paganini. Unknown to them, the music and the house they decide to shoot a music video in are cursed. The desire for success in the music industry is strong, but the unfortunate souls in Paganini Horror learn that sometimes it is not a force that should be messed with.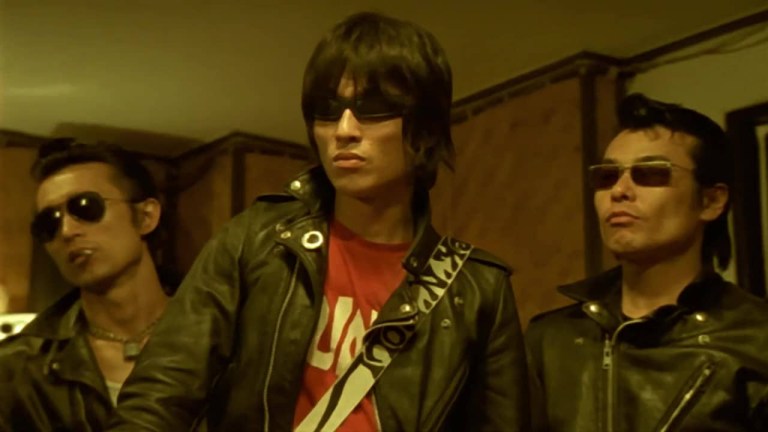 "Love has no borders, nationalities, or genders." That is the message punk rocker Guitar Wolf wants to get across in Wild Zero, a Japanese movie about love surviving among zombies, aliens, and rock music. Ace is a punk rock aficionado who idolizes the band Guitar Wolf. When Ace helps Guitar Wolf get out of a sticky situation, they become blood brothers and promise to help Ace whenever he needs it. In the end, the power of love and rock 'n' roll save the day.
Based on the novel by Anne Rice, Queen of the Damned illustrates the immense power of rock 'n' roll. The sensuous vampire Lestat (Stuart Townsend) is awakened by a rock band and decides to become a "new god" by becoming a rock star himself. Lestat's music in turn awakens the ancient vampire Akasha (Aaliyah) who seeks to bend Lestat to her will. Two vampires, connected by blood, and brought together through music.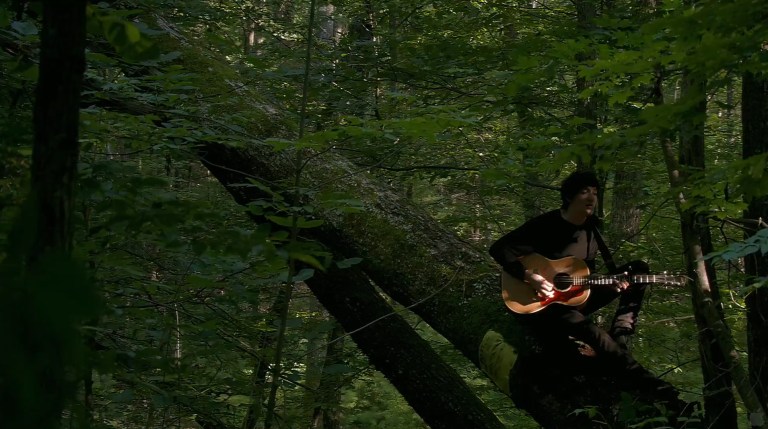 Determined to write new music, members of a new band venture into the forest for musical inspiration. It isn't inspiration that awaits them, however. Rather, something with equal passion and a lot of violence. The horrors that unfold are told in song. Screams of pain and screams of passion blend to make this strange slasher musical. The characters in the film are portrayed by musicians rather than actors. "Three of them . . . had a band called The Dirty Dirty," director/writer Vincent D'Onofrio says. "I had heard them play before and thought that they were all really talented."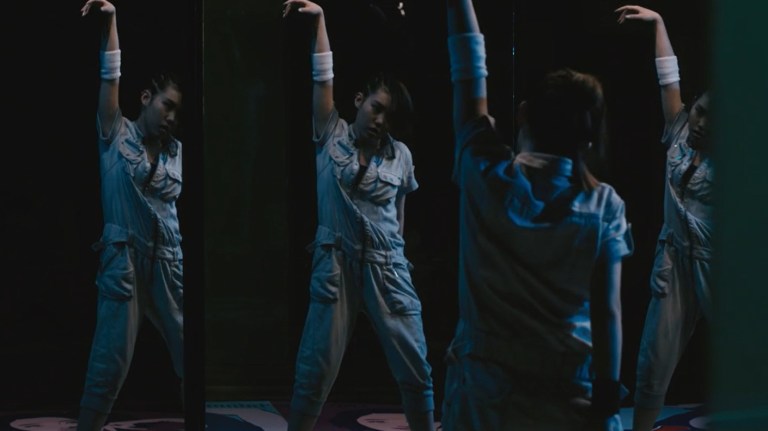 Released in South Korea in 2011 just as K-pop was really starting to break through in a big way in the United States, White: Melody of Death is a fantastic movie about a curse. The girl group Pink Dolls is having a difficult time getting people to pay attention to them. After moving to a new rehearsal space, they find an old VHS tape hidden away behind a wall. The tape is labeled with the word "White," and it contains footage of an unreleased song from an unknown group. Using the melody as their own, Pink Dolls rocket to stardom. But with stardom comes a curse that threatens to destroy the members of Pink Dolls one by one.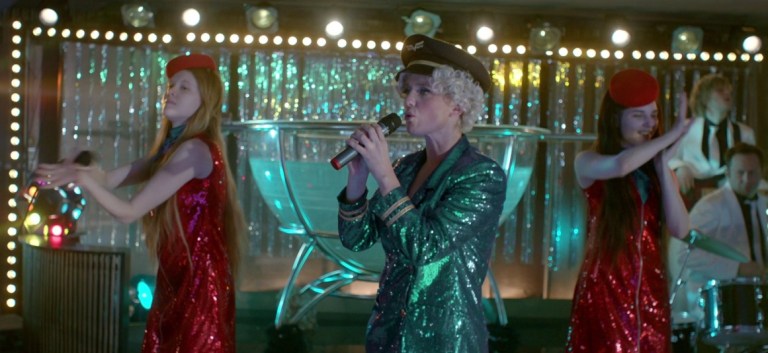 This musical horror tells the tale of a pair of sirens who are enticed out of the sea by a rock band, and who become performers at a nightclub. Off stage, they are torn between loving and devouring the humans in attendance. Director Agnieszka Smoczynska says that she takes inspiration from "sirens that devour people. It was very important for us to tell a story about a mermaid who is not only a sweet girl, but also preys on human beings. Our ambition was to create a new legend."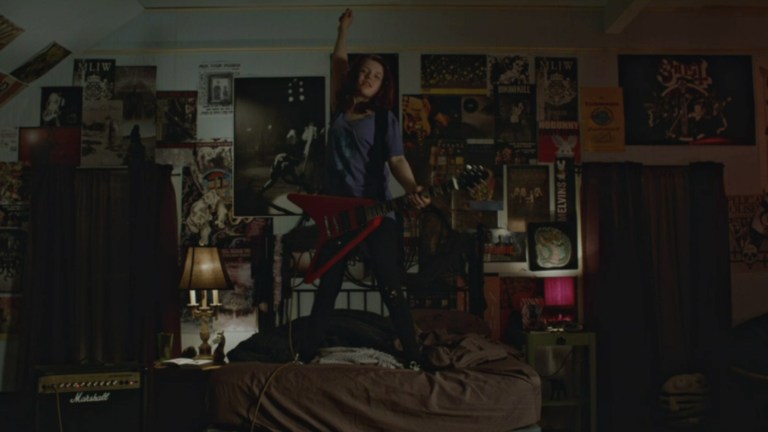 Raymond has to play his guitar loudly. It's the only way to drown out the voices. The musician eventually snaps, murdering his mother. Ray escapes, and while he is on the run another artist moves into the house and is haunted by the same voice. This film shows a guitar as a therapeutic tool, as well as a weapon. "I was inspired by the classic Robert Johnson at the crossroads myth which presents a question to everyone," writer/ director Sean Byrne says. "If you could have the life that you always dreamed of, what would you be prepared to sacrifice to do that?"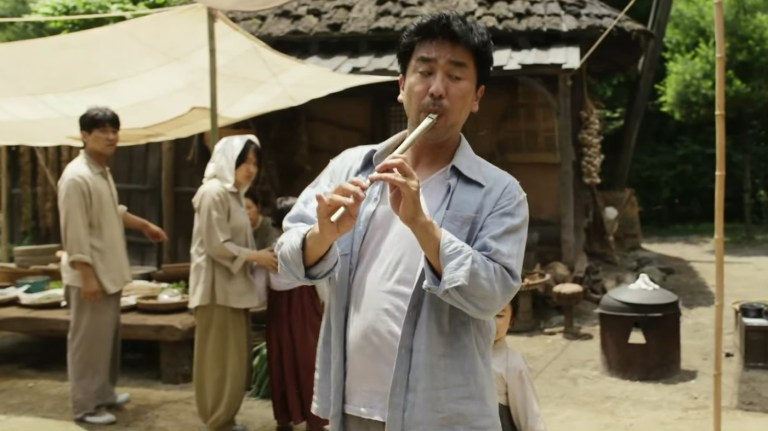 Set in the countryside of 1950s South Korea, The Piper is a reimagining of the legend of the Pied Piper of Hamelin. A father desperate to earn the money needed to pay for his sick son's medical expenses agrees to help a remote village with their horrific rat problem. The father's kindness is paid back with treachery, leading him to use his gift of music to get back at the people who wronged him.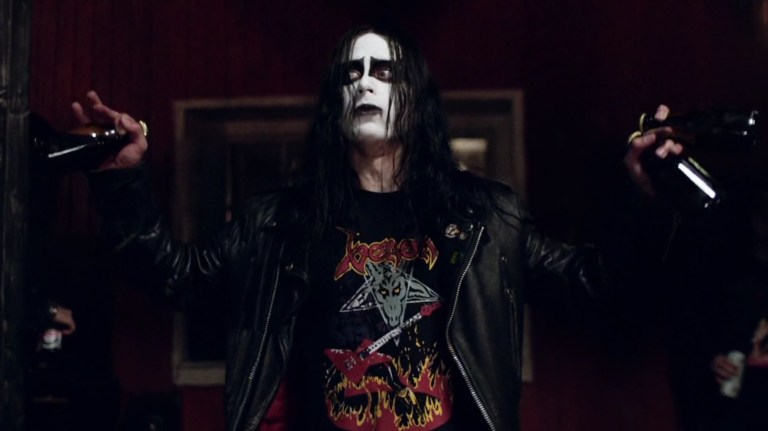 This biographical horror follows the band Mayhem, as told from the perspective of its guitarist and co-founder Øystein Aarseth (aka Euronymous). These musicians, though dark, have so much duality to their character. "There's definitely an aspect of Euronymous to admire," says actor Rory Culkin. "He's very passionate, he was good with publicity and things and a good musician and then there are things that he says like he wants his music to provoke suicide and things like that, which you just can't get behind." The film shows how Norwegian Black Metal bands can truly be lords of chaos.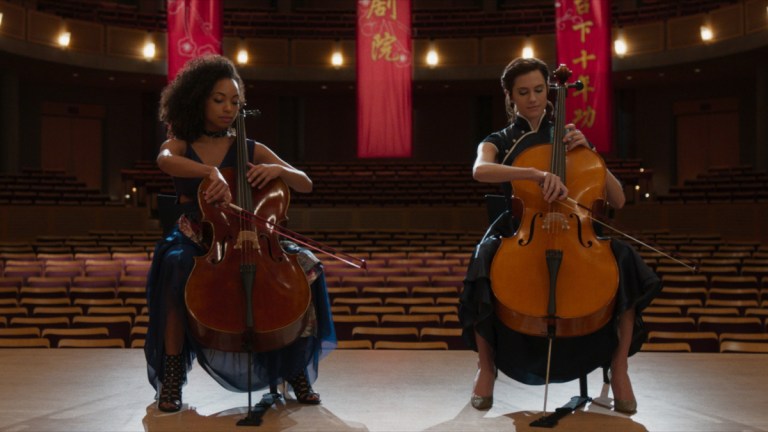 When a troubled star cellist meets a new prodigy, the two travel together through China. In this new terrain, the women become very close. They will not return as they left, one of them will even be missing a vital appendage. It seems Charlotte (the star) will do anything to sabotage the young prodigy's placement at her alma mater. Is this out of jealousy or protection? On why he chose to write a film involving the cello, Richard Shepard says, "I wanted an instrument that ultimately was a sensual-looking instrument. I wanted it to be something two people could play in a very unique way."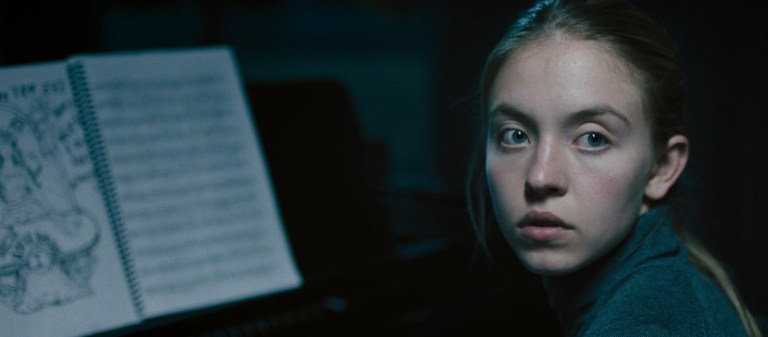 Sisters Vivian (Madison Iseman) and Juliet (Sydney Sweeney) are both pianists who attend a prestigious school for the arts together. Vivian is a prodigy, but Juliet struggles with the self-doubt of living in her sibling's shadow. A cursed book of sheet music might be the way for Juliet to surpass her sister, but the grotesque images that accompany the music notes foretell the tragedy that playing the music will create.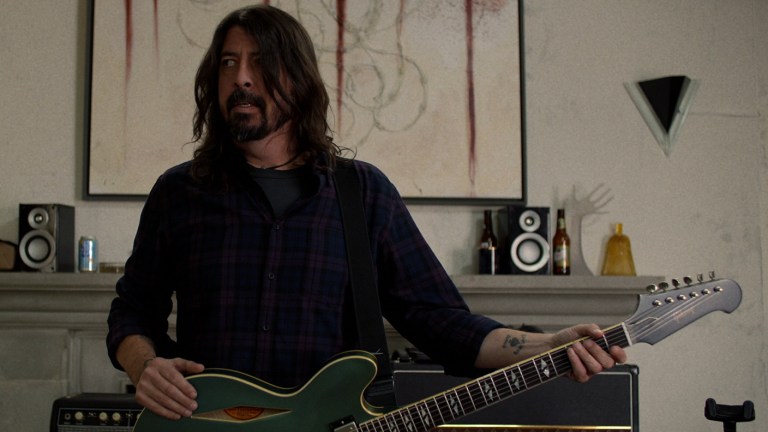 In Studio 666, The Foo Fighter (playing themselves) have a problem. Frontman and lead songwriter Dave Grohl has a wicked case of writer's block. Seeking inspiration, the band rents an old house with a dark history to write and record in. Inspiration soon comes to Dave… in the form of possession. Studio 666 is a silly horror comedy that came from the mind of Dave Grohl himself. "I think a fascination with The Dark goes hand-in-hand with rock'n'roll and it always has," says Grohl. "Do I believe I've sold my soul to the Devil? No. Do I know every word to Slayer's 'Reign In Blood'? Yes. Those two things lock together in some way."
More Horror Films about Musicians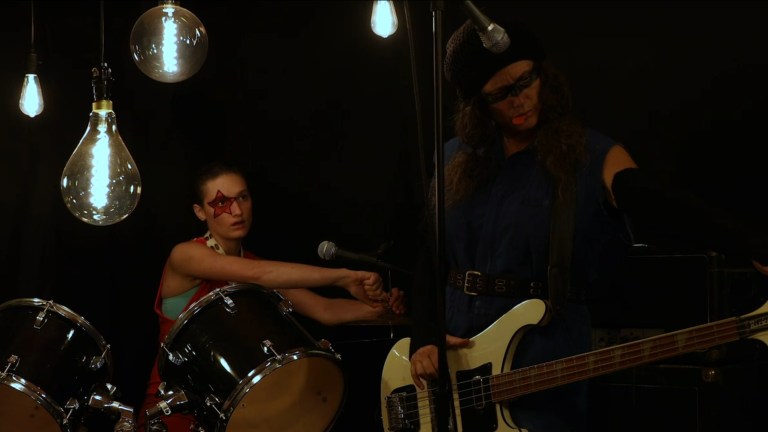 Svengali (1931) – After falling in love with a woman, an evil musical conductor uses hypnosis to control her voice. Yet not even his powers can control her heart.
The Uninvited (1944) – A music composer/critic and his sister buy a house in England, and they soon find it is haunted.
Kiss Meets the Phantom of the Park (1978) – Iconic rock band Kiss battles an evil inventor in this silly made-for-TV film produced by Hanna-Barbera.
The Changeling (1980) – A composer rents a mansion far from home in an attempt to get his mind together after the death of his wife and daughter, but he can't concentrate on his work when he discovers that his new house is haunted.
A Blade in the Dark (1983) – A composer working on the score for a horror movie becomes involved in the hunt for a killer when people start dying around him.
Monster Dog (1984) – This spin on a werewolf movie stars shock-rocker Alice Cooper stars as a musician shooting a video when mysterious dog attacks begin to occur.
Rocktober Blood (1984) – A rock star executed for murder, but two years later he appears to return to continue his murderous ways.
Doom Asylum (1987) – Friends travel to an abandoned metal asylum for a picnic, unknowingly disturbing a punk band and a deranged killer.
Black Roses (1988) – Demons learn that the best way to control humanity is through rock music. They pose as a rock and roll band to enslave all who listen.
The Crow (1994) – Nothing will stop this musician from vengeance, even death itself. When a crow resurrects Eric Draven (Brandon Lee) from his grave, the odd yet powerful pair hunts down the gang that killed him and his fiance.
The Eye (2002) – A blind violinist has a surgery to restore her sight, but along with seeing the living world with new eyes, she can also see spirits.
The Eye (2008) – This remake of the 2002 film of the same name casts Jessica Alba in the lead role of a violinist who sees ghosts after undergoing a procedure to restore her sight.
Green Room (2015) – A punk rock group finds themselves in a fight for their lives when they witness a homicide in a bar full of neo-Nazis.
Deathgasm (2015) – Music offers an escape from the banality of life. So does black magic. When two teenage boys dabble in both to escape their boredom, they summon an ancient demonic entity.
The Night Eats the World (2018) – A musician visits his ex-girlfriend's apartment to pick up some music he left there, but after he falls asleep, he wakes up to a world overrun with zombies.
Hellbender (2021) – A mother and daughter living in the woods have their own two-person band that they perform in just for themselves. They also have a connection to witchcraft which the daughter is only just discovering.
Further Reading