9 Mia Goth Horror + Thriller Movies, Ranked From Worst to Best
Discover what makes Mia Goth the scream queen of our generation in the below horror and thriller movies, ranked from worst to best.
Before dominating the silver screen and cementing herself as one of the industry's greatest talents, Mia Goth began her career in modeling. She was discovered by fashion photographer Gemma Booth at the age of 14 and subsequently was signed to Storm Model Management. Mia then appeared in ad campaigns for Miu Miu and Prada and modeled for institutions like Vogue. However, her true passion always lay in acting. Two years into her modeling career she began attending auditions. She landed her first big role as 15-year-old "P" in the second chapter of Lars von Trier's controversial erotic art film Nymphomaniac (2013).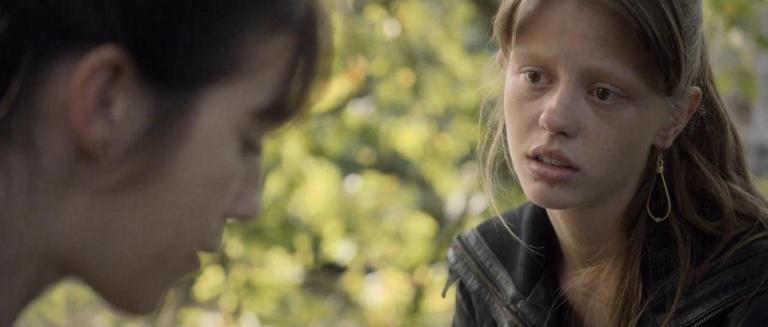 Her first leading role came a short two years into her career in the post-apocalyptic thriller The Survivalist (2015). That same year she played Meg Weathers in Everest. Since then, Mia has had several notable roles in movies like High Life (2018), Emma (2020), and Mayday (2021). The starlet's acting prowess is impressive and extremely versatile. She can play the soft-toned and sweet doe-eyed girl as well as can play the sinister murderess. However, there's no denying that nothing looks as good on Mia Goth as the horror genre.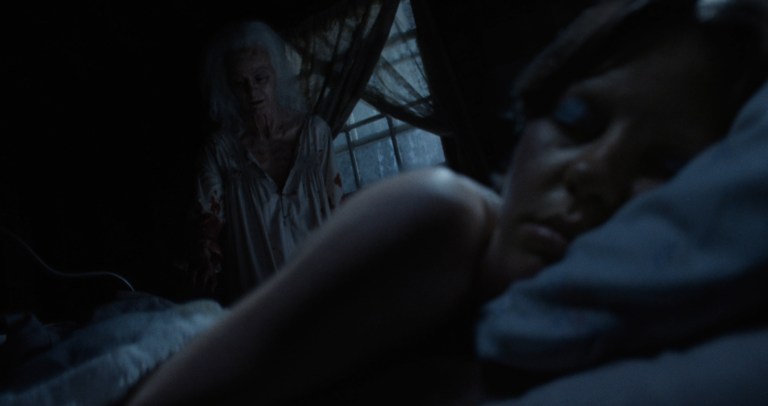 Films like X (2022) and Infinity Pool (2022) have demonstrated that horror is where she excels. In Ti West's first installment of the X film series, she magnificently plays both the defiant, sultry final girl Maxine Minx and the old, decrepit psychopath Pearl. Not only did she reprise the titular role as a younger Pearl in the follow up prequel, but she co-wrote the script alongside Ti West. The third film in the series MaXXXine is currently in post-production and will follow her character in 1980s L.A. as she continues her journey to stardom. Earlier this year, it was announced that she's to play a part in MCU's upcoming horror Blade. It has also been recently reported that she is to play the role of the Bride in the new Frankenstein, currently in pre-production, where she'll star alongside Andrew Garfield and Oscar Isaac. If there's one thing horror fans can agree on, is that here's to hoping for more Goth horror roles like these to come in the genre's future.
Below is a curated list of her horror movies, ranked, that prove Mia Goth is undoubtedly the modern scream queen of our cinematic era.
Netflix's The House is a beautifully crafted British stop-motion horror anthology centering around a house and its inhabitants across different eras. It features three different thought-provoking stories that explore materialism, wealth, the pursuit of happiness, human connection, the horrors of human nature, and madness. This movie went unnoticed by many, but it's definitely worth a watch. Don't let its animated quality fool you, The House is an odd and terrifying experience. However, as intriguing as it may be, Goth has certainly starred in far more superb horror films and roles.
Here, she plays Mabel in the movie's first segment, "And heard within, a lie is spun." Her character is a young girl in a struggling family of four, consisting of herself, her younger sister, and their parents. An architect offers them an opulent house to live in free of charge. The family moves in and Mabel soon begins to notice peculiar happenings. There's an underlying sinister darkness to their new home—one that causes the house to seemingly change shape out of nowhere.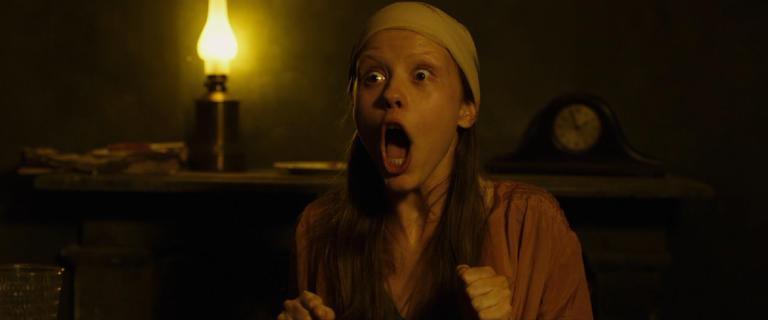 Marrowbone was written and directed by the writer of 2007's The Orphanage. It's a psychological horror movie with gothic and mystery elements centered around a mysterious family who moves from England into the Marrowbone Estate in Maine. Soon after arriving, the mother dies. The siblings, which include Goth's character, struggle to survive together. They keep their mother's death under wraps so they don't become separated, waiting on the day the eldest brother turns 21 and can have legal guardianship. Isolated and alone, they find themselves haunted and terrorized by a dangerous presence in their home.
If you haven't watched the film, then the less you know going in, the better. While it's beautifully shot and tells a compelling story, it's definitely a film we've seen before. However, the performances and eerie atmosphere definitely make it worth a watch. Goth shines even as a supporting character and gives a depth to her role in a way only she knows how to. The movie also features Anya Taylor-Joy and Stranger Things' Charlie Heaton.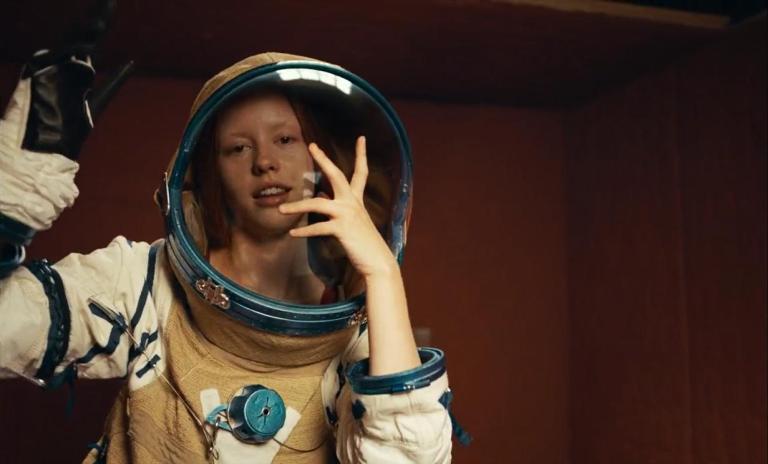 High Life is more of a sci-fi thriller, but it has abundant elements of horror and dread and is disturbing enough to make it on this list. This film was Claire Denis' English debut, the French director behind Trouble Every Day (2001). It makes commentary on mortality, the prison system, crime and punishment, agency and control over our own bodies, human sexuality, and primitive aspects of humanity, such as survival and reproduction. High Life asks the following questions: What makes us human? What separates us from other species?
The movie doesn't feature Mia Goth as the star, but rather Robert Pattinson as Monte. The story follows a nonlinear narrative and centers around a group of criminals in space aboard a ship bound for a black hole with the mission of extracting alternative energy from it. Unbeknownst to them, it's a suicide mission. The real goal is to study how high levels of radiation impact the human body. Juliette Binoche is Dr. Dibs, who subjects those on board to bizarre sexual experiments and is hellbent on creating life in outer space by inseminating the female passengers using the men's sperm. Goth's character Boyse is extremely vocal against having a child. She has one of the most visceral and devastating scenes in the movie.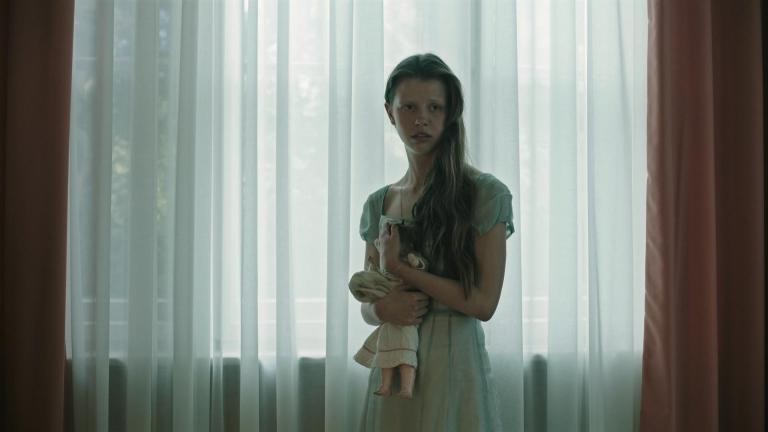 The film wasn't received well by critics, but A Cure for Wellness is a truly unique and magnificent gothic tale that delivers on atmosphere. Although some aspects leave more to be desired and it has a final act that struggles, it's a visually stunning movie that haunts you and keeps you on the edge of your seat. The pacing is excellent and so is its ability at providing an eerie ambiance. The star-studded names on the cast, the cinematography, and long running time are true gems in the horror genre. The story has everything from mystery to body horror to jumpscares. Mia Goth has a role that displays her versatility and where is at her most innocent, endearing, and precious.
If you haven't yet watched it: The movie follows Lockhart (Dane DeHaan), a young and ambitious business executive, as he travels to the Swiss Alps to retrieve his company's CEO. What he finds is a sinister conspiracy lurking beneath a wellness center with a dark history of its own. Goth plays Hannah, a young woman who has been confined to the spa for her entire life.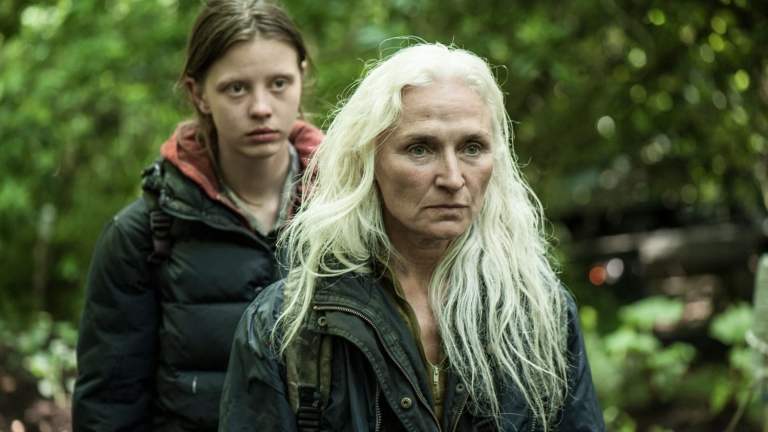 The Survivalist isn't necessarily a horror film, but this bleak post-apocalyptic thriller is horrifying enough to make it to this list of horrors. From its opening scene, the movie sends chills down your spine and as it goes on, it only increases in its brutality. It's a harsh look at how human beings are reduced to their most basic and primitive instincts when robbed of all hope. The Survivalist isn't an easy watch, but definitely worth one.
An unnamed man, "the survivalist," lives his life making it day by day on his enclosed farm in a world where food is scarce. One day his life is interrupted by Kathryn (Olwen Fouéré) and her young daughter Milja, played by Goth. Kathryn offers up her daughter for sex in exchange for food and shelter and he reluctantly takes them in. What follows is a push and pull of trust and betrayal and Milja's conflicted loyalty between her mother and new lover. Goth masterfully plays a morally complex character, relying heavily on her expressions and body language to relay her emotions. Here, Goth provides the viewer with some of her best work—and so early on in her career.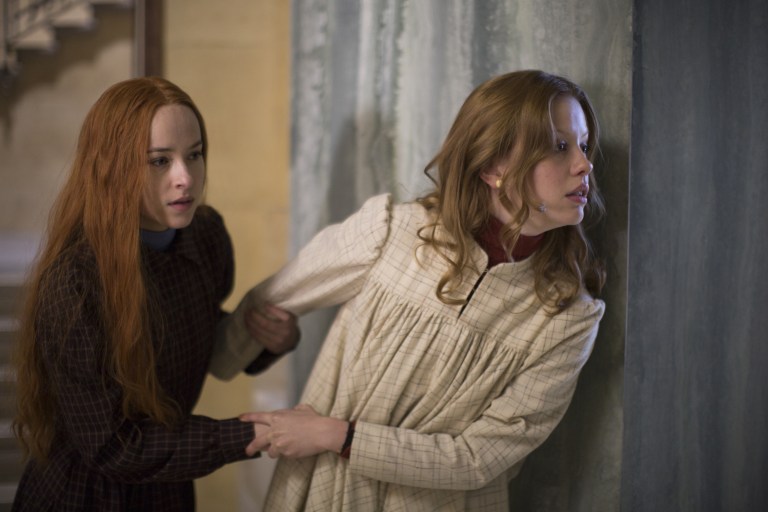 Luca Guadagnino's remake of Dario Argento's 1977 classic of the same name features Mia Goth in a supporting role to Dakota Johnson's Suzy Bannion, a young dancer trying to make a name for herself at the prestigious Markos Dance Academy. Like in the original, the school is a front for a coven of witches, but the movie stands on its own and is profoundly different from its predecessor. Themes explored include motherhood, matriarchy, patriarchy, self-empowerment, national guilt, generational struggle, and fascism.
Although Goth doesn't play a lead role, her character Sara is essential in uncovering the truth behind the academy and its matrons. She gives a magnificent performance in the final two acts of the film. After her discovery, Sara becomes entranced under a spell by the witches and gives an eerie and evocative dance sequence that is forever haunting to the viewer. She's an emptied out shell of who she used to be, now controlled by the coven. Her body language, her state of being, her expressions communicate everything that she is no longer able to. It's one of Goth's most memorable scenes in any of her movies.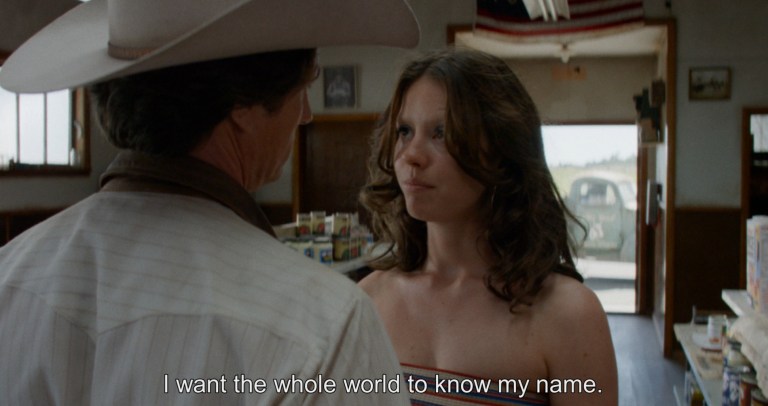 Ti's metafilm X is a homage to 1970s exploitation horror slashers in the vein of his masterpiece House of the Devil. Just like the 2009 film, X has established itself as a modern horror classic. This is the movie that ramped up cinephile obsession with Mia and initiated the "Goth craze" within the horror community. It highlighted the Academy's anti-horror bias, with fans campaigning for Goth as a potential winner for her outstanding portrayals. Her dual performance as sexually liberated, beautiful Maxine Minx and the murderous, sex-starved, and withered Pearl deserved all the accolades. As worlds apart as these two characters are, they share a mutual fixation for ambition and beauty. In a way, they are a mirror of each other. Maxine is emblematic of everything Pearl once had and lost. Pearl is a terrifying reflection of where Maxine could end up if she fails to accomplish her dreams of stardom and also a reminder of the unavoidable fading of her beauty.
The film masterfully explores themes of desire, aging, female pleasure, and self-empowerment. Even through all the gore, blood, and violence, it manages to emotionally resonate with the audience. X also features standout performances from Jenna Ortega, Brittany Snow, and Kid Cudi.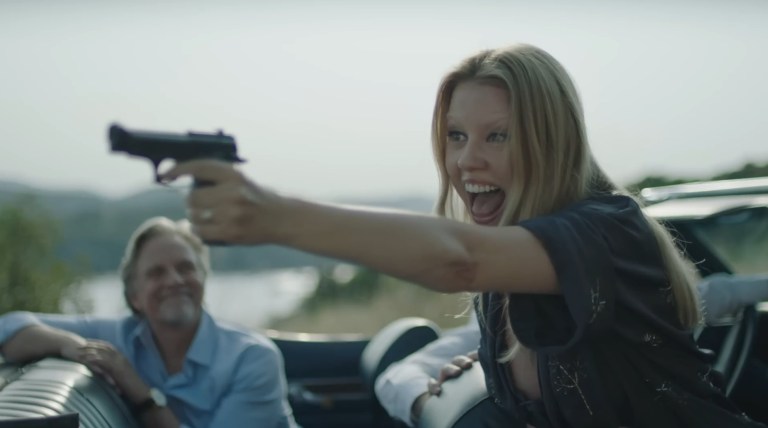 Brandon Cronenberg brings to life a sadistic bacchanal in Infinity Pool, which centers around the exploits of failed writer James Foster (Alexander Skarsgård) in a fictional tropical country, La Tolqa, where the rich have a way to circumvent punitive consequences for their crimes through cloning. While vacationing with his wife Em (Cleopatra Colman), he meets Gabi Bauer (Mia Goth) and her spouse. After an outing, a car accident leaves a man dead, and James bears witness to his double's execution. Em is horrified, not just by what they've had to experience, but in James' reaction—he is mesmerized and inspired. What follows is Gabi and her friends' manipulation of James as they commit unspeakable acts of terror. Infinity Pool is a grotesque exploration of identity, hedonism, death and rebirth, self-destruction, the affluent, and loss of humanity. It asks the question of how far humanity's depth of depravity can reach when faced with absolutely no consequences. The answer leaves both James and the viewer profoundly traumatized and unable to return to the real world. This isn't a film for the faint of heart.
Mia Goth gives an electric performance as the mysterious and seductive Gabi. She's cool and collected when she needs to be, but still hints at a manipulative and sinister nature beneath her calm exterior. When she goes unhinged, it's a truly menacing and chilling act, as seen when she screams at "baby James" to get off the bus with a gun raised. Her unsettling Cheshire Cat grin gives Harley Quinn a run for her money. The best parts of the movie involve Mia's depraved and twisted scenes.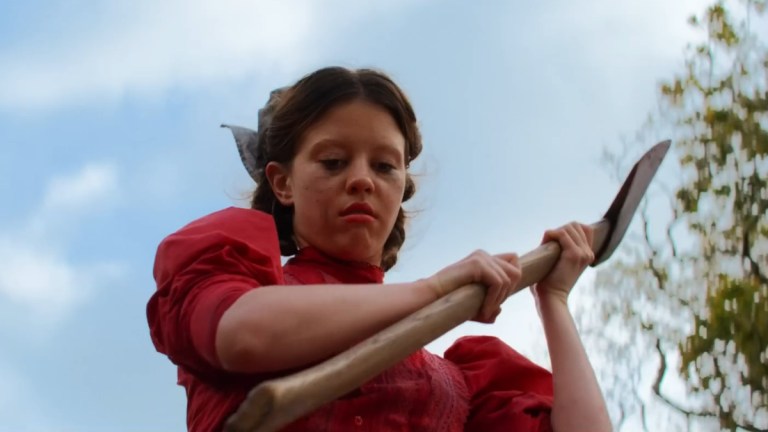 If you saw X in theaters in 2022, then you were pleasantly surprised to see the clock rewind and get a first look at Mia Goth as a young Pearl in 1918 living on her family's farm. The teased prequel, which takes place almost 60 years before the bloodsoaked events and carnage of the first film, arrived to screens six months later and cemented Mia Goth as the queen of horror.
In a distinct Technicolor aesthetic, the film serves as a dark and twisted homage to 1939's Wizard of Oz. Pearl draws a parallel to Dorothy Gale (Judy Garland), both lonely farm girls stuck living a rural existence. Just as Oz was only a dream and Dorothy never really left Kansas, Pearl's aspirations are mere fantasies and it is her fate to never leave the farm she resents. The heaviness of that knowledge—the grief for the life she'll never have—is wholly channeled by Mia Goth's performance in that final kill where she sends the ax swinging down on Mitsy (Emma Jenkins-Purro).

More than a horror film, Pearl is a character study of a woman driven to bloodshed by hopelessness. Pearl, who was always taught to honor thy immigrant mother and father, as well as their sacrifices, has dreams of escaping her oppressive familial prison. She's suffocated by the role life has forced her to play as an obedient daughter and faithful wife. Pearl is profoundly repressed and it all manifests in her overtly sexual disposition and later homicidal acts. Although she has always had violent tendencies and antisocial behaviors, the portrait Mia Goth paints is a sympathetic one that is only made possible by her commanding portrayal. Her eight-minute powerful monologue deserved awards of its own and proved that the Oscars are long overdue in acknowledging the horror genre. That maniacal shot at the end before the credits roll is a chilling, unforgettable one and will become one of the most iconic final shots not just in horror, but in cinematic history.
Further reading: