Every New Movie on Screambox in July 2023
Screambox celebrates summer in July 2023 with another batch of great horror, thrillers, and comedies with everything from slashers, to demons, to aliens, to undead rock musicians on a quest for revenge.
Screambox is bringing another fantastically eclectic collection of horror, science fiction, thriller, and comedy film in July 2023. Highlights for the month include classic schlock like Hard Rock Zombies, intriguing international horror like Repulse from the Czech Republic, and the eye-opening documentary Scream, Queen! My Nightmare on Elm Street. As always, this article will stay up-to-date throughout the month, adding any additional movies not already announced, and adding direct links to watch on Screambox.
New Screambox Originals & Exclusives in July 2023
Exclusive – Added July 1
In The Awakening, Florence Cathcart (Rebecca Hall) is a ghost hunter who wants to believe, but who also sees through what most people claim are genuine hauntings. However, an experience she has while on a job debunking a haunted boarding house may lead Florence to find what she's been searching for.
Original – Added July 11
We Might Hurt Each Other is described as the first slasher movie to come out of Lithuania. In the film, a group of teenagers celebrate their recent graduation at a cabin in the woods that happens to be the location where a man once slaughtered his own family. With a classic setup and the promise of brutal slayings, We Might Hurt Each Other appears to be a must-watch for slasher fans.
Exclusive – Added July 18
Shoky & Morthy: Last Big Thing is a goofy comedy about two friends whose successful YouTube channel goes bust after a poorly received video. They decide to embark on one final project before severing their partnership, a video of a supernatural investigation on the site of a massacre called The Nine Crosses.
Repulse (2021)
Exclusive – Coming July 25
Repulse is an unnerving look at the abuse and violence within two dysfunctional families. The story is told out of chronological order, doling out information in ways that keep viewers tense throughout the entire disturbing proceedings.
Other Movies New to Screambox in July 2023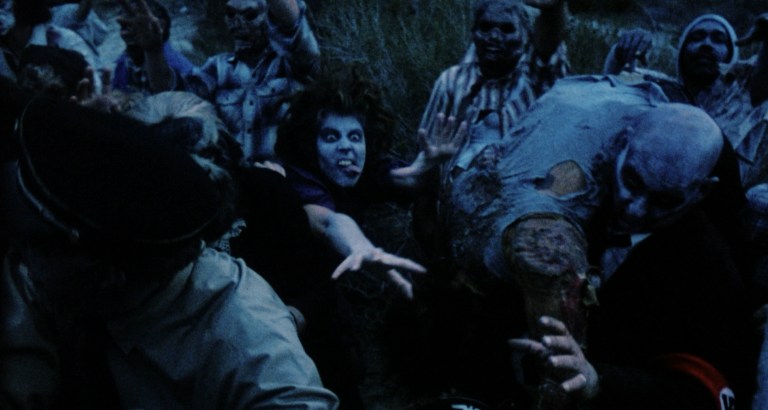 Direct links to watch each of the movies listed below will be added as they become available on Screambox.
The Blood on Satan's Claw (1971) – A British horror film about an 18th-century English village where the children become influenced by a demonic presence.
The Brain (1988) – A teenage delinquent might be a town's best hope against a local TV show host who has brainwashed everyone with the help of a brainy alien organism.
The Curse of Sleeping Beauty (2016) – A painter who has recurring nightmares about a sleeping woman inherits a house with a history of death.
Dead Space (1991) – Bryan Cranston is featured in this sci-fi horror movie clearly inspired by Alien (1979), and apparently a remake of Forbidden World (1982), about a virus that creates a monster in a research facility on an alien planet.
Dread (2009) – Directed by Anthony DiBlasi (Malum) and based on the story of the same name by Clive Barker, Dread is about three college students studying each other's greatest fears.
Elvira's Haunted Hills (2001) – In the 1850s, Elvira (Cassandra Peterson) is detained in a castle where the lord of the manor believes she resembles his deceased wife.
The Evil (1978) – An attempt to open a drug rehab center in an abandoned mansion goes horribly (and supernaturally) wrong.
Hard Rock Zombies (1985) – A rock band comes back from the dead to get revenge on the townsfolk who killed them in this silly horror comedy.
Howling: New Moon Rising (1995) – In this seventh movie in The Howling series, a drifter wanders into Pioneertown, California around the same time livestock and people are killed by an animal believed to be a werewolf.
The Ice Demon (2021) – A man thought to be dead is found years later in a coma, but his return home is accompanied by mysterious and malevolent happenings.
Inbred (2011) – It's backwoods horror with a comedic twist as a group of teens doing community service in a remote Yorkshire village encounter the deranged local townsfolk.
Munchies (1987) – This is quite possibly the goofiest movie to come out of the Gremlins-inspired wave of tiny monster comedy and horror films in the 1980s.
Night Train to Terror (1985) – This is an anthology horror movie in which God and Satan ride a train and discuss the fates of people told in three separate stories.
The Ninth Configuration (1980) – William Peter Blatty (author of The Exorcist) wrote and directed this movie about the patients at a mental institution for military personnel.
Satan Claus (1996) – On Christmas Eve, a killer dressed as Santa Claus takes body parts from his victims to decorate his Christmas tree.
Scream, Queen! My Nightmare on Elm Street (2019) – This exceptional documentary about Mark Patton, the star of A Nightmare On Elm Street 2: Freddy's Revenge, reveals the dark and, eventually, hopeful effects his most famous role had on his life.
Sorority House Massacre (1986) – This second film in the wider Massacre franchise that began in 1982 with The Slumber Party Massacre is about a series of murders in a sorority house over Memorial Day weekend.
Spookies (1986) – An old mansion is chosen as the setting for a party, but the warlock who resides inside the residence summons monsters to kill the partygoers.
Tideland (2005) – Terry Gilliam directed this film which is like experiencing a nightmare through the eyes of a child.
Wish Upon (2017) – Clare (Joey King) discovers a mysterious box that grants wishes with a deadly price.
Other Horror Movie Streaming Guides for July 2023