Upcoming Horror Movies That Will Release Soon
Updated for November 2021.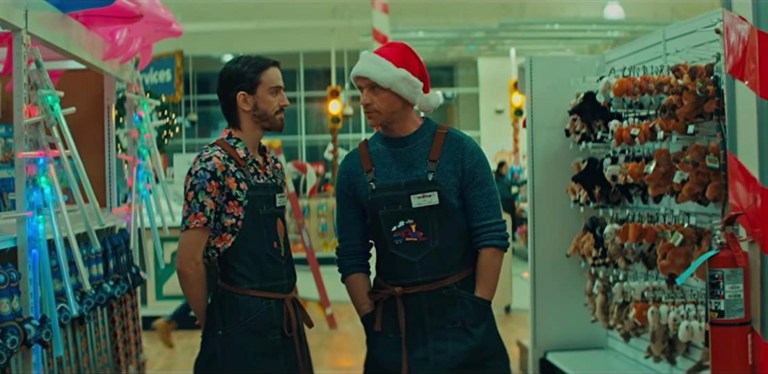 Good horror is made as much by scaring you in the moment as it is by making you anticipate the horror left to come. This list of upcoming horror movies will help you set up movie dates and clear your schedule when something like Halloween Kills releases. It's also meant to give you a taste of what horror is coming down the pipeline, so your subconscious can start working on building up dread.
Knowing what's coming out soon helps me "prepare," because I'm a nerd and I like to read the book before I see the movie, assuming it's a movie based on a book. Or if there's a cool true-crime component to the story, I want to read up on that. It's absolutely necessary to rewatch an original horror movie before seeing a sequel and make sure I'm caught up.
Bookmark this page if you want to check on what's premiering soon. I'll be adding new movies that are coming up every month. Here's what's this month:
October 29: Last Night in Soho
A British psychological horror movie about a young fashion student who is mysteriously transported into the body of her favorite singer, Sandy, in 1966. At first, 1966 London is glamorous, but the woman soon learns that the past isn't as innocent as she thought it was.
October 29: Antlers
A small-town teacher and her brother, the sheriff, become concerned about a local boy named Lucas, whom they suspect is secretly caring for a deadly supernatural animal.
October 29: Paranormal Activity 7
Surprise! Not only is there a secret Paranormal Activity 7 with a plot that's been kept hush hush, it's premiering on Paramount + right before Halloween.
October 29: The Haddonfield Nightmare
If you've been losing sleep wondering what happened to Josh Hartnett's character in Halloween: H20, your prayers have finally been answered! A fan film set in the Halloween universe 22 years after the events of Halloween: H20 is here to follow up on John Tate's story.
November 5: The Beta Test
Part thriller, part comedy about an engaged Hollywood agent who is worried about his reputation after cheating on his wife. Some of the lines in this movie were taken from actual testimony by former agents and assistants.
November 5: Shepherd
British horror movie about a man working as a shepherd who descends into madness after the death of his wife.
November 11: Ghostbusters Afterlife
A single mom and her kids move to a dilapidated farm house that was left to them by the children's grandfather. Soon they discover the old man was involved with the Ghostbusters. Now most people don't believe in or remember the ghostbusters, even though escaped spirits are making the world more and more unstable.
November 19: Black Friday
On midnight Thanksgiving night, a group of employees show up for their Black Friday shifts at a toy store. Little do they know the arrival of parasitic aliens on Earth is about to make the Christmas shoppers even more insane than usual. Horror royalty Bruce Campbell and Devon Sawa star.
November 24: Resident Evil: Welcome to Raccoon City
Based on the long-running and highly popular Resident Evil video game series, this is a reboot of the live-action franchise that promises to deliver a more faithful adaptation of the games. The filmmakers promise a tone similar to the early games, so expect a lot of great creepiness and campiness.
November 24: House of Gucci
Part biography, part thriller, House of Gucci tells the real story of the head of the fashion house of Gucci's murder by his ex-wife.
Coming out in the rest of 2021:
December 17: Nightmare Alley
Guillermo del Toro directs this thriller about a manipulative carny who may have met his match in a beautiful and cunning psychiatrist.
December 22: The Matrix Resurrections
The fourth film in The Matrix universe. The plot is being kept under wraps.
Upcoming horror movies beyond 2021:
Scream 5. The fifth installment of the Scream franchise will be released January 14, 2022.
Deep Water. Ben Affleck stars in this Patricia Highsmith adaptation about a man who becomes a suspect in the disappearances of his wife's lovers. Coming on Jan. 14.
Morbius. Jared Leto stars as biochemist Michael Morbius who accidentally turns himself into a vampire while trying to cure a blood disease. Will be released January 22, 2022.
The Black Phone. Based on a short story by Joe Hill about a kidnapped boy who uses a black phone to communicate with his kidnapper's previous victim to try to get to safety. Will be released February 4, 2022. Here is The Black Phone trailer:
Moonfall. The moon's orbit is disrupted and Earth has only weeks before a collision occurs. One woman, her astronaut friend, and a conspiracy theorist are all that stand between humans and annihilation. Releasing Feb. 4, 2022.
Death on the Nile. Based on the Agatha Christie book about legendary sleuth Hercule Poirot as he solves a murder mystery in Egypt. Coming February 11.
The Devil's Light. A nun encounters a demonic force while performing an exorcism. Coming to theaters February 11, 2022.
The Ghosts of Borley Rectory. Mystery set in the real life "most haunted house in England", Borley Rectory. Coming Feb. 18.
The Batman. Robert Pattinson as Batman faces off against The Riddler. An early review says "The Batman movie is a horror movie. Very graphic, very dark, very scary. Paul Dano is f*cking crazy, so fucking scary I loved every second." Out March 4, 2022.
Abruptio. A horror anthology puppet movie a man who wakes up with a bomb in his head and has to follow orders in order to stay alive. The film includes Sid Haig's last role before his death in 2019.
Jeepers Creepers: Reborn. Thankfully the franchise has decided to pick up and start working on new plotlines and characters. Victor Salva will not return as a writer or director. The plan is that this film would be the first of a second Jeepers Creepers trilogy.
Terrifier 2. In order to make this sequel to the cult hit Terrifier (2016), director Damien Leone launched an Indiegogo campaign and raised $250K on a $50K goal. The Terrifier clown is resurrected on Halloween night and again unleashed to prey on unsuspecting trick-or-treaters. The movie doesn't have a release date yet, but Leone teased doing a series of "road show style" premieres.
The Munsters. A new adaptation by Rob Zombie starring Jeff Daniel Phillips (Herman Munster) Sheri Moon Zombie (Lily Munster) and Dan Roebuck (Grandpa Munster) is set for a fall 2022 premiere. Sheri Moon Zombie released this photo on her Facebook page: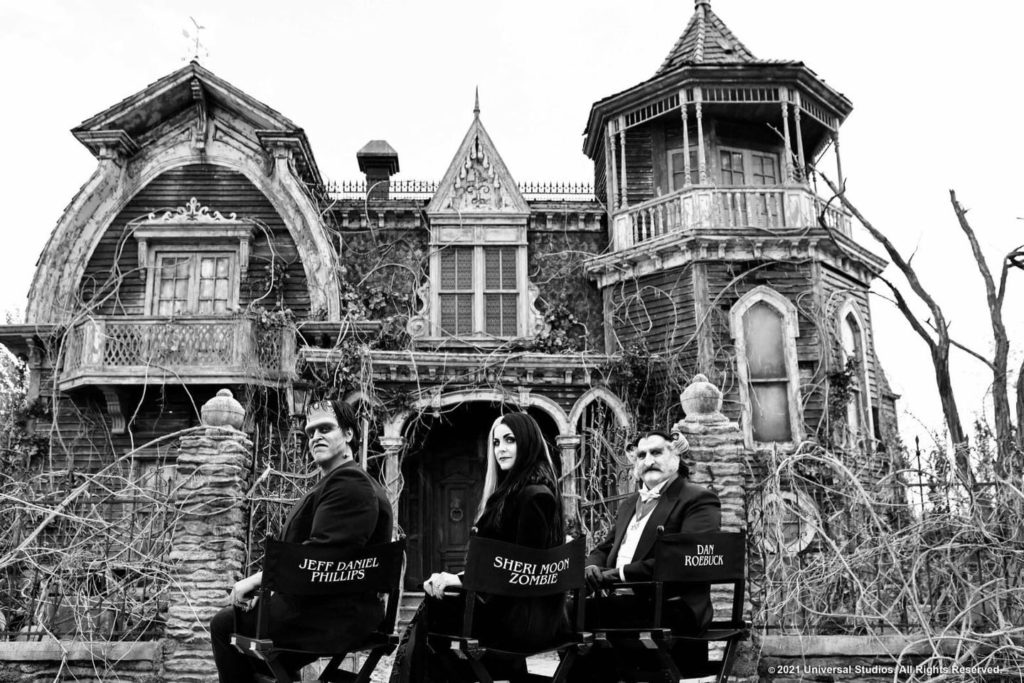 Nope. Jordan Peele's next movie, so far the only thing we know is that it will release in July 2022 and this teaser poster Peele released:
Salem's Lot. Remake written and directed by Gary Dauberman and produced by James Wan is scheduled for release on September 9, 2022.
Hocus Pocus 2. This movie is planned to be released in October 2022.
Halloween Ends. The final part of the new trilogy will be released in October 2022.
Orphan: First Kill. A sequel to 2009's Orphan.
Final Destination 6. Rumors has it this installment centers around first responders.
The Cello. Next for Saw filmmaker Darren Lynn Bousman. The story of an aspiring cellist who learns the cost of his brand-new cello is a lot more insidious than he first thought.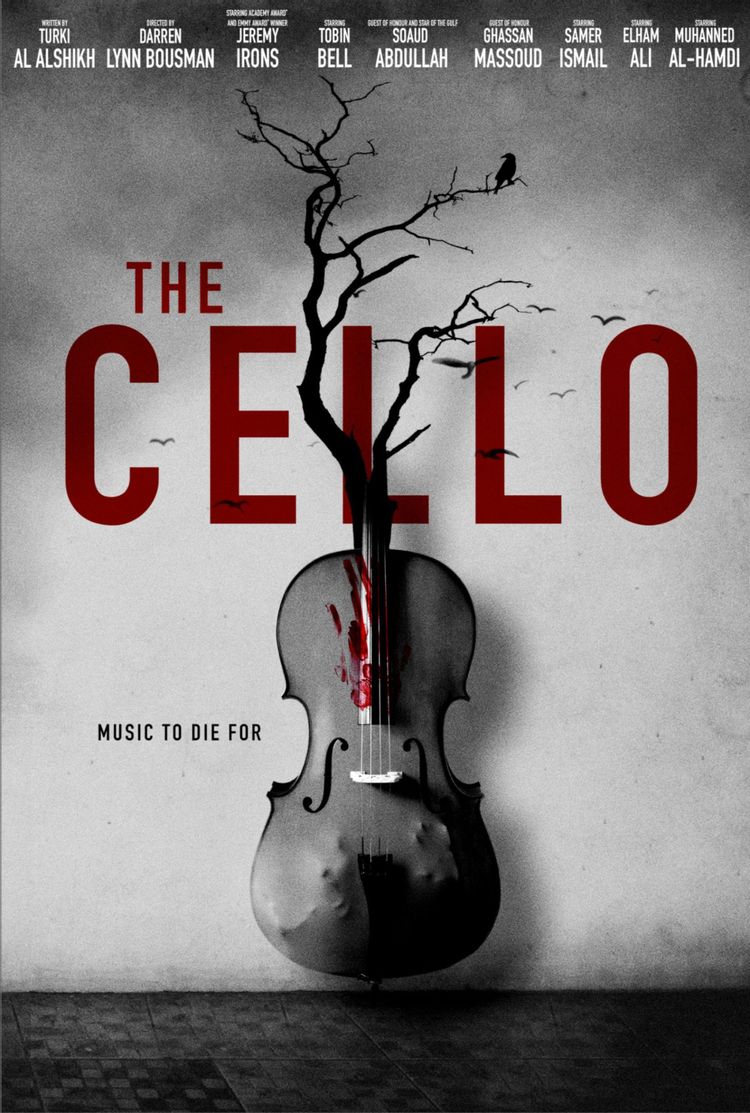 Previously released in 2021 — ICYMI
Here are other 2021 releases, and if you're looking for the best horror movies of 2021, click here.
Fear Street Trilogy. An incredible Netflix trilogy that was released in parts in July 2021. All three movies are great teen slashers that pretty much every horror fan will enjoy. The throwback pop music makes these movies so fun and enjoyable.
The Forever Purge. According to writer/director James DeMonaco, this is the final Purge movie. This movie starts after the events of The Purge: Election Year (2016), with Charlene "Charlie" Roan being elected president and ending The Purge. A gang in Texas disagrees with the decision and decides they will purge whether it is legal or not, beginning "The Forever Purge."
Till Death. Megan Fox stars as Emma, a woman trapped at a remote cabin handcuffed to her dead husband. It looks kind of like Mike Flannigan's adaptation of Gerald's Game, but with a heist sub-plot.
Behind the Sightings. A psychological thriller horror film presented in a found footage/docu style. A married couple who make films together decides to investigate the 2016 clown sightings for their next project. I was going to say it looks a little low-budget for my taste but then the trailer got to the part where a clown rises out of the corn pit and it went full circle for me as being good campy rather than bad/low-budget.
A Classic Horror Story. An Italian horror movie premiered on Netflix. Five people carpooling together get into a car accident one night and wake up deep in the woods with no road to be found. The only thing worse than being lost in these strange woods is the realization that they aren't alone.
Escape Room: Tournament of Champions. A sequel to Escape Room (2019), taking place after Zoey and Ben decide to confront the evil Minos Corporation responsible for the escape room they encountered. However, instead they are put into another, more difficult escape room with other survivors. I'm sensing a Forever Escape Room installment somewhere down the line.
The Sleepless Unrest: The Real Conjuring Home. A Ghost Adventures-style documentary about a group of filmmakers who move into the former Perron home in Rhode Island. This was the house the first Conjuring movie was based on.
Old. Written and directed by M. Night Shyamalan, this highly anticipated horror thriller is about a family who mysteriously ages while spending a day at the beach.
Don't Breathe 2. After the events of Don't Breathe (2016), Norman Nordstrom aka "The Blind Man," has been rebuilding his life at a cabin in the woods. He has abducted another young girl and has been raising her as his daughter. The girl is kidnapped, and The Blind Man has to hunt down his prey again. Stephen Lang reprises his role as The Blind Man.
The Night House. A grieving widow named Beth lives in the lake home her late husband built for her. After her husband's passing, Beth comes to believe he is haunting her. She looks into his affairs and discovers the secrets he kept from her.
Candyman. Directed by Nia DaCosta and produced by Jordan Peele, this version of Candyman features the baby from the original movie all grown up and still living in Cabrini-Green, which is now gentrified.
We Need to Do Something. A family seeking shelter from a tornado are tormented by… something. They begin to realize that whatever is going on is bigger than a tornado. The film is based on the book by the same name.
Malignant. Dreamed up and directed by Conjuring creator James Wan (with help from Akela Cooper and Ingrid Bisu), this was panned by horror fans.
V/H/S/94. This new installment of the V/H/S franchise takes place in 1994 when a SWAT team discovers a treasure trove of VHS tapes in a cult compound.
Lamb. A "supernatural drama" from A24 about an isolated couple living in Iceland and the bizarre relationship they develop with a pet.
The Manor. After experiencing a stroke, a woman is moved to a historic nursing home in her city. She suspects the building is haunted, but no one believes her.
Halloween Kills. HIGHLY anticipated next installment after 2018's Halloween sequel. Full of easter eggs about the Halloween universe.